Black tea is a versatile beverage with a variety for every palate and occasion. It boasts both an enormous scope and a wealth of diversity, catering to various tastes – from fans of teabags to flight tea aficionados. It's an exciting, aromatic and flavorful experience that invites exploration and always leaves us craving for more. But this leads us directly to our real protagonist: Audio Note (UK).
Products from Audio Note UK have always had a unique sound, immersing listeners in the musical world of their choice with never a tiresome moment. Or so their reputation precedes them. This audio manufacturer's history is too well known to bore you with the details. Suffice to say that Audio Note's original CD 3 was a coveted appliance when it launched and remains a much-loved CD player today. But it has now been joined by its digital companion, the Audio Note CD 3.1x/II, featuring improvements in many areas. The player's sturdy enclosure is 44.5 cm wide, 42 cm deep and 14.5 cm high, with a total unit weight of 8 kg. Golden buttons are standard for Audio Note appliances, as is the black acrylic finish (the alternative of which is anodized aluminum). On the inside, two ECC88 output stages noiselessly process the music signals. Of course, I must also mention that these dual triode valves are selected in pairs. With well over 100,000 in stock, Audio Note (UK) has a nearly inexhaustible supply. Also known as 6922 valves, they boast a famously wide frequency response (Siemens began developing these valves in 1952, using them in antenna amplifiers for radio broadcasting).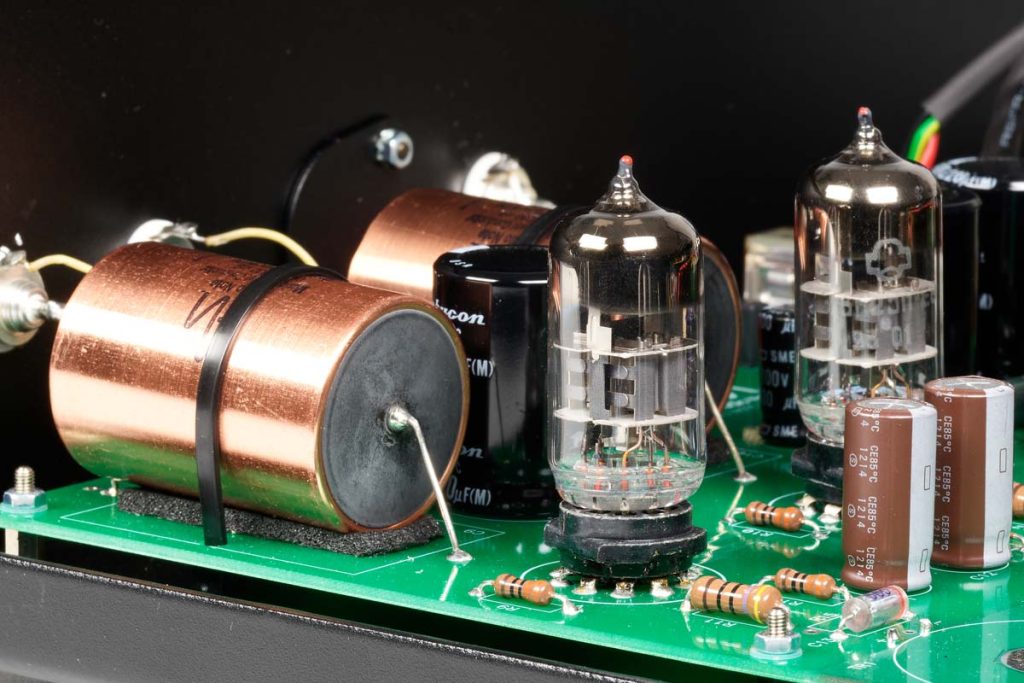 The CD 3.1x/II's music signals are passed to the RCA sockets with an output impedance of 2 kohm. Audio Note equips the CD player with the Philips L1210 transport mechanism—which naturally boasts in-house modifications. For the digital to analogue converter chip, the manufacturers chose the highly regarded Analogue Devices AD1865. As for why they chose this: "The 18-bit device has consistently outperformed every competing chip we have tested regardless of specification or price."
To retain signal authenticity, Audio Note features no oversampling as well as no digital or analog filtering. The manufacturers have always maintained a deserved reputation for only using high-quality components and a few, carefully selected materials. Therefore it comes as no surprise that Audio Note develops and manufactures its own Elna Silmic II and Cerafine electrolytic copper foil capacitors. They also use their own Tantalum resistors (a highly ductile, air-stable metal with an extremely high melting point). The manufacturer, as its mastermind Peter Qvortrup told us in an interview, believes this all results in a "fuller, denser sound that's difficult to measure in the lab, but can definitely be perceived by the listener".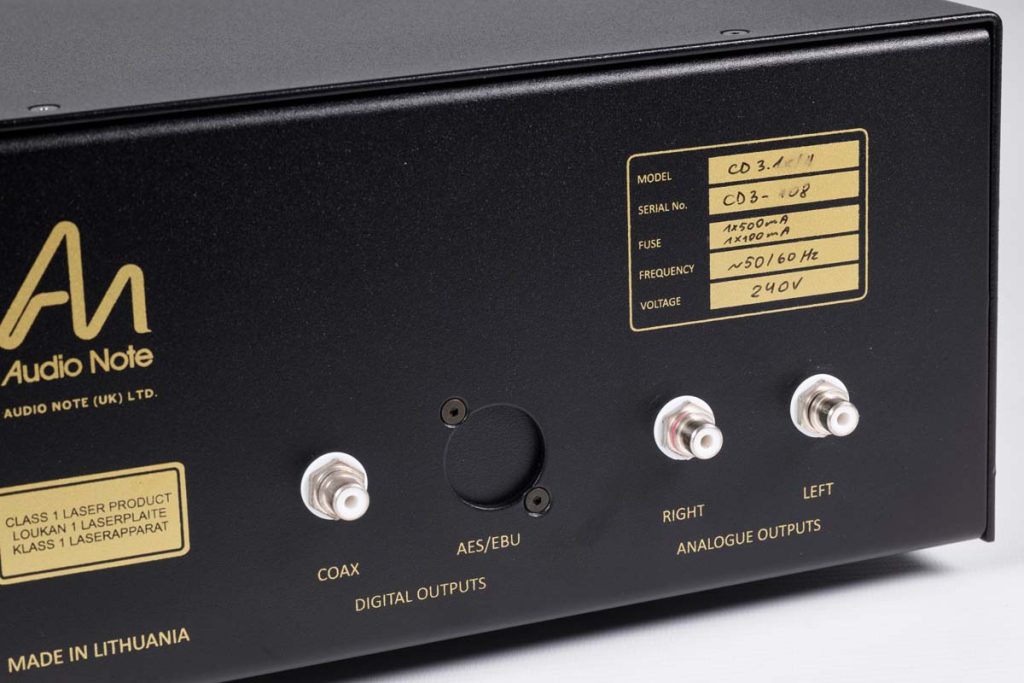 Yet Audio Note always pays great attention to the power supply in its appliances. Installing two power transformers (manufactured in-house, of course) in one CD player is certainly not the rule-of-thumb in the audio world! On the other hand, the remote control is nothing out of the ordinary.
After connecting the player, I inserted the first CD into the efficient transport unit—the Back To Black album by Amy Winehouse. And from the first track ("Rehab"), the Audio Note CD player produced a velvety sound, delightfully supple and harmonious. An extremely positive characteristic for any CD player, "harmony" is a particular strength of the Audio Note CD 3.1x/II. My next CD featured Anna Netrebko accompanied by the Orchestra Teatro Regio Torino, conducted by Gianandrea Noseda.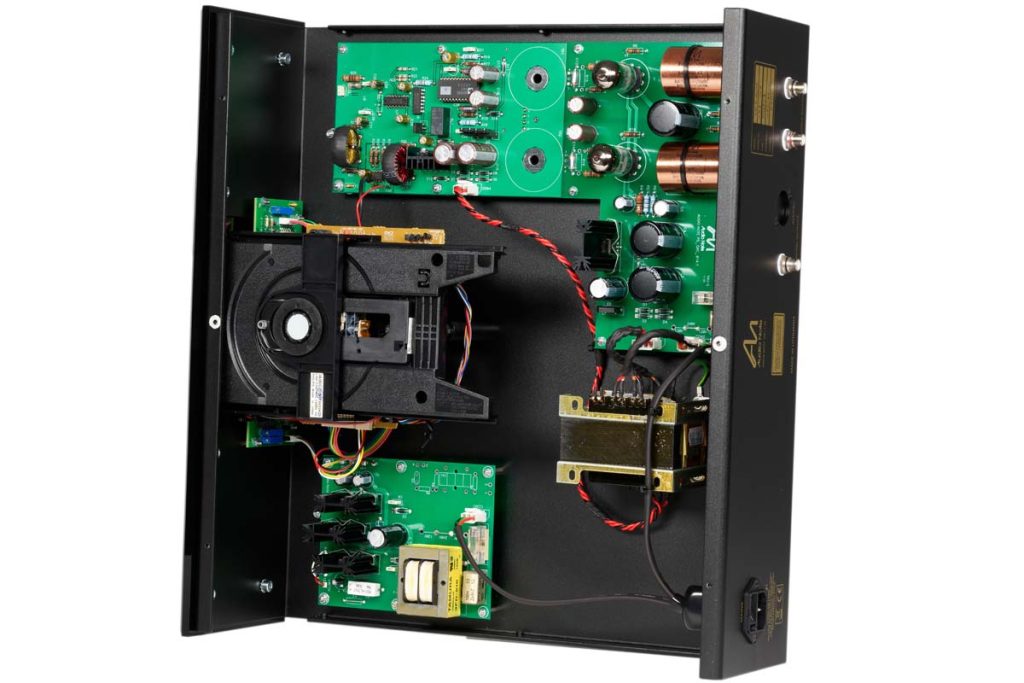 I adjusted the volume, sat back and listened to the first act of Verdi's Macbeth. As soon as the Russian-Austrian soprano began to sing, my senses pushed into overdrive. Admittedly, I haven't always been particularly close with opera. But this time I remained listening with rapt attention. My thoughts were entirely positive, along the lines of "really good", "nothing bugging me at all" and "I'm going to listen to all of it".
And so what strikes me about Audio Note's playback products overall is the incredibly relaxing flow of their music, which invites long listening sessions. Undoubtedly the CD 3.1x/II is no exception to this.
I moved on to Astrud Gilberto, who recorded her classic album Non-Stop To Brazil in 1965. This is a compilation that you can listen to at any time that spreads good cheer from track 1 "(Take Me To) Aruanda". This is my personal "5 o'clock tea", so to speak – a full-bodied Assam processed using the classical CTC method. No sugar, but a small dash of milk. Consumed from a mug, not a cup! For those curious about the CTC method: it's an acronym for a manufacturing process in which the leaves are passed through a series of cylindrical rollers with hundreds of small "teeth" that crush, tear and curl. This results in a particularly strong tea.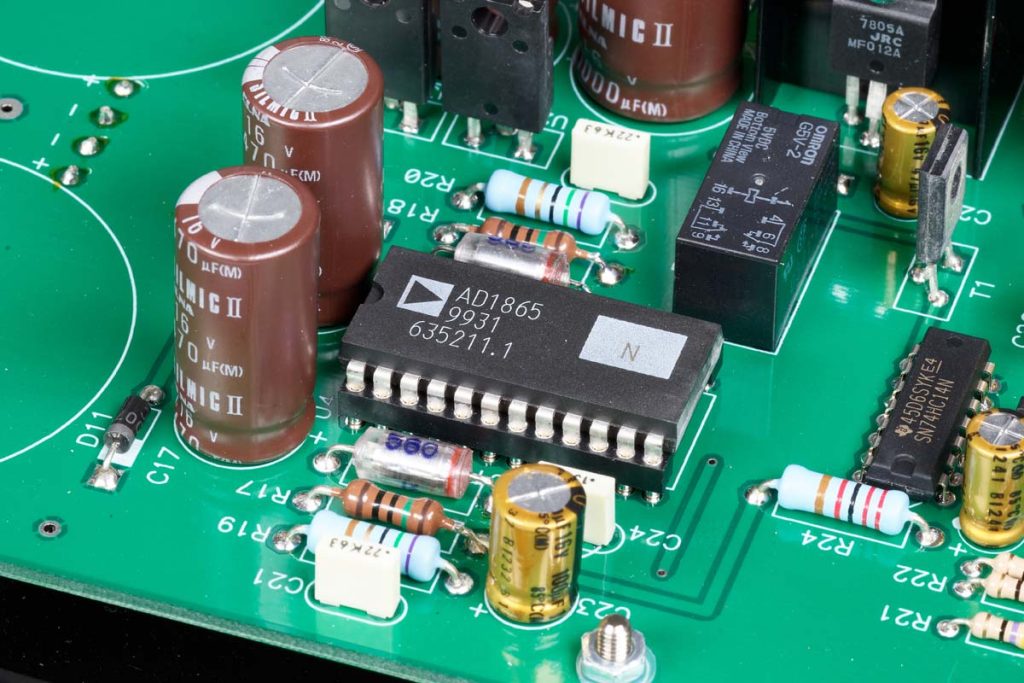 Once again, I listened to the entire CD. This Audio Note CD player has a unique sound spectrum all its own—always laid-back, but captivating for the listener. Simultaneously, the sound is wide instead of deep, yet always possessing a clear-cut 3D structure. Track 3, "Tu Mi Delirio", is a good example of this: the voice mixed with loads of reverb and a piano that has presence but is never obtrusive.
No obtrusiveness comes with the next album either. Bridges by the Hans Theessink Band wonderfully exemplifies this CD player's exceptional reproductive qualities. Listening to track 10, "Odyssey", the music flows so gracefully that it actually brings a smile to my face.
The hours have come and gone, it's 7 pm and definitely time for a whisky. This CD player stands for true listening enjoyment, and it's the right time of year, so I chose a 13-year-old Craigellachie — a sweet, spicy Speyside scotch with 46% vol. that calls for an ice cube and a splash of mineral water.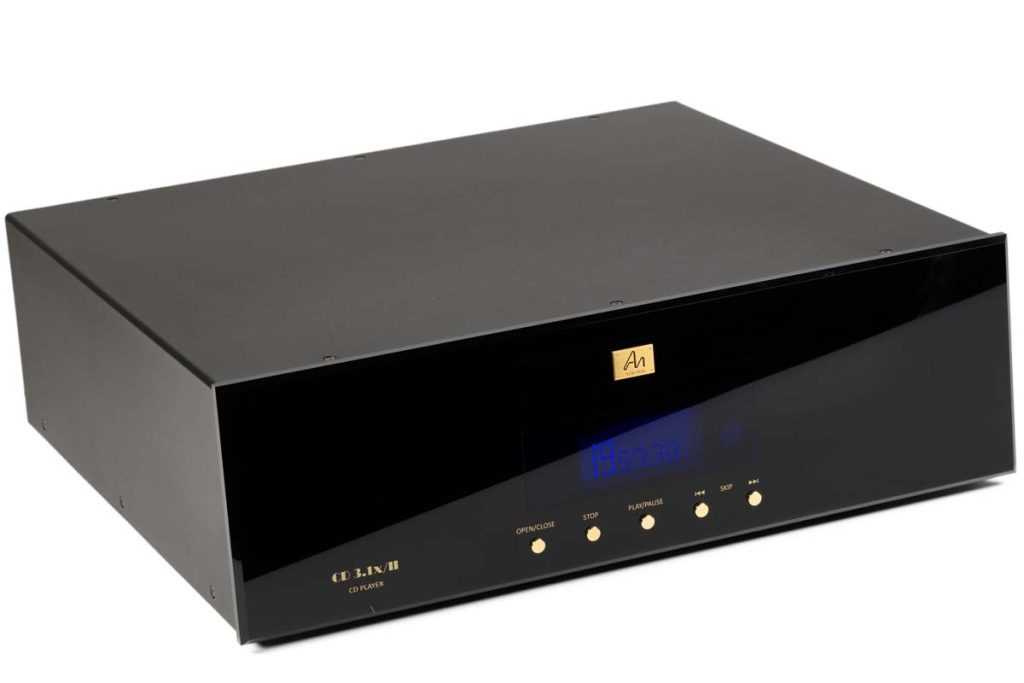 I then decided to treat my ears to some jazz, choosing Nomad by Ferenc Snétberger and his trio. Having studied both classical and jazz guitar, this Hungarian guitarist has long been an established figure on the international jazz scene. Recorded in 2005, the album remains a favorite in my collection, and I extend regular invitations for the trio to perform one of their hot sessions. I turn up the volume a little to heighten my enjoyment, which starts with the first track, wherein the solo by the legendary Norwegian bass player Arild Andersen is a true highlight. As far as fidelity and time-alignment, "Yellow" is a test for any stereo system, as is the virtuoso delivery of the Italian drummer Paolo Vinaccia. But, rather than his musicianship alone, it's the way that this perfectly harmonizing trio interacts that makes their music so exciting. And that's coupled with the album being a triumph – just like the CD player I am testing. It's an appliance destined to take users on a voyage of exploration through myriad music worlds – accompanied perhaps by the occasional cup of tea. My lengthy listening sessions (too numerous to list here) only reinforced my first impression of this Audio Note CD 3.1x/II: unadulterated English lifestyle – infused into an outstanding product!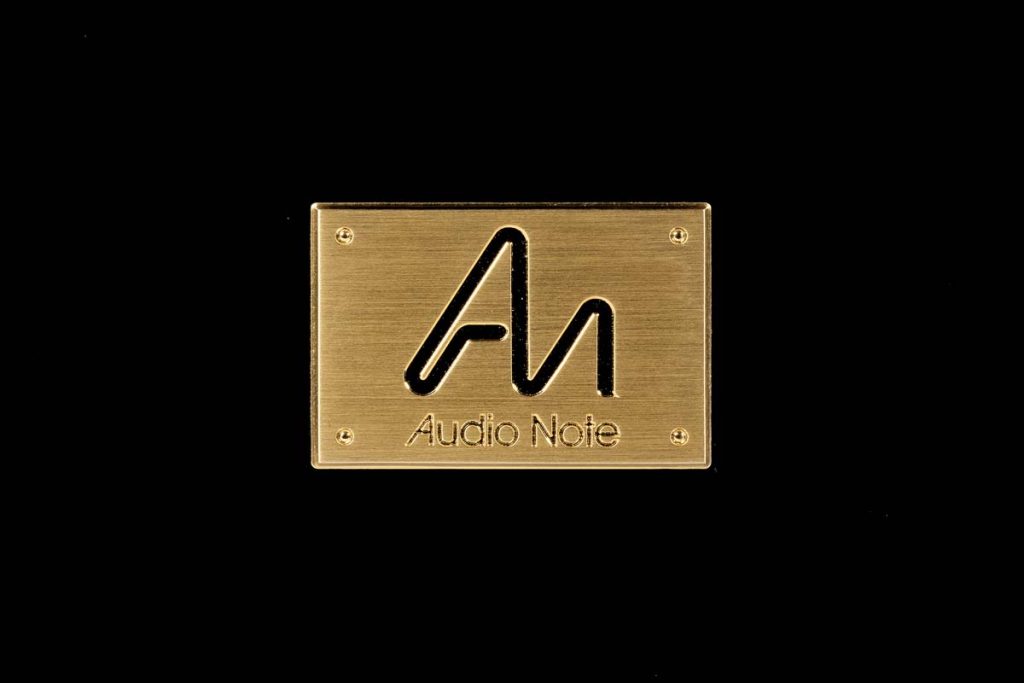 Accompanying Equipment
Digital sources: Restek Epos, Wadia 27i | Turntable: Clearaudio Innovation with Universal tonearm and System Dynavector Te Kaitora Rua | Amplifiers: Octave HP 300 SE tube preamp incl. MC phono, MFE TA 845 stereo tube power amp | Loudspeakers: Blumenhofer Acoustics Genuin FS1 Mk III | Cables/accessories: HMS Suprema XLR and LS, GigaWatt G-C20A circuit breaker, MFE power cable, HMS double socket, MFE DF-1+ mains filter in front of in-akustik AC-3500P and more … | Other features: acoustic space (40 square meters) with a reverberation time of 0,4 ms
CD player
Audio Note CD 3.1x/II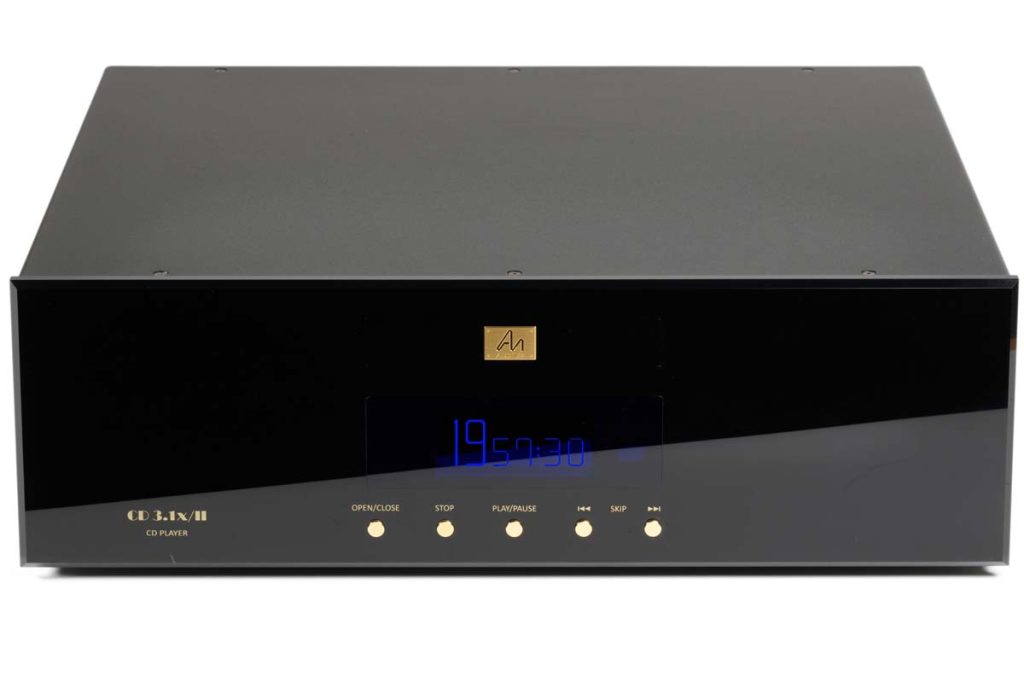 Concept: puristic Red Book CD player with tube output stages | Optical pick-up: 3 beam laser | Tubes: 2 x ECC88 | Output impedance: < 2 kΩ | Output voltage: 3 V RMS | Channel balance: < 0.5 dB | Accessories: power cable, remote control | Finishes: silver (anodized aluminum), black (acrylic) | Dimensions (W/H/D): 45/14/42 cm | Weight: 8 kg | Warranty period: 2 years | Price: approx. € 9300
Audio Note Germany
Max-Planck-Straße 6
85609 Aschheim
Germany
Phone +49 89 90422466
sw@audionote-deutschland.de
The stated retail price of the reviewed device is valid as of the time of the review and is subject to change.