Seven-Seven-Seven And Its Impacts
Three's a charming logo: Three numbers for forty years at Burmester. Meet the Burmester 777, 785 and 808 Mk5 preamplifiers.
777 + 785 + 808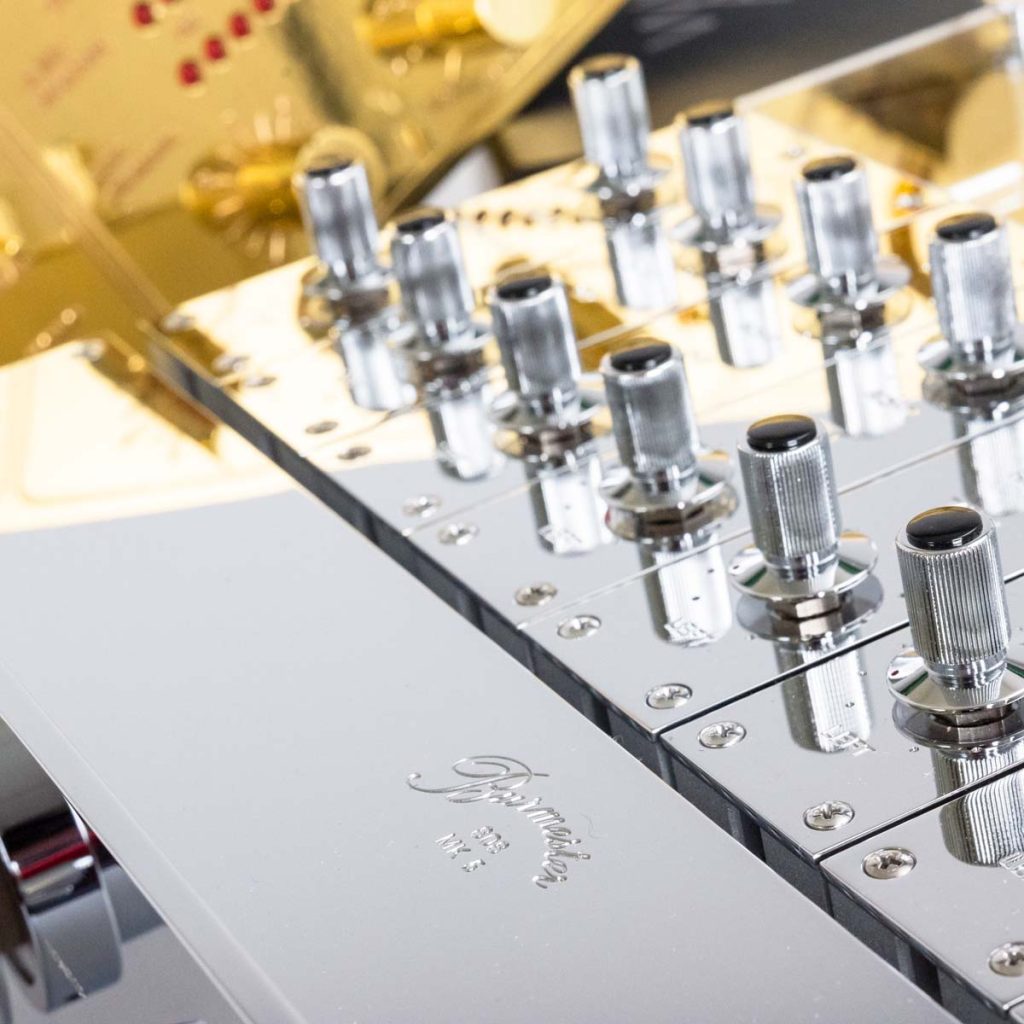 Three sets of three digits on three devices: 777, 785, and 808. This trio gives us a lot to go on for delving into the story behind Burmester Audiosysteme. But we don't plan to just take a walk down the company's 40-year memory lane, we also want to look ahead to the next four decades to see what they hold in store. Obviously, we're not going to do all that with just any old devices. No. Even in a portfolio full of legends, the 777, 785, and 808 do stand out as exceptional products. In fact, they have played pivotal roles in shaping the company's history and its fate. In turn, Burmester (and by that I mean both the legendary man and the company bearing his name) gave the newly flourishing high-end scene a real boost and quickly found fame on the international stage as well — a rare achievement for German hi-fi manufacturers at the time.
Astonishingly, all three products belong to that ordinarily most unassuming of device categories in an ambitious audio system: the preamplifier.
But let's just start with the three numbers. The 777 was the first model to be released 40 years ago using what has now become a well-established code: The first two numbers indicate the year and the final one refers to the month when development of the particular device was considered finished. Okay, you can't represent the last three months of the year with just one number; but this is a limitation the company can live with as, unlike electronics giants, it's a small manufacturer and so doesn't flood the market with new products every week. Quite the opposite in fact. Or maybe at Burmester nothing got developed from October to December …? Well, if you've ever had the pleasure of meeting Dieter Burmester or his team, you'd know what a ridiculous assertion that'd be.
The (more or less correct) series of numbers was, of course, the brainchild of the boss himself — who else?! Burmester was certainly well known for his flair for catchy expressions, slogans and statements. He knew potential high-end customers could really wrap their heads around three little numbers more than a long string of digits: When you hit four, it all gets a bit cumbersome. Besides, 777 sounds so much cooler than the more accurate "197707", which no doubt would have appealed to small-minded bean counters. But they wouldn't have bought his expensive devices anyway. You know: sensibility and money and all that.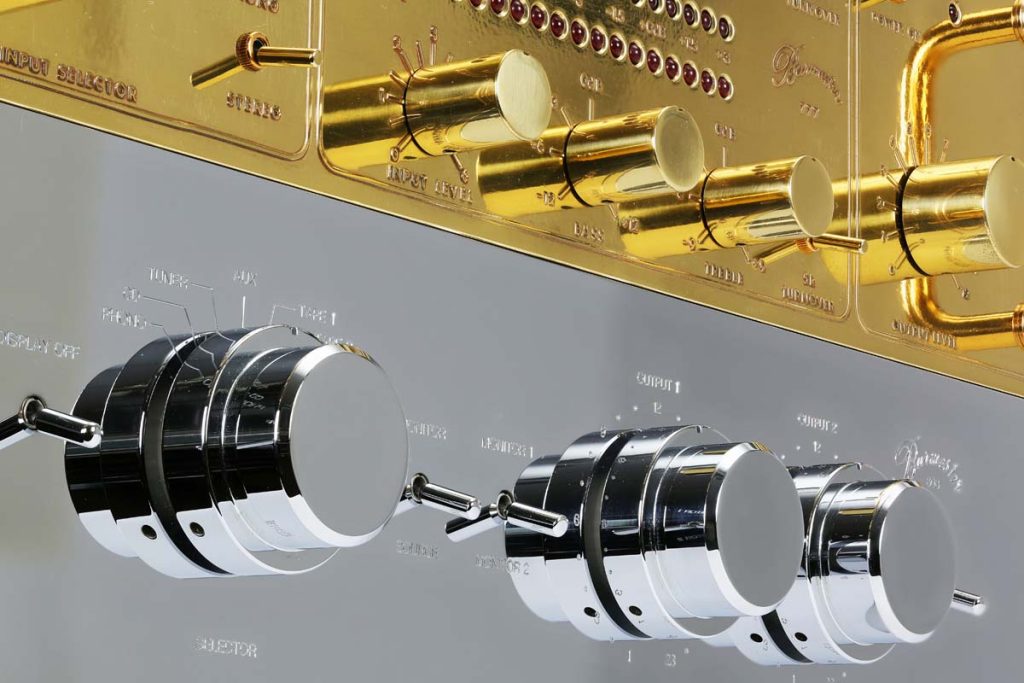 So, back to preamplifiers — those devices that still all too often slip under the radar of your average hi-fi fans. These plain Janes of the audio system have nothing to brag about or proudly show off, and they're too small to marvel at but too big to hide …
… until, that is, the 777 entered the still very understated scene. A large all-rounder ensconced in gold and designed to blow the competition out of the water.
But what competition exactly? Until well into the 1970s, preamplifiers were anything but popular, and you'd have been hard-pressed to find a living room in Germany that actually had one. Dominating the ambitious market for products meeting the legendary DIN 45500 hi-fi standard were bulky, heavy receivers and their radioless siblings, integrated amplifiers. In the case of these battleships, the preamplifier was an integral part of a massive music machine with all manner of buttons and heat loss. Stereo consoles featured a bulky amplifier or receiver, a turntable, tape recorder and two more or less sizable stereo speakers, all of which had to fit nicely with (or, even better, within) the console's exterior walls.
Do you remember common 1970s up­dates? I do: decorative doilies and flower vases. As if things weren't bad enough! Okay, the idea of using a control amplifier (or a preamplifier, too) as a separate control center for a hi-fi system had become well established by the end of the 1970s in the UK and North America, and even in Japan for that matter. Germany was lagging way behind on the preamplifier scene. But along came the seven-seven­seven — from West Berlin no less. And it had an impact.
777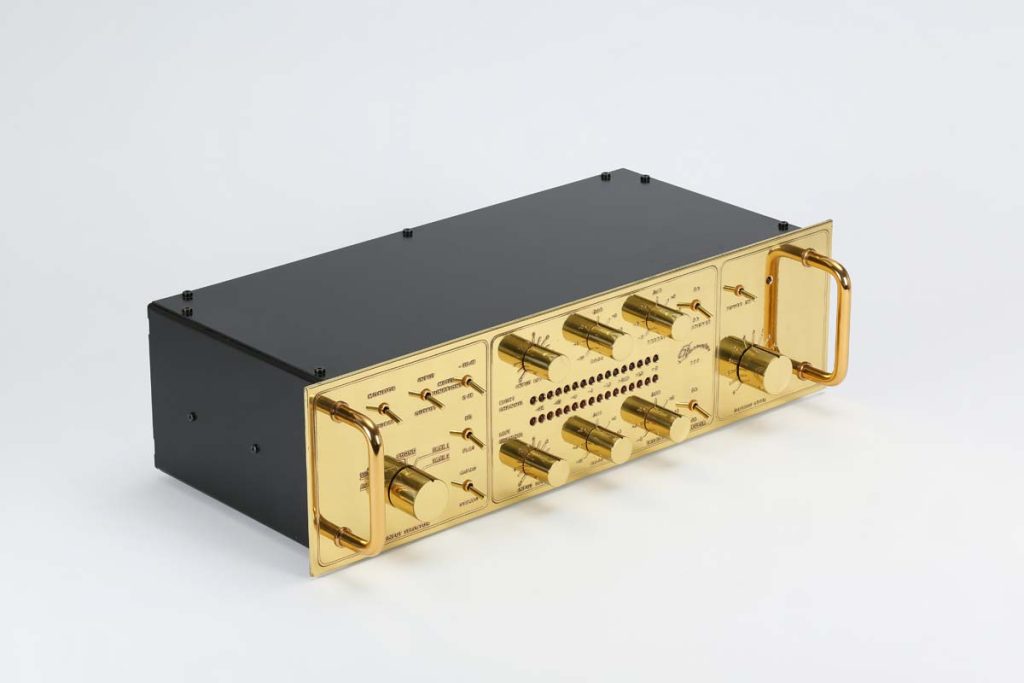 July 1977. Founder and mastermind Dieter Burmester, whose engineering firm actually focused on medical technology and manufactured top-quality devices, was annoyed with the unreliability of his hi-fi tube amplifier. That drove the qualified radio and television technician and electrical engineer to build a control center to get his amplifier to behave the way he wanted it to. His 777 preamplifier was given a US-style tone control with separate channels and cut-off frequencies that could be switched for treble control, but could also always be disengaged. The latter quickly proved worthwhile from a sound-quality perspective provided the players, the power amplifiers and the loudspeakers could boast correspondingly high levels of playback quality. The unusual volume control attracted a lot of attention: A fader would control a 23-stage resistor network, which replaced the otherwise standard, comparatively imprecise and failure-prone carbon film potentiometer.
The basic circuitry of the 777 is straight­forward: nothing ground-breaking or mysterious here. But you immediately see it is super clean, has lots of refined parts and avoided the usual mess of tangled cabling. A freely available circuitry proposal for ICs, which were gradually becoming useful at the time, including for audiophile purposes, formed the basis for its design. In any event, Burmester was one of the first to recognize the potential of this op amp for audio applications, incorporating it — while never forgetting the importance of reliability and high-quality results — into an exceptionally elegant, striking housing.
A small series of 20 Burmester 777s was built, all by the boss himself at his work table complete with a soldering iron and measuring tools. Each unit would end up costing almost as much as a small car. After first wowing his close circle of friends with the 777, Burmester saw his golden boy land in a then-popular hi-fi magazine thanks to an ambitious hi-fi dealer. This exposure had huge repercussions. The 777 smoothed the way for Burmester to enter the uncharted territory of the German high-end scene, which, incidentally, wasn't called that at that time. Back in 1977, it was still just (and quite correctly from a linguistic point of view) referred to as high fidelity,. and high fidelity was about to be taken over by a golden boy from Berlin.
785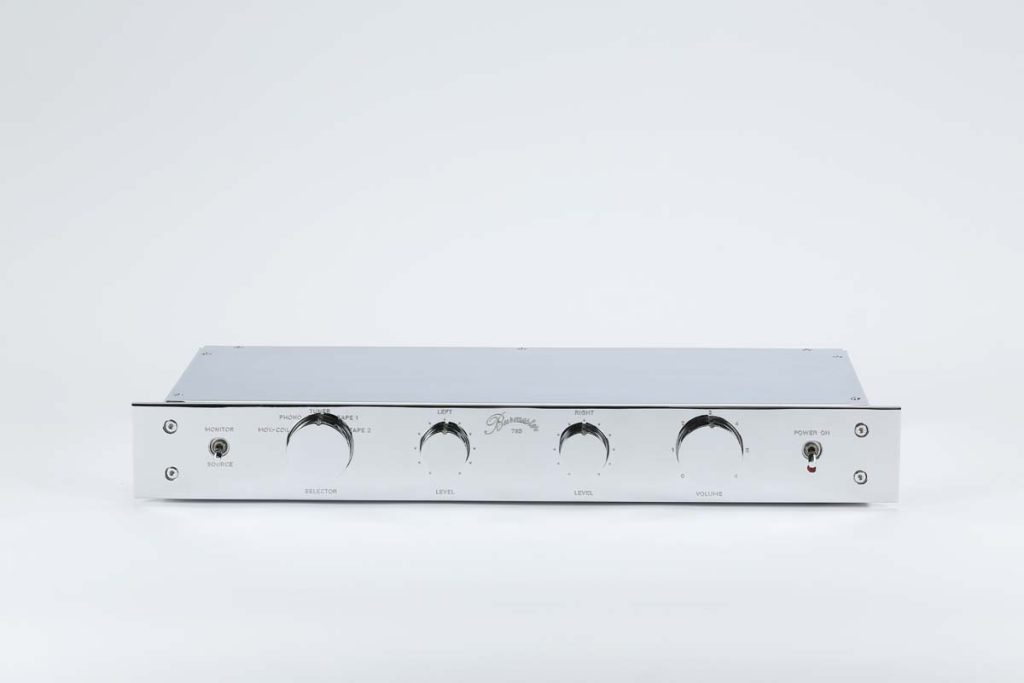 May 1978. By now, the 20 777s had been sold, so a bank loan to (officially) found the company wasn't needed. Dieter Burmester was also on the verge of setting new standards and reaching new heights with a second, significantly slimmed­down preamplifier. The puristic technical features of the 785 were the kind of thing you might have expected from British hardcore hi-fi manufacturers such as Naim Audio, but Burmester's new gem looked like something from a jeweler's: In just one year, the tone-control network, half a dozen toggle switches, and even the handles had disappeared from the Burmester preamplifier (it still had no siblings at that time). The striking gold had also given way to equally striking chrome, which quickly became another typical Burmester feature, alongside the three numbers and the logo that would look handwritten. The inner workings essentially consisted of the already well-known and tried-and-tested basic circuitry of the 777, though, of course, with some improvements, tweaks, and refinements here and there.
Both the idea of doing away with any pretentious bells and whistles like the tone control and the truly "new" look and superb technical execution contributed, in hindsight, to the 785, a pretty inconspicuous device by modern standards, to shine in all its true Burmester splendor. The 785 also cost a small fortune at the point it was launched, yet it seemed like the hi-fi community had been lying in wait, ready to pounce on it. The Chrome Prince solidified the reputation of the up-and-coming high-end manufacturer — that is until a good year later when the godfather of all preamplifiers came along …
808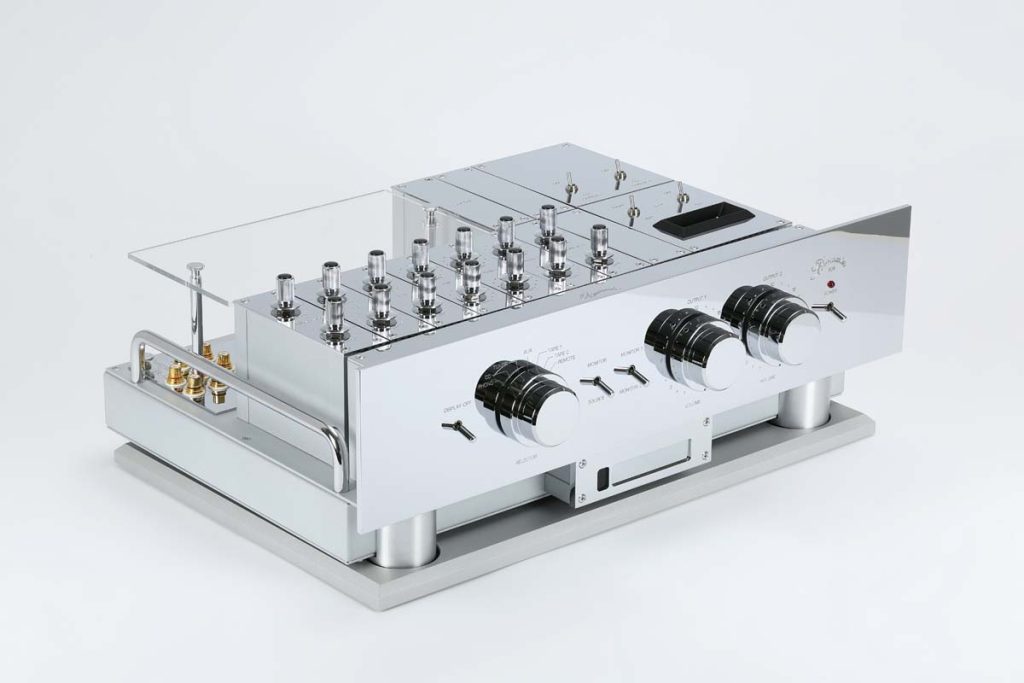 August 1980. It was high time for a machine, the likes of which the hi-fi world had never seen before. Inspired by his passion for live music and recording studios, Dieter Burmester launched the 808 model — the first preamplifier ever that could be extensively configured according to the user's wants and desires, fleet of devices, and ambitious technical re­quirements. Like the best recording studio mixing consoles, the 808 (available in the series only with a chrome front — okay, we got it) was created on the basis of a variable basic framework that could be equipped with the desired input and output modules. Anyone sitting in front of a fully-equipped 808 would think they'd died and gone to button heaven: An 808 has all manner of dials and switches not only on the front but also on the top. So how does it manage to stay puristic? Because maximum flexibility in a device calls for a certain number of setting options and every button — just as you'd expect from Burmester — makes technical sense.
As standard the 808 came outfitted with two completely independently controlled outputs; if you needed a second output module, you only had to include it with the order. In fact, you could even order one at a later date without a hassle. Two large, stacked double dials would serve to control the 808's output level, or, more specifically, the master output level — of course using elaborate resistor networks. The satisfying feeling you get as you touch and turn the dials is fully in keeping with the outstanding quality of the components and the 808's impressive appearance. Analog-wired plug-in units (modules) were all that could be ordered for every conceivable music source: from finely tunable MC and MM modules and the Linear high-level module right through to the thoroughly modern "thru-put" module, these were all available to integrate the 808 into an ambitious high-end home cinema system hassle-free.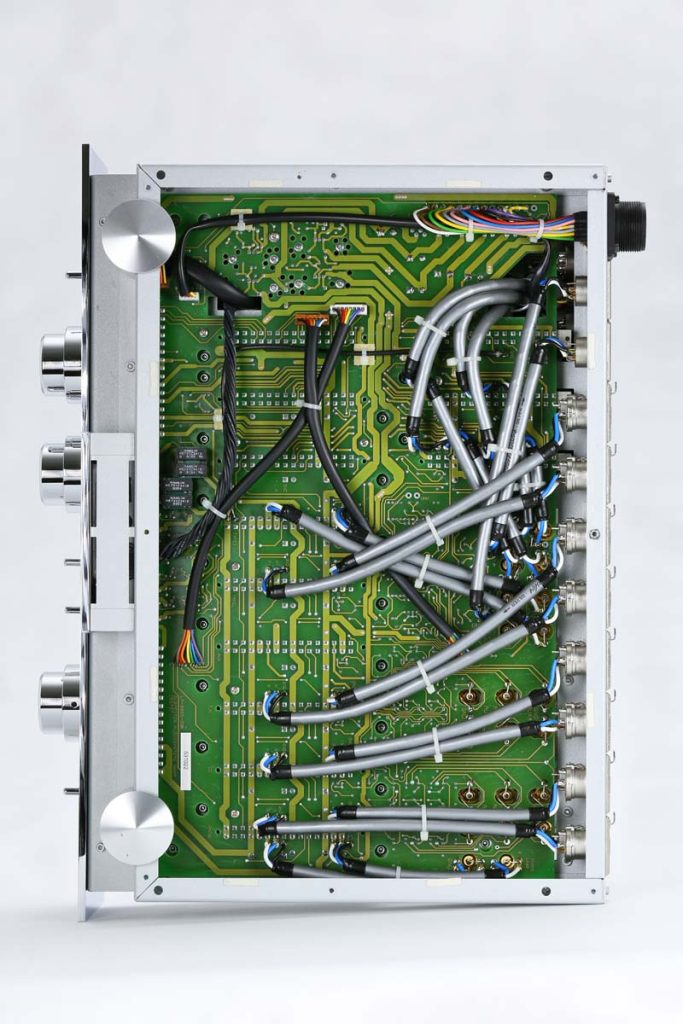 Speaking of "modern" and "ambitious": The 808 was, is, and will continue to be a machine that's not necessarily self-ex­planatory in terms of its details (as is otherwise the case at Burmester). The 808 demands something of its users, who should know exactly what they're doing with their systems and how to get the most out of them. Much like driving courses for supercars or race bikes, advice from 808 specialist dealers and careful study (several times) of the operating instructions proved essential. Sure, you could, figuratively speaking, use the 808 to just cruise around the corner to buy a loaf of bread or take a spin down the road to the ice cream shop, but this fireball really comes into its own on a true racetrack or, at the very least, on a freeway with no speed limit or during a picture-perfect sunny drive in the mountains. Those who don't know what they're doing can quickly come to blows with the 808. However, if you do know exactly how to get your fleet of music machines to cut loose, the 808 is the ideal tool for you. If you haven't got one, you've already missed out on 37 years of fun!
We have a current 808 model on hand, one that bears the added inscription MK5 and for good reason: From the outset, the visionary 808 has been consistently designed to stand the test of time, so much so that it has even survived extensive upgrades without actually having to change its name. There have been four versions of the 808, with subsequent models designated by the added inscriptions MK2, MK3, and MK5. There has never been an MK4 as that number has extremely negative connotations in Asia, which is a key market for Burmester. Besides, the technical upgrades made to the MK3 (for instance, the full remote control function) were so extensive they actually warranted a leap directly from 3 to 5, says Stefan Größler, Head of Development at Burmester.
The inner workings of the 808 include a consistently symmetrical circuit layout. This means twice the expenditure on components but then vastly reduced interference, too. In a hi-fi system's control center, this is simply invaluable. The dynamics and clarity of the signal, which is transmitted as purely as possible, are exceptional. Incidentally, the comparatively simple, modest basic version of the Burmester 808 MK5 will set you back considerably more than a small car these days, but thanks to its modular design (and optional 24-carat-gold housing) can be easily souped up to sports-car status.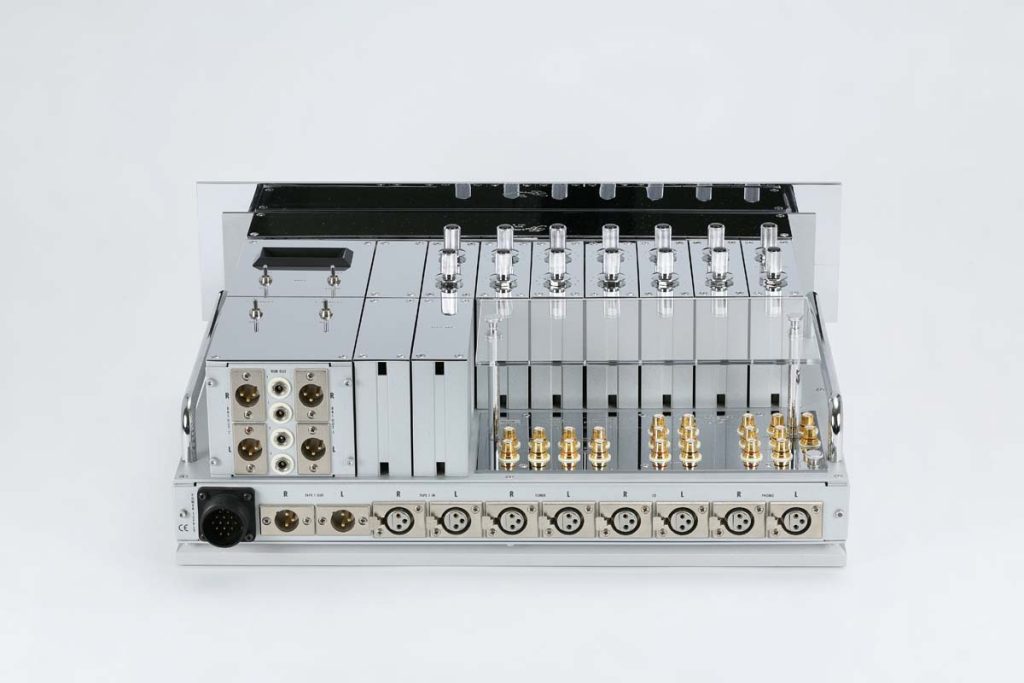 177 + 178
July and August 2017. The FIDELITY editorial team found itself in exceptional circumstances: The three legends had arrived and were right in the thick of the party atmosphere at the Burmester Audiosysteme 40-year anniversary celebration in Berlin: Even hardened rock 'n' rollers were voluntarily donning white gloves, and we were busy assigning the two Burmester months their own three-digit abbreviations. Perfect.
Just like the sound experience created by the 808 MK5. It's nothing less than perfect. Completely free of any artifacts and not limited in any discipline, the 808 MK5 ensures any power amplifier or loudspeakers placed next to it reach peak performance. The 808 MK5 practically embraces any source — or, better put — welcomes it and shows it the greatest respect. From the very first minute after the 808 has fully warmed up (you should allow it about an hour), these machines give you a clear and impressive insight into what listening to music is all about. Reality just recedes into nothingness). From then on it's just pure music!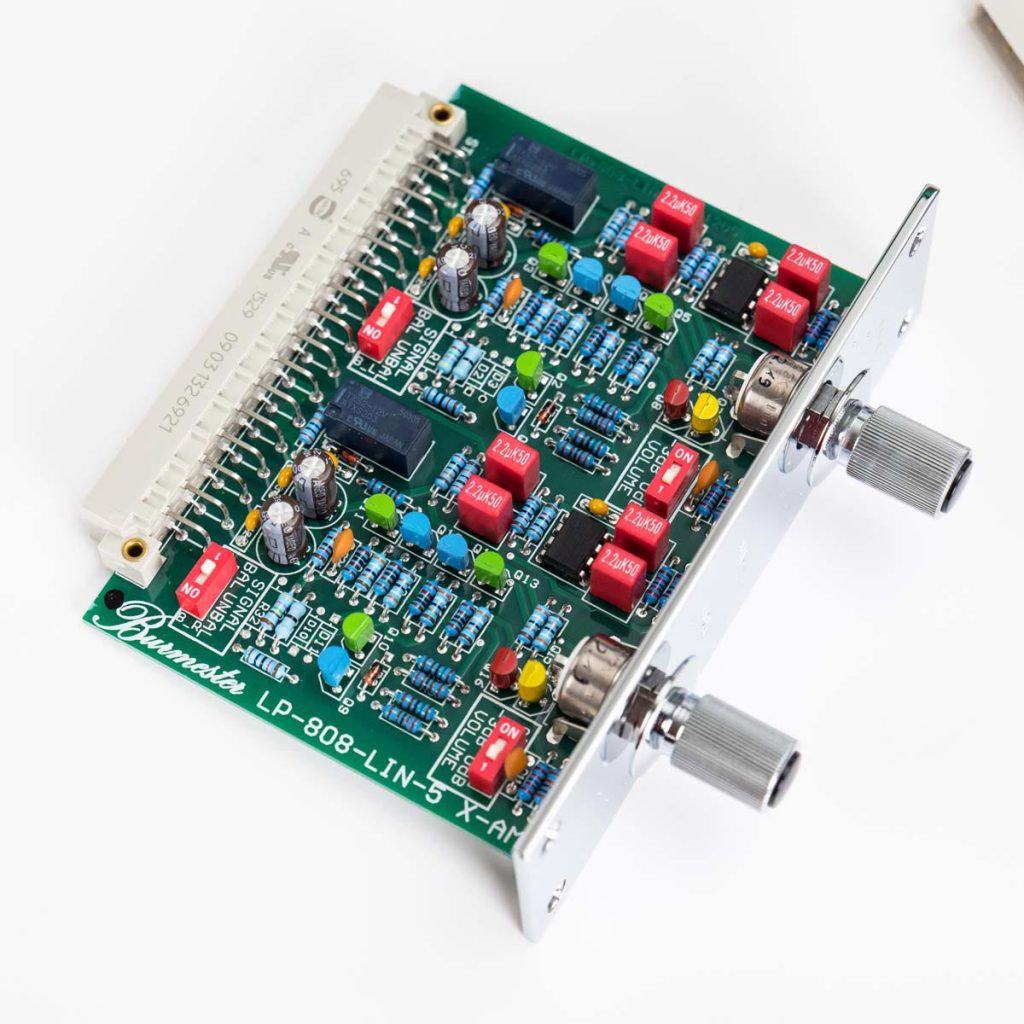 Anyone keen on delving even further into the music has precisely three options: 1) Buy a "better-sounding" preamplifier, which produces its own sound and doesn't quite represent the truth so much; 2) optimize the 808 MK5's complete surroundings, from the power conditioner and the room acoustics through to the players and the loudspeakers; or 3) organize the next concert outing.
How does a historical 777 or 785 actually sound compared with the King of Preamps? Well, astonishingly good, actually. While the golden boy is no longer in such great shape (thanks for being with us anyway), the 785 (same circuitry, same concept) really astounds us. Okay, sure, getting nearly 40 years of service under your belt is no walk in the park, and we've possibly gotten to experience some freer and more flexible preamplifiers (808!), but the really sprightly oldie has proved to be a jolly partner to play with and one that's nice to have around. Great performance, Chrome Prince!
Now, back to the 808 MK5 and the sun­kissed mountains. The way Burmester has managed to make this preamplifier one of the longest-produced hi-fi components of all time is truly visionary. My thoughts are now circling around one single question that you should also ask yourself: Would I order it in chrome?
---
PROFILE OF DIETER BURMESTER
Go-Getter, Icon, and Music Lover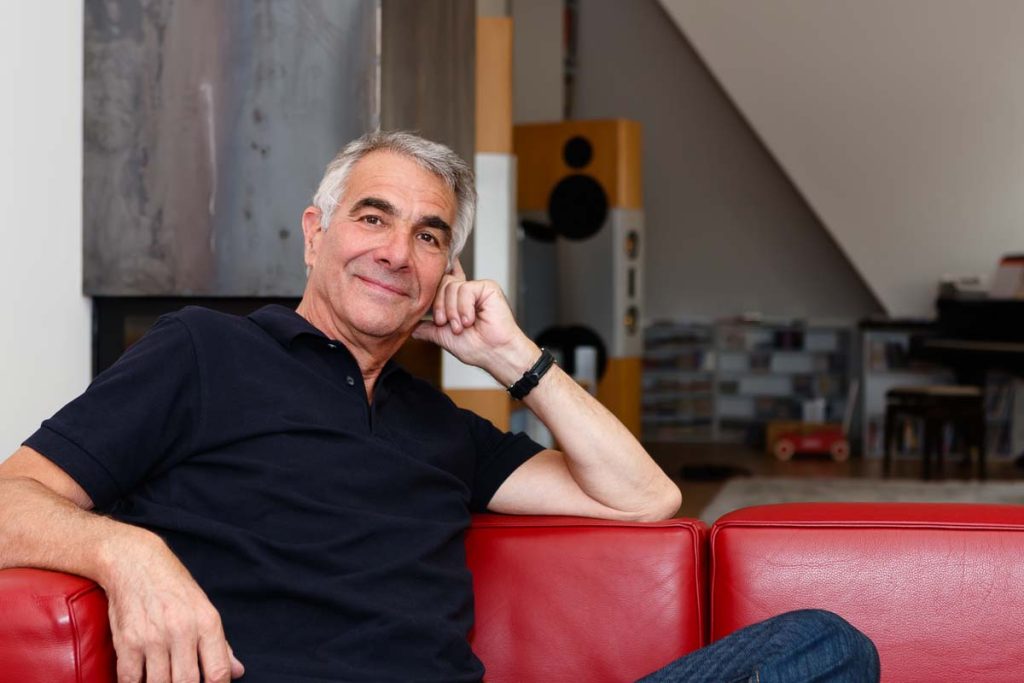 In addition to all its other qualities, "a hi-fi system that bears my name," says Dieter Burmester, has to always be "ready to rock," too. In the eyes of the founder, owner, and head of Burmester Audiosysteme, high-end audio is "a means of transporting musical emotions; nothing more, but also nothing less." And this should apply to every single music genre. In 1977, bitterly disappointed with unreliable tube amplifiers, the qualified radio and television technician, trained electrical engineer, and rock band member decided to make his first-ever hi-fi device, which, even back then, would already feature the striking Burmester logo that would look handwritten. This decision would signal the start of Burmester's entry into the newly flourishing high-end scene, a scene he would come to influence like no other person in Germany. With immense determination and incredible precision drawn from his original specialist area of medical technology and applied to the audio world, Burmester seems, looking back in hindsight, to have been sowing the seeds for not only his future creations but also for his own legendary status.
In 1981, Burmester was one of the founding members of the High End Interessengemeinschaft für hochwertige Musikwiedergabe e.V. (High-End Interest Group for High-Quality Music Playback) and one of the three board members of the association. His masterful knowledge and understanding of the theoretical principles of his profession and his ability to convey them are readily apparent in articles on the technology involved in high-end systems that he published in the 1980s in several trade journals, for instance one in 1987 about "cable problems" in HiFi Exklusiv No. III.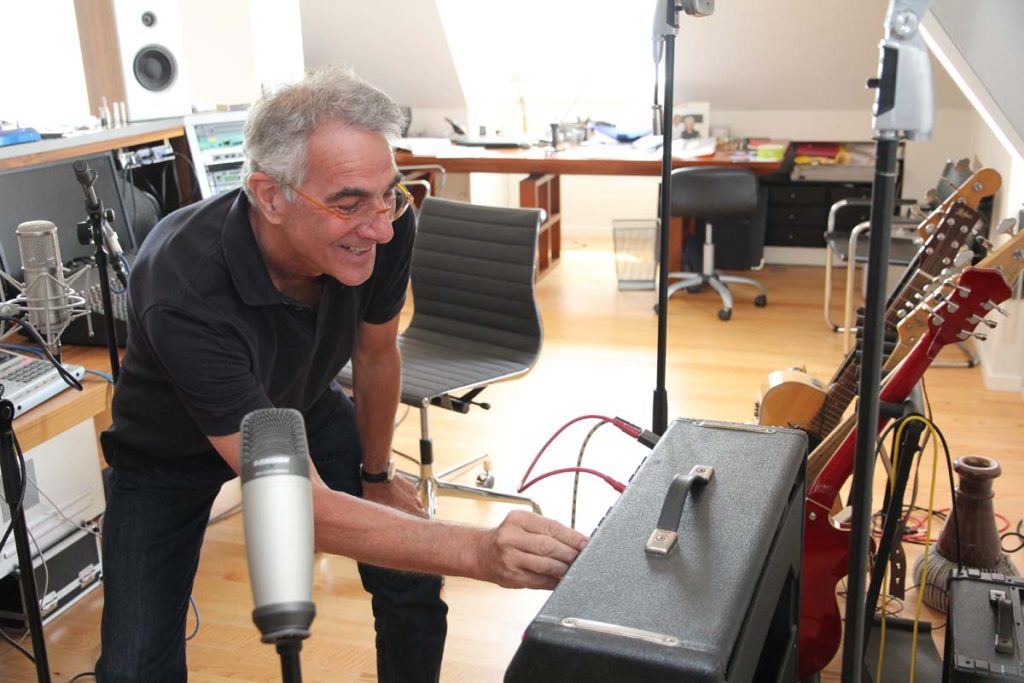 Burmester felt at home in the international hi-fi scene, coming across as self-confident and friendly. He created a distinctive look and feel for "high-end from Germany", serving as the scene's symbolic figurehead and enjoying an outstanding international reputation.
As he not only enjoyed music in all its forms during his spare time (his guitar collection is legendary) but also had a penchant for stylish modes of speeding around on water and roads, he was particularly thrilled to be able to finally incorporate his sound into some of the world's best automobiles.
Born on February 9, 1946, in Austria, raised in Lüchow in Lower Saxony, and a longtime resident of Berlin, Burmester passed away on August 15, 2015, following a short but serious illness. Since then, his exceedingly adept and gifted wife, Marianne Burmester, has assumed responsibility for continuing his huge legacy and ensuring his ideas and plans are realized.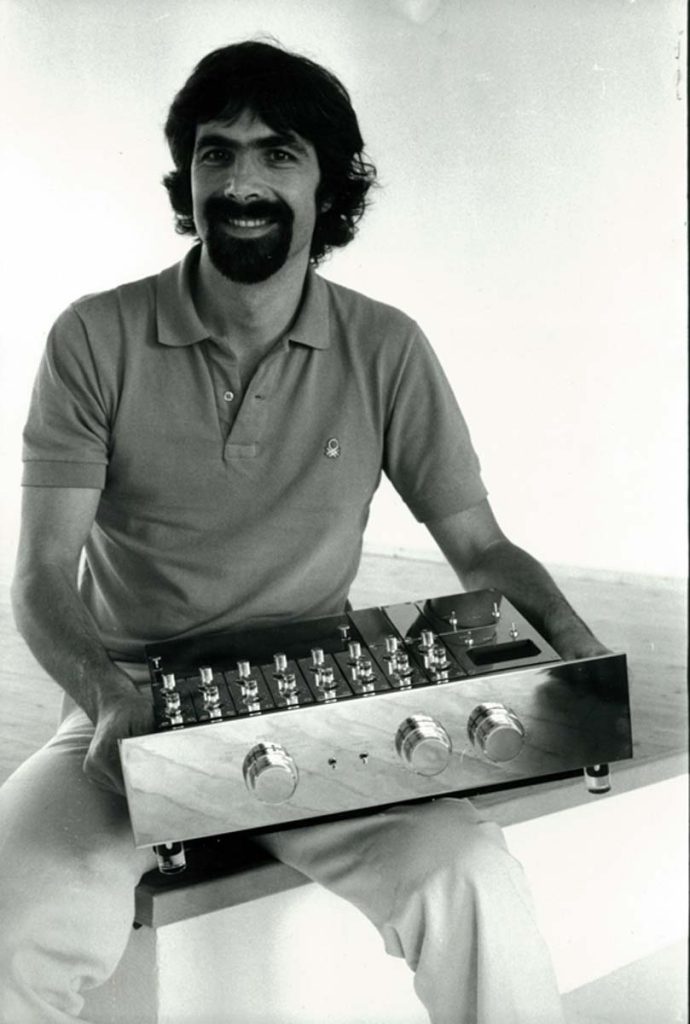 ---
LONG LIVE THE KING
Interview with Andreas Henke, CEO at Burmester Audiosysteme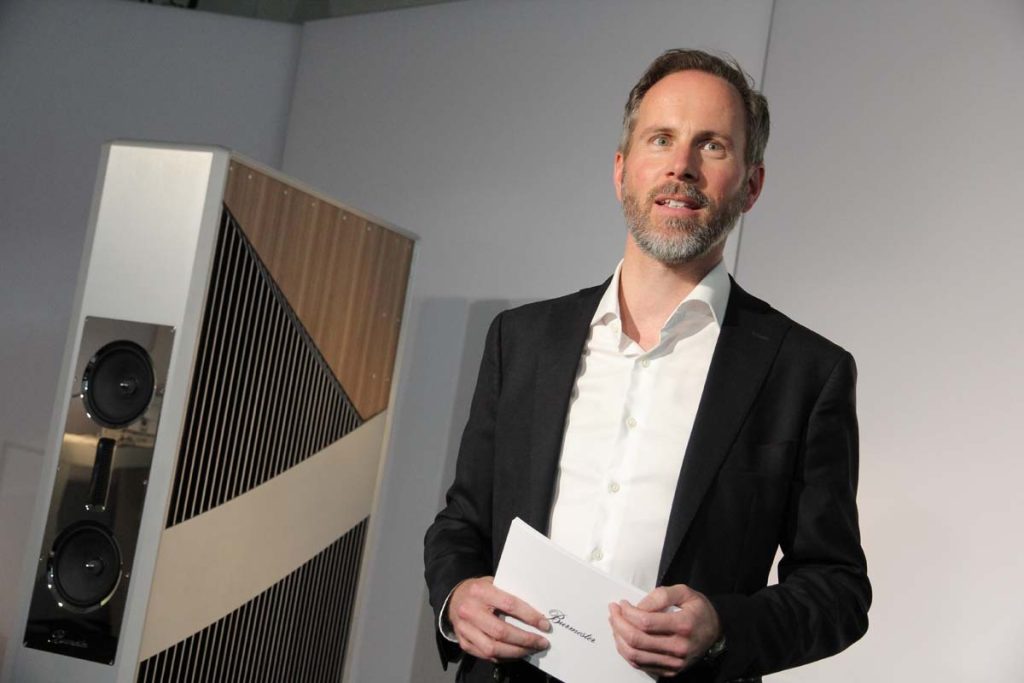 FIDELITY: Have you heard any particularly good music today? In a Mercedes taxi, perhaps?
Andreas Henke: That would have been nice. But no, unfortunately not. I'll have to wait until I get home this evening to enjoy listening to some good music.
When the first Burmester preamplifier was released, you were five years old. When did you first get to meet Dieter Burmester in person?
As a teenager, I used to read hi-fi magazines and came across the name Dieter Burmester a lot. But I didn't meet him in person until many years later when the Burmester sound system was being developed and presented for the Porsche Panamera. I was already an enthusiastic customer of the company, which I now have the honor of running.
You've stated that you plan to significantly expand the Burmester portfolio. What should we expect from your Berlin-based company in the short and medium term?
It goes without saying that we would never alter the sound DNA of Burmester Audiosysteme and have no intention of following fleeting trends. But customers should expect to be able to control the classic components from their iPad in the foreseeable future, for example. They'll also be able to experience considerably improved connectivity and compatibility. To achieve this, we plan to overhaul all home audio components over the next few years. And, at the top end of the scale, you should expect our big power amplifier, the 159, to get a few suitable partners to play with …
But the "little" Phase 3 system has also been an unbelievable success …
Yes, it's helping us attract completely new potential customers who are less likely to start with an "altar-style architecture" and who prefer integrated design over complexity — and can appreciate it. At the end of the day, we want to gain more exposure for everything that makes Burmester what it is and get more people interested. The automotive systems have been really helpful in that regard, but there are other product categories that we could imagine getting involved in, such as high-quality mobile products.
Won't it soon be high time to send off the 808 into retirement?
Absolutely not! The 808 is a chronographic product and must and will remain the "king." We will, however, equip the current version with substantial upgrade options.
Where do you see Burmester Audiosysteme in four years? And what about 14 years? In fact, what about 40 years?
In four years, all the upgrades and expansions we discussed should be ready. In 14 years, Burmester will be even more well known than it is now. We can only dream about what will have happened in 40 years' time, but I'm sure Burmester Audiosys­teme will remain an independent company.
What do you think of Frank Zappa's "We're Only in It for the Money"?
I prefer Henry Ford's thinking: "A business that makes nothing but money is a poor business." That's why we're, for example, working on setting up a foundation with the working title Akademie des feinen Klanges (Academy of Fine Sound). The idea is for it to be a place for all people deeply involved in music to come together and share ideas and experiences: musicians, composers, neuroscientists (from the Fraunhofer Institute, for example), producers, and, of course, manufacturers of high-quality audio components. The whole thing will have a "pro-craftsmanship" focus, if you will.
That sounds really exciting. We look forward to seeing that develop. Thank you for speaking to us.
You're welcome.
Born in 1972, Andreas Henke, joined the Burmester Audiosysteme management team, which now consists of him and the deceased company founder's wife, Marianne Burmester, at the beginning of 2017. Prior to that, Henke was responsible for product strategy, marketing, and key clients at Porsche. The athletic, eloquent manager loves photography, cars, and fine cuisine, as well as music and all things hi-fi of course, and can occasionally be found singing on (a private) stage.
---
BURMESTER AUDIOSYSTEME GMBH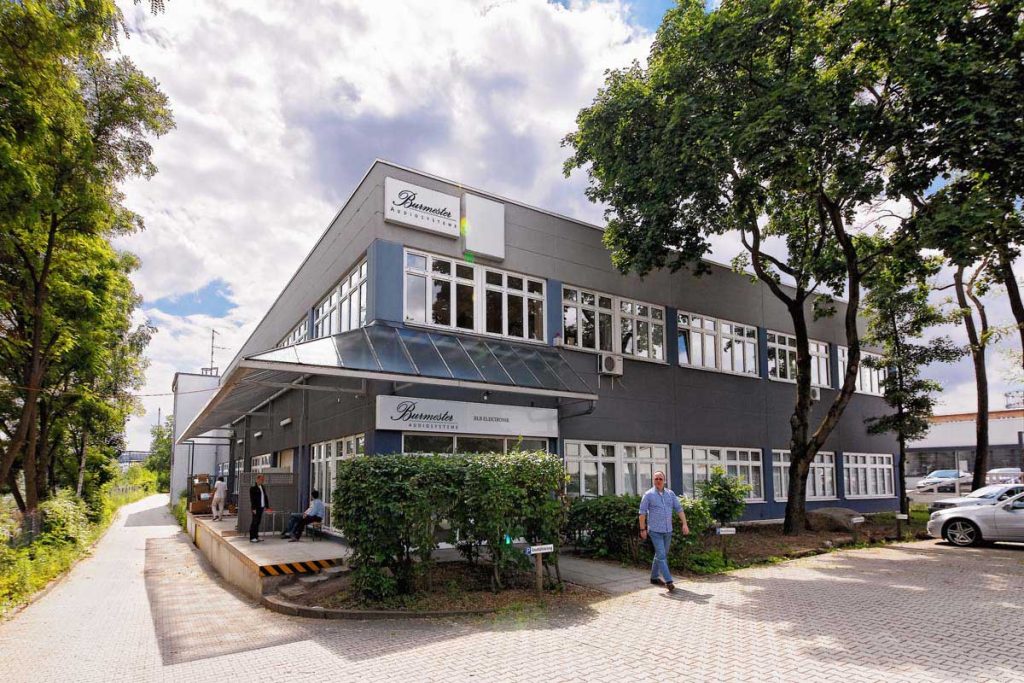 The company Burmester Audiosysteme as we know it today was founded in 1977 by Dieter Burmester as a typical one-man band in the Schöneberg area of Berlin. Initially set up as an engineering firm specializing in computer interfaces and circuit technology for medical measurement devices, the aspiring company enjoyed decent success initially with the 777 and 785 preamplifiers. Just three years later in 1980, Burmester made a real name for itself on the emerging international high-end scene with the sensational 808 model. Burmester often drew inspiration for outstanding home audio technology directly from professional recording-studio technology and used the latest chips at the time, for example the first audiophile operational amplifier chips. The especially long-term, stable developments ensured from the outset that the company would attract a great deal of attention for such technology as, for example, resistor networks (which are technically complex to manufacture) as faders instead of classic (failure-prone) potentiometers. In 1983, Burmester established the fully symmetrical circuit configuration for hi-fi components. The complete test records for every single device the company has ever built are available — tangible proof of rigorous quality-control measures and outstanding attention to detail within the production process that has always met veritable manufacturing standards.
Within its first 15 years, Burmester Audiosysteme successfully made the leap from amplifier specialist to high-end full-range manufacturer; the only thing missing was a turntable, which fans finally got to enjoy in 2017. The company has often made a name for itself with groundbreaking, benchmark-setting new developments such as the 916, the first belt-driven CD player; the 948 power conditioner; the 100 phono preamplifier; and the 111 MusicCenter and luxury streamer. The range even includes the company's own line of cables and specially produced CDs and vinyls.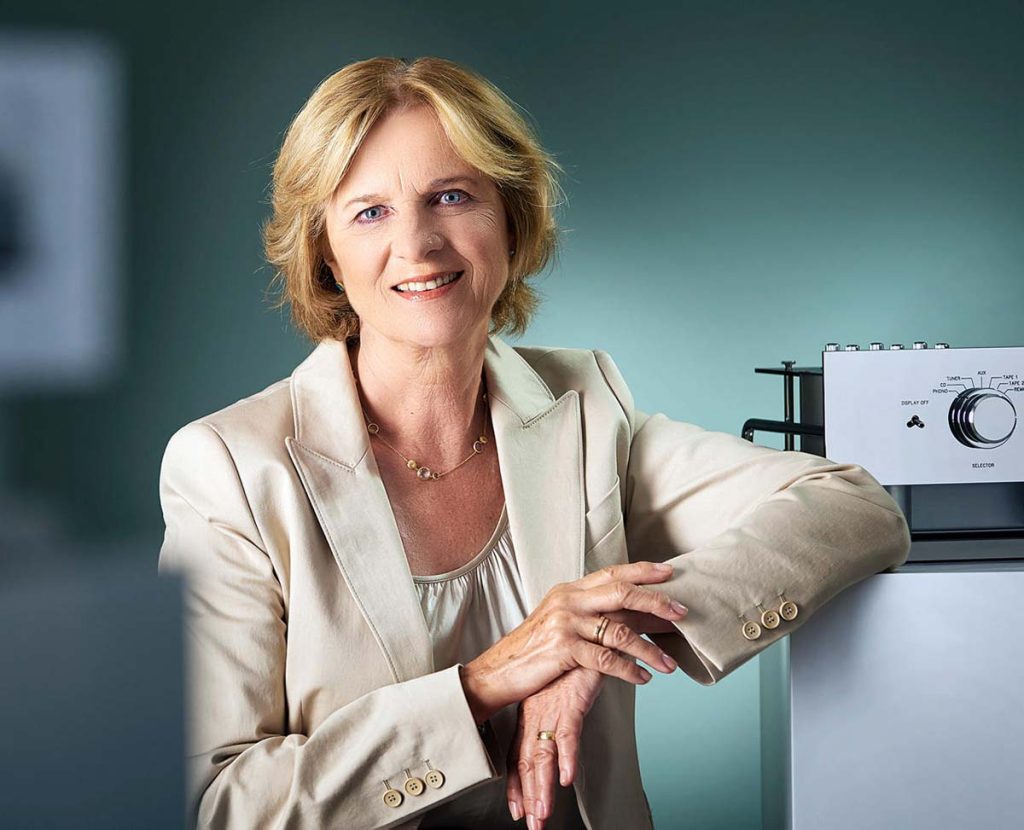 In the middle of the first decade of the new millennium, the owner-run manufacturer even managed to firmly establish a place for itself in the automotive industry, which is not only extremely competitive but also functions very differently. Burmester Audiosysteme won the race for the best in-car sound quality against formidable and much larger opponents first for the Bugatti EB 16.4 Veyron supercar and later for the Porsche Panamera. The considerable levels of investment required to penetrate the automotive industry would only pay off years later, but it would certainly be worth the wait. Burmester sound systems now define state-of-the-art sound quality not only in all Porsche series but also Mercedes models. In the process, this has helped the company gain more exposure in the far reaches of the world, embedding it deep into the consciousness of music lovers who appreciate top sound quality. At the same time, "classic" high-end hi-fi has always remained the core line of business at Burmester and this area is now being further expanded, most recently with the unveiling of the gigantic 159 power amplifier, the long-awaited 175 turntable and gargantuan loudspeakers with switchable "live mode".
In 1982, the company Burmester was owned by the 12 founding members of the High End Interessengemeinschaft für hochwertige Musikwiedergabe e.V. (High­End Interest Group for High-Quality Music Playback), which subsequently became the High End Society e.V. Since 2010, the company has been a member of the German Manufactories Initiative (Initiative Deutscher Manufakturen — Handmade in Germany, or IDM). Burmester also supports the social commitment work undertaken by the "Vamos Adelante" project in Guatemala by providing grants.
Since January 2017, Burmester Audiosysteme has been run by Andreas Henke and Marianne Burmester, the wife of the founder who sadly passed away in 2015. In the medium and long term we can expect the company to explore the realms of "personal high-end audio" and further expand its top-of-the-range category. An interdisciplinary Akademie des feinen Klanges (Academy of Fine Sound) is also in the cards.
---
Preamplifier
Burmester 808 MK5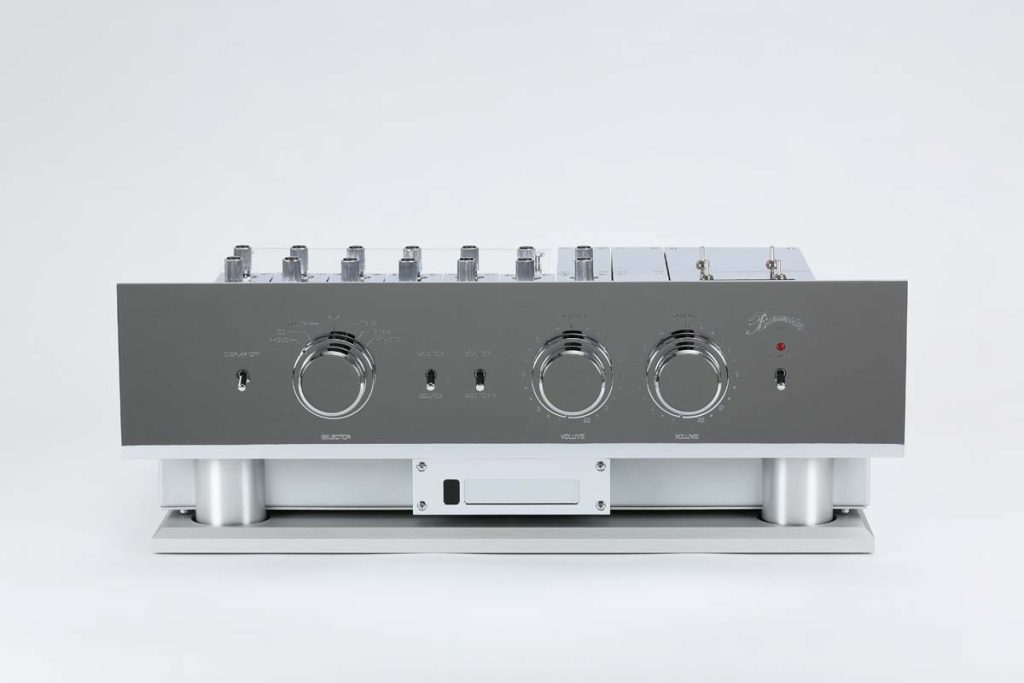 Functional principle: modular preamplifier with external power unit | Inputs: one to maximum of six inputs, balanced (XLR) and/or unbalanced (RCA), can be variably equipped | Outputs: one to maximum of two outputs, each balanced and unbalanced (XLR and RCA), separately switched and controlled | Optional input modules: phono MC balanced/unbalanced (€2,130),phono MM unbalanced (€1,680), high level (€1,120) | Optional output module: Out two balanced (€2,640) | Special features: solid aluminum device base, system remote control, high-quality power, and supply cables provided as standard | Finish: chrome (standard), optional black or gold-plated (24 carat) as well as other surfaces for an additional charge; external power unit also in the Reference Line design (additional charge of €4,980) | Dimensions of preamplifier (W/H/D): 48.3 cm/17.0 cm/38.5 cm | Dimensions of power unit (W/H/D): 48.3 cm/9.5 cm/28.5 cm | Weight of preamplifier incl. base plate: 23 kg | Weight of power unit: 9 kg | Warranty period: two years | Price of basic version including four standard modules (CD in, Surround Thruput, unbalanced out, balanced out): €27,020
Burmester Audiosysteme
Wilhelm-Kabus-Str. 47
10829 Berlin
Germany
Phone: +49 (0) 30 7879680
The stated retail price of the reviewed device is valid as of the time of the review and is subject to change.