There was nothing ordinary about Jutta Hipp, from the fact that she was the only white European woman signed to Blue Note Records in the 1950s to the fact that, six years after that signing, she dropped out of the music scene so completely that she even stopped collecting her royalty checks. But most unusual of all was this German pianist's wonderful playing, which earned her the nickname Europe's First Lady of Jazz.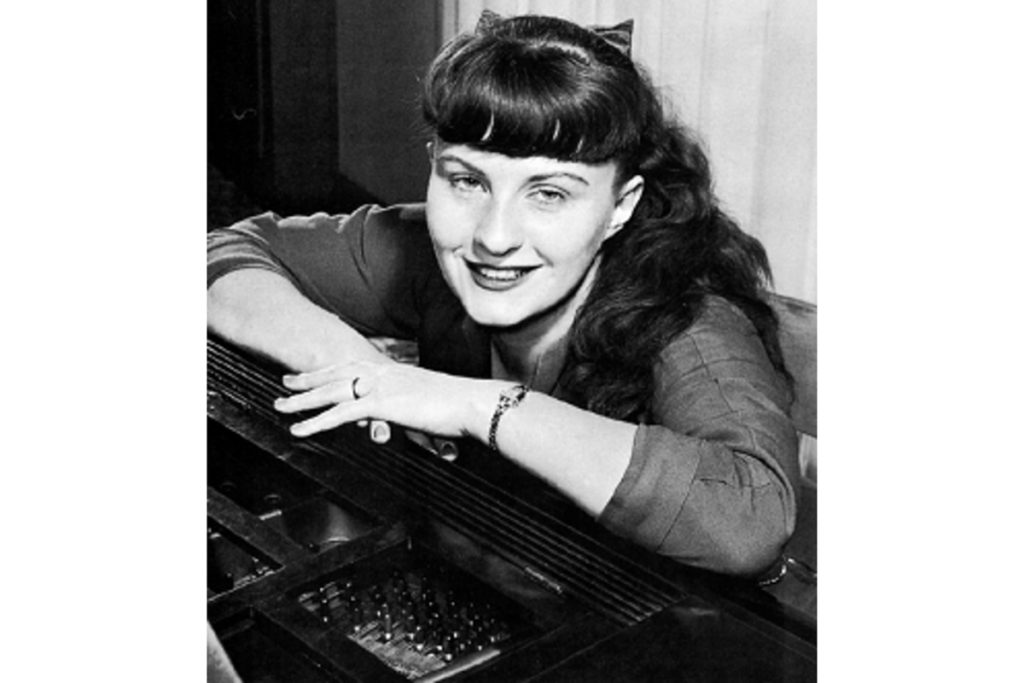 From Copper Magazine Issue 181
FIDELITY cooperation with Copper Magazine.
Read this article also in Copper.
Jutta Hipp, a native of Leipzig, was born in 1925 and started playing piano as a child. Her ambition was to become a painter, but she loved to listen to and play jazz. That hobby turned into a show of resistance with the rise of Hitler, who banned jazz from the airways. As a teenager Hipp secretly heard and played it with her friends anyway. During the war, she struggled as a refugee, but by the early 1950s she'd found her footing as a professional jazz pianist.
She toured and recorded with bandleader/saxophonist Hans Koller and started her own quintet. Quickly her reputation grew as an excellent player and colleague. In 1954 her fortunes changed in a way that her fellow jazz musicians in Europe must have dreamed of: famed jazz critic Leonard Feather stepped in to assist her career. This led not only to important festival engagements, but also her first American gigs and her contract with Blue Note. By 1956 she had immigrated permanently to the US.
Finding long-term reliable work as a pianist became increasingly difficult; Hipp dealt with her stress by smoking and drinking heavily. Although no one knows for sure, that difficult psychological situation may be what convinced her to walk away from her career. In 1960 she took a job at a clothing factory, restricting her playing to weekends before she eventually stopped performing altogether. She stayed at that factory for 35 years and died in 2003, largely forgotten in jazz circles, but fortunately captured on recordings.
Enjoy these eight great tracks by Jutta Hipp.
1st Track: "Indian Summer"
Album: Jutta Hipp: The German Recordings
Label: Jazzhus
Year: 1955/2012
In the three years before signing with Blue Note and coming to the States, Hipp made a few recordings on the Jazzhus label. Here she plays with her trio, Harry Schell on bass and Karl Sanner on drums.
In the early years of her career, her favorite piano influences were the intellectual bebop of Lennie Tristano and the blues- and gospel-oriented hard bop style of Horace Silver. On this recording of Victor Herbert's "Indian Summer," you can hear both those forces at work.
2nd Track: "My Heart Stood Still"
Album: Jutta
Label: Fresh Sound
Year: 1954
Another compilation of early recordings, Jutta offers the pianist's quintet, whom she toured with until her move to America. These are both live and studio recordings made in Frankfurt and Cologne.
She demonstrates an easy sense of swing on this recording of "My Heart Stood Still," which quickly develops into a wild, polyphonic improvisation. One of the hallmarks of her up-tempo style is the use of an added note in the right hand against certain notes in the melody as a form of punctuation.
3rd Track: "Yogi"
Album: Cool Dogs & Two Oranges
Label: Jazzhus/Fresh Sound
Year: 1954
Cool Dogs & Two Oranges is a studio album by the Jutta Hipp Quintet. It gives a good sense of the ensemble. Hipp was the founder, not the star, and much of the focus was on the interplay of the two saxophonists, Emil Mangelsdorff and Joki Freund. To be frank, Hipp is the best ensemble musician here. The saxophones' close harmony lacks precision.
There are no compositional credits on the album, but the tune "Yogi" is in a standard bebop style. Hipp mostly stays in the background, providing rhythmic chords. But when she takes her short solo around 1:45 she makes the surprising choice to play almost straight eighth notes, not swung, which gives an intriguing sense of syncopation.
4th Track: "Flamingo"
Album: Deutsche Jazz Festival
Label: Brunswick
Year: 1954
It was Leonard Feather's influence that helped Hipp find her way to the stage at the Deutsche Jazz Festival. On this album she appears as part of alto saxophonist Hugo Strasser's combo, which also featured her usual bassist and drummer, Hans Kresse and Karl Sanner.
"Flamingo" is a tune by Ted Grouyer made famous by the Duke Ellington Orchestra. This track shows a different side of Hipp. Her solo, starting at 2:31, is based on heavily swung chords rather than a single melody line, in keeping with the chordal nature of the arrangement.
5th Track: "Jeepers Creepers"
Album: At the Hickory House, Vol. 1
Label: Blue Note
Year: 1956
By 1956 Hipp was established as a Blue Note artist. This put her in the company of higher-quality fellow musicians than she'd had access to in Europe, not to mention the top-notch skills of producer Alfred Lion and engineer Rudy Van Gelder.
The difference is immediately apparent on this live recording from the Hickory House in Midtown Manhattan. Joining Hipp are bassist Peter Ind and drummer Ed Thigpen. In her playing of the 1938 Harry Warren tune "Jeepers Creepers," Hipp demonstrates her absolute control over the keyboard. Every note has a specific strength and purpose within each phrase. Ind's bass solo is worth sticking around for.
6th Track: "Moonlight in Vermont"
Album: At the Hickory House, Vol. 2
Label: Blue Note
Year: 1956
That same concert at the Hickory House in New York provided material for a second LP.
Hipp had a penchant for the up-tempo and the angular, so it's a treat to hear her play something slow and sentimental like "Moonlight in Vermont." It's a thoughtful, even dreamy rendition, packed with ideas that she inserts between phrases of the popular Karl Suessdorf melody, introduced to the world in 1944 by Margaret Whiting.
7th Track: "Violets for Your Furs"
Album: Jutta Hipp with Zoot Sims
Label: Blue Note
Year: 1957
Jutta Hipp with Zoot Sims is the pianist's best album. Sadly, by the time it was released, she had left the world of music to make an honest living. It's almost painful to hear these duets with the great saxophonist Sims and imagine what other collaborations Hipp might have engaged in with access to Blue Note's stunning roster of artists.
In his liner notes, Feather describes the album as having the spirit of a live show, although it was made in the studio. The combo, anchored by Ahmed Abdul-Malik on bass and Ed Thigpen on drums, provides a wistful backdrop against which the two stars express themselves on "Violets for Your Furs." Hipp teases out subtle counterpoint as Sims introduces the melody.
8th Track: "Too Close for Comfort"
Album: Jutta Hipp with Zoot Sims
Label: Blue Note
Year: 1957
Here's another example of the collaboration between Sims and Hipp.
On "Too Close for Comfort," the almost disembodied trumpet line on the chorus is provided by Jerry Lloyd. Sims is at his laid-back but virtuosic best, and Hipp's solo starting at 3:25 matches the saxophonist's easy-going creativity.
Special thanks to Copper Magazine
The stated retail price of the reviewed device is valid as of the time of the review and is subject to change.