Touraj Moghaddam, founder and chief executive of Vertere, announced that the new DG-1S record player is also available in white from early October 2022.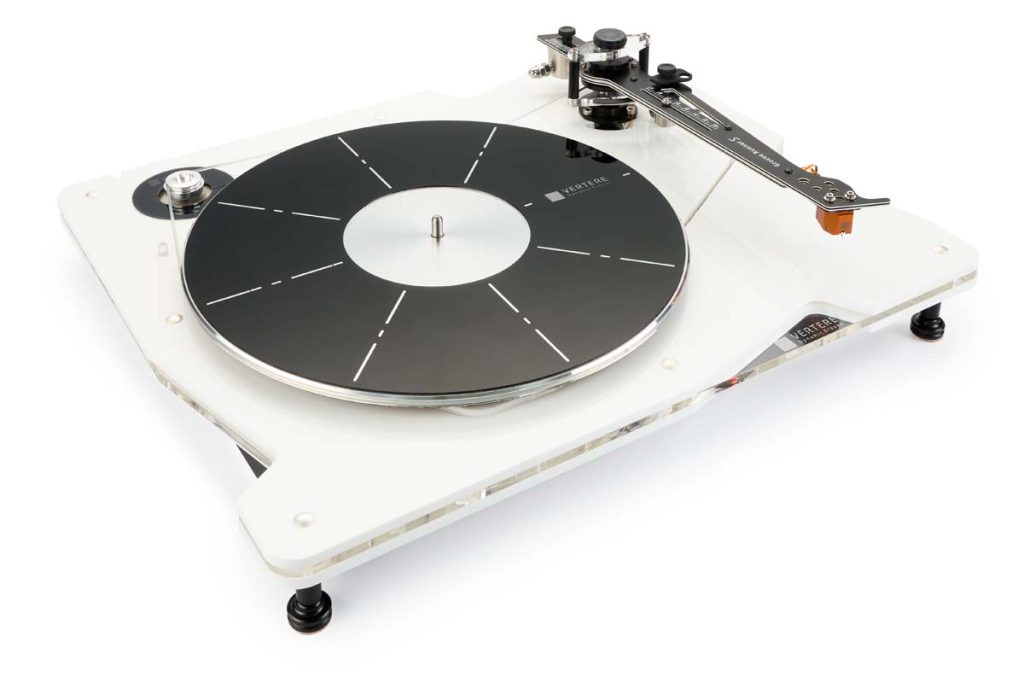 Traditionally product development at Vertere comes from two sources: Either a tranquil eureka moment for Touraj or conversations with distribution. In other words, a Push or Pull approach. This product came by a chance conversation between Touraj and Chelsea – Vertere's marketing specialist. Here, she expressed a desire for a white finish DG-1S. It all went quiet until the next meeting, where Touraj proudly displayed the Vertere DG-1S in white.
There was immediate consensus that the white DG-1S had to be immediately made available. The white version utilises two polished soft-look cast Perspex sheets sandwiched around a constrained transparent Perspex inner. If you thought the black looked good, you have to see the white.
Summary of the Vertere DG-1S Improvements – White or Black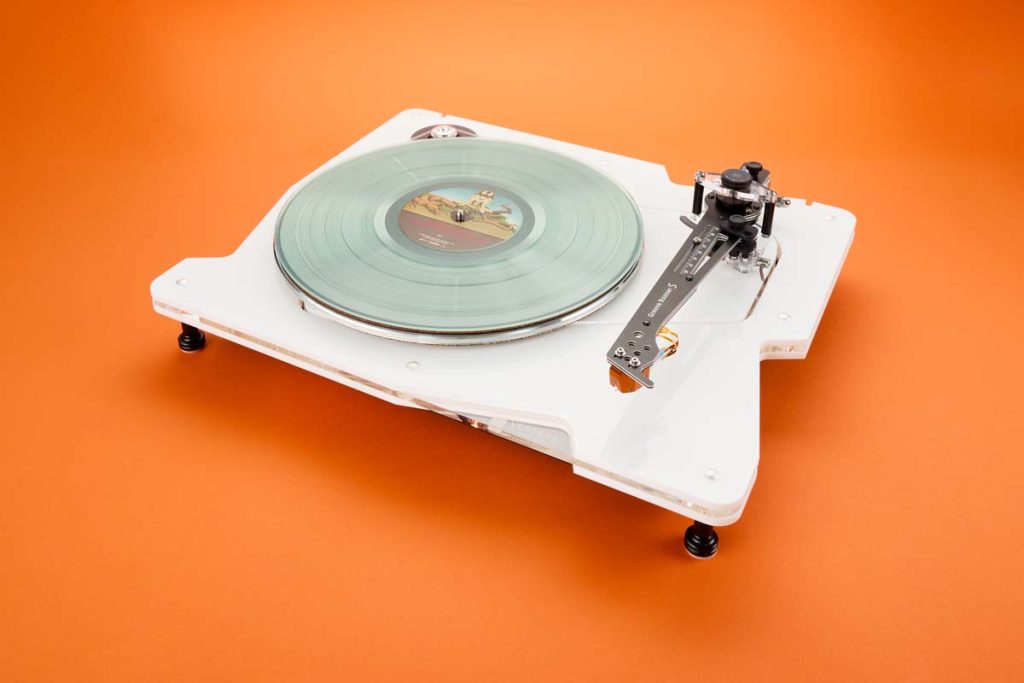 Improved platter bearing – The precision machining and polishing operations have a higher tolerance, with the variation halved statistically. The super smooth finish bore with the precision Tungsten Carbide interference fit ball delivers lower noise, lower rumble, a lower effort for the motor as well as less rotational variability.
Groove Runner S tonearm is constructed from a five-layer polymer laminate bonded to a second five-layer polymer laminate. The arm beam includes the PCB flex signal carrier between the two laminates. In addition, the profile of the arm and bearing has improved the counterweight/bearing/headshell/cartridge alignment.
Improved tonearm bearings – The Vertical Kevlar thread bearing is now adjustable for tension and azimuth. Additionally, the Horizontal nylon thread bearing is now fitted with greater precision to ensure even greater consistency.
New Motor Drive software allows separate adjustment in two steps. Initially, the sine wave voltage is adjusted, followed by the cosine wave adjustment at the final stage. Thus, absolute lowest noise and vibration is guaranteed. Additionally, improved coupling between the three plinths improves resistive damping and reduces noise.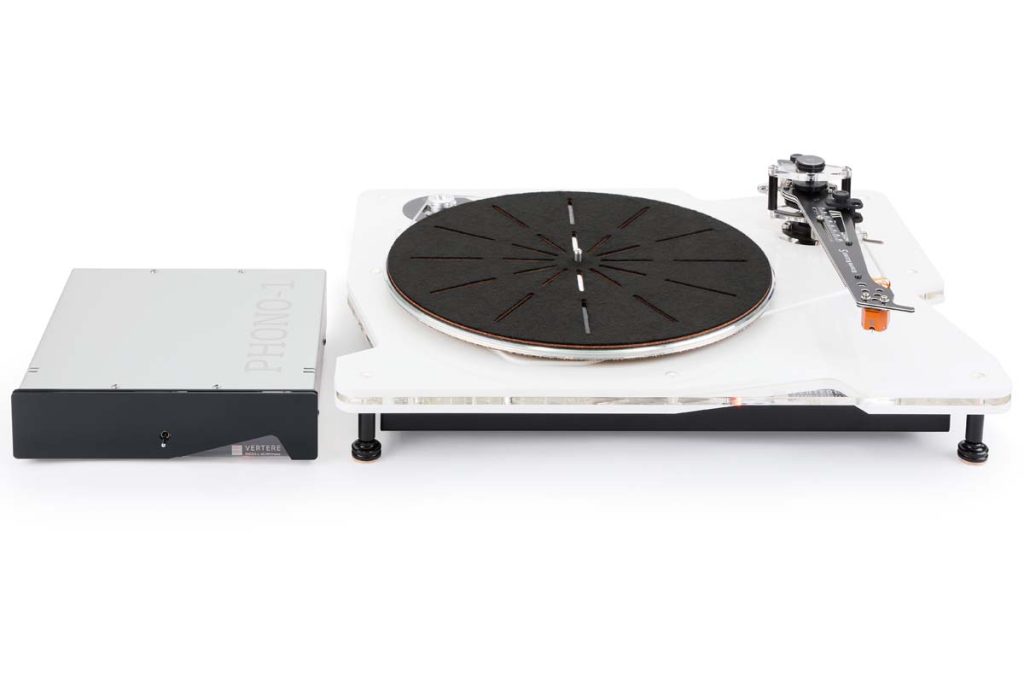 Background to the design
Vertere Acoustics is best known for its extreme high-end designs loved by audiophiles worldwide. The Reference RG-1 Turntable and the Reference Tonearm compete on equal terms with the world's best. However, the new DG-1 S targets a less extreme customer driven by performance who almost needs Plug and Play setup. From Vertere's research, this customer wants ease of setup and use but not at the expense of future upgradeability.
To design a record player that will sell for £3550 including Magneto cartridge when the brand's existing designs can sell for £200k requires a back-to-fundamentals approach. Taking his existing ideas, reducing material quality, and slackening tolerances would not be the Touraj way. Back to fundamentals involved examining every design element, rethinking the way turntables work, and removing every superfluous element.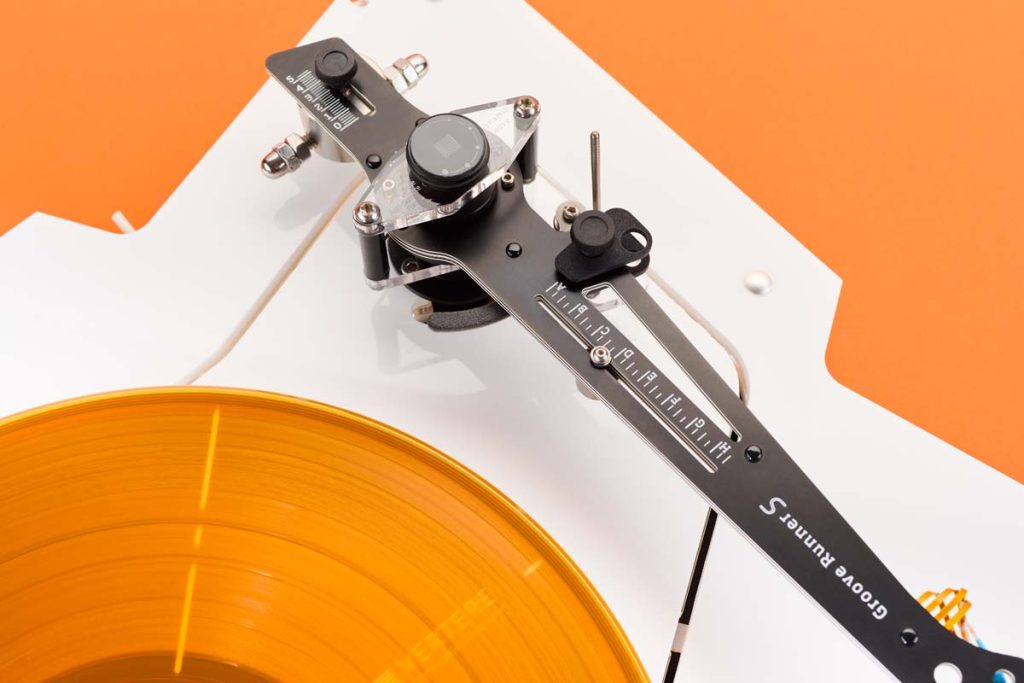 Everything has been redesigned and re-engineered, from the plinth to the arm and its bearings. This involved developing some of the basic principles of a record-playing system while completely rethinking others.
The result is an elegant turntable that looks like no other. It draws on the engineering of the reference models, delivering outstanding performance and ease of operation at an affordable price. "The job of a record player is very simple and very linear," says Touraj Moghaddam, "the most accurate measurement of something going past the stylus and throwing it from side to side over 1000 times every centimetre."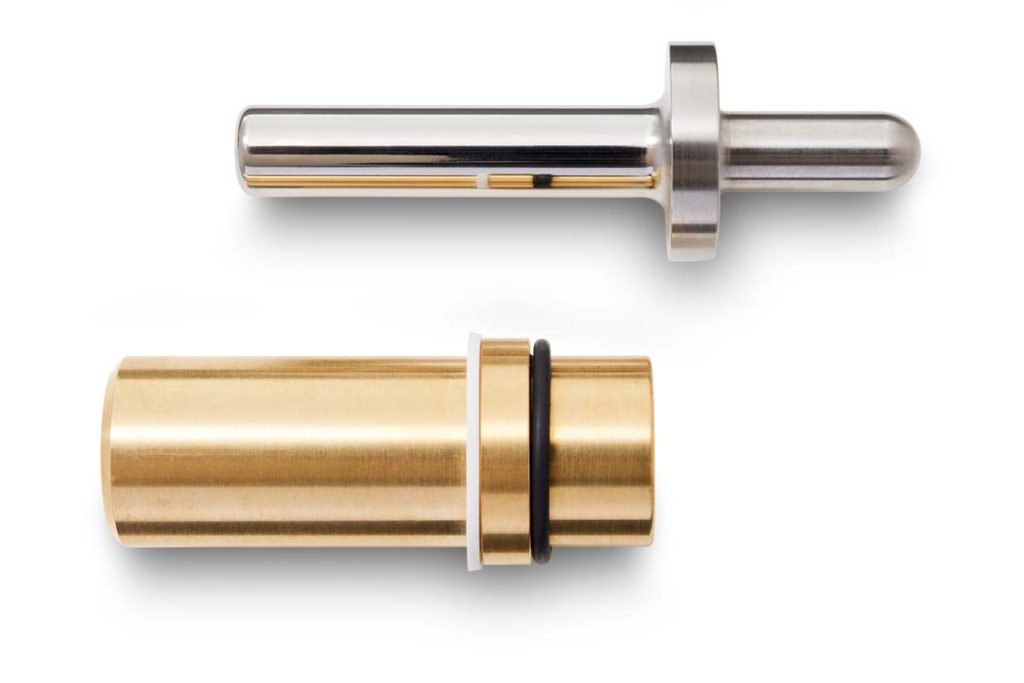 The new DG-1 S design in detail
Advanced, improved, microprocessor-generated electronic motor drive for the best possible drive.
Fully Programmable and Copper/Stainless Steel shielded Motor Drive PCB – allowing for future upgrades.
Low voltage 24 Pole Precision Synchronous Motor. Features dedicated motor drive supply precisely adjusted for lowest motor noise and vibration.
Improved super-accuracy polished stainless steel, high aspect ratio, main bearing spindle and main bearing housing with Tungsten Carbide super-precision Ball.
High precision CNC machined aluminium alloy drive pulley.
High Precision Machined Aluminium Alloy Platter with bonded PETG Record Interface Mat and Cork/Neoprene/Nitrile bonded underside plus resonance control disk.
Noiseless and Stiction eliminating Thread Tonearm Bearings. Each made up of hundreds of 3 microns thick twined Nylon 6.6/6 strands horizontal and two Kevlar threads vertical.
Twin Bonded five-layer Polymer sandwich non-resonant Tonearm Beam.
One piece, Gold Plated Flexible PCB Tonearm Internal Wiring.
Stainless Steel Main Balancing Counterweight and Tracking Adjustment Weight with azimuth adjustment.
Three new design adjustable feet with Resistive Felt Pads.
Non-resonant, triple sandwich Cast Acrylic Main and Sub Plinth structure. Features improved intercoupling and coupling to the steel main-chassis for rigidity and structural support.
Low frequency compliant, Tuned Silicone rubber integrated isolation system.
Bespoke clear precision silicone rubber round 'belt' – stable with temperature and humidity.
Programmable Standby light.
33/45 touch button speed selector.
Non-resonant clear Polycarbonate dust cover with elegant Integrated hinges.
Multi-voltage, Multi-plug Mains Power Adaptor – suitable for almost any region or can be upgraded with the Challenger power supply.
The core elements in more detail
The Motor
The motor is the most crucial part of any turntable. It's the only source of energy for the signal generated by the cartridge and fed out to the amplifier. Therefore, quality and accuracy are vital. The DG-1 motor system is derived from that developed for the flagship RG-1 Reference Motor Drive. It uses the most advanced motor drive, delivering the best possible performance. The motor itself is a low voltage 24-pole Precision Synchronous design, individually tuned for the lowest noise and with an offboard power supply. An addressable microprocessor PCB controls it during manufacture to ensure accuracy and programmability for future upgrades. A copper and stainless-steel cover provides shielding from both inward and outward interference.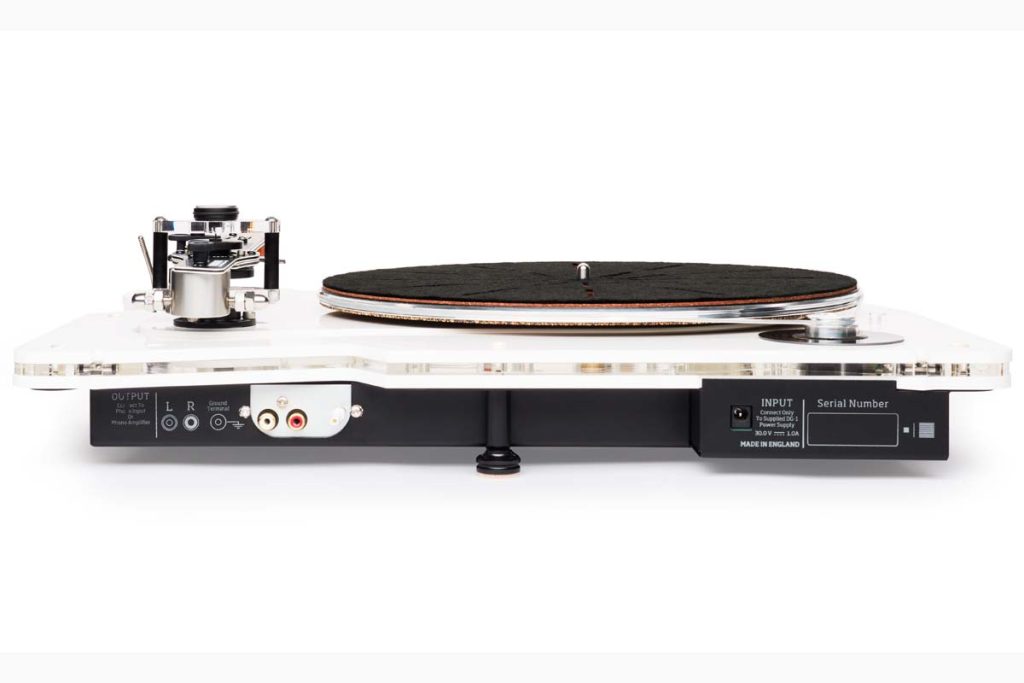 The Platter assembly
Drive to the platter is via a precision machined aluminium alloy pulley on the motor and a bespoke silicon rubber drive belt, with electronic speed change for ease of use. The platter is also a precision machined alloy, bonded to a PETG record interface mat, and, on the underside, a cork/Neoprene/nitrile disk bonded to control platter resonance.
The Bearing
The platter fits onto a super polished stainless-steel spindle that rides in the main bearing housing on a super precision tungsten carbide ball. The complete main bearing assembly is long-term lubricated for longevity and ease of use. This avoids regular repeated recharging of the bearing lubricant, which is essential to prevent premature wear and damage—another example of simplifying this turntable to optimise performance. In addition, the new super-precision bearing delivers lower noise, lower rumble and lower rotational variability.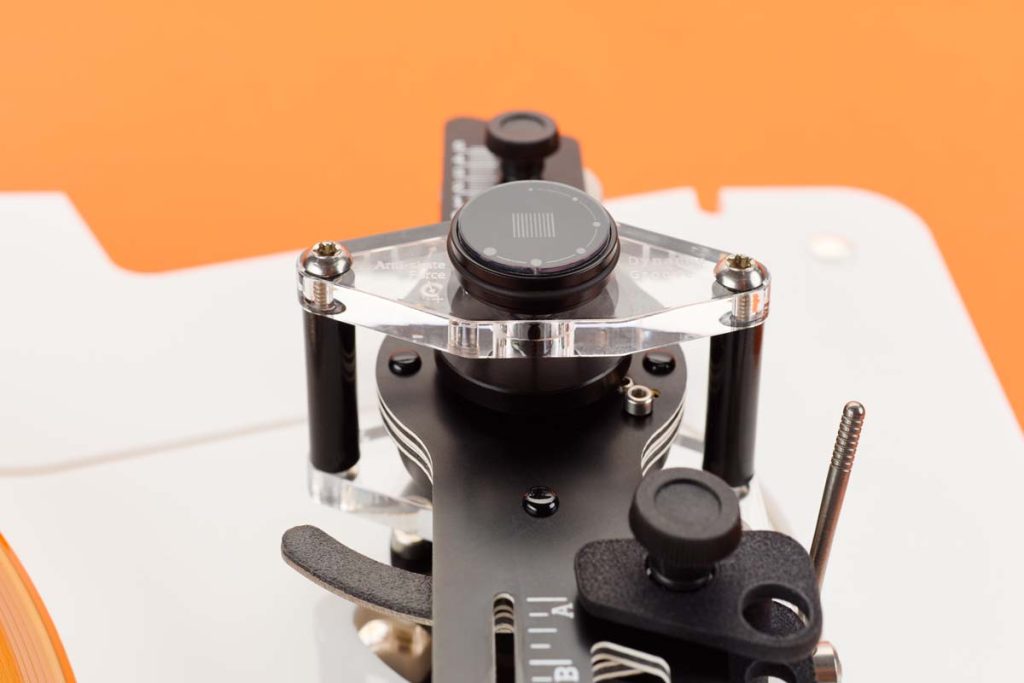 The Groove Runner S Arm The DG-1 S arm is uniquely Vertere and differs from conventional thinking in its use of a flat profile in place of the usual tube. Conventional arms use tubes for stiffness, but these can bring all kinds of problems with high Q resonances and thus the need for critical damping – costly and complicated. The DG-1's bonded double five-layer, non-resonant tonearm beam avoids these problems. In addition, in place of conventional tonearm cabling, a flexible PCB is sandwiched into the arm to carry the signal from the cartridge to the output terminals. Completing the arm are a stainless-steel counterweight with azimuth adjustment and a fine adjustment tracking weight, giving a total solution that's as simple and elegant as it is innovative.
Thread bearings
Many solutions have been sought over the years for precise bearings, but for the DG-1, Vertere has developed a very simple solution: twisted nylon (hundreds of 3 microns thick twined Nylon 6.6/6 strands) and Kevlar threads– one for movement in the horizontal plane, and two Kevlar for the vertical axis. These threads have many advantages, not the least of which is simplicity: they exhibit none of the Stiction – or initial resistance to movement – of conventional bearings, are super-light and noiseless, and the twist of the thread controls and damps the movement of the arm.
The Plinth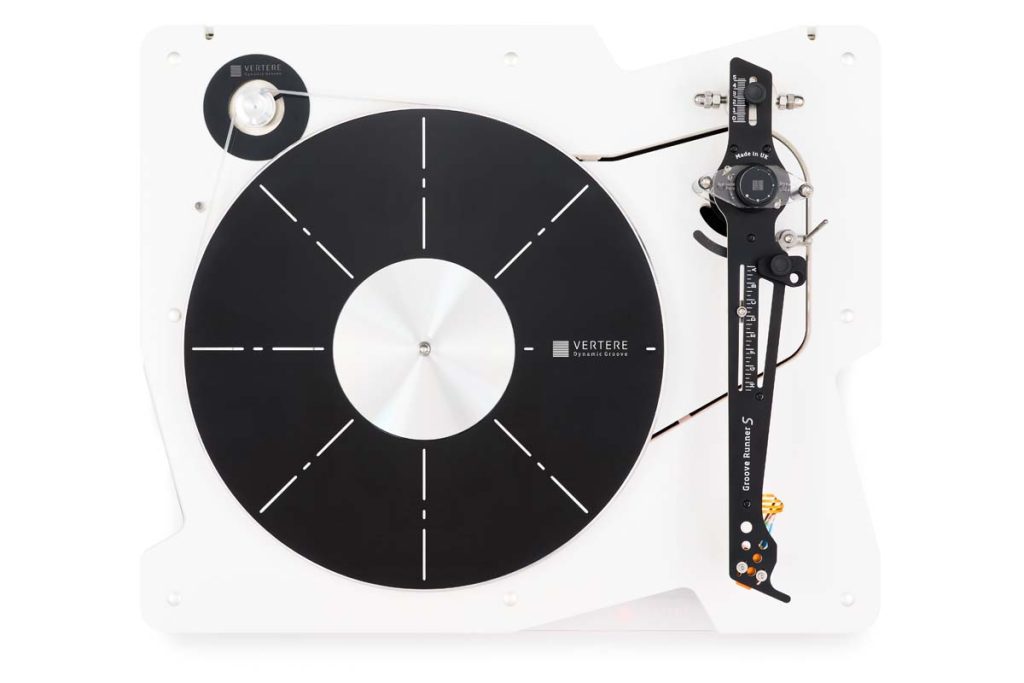 Like the tonearm, the DG-1 plinth is a sandwich construction, using non-resonant cast acrylic to form the main plinth and the sub-plinth for a clean and sophisticated look. This three-layer design incorporates the control button, the speed indicator and the user-selectable standby mood-lighting, as well as the silicon rubber isolation between the plinth and the platter assembly. The whole assembly sits on a steel chassis, chosen for optimal stability, housing the motor drive circuit and the motor, all supported by three new-design adjustable feet with Resistive Felt Pads.
The DG-1 S comes with a non-resonant Polycarbonate dust cover, where its hinges are integrated into the plinth for a sleek and modern profile.
Background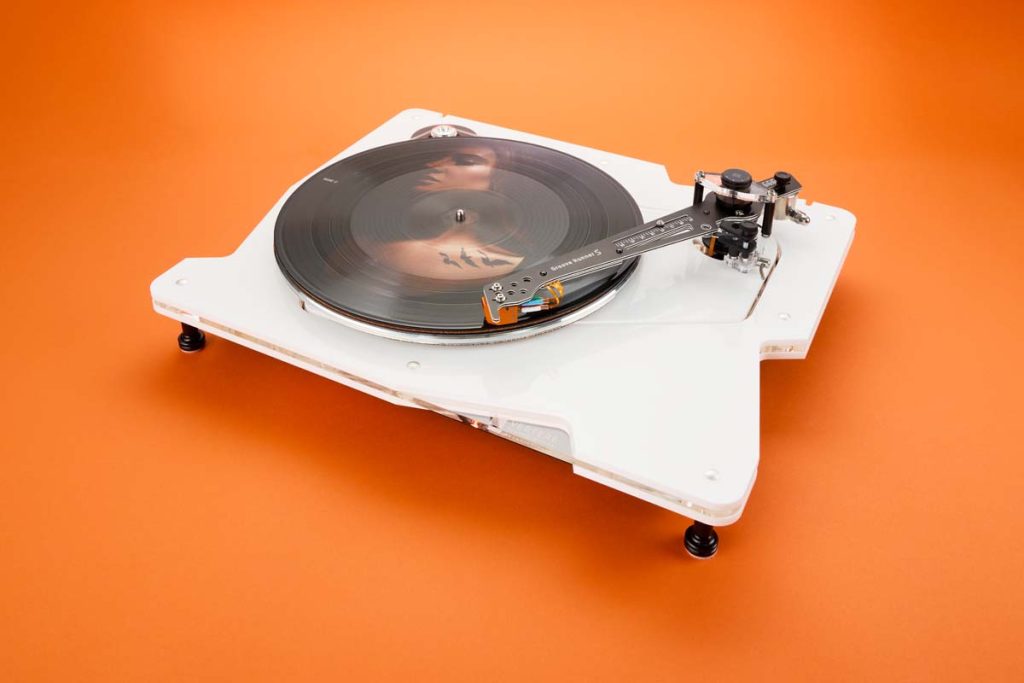 Touraj explains the source of some of his background knowledge: "Our collaboration with music industry engineers has given us invaluable insights into the art of cutting. This knowledge has enabled us to advance our record player design in many ways to extract the maximum from vinyl records.
For example, with his recent remixes of the Beatles albums, Giles Martin – son of the late Sir George – used a Vertere MG-1 record player, including SG-1 tonearm and PHONO-1 preamplifier throughout, to check and approve the acetates and the test pressings.
And we've worked closely with the multi-award-winning mastering engineer Miles Showell: since February 2017. Miles has been using his own extensively customised Neumann VMS 80 lathe, incorporating Vertere cables, to cut normal and half-speed masters for the likes of ABBA, Cream, The Police and The Rolling Stones, and also the 50th-anniversary release of The Beatles' Sgt Pepper's Lonely Hearts Club Band and The Beatles (otherwise known as 'The White Album').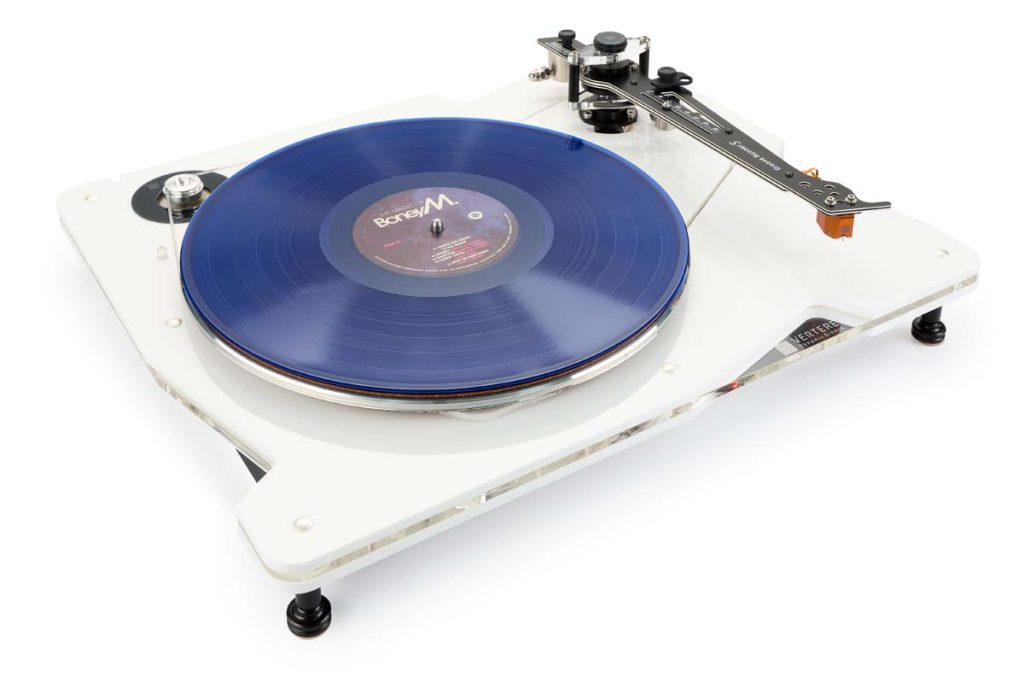 Working closely with Miles has led to the first releases on our record label Vertere Records. Releases: a three-track EP and a first album by Scottish band Caezar, and the first album by Dutch singer/songwriter Elles Springs, which was specially tape-transferred, and then half-speed mastered and cut by Miles for our label.
By involving ourselves at every stage of the record-making process, we can ensure our players bring you as close as possible to what the artists and engineers wanted you to hear."
Availability and Price
The Vertere DG-S1 in white will be available in early October 2022. The white or black finishes will cost: £3550 (€4148, $4995, Aus$7000), including Magneto cartridge. And up to £4950 including Redline cable, Sabre cartridge, Technomat, and Iso-Paws.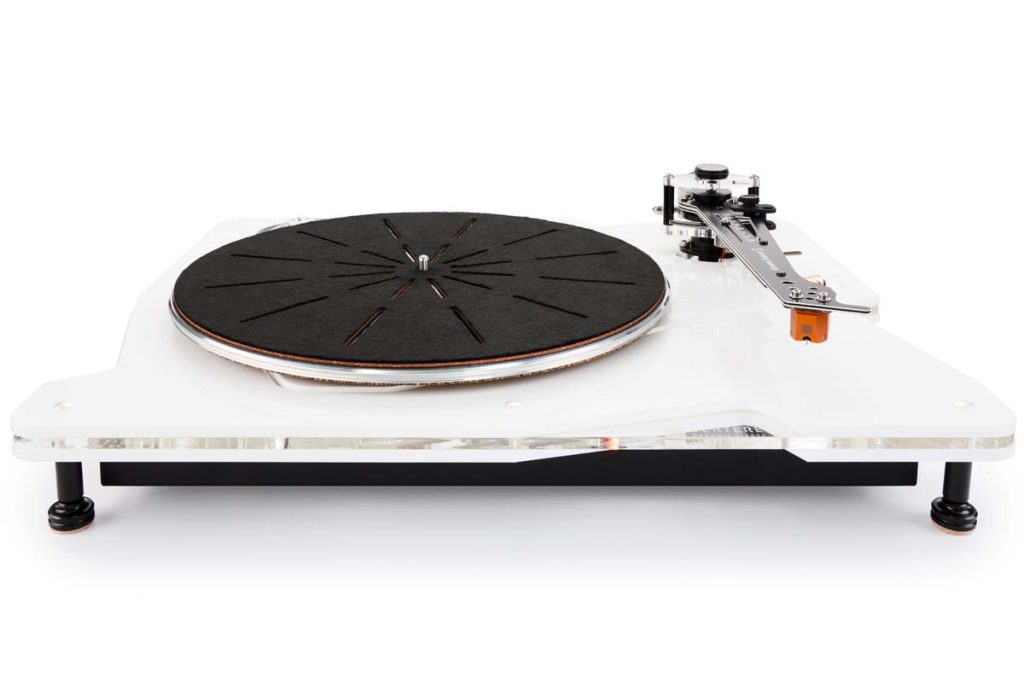 The stated retail price of the reviewed device is valid as of the time of the review and is subject to change.