According to the age-old hi-fi rule – what is lost at the start cannot be subsequently recovered. And the successful world of streaming is no exception. As a matter of fact, it only compounds the rule.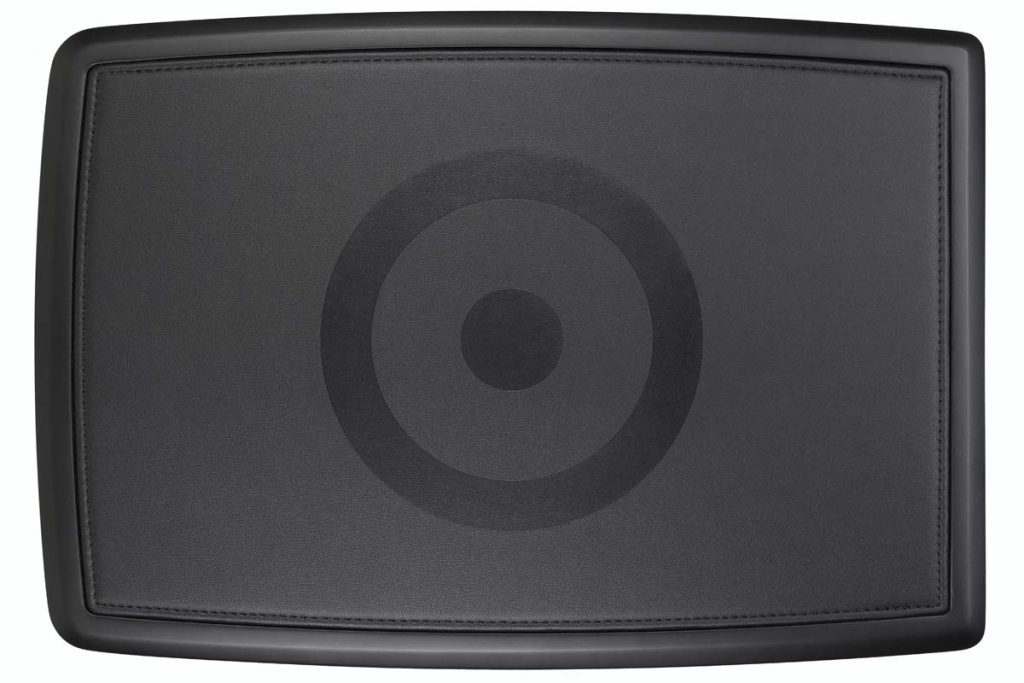 It has been two years since I started to understand just how much audio potential rests within network cables and streamers. That's how long it has been since I purchased the Innuos Zenith Mk III streaming server and immersed myself in the topic. The Innuos transformed the computer into the newest part of my system. The developers opted for a rather inefficient motherboard, which supposedly produces less interference in operation than other more powerful models. Furthermore, they combined it with a traditional linear power supply unit that has a thick toroidal transformer, which would benefit even a fully-fledged power amplifier.
The concept proved successful, and streaming has since been the third most important medium in my listening room – after CDs and vinyl of course. What I really love is that I truly understand the device. The Innuos lets you gloss over its undeniably complex "computerness" and comes across like any other hi-fi component. It wouldn't be easy, but I'm sure I could explain all there is to know about it if I had to.
The same couldn't be said for the switch (more precisely, the PowerSwitch) or the network cable in Ansuz Acoustics' top-of-the-range D-TC Supreme series. And this is true even though I have spoken at length and in depth about them with developer Michael Børresen. His remarks regarding the processes beneath the gently curved housing cover of the PowerSwitch and the fabric sleeve of the near-rigid Ethernet connector cable are as alien to me as the corresponding price tags. Each end of the cable boasts a module featuring Børresen's proprietary interference suppression technology. One of the modules contains a mini jack socket which lets you create an electrical connection to the switch via the tiny wire included as standard – thus the term "PowerSwitch". But how does a switch power a cable? So much for the approachable topic of computer technology.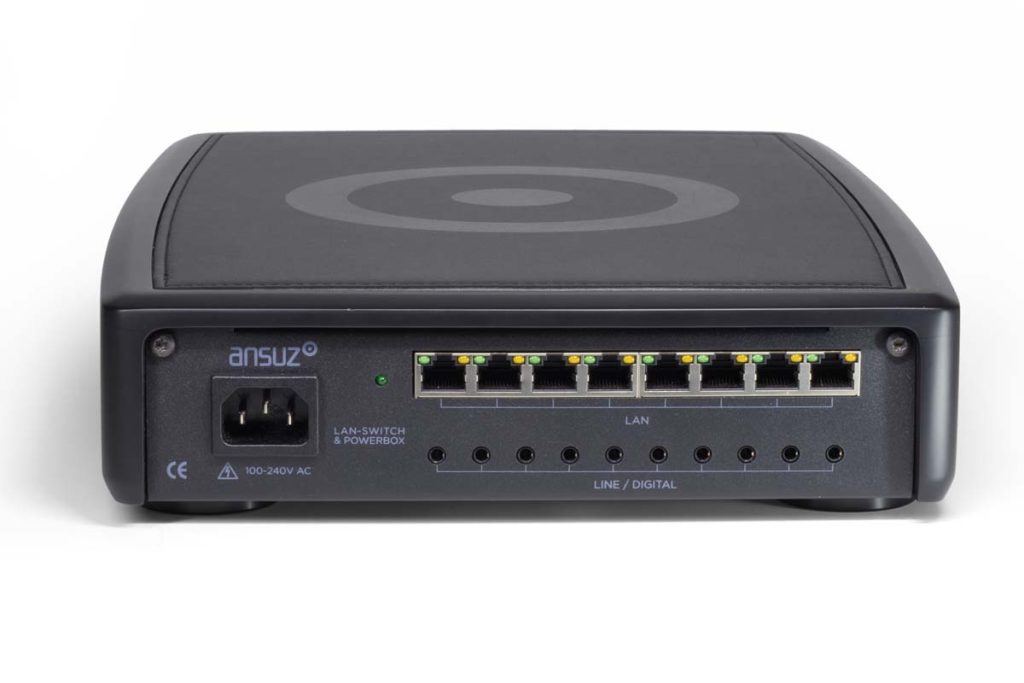 Put plainly, Ansuz's top-of-the-range network cable is an extremely solidly built connector cable wrapped in thick shielding layers that meets the CAT6 standard. The rigid construction design minimizes microphonics. Moreover, the craftsmanship is exquisite and the connectors are of the highest quality. To be fair, the cable nearly ripped the dainty Silent Angel Bonn N8 switch from the wall. However, in practice this is probably somewhat of a non-issue, as anyone who treats themselves to a network cable of this caliber will also want to aim for a higher switch. And this will inevitably mean a heftier, more solid one.
And so, the Ansuz D-TC Supreme PowerSwitch is the perfect partner. Ansuz's top-of-the-range model boasts housing made from an amagnetic wood fiber material. In addition, unlike its more affordable siblings, it features a sophisticated leather pad on top. As with all of the electronic components of the sister company Aavik, the underside features black anodized retainers for the company's Ansuz Darkz tuning feet. As has become the Danish norm, no power cable is included.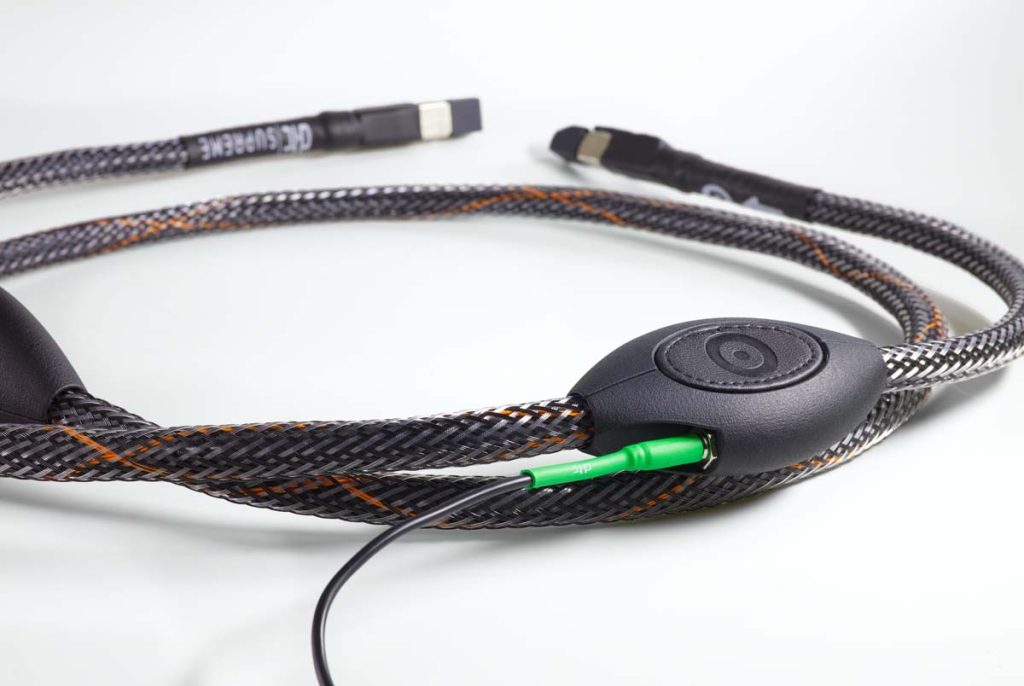 Inside is a huge array of Ansuz interference suppression circuits, as well as a power supply based on a compact switched-mode power supply, all grouped around a simple industrial circuit board with eight network sockets. Michael Børresen confirmed that he leaves the network technology as is and doesn't conduct any mechanical or electrical interventions. This lets him concentrate on the surrounding high-frequency microcosm, which he tackles in his unique way. Want to know more details? Then dive into the 184-page thesis by a PhD candidate at the Eindhoven University of Technology entitled, "Analog Dithering Techniques for Highly Linear and Efficient Transmitters". Find the link to the thesis on Ansuz's website homepage. This is truly some tricky technical stuff, but fascinating all the same, even for the uninitiated. Of course, you can also speak to Michael Børresen in person at a trade fair, though you may well suddenly find yourself discussing the problems involved in grounding a yacht instead.
Børresen's approach is based on his belief that "everything is interconnected." For the test device, this means that the digital information is housed in the analog electrical signal. The signal flows through conductors, which behave in the same electromagnetic way as every cable and conductor path in the system. Therefore, the signal contains much more than just the information – we're talking about crosstalk and the antenna effect.
And this brings us neatly to the "power" in the Ansuz switch's name. Unlike other manufacturers' products, it doesn't actually provide DC voltage. Instead, a high-frequency dither signal – which should be fed into the Ansuz cable shielding – is located on the mini jack sockets lined up underneath the network sockets. This is Børresen's way of "breaking" the cable's antenna effect. By using numerous "Tesla coils" in the Ansuz D-TC Supreme PowerSwitch, he also aims to influence the electromagnetic environment so as to ultimately improve – warning: unscientific makeshift terms approaching – the contour and clarity of the useful signal. Mr. Børresen, can it thus be proven with metrology? No, he replied, before pausing briefly, and then adding: Actually, yes, but it would need a specially generated signal. You would actually see the effect of the interference suppression circuits on the flanks of this square wave that was customized for measuring purposes.
But first and foremost, you actually hear it. This is because, despite all of the reservations in view of the rather complex-sounding technical solutions, Ansuz's luxury network components actually deliver a luxurious sound.
To put it as directly as possible, the sound profile seems to clear up. Having replaced my nameless CAT7 connector cable with the Ansuz network cable and the Silent Angel Bonn N8, which is also excellent for its class, with the PowerSwitch, my acoustic space suddenly sounded deeper. Voices and instruments seemed to simultaneously break free from their respective background and resound more fully. This meant that the whole projected soundstage sounded that much more vivid – in fact, if you really get it all right, you're well on your way to impressive three-dimensionality.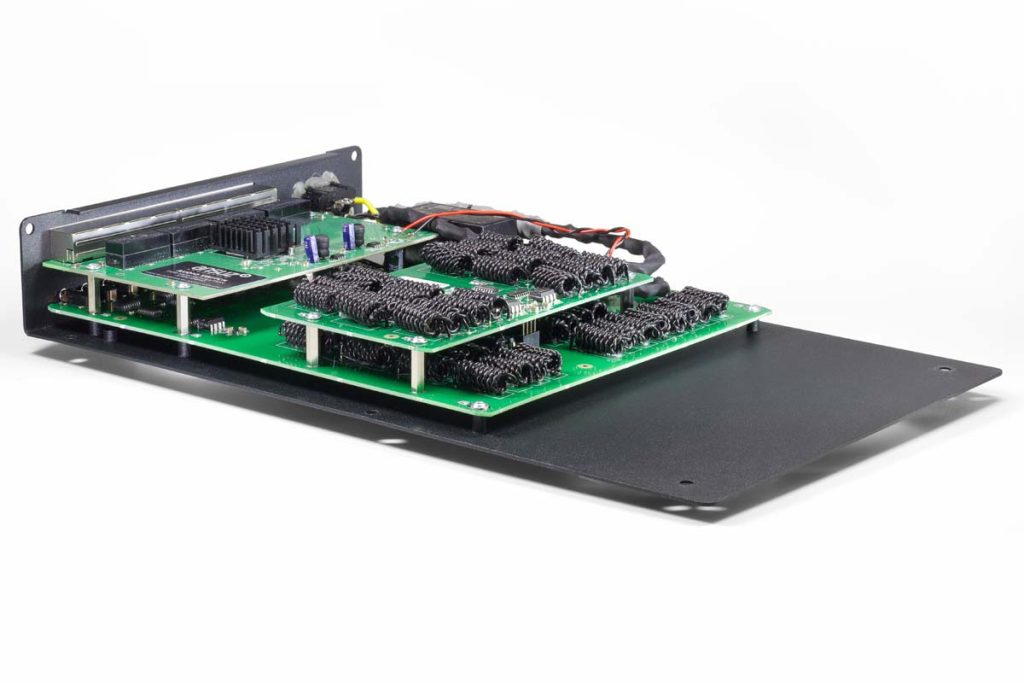 The crux is synergy. The Ansuz components truly complement each other. Furthermore – and I'm fully aware of the painful financial consequences of what I'm about to say – you'll get the most out of them if you buy them both and use them together. It all starts with the PowerSwitch. It created a grounding openness and sonic purity which can still be maintained even if you use simpler Ethernet connector cables. The result was decidedly conclusive. Likewise, it was far more satisfying for my ears than the other way round, i.e. connecting the Ansuz D-TC Supreme network cable to the small Silent Angel switch. In the latter case, the resolution increase was great, but without the impressive depth provided by the PowerSwitch it sounded potentially false and unmoored. A quick test using a friend's system demonstrated the remarkable quality of Ansuz's top-of-the-range network cable, as well as the dangers lurking within. When connected to the Meitner MA3 streaming DAC, which simultaneously served as a preamp and, as such, drove strapping Class-D monoblocks, which in turn controlled Wilson Audio Alexia loudspeakers, there was a spectacular flair to the music. Guitar notes became more emphatic, drummers had just completed a motivational workshop, and voices moved at least half a step closer to the listener. It was incredibly intoxicating – and yet we weren't miserable when the usual cables were reinstalled and the sound became ever so slightly more rounded, which wasn't at all unpleasant.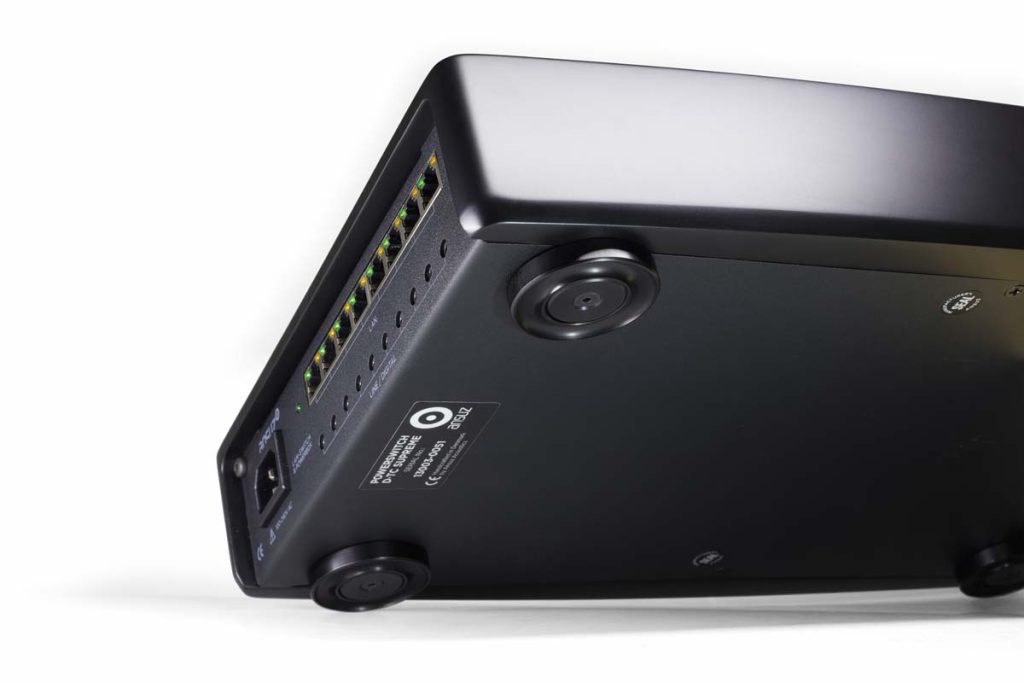 However, utilizing the two in unison might as well have caused another sunrise. For comparison purposes, I used the new recording of Bach's Sonatas for Solo Violin with Frank Peter Zimmermann, released on the Swedish label BIS. I love BIS, and this recording, which took place partly in a church and partly in a concert hall, didn't disappoint. The violin resounded bright, free, and slightly complex, and the soloist was surrounded by a natural-sounding space. Everything breathed. The D-TC Supreme PowerSwitch and network cable stood Zimmermann in between the loudspeakers as if he was really there. The detail fanatics amongst you would have been over the moon with the results. But wait – it gets even better. When the PowerSwitch fed its magical interference-suppressing signal into the network cable, the sound profile gently relaxed, and just enough for me to want think of it as a deburring effect. Everything suddenly felt like it had clicked into place. It would have delighted analytical and romantic types alike.
At this point, I could bid farewell knowing full well that many studious readers would sit up and ask: And what about the Darkz feet? And was a suitable Ansuz network cable used? No feet, and no other Ansuz cables. Not today. But I will report back on these astonishing devices which blow supposed certainties regarding the non-manipulability and irrelevance, for sound quality purposes, of network technology well out of the water with just a few notes. You couldn't build your streaming chain on better foundations.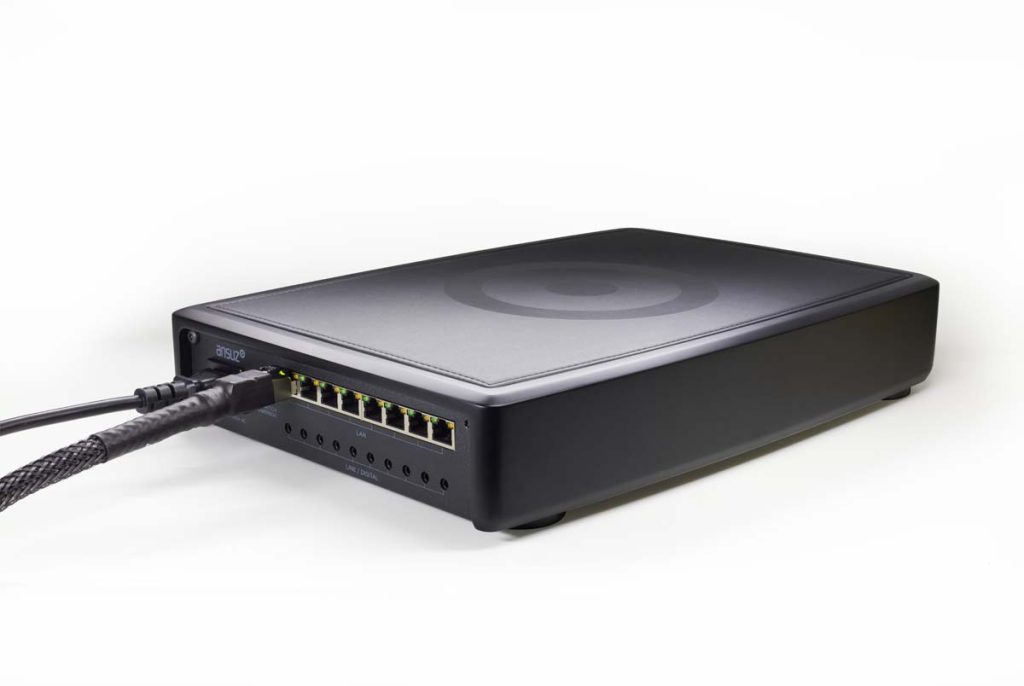 Accompanying equipment
Turntable: Bauer Audio dps 3 | Tonearm: Bauer Audio Tonarm | Cartridge: Lyra Kleos | Phono preamplifier: Hagerman Trumpet Wood | MC transformer: Consolidated Audio Silver/Nano | CD player: Electrocompaniet EMC 1 UP | Music server: Innuos Zenith Mk III | DAC: Aqua La Voce S3 | Switch: Silent Angel Bonn N8 | Preamplifier: Silvercore linestage two | Power amplifier: Rowland Model 2 | Power conditioning: AudioQuest Niagara 3000 | Loudspeakers: Ayon Seagull/c | Cables: Fadel Art, Ansuz, Sun Audio, AudioQuest, Solidcore | Accessories: DIY rack, granite bases
Network Switch
Ansuz D-TC Supreme PowerSwitch
Concept: Ethernet switch with connections for feeding an interference-suppressing signal into in-house network cables | Connections: 8 x RJ45, 10 x mini jacks | Special features: no power cable included as standard, feet designed as retainers for Ansuz Darkz decoupling feet, mini jack sockets for electrical connection with in-house network cables, integrated Ansuz interference suppression technology | Color: black | Dimensions (W/H/D): 26/7/38 cm | Weight: 4 kg | Warranty period: 5 years | Price: approximately €12,000
Ethernet Cable
Ansuz D-TC Supreme
Concept: Ethernet cable with proprietary interference suppression technology | Special feature: mini jack socket for electrical connection with in-house PowerSwitch | Warranty period: 5 years | Price: approximately €6,600 (2 m)
Ansuz Acoustics
Rebslagervej 4
9000 Aalborg
Denmark
Phone: +45 40 511431
The stated retail price of the reviewed device is valid as of the time of the review and is subject to change.