Astell&Kern Launches its new high resolution audio player and Bluetooth amp/DAC. The KANN Ultra Digital Audio Player and AK HB1 Bluetooth Amp/DAC Will Be Available November 2023.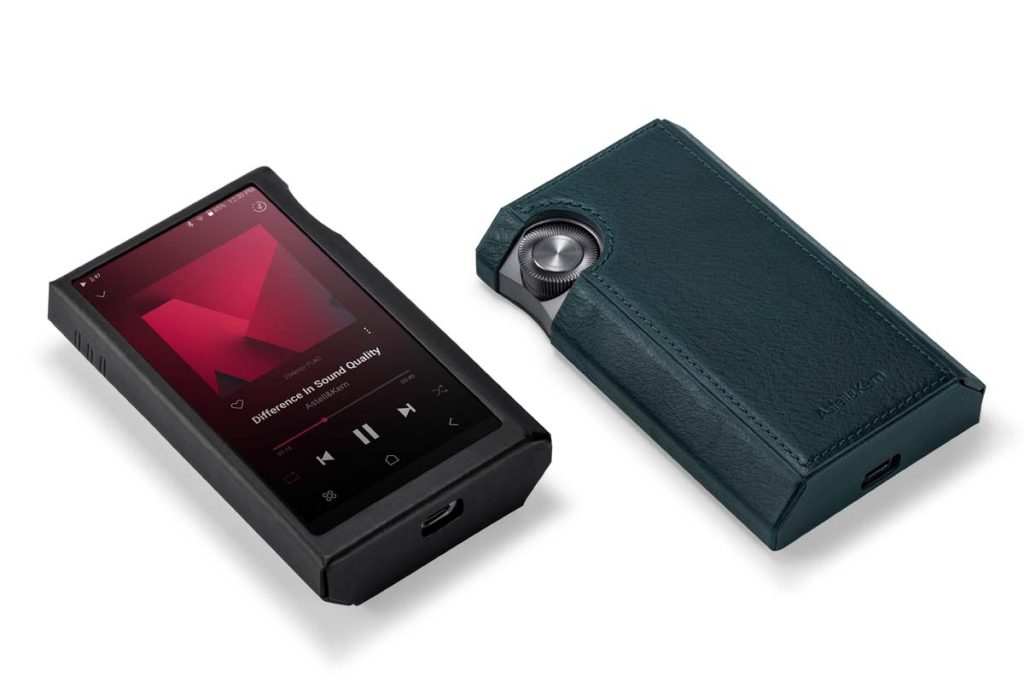 Astell&Kern, a global leader in high-resolution audio players and accessories, launches two new products for Q4 2023. The Astell&Kern KANN Ultra is the latest entry in the Astell&Kern KANN series of ultra-high output players. The AK HB1 USB/Bluetooth DAC/Amp expands Astell&Kern's renown audiophile sound technology to a wide range of audio playback devices. Both the KANN Ultra and AK HB1 will be available in November 2023 at authorized Astell&Kern dealers worldwide.
KANN Ultra ($1,599)
KANN Ultra becomes the fifth player in Astell&Kern's KANN line of Digital Audio Players (DAP). The KANN series of portable high-resolution audio players are equipped with a more powerful, built-in headphone amplifier, which allows KANN players to drive any headphone, including high-impedance headphones, without the need for a separate amplifier. Users can select between four levels of gain – low, mid, high, as well as super gain modes for up to 16 Vrms output to provide the precise output required to drive even the most demanding headphones.
KANN Ultra features a Triple Output Mode that allows you to enjoy Astell&Kern's perfectly prepared sound when connected to demanding headphones, highly detailed IEMs, or external devices. Instead of simply separating the output ports, Astell&Kern's Teraton Alpha technology allows for separate amplifier/sound design for the Headphone Out and Line/Pre-Out ports to provide the optimal sound for each port. A 3.5mm unbalanced and 4.4mm balanced port is provided for both the headphone and Pre/Line Outputs.
The three output modes of the KANN Ultra are:
Headphone Out: The headphone out ports features 4 preset gain settings and ultra-high output of up to 16Vrms. The headphone port is designed to perfectly run demanding headphones with high impedance using only the built-in player amp without the need for an external AMP.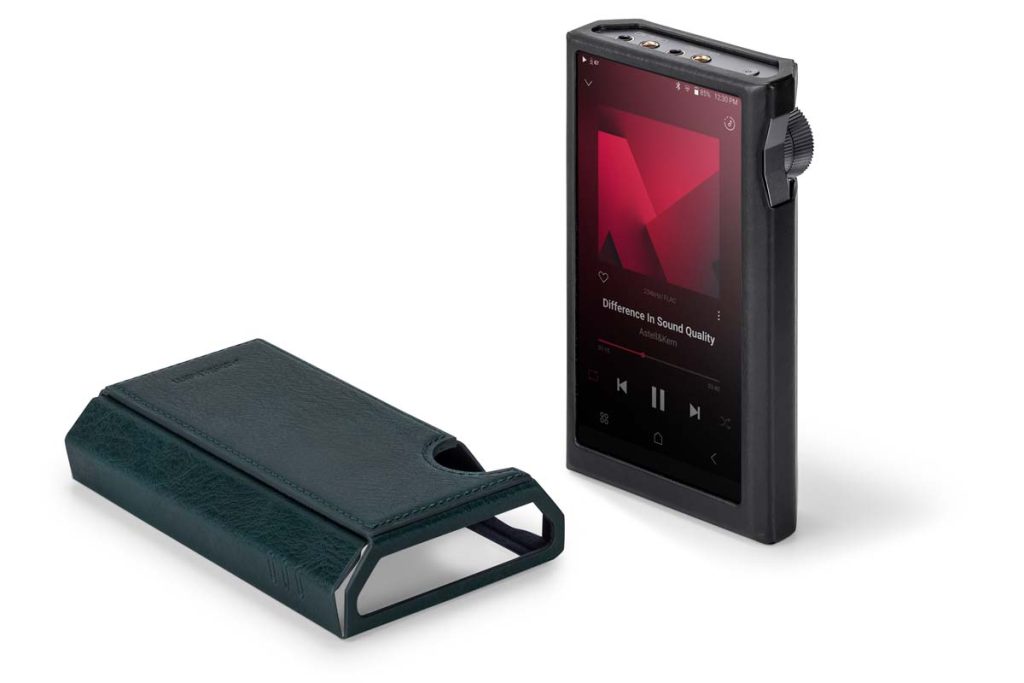 Pre-Out: Pre-Out mode delivers sound through a specially designed Pre-Out amplifier, instead of the high-powered Headphone out amp. Pre-Out functions like a PRE AMP and you can control the volume with the volume wheel.
Line Out: Line Out mode outputs the sound from the DAC directly without going through an amplifier, which results in the lowest noise level, therefore making it ideal for connecting to external audio devices. Line Out has a fixed voltage output (4 levels – 1.4V – 4V) and no volume control.
KANN ULTRA features the newest flagship DAC from ESS, the ESS9039MPRO in a Dual-DAC configuration. The ES9039MPRO is an update to the popular ES9039PRO model featured in high-end audio equipment. The ESS9039MPRO has a built-in stereo hardware MQA renderer and more advanced modulation than the previous flagship ESS DAC to reduce power consumption, noise, and distortion for enhanced audio performance. KANN ULTRA supports native 32bit/768kHz and DSD512 playback and full support for MQA.
Astell&Kern has redesigned the AMP BLOCK of the KANN Ultra to ensure that the clear, high-resolution sound of the ES9039MPRO is clearly expressed through every port, and each output's characteristics show its own advanced performance.
Other features found on KANN ULTRA include:
Digital Audio Remaster Technology (DAR), which was developed to deliver fine sound at higher sample rates. DAR technology is developed to upsample the sample rate of the sound source being played to go beyond the limits of the source format. The high sample rate allows more refined play and offers delicate and analog-like original sound, helping you to enjoy the richness of the original sound, subtle differences in the nuance of the music and rich sounds at a higher level.
Crossfeed mixes parts of the original signal from one channel and sends that signal to the opposite channel with a time difference to center the sound image, like listening with speakers. This reduces ear fatigue that can occur with prolonged listening sessions using headphones. Detailed settings such as Shelf Cutoff, Shelf Gain, and Mixer Level, allow you to adjust the level of crossfeed according to your listening preferences.
DAC Filter settings allow you to fine-tune your sound style with the use of seven DAC filters.
ReplayGain, which allows the player to automatically adjust the volume between tracks and maintain a consistent playback level.
BT Sink allows KANN ULTRA to connect to an external device via Bluetooth, and function as a Bluetooth DAC. Music from an external device, such as a smartphone can now be played back in high-quality, taking full advantage of the hi-res audio decoding in the player.
With AK File Drop, transferring your music files from a computer or NAS is even easier and more convenient. Using AK File Drop, you can freely transfer files wirelessly through a PC, smartphone, or FTP program located on the same network. Music file management is now possible with a cableless, wireless solution.
4th Gen UX/UI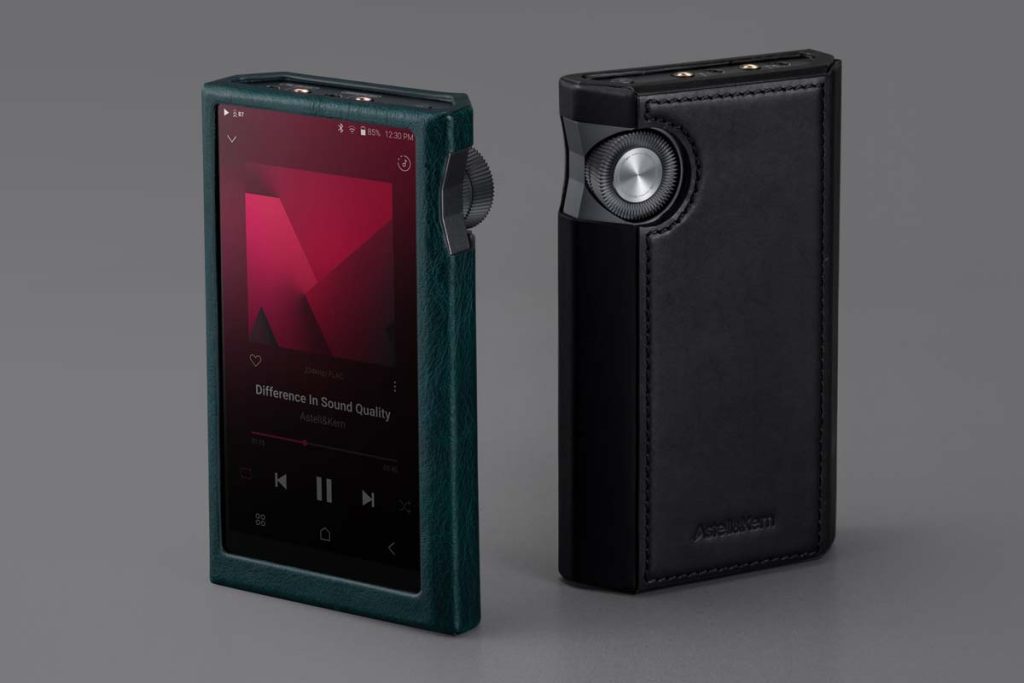 First introduced on the flagship A&ultima SP3000, KANN Ultra features Astell&Kern's newly developed 4th generation UX/UI which focuses on the process and experience of listening to music. The new theme is designed with a focus on the experience of rediscovering songs that you have forgotten; you can quickly browse through music categories with simple gestures. A convenient search feature along with album art has been added so that you can enjoy a digital display of CD album covers of your music collection. It is designed to give you not only the pleasure of listening to music, but also to create fun when operating the device.
With the new Crimson Theme, one of the main features of the 4th generation UI, the graphics are simple and unintrusive, focusing on usability and intuitiveness. Three key concepts, Edge, Simple, and Dark Mode, were used to improve usability as well as increase clarity with a style unique to AK. The black and red theme colors are chosen to reduce eye fatigue, maximize battery usage and reduce heat generation.
Big Screen, Comprehensive Media Support
KANN ULTRA includes a 5.5-inch 1080×1920 Full HD touchscreen, 128GB of internal memory with support for microSD cards up to 1TB, dual-band 2.4/5GHz Wi-Fi, LDAC and aptX HD support for 24-bit audio playback wirelessly, DLNA networking, USB digital audio output, USB-C for data transfer and fast-charge support, and the ability to use KANN ULTRA as a USB DAC for your Mac or Windows-based PC. KANN ULTRA includes support for the most popular music streaming services including Tidal, Qobuz, Amazon Music, Apple Music, and Spotify.
The design concept of KANN ULTRA is "Forceful Impact". The design is an over-scaled volume wheel knob that has been slammed and embedded into the body of the KANN to visually represent its more powerful performance than its predecessor. With the KANN ULTRA, we continued the design identity of the KANN series, which emphasizes the hexagonal columnar body.
Sleek Design
The new design minimized the visible parting lines, and the wheel protectors are designed so that the outer edge of the body where the volume wheel sits naturally acts as a protector and improves usability. These elements emphasize the bold mass of the KANN ULTRA, representing primal power through a solid chunk of metal.
Astell&Kern applied decorative parts that connect with the serrated pattern on the volume wheel knob to make the wheel visually larger and maintain a balance with the massive body, while expressing the powerful performance of the KANN ULTRA. Additionally, the hairline spin decoration applied to the rear of the wheel acts as a delicate detail element along with the lettering engraving, showing the volume wheel knob strongly embedded into the BODY. Due to the increased size, the orientation of the volume wheel was redesigned to accommodate usage in different environments, such as on the desk, or held in your hand.
Roon Ready support will be added in a future firmware update pending testing and certification by Roon Labs.
KANN ULTRA will be available at authorized Astell&Kern dealers worldwide in November 2023 for $1,599.
Two cases for KANN ULTRA, made of high-quality leather from BADALASSI CARLO in Black and CONCERIA WALPIER in Navy, will be available separately for $120.
AK HB1 USB/Bluetooth DAC/Amp ($259)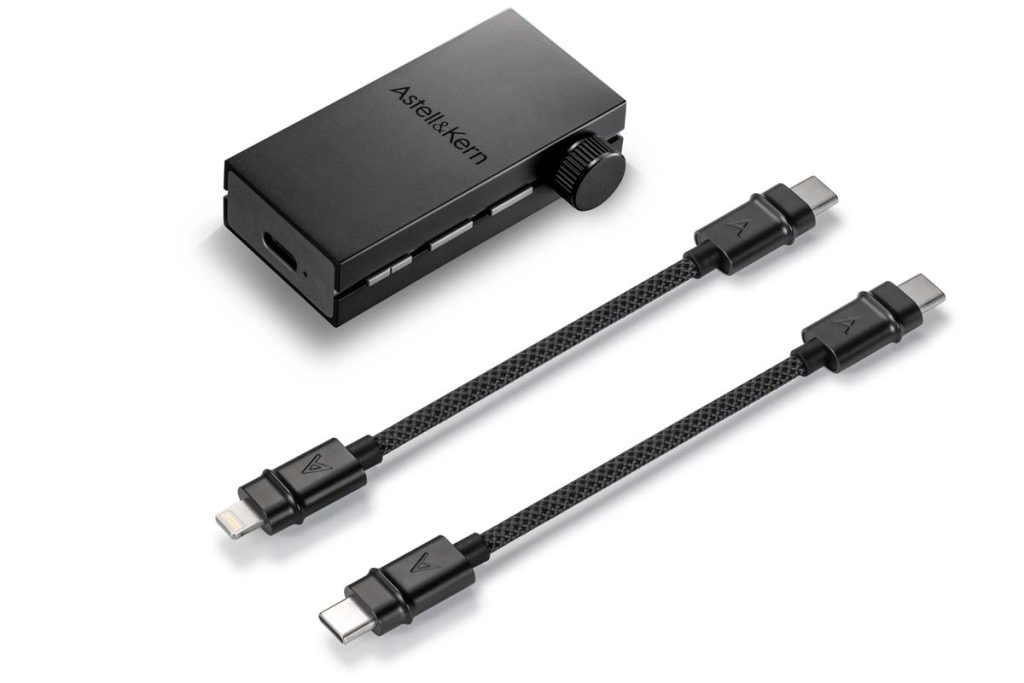 AK HB1 is a portable Bluetooth DAC/AMP that lets you effortlessly experience high-quality audio and Hi-Fi streaming services with the best performance, all without the hassle of cables.
Pair your mobile device to AK HB1 through Bluetooth and experience seamless, wireless Hi-Fi sound across various IEMs and headphones, in a compact as well as lightweight design with a powerful built-in amplifier.
AK HB1 is equipped with Qualcomm's CSR8675 Bluetooth chipset, which supports the transmission of high-resolution audio sources, ensuring a stable wireless connection. With support for the most popular Bluetooth codecs including 24-bit LDAC and aptX HD, the HB1 guarantees smooth wireless playback of high-resolution streaming audio from both smartphones and PCs. AAC and SBC codec support is also included for compatibility with any Bluetooth device.
Bluetooth multi-point capability allows connection of the AK HB1 with up to two devices simultaneously. This feature allows you to effortlessly switch connections between various mobile devices, enabling scenarios like enjoying music from a tablet or PC while concurrently receiving notifications and calls on your smartphone.
The AK HB1 goes beyond simple Bluetooth playback, delivering full, high-resolution sound via USB DAC connection to PCs, smartphones, tablets, and more. Supporting Native DSD256 and 32 bit/384 kHz playback, the AK HB1 ensures compatibility with a wide variety of high-quality audio sources, providing Astell&Kern's signature premium sound quality with any device.
Additionally, equipped with a renderer function that supports MQA 8X, the AK HB1 enables MQA playback without the need for external DACs or playback devices. By simply connecting the AK HB1 via cable to compatible devices, which support MQA unfolding, you can enjoy MQA audio playback through network-enabled apps and streaming services from anywhere.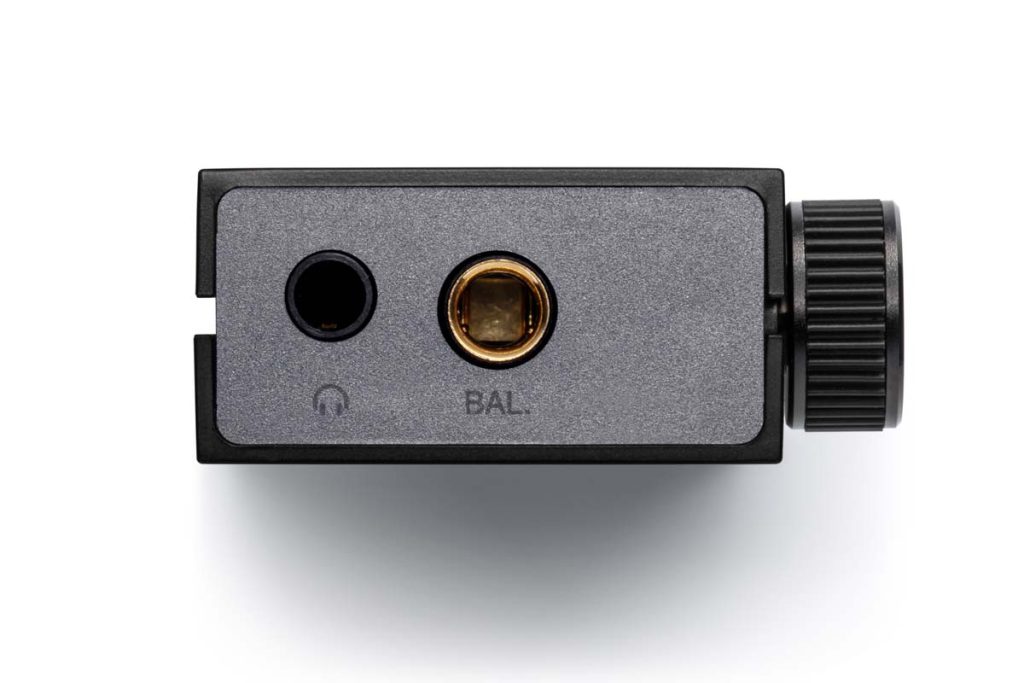 ESS Chip
AK HB1 incorporates ESS's ES9281AC PRO DAC for exceptional noise control as well as unparalleled ultra-high-quality Hi-Fi sound performance combined with an exclusive Astell&Kern-designed AMP circuitry that supersedes standard built-in DAC AMPs found in competing products. This AMP circuitry enables a commanding 4 Vrms output (balanced connection) and dual connectivity options — 3.5 mm unbalanced and 4.4 mm balanced, allowing compatibility with a wide range of IEMs and headphones. A dedicated volume wheel allows users to adjust the playback volume from the HB1.
Astell&Kern used micro resistors and capacitor parts to achieve a small footprint form factor of 33 x 68.4 x 16.5 mm without compromising performance. Carefully selected ultra-small tantalum capacitors, which are used in AK player products to create stable system and audio performance by controlling the power fluctuations, are also used in the HB1 to create an optimal audio circuit design. Output and audio performance are enhanced with Astell&Kern's unique power management technology to minimize current consumption of the connected device.
Additional features of the AK HB1 include:
Easy and Convenient USB Plug & Play
AK HB1 simplifies the transition between Bluetooth and USB cable connections by supporting USB Plug & Play functionality. Connect AK HB1 to your PC or smart device using a USB cable to enjoy high-resolution sound while simultaneously controlling various settings and features through the app on your Bluetooth-connected smartphone. With BT Priority Mode enabled, the AK HB1 seamlessly switches to Bluetooth mode, whenever a Bluetooth signal is received while using the USB DAC function.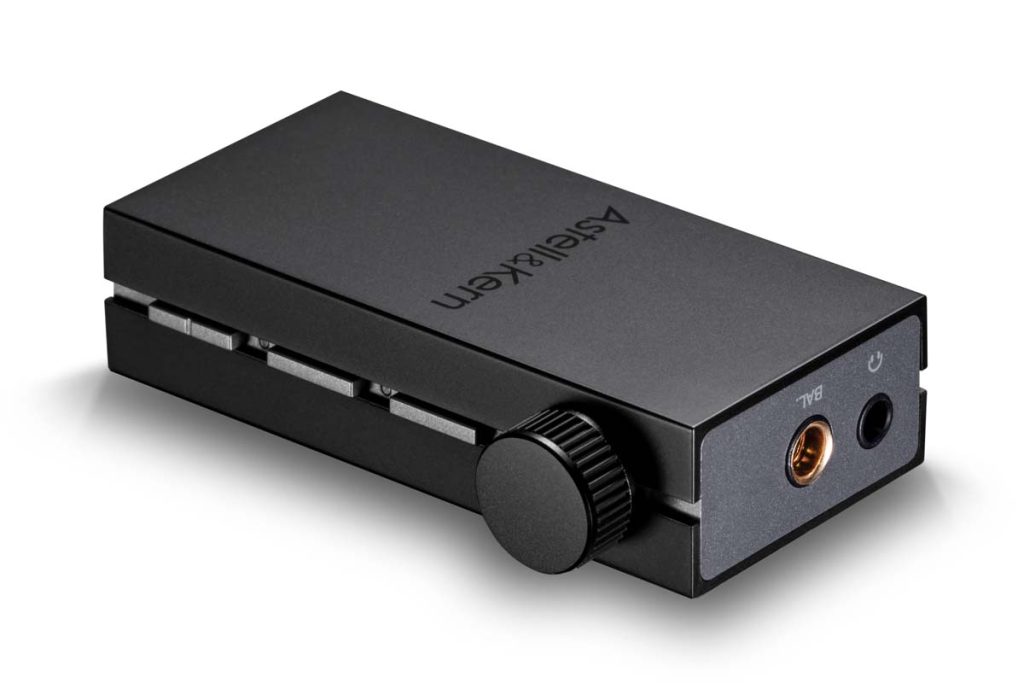 UAC 1.0 & 2.0 Support for Gaming
While modern smartphones, tablets, and PCs support UAC 2.0 connections, many gaming devices still exclusively support UAC 1.0 connections. The AK HB1 ensures compatibility by supporting both UAC 2.0 and UAC 1.0 connections for cross-platform quality sound experiences.
Now you can connect the AK HB1 to your gaming device such as PlayStation® 5 or Nintendo Switch™ to enjoy low latency and enhanced audiophile-quality sound for an immersive gaming experience.
Car Mode
Activate AK HB1's dedicated Car Mode to enjoy the same high-quality, audiophile DAC/AMP sound in your car. Simply connect the AK HB1 to your vehicle's AUX port, and its power automatically turns on/off based on your vehicle's ignition, allowing you to enjoy audio from paired devices.
Crystal-Clear Voice Calls with built-in mics
AK HB1 ensures crystal-clear voice quality and stability thanks to Knowles's high-quality MEMS microphone technology and Qualcomm's cVc Generation 8.0 call solution with Clear Voice Capture technology, which suppresses ambient noise while delivering clear vocals to the recipient. The AK HB1 also incorporates a 4-pole in-line MIC, enabling voice calls via wired earphones. With the HB1, you can experience enhanced call quality alongside AK HB1's exceptional Hi-Fi sound.
Smart Charging System
Astell&Kern's AK HB1 automatically recognizes what type of device is connected via a USB cable and streamlining the charging process without requiring additional setting adjustments. Charging mode can also be turned on/off to allow simultaneous playback and device charging, preventing battery depletion during playback.
Dual Noise Shielded Cable
To ensure optimal usability across both Android and iOS devices without the need for additional adapters, the AK HB1 includes interchangeable cables that support USB Type-C and Lightning connections.
The AK HB1 features a dual shielded cable to minimize noise and deliver a more vivid, original sound. The copper core wire is coated with tin to prevent corrosion and strengthen tensile force for enhanced durability.
Additionally, the entire cable is wrapped in an aluminum film to block noise with an extra layer of shielding around the power cable to further minimize noise, the biggest issue in audio, then the tin-coated copper wire is woven to minimize noise interference to sound.
Finished with a fabric jacket on top of the PTE jacket, the cable features enhanced durability and usability with perfect aesthetic appeal.
Dedicated Control App
The AK Control companion app, available for iOS and Android devices, allows users to customize settings for the AK HB1.
The AK HB1 embodies Astell&Kern's design philosophy with inspiration from the architectural masterpiece "Church of Light" by Tadao Ando, known for its interplay of light and shadow.
Embodying the essence of robustness and simplicity, much like concrete, the device showcases a sleek form that cleverly integrates buttons and earphone connections within the gaps between its front and back housings. The use of silver coloring between the front and rear surfaces creates an illusion of light gracefully flowing between the two facades.
Intuitively designed with a comfortable grip, the size and placement of the wheel ensure effortless volume control. The wheel features a combination of aluminum and rubber materials for improved grip and accuracy, ensuring easy and accurate control.
The AK HB1 will be certified Roon Tested pending completion of the testing and certification process by Roon Labs.
The HB1 Bluetooth DAC/Amp will be available in November 2023 at authorized Astell&Kern worldwide for $259
The stated retail price of the reviewed device is valid as of the time of the review and is subject to change.