This is how small a box man needs to be happy.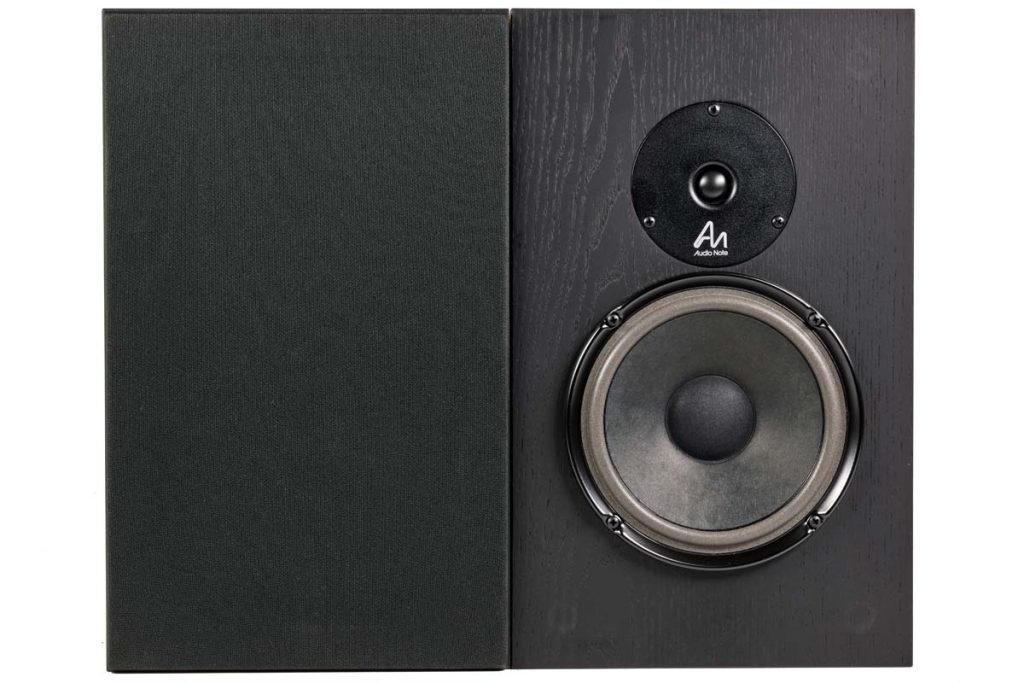 Audio Note UK's products have never been for fans of cultivated bling. The Danish-born company boss Peter Qvortrup works according to the likeable maxim "To be more than meets the eye". The Audio Note AX Two/II he dropped off at our office are two small, black bookshelf speakers. However, they do sport a real wood veneer in the aptly titled color variant "Ash".
This veneer variant stands for the wood used (not the burnt stuff!) and refers to the wood grain – Small, black, fairly unassuming. The Audio Note AX Two/II are loudspeakers whose size and weight suggest that the high-ender should place them on speaker stands, which don't need to be particularly large. This is due to the handy dimensions of the AX Two/II – we're talking 37.6 centimeters in height, 23 centimeters in width and 22 centimeters in depth, as well as seven kilos in mass.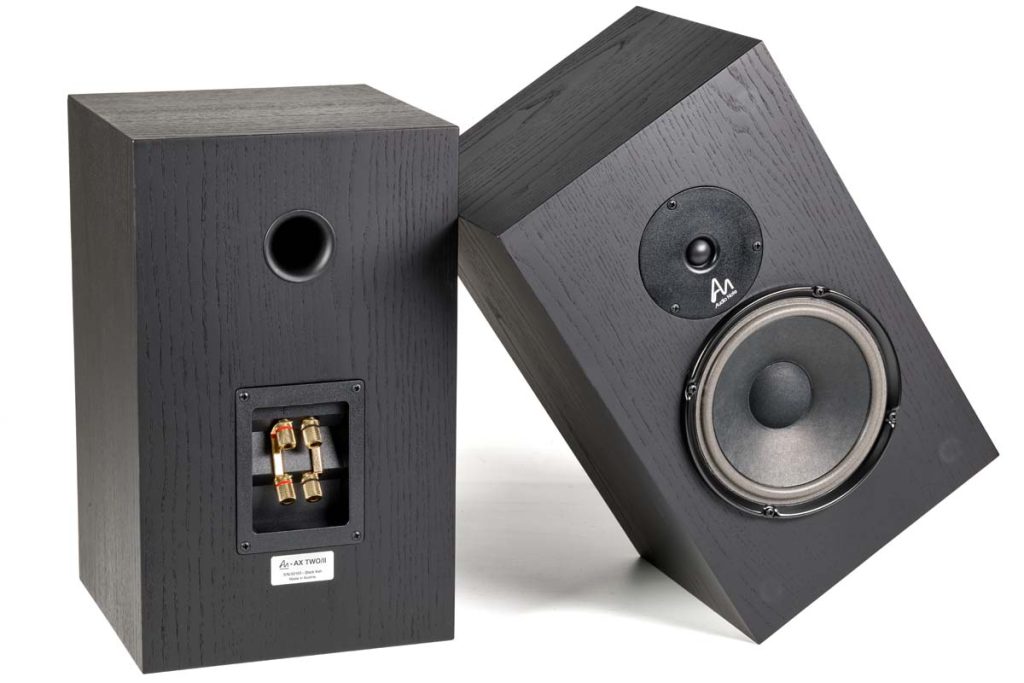 But this is not so! More or less rickety and cheap stands from the accessories corner of your local speaker huckster would be an unforgivable disservice to the British-Austrian compact speaker. Anything conceived in Partridge Green near the British cult seaside resort of Brighton always has a definitively high-end core. Therefore, it requires a certain amount of dedication and time, even during setup. The foundational stability is just as non-trivial as the distance to the room walls. The speaker, manufactured in Austria by a company dedicated to high-end contract work, eschews the visually striking hemp fiber drivers of the larger Audio Note models, often dyed blue, and instead relies on a six-inch woofer made of paper and a three-quarter-inch dome tweeter made of silk and polyamide. The bass reflex tube opens rearwards, where a truly solid bi-wiring terminal is also installed.
The typical Audio Note genes are unmistakable here. Although the British traditionally tune their designs on tube amplifiers, the company's speakers – from the smallest to the largest model – also play out their strengths in transistor chains. For Audio Note, tonal values are applied with the finest brushstrokes and are usually semi-transparent pastel rather than bold oil paint.
The AX Two/II feels at home with transistor amps if only because, with its nominal 89 decibel sensitivity, it is not one of those sensitivity wonders bred for tube amp compatibility that compose the majority of Audio Note's portfolio.
Nevertheless, the Austrian Brit sounded enchanting, I would venture to say lovely, even when I paired it with my Unison Simply Italy. A small Englishwoman and a charming Italian, who made harmonious music together and immediately put me under their spell.
Rock fans definitely do not make up the primary target audience here. Physics dictate that a compact speaker like the AX Two/II, tuned for subtlety and fine resolution, won't send deep bass pulses with hard attack from its baffle. However, if you like chamber jazz with a modest lineup and well-recorded classical music, or if you like to listen to art songs with ethereal sopranos and sonorous basses, then you will be very happy with the Audio Note AX Two/II. This is because Audio Note creations are far removed from the cursed colorations that used to accompany speakers from "good ol' Britain". Here, for example, the formidable German lied singer Christian Gerhaher has just as much presence as his concerts in Mahler's Lied von der Erde, which he recorded for Sony Music in an extremely reduced and thus hermetic piano version with tenor Piotr Beczala and pianist Gerold Huber. This unmistakable baritone voice – Gerhaher's talent for gossamer phrasing and subtle arcs of tension – via the Audio Note AX Two/II is present in gripping authenticity and, thanks to excellent recording quality, comprehensible down to the finest filaments.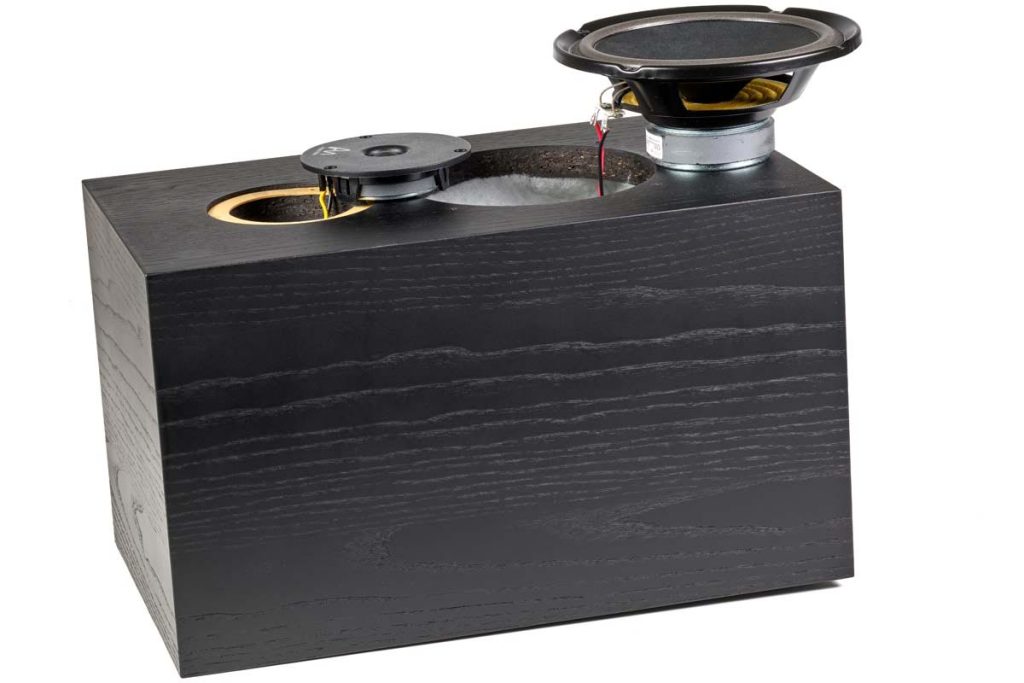 And this already answers an as yet to be asked question: Yes, the small black Audio Note two-way cuboid is quite the suitable playback device for high-resolution material. You can confidently throw Hi-Res files and music from the SACD at this speaker and you will recognize the advantages of the source as compared to the CD standard. Of course, the AX Two/II makes a giant leap when a good turntable with a fine resolution MC system provides the musical material. Then, the compact box audibly outgrows the confines of its black lacquered, genuine wood veneer clad enclosure. And this gives you an idea why Audio Note confidently calls up 3750 Euros for this box. It is not a bargain for the student digs (although the extremely restrained look suggests that). Instead, it's an extremely serious sound reproduction device for those whose listening rooms do not have too many square meters, but who still want to listen to music in the highest possible quality.
Audio Note boss Peter Qvortrup continually emphasizes that you must learn how to listen properly, that wise music enjoyment is to do with focus and dedication. This implies that Audio Note chains in general, and the company's loudspeakers in particular, are not meant for background listening, but were created for deliberate engagement with music. Moreover, they should remain inconspicuously in the background as long as they are not activated. Therefore, in my eyes this non-design is a bit too simple, almost bland, and even in a brighter wood veneer looks like many things, but a loudspeaker at a 3700 Euro price point.
So what distinguishes the revised speaker from its equally successful predecessor? If you ask Audio Note developer and technology specialist Andy Whittle, it is careful but crucial modifications that make the AN Two/II an even better sound transducer: "The vibration-optimized enclosure of the AX Two/II consists entirely of veneered chipboards", Whittle explains. The very stable-looking enclosures are built by a company in Austria, which manufactures all Audio Note speaker cabinets. The woofer, he says, has been reworked at Audio Note to give it a more linear step response. "The 19-millimeter dome tweeter is manufactured to our specifications in Denmark; only we have this particular driver," Whittle says with audible pride, adding, "As a matter of principle, we don't use ferrofluid in the tweeter's magnetic gap, so it can respond more quickly to impulses and also couples better with the new woofer."
The crossover, which is mounted near the exceedingly solid bi-wiring gold terminals, has been decisively reworked to integrate the drivers as seamlessly as possible, he says. And special attention has been paid to sound propagation and a clean frequency response, even off-axis. "The speakers are assembled and tested at our company in Austria," Whittle says.
Audio Note UK still voices mainly by ear and not primarily with clever AI and simulated sound fields – this pays dividends for a round, seamless overall sound. Refrain from combining them with a subwoofer, because while the Audio Note AX Two/II does not descend to the lowest basement regions, it does seamlessly reproduce the entire frequency spectrum within physical possibilities, with noble highs and strong, perpetually clean and controlled bass. In addition, the Audio Note AX Two/II seems pleasantly present and plays "far forward", making especially voices, but also acoustic instruments, such as Vincent Bélangers cello on the current disc Consonance (GFN Classics), almost tangible. Not bad for an outwardly featureless cuboid.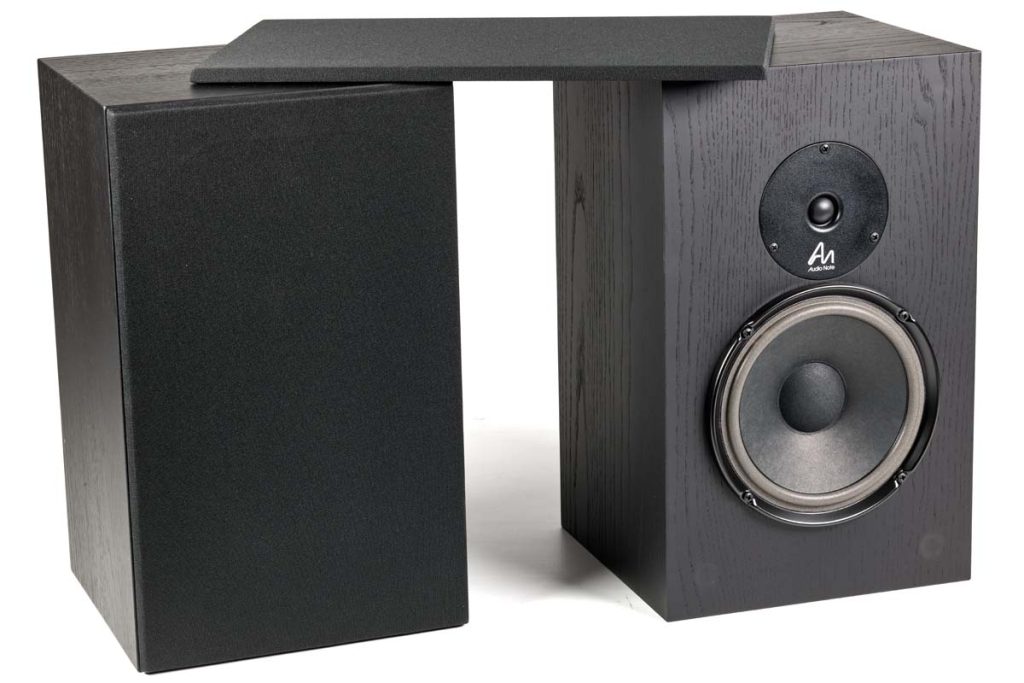 Accompanying Equipment
Network player/DAC: Esoteric N-01XD | CD player: Mark Levinson No. 390S | SACD player: Pioneer PD-D6-J | Turntable: Clearaudio Innovation Compact, Artkustik Seismograph | Cartridges: Clearaudio Da Vinci and Jubilee MC, Denon DL-103R | Phono preamplifier: Clearaudio Balance V2 | Preamplifier: Trigon Snowwhite, Mark Levinson No. 38S | Integrated amplifier: Mark Levinson No. 5805, Unison Research Simply Italy | Power amplifier: Mark Levinson No. 27 | Loudspeakers: Infinity Kappa 7.2 Series II, Audio Note AX One/II | Cables: from Sommer Cable, in-akustik, AudioQuest and Morrow Audio, among others
Loudspeaker Audio Note AX Two/II
Concept: 2-way compact loudspeaker | Driver complement: three-quarter inch dome tweeter (silk-polyamide mixture), six-inch woofer with paper cone | Finishes: Walnut, Black Ash | Special Features: Bi-wiring terminal | Dimensions (H/W/D): 376/230/220 mm | Weight: 7 kg | Warranty: 5 years | Price per pair: around 3750 €
Audio Note Germany
Max-Planck-Strasse 6
85609 Munich-Aschheim
Phone +49 89 422466
sw@audionote-deutschland.de
The stated retail price of the reviewed device is valid as of the time of the review and is subject to change.