Still practically unknown here in Germany, the Audio Replas OPS-1S HR, OPS-1HR and CNS-7000SZ can produce some very positive results when fine-tuning decent systems.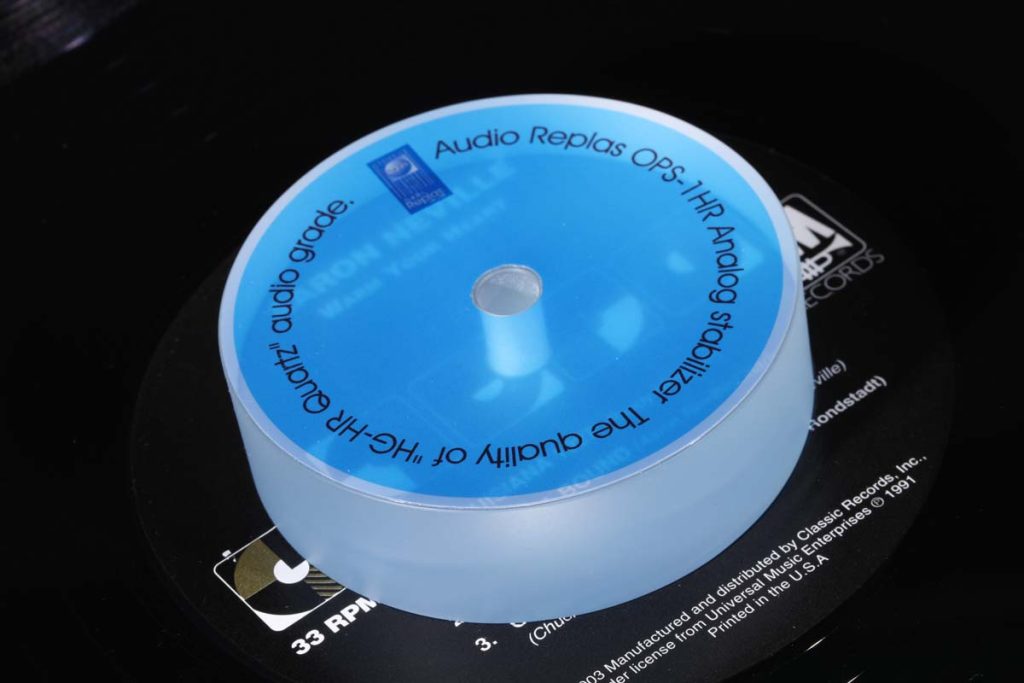 The Japanese company Audio Replas, which was founded exactly 25 years ago in 1993, manufactures the accessories as well as makes and sells room-tuning devices.
This article will, however, first examine two little devices that can help enhance high-quality components. The whole point of Audio Replas' OPS­-1HR vinyl weight, which tips the scales at 165 grams and has a diameter of 7 centimeters and a height of 2 centimeters, becomes readily apparent as soon as you use it: It's no secret these days that not only non-suspended turntables sound better if the vinyl is "stabilized" using a carefully balanced weight or possibly even a record clamp.
Over the years, we've seen all manner of designs for vinyl weights in our listening room — some so heavy that even the platter bearings of high-quality turntables would screech in protest while other designs would feature adventurous mixes of materials that incorporated wood, MDF, and metals of various pedigrees. But they all shared the same goal: to suppress stray resonance or even prevent it from occurring in the first place. The OPS­1HR, which will set you back €1,750, has also been designed with this noble cause in mind, but it adopts an altogether different approach to addressing the issue. Instead of ostensibly blocking resonance by sandwiching disparate materials, placing insurmountable barriers in the way before resonance can have any negative effects on a vinyl's sound quality, Audio Replas uses "audio-grade high-response silica glass." The physical characteristics of this material are quite different from conventional glass despite their shared name. The artificial silica glass of the vinyl weight has clearly defined vibrational properties, which, according to the manufacturer, has a crystal structure similar to that of synthetic diamonds. This goes some way to explaining what, at least at first glance, seems to be a rather hefty-looking price tag for a vinyl weight.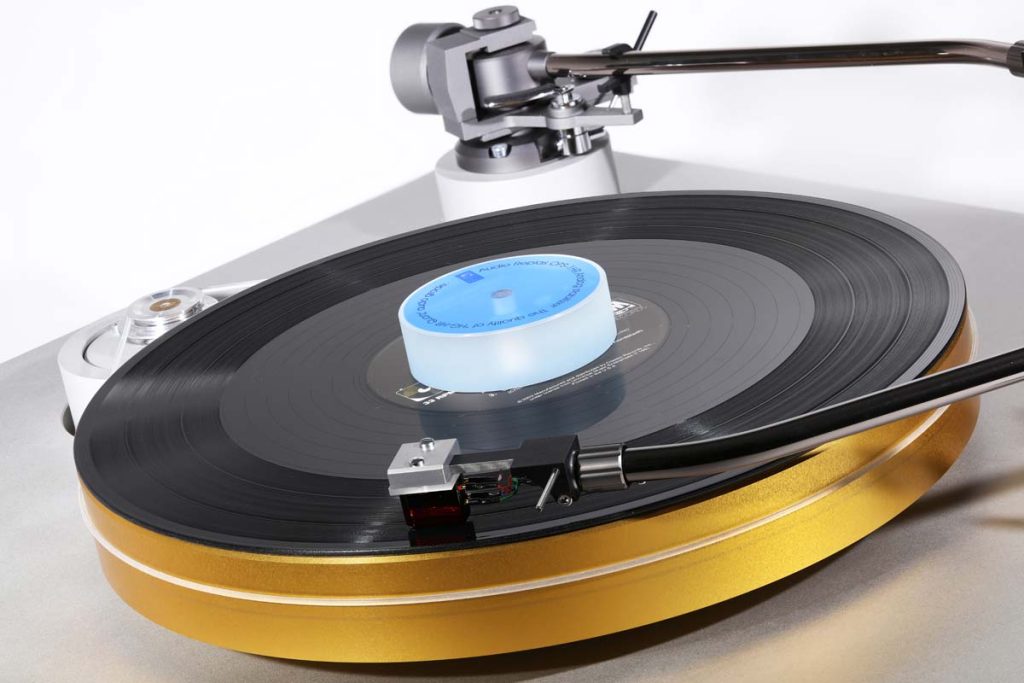 During our listening tests, including with the flagship turntables from Clearaudio, Transrotor, and Audio Note as well as with the Seismograph, the OPS-1HR behaved exactly as instructed, banished all jumpiness and confusion from the sound profile, and acted as the steady, authoritative hand of a conductor who understands how to neatly fan out even the most chaotic, busy, and densely packed orchestral piece and to integrate voices into the overall context without them losing any of their individuality. In contrast to many other vinyl weights, the Audio Replas OPS-1HR does not add a sense of sluggishness or heaviness.
Having said that, the 165-gram Audio Replas OPS-1HR could prove to be too heavy for some turntables. As a result, the SoReal portfolio also includes a smaller version of the neatly crafted silica glass circle: The Audio Replas OPS-1S HR ("S" stands for "small") has a diameter of just 6 centimeters and a height of 1.2 centimeters; it weighs a mere 75 grams. This little magic circle could be yours for €890 and, depending on the configuration, can help even inexpensive turntables reach new sound-quality heights.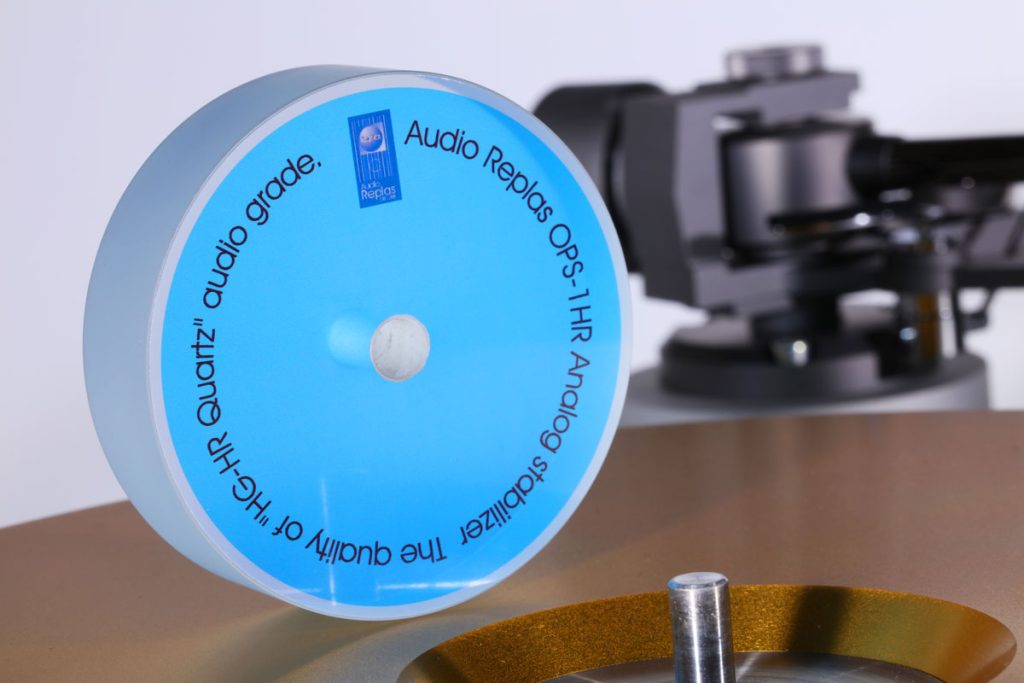 A few years ago, the influence of microphonics on sound quality was the subject of much debate and it grew clear that sound waves encountering a connection cable or power cable could seriously impair sound quality because they cause undesirable resonance and hence signal distortion. This rankled even those who, up to that point, had gone to the bother of making every tuning tweak possible. Since then, however, everyone has come to realize that "stabilizing" a system's connection cables is also recommended. With this in mind, Audio Replas has developed the CNS-7000SZ cable noise stabilizer, a 15-centimeter-long, rather hefty metal housing for cables of varying thicknesses (two versions, depending on cable diameter, are available for €990 and €1,009) in a bid to actively damp resonance. Thanks to handy knurled screws and extremely solid workmanship, the device is very quick to open and close and can therefore be used in a matter of seconds. As with the vinyl weight, it's worth trying out. Depending on the system configuration, the results can range from subtle to stunning.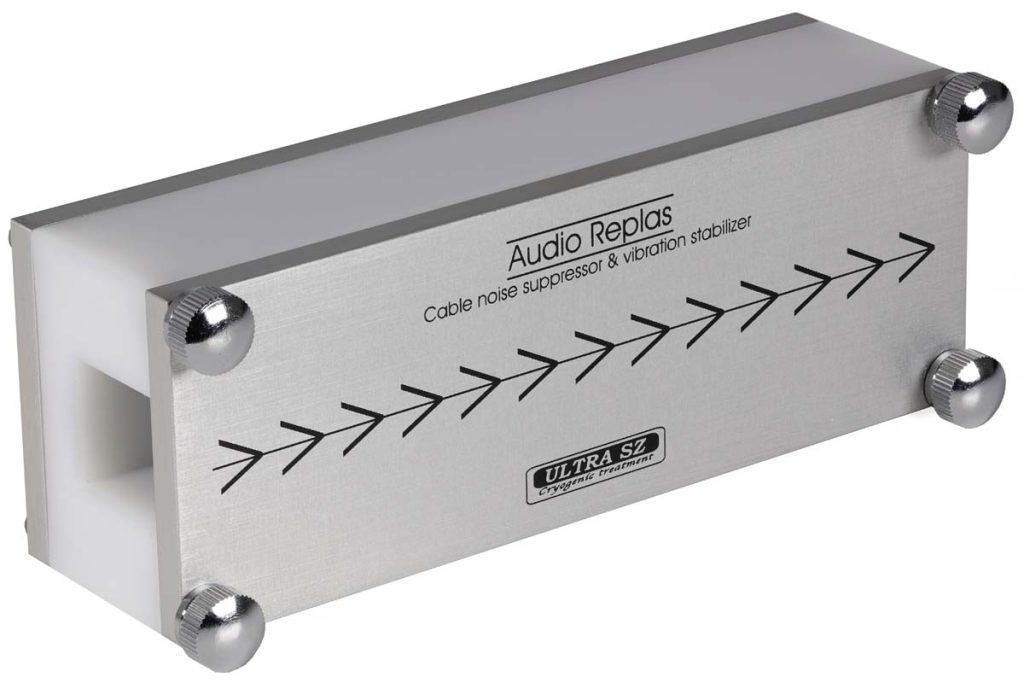 Audio Replas OPS-1S HR (€890) and OPS-1HR (€1,750) vinyl weights and CNS-7000SZ cable noise stabilizer (from €990)
The stated retail price of the reviewed device is valid as of the time of the review and is subject to change.