Not a lot has changed in terms of the elegant basic concept behind the T+A Cala series since the initial test we conducted for FIDELITY No. 3 – like its series brethren, the T+A Cala CDR is guided by the motto "more listening, less fiddling."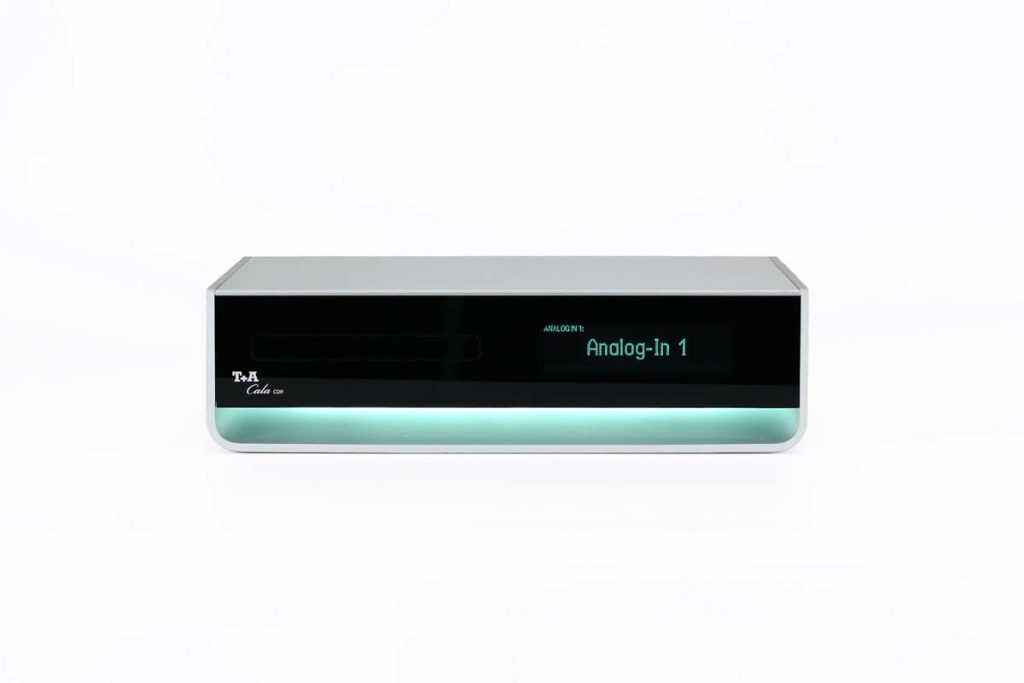 The chic acrylic glass front of the larger CALA CDR (which, compared with the CALA SR, features a CD drive and considerably more power) doesn't even have an on-off button. All there is to see is the CD tray and the matrix display. Everything about this seven-centimeter-wider and one-kilogram-heavier CDR model from the CALA series has been reduced to the bare minimum. Its slim design, shallow construction, and black or silver aluminum housing as well as green, blue, red, or white ambient lighting makes it an understated eye-catcher that would fit on practically any shelf and look good with any interior decor.
The minimalist design is only partially continued on the back thanks to the broad range of connection options available. After all, the CALA CDR also offers an optional antenna for FM radio, a DAB+ receiver, a wi-fi antenna, connections for three digital and two analog devices, two USB 2.0 ports, and a LAN socket. Whew!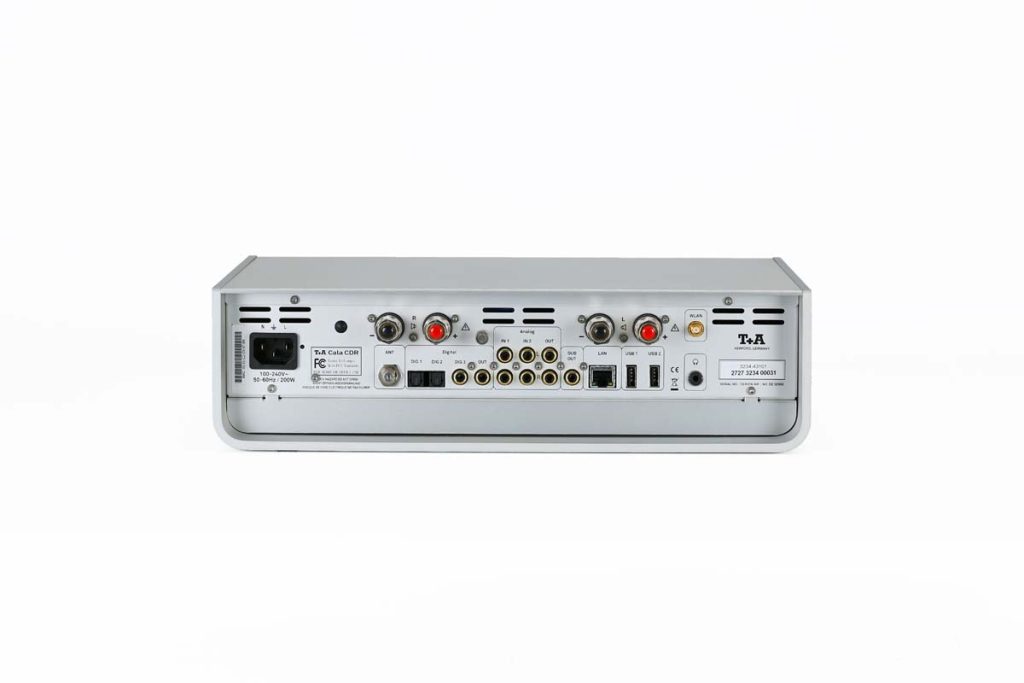 The option to connect the receiver to a home network and then use it as a streaming client for a home-based NAS music collection is particularly interesting. Fast, simple, and easy! What's more, streaming providers Qobuz and Tidal are already on board, with Deezer expected to join soon. The internet radio functionality provides access to an almost unlimited choice of radio stations and podcasts from all around the world; Bluetooth connectivity is also available.
Good looks and extensive functionality are just the icing on the audio cake at T+A. That's because even a less elegant version of the CALA CDR or one with only a fraction of its inputs and features would still be a desirable piece of equipment as this all-rounder is bursting with true T+A sound quality. All the audio processing is handled by a digital signal processor that includes a couple of nice, but from an audiophile perspective unnecessary, sound modes. Most importantly, however, it enables the fine-tuning of treble, mid-range, and bass frequencies even on a connected subwoofer when needed. In fine discrete steps, the CALA CDR can be adapted to the dimensions of the connected loudspeakers, to their position in the room, and to the level of reflection in the room. With such optimized fine-tuning, then, the sonic performance becomes a match for the visual appearance: CALA sounds elegant yet powerful and can coax unspectacular, middle­-of-the-road loudspeakers into demonstrating qualities they could have only ever dreamed of. The CALA isn't just great for everyday use either: With a stable 100 watts per channel (almost twice that of the smaller CALA SR), the amplifier provides enough power to crank up the volume and really get the party started.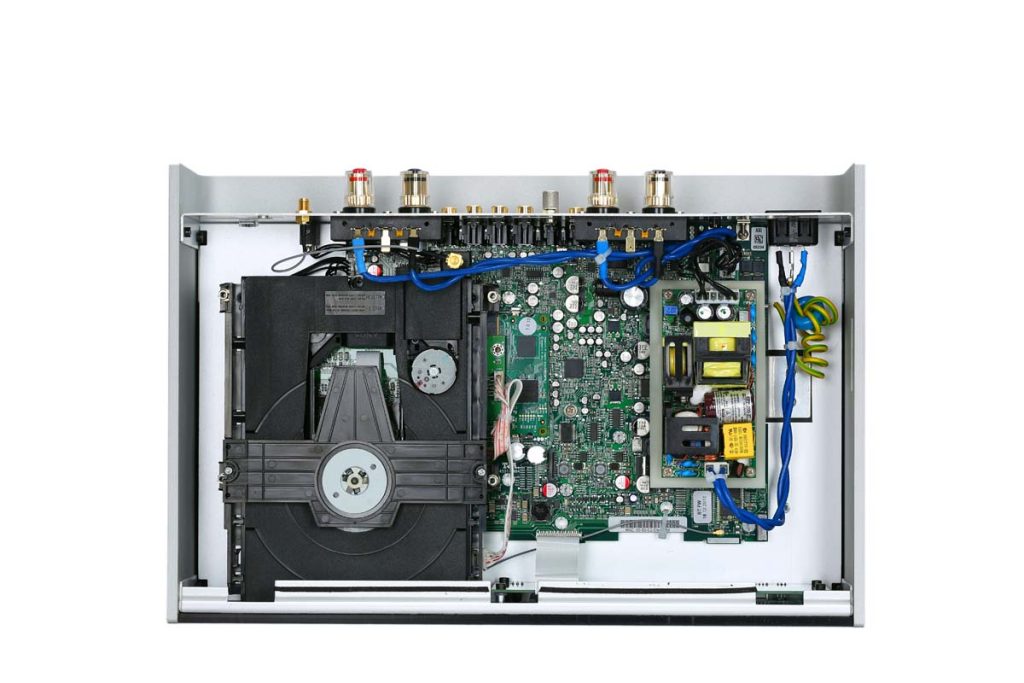 Anyone worried that such elegance might mean CALA places form over function will be reassured that everything can be controlled either by using the remote control supplied with the device as standard or by using an app developed for that purpose that can, of course, be downloaded for free. The classic remote control does perhaps supply a few more special buttons with only limited use than really necessary. I personally would have preferred fewer buttons with multiple functions. The app, on the other hand, is easy to use and allows you to operate almost all the available functions. It does, however, occasionally fall short in terms of transmitting commands to the CALA. The "classic" remote control, though, is very reliable in that regard and nice to use.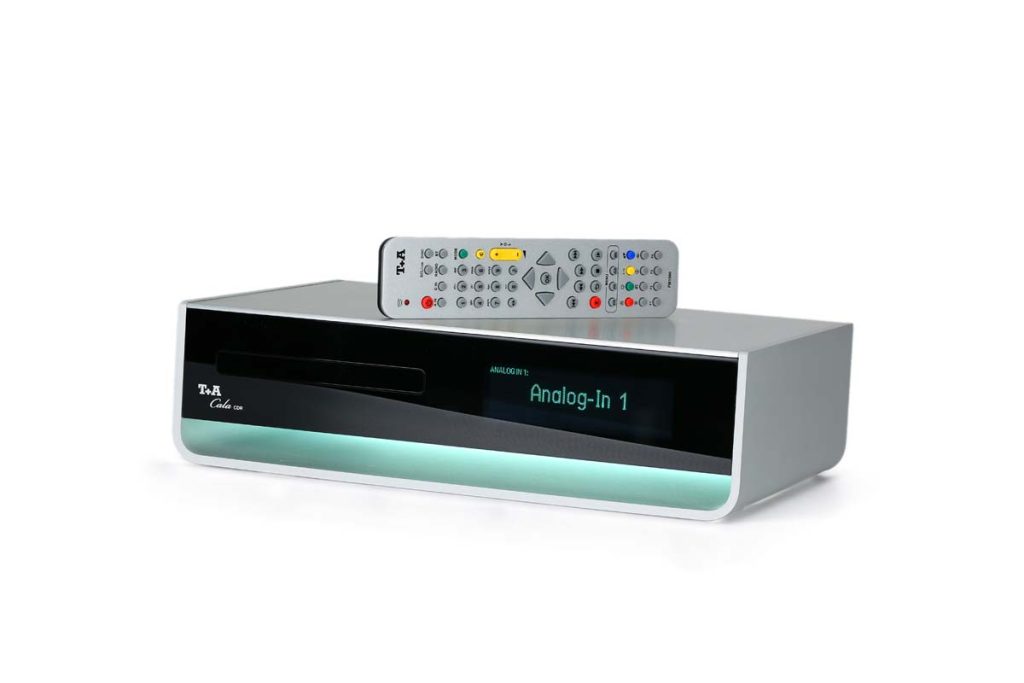 Overall, this slender, beautiful audio system that packs a punch is a true all-rounder. So if you're in the market for an "outstanding streaming server, receiver, amplifier, and CD player all rolled into one," look no further than the T+A CALA CDR.
Streaming CD receiver | T+A CALA CDR | Price: €3,500
T+A elektroakustik
Planckstr. 9–11
32052 Herford
Germany
Phone: +49 (0) 5221 76760
The stated retail price of the reviewed device is valid as of the time of the review and is subject to change.