Cables have no sound? Maybe. But they can bring out the best traits of a stereo system more clearly, make the very good even better and significantly increase listening enjoyment. Like the interconnects from AudioQuest. Their latest coup, Pegasus, really lives up to its name.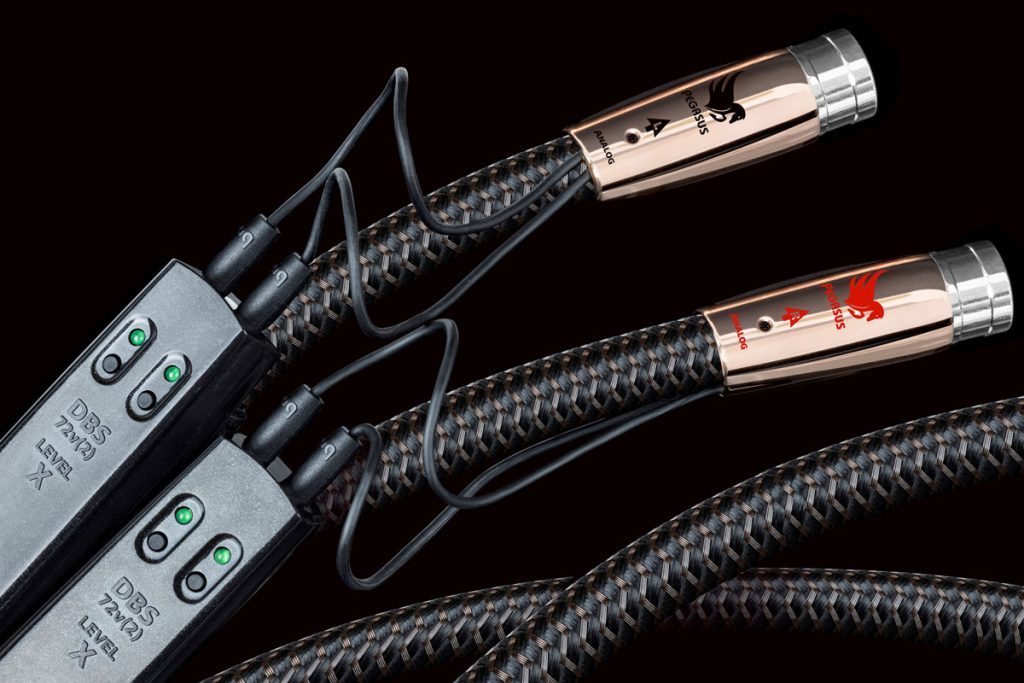 A wise man once said that mythical creatures, unicorns, griffins and the centaurs, only became extinct when modern people stopped believing in them. Neither did I encounter any winged horses shimmering in the dark like mother-of-pearl until very recently. Now, however, I have some at home: steeds full of grace that, while not able to fly, are still capable of suspending gravity, at least virtually: two pairs of the formidable AudioQuest Pegasus interconnects. Cleverly designed strands with solid RCA or XLR connectors that have solidified my belief in the potential of well-made hi-fi.
Shipping boxes that are simple in design, yet effective at protecting the cables from mechanical stress hide an offering for the connaisseur listener who has a carefully assembled stereo chain or sophisticated surround system at home, but misses that last bit of satisfaction with his rather costly electronics. To put it more simply: AudioQuest's Pegasus can be the icing on the cake for top-class systems that need a little "tuning" in the wiring. The Pegasus cables definitely aren't going to show what they can do on the inexpensive compact system from the electronics retailer. For those whose chains already advance into six-figure price ranges, on the other hand, very different, sometimes quite exotic wires are likely to curl between equally unusual components.
But to all those who have something "in between" for listening to music, for whom the motto for the home stereo system is "Not cheap, but not super-expensive either," I can whole-heartedly recommend to give the AudioQuest cable a go, which its developer Robert Hay classifies as the flagship of the "Mythical Horses" – an upper class range sitting just below the cable creations of the "Mythical Creatures" top line. I still remember their Thunderbirds with their little current boxes for subtle correction of cable characteristics.
If you accept that cables can have their own sound signature – a notion I would subscribe to after decades of dealing with hi-fi and high end – then you can even make out something like a family sound in the upper classes at AudioQuest. An always noticeable tendency to openness, airiness, lightness, without appearing sinewy or thin. Those who demand cables to thicken the bass range or to help the treble shine are fundamentally wrong with AudioQuest, because these elaborate American works of art belong to the most honest representatives of their genre.
Therefore, I would like to point out that you can counteract system deficits to a certain extent with the symmetrical as well as the asymmetrical version of the winged horses, but you can't really conjure up anything good out of a bad chain – even flying thoroughbreds from "good old USA" are overtaxed with that.
In my US vintage chain of Mark Levinson electronics paired with Infinity loudspeakers, balanced cables from the little known small series manufacturer Silnote Audio have been in service for quite some time. In relation to the price, these are sonic high-flyers – but they don't stand a chance against the Pegasus cables. Focusing, definition, stage and spatiality are in a class of their own and are much closer to AudioQuest's Mythical Creatures than the very clear price difference would suggest. This is especially noticeable when a decidedly high-resolution source, such as a high-quality streamer or a two-channel SACD player, is connected to the amplifier section. The (sound) color spectrum fans out further and gains luminosity similar to dialling up the saturation control in digital image processing.
The only difference is that no equalizer, let alone digital sound processor is used here, but rather, the electromechanical deficits of the cables are being counteracted in a completely analog way. The Pegasus also uses the well-known 72-volt boxes (in a single version for the RCA version, in a double pack for the balanced version), which, under the name "Dielectric Bias System", electrically charge the cable shield to prevent interference and create an electromagnetic protective shield. Findings and developments from higher lines of equipment, such as the use of highly conductive metals (oxygen-free copper in the case of the Pegasus) for cable manufacture, set directional binding, or insulation with multi-layer carbon and aluminum shields, have long since been passed on from the top class to the more affordable realms of the AudioQuest portfolio.
According to Robert Hay, "zero-tech" impedance matching has proven its worth in cable design: It ensures that interconnected devices always "see" the same electrical environment, which benefits distortion-free signal conduction as well as resistance to interference.
This splendor can be had for a little under 2400 euros for a meter of the XLR version with super-solid plugs; the RCA counterpart will set you back just under 1900 euros. Not too much for a cable solution that contributes so clearly to better sound. Do take a listen in your favourite home system, comparing the AudioQuest Pegasus against your previous cables, marvel – and soar.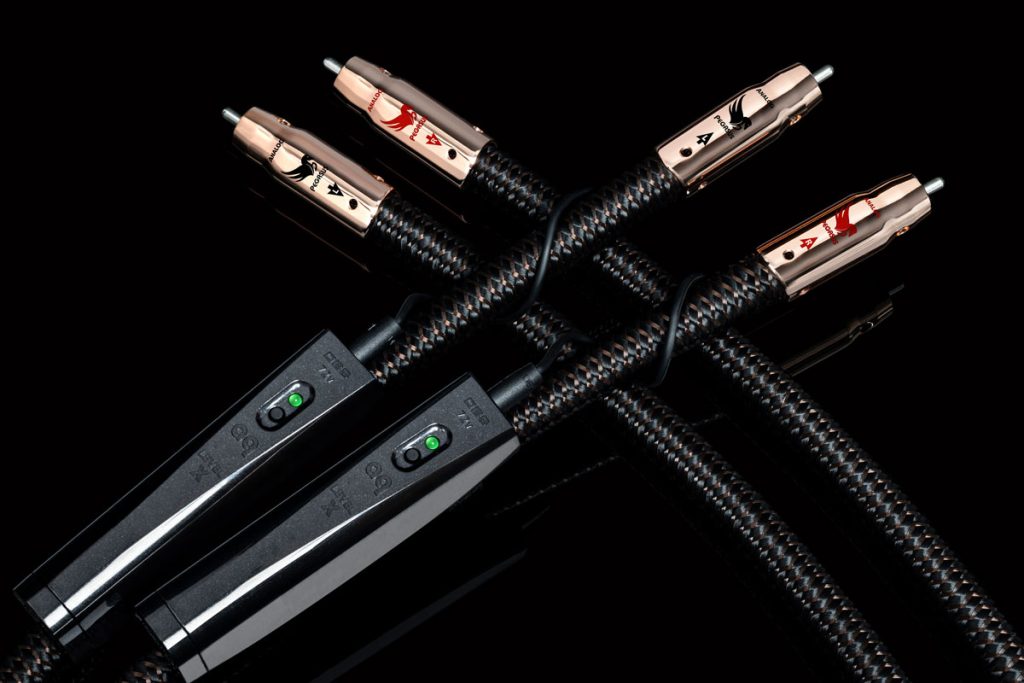 Accompanying Equipment
Network player/DAC: Esoteric N-01XD | CD player: Mark Levinson No. 390S | Turntable: Clearaudio Innovation Compact, Artkustik Seismograph | Cartridges: Clearaudio Da Vinci and Jubilee MC, Denon DL-103R | Integrated amplifiers: Mark Levinson No. 5805, Aavik U-380, Trigon Exxceed | Preamplifier: Cambridge Audio Edge NQ, Mark Levinson No. 38S | Power amplifier: Cambridge Audio Edge M, Mark Levinson No. 27 | Phono amplifier: Clearaudio Balance V2 | Loudspeakers: Infinity Kappa 7.2 Series II, SoundSpace Systems Aidoni | Cables: from Sommer Cable, in-akustik, AudioQuest and Silnote Audio, among others
NF cable
AudioQuest Pegasus
Connection options: RCA or XLR | Length: from 0.75 m to 7 m | Price (1 m): around 1900 € (RCA), 2400 Euro (XLR)
AudioQuest
Hoge Bergen 10
4704 RH Roosendaal
Netherlands
Phone +31 165 541404
info@audioquest.com
The stated retail price of the reviewed device is valid as of the time of the review and is subject to change.