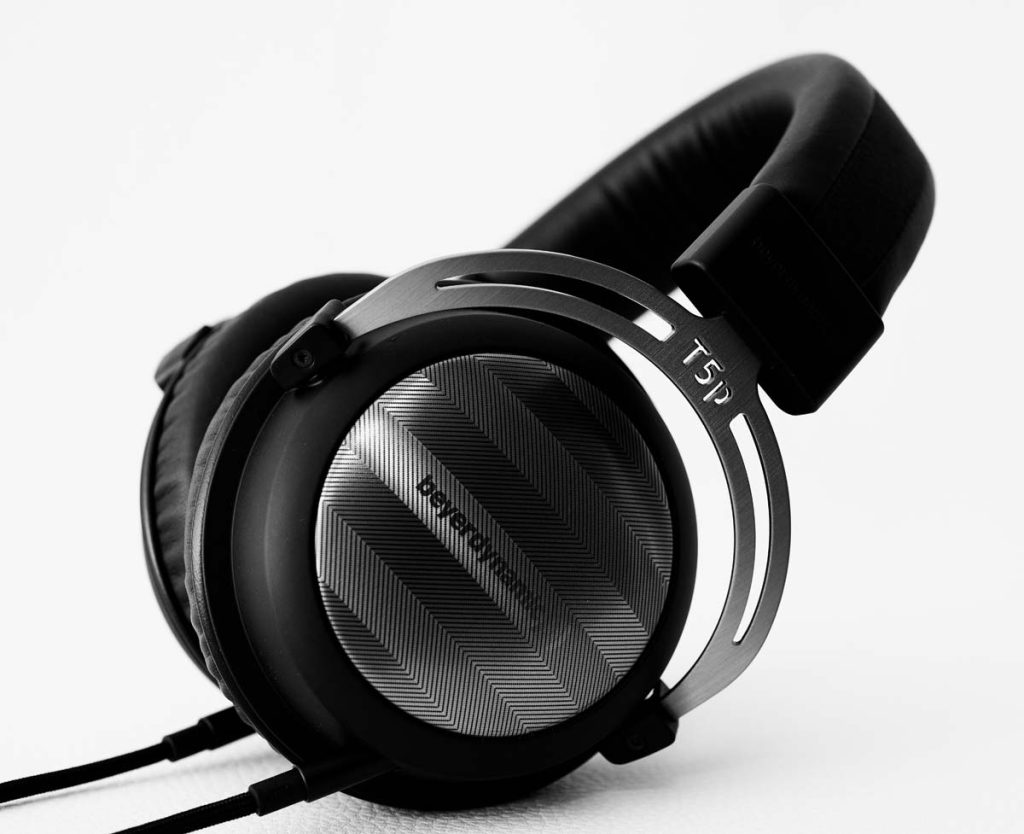 Beyerdynamic's top-of-the-range T models, the T 1 and T 5, showcase the Heilbronn-based company's patented Tesla technology with sophistication and elegance. Recently, the company updated these models and launched a second-generation line. Together with its semiopen sibling, the T 1, the closed-back T5p also holds a top position on the portfolio's price list, although the T 5 p also targets mobile listeners in particular with great sound quality. This is the reason the T5p, with its 32 ohms, is a set of low-ohm headphones that really deliver: They are sensitive enough to still be able to play dynamically on feeble headphone amplifiers as well. Consequently, Beyerdynamic says they are (also) suitable for use with mobile devices. That doesn't necessarily have to, nor should it necessarily be, tinny, screechy cell phones, but rather more appropriate high-res players. After all, high-quality headphones should be involved with reproducing high-quality music to serve audiophile ears properly.
Even from the dual-sided connection cable, which features a nice textile coating and is linked to the headphones using minijacks, it's clear to see that the T5p model is super dynamic. The conductor material is actually specially made from OCC (Ohno Continuous Casting) 7N copper known for its outstanding transmission quality. Any contemporary audiophiles will know that OCC-pro­cessed conductor material is only used in high-quality sound conductors and that Beyerdynamic is therefore not messing around with the T5p! The cable has been purposefully kept comparatively short for on-the-go listening. Longer connection cables, including a balanced cable for connecting to high-end headphone amplifiers, are also available starting at about €120.
In terms of the sound transducers' design, the new model is radically different from its predecessor, which itself received rave reviews. To start with, newly developed additional diaphragm damping has been designed to effectively reduce any sound-distorting treble frequency resonance. On top of that, Beyerdynamic has optimized the geometry of the sound transducers: Instead of the old single-layer construction, the new design uses a stable high-tech compound material. Together with the well-established Tesla technology, this results in sound precision that's particularly pleasing to the ear.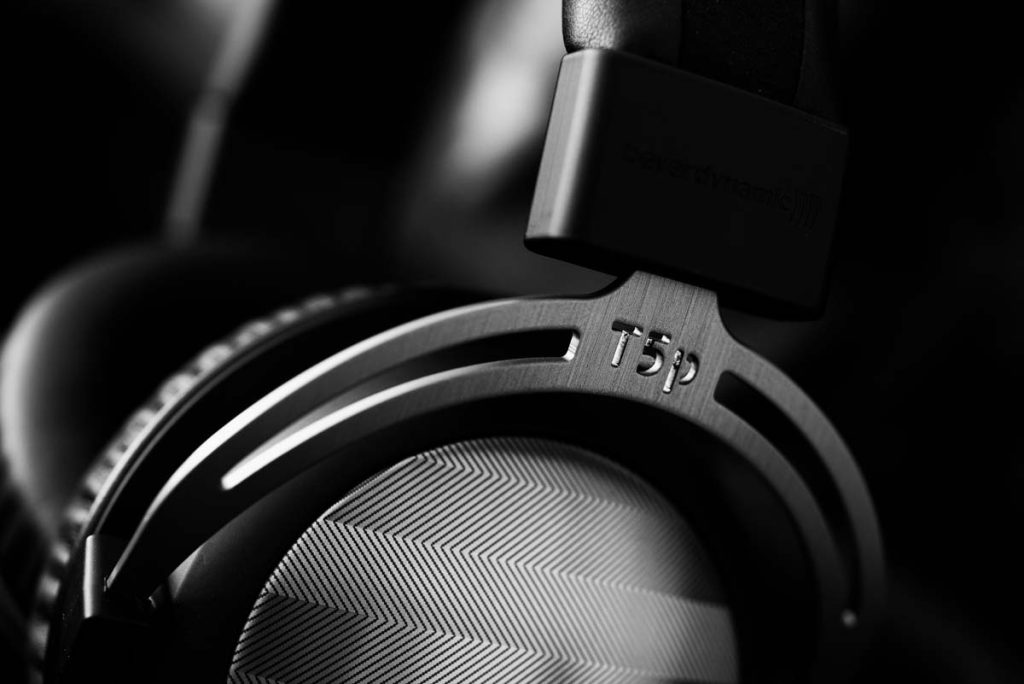 The Beyerdynamic T5p headphones are handcrafted in accordance with Beyerdynamic's high manufacturing standards. The workmanship, it has to be said, is absolutely top-notch. It doesn't get better than this — it just gets different. The super-soft headband and ear cups are made from high-quality synthetic leather with a protein-coated surface, and they fit snugly and softly over your head and ears. Although these 350-gram headphones are not the lightest models out there, the carefully selected materials make them extremely comfortable to wear. The T5p doesn't push or pinch you, and even the dreaded heat buildup — a well-known problem with closed-back headphones — is a thing of the past. And it goes without saying that the Beyerdynamic's fit ensures excellent isolation, which helps achieve optimum bass reproduction.
The T5p's sound is awesome as well: When connected to the headphone jack of the Pioneer XDP-100 R high-res player, the high-end headphones immediately reproduce a very dynamic and lively performance full of beautiful little details. When The Singers Unlimited start to sing their refined a capella arrangements sotto voce and bring their own bodies to vibrating in the crescendo, any aficionado will realize they have a really masterful set of headphones covering their ears. As is standard with Beyerdynamic, the neutral matching does not lay on the bass too thick or there's no over-the-top accentuation of presence. a gentle bump in terms of presence range is not at odds with this, rather it ensures a welcome freshness. Only when connected to a premier-league headphone amplifier does the T 5 p really soar to its full sound power potential, however. With the Violectric HPA V200, the sound profile is incredibly stable and audibly more balanced with even more refined resolution. No matter whether its rock, jazz, or classical music, when connected to a headphone amplifier of similar standing, these high-quality headphones really are sensational and provide the listener with a wonderfully crystal-clear sound.
Closed-Back Headphones | Beyerdynamic T5p | Price: €1,200
Beyerdynamic GmbH & Co. KG
Theresienstr. 8
74072 Heilbronn
Germany
Phone: +49 7131 6170
The stated retail price of the reviewed device is valid as of the time of the review and is subject to change.