Covering normally refers to songs being performed by other artists, but actual album covers attract their share of impersonators, too. The covered cover: Is it a witty reference, respectful homage or parody? Or is there a deeper meaning behind it? Up now: Blue so Blue.
Even at the tender age of 25 when he began recording his first albums, Kenny Burrell was a refined gentleman on the electric guitar. It's no wonder that Duke Ellington called him his "favorite guitar player." Burrell's roots were in the blue-collar city of Detroit where he also studied classical guitar, and his recordings combined a mixture of both earthy expressiveness and cool elegance. He said he was striving for "very close to the sound of the acoustic guitar, only louder… that warmth and midrange." It wasn't just the warming tone of his electric guitar that moved listeners but also his casual, laid-back phrasing. Burrell played as if his fingers were always needing to take a rest — he improvised the way people breathe. He was a highly talented man but not a show-off. His fans included B. B. King and George Benson; even Jimi Hendrix admired Burrell's signature sound. During the first 10 years of his career (1956– 1966), "K.B." made 30 albums as a band leader and countless recordings as a sideman, including 18 alone for jazz organist Jimmy Smith.
Burrell's best-known album is Midnight Blue. He found this one of the easiest albums to make as it was pure blues. "Blues is first and foremost a feeling," he once said. "I wanted to get a group together for this session that can feel the blues the way I do." Midnight Blue, released in 1963, is a beautiful, emotional, and relaxed album. Sometimes very romantic, then engrossing and groovy, always a little melancholic, but never too onerous or tiring. The tracks (eight of the nine were written by the guitarist) take you on a journey across all styles of blues: sometimes slow, sometimes mid-tempo; here a Latin touch, there a soul feeling; now a waltz rhythm, later a hard-bop swing. Burrell's tone and phrasing convey a sense of airiness and spaciousness, and his playing grows patiently from chorus to chorus with no piano getting in his way. A bass, drums and congas fill all the supporting roles. Stanley Turrentine features on a handful of tracks, adding a few dry soul punches with his tenor saxophone.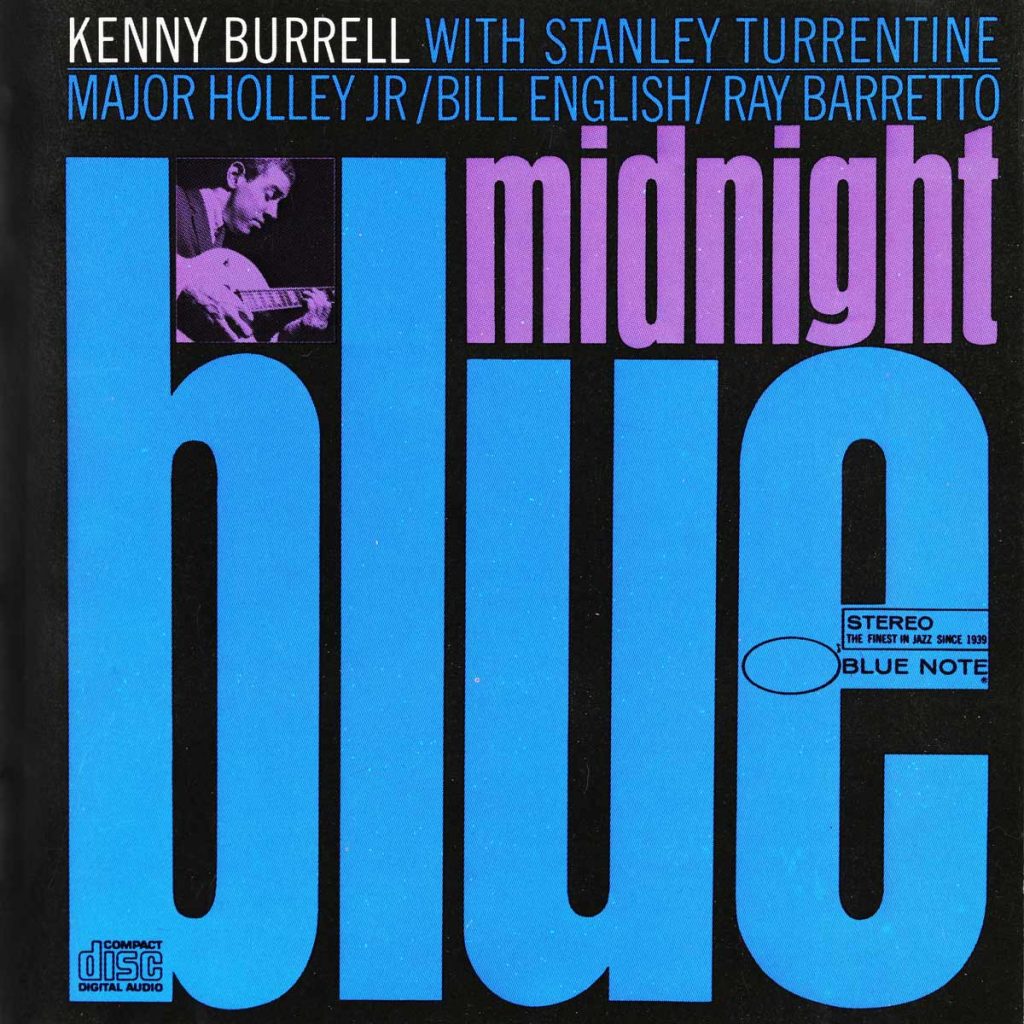 The album is considered a classic. But: Is it really? Compared with the more experimental and adventurous 1960s jazz movements, Midnight Blue is quite low-key and unassuming. Either way, what definitely is a classic is the album cover, designed by Reid Miles. It features a tiny photo and huge letters with the word "blue" taking up three quarters of the front cover.
Elvis Costello also probably felt very "blue" or at least a little melancholic at the start of 1981. However, the British pop singer's new album didn't end up being a blues album or a jazz album and so he simply named it Almost Blue. (One year later he also wrote a hit single with the same title.) British graphic designer Barney Bubbles created the album cover, copying Miles' "blue" lettering but cleverly distorting it. The cover was also printed and available in various color combinations. You have to wonder: What would the pop and hip-hop graphic designers of the 1980s and 1990s have done without the inspiration provided by the old Blue Note covers?
At that time, Costello was inclined toward melancholy as his album Trust, which had been released in January 1981, turned out to be a bit of a flop with the public. He began to doubt his credentials as a songwriter and sought solace in well-known, successful jazz and blues hits. It seems he was really wallowing in despair: as in his anguish, an old love began to tug at his heart strings again: his penchant for country tear-jerkers. For this album, Costello delved into the depths of Southern sentimentality. The songs he retrieved from this descent belonged to the world of Hank Williams, Merle Haggard, and George Jones — not exactly the milieu of a big-city Brit. All the same, some of the 12 tracks are also rooted in blues, rockabilly, and country rock à la Gram Parsons. Planned at rather short notice, the album Almost Blue was produced in May 1981 in Nashville, the home of Southern country music. Costello's initial blues thread shifted into what can only be described as country grousing. Almost not blue anymore.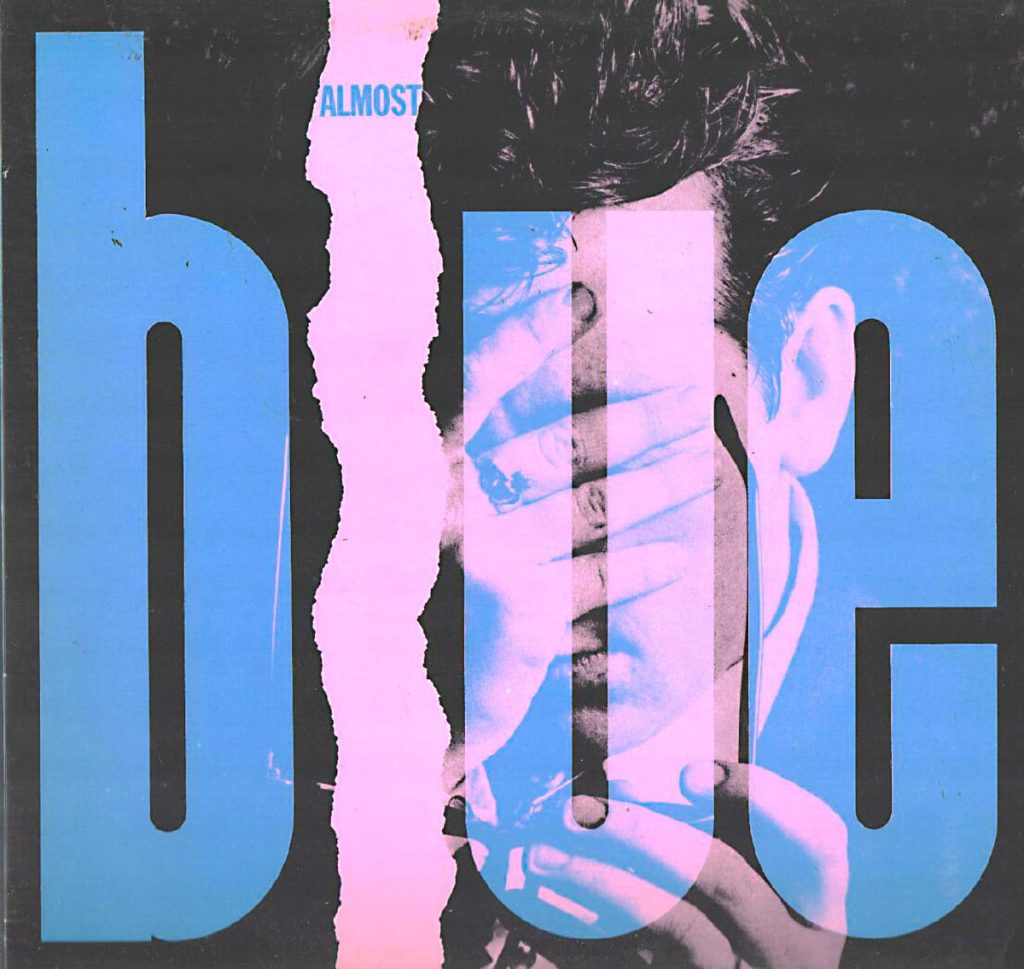 And how did it go for the big-city high-end punk in the redneck scene of Nashville? Costello was well aware a clash of cultures would likely result. In a brilliantly ironic move, he had a sticker added to his album that read: "WARNING: This album contains country & western music and may cause offence to narrow minded listeners." In the recording studio in Tennessee, conversations apparently often turned to the subject of guns, causing a rather tense atmosphere. Costello has written he was glad a documentary film crew was present at such moments as it ensured issues never escalated further. Even musically, Costello came out of the whole affair pretty well. The former London pub singer showed a certain fragility in his voice that comes across as truly authentic. Despite a howling pedal steel guitar, he managed to incorporate some clever nuances into his vocals. In the more lively honky-tonk songs, he swings (with vocal reverb to boot) almost like an old rock 'n' roll crooner. After the disappointment of Trust, Almost Blue proved a defensive, slightly self-pitying cover album. And when all the tracks are covers, the cover sleeve can sure as heck be a "cover" too.
Kenny Burrell: Midnight Blue (Blue Note CDP 746399 2)
Elvis Costello: Almost Blue (Demon DPAM 7)
The stated retail price of the reviewed device is valid as of the time of the review and is subject to change.