Specialists In Pureness
Einstein The Pure – the perfect sound equation!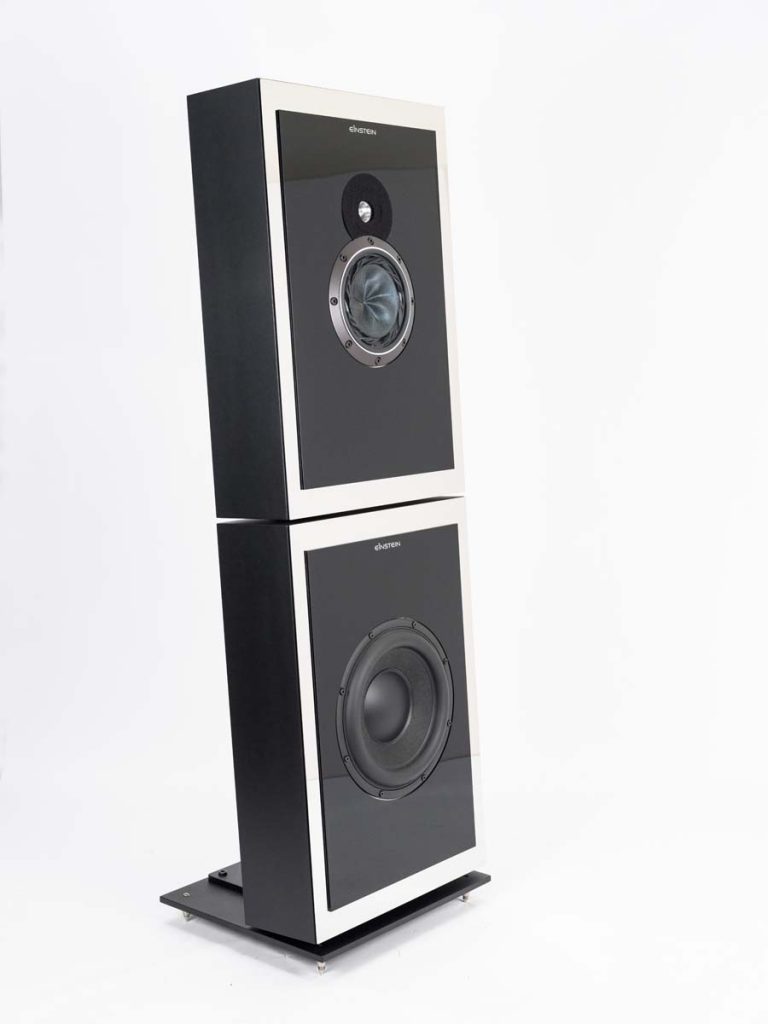 What the manufacturer is simply calling a semiactive three-way system is actually something more complex upon closer inspection: To be more precise, you'd have to call The Pure a full-range system with a high-frequency extension and active subwoofer. Surrounding a driver from Fostex bearing the model No. FW168HR, a piece of equipment Einstein has officially designated a woofer but still runs as a proper full-range model, is a high-frequency horn with alnico magnet from the top-class Japanese equipment supplier along with a powerful Peerless woofer equipped with a wide rubber surround and driven by a 700-watt class D power amplifier. The central Fostex driver featuring a prominent, relief-style membrane and surround demonstrates its strong good-naturedness with a minimum impedance of eight ohms between 200 hertz and 500 hertz, not noticeably crossing over the axis until some 12 kilohertz. The higher-level ring radiator gently takes over much earlier with six decibels per octave — just how much earlier can be regulated using a three-stage knob on the back. Standard for Einstein, one of three condensers is then laid on the signal path. The backward-sloping baffle and the recessed horn driver compensate for the slight phase displacement and place the voice coils — that is, the moment when the electric signal is mechanically converted — on one vertical line.
Solid as a rock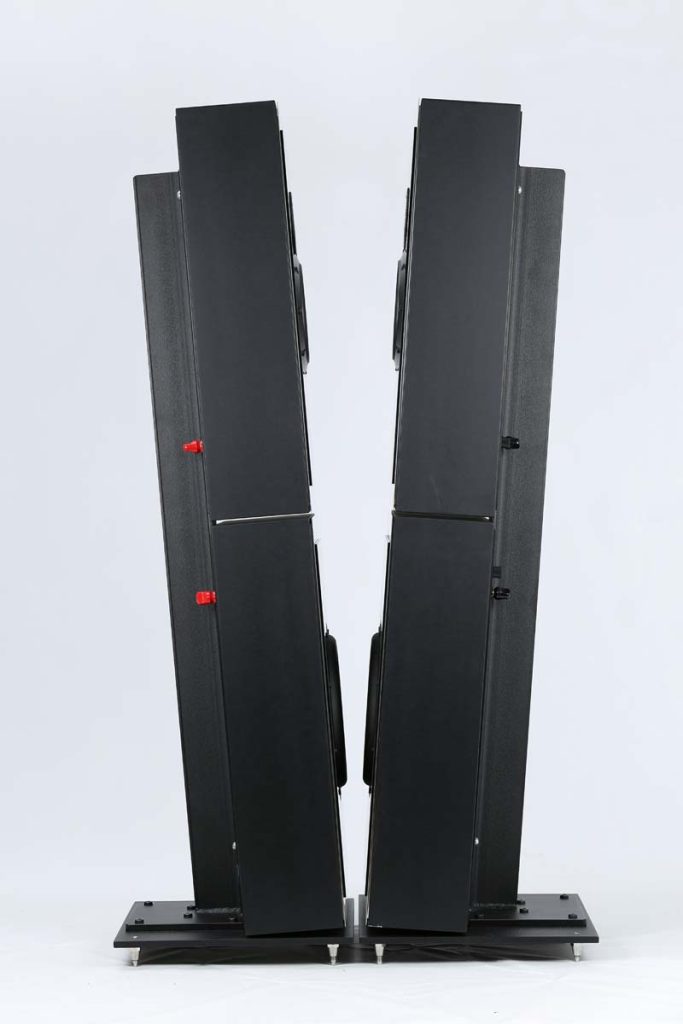 The name says it all: The Pure strives to ensure the most undistorted music signal possible leaves the speakers. To achieve this, Einstein President Volker Bohlmeier chose to following what's essentially an ultraconservative approach: The housing doesn't get to play any kind of role or contribute anything, even in the face of strong temptation to draw out more color or efficiency. Solid, 12-millimeter-thick aluminum was used for the rear side of the flat housing as well as for the baffle, which is also enhanced with stainless steel and black acrylic. This impacts the resonance behavior — if you can still talk about resonance in view of this battle of materials — because the three different materials have a calming effect on one another. Forty-millimeter MDF board was used for the surrounding frame, with a honeycombed chamber structure ensuring quiet on the inside. In terms of stability, The Pure's housing is more likely to bring to mind a plane's black box than your conven­tional speaker. To keep the sensitive central area free of rearward noise or any minimal housing resonance, the powerful woofer is placed in a separate chamber along with the power amp and an active, variable analog filter. The space seems tight and a glance at the textbook confirms that bass volume needs displacement. But that is just half the truth: The theoretically long-stroke woofer with a paper diaphragm acts like a suction cup in an ill-fitting cage. Every impulse has to penetrate strong resistance, every amplitude is immediately corrected with the raw power of the air volume's counterpressure, with the result that the diaphragm is forced back into its starting position like Mariah Carey into an ill-fitting dress.
These days, however, compensating for this stubborn inefficiency doesn't require a heavyweight power amp; a coolheaded, hearty switching amplifier takes care of this task in the woofer without cutbacks on quality. The bass range of The Pure is absurdly fast, features color and contour, and feels exceptionally sure-footed overall. And with 700 watts coupled with low volume, the power produced by The Pure enables the brute achievement of coaxing the woofer's sound pressure down to 20 hertz — that's less than its own resonance frequency! The level and frequency damping can be adjusted to the room or listening preferences using two knobs on the back. Admittedly, talking about a crossover frequency wouldn't be entirely correct in this case, since the bass midrange from Fostex, which approaches an aluminum high-frequency horn typical of a point source, plays very easily and is only underlaid in the bass. While this may sound like splitting hairs, it is an important design feature in my opinion and the simple but useful setting options offered by The Pure should be kept in mind. I will try to clarify this statement when I discuss my audio tests.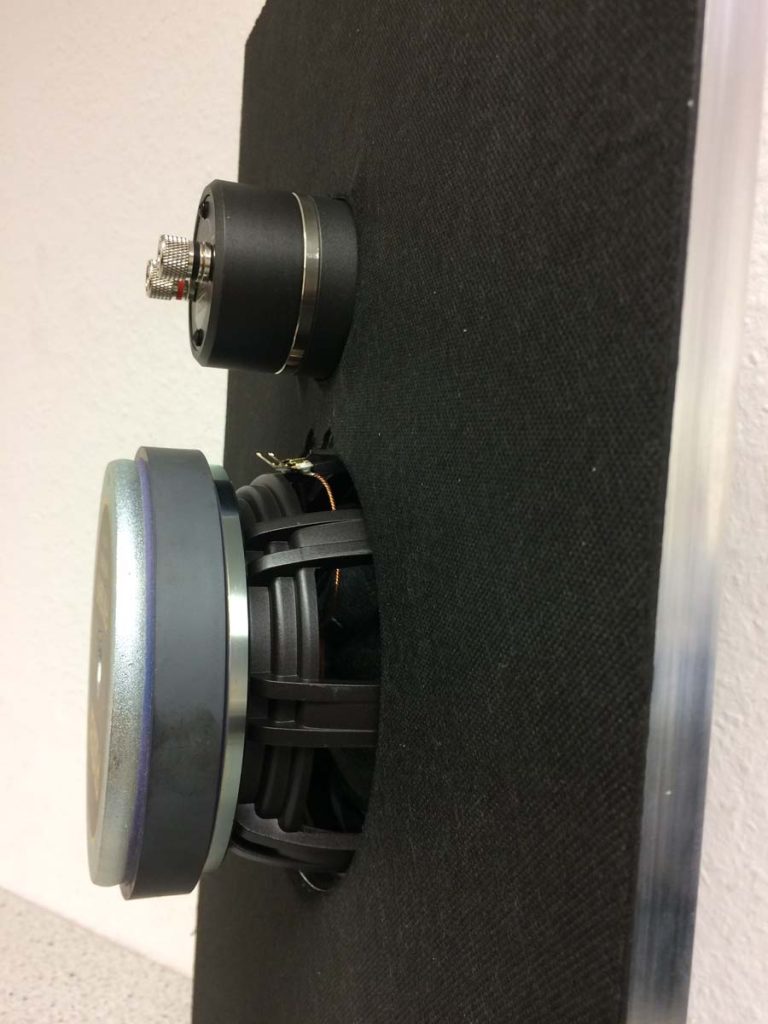 A brawny steel T-beam connects the two sectional housings to a monolithic unit; the thin but heavy pedestal rests on four spikes while a fifth bores upward into the bass compartment to directly divert vibrations. Given its weight of more than 100 kilos per channel, you'd better get a second and third person to help you set it up.
Skills management with no worry about contact
Before producing speakers with the Einstein logo and design, the Bochum-based tube manufacturer showcased systems from the American manufacturer Audiomachina, so it's no coincidence their design brings to mind The Pure. As is the case for the tonearm and cartridge, Bohlmeier also benefits from this fruitful cooperation with a choice partner when it comes to his speakers: Karl Schuemann, who founded Audiomachina in 2000, permitted Bohlmeier to extensively examine his designs and, with The Pure, extended him the right to build a type of clone from two models of the sound transducer from Colorado. This all happened just in time for the Rocky Mountain Audio Fest in October, where FIDELITY again sat on the International HiFi Press Award jury and Schuemann also announced an apparently groundbreaking new speaker called XTAC. If you happen to be in the area, a short detour to Fort Collins would certainly be worth it…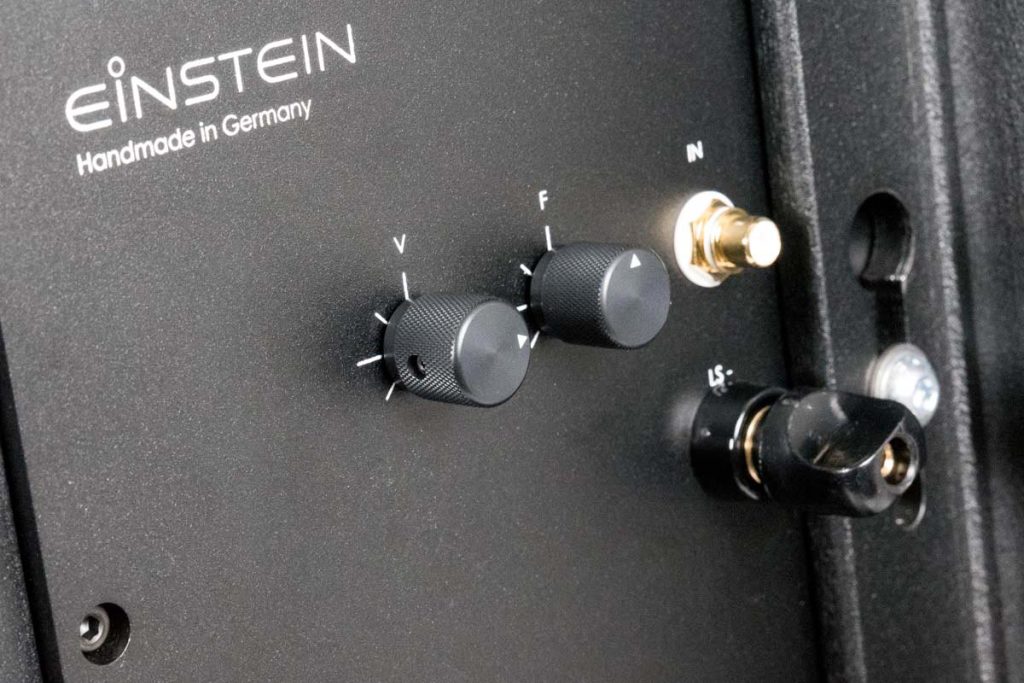 Now, back to the topic at hand: The baffle of The Pure's midrange module is aligned with the bass section and therefore wider than that of its American role models. That makes it slightly more efficient: The 89 decibels specified are either very conservative or the speakers are very good at utilizing power when relieved of their bass weight, which simplifies their setup in European apartments. If absolutely necessary, The Pure can be positioned relatively close to a wall, a consideration that plays a less important role in a ranch home in the American Midwest. With its full-surface, angled baffle, The Pure presumably produces fewer edge reflections than the layered, pyramid-shaped design of the original.
The Pure can obtain its signal entirely from the power amp, in which case a short cable jumper links the two housings employing huge screw terminals, or only partially for the mid-high unit. Cinch inputs for the bass can be directly connected with the preamp's output. Both options have their theoretical (and financial) pros and cons in terms of cable paths, lengths, and — please note! — phase position. Using a cable setup equivalent to that of in-akustik, Vovox, and AudioQuest (cinch), I could detect no differences worth talking about in a listening comparison. You could consider a bi-wiring scenario, but, I wouldn't advise it.
Unspoiled, pristine, uncompromising: The Pure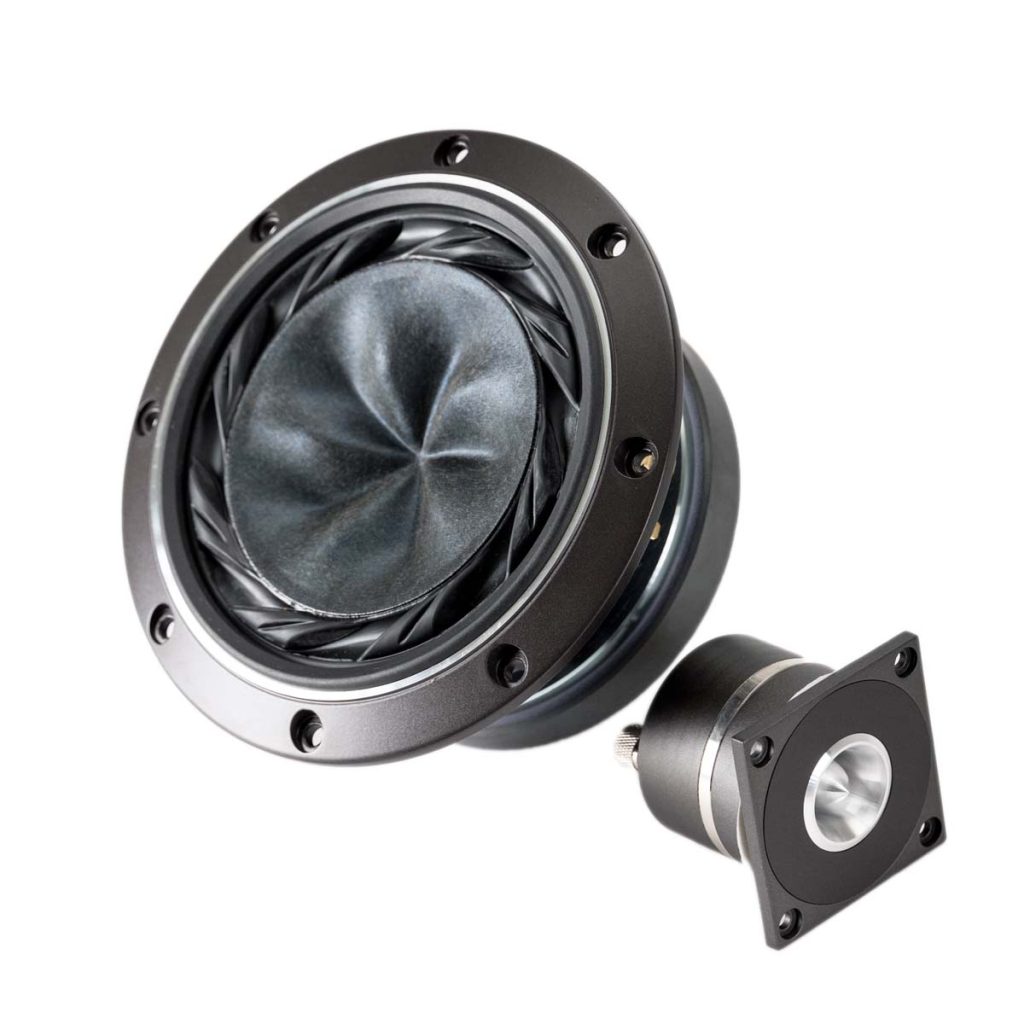 Powerful three-way systems can leave a lasting impression but often display their deficiencies when given a closer listen, with the focus on musical contexts. This includes posing very specific questions, for instance: How is the singer likely positioned with respect to the drums? Does the background choir float above everything or do we hear it sing from a fixed location? In consideration of its uncommon functional principle described at the beginning, I expected a natural and markedly homogeneous playback — and I wasn't disappointed.
After a couple of attempts with the setup, a task that showed The Pure to be remarkably uncomplicated, I found my listening ears initially going to the two knobs for the active bass. The sensation in my feet, however, led me to realize that less could be more. It's worth resisting the temptation of a bass thunderstorm. Even if you may be enticed to add more power from down below to "dirty" hard rock discs — in particular, to Them Crooked Vultures, the only album to date from the super group of the same name that features Dave Grohl, John Paul Jones, and Josh Homme, the Cream of the new millennium — more delicate material such as Book Of Days from the vocal ensemble with Meredith Monk — a serious version of Dead Can Dance, for those who don't know the album — makes it painfully clear what one has to give up in exchange. Too much high bass drowns the wonderful expansive range and keeps it from unfolding its full potential.
This isn't quite as apparent in the incredibly pressing and lively playback of the roughshod, distorted "Scumbag Blues," which actually reminds me of "White Room," as it is with the polyphonic, fluent, and delicate choral music of the avant-garde vocalists who present an exceptional spectrum of tones as a compact, compositional unit. Expressing precisely the right amount of empathy, complexity, and intricacy, The Pure conveys this fragmentarily expanded soundtrack in high resolution as a cohesive, natural music ensemble — provided you leave the exclusive, expensive chassis from Fostex undisturbed to do its thing. It needs to stand upright on the foundation of the woofer and shouldn't be submersed into it up to its knees. It's fascinating to experience the ability of The Pure to reproduce genuine controlled low bass with no bombshell effect.
As with a subwoofer, a cautious approach is best when determining the ideal amount. To test this, I prefer to listen to recordings I know well. In so many ways, Ella Fitzgerald is the perfect candidate. Even with active bass turned off at first, "All Through the Night" sounds exceedingly sweet, enticing, and rich in detail; The Pure could even win over listeners as a two-way monitor, with the sophisticated quality of the central Fostex driver playing to its full potential. But the voluminous jazz icon was lacking in body and substance — in groundedness. To feel that needed sensation in my gut, I turned on the active bass a bit too loud and tapped into that frequency range above which the bass is no longer needed then lowered the level to the point when the presence range flourishes from the voice's inherent musicality. Backed by her physical presence, Ella Fitzgerald now whispers to me from in front of the orchestra, her vocals stretching almost infinitely in powerful passages, and remaining fully transparent as they glide into the highest ranges. Even when the horn sections blow through the back­ground like a Dixieland band. The Pure has everything fans of full-range systems so treasure and a bit more: complete, all-encompassing credibility.
Amplifier-friendly load
The Pure's exceptional design demands some attention at first. But once you've found the right settings, it pays off with a seldom-heard, deeply pure sound profile that remains acoustically transparent down to the last detail while not losing sight of the great line, the wide melodic arch, the internal tension. Amplifier power is not its main focus, and it didn't get chased into the box horn by high-wattage heavyweights like the Musical Fidelity M8-500s, Gato PWR-222, and Audia Flight FLS4 (see FIDELITY No. 14, 34, and 33 respectively). Nor did it spit out tube amplifiers like the Air Tight ATM-3211 without giving them a try. In an achievement like that of the company's own Silver Bullet OTLs, The Pure has proven more than once over the last several weeks that it not only can follow ethereal melodies until they've lost themselves in perfected pleasure, but it can also let the walls tremble if you light it up. So you've heard there's no such thing as a speaker that can handle serious blues rock as well as chamber music for cello and flugelhorn? Be open to what Einstein's The Pure can teach you.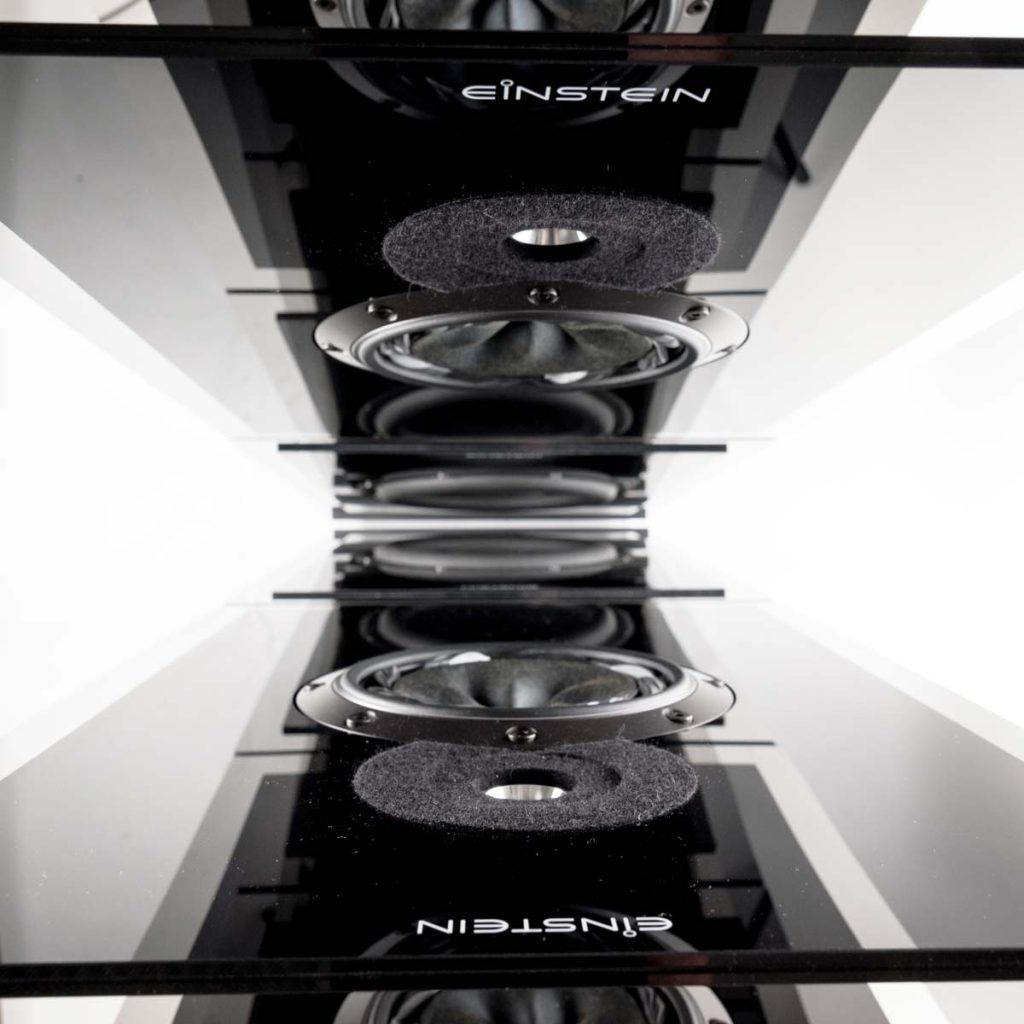 Accompanying Equipment
Turntables: TechDAS Air Force III | Tonearm: Einstein The Tonearm | Pickups: Einstein The Pick-up | Phono amplifier: Einstein The Phonostage | CD player: Ayon CD-3sx | Preamplifiers: Einstein The Preamp, Tidal Preos | Power amps: Einstein The Silver Bullet, Air Tight ATM-3211, Musical Fidelity M8-500s, Gato PWR-222, Audia Flight FLS4 | Loudspeakers: Avantgarde Acoustic Uno XD, MartinLogan Expression ESL 13A, Monitor Audio Platinum PL 300 II, Nubert nuLine 334, Nime Elite One | Cables: in-akustik, Vovox, AudioQuest | Accessories: AudioQuest, Sieveking Sound, Subbase Audio, Solidsteel
Speakers
Einstein The Pure
Functional principle: modular three-way standing speaker, closed | Frequency range: 20 Hz-35 kHz | Impedance: 8 Ω | Sensitivity: 89 dB | Driver Complement: Peerless-Bass (26 cm, paper diaphragm), midrange and high frequency horn by Fostex | Special features: active bass, adjustable high frequency, disconnected mid­range speaker, special pedestal with heavier weight and precise tilting | Finish: Stainless steel and black acrylic or a range of wood veneers | Dimensions (W/H/D): 40/125/35 cm (including stand) | Weight: 110 kg | Warranty period: five years | Price per pair: 44 000 €
Einstein Audio Components GmbH
Prinz-Regent-Str. 50–60
44795 Bochum
Phone 0234 9731512
The stated retail price of the reviewed device is valid as of the time of the review and is subject to change.