Enhanced Listening
Gato Audio is looking to combine the virtues of classic design with modern soundscapes with the PRD-3S, PWR-222 and CDD-1 combo. So just how well does this sweeping electronic ensemble from the Danes really fare?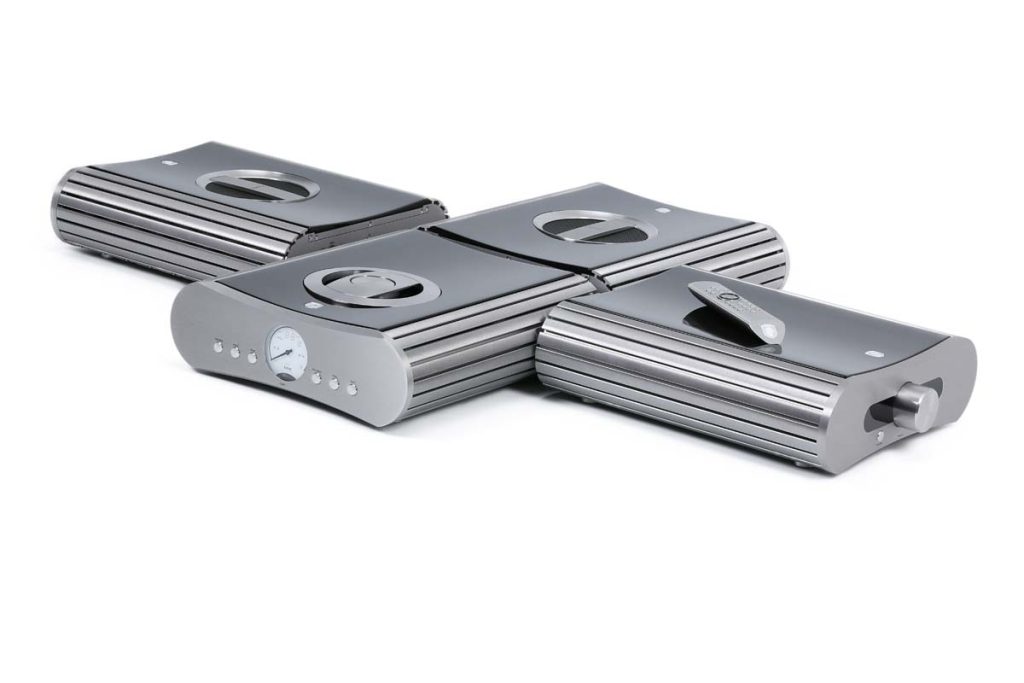 The words "Danish design" tend to conjure up images of homes both functionalist and minimalist in the tradition of classic modernism that still maintain a certain cheerful playfulness about them and keep décor to a minimum. This association sprang to mind when the FIDELITY editorial team announced it would be receiving a preamp and power amp combo plus CD player from Copenhagen-based, small-scale manufacturer Gato Audio. To cut a long story short: My expectations weren't disappointed. After all, Danish design doesn't stop at form following function. No, the Danes pair form and function with a generous slice of sophistication and a high-class, high-quality look and feel.
Many audiophiles will have undoubtedly already heard of Thule Audio and GamuT. Sound wizards Kresten Dinesen and Frederik Johansen both played leading roles at these small-scale manufacturers before they joined forces to create Gato Audio in 2007, bringing another pioneering Danish developer on board in the form of Rasmus Holm. The company is headquartered in the small town of Herlev near Copenhagen. There, a development department and extensive testing and quality assurance facilities could be set up and final assembly of the devices carried out.
Four devices sat in front of me, all with the same shape and elegant curves. Only their displays and an obvious rotary dial on the preamp helped me to distinguish them from one another. It has to be said that they're definitely too attractive to be hidden away somewhere, a fate you might swiftly impose on some monoblocks that, when positioned behind the loudspeaker, would help you save an arm's length of loudspeaker cable. Speaking of cables, Karsten Grämkow from Phonar (Gato Audio's distributor in Germany) recommends balanced cabling between the preamp and the power amp and, where possible, also from the source devices to the preamp, which is par for the course in my household anyway.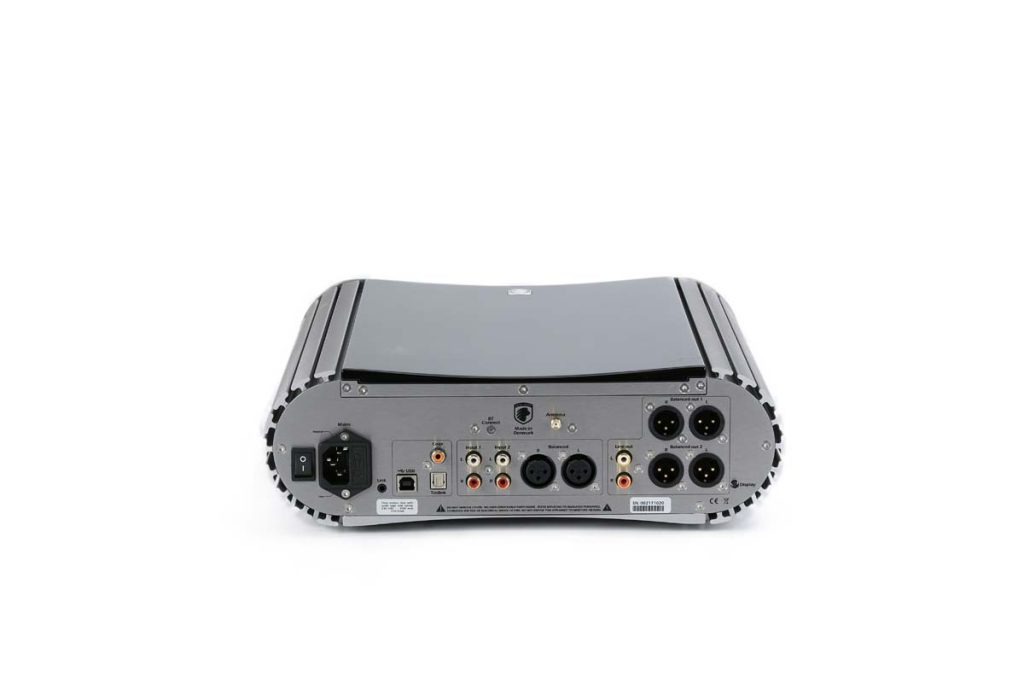 Warm-up exercises
Bursting with curiosity as to how these visually stunning specimens would sound, I threw all my hi-fi wisdom out the window and connected the combo straight "out of the box" and fired up the devices with the scherzo from Mahler's Symphony No. 2 conducted by Pierre Boulez. A large-orchestra piece is always a great litmus test the first time you get your hands on new components, but here the off-colors among the woodwinds and the limited dynamic range of the basses and drums were hard to miss. After barely 10 minutes, I had to throw in the towel and acknowledge I had shot myself in the foot. The golden rule is right: Even transistor power amps need at least a good hour or so to reach their full sound potential. The PWR-222's round temperature gauge is a handy gadget in this regard. It both helps you identify the optimum operating temperature and warns you of any potential overheating. It took a good 15 minutes before the gauge, now at about the 9 o'clock position, signaled an initially acceptable audio output. My experience tinkering with these Danish design pieces over the next few weeks would reveal that they need around 60 minutes to reach their full power and sound potential — that is, when the needle had reached about the 12 o'clock position. Incidentally, this temperature is maintained almost all the time at normal load. Anyone who finds this too monotonous after awhile can also switch from the round display field to the VU meter, which is exceptionally sensitive and practical to use and neither permanently fidgets in the red zone nor requires excessive volume to really take off from the zero position. Anyone who doesn't want any distractions at all can simply turn the display off altogether.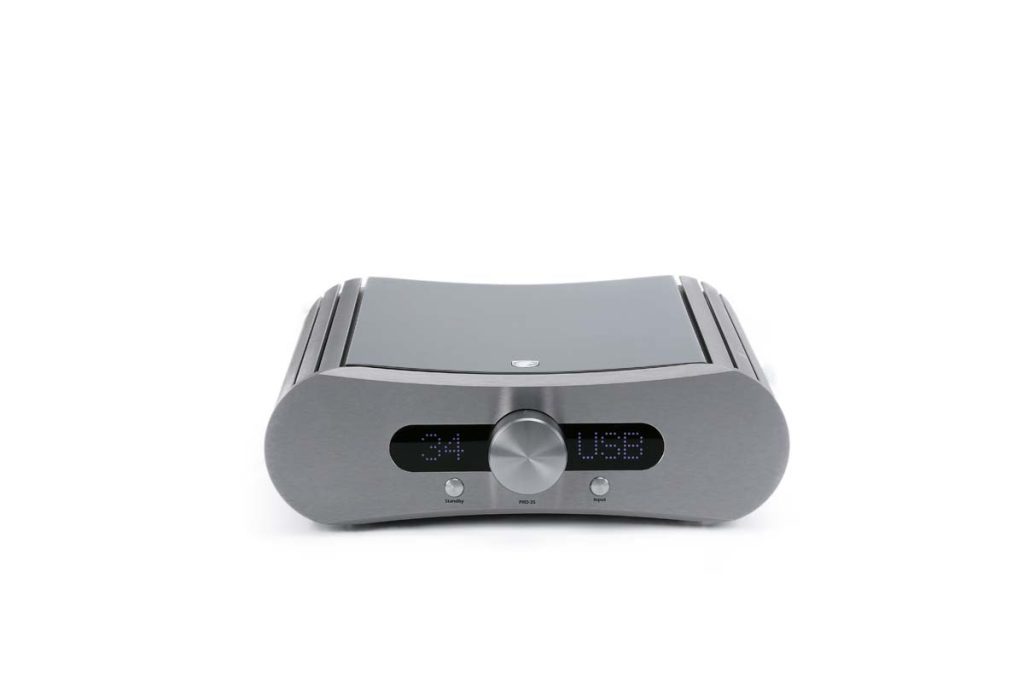 But back to my initial audio experiments. I first turned my attention to the PRD­3S preamp with the integrated DAC and connected it to my standard studio power amp. The Vienna Philharmonic woodwinds made it clear that the preamp incorruptibly errs on the clean side as I didn't pick up on any discernible off-colors. Oboes and clarinets sounded just as they should, with no trace of euphony. The impression of a light, audible warmth setting in stems from Gato considering the whole affair when producing a wonderfully uniform sound. If my own preamp functions a bit more like a surgical knife performing an autopsy where instruments are assigned to their set location with unflappable holography, the Gato PRD-3S impressively produces an inimitable flow, a richness of sound that remains continuously audible and acoustically transparent.
Digitalitis
In light of the price-performance ratio, there's no doubt the Gato preamp is a veritable bargain, in particular when you take into consideration the formidable qualities of the integrated DAC that's based on a PCM1794 chip from Burr-Brown and internally processes all incoming digital signals with 24 bits or 192 kilohertz. Not only are all current standard inputs covered with RCA, Toslink and USB, but the Gato PRD-3S has even been equipped with aptX Bluetooth 4.0 to meet future mobile requirements. The conversion using a MacMini with material played through Audirvana was so perfect I sometimes felt I was listening to an analog source. Never sharp in the treble range and the obligatory richness and power in the upper bass realm: An album like Lambchop's Mr. M could even draw in an audiophile like me listening at low volume — a feat not all converters can automatically pull off. This would be a real stretch for some of its competitors, even those with much heftier price tags. Gleefully I scoured the Audirvana library. I wanted to dive into music like the peppered deep bass and soaring vocals on the new album from drum and bass legend Goldie then let myself be blown away by the creaking, whipping double bass twists and turns of the free jazz maestro Jan Roder — all immediately tangible in the room, demonstrating the perfect match of DAC and preamp.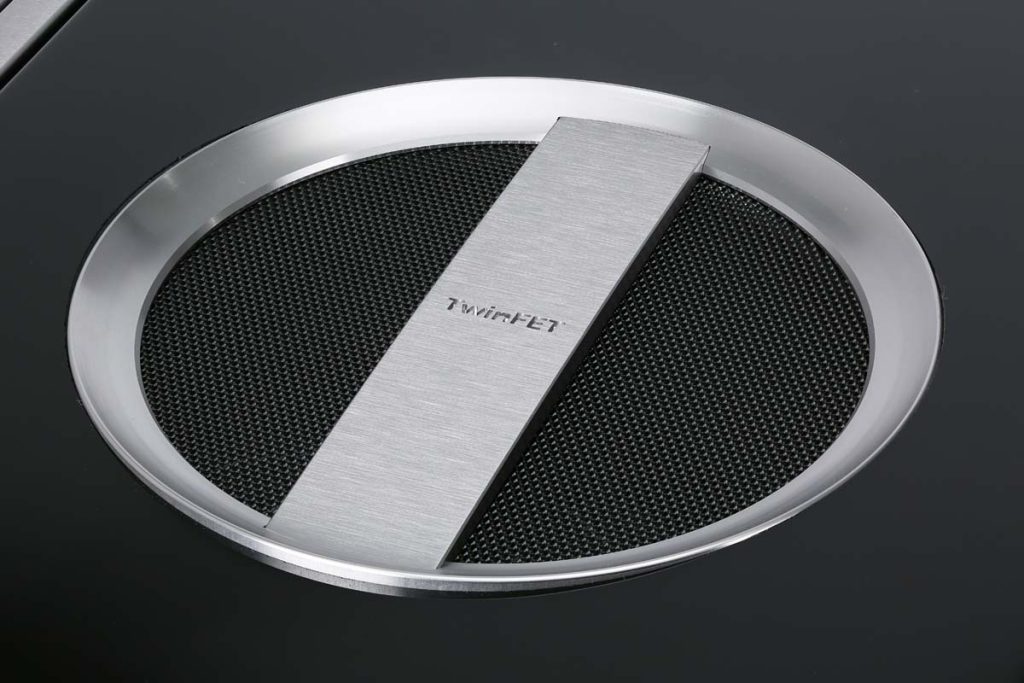 Gentle dominance
The temperature gauges of the two PWR­222s had reached the 12 o'clock position and the monoblocks could now use my Magnepans to demonstrate if the Danish engineering artistry could really work some magic. It's common knowledge that Maggies need a firm hand; but with certain notably boisterous power amps, they deliver a slightly exaggerated sharpness and extremely dry bass. In an effort to provoke the Gatos a bit this way, I went to the CD rack and pulled out some daunting digital recordings from the late 80s and early 90s. But neither with U2's Achtung Baby nor Japan's Oil On Canvas could I tempt the monoblocks to tease out the Maggies' audio shenanigans. Adam Clayton's bass pulsated deeply with just the right reverberation to match Bono's falsetto in "The Fly." Gently thrusting piano chords accompanied David Sylvian's deep tenor in "Nightporter," perhaps one of the most beautiful pop ballads ever given how delightfully unsentimental it is. And while the power amps effortlessly sustained the acoustic merits of the mid-and­high-frequency range that I had already heard the preamp reveal, a very distinct quality now emerged in the bass range that perfectly amplified the entire spectrum. The Gato twins do not tend in any way whatsoever to show off with their 450-watt output power or to ostentatiously flex their muscles. No, with them it's more a case of having the reserves available if and when they're needed — and that's whether they're connected to the magentostats or even the Mission 751s, which, after 25 years, I turn to when I want to indulge in a little bit of nostalgia. In standard operation (what is that anyway?), the monoblocks direct "their" loudspeakers with gentle yet firm authority, keeping them precisely on track.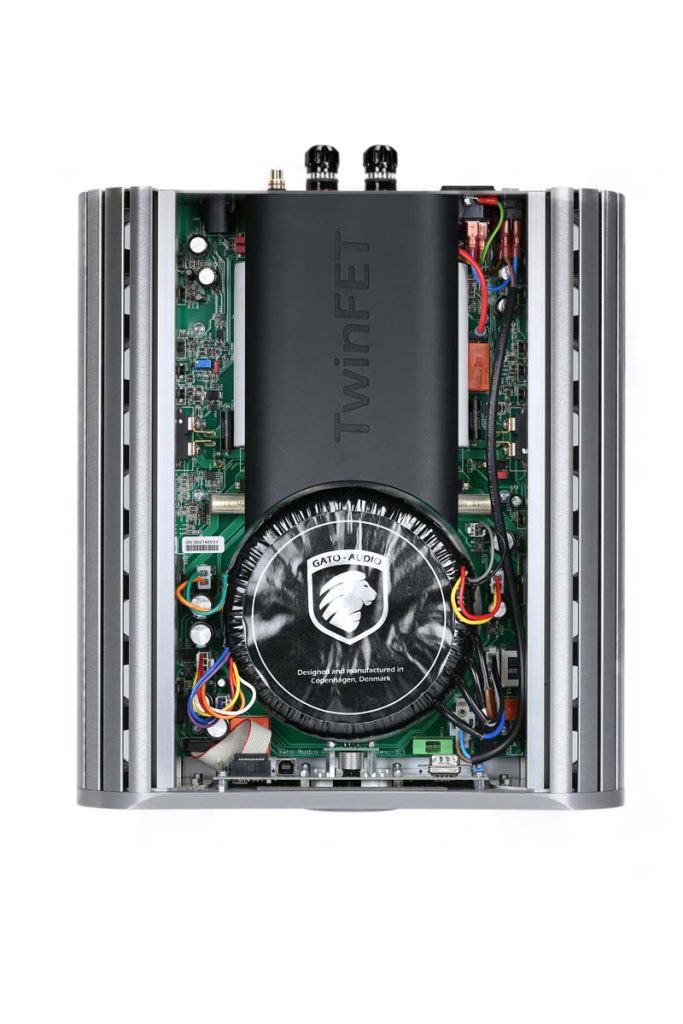 In-house innovation
During all this, I took a moment to contact the distributor and dig a little deeper into what exactly makes the circuitry of the Gato monoblock so special. After all, it fundamentally differs from the class-D technology that features in most of the company's integrated amplifiers. The developers in Copenhagen responded to say it was the in-house developed Twin-FET technology. Whereas ordinary amplifiers in standardized MOSFET push­pull operation find it difficult to generate a perfectly balanced signal, Gato's TwinFET achieves this effortlessly thanks to two identical and perfectly matched transistors. This, according to the Danes, is why this natural, never lackluster sound can be achieved, a sound that positively sets itself apart from what ordinary transistor power amps can produce.
Should you decide to opt for vinyls as your source material, the Gato trio of amplifiers will provide ample reward by bathing you in full-bodied sonority, reproducing the sound of the good old analog days in perfect harmony but without sounding the least bit outdated, as was the case as I listened to the new MFSL reissue of Miles Davis' E.S.P. The Gato sound embodies an altogether classic timelessness.
Player or converter?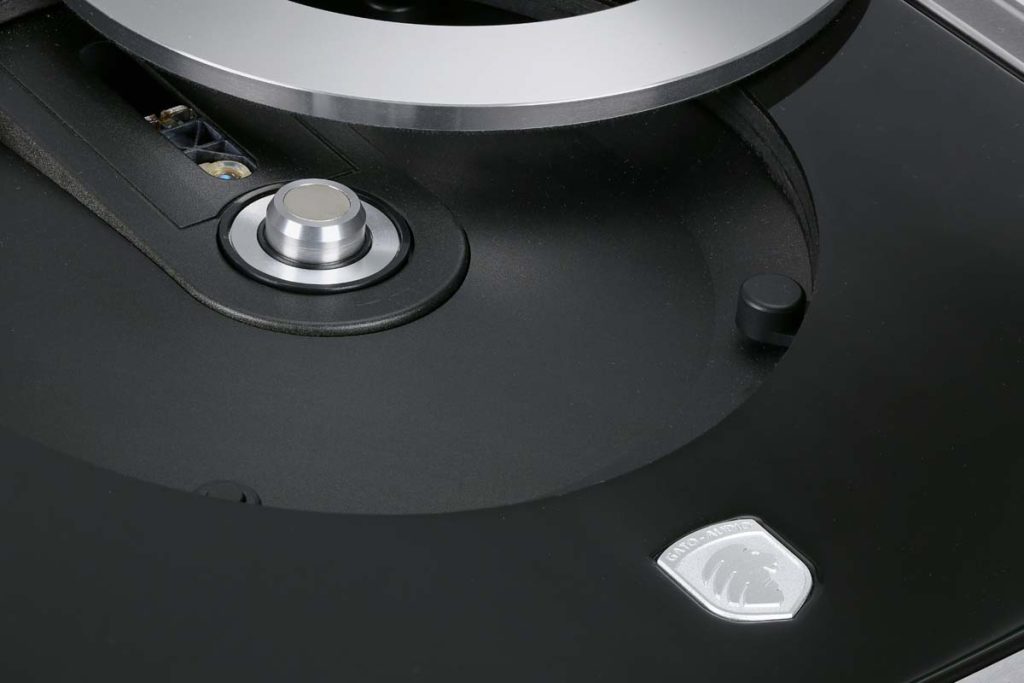 Gato itself describes the CDD-1 top loader — which, apart from the display, is the spitting image of the company's other devices — as a "DAC with a drive." A cross-comparison with the preamp-integrated converter reveals that the player's DAC does its job a little more transparently, giving tracks slightly more weight in terms of the fundamental tone. Then there's the fact that the digital section of the CDD-1 doesn't have the fundamental upsampling of the PRD-3S and "only" plays the exact file format. However, I found it just as interesting to investigate the player's disk drive features and how the digital machine integrates into the overall context of the ensemble when it functions solely as a CD player.
To come straight to the point: Only on rare occasions have I ever come across such an "analog" sounding CD player! And as such, the CDD-1 fits in perfectly as well as seamlessly into the overall signature sound of the Gato family. Unlike what happens with directly streamed files, music from CDs sounds a tad more full-bodied and captivating. As a result, I felt the Emerson String Quartet's nonstop pizzicati in the penultimate movement of Bartók's String Quartet No. 4 more palpably in the room with the directly played CD than with the ripped version. Here, the plucked strings sounded somewhat harder but also more precise, which ultimately boils down to a question of personal taste. What does, however, take some getting used to is the CDD-1's display: It simply shows the running progress of the CD (or track) in a "porthole" window but not the elapsed minutes and seconds — it's comparable with the position of a tonearm on an LP. Another nod to the vinyl turntable is the partially open top loader cover that lets you enjoy the wonderful experience of watching colorfully adorned CD faces spinning around and around. A nice, unusual idea conjured up by the Gato developers, but it does mean you have to carefully dust the drive's lens from time to time as the drive is not fully closed. All in all, the "DAC with a drive" is not just a pretty face; the preamp-power amp (PRD-3S – PWR-222) combo is an ideally harmonized complete system. As the saying goes, three's a charm; or, if we count the Gato monos twice, perhaps four is.
Ready for the future
Since we started with a look at the specific design and the specific look and feel of the devices, let's end on that note, too. You see, several color options are available for the housing covers for all the components. The authorized Gato retailer sells interchangeable modules in high-gloss black, white, and walnut veneer for a very reasonable €150. This means you'll never tire of looking at the devices, and, if you change the wallpaper in your living room or music room, you can change them to match, too. From a musical and technical perspective, you can rest assured the three (or four) Gato devices are ready for whatever the future throws at them: With the latest digital technology in the preamp and the CD player, the innovative TwinFET circuitry in the power amp, and sound that seems altogether timeless in its balanced overall characteristics, the Danes have a huge success on their hands. And it's a success that will be able to satisfy the need for outstanding sound and outstanding design for years, if not decades, to come.
Accompanying Equipment
Turntable: TW-Acustic Raven .5 | Tonearm: SME 309 | Cartridge: Clearaudio Concept MC | Streaming: MiniMac with Audirvana Plus | SACD player: Denon DCD 2000AE | Preamplifier/DAC/headphone amplifier: Grace Design M 903 | Power amplifier: Yamaha P2500S | Loudspeakers: Magneplanar Magnepan 1.5, Mission 751 | Headphones: Focal Utopia | Cables: Cardas, Voxox, Sommer Cable | Accessories: Oyaide, Oehlbach
CD-player and pre-/power amp combo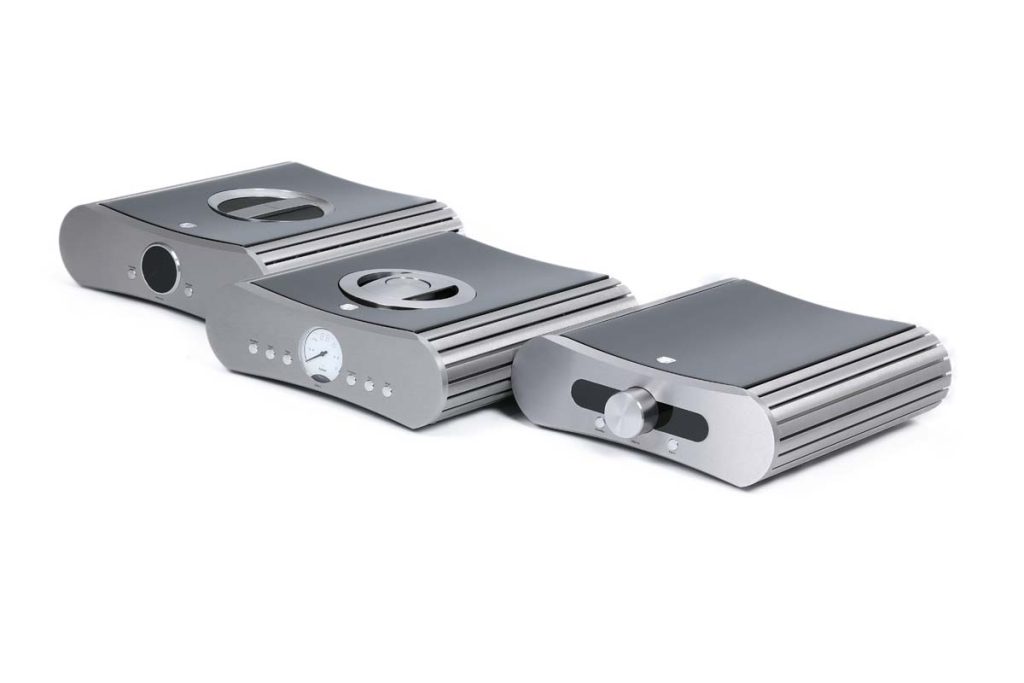 Gato Audio PRD-3S
Functional principle: Preamplifier/DAC | Analog inputs: 2 x unbalanced (RCA), 1 x balanced (XLR) | Digital inputs: each 1 x USB (B), optical (Toslink), coaxial (RCA), Bluetooth (aptX) | Analog input impedance unbalanced/balanced: 20 kΩ/40 kΩ | Analog outputs: 1 x unbalanced (RCA), 2 x balanced (XLR) | Output voltage unbalanced/balanced: 6.5 V/13 V | Output impedance: 75 Ω | Finishes: aluminum silver with housing cover in high-gloss black, white or walnut veneer | Special features: digital data processing with 24 bit/192 kHz (automatic upsampling), interchangeable housing covers (€150), 12-volt standby trigger | Dimensions (W/H/D): 32.5/10.5/42 cm | Weight: 7 kg | Warranty period: two years | Price: €2,990
Gato Audio PWR-222
Functional principle: Mono power amplifier | Output power (8/4 Ω): 250 W/450 W | Inputs: 1 x unbalanced (RCA), 1 x balanced (XLR) | Input impedance: 100 kΩ | Output: 1 x loudspeaker (WBT NextGen) | Finishes: aluminum silver with housing cover in high-gloss black, white or walnut veneer | Special features: Interchangeable housing covers (€150), 12-volt standby trigger | Dimensions (W/H/D): 32.5 cm/10.5 cm/40 cm | Weight: 16 kg | Warranty period: two years | Price per pair: €13,980
Gato Audio CDD-1
Functional principle: CD player + DAC | CD formats: CD, CD-R | Digital inputs: USB (B), S/ PDIF (coaxial) with max. 2 bit/192 kHz | Analog outputs: unbalanced (RCA), balanced (XLR) | Digital output: S/PDIF (coaxial) | Finishes: aluminum silver with housing cover in high-gloss black, white or walnut veneer | Special features: Interchangeable housing covers (€150), 12-volt standby trigger | Dimensions (W/H/D): 32.5 cm/10.5 cm/37.5 cm | Weight: 10 kg | Warranty period: two years | Price: €6,990
Phonar Akustik GmbH
Industriestr. 8–10
24963 Tarp
Germany
Phone +49 4638 8924-0
The stated retail price of the reviewed device is valid as of the time of the review and is subject to change.