Naturally, we audiophiles only ever settle for the best – not just for us, but for our friends as well. But can we really recommend loudspeakers to them that will make them bin 90 percent of their music collection in a fit of frustration? Of course not! But don't worry: There is another way.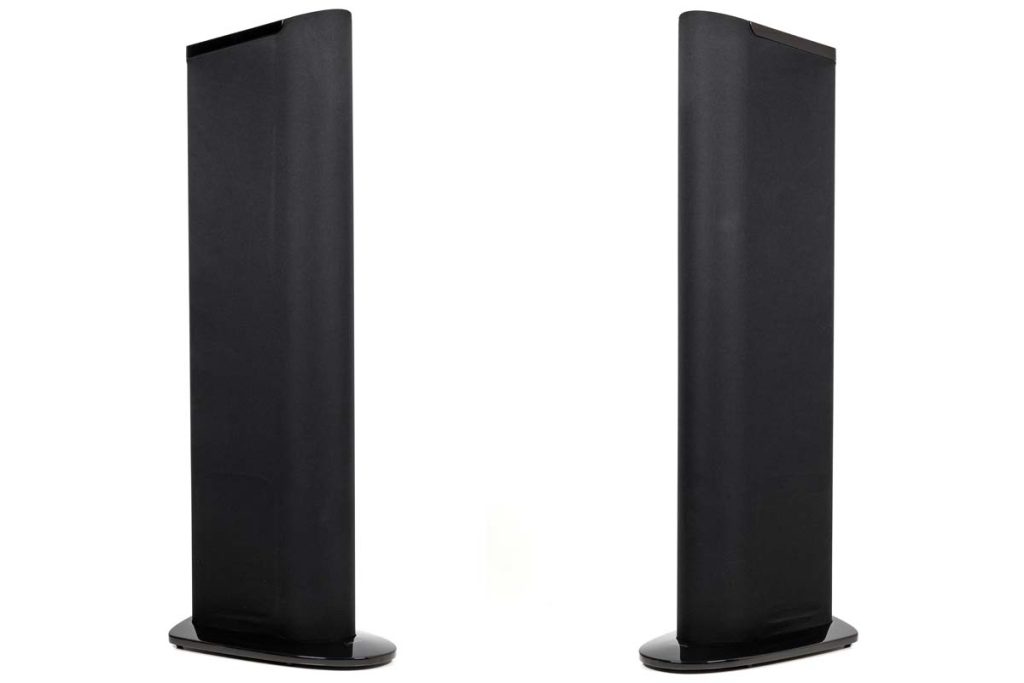 On paper, the path to hi-fi happiness is quite simple: First, you need a living room whose height, width and length are exactly in the golden ratio. Then you buy loudspeakers that are to be placed exactly one third of the room length away from the front wall, and so on and so forth …
As you can see, I am confronting you with a truth that you will certainly not encounter for the first time. Good sound somehow always seems to conflict with a habitable living environment. The fact that the room is the largest and most important component cannot be argued with, nor can the realization that the living room is called the living room for a reason. Of course, technological advances have provided us with numerous clever solutions such as DSP-based room correction, some of which work amazingly well. However, I will go ahead and claim that this approach is still too complicated for many quality-conscious consumers. What if you just want to get a pair of speakers for your hard-earned money, set them up in the room, and just have them sound nice without having to download an app first, walk the room with a measuring mic, and then dig through a series of menus before the speakers end up doing what they're supposed to?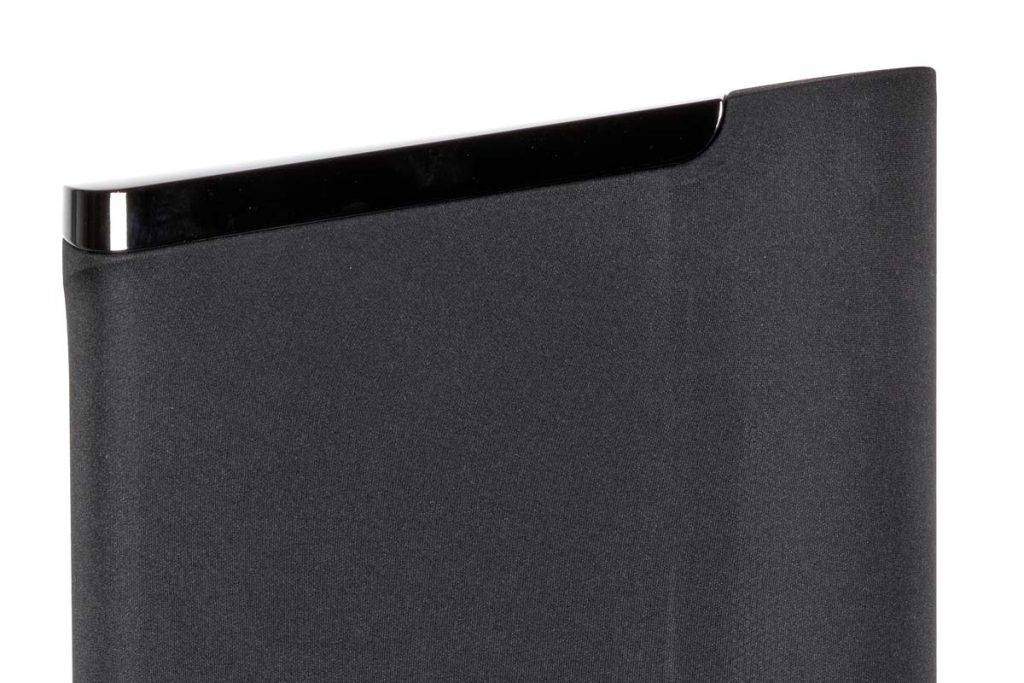 GoldenEar has made a point of developing exactly such speakers. Now that's not to say that we're dealing with glorified mid-fi here – quite the opposite, in fact: if you listen to what the developers have to say about the Triton series, you have to conclude that the motto must be something like, "Real hi-fi, but down to earth and real."
Both feet firmly on the ground
Being close to reality starts with GoldenEar's sound philosophy: the makers openly acknowledge that every component is subject to error: every driver, every coil, every capacitor contributes to the final result with a voice of its own. The knowledgeable developer knows how to combine these shortcomings in such a way that they partly cancel each other out, partly distribute inconspicuously over the entire spectrum, so that they add up to a negligible background noise that does not get in the way of the musical information – noise shaping at a component level, if you will. Of course, this balancing act is much easier and promises better results the better and more "immaculate" the material used is in the first place. And this is where GoldenEar has quite a few assets on their hands: The manufacturer may have only existed since 2010, but it has access to extensive research and development capacities including its own anechoic chamber. This not only allows proprietary drivers to be developed and their parameters to be precisely tuned to their intended role, but also provides much more powerful options for measuring the performance of the entire speaker. The taming of said inevitable residual inaccuracies is therefore based on a more than solid technological foundation. Of course, all new models are still fine-tuned in extensive listening sessions to ensure that they are not only accurate, but also truly musical.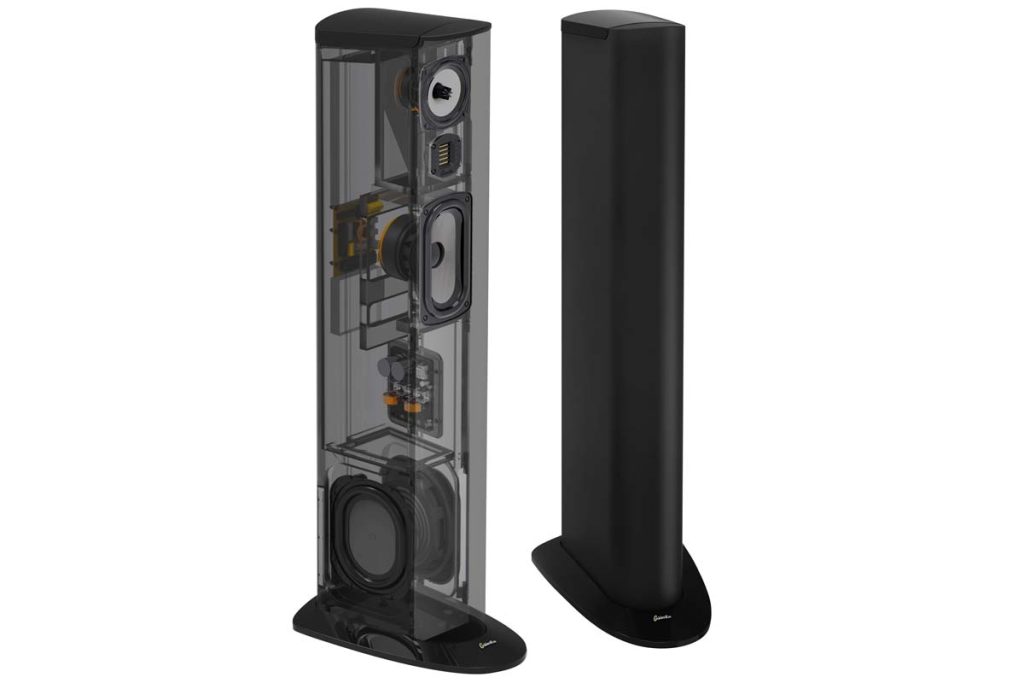 In the case of the Triton Three+, the developers were able to draw from a well-stocked pool of ingredients. The HVFR tweeter ("High Velocity Folded Ribbon") is an essential characteristic of all GoldenEar speakers and is also used here with its impressive combination of fine resolution and dynamics in the high frequencies. The connection to the midrange is provided by an equally specially developed, fast 4.5-inch midrange cone with a specially shaped phase plug and computer-optimized diaphragm geometry. Finally, the advantages of in-house driver production really become apparent in the bass: the lower registers are handled by a 5 x 9-inch driver tailored to the baffle dimensions and supported by two laterally arranged passive diaphragms.
Daily driveable
Since GoldenEar's goal with the Triton series is to build speakers for real people who don't live in catalog environments, flexibility and hassle-free operation are the top priorities – and those goals are best achieved with a semi-active system: The woofer is backed by a Class D amplifier module, which by default taps into the speaker cables to get its signal. Alternatively, however, there is an LFE port for those who want to run their Triton in a home theater setup. The active bass has a number of advantages. First of all, it gives you much more freedom when it comes to placement: If you want to optimize for spatial imaging, you can position them freely in good hi-fi fashion, the speakers have plenty of air for projecting the stage, and thanks to 800 watts per channel in the bass, you never have to worry about thrust from the basement. Since the level of the bass module is infinitely variable, the slim columns can just as well inconspicuously disappear into room corners without the woofer lapsing into ill-tempered grumbling.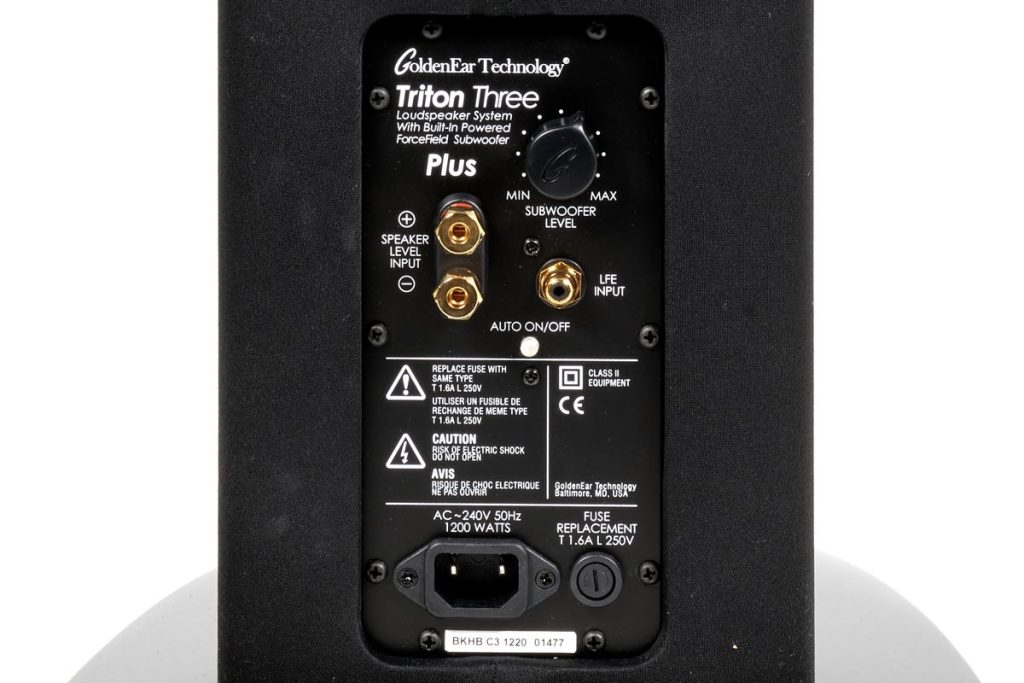 The nice thing is that you don't even necessarily have to decide for either or – the Triton is lightweight enough to just occasionally give them extra room to breathe. A quick turn on the two bass controls and the sound balance is adjusted. And after a critical listening session, it is quite easily to move them back into a space-saving position from where it can take care of high-caliber background sound. The keyword home theater brings us to a perhaps less obvious advantage: since the amplifier only has to drive the midrange and tweeter, the Triton Three+ is pleasantly undemanding: even rather inexpensive AV receivers whose power supply has to feed half a dozen channels should have no problems here.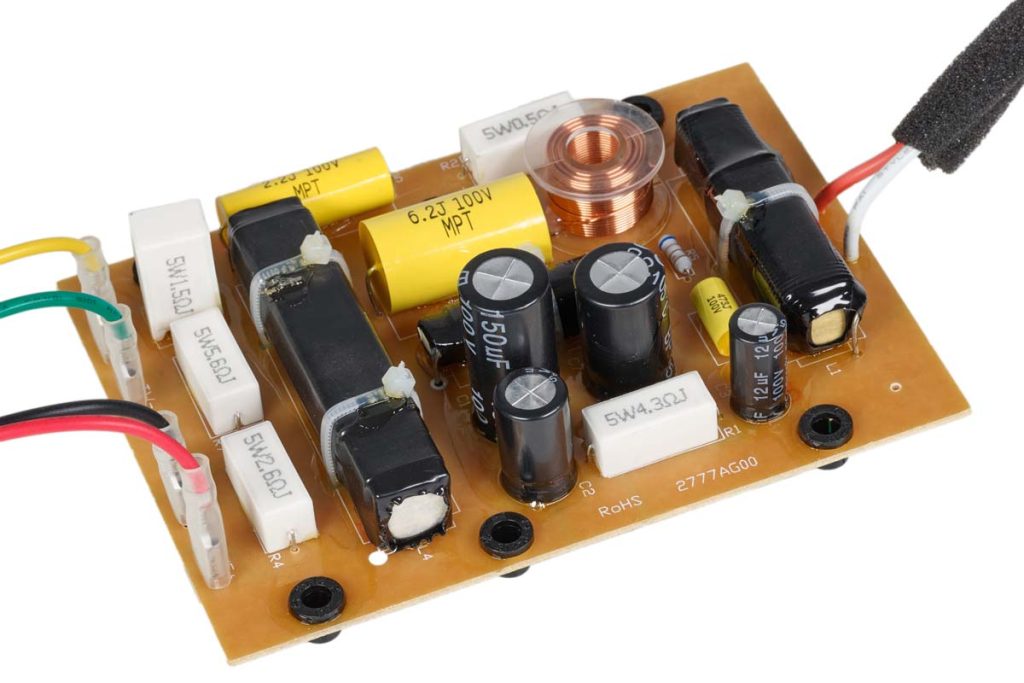 AN example
Even if we don't have one at hand, our in-house equipment pool offers more than suitable replacements: Matching the unpretentious demeanor of the GoldenEar transducers, a Zero chain from Audio Note slumbers unobtrusively in our listening room. The integrated amplifier I Zero with its delicate eight tube watts per channel is the perfect guinea pig – and promptly turns out to be a fantastic playing partner: While the bass pushes into the room with a thrust and control that would hardly be possible via tube amplification, the Triton Three+ channel the exquisite musicality of the British midget unfiltered. Before I unpack my usual reference recordings, I'll approach the listening test in a realistic way for a change. Unless you're completely into jazz or classical music, you're unfortunately familiar with the problem: music is either well recorded or it's fun – rarely both at the same time. So I decided to throw the Audio Note/GoldenEar combo right into the deep end: The Japanese band Kinoco Hotel consists of four ladies performing in hotel uniforms and delivering rock with a distinct psychedelic vibe that beams the listener directly onto the set of a secret agent thriller from the 60s that doesn't take itself too seriously. It's a real blast, but unfortunately – you guessed it – it causes quite a bit of ear bleeding when you listen to it through high-end chains. With "Atashi No Sniper" (Marianne No Yuutsu) the Triton Three+ make no secret of the (partly deliberately bred) inadequacies of the recording. At the same time, however, something very refreshing happens: The semi-actives take the whole thing with humor and play along so blithely that it's just pure pleasure.
Italian Connection
As I'm tapping along to the retro groove, my eyes fall on the Serblin & Son Frankie, which is resting on the rack next to the I Zero, visibly in "ready"-posture – so I let it have its turn. The first thing I notice when listening to the Frankie is that the fine detail resolution it offered left me speechless. The Triton Three+ – probably also thanks to the AMT tweeter – have no difficulty at all in transporting all the fine details that the Frankie unearths to the listening position, crystal clear. In doing so, the duo builds up a stage that is rather wide and high than deep, which, thanks to the decidedly narrow baffles, detaches itself from the speakers in an exemplary manner – no question: as good-natured as they are, they are in no way lacking in audiophile qualities. This is already evident from their remarkable transparency: after changing the amplifier, the first thing I noticed was how clearly audible the difference in sound character between the two amps was through the Triton Three+ – a real hallmark of quality! By the way, this by no means refers only to the mids and highs; the "voice" of the amplifier also comes across clearly in the bass. The advantages of the subwoofer connection via a high-level input, i.e. feeding it with the signal from the loudspeaker cables, become outstandingly audible here: The power amps behind the bass drivers help the amplifier along without interfering with it, the sound signature is always beautifully homogenous.
It's amazing what GoldenEar has packed into the Triton Three+ at an affordable price: they don't have umpteen operating modes and functions, but can simply be used completely naturally in a variety of different hi-fi and home theater scenarios and are unconditionally fun without ever sticking their nose up at the sky. For all their good nature, however, they still convey way more than just a hint of audiophile qualities. This is a speaker that die-hard audiophiles can confidently recommend to a good friend.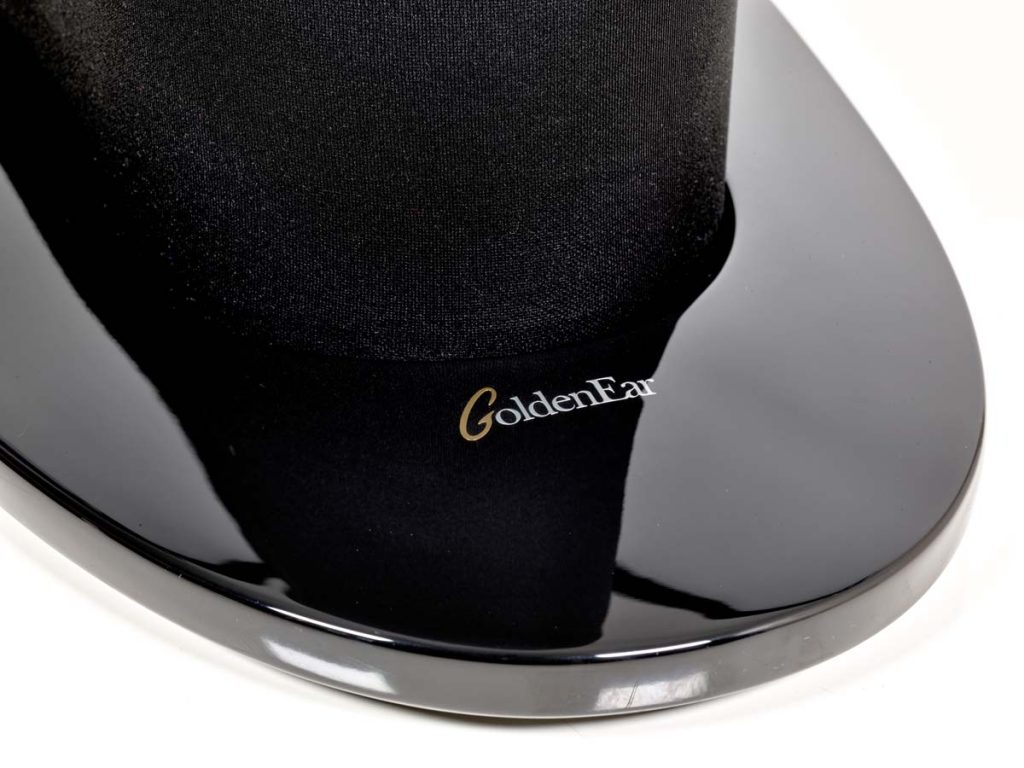 Accompanying Equipment
CD player: Audio Note CD 3.1x | Streamer: Lumin P1 | Integrated amplifier: Audio Note I Zero, Serblin & Son Frankie, Trigon Exxceed | Loudspeakers: Audiovector QR7, DALI Epicon 6 | Cables: AudioQuest, HMS, Vovox | Rack: Finite Elemente
Loudspeaker
GoldenEar Triton Three+
Concept: semi-active 3-way speaker with passive radiators | Driver complement: 1 x HVFR(High Velocity Folded Ribbon) tweeter, 1 x 4.5″ midrange cone, 1 x 5/9″ woofer, 2 x 6.75/8″ passive cone | Subwoofer power: 800 W per channel | Inputs: single-wire speaker terminal, LFE, power connector for subwoofer | Nominal impedance: 4 Ω | Sensitivity: 90 dB | Frequency response: 21 Hz to 35 kHz | Recommended amplifier power: 20 to 400 W per channel | Dimensions (W/H/D): 18/112/33 cm (height on stand without spikes), stand 29/41 cm (W/D) | Weight: 20 kg | Warranty period: 2 years | Price per pair: around 3800 €
AudioQuest
Hoge Bergen 10
4704 RH Roosendaal
Netherlands
Phone +31 165 541404
The stated retail price of the reviewed device is valid as of the time of the review and is subject to change.