Colorful Mood Enhancer
The Inklang Advanced Line 13.3 offers pops of color and feel­good sound to counter weather-induced blues.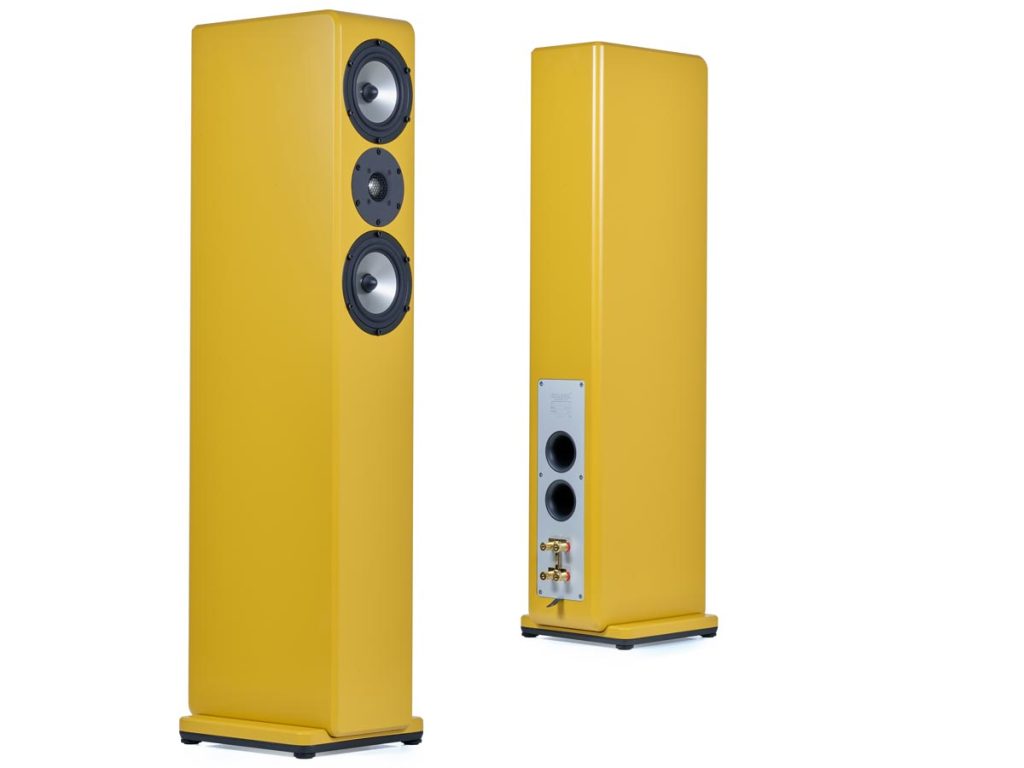 Back when Henry Ford started the automotive assembly-line revolution, deciding on the color of the paintwork was easy: You could pick out whatever color you wanted, but in the end you always got your Tin Lizzie in black. The Hamburg-based loudspeaker manufacturer Inklang, on the other hand, offers an almost unlimited range of options so you can choose the optimal color for your very own dream loudspeakers. You get the choice of seven trend and three accent colors (for a surcharge of just under €70 a pair). If your partner or interior designer needs more choice, Thomas Carstensen and his team will find the perfect solution — whether that involves colors from the Natural Color System or from Farrow & Ball; and even customized blends can be arranged for a painless surcharge of about €120. Those wanting to develop an even more intimate relationship with "their" loudspeakers can have a hand in the final assembly process for a small fee of €200, with celebratory champagne to toast the "birth" of their little ones included.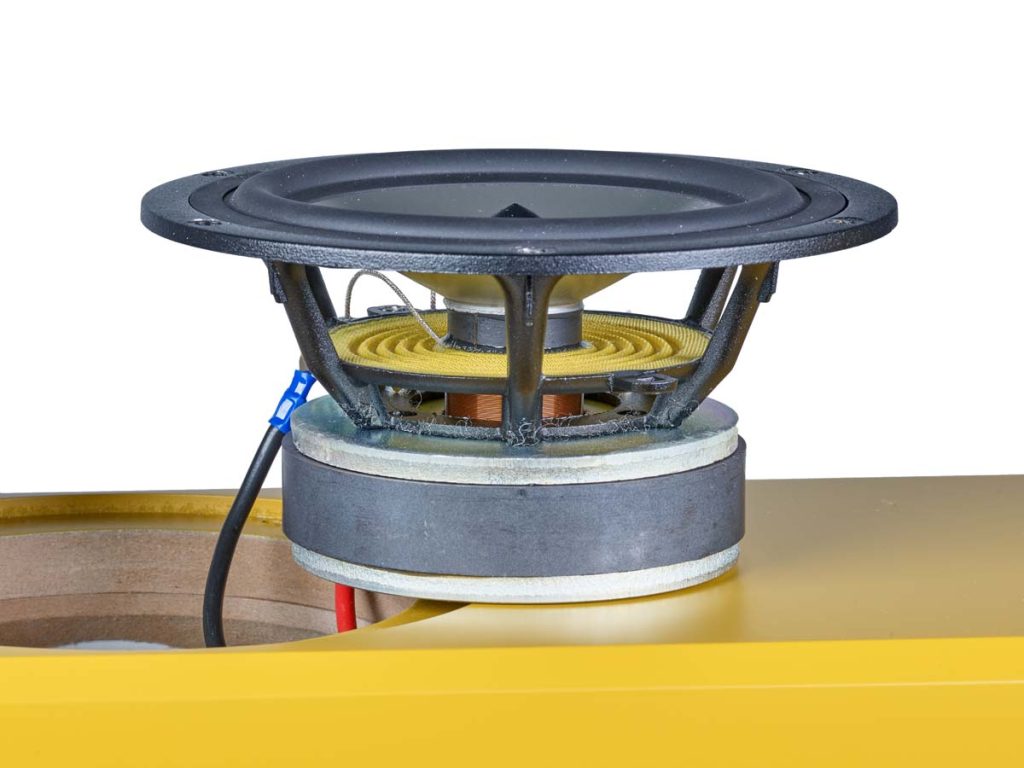 To ensure you always maintain an overview of all the options, Inklang's online configurator helps you find the ideal loudspeaker. You start with the room size, define the desired location in your home, and then choose the performance range of your current or planned amplifier. The number of models in the running gets smaller and smaller each time you input more information. This helps prevent anyone from making a terrible acoustic mistake, such as toying with the idea of squeezing three-way loudspeakers like the top model, the 17.5 (www.fidelity-magazin.de), into an attic space. Once the most suitable model has been determined, the search for the perfect color gets rolling. The 10 regular colors should, as a rule, be sufficient for finding an amicable solution. Anyone, for example, who tends toward mood swings in the darker months of the year might want to place mustard-yellow loudspeakers in front of an apple-green wall, like me. Other practical options, such as front grilles; the choice between sitting the speakers on spikes or, preferably, floor-friendly stand feet; in-house-manufactured loudspeaker cables; and a Family Care Package mean you can customize your speakers to your heart's content.
The editorial team ordered pretty much a fully loaded version of the Inklang Advanced Line 13.3: accent color mustard yellow (€70), Reference Upgrade for crossovers (€360), and black anodized base plate and stand feet (alternatively in natural aluminum for no extra charge). This brought the final figure to around €4,000, so not a small amount by any stretch of the imagination yet, in view of the exclusivity, workmanship, and quality of the components, an attractive deal — although the loudspeakers hadn't made a sound yet. That was all about to change, but, anyway, the visuals were definitely on the money.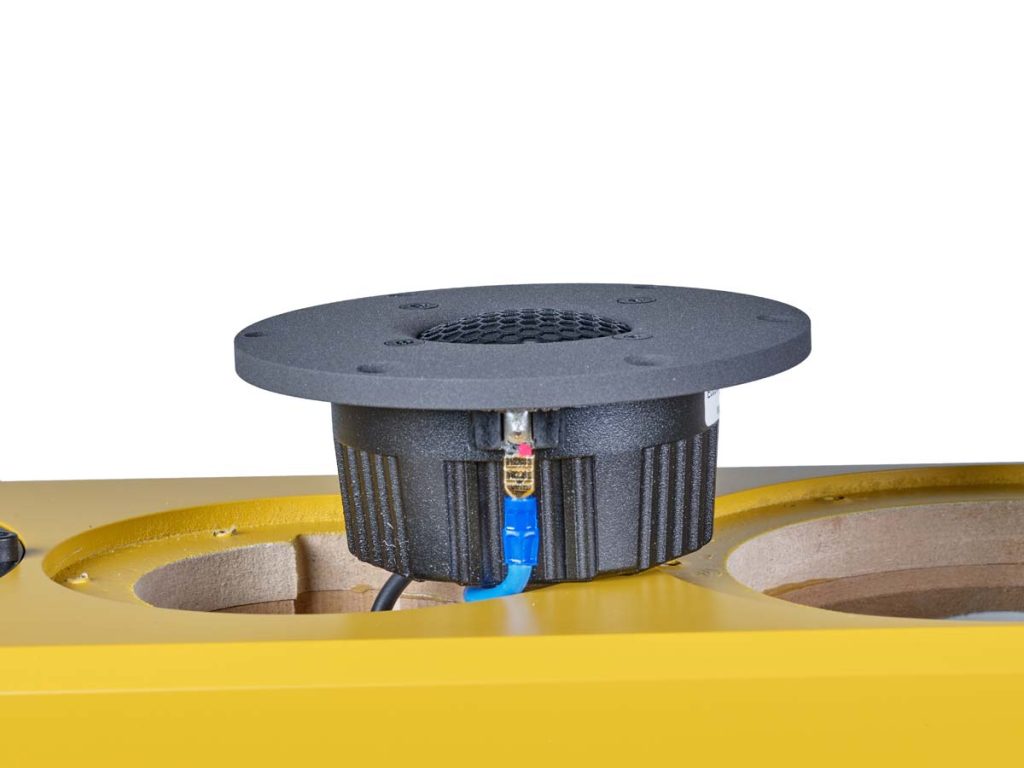 As soon as I saw the perfect five-layer lacquering, I realized just what kind of effort that went into finishing these products. The closer I got to the loudspeakers, the more obvious the attention to detail: Both the chassis and the mounting plate of the loudspeaker connections sat nicely flush in the semimatte surface. A confidence-inspiring aluminum platform appeared seamlessly connected to the housing base, providing each slim speaker with all the stability it needed. I particularly liked the smooth threads of the stand feet, which made it a breeze to achieve a balanced setup. The company's passion for designing perfect products is evident in details like these and truly makes you feel like you've invested in something built to last.
On the back you'll find the trumpet-shaped bass reflex openings and solid loudspeaker connections with sufficient clamping force even for heavy cables and solid connectors. The double sets of connecting terminals allow for all types of technical cable experiments to be carried out or the loudspeakers to be driven by several power amplifiers at the same time. Even if there's nothing technically wrong with spending your money on meters of loudspeaker cables or additional power amplifiers, I tend to prefer quality over quantity here. Two clear candidates emerged: The newly arrived Trigon Exxceed proved to be the lighter and airier option, lending my "little" Einstein the ability to pack a bit more boom in the bass. Compared with the entry-level prices of some high-end manufacturers, Inklang offers products reflecting exceptional effort in terms of construction and workmanship, and a really impressive level of customization — the accompanying equipment also has to be a good match here. It doesn't have to be expensive, but it does need to be good.
Another impressive aspect of the loudspeakers is their housing construction: Given how elegant and slim they look, it's hard to believe both speakers together weigh nearly 50 kilograms. Up to four-centimeter-thick MDF, plus internal flow-optimized bracing, is used to guarantee a pouncing, direct playback. The lining with heavy foil effectively suppresses unwanted resonance, which is most certainly conducive to the precision of the reproduction. To ensure stray sound energy cannot have any microphonic influence on the crossover (equipped with top-quality Mundorf components), it lives in a pressure-resistant self-contained annex on the ground floor of the housing.
In the case of our mustard-yellow gems, Reference Upgrade frequency dividers (in the eyes of our editorial team, an incredibly cost-effective and therefore indispensable investment into achieving yet more sensual playback), equipped with Mundorf induction-free Supreme capacitors, audiophile top-class molded resistors, and flat wire coils, assume responsibility for distributing the signal to the individual chassis. The typical setup of these chassis in accordance with Joseph A. D'Appolito's configuration routinely minimizes early ceiling and floor reflections, thus resulting in the 13.3's intriguing three-dimensionality. A tweeter with a 29-millimeter dome occupies the central position around which sit two bass-midrange drivers with dainty-looking 15-centimeter diaphragms. Scandinavian specialist SEAS delivers the chassis with their characteristic magnesium diaphragms to Hamburg for final assembly.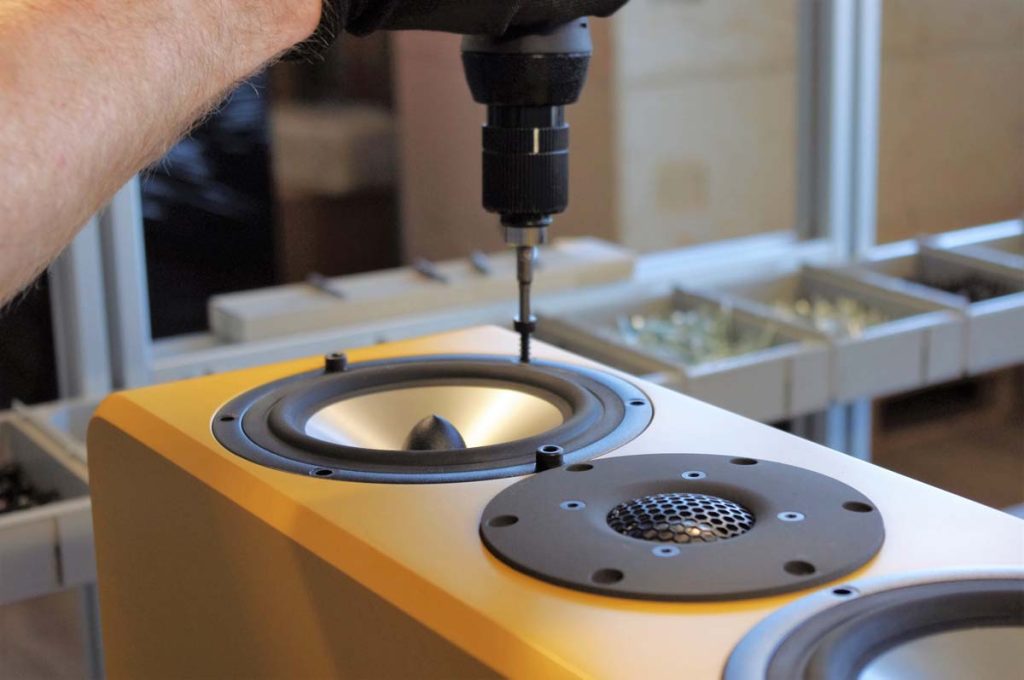 To be able to deliver proper bass despite the negligible diaphragm surface area, the voice coils of the bass-midrange drivers allow for extremely long throw. The aluminum phase plug is therefore not a decorative accessory but a vital component: At forced levels, a large proportion of the electrically supplied power is converted into frictional heat that must be dissipated from the voice coils as quickly as possible. Thanks to its mechanical construction and the clever choice of chassis, the 13.3 is capable of achieving exemplary holographic spatial reproduction; it does, however, need an electrically stable partner to do so. In principle, 40 watts are enough for the 13.3, but experiments with somewhat more powerful amplifiers showed it can also happily take three-figure watts of power. But the same applies here: quality over quantity! Adequately equipped, the 13.3 showed off its potential in terms of a low-frequency foundation that, considering the slim housing, reached almost absurdly deep levels and packed a crisp punch.
Conversely, however, this also means that these loudspeakers will want to breathe. They need a fair bit of room. If they are placed too close to the rear wall or squeezed into a corner, the fundamental tone will thicken up. But who would hide such fancy eye candy in a corner anyway? No one. Especially not me. It seems the 13.3 can even work in a 15-square-meter room as long as you do a bit of tinkering with the room acoustics —, I managed, for instance, to turn my space into a music room. After two hours of puttering around, a lot of the furnishings had made way for diffusing and absorbing elements, the office area had been downgraded to a furniture storage space, the sweet spot had been located, and the height of the back rest had been adjusted in line with the tweeter. Once I had made these improvements, the Inklang 13.3 Advanced Line immediately managed to pull off the feat of finding the key to Björk's musical mind's eye during the work in Dancer in the Dark. Tall, wide halls full of noise swapped with oppressively narrow corridors. All around I heard whizzing, whirring, chirping, stomping, and whimpering without being able to recognize the source of the sound. Despite the signal color, the loudspeakers disappeared from a sound perspective altogether.
The Inklang 13.3 superbly managed to reproduce intricate, interlaced sounds without pushing them into the foreground; it sketched a spacious, airy soundscape that found precisely the right support in the wonderfully balanced fundamental tone. The slightly oversized floorstanding speaker worked astoundingly well in my compact room and impressed me both in terms of depth and precision. Even devious assaults on the voice coils such as Yim Hok­Man's "Poem Of Chinese Drum" from a superbly produced Burmester Sampler left the Inklang completely cold. It felt like the reverberation of the drum heads following each powerful blow was almost physically in the room with me, though the transported room dimensions mocked the reality of the location. The grandmaster of traditional Chinese percussion sounded out the dynamic spectrum of his ensemble in its fullest breadth, which at times led to short moments of shock during my enjoyment. A splendid feeling made all the more splendid given seldom you get to experience it in this piece.
The built-in reference crossover is actually perfect for the playback of high-resolution sources, which didn't prevent me from looking for the odd piece of new music on YouTube. A great song is a great song, even at 128 kilobits per second. A prime example is "Days Like This" by the Australian Genevieve Chadwick. People say she could be the musical lovechild of Janis Joplin and John Lee Hooker. Here, armed with just her voice and a guitar, this young lady managed to paint rainbow-colored arcs, bridging the genres of folk and blues, which brought me a little ray of sunshine on that bleak, dark day. The raw, direct-sounding canned music off the internet at that point gave me more goosebumps than the recording of the Norwegian Radio Orchestra I had previously listened to as a DSD file, despite all the transparency and three-dimensionality the Inklang conveyed along with it. But this is nothing more than a personal preference — the Inklang 13.3 Advanced Line fully convinced me of its general qualities a long time ago.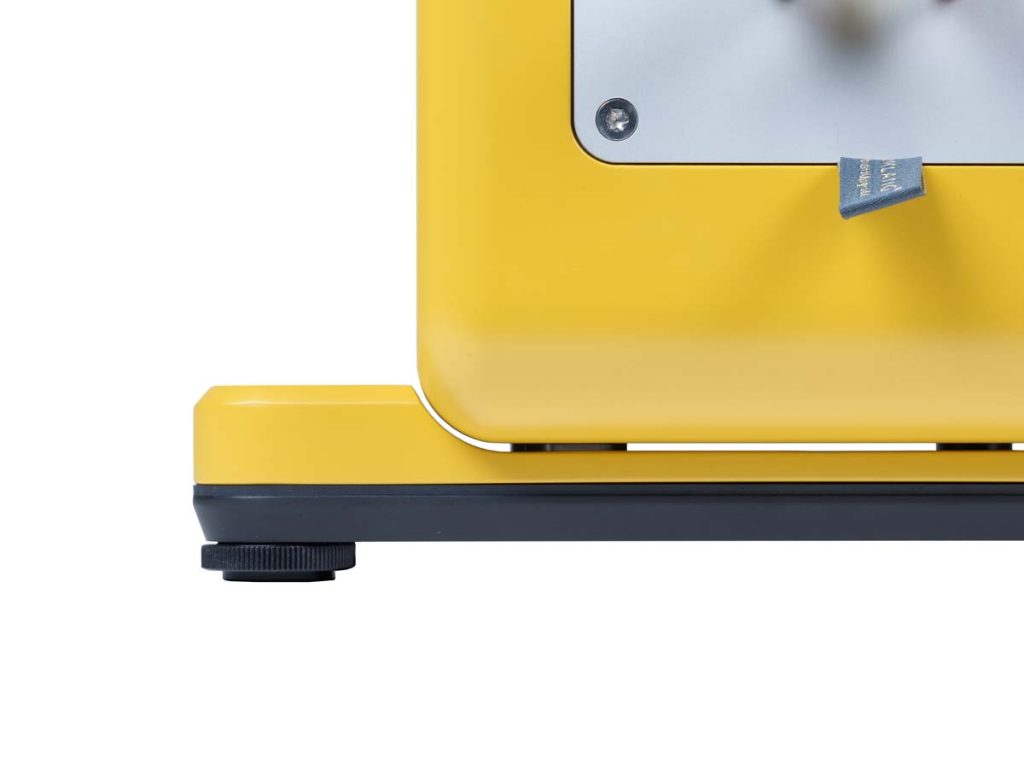 You have to congratulate Carstensen on the decision to offer a uniform, sometimes aesthetically underwhelming product such as loudspeaker boxes as highly customizable and well-proportioned design statements. Thanks to modern design, a whole host of attractive colors, and the useful optional extras, this Hamburg-based company's concept has all the necessary characteristics to impress all the design lovers out there — my partner, in any case, is already totally hooked on the visuals and the colors. Sounds lovers, on the other hand, will be addicted to the nimble, wiry fundamental tone that snuggles up with light and airy yet clearly structured treble. The illusion that the sound from loudspeakers disappeared behind the music was unusually believable in my room.
Accompanying equipment
Turntables: Scheu Cello, Thorens TD 280, Acoustic Solid Vintage | Tonearm: Scheu Classic Mk II, Thorens TP 28, Acoustic Solid WTB 213 | Cartridge: MC Scheu S, Clearaudio Jubilee MM und Charisma V2, Ortofon Quintet Red | Phono preamplifier: Acoustic Solid phono preamplifier, Trigon Vanguard III | CD-Player: Marantz CD 17, Marantz CD 62, Marantz CD 50 | Amplifier: Einstein The Tune, NAD C 390DD, Trigon Exxceed | D/A converter: Audiolab M-DAC Mini | Power amplifier: Lehmann Black Cube Stamp | Loudspeaker: Audio Physik Seemon, Opera Seconda Mk II, ALR Nummer 2 | Cables: German Highend, Audioquest, T+A, Horn Audiophiles, Black & White, Isotek | Accessories: Sun Leiste, Steinmusic, Millenium Carbon-Matte, bFly-audio, Simply Analog
Floorstanding loudspeaker
Inklang 13.3 Advanced Line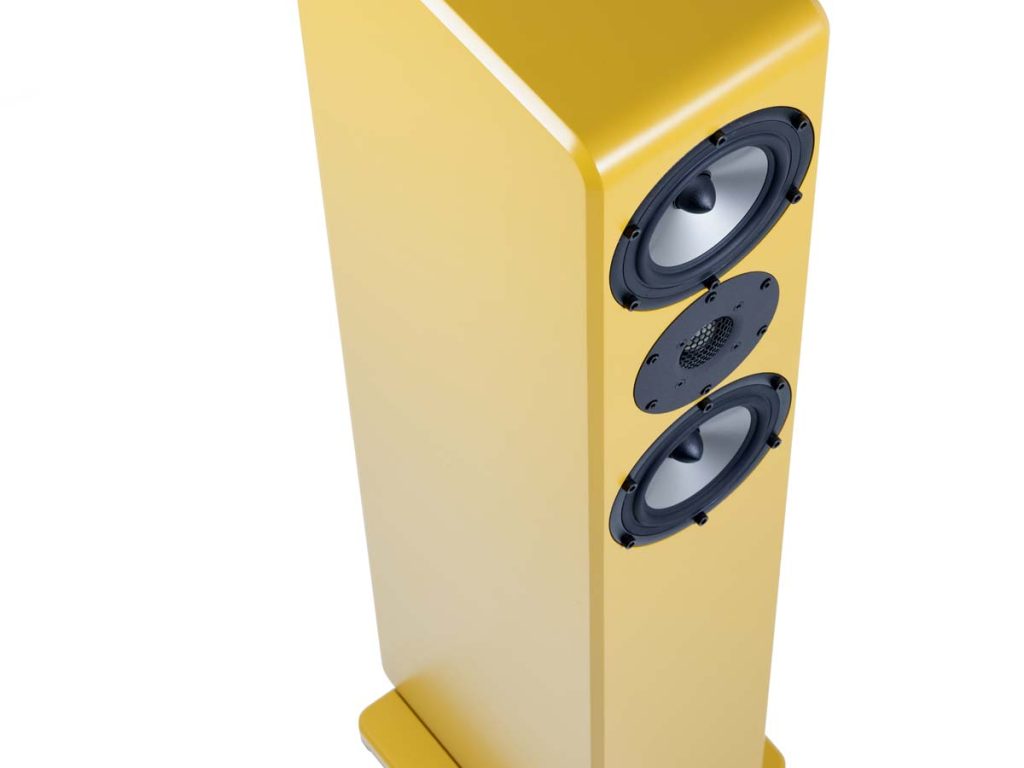 Functional principle: two-way bass reflex; passive, D'Appolito configuration | Impedance: 4Ω | Recommended amplifier power: from 40 W | Frequency range: 45 Hz to 25 kHz | Finish: to order, large choice of colors from the NCS system or from Farrow & Ball | Special features: optional reference crossover, optional extras (spikes, design front covers, Family Care Package) | Dimensions (W/H/D): 26/102/32 cm | Weight: 24 kg | Warranty period: five years | Price per pair: from €3,600 (test version €4,030)
The stated retail price of the reviewed device is valid as of the time of the review and is subject to change.