Professional musician Stefan Gawlick travels the world and knows almost every major concert hall around the globe. In this series, he reports on the acoustics and other characteristics of famous venues both in the auditorium and on stage. Up now: Izumi Hall Osaka.
According to Oscar Wilde, imitation is the sincerest form of flattery.
While we have a more reticent attitude in these parts to this reference, the Japanese have no such reservations. If something has proved to be good or effective, then you don't need to keep reinventing the wheel, but instead just adopt properties that have already been developed — perhaps by others too — and improve details. Ultimately that saves money and enables you to achieve better results faster.
Izumi Hall in Osaka is a case in point. The fact that it was modeled on the Grand Hall at the Musikverein in Vienna is not spoken about on the quiet — the director of Izumi Hall uses this role model to promote it, yet this reference quickly clarifies what aspiration is being pursued.
It was intended to be a first-choice venue for chamber music and an excellent one for orchestral concerts; a warm sound mix was defined as the acoustic ideal, which enables pleasant immersion into a range of sounds. Of the major established concert halls, only three (Carnegie Hall, Concertgebouw and Musikverein) were then considered, and Vienna was selected. Incidentally you can only tell that Izumi Hall was not built until 1990 from the building's exterior.
For one thing, you can overlook the fact that it resembles, architecturally speaking, a bland modern convention center, which you will find all over the world. Once you have passed through the performers' entrance, which is also rather plain, and entered the actual hall, that is like a mini shock, because one step takes you back right into the 19th century. Izumi Hall does not feature gold that glitters like its Vienna role model, but rather warm, dark wood finishes that shimmer. When we performed there for the first time with an orchestra, we did not know anything about its genesis, but after the first few notes we had the feeling we were in Vienna — at least sound-wise the copy is an amazing success.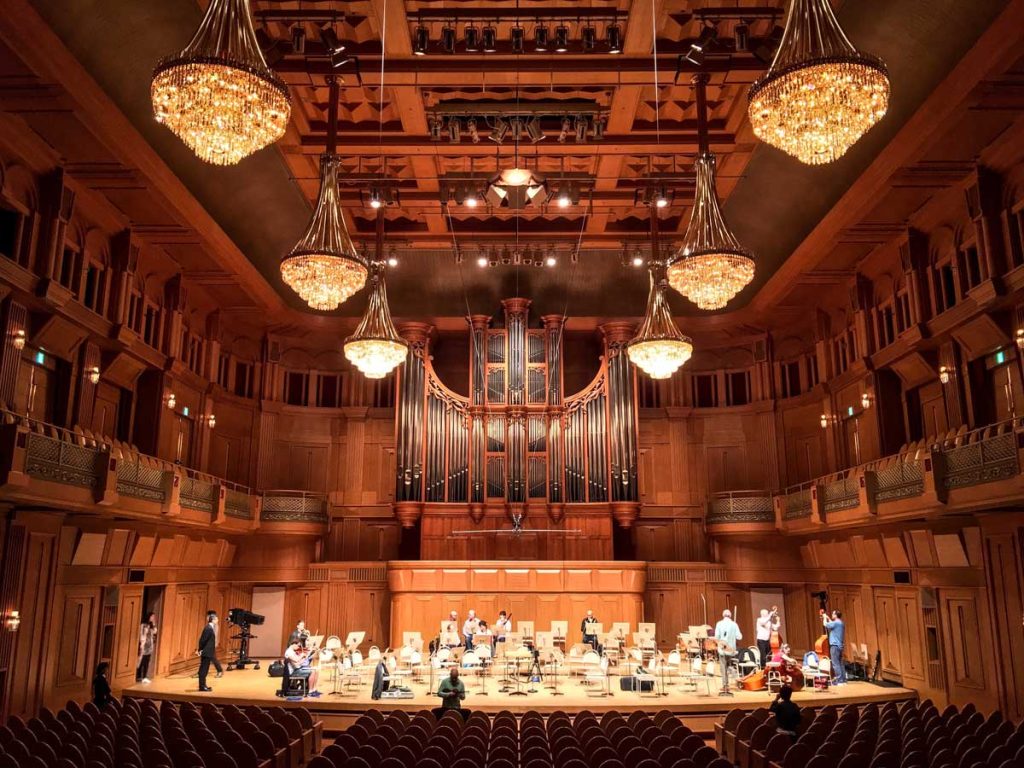 When you perform there you experience the same kind of effortlessness as you do in the Musikverein: You just have to play one note and the hall takes care of everything else. Sounds don't have to be kept alive through constant input of energy, but almost evolve by themselves; minimal guidance is all that's required to point them in the desired direction. Izumi Hall tends to be more flattering regarding the highest frequencies, which causes it to have a somewhat more restrained and warmer effect. That enables musicians to rise to the bait a bit more at in-your-face places in the score and to push back boundaries. Izumi Hall is forgiving of sound levels, which would raise the roof in Vienna.
What's practical about this new copy of an old hall is that the planning process was professional and applicatory. Wide stage doors, an instrument elevator in the floor, large storerooms directly behind the stage — everything that is prohibited in Vienna by preservations orders is feasible here. These storerooms are put to good use in Osaka: I know of few concert halls that provide such an arsenal of superb harpsichords, fortepianos, Steinway D models, Bösendorfer Imperials and Yamaha grand pianos. Unfortunately I was not able to listen to the impressive organ, but was told that it too is of exquisite quality. What is also really convenient for us musicians is direct access from the superb Otani Hotel to the hall — you can rush from your room to the stage in evening attire, which makes life a lot easier when you're touring. The fact that the hotel and concert hall are located right next door to Osaka Castle and Park means Izumi Hall scores extra points. But what makes this concert venue truly magnificent is its close proximity to one of Osaka's most bustling restaurant districts.
Music tips | CD tips with characteristic concert-hall sound: unfortunately recordings are rarely made in this hall. But there are a couple of videos on Youtube (music for piano and flute), which thanks to frugal micing arrangements indicate the hall's sound quality well.
The stated retail price of the reviewed device is valid as of the time of the review and is subject to change.