Good phono preamplifiers plate the capabilities of the turntable, tonearm and system up for us. But only the very special phono pres, for all their perfection, leave the technology behind and take us back to another time. Tracking traces from the past with the Krell K-300p.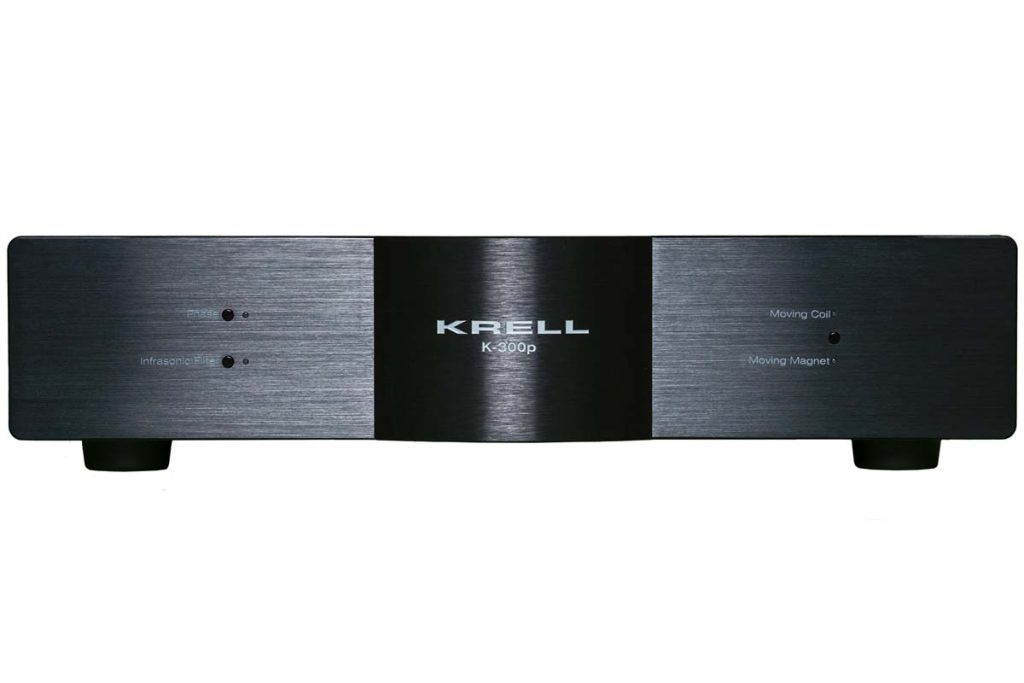 Berlin, mid-1960s. The British EMI ventures into newly rebuilt Germany. Previously, the German artists of choice would have been brought to London, but now the recording is to take place in the island city. Suvi Raj Grubb, one of the label's more important producers and mentee of the equally legendary and controversial Walter Legge, thinks he is taking a gamble when he wants to bring together the famous George Szell with the Berlin Radio Symphony Orchestra, an orchestra still completely inconspicuous internationally at the time. And indeed, he ends up being quite irritated by the orchestra, which displays a very traditionally German style and does not at all want to fit into his usual sonic image of brilliant English ensembles. Acting less sharply, working mainly with dark and muted colors, they offer Elisabeth Schwarzkopf a bed more of heavy velvet than silk for the Four Last Songs by Richard Strauss, letting her wonderful voice shine all the more without so much as a trace of strain.
You can hear how the collaboration is not yet quite coherent by the flow of the orchestra, which at times sounds like its searching for its tone. The orchestra has obviously noticed that they were apparently expected to meet a different set of tonal expectations. But after the first note of the singer, the picture changes, the musicians shed the pandering and find back to their artistic identity. This recording is more than just a grandiose recording of one of the most intimate and touching pieces imaginable. It is a piece of contemporary history, a document of the search for identity in post-war Germany, where no orchestra other than the Berlin Philharmonic has yet established itself internationally.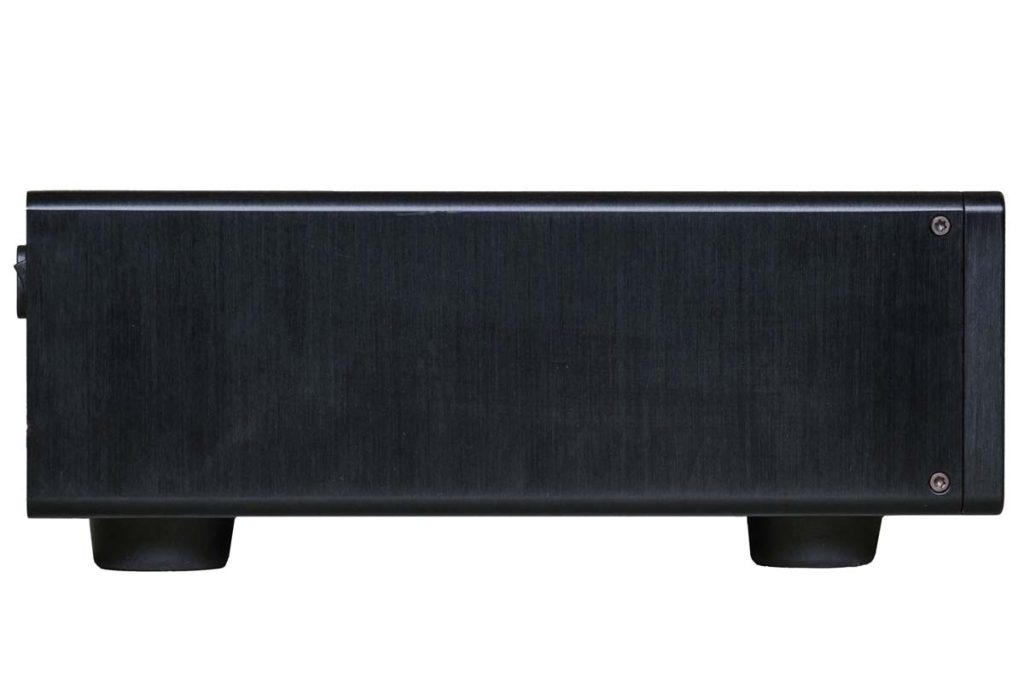 When I can hear all those in-betweens, moods and hunches that put the meat of real life on the bones of known information around this recording, it's clear that at this moment, my analog setup is playing at a level that makes any further discussion unnecessary.
Wait, was that the conclusion already? Well, yes, I'm excited. However, I'm going to put some meat on that bony verdict as well. Krell's excellent phono preamplifier deserves no less.
Going by its looks, the Krell K-300p is at first glance one of those usual heavyweights that don't even pack all that much (phono, no less!) preamplification into a whole lot of enclosure real estate. The rear panel, however, suggests that a little more effort has been put in here than elsewhere. A whopping eight sets of DIP switches, four per channel, liberally grab the available space, creating plenty of opportunities for the analog geek to play around with: For MC systems, you have the choice between four gain settings while no fewer than nine terminating resistors ranging from 10 Ω all the way to 47 kΩ permit perfect adjustment to probably every system conceivable. If you use an MM system, nine capacitances from 0 to 680 pF take the place of the nine resistors while two gain levels are still in the race.
Inside, two completely separate amplifiers await incoming signals. At Krell, they don't believe in the universality of circuits and therefore conceived two completely different designs for MM and MC systems. For the delicate MC signals, the manufacturer relies on a combination of extremely low-noise, parallel-connected transistors and a Burr-Brown SoundPlus op-amp to obtain the required high amplification factor of up to 62 dB against a background that is as black as possible. For the much stronger moving-magnet signals, Krell provides a maximum gain of 36 dB and realizes this using a dual FET circuit. To ensure that the power supply doesn't ruin the hard-earned low noise floor, the Krell K-300p uses a specially developed, extremely quiet and stable tracking controller here.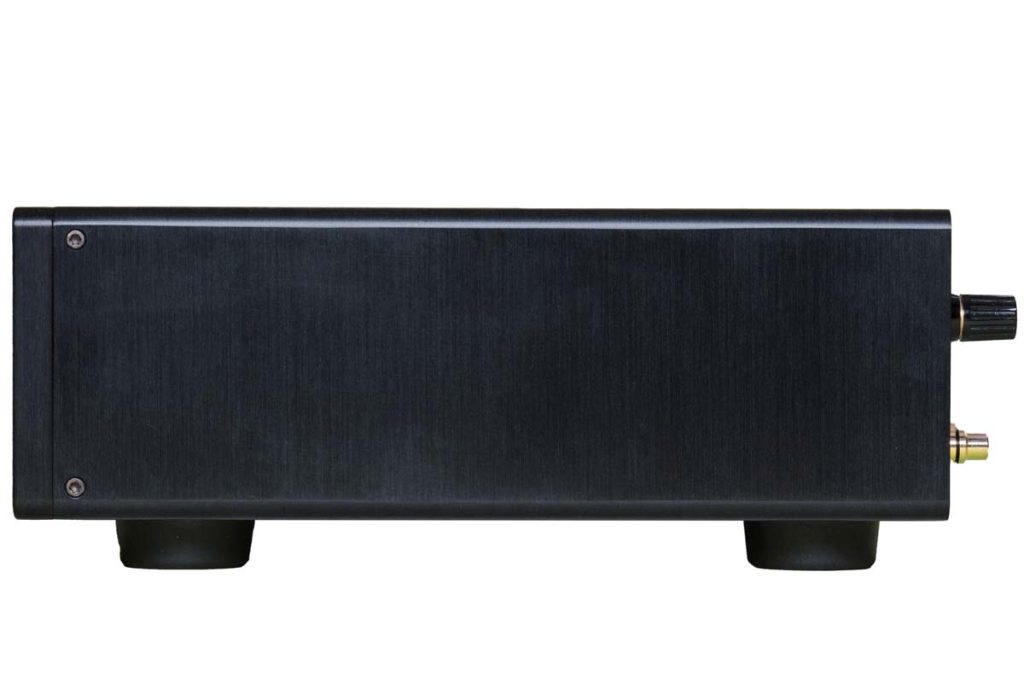 So far, so consistent, but the circuit concept alone can only explain the performance of such an amplifier to a limited extent. It certainly helps that the entire equalization is passive and discrete. In this way it matches the defined curve remarkably closely (the deviation from the RIAA specification is stated to not exceed 0.2 dB at any point) as well as channel matching that eliminates this area as a possible source of problems. Also, the output stages based on the proven "Krell Current Mode" circuits, which are above reproach, should also explain why the Krell K-300p makes no mistakes.
We cannot say, however, at which one of the aforementioned points the actual magic happens. When the diamond sinks into the groove, the charm sets in instantly, making you all but forget the technological rundown, which says a lot, but doesn't really explain a thing.
Berlin again, this time almost 40 years earlier. Manfred Gurlitt conducts the Berlin Philharmonic in 1929, the very young Josef Wolfsthal plays the Violin Concerto by Ludwig van Beethoven. While the orchestra sounds a bit musty in the background of the room, it's already after the first notes that we can hear what an incredible musical personality is standing at the microphone here. Wolfsthal, appointed concertmaster of the Berlin Philharmonic in 1919 at the age of just 20, professor at the Berlin Hochschule für Musik since 1927 and thus successor to Joseph Joachim, leads through this wonderful solo concerto with clarity and energy. The lightness and human warmth with which he leads us by the hand through the score just doesn't cease to be as fascinating as it is touching. And that's despite his interpretive approach being far harder and clearer than anything his colleagues recorded thereafter. The Mullova/Gardiner combination, for example, sounds much more romantic. With him, this crystalline clarity does not arise from an unconditional will to model the piece after his mind, but rather springs from sheer internal logic that requires no further intervention. Therefore, creative rigor and human warmth can stand side by side on an equal footing and enrich each other. In all seriousness: get this recording. Despite any technical shortcomings that may cloud the sound impression, you will never need another recording of this piece.
Once again, the Krell makes me forget the recording, the setup, the circumstances, the daily grind, and drift away from the world of today, getting closer to an artist who has sadly been dead for so long (Wolfsthal, by the way, died of pneumonia at the age of only 31).
I get the same experience when I let myself be transported to Harry Belafonte in Carnegie Hall, to Simon Rattle in the Berlin Philharmonie, to John McLaughlin in the Royal Festival Hall. At the same time, the K-300p never plays itself into the limelight, always remaining just a servant spirit. If one would like to ascribe a character of its own to it, despite all its accuracy, I would attest it a somewhat warmly colored tone, which, however, has nothing to do with the dull boudoirs of some tube constructions. No, it's still transistors and it's still Krell. No mistaking it.
In daily use, the K-300p is a joy dispenser without special demands. A better power cord (in my case from Vovox) brought a bit more width into the soundstage. Special feet under the preamp, on the other hand, proved to be a pointless exercise, I could not detect any sonic differences. The connected cartridges can be adapted in no time, because the tonal permeability ensures that it is exemplary easy to distinguish between "sits right" and "does not sit right". My various Clearaudio (Talisman, Stradivari V2), Ortofon (Vienna, Jubilee) and Denon (DL-103 in the aluminum body cap) cartridges felt perfectly at home during our time together.
No question, 8500 Euros are a real statement for a phono preamplifier. But I can't help but recommend this unit to everyone. Because the Krell K-300p offers experiences that no amount of money will buy you elsewhere.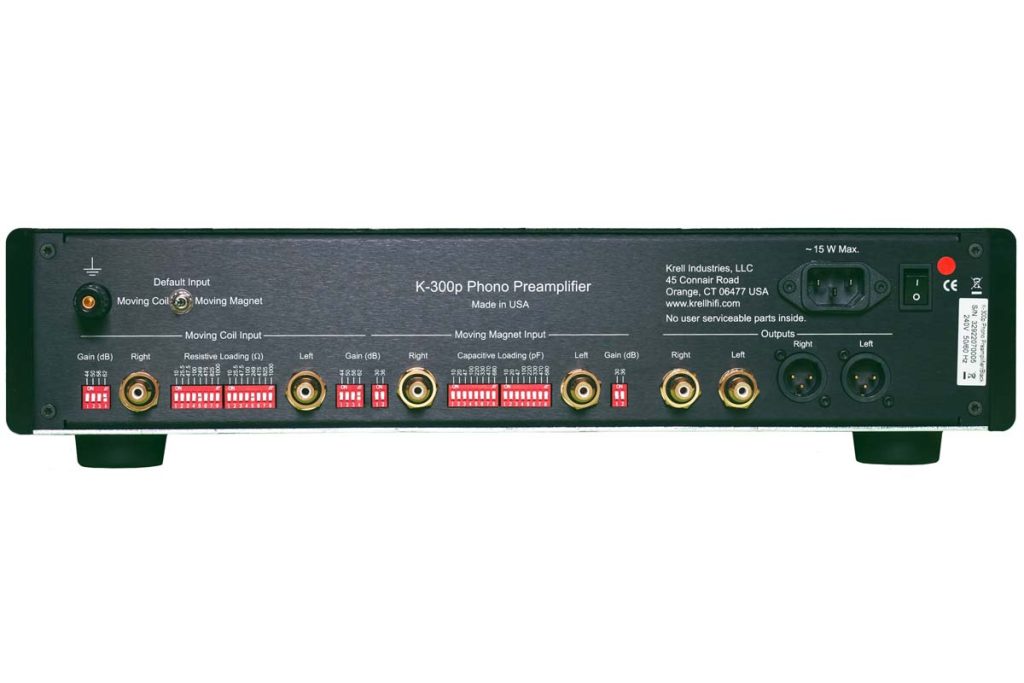 Accompanying equipment
Turntable: Transrotor Apollon TMD mit SME 5, SME 3012, among others | Cartridges: Clearaudio Talisman and Stradivari V2, Ortofon Vienna and Jubilee, Denon DL-103 | CD-Player: Mark Levinson No. 390S | DAC: Merging Technologies | Preamplifier: Crane Song Avocet | Power amplifier: digital power amplifier built around ICE Power, Accuphase P-4200 | Integrated amplifier: Lavardin IT | Loudspeakers: Spendor Classic 3/5, Wilson Audio Sasha DAW | Cables: Vovox, among others
Phono preamplifier
Krell K-300p
Concept: dual phono preamplifier with two discreet, independently adjustable amplification circuits | Inputs: 1 x moving coil, 1 x moving magnet (both RCA) | Outputs: 1 x RCA, 1 x XLR | Gain: 44/50/56/62 dB (MC); 30/36 db (MM) | Terminating impedance: 10/25,5/47,5/100/249/475/825 Ω, 1/47 kΩ (MC); 47 kΩ (MM) | Terminating capacitance: 0/10/20/47/100/220/330/470/680 pF (MM) | Frequency response deviation: ±0,2 dB (RIAA) | Dimensions (W/H/D): 44/11/29 cm | Weight: 5 kg | Warranty period: 2 years (5 years upon registration) | Price: around 8500 €
Audio Reference GmbH
Alsterkrugchaussee 435
22335 Hamburg
Phone +49 40 53320359
The stated retail price of the reviewed device is valid as of the time of the review and is subject to change.