Linn demonstrates the definitive symbiosis of function, luxury and high end with the Selekt DSM Edition network player.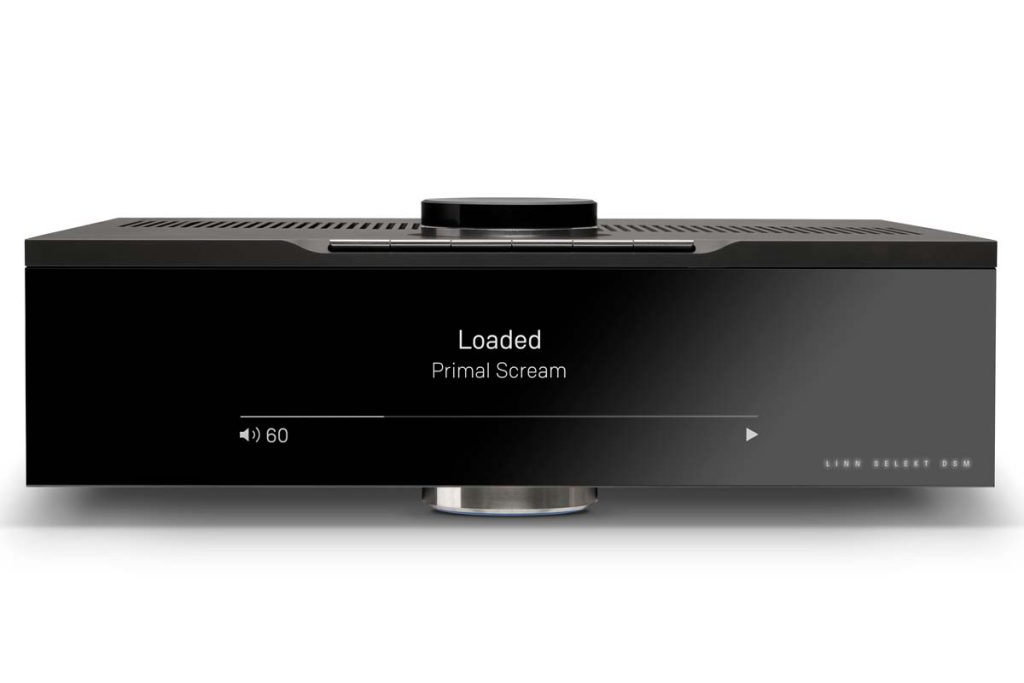 Already in this first line I must disappoint our readers with the confession that this article about the Selekt DSM will remain incomplete. This is not due to my unwillingness or even resentment towards the device. On the contrary: With its modularity, this network player covers so many bases in terms of configurations and use cases that I'm almost tempted to fill an entire issue just with this Scottish multi-talent. Therefore, I will limit myself here primarily to the configuration that Siegfried Wörner of the Berlin Linn specialist Boxen Gross placed in my listening room and calibrated by hand. This is worth mentioning separately because the purchase of a Linn device always entails detailed consulting and installation service by the responsible dealer. Of course, he also advises on all the possibilities that are only hinted at here and not explicitly discussed.
Classic Or Edition
The agony of choice already begins when deciding on the basic model. First of all, the Selekt DSM Classic Hub is available, which has an MC/MM phono input in its basic configuration, which will be discussed later. A comprehensive selection of connections on the rear panel allows the Selekt to receive and deliver audio signals from any source imaginable; with a powerful analog-to-digital conversion stage that can work with external phono preamps as well as CD players, and many digital connections for devices for video streaming, game consoles or Blu-ray devices.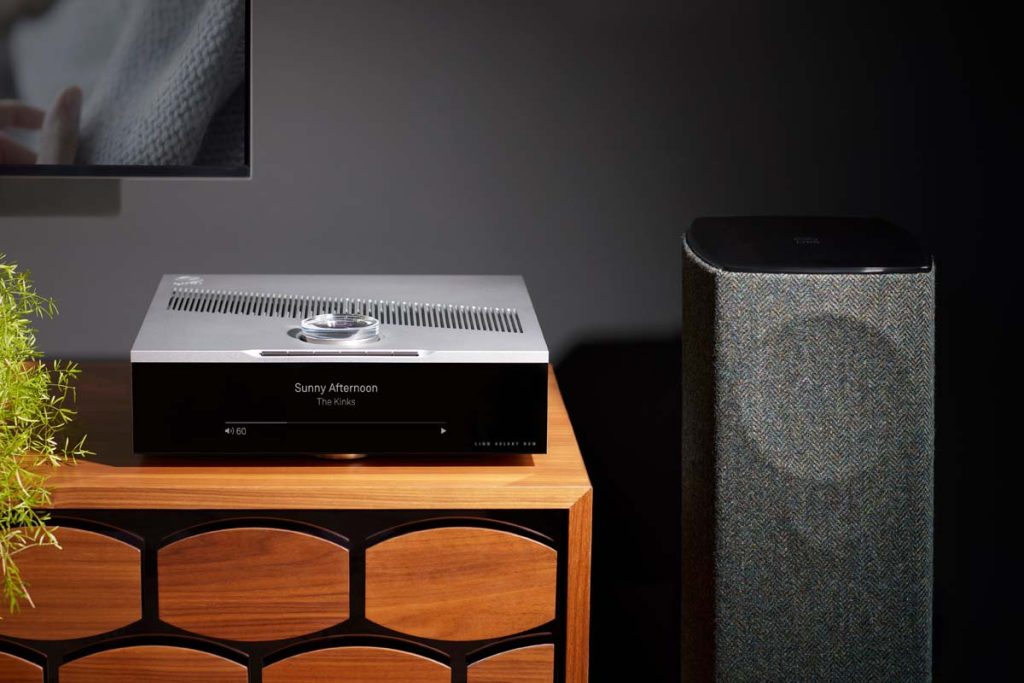 To demonstrate the heights to which the Selekt can be driven, Siegfried Wörner provided me with the Selekt DSM Edition, which features even greater material quality and feel. The highlight is the eye-catching rotary control, which actually makes you prefer to operate the device directly rather than via remote control or tablet. The precision stainless steel bearing ensures easy gliding rotation when adjusting the volume, while the cool light of the hundred individual LEDs shines under the photo-etched steel ring. Pure luxury! Add to that an integrated headphone amplifier that truly deserves its name and effortlessly powers even the more difficult of contemporaries. Of course, the newly developed Utopik power supply is also used here. To push the Selekt Edition into the sonic reference class, Siegfried Wörner had brought the variant with the Organik DAC in the double-mono version, which was then connected to Linn's 2250 power amplifier – after all, we are indulging in the synergy effects of the chain idea here.
Squaring The Circle (1)
With a luxury product – and that's what we're talking about with audio equipment in the five-digit euro range – I refuse to engage in the laborious discussion of "form follows function" or "function follows form". No, here I expect nothing less than the perfect synthesis of form and function. Admittedly, this may sometimes lead to conflicts between technical and aesthetic designers in the development departments, but genuine "know-how" certainly succeeds in squaring the circle here. And in this respect, the Selekt DSM Edition is undoubtedly true high-end.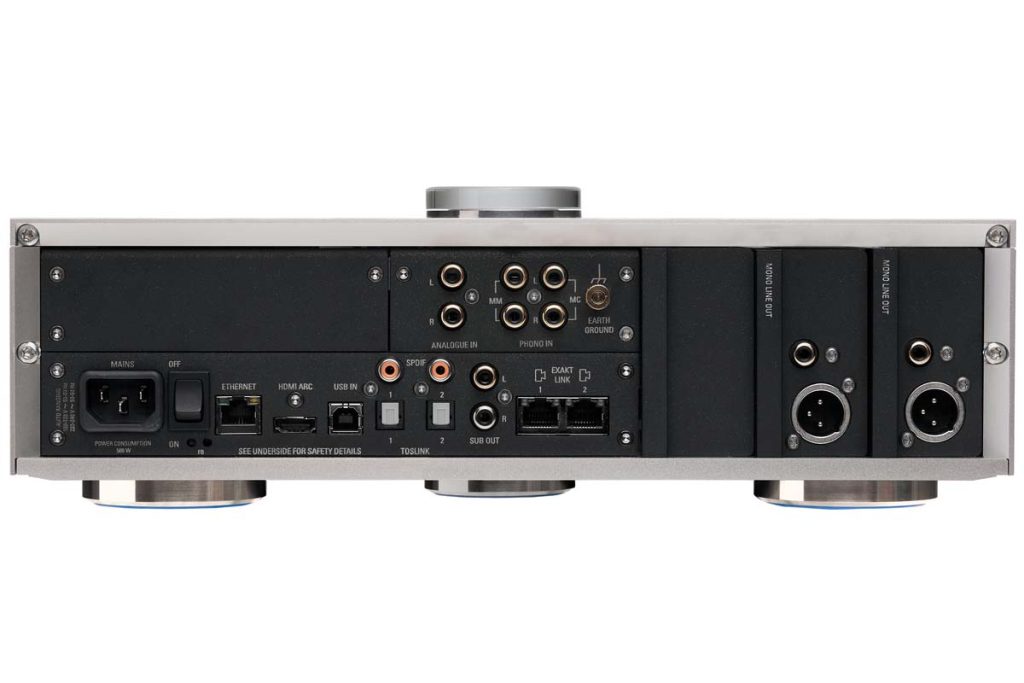 Let's just take a look at a few other inconspicuous external details that stand for pure luxury. For instance, there is the primary ventilation opening precision-cut into the aluminum sheet lid, which guarantees both the necessary heat management and a high design standard. The ventilation opening itself is reminiscent of a wave. This motif changes depending on the viewing angle and thus plays with a myriad of reflections from its various surfaces. This can be considered unnecessary bling, but that's how fascination works. In my eyes, the decision not to include covers in miniature format on the display is praiseworthy; a feature I never really understood, neither for aesthetic nor practical reasons. The display front of the Selekt Edition is made of a mirrored glass material, which is also used for binoculars. Here, the information about the album being played is displayed in a large format, but only when it is needed. Even from small details like these you can already see how form and function intertwine.
Perfect Room Management
Before you start trying things out, it's imperative that you take a look at the "Space Optimization" feature. Usually, the dealer takes care of this via laptop. In my case, Siegfried Wörner got to grips with the listening room with a laser measuring device, the rectangular indentation at the height of the system is fixed with millimeter precision, as are the dimensions of the window behind the system, plus the condition of the walls (concrete, masonry, drywall, etc.), ceiling and floor and, of course, the position and orientation of the speakers. Linn has deliberately decided against the solution of optimizing the room by microphone. Leveling on digital graph paper has the advantage, according to the Scots, of a more intuitive approach. Or in other words: the ears of the acoustics professional retain their relevance.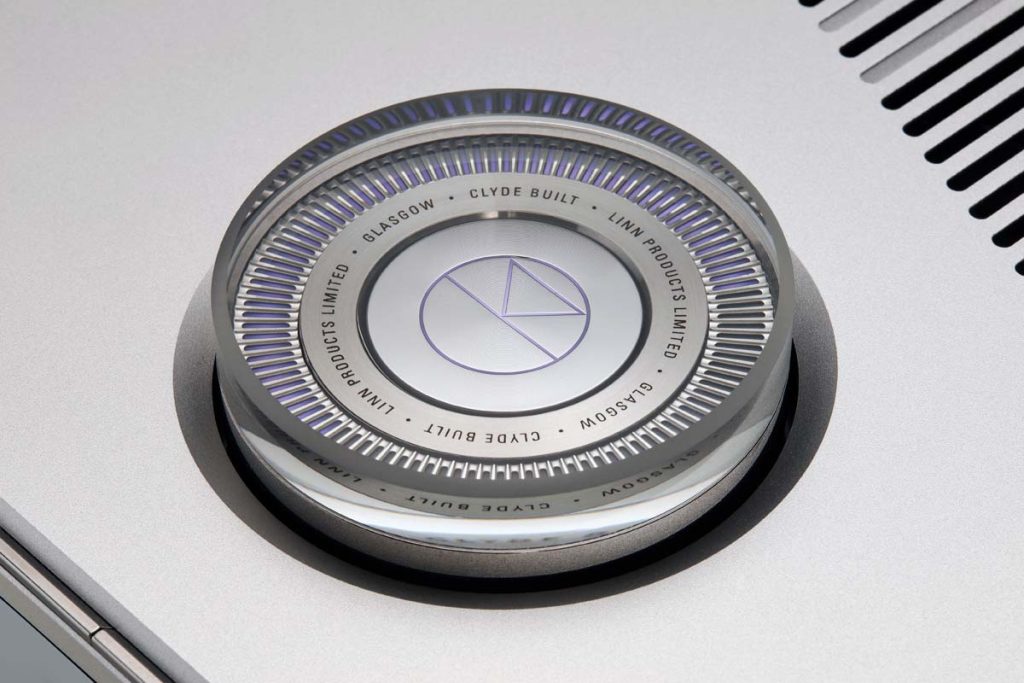 Even in my listening room, Sigfried Wörner and I are still not completely satisfied with the low bass result after a few music tracks, but this can be remedied with a few small modifications via mouse. Since the necessary software is directly in the DSM, you can also make modifications later. Caution is advised, though: While you can, of course, also play around with the settings on your own, too much experimentation will tend to make things worse. It is better to have your Linn dealer save two or three presets for you, which you then select each time with a mouse click.
Squaring The Circle (2)
Now we come to the musical squaring of the circle. With the Organik DAC in the dual-mono version, the Selekt Edition is able to finely chisel musical textures while still guaranteeing a holistic musical experience. Marillion's unplugged album Less Is More features a fine acoustic reduction of their prog rock tearjerker "Quartz." Minimalist-repetitive bell sounds, hi-hat rhythms and picked guitar strings intertwine here to create a meandering musical web. In the given configuration, the Selekt DSM makes it possible to follow the individual lines precisely; the smallest nuances of the timbres can be identified and provide a view of the structure of the music. However, this analytical approach is not forced on me by the device, it is merely an offer. I can also lean back in my armchair and simply perceive a holistic continuum and dive deeply into the atmosphere of the sound. A very similar reception experience occurs with Bach's well-known Toccata and Fugue in D minor in the reference recording with John Goode. The fascinating thing about this recording is Goode's playing on Bernard "Father" Smith's reconstructed colorful 1694 organ at Trinity College, Cambridge. The reference DAC accurately illuminates the subtle tonal gradation of each organ stop among themselves while allowing me to simply surrender to Bach's sonority. Much of the sonic result is, of course, due to the Selekt's power amplifier, which nobly restrains itself with a signature of its own and only generously passes the source signals to the power amplifier and loudspeakers. Thus, my two speakers, a Gamut Phi 7 and a recently landed FinkTeam Kim, were each distinct in their specific idiosyncrasies without having idiosyncrasies of the preamp imposed upon them.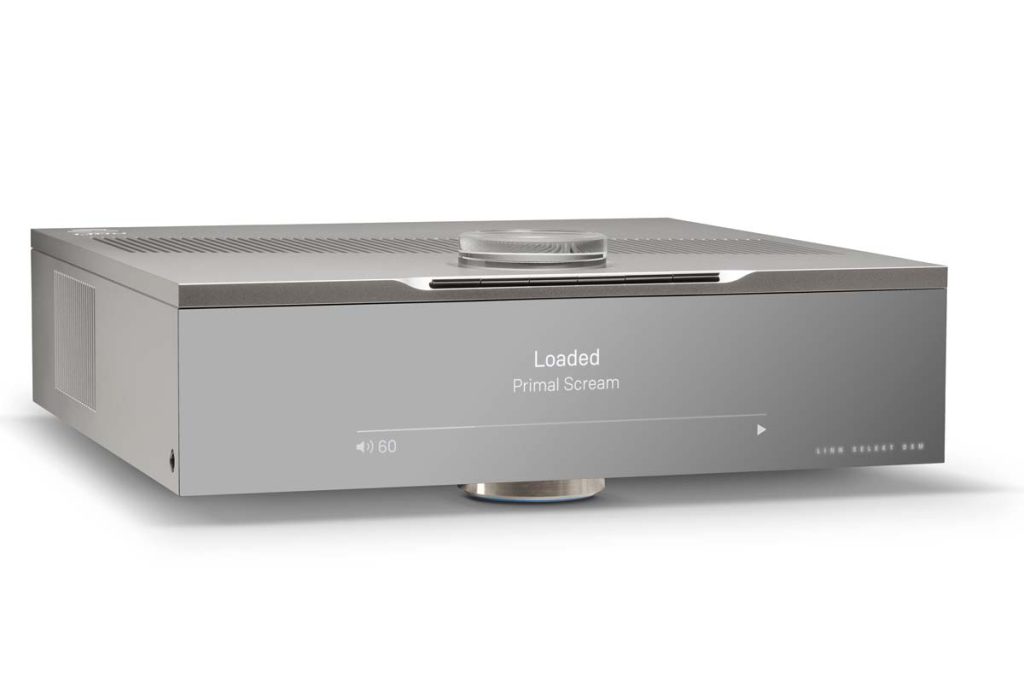 Linn Can Do Vinyl
An unexpected highlight of the Selekt, however, is the integrated phono stage, which is identical in both the Classic and Edition variants. My current Benz Ruby sounds so open and dynamic that I'm reminded of the Linn Uphorik phono preamp, which once gave me the feeling in a shootout against very well-regarded tube preamps that someone had finally cracked the window wide open, so free did the vinyl suddenly sound.
One can also accept the fact that there are no additional setting options on the part of the phono stage and that the analog signal is de facto digitally processed again by the Select, because only the more than convincing result counts here. Even slightly musty recorded rock albums of the 1970s become a pleasure again and shine with an unprecedented tonal openness. This phono stage can be downright addictive.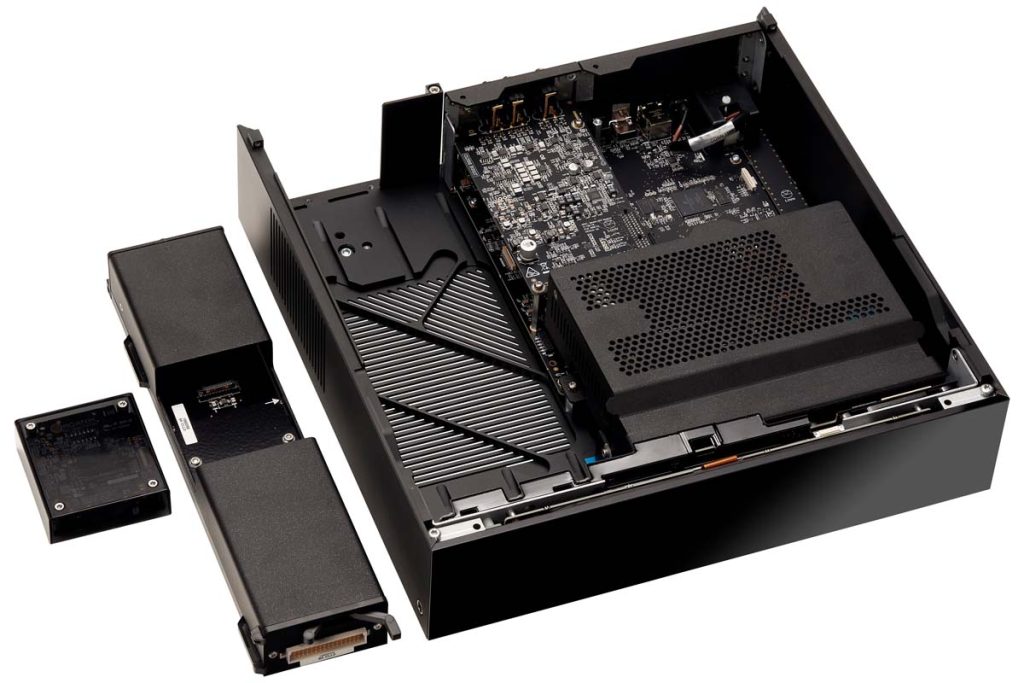 Dangerously Addictive
Now we have already reached the line limit prescribed by the editors, and I have not even told you about the possibility of upgrading the Selekt DSM to a full amplifier by means of power modules yet, I have also failed to mention the possibility of setting up a 7.2 switching center including intelligent subwoofer management here. Likewise, I have only hinted at the possibility of choosing between four qualitatively different DAC variants (standard, catalyst, organic stereo or double mono). So you see, there are many reasons to contact your trusted Linn dealer. But beware: there is a fierce danger that you will fall mercilessly in love with Linn's all-rounder …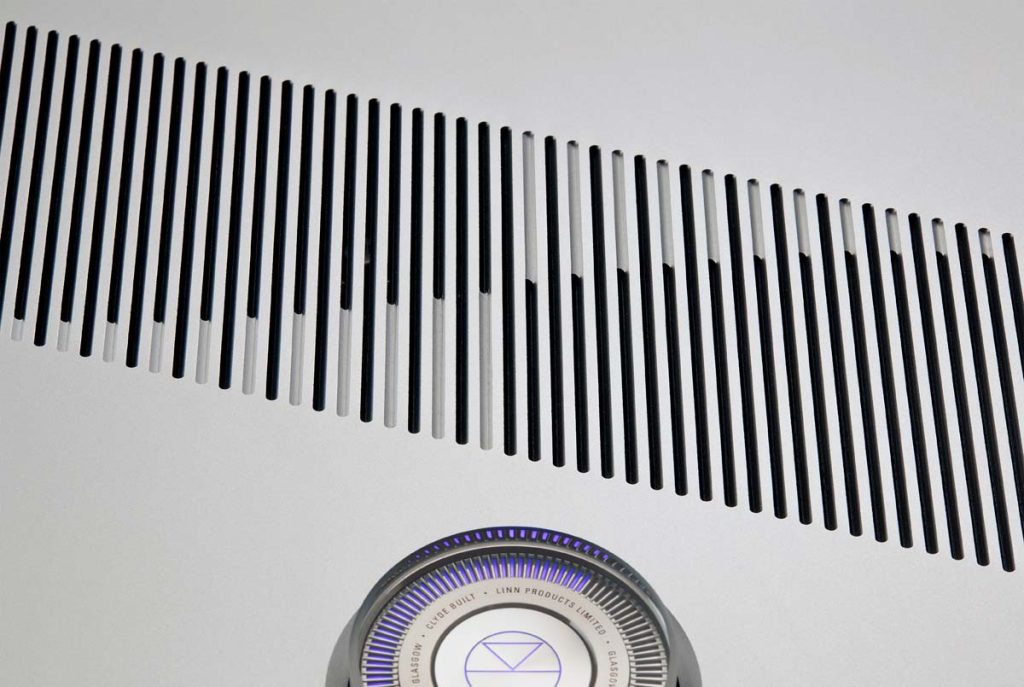 Accompanying Equipment
CD-Player: Naim CD 5i | Streamer: Naim CD5XS | Turntables: Thorens TD 126 MK III, Technics SL-1210 MK2 | Tonearm: Koshin GST 801 | Cartridges: Sumiko Blackbird, Ortofon Concord Century | Phono preamplifier: Innovative Audio Ultimate 2b, Thel Phono M | Integrated amplifier: Naim SuperNait | Loudspeakers: Gamut Phi 7, FinkTeam Kim | Accessories: Wireworld, Sommer, Creaktiv
Network Player/DAC/Preamplifier
Linn Selekt DSM Classic or Edition
Concept: modular network player with DAC, preamp and many upgrade resp. retrofit options | Inputs: 1 x line analog (RCA), 1 x MM phono, 1 x MC phono, 2 x Toslink, 2 x S/PDIF, LAN/HDMI ARC, 1 x USB audio | Streaming/services: seamless integration of lossless streaming services Tidal and Qobuz, streams internet radio via TuneIn | Special features: integrated MC/MM phono preamp for connecting a turntable, surround sound compatible, multi-room capable, link for connecting Linn-Box Exakt or integrated speakers | Module variants (with surcharge): Line-Out Module + Standard DAC (by 809.20 €), Line-Out Module + Katalyst DAC (by 2332.40 €), Power-Out Module + Standard DAC (by 1279.25 €), Power-Out Module + Katalyst DAC (by 2802, 45 €), Power-Out Module + Organik DAC Stereo (around 4884,95 €), Line-Out Module + Organik DAC Stereo (around 4414,90 €), Line-Out Double-Mono with Organik DAC (around 8335,95 €) | Weight: 9.5 to 12.3 kg (depending on equipment) | Dimensions (W/H/D): 35/11/35 cm | Warranty period: 5 years | Prices: Selekt Classic Hub Basis from 5840 €, Selekt Edition Hub Basis around 11 840 €, test model around 20 200 €
Linn Products Limited
Glasgow Road
Waterfoot, Eaglesham
Glasgow G76 0EQ Scotland
The stated retail price of the reviewed device is valid as of the time of the review and is subject to change.