At the end of April, MFE introduced its new superlative Jericho power amplifiers – a bit late, but in the company of carefully chosen guests.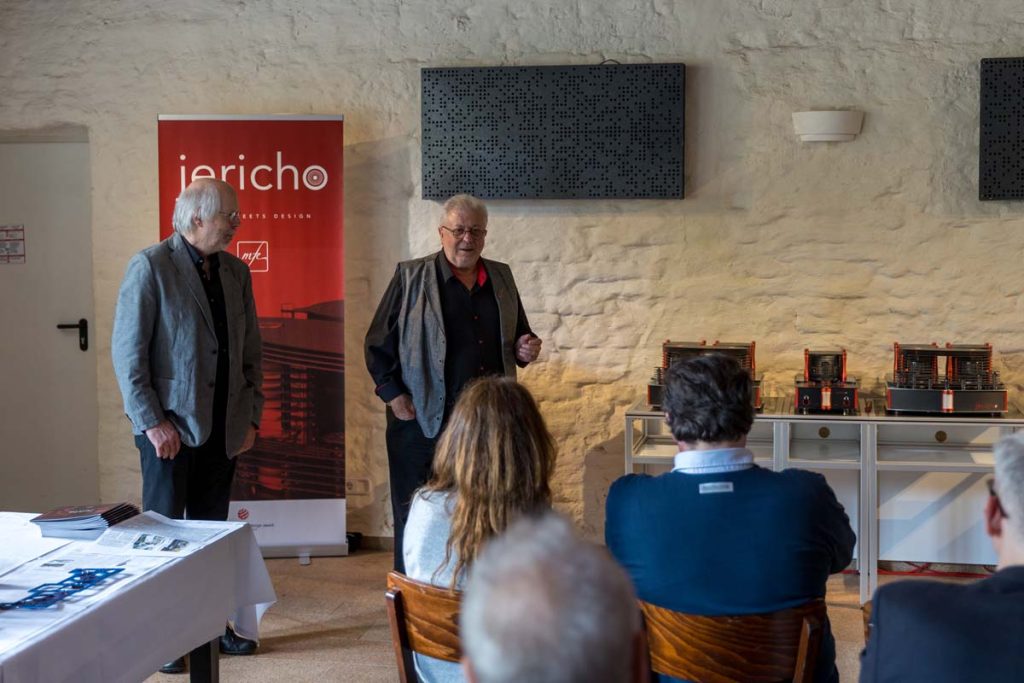 In early April, I received a call from Michael Franken. We had known each other from various phone conversations … and wouldn't it be nice to finally meet in person. Of course, his call wasn't just an invitation for coffee and biscuits; it was an invitation to a formal and rather exclusive "product presentation." As the location for this event, Franken and his business partner Willy Reisen had settled on "Die Lü," a historic mill in Lüttelsforst. In case you're as puzzled as I was by this, here's a little tip: Look at a map and find Mönchengladbach, then head west towards the Dutch border. If you're wondering why I put the term "product presentation" in quotation marks, it's because on that Saturday afternoon, the focus was on the ensemble consisting of the monumental Jericho power amplifiers and the specially crafted Verismo* preamplifier, which I intentionally marked with an asterisk. Both products were announced around six years ago, and the completed power amplifiers received the Red Dot Design Award in 2017.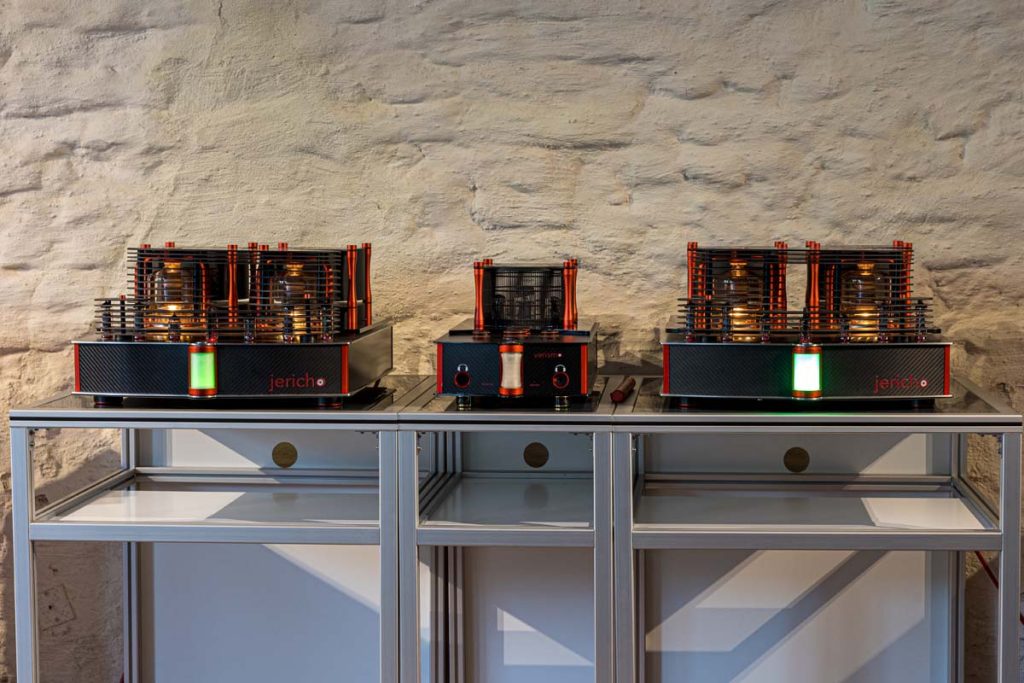 However, the official launch never quite happened. First, because the debut of the preamplifier was repeatedly delayed due to ongoing refinements. Then, because a little virus turned the world upside down. This shortcoming was now to be rectified with a "proper" market launch. And it was carried out just as gracefully as the two hosts themselves: Willy Reisen used the event, surrounded by a select few, to seamlessly transition from the formal Jericho presentation into his own birthday celebration. The guests gradually shifted from the audiophile audience to a more family-oriented atmosphere. Something a bit different.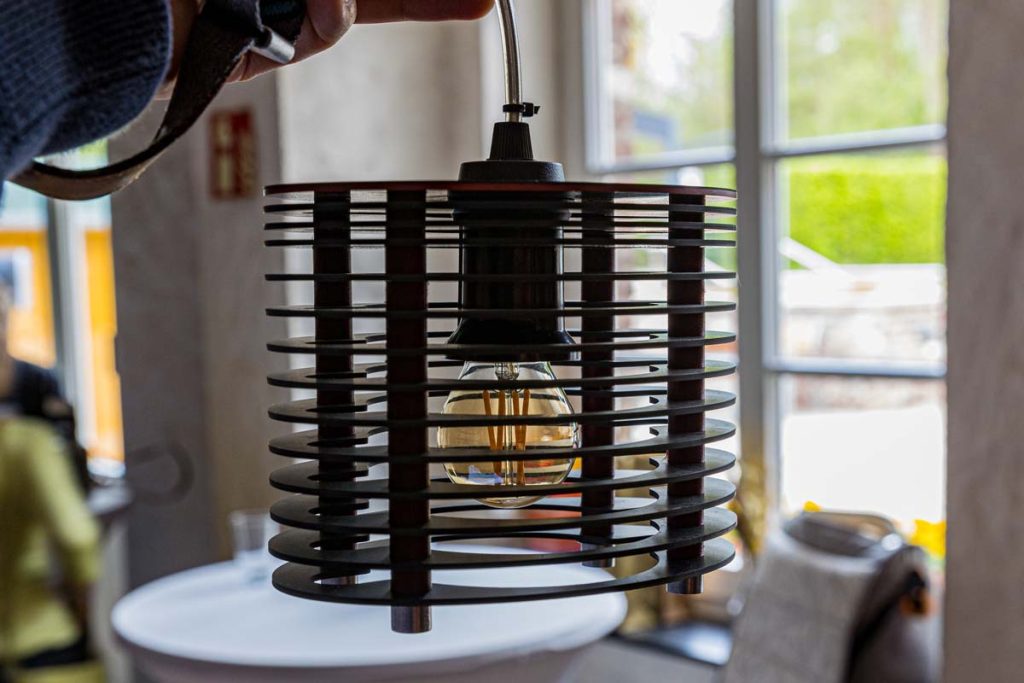 As you may know, Michael Franken's brand, MFE, is known for well-crafted hi-fi electronics at down-to-earth prices. All tube-based, naturally. A few years ago, businessman and passionate hi-fi enthusiast Willy Reisen approached the talented developer with a project that aimed to push the boundaries of tube technology. An extreme project that would tread the narrow line between calculated hi-fi technology, loving craftsmanship, and art, and it took the two of them about ten years to develop. Up to that point, Franken has been designing his machines mostly following the "form follows function" principle, so Willy Reisen offered his assistance in the design and development of numerous additional details. It's worth noting that Mr. Reisen is somewhat of an expert in the field: his company innoLED has been creating lighting concepts for both small and large events for over 40 years now. If you've ever seen the Cologne Mediapark skyscraper illuminated at night, you've witnessed his spectacular work in action. You can find echoes of this profession in the details of the Jericho family. For example, the status lights on the front, which are reminiscent of the "Magic Eye" of old radio receivers, and their brightness and color intensity illustrate the voltage and temperature of the power amplifier tubes.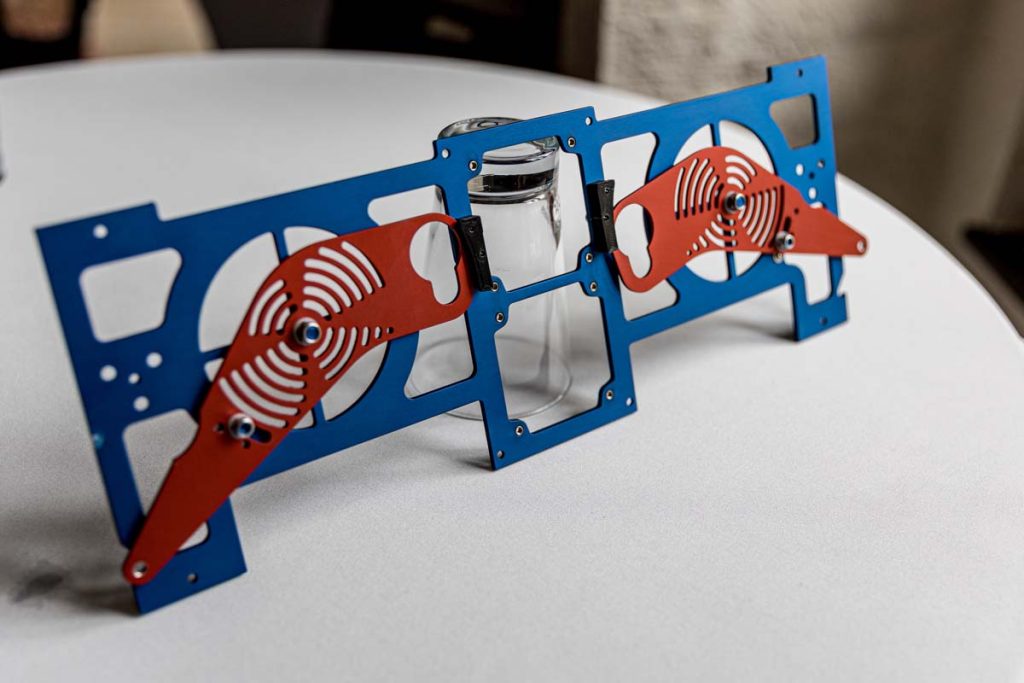 Or the carbon ribs that cover large parts of the massive tubes. Just to be clear, these flat discs are not primarily for cooling; they mainly provide protection against burns and ensure healthy airflow around the tubes. The actual heat exchangers are hidden beneath them and also form the support frame for the carbon discs. Reisen borrowed an active ventilation concept from his high-performance LEDs, using red anodized tubes to continuously transport air around the tubes. As I learned, this effort is essential because perhaps the most significant feature of the Jerichos is that Franken has abandoned the well-known "domesticated" types of tubes and instead focused on exceptional headroom, maximum speaker control, and sheer power with professional-grade tubes. Each power amplifier contains two high-power tubes with a combined 1000 watts of output power, all while maintaining acceptable distortion levels. You might wonder why not every other amplifier uses such models? Well, because each of these tubes costs more than an average integrated amplifier. The active cooling, elaborate protection around the power components, and internal control electronics serve not only to protect the operator but, more importantly, to protect their wallet by maximizing the tube lifespan. Nevertheless, Jericho is a project for well-off customers: both the purchase price in the six-figure range and the operating costs (power consumption between 400 and 1500 watts) are for grown-ups. One cute detail of the "new" electronics is that Willy Reisen transferred the distinctive look of the power amplifiers to peripheral product designs. On a table apart from the demonstration setup, I spotted ceiling lamps, a clock with Nixie tubes, and a selection of unassuming components. Among them was a small white coupling that felt like ceramic. This surprisingly expensive, extremely heat-resistant component is created using a 3D printer and connects the tubes to their active cooling. Delicate seams at the edges ensure optimal airflow. With all the details sorted, the presentation of these powerhouses began, featuring exquisite live, classical, electronic, and jazz tracks. To cut to the chase: for nearly two hours, we listened in awe to the power, sonorous richness, and three-dimensionality of the stunning power amplifiers, and not a single person left the room. There's not much need to say any more, right?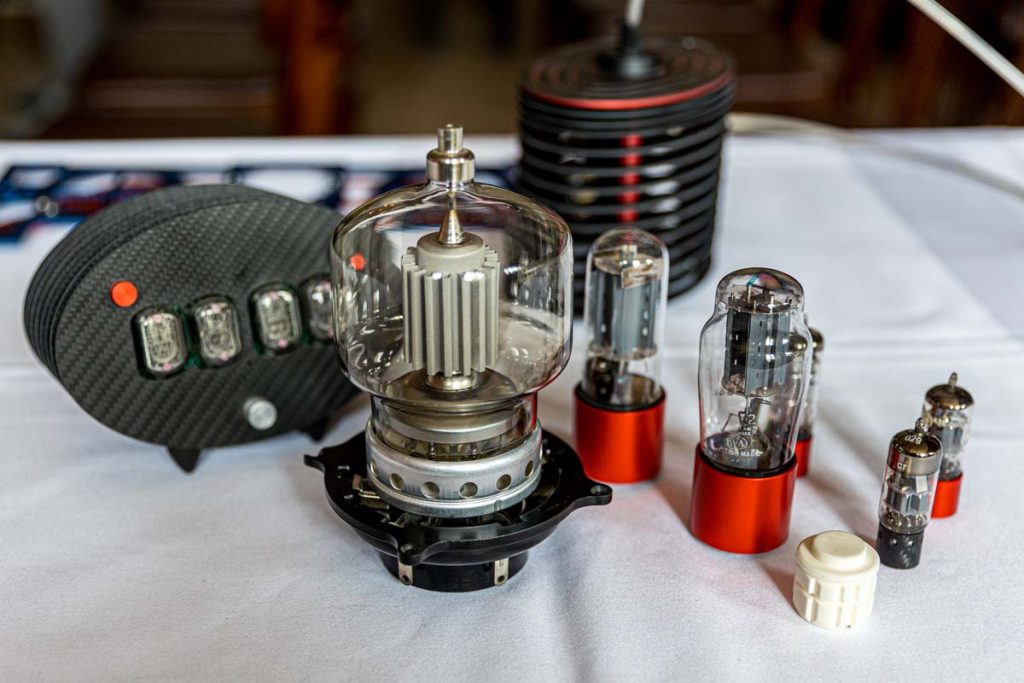 *Fun Fact: Unfortunately, the Verismo could once again not be demonstrated, much to the disappointment of the two hosts. However, this time it wasn't because it was unfinished but because a delightfully trivial component didn't arrive on time. MFE's Tube One SE was kind enough to step in.
mfe-electronic
Friedenstraße 4
41812 Erkelenz-Gerderath
Phone +49 2432 80726
info@mfe.technology
The stated retail price of the reviewed device is valid as of the time of the review and is subject to change.