Beyond High-Fidelity
The Very Best in Musical Experiences – no Matter what the Cost, but not at any Price!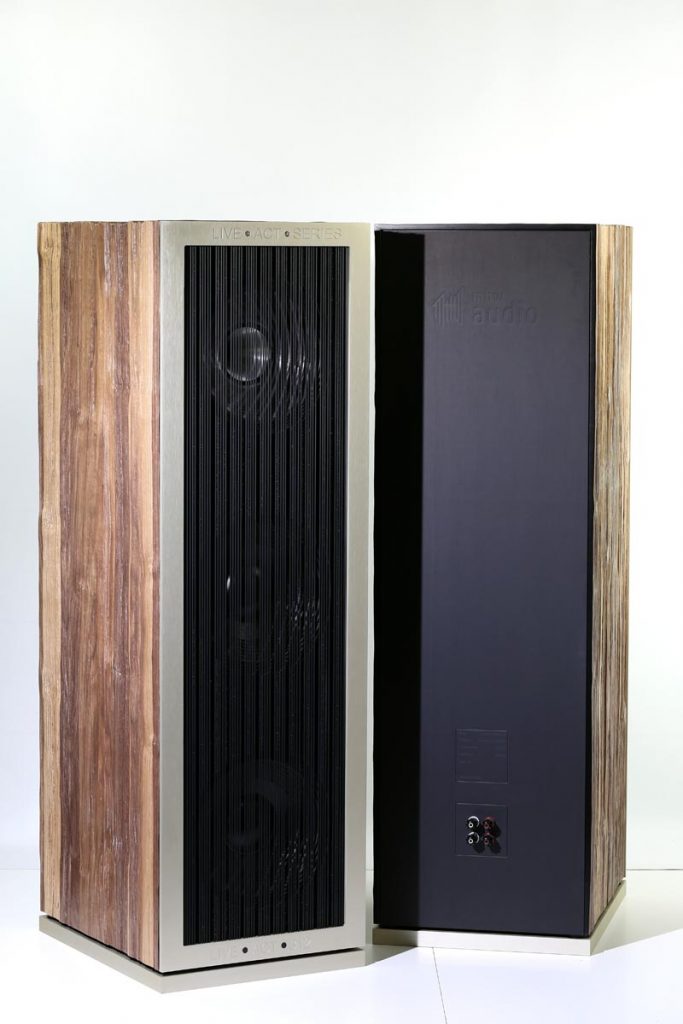 There's a music fanatic, a timber expert and a loudspeaker designer… If you're waiting for a corny punch­line, you'll have to look elsewhere. There's ample opportunity in the hi-fi industry for cracking tired jokes about a line-up like that, but Live Act Audio is not one of them. The people involved are passionate about what they do and, in contrast to the many hobbyists out there, are also very professional. Even the music fanatic in this trio, who winks and says that he "actually can't do anything right," has nailed everything. Live Act Audio is the brainchild of Dieter Molitor. Previously at MHW Audio, he recently founded Live Act Audio GmbH to position his sensational loudspeakers more clearly within the market and begin series production. The previous prepro­duction models were also redesigned as part of this process. The visual difference may be noticeable, but absolutely nothing has changed from a technical or sound perspective. As a result, my initial strong impression of performance can be directly applied to Live Act Audio (LAA).
Molitor has always known exactly what he wants: a loudspeaker capable of conveying the thrill of a concert in all its glory, the electrifying "live act" with unapologetic power and gusto. For years, he searched high and low for this, investing large amounts of money into "dream loudspeakers" along the way. But he never found that one single speaker that met all his key criteria. After another attempt carrying a six-figure price tag, which (once again) left him emo­tionally drained and cold, Molitor decided to take matters into his own hands. It was time for Molitor to official­ly show his true colors. So Live Act Audio began discussing such things as the almost-sacred hi-fi ideal sound produced by a "linear loudspeaker." But what is "linear" supposed to mean? What good is a linearly aligned loudspeaker to the listener if it's practically without flaw on paper and works perfectly in the lab but simply isn't any fun in the living room and instead just sits there, emo­tionless and disengaged, droning on. Let's clear up any possible misunderstandings: Obviously the Live Act Audio team has absolutely nothing against a linear amplitude response. It's just that this is just one of umpteen criteria any competent designer should have on his or her radar and be ticking off a specification sheet.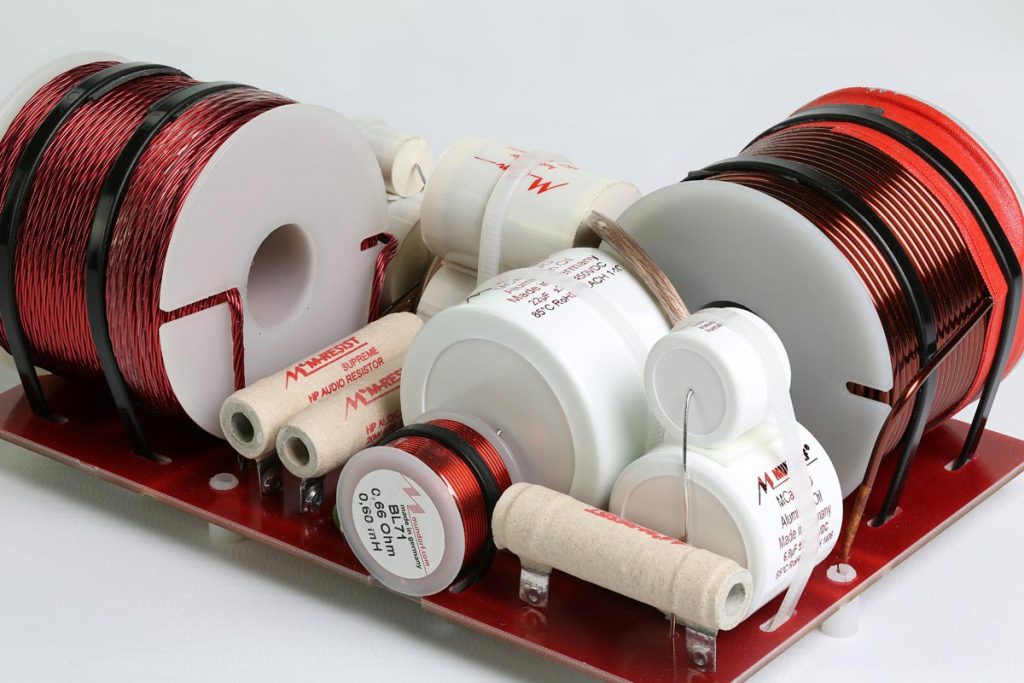 And that actually brings us to the most important point in under­standing the construction and signature sound of a loudspeaker: the designer. Every loudspeaker that wants to be taken seriously obviously contains, without exception, the sonic signature of its designer, and the loudspeaker makes this audible. After all, when it comes to all the technical pa­rameters, which, to some extent, influence each other, and, to a large extent, determine a loud­speaker's sound balance, priorities need be set at some point. Solving the notorious issue of squaring the circle—in other words, reaching the theoretical goal of producing the "perfect loudspeak­er"—is only possible to a certain extent and not fully achievable. And every practical attempt to get closer to the theoretical ideal either involves an enormous tech­nical undertaking or complete mastery of complex subjects. To make things even harder, there is also the fact that a typical high-ender's idea of the "perfect loudspeaker" will differ complete­ly from that of a sound engineer or sound studio professional. Live Act Audio, or LAA for short, attempts to bridge the gap be­tween these two worlds with Mo­litor choosing "exactly the right person" to be his chief designer. This expert relies on his heart and soul and incorporates the best of both audio worlds to now (final­ly!) do this at LAA.
I personally met the designer (who also works for other companies, pri­marily in the pro-audio sector, and would therefore prefer to remain anonymous). During our extensive discussions, I was bowled over by his extremely broad skill set and his propos­als for the design of the LAA model. To address the desire for achieving practically unlimited dynamic performance by em­ploying the heretical slogan "tra­ditional hi-fi drivers cannot do that at all, they are simply hi-fis," you have to know exactly what current professional chassis are able to deliver and how good they sound in living-room-com­patible applications. It surely also doesn't hurt if you can fall back on custom-made, first-rate drivers that you can't get ahold of for love nor money. The large LAA series, known as the Live Act Series (LAS) reference line in the prod­uct portfolio, is living-room compatible. As should be the case with benchmark-setting loudspeakers, its physique plays a rather inferior role. In compact, slim housings, it's not feasible to have practically un­limited bass reserves with small drivers (in this case, all under 30 centimeters in diameter). Deep, efficient and absolutely uncompromising bass needs volume and membrane surface. The main issue is making sure the housing somehow still fits through the front door and doesn't poke through the ceiling during the first attempt at installation. These relaxed yet systematic design maxims are very nice.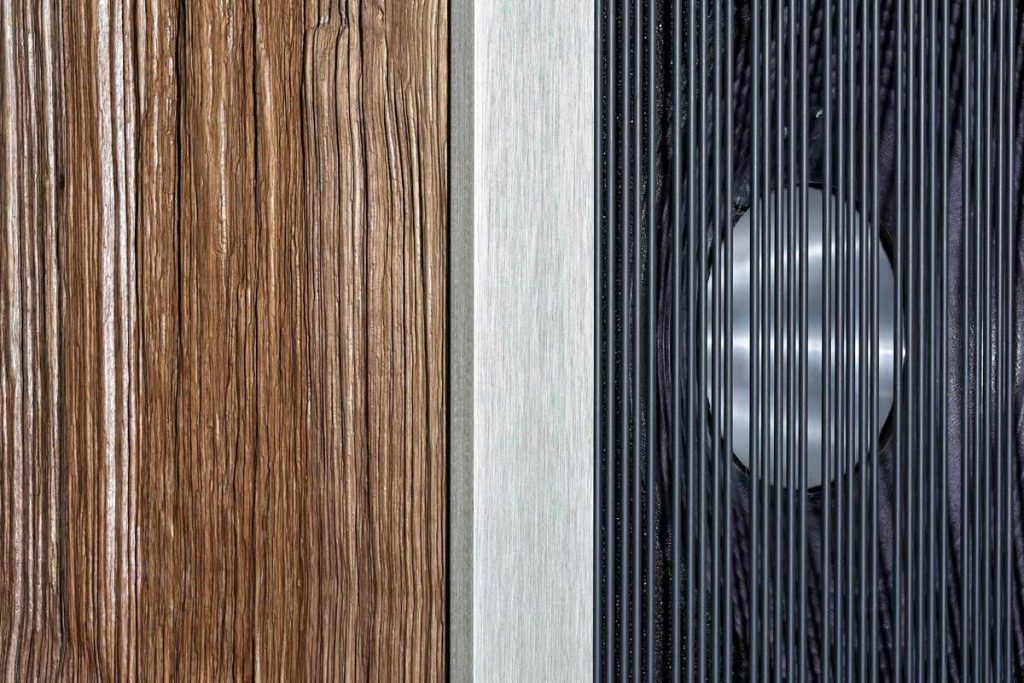 In addition, the 312 is "just" the middle-of-the-range LAS model; the substantially larger, and more expensive, 512, which measures 2.3 meters high, actually doesn't easily fit into my listening studio. The unique housing design of the LAS 312 is a real head-turn­er. The refined yet wild look is sensational, and the surface, which incidentally looks rough but isn't, resembles split wood cut from a full block and creates a nice ambiance, like that of a fireside lounge and a chic country house. The surface is the result of a highly refined, expensive process where a sin­gle-sided structure is embossed on a multiplex board using high pressure. This "work-hard­ened forged timber" is then combined with "normal" MPX boards in the sandwich process. This forms an extremely rigid base for the housing that is low resonance but not damped to death. Also to thank for the sensational appearance and outstanding resonance damping is Markus Reitz, the timber expert and cor­porate strategist (and "second in command") at LAA.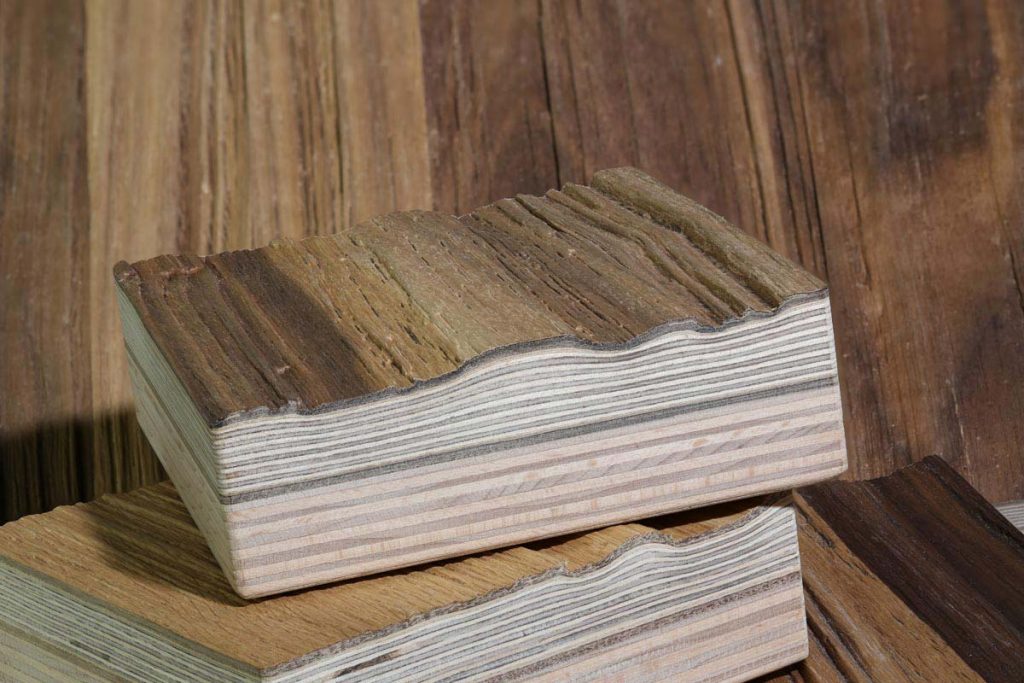 Reitz joins Molitor to assemble the LAS 312 in the editorial office's listen­ing room to start and then later back at mine. That commands my respect, since each loud­speaker weighs in at a whopping 130 kilograms—a direct conse­quence of the positively lavish but purposeful use of materials. All housing walls, even the inner recesses for the midrange speakers and crossover, consist of at least 40-millimeter-thick multiplex boards. Added to that are the massive aluminum boards for the rear wall and base as well as the aluminum frame on the front that has been milled from solid blocks. This not only keeps the acousti­cally permeable "rubber curtain" in perfect shape but also houses the only detail of the LAS 312 that I personally do not like at all: two Swarovski crystals cover both upper (sunk-in) screw heads in the frame. Fortunately, LAA also offers several alterna­tives to that.
Aside from its visual appeal, LAS 312 captures my attention with the equipment behind it even "when idle." The two 12-inch basses are produced in the Unit­ed States and equipped with ev­erything that gets the heavy-du­ty, high-end heart beating, from the enormous rear-ventilated voice coil to the firmly suspend­ed coated paper cone. The two woofers cover the frequency range up to 100 hertz like an integrated subwoofer. Each driver works in its own recess and is supported by four symmetrically arranged reflex ports on the front; this enables LAA to guarantee the desired acoustic and technical resonance stability, even at the highest levels. In the existing test version, an active analog crossover with its own Bryston power amplifier also provides the bass with precision and power. Above 100 hertz, a coaxial driver kicks in. Its coated midrange membrane, sepa­rated from a passive, very delicately fitted crossover in its own recess, measures 30 centimeters across and covers the range up to 1,100 hertz.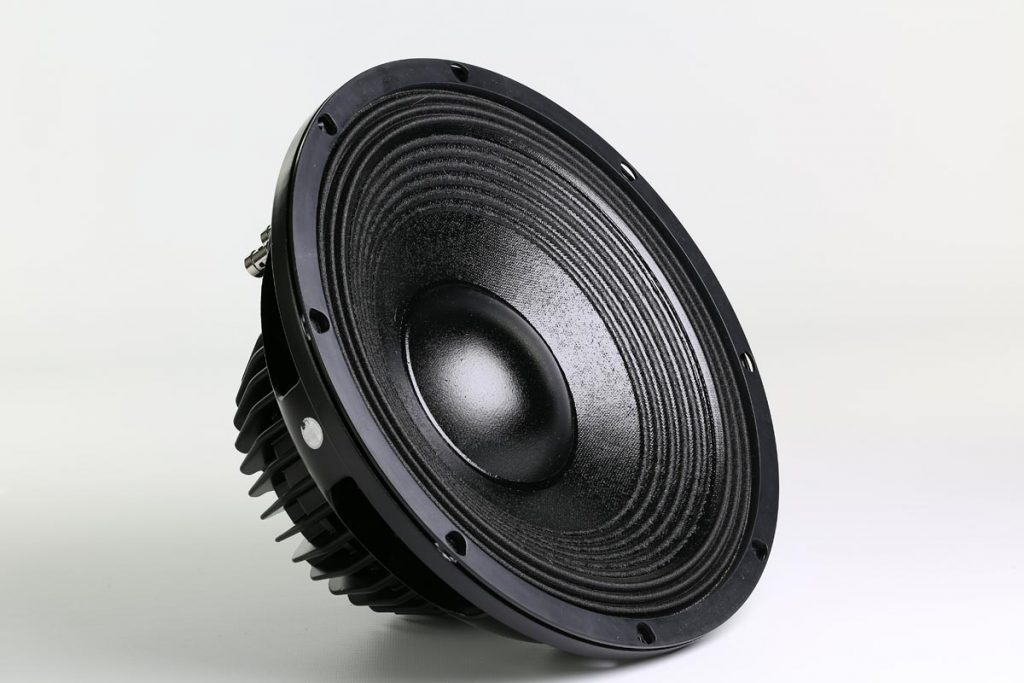 The central high-range horn of the coaxial driver is served by a special beryllium membrane 75-millime­ter in diameter that marches effortlessly into the highest highs while still remain­ing extremely resilient. Apart from the weight issue, initial installation of the LAS 312 in a normal living room is relatively straightforward: the speakers should preferably be placed close to the wall and not too far from each other—a real advantage for audio­philes compared with all other big-hit­ters in the league to end all leagues, which usually make diva-like demands and are immediately audibly offended if they are not surrounded by two meters of space for their performance. The LAA 312 is completely different: Cabling the controlling Bryston electronics has hardly been put in place and I can al­ready start with the fine-tuning after just a few minutes. Every step of the way, the speakers inform me without any chance of misunderstanding whether another small step or subtle change is taking me in in the right direction or not. And that is actually what I expect from a top-of­the-range tool aimed at audiophiles: uncomplicated, unequivocal communi­cation about simply everything that is happening "around it," right down to the subtlest of atmospheric details. Let it be said: This hefty juggernaut has a fantastic flair for everything that's happening in its environment, and it's happy to "show" that without having to be asked to do so beforehand.
Another nice characteristic of the LAS 312 compared to practically all other top-of-the-range speakers is that every effort in terms of the sound sources, cabling and set-up will not lead to less dissatisfaction but greater satisfaction. This is a serious and critical difference in order to be able to enjoy listening to music even with "smaller" electronics, "way too low-priced" cables or posi­tioning which is not 100% right, for example. Yes, the LAS 312 is the best kind of super-sporty team player with no airs and graces. Nevertheless, it is naturally always worth continuing to refine the set-up at home because of the aforementioned flair for every little step. Over several weeks, I test almost a dozen large (and not so large) am­plifiers inside the semi-active system., experiment with numerous cables, but never lose the desire to discover music, listen and enjoy.
So, I have really never experienced such a consistent, profes­sional and, at the same time, joyous music machine until now. A sensationally dynamic and gutsy per­formance awaits the listener each and every time, ranging from boxing gloves to velvet gloves, from pianissimo to Motörhead stage rock-outs—including wonderfully vivid tones and amaz­ingly deep-reaching, exceedingly illuminated spatial expression despite being set up close to the wall. No, this is no surface or omni emitter, but rather speaker system that's right on the mark, one that's able to handle itself and remain well balanced. "You should expect that for this price," I hear you say: Yes, I think so, too. The real fascination behind this classy yet extremely down-to­-earth artist lies in the charming way it trans­mits all forms of energy without any loss to the listener and, if in doubt, a tiny whiff, a hint of an idea "forward"—like the very best drummers do. I am extremely impressed. The LAS 312's visit to my place turns into an intoxicating party with my record collection. Before the 312 buckles even just a little bit, either an amplifier that is obviously too small or I throw in the towel. The LAA, on the other hand, carries on regardless. I prob­ably won't ever need the kinds of reserves it offers, but it's always reassuring to have them.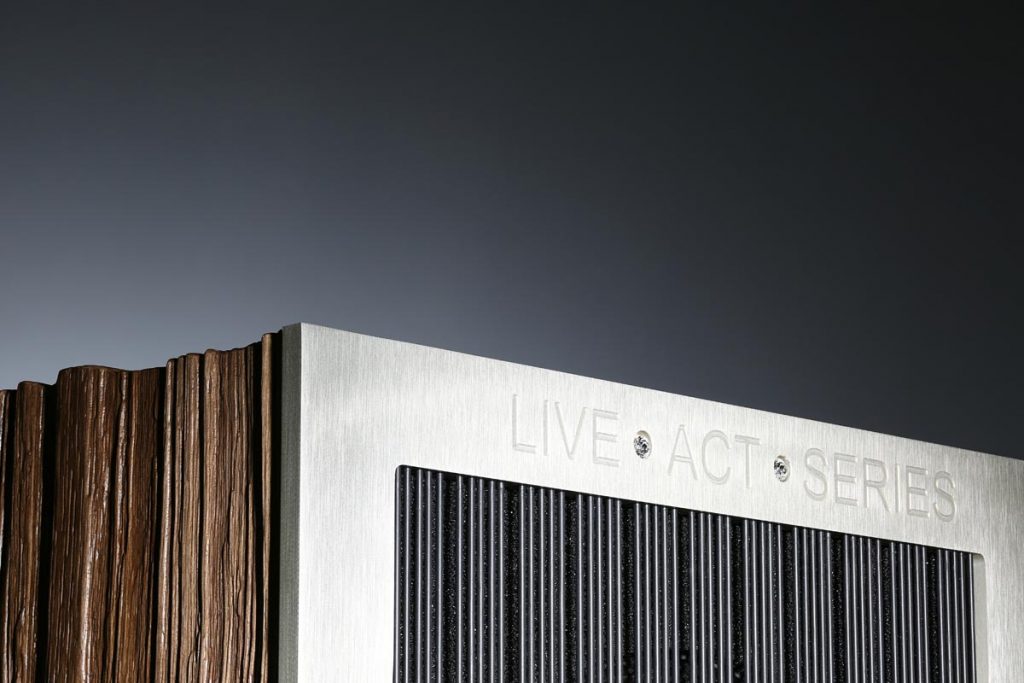 With its various talents and the par­ticularly broad dynamic range, the 312 ranks so high up in my high-fidelity appreciation that I can already imagine just how it will eat renowned 8-inch competitors for break­fast—and will hardly see a 10-centimeter "bass" as little more than an appetizer. Man, it's gotten really hot in the CB Clubhouse. I need to open some windows and think… … about me and the LAA. Have I ever had so much uncomplicated, approachable listening fun at my fingertips? Is the 312 too big for my 30-square-meter listening room? Will I ever want to stop using this speaker? "No," "no" and "no!" In other words: The Live Act Audio LAS 312 is moving in with me, no matter what it costs!
Live Act Audio LAS 312
Type: three-way loudspeaker, bass reflex, passive or semiactive | Sensitivity: 96 dB (passive 94 dB) | Nom­inal impedance: 8 (passive 4) Ω | Power capability: 700 W | Drivers: 2 x 30-cm woofers, 30-cm coaxial chassis with high-range horn (75-mm beryllium membrane) | Crossover frequencies: 100/1150 Hz. | Special features: passive or semi-active control possible, decoupled base plate | Finish: Thick veneer or split-wood appearance (€10,000 additional charge), front frame and base plate anodized upon request, one-off special models for an additional charge | Dimensions (W/H/D): 42/132/52 cm | Weight: 130 kg | Warranty period: five years | Price for pair: from €69,000
The stated retail price of the reviewed device is valid as of the time of the review and is subject to change.