Transported away on the Perfect Trip
For William E. "Bill" Low, it's always been about unadulterated pleasure. Having dis­covered his passion at a very young age, Low still finds getting high on music is the best way to relax.
The desire to enhance this pleasure is what sparked an urge in him to delve into the mechanisms of sound reproduction. In his initial experiments, Low would soon discover it only took a safety pin to elicit sound from a spinning record. He also learned it was possible to create a kind of stereo effect by simply placing two portable mono radios on either side of a listener in the left and right drawers of a desk. Later, he would also assemble radios and amps, first only for himself, then for classmates and fellow students who would pay him a few dollars for his efforts. He used the money he earned to upgrade his hi-fi equipment and to expand his music collection.
After finishing college, Low thought it only logical to apply his passion to making a living. He founded Executive Audio and, from his apartment in Ore­gon, sold hi-fi equipment to customers by appointment only. After garnering four years' experience as a retailer, Low found he could no longer resist the call of California and headed south in 1976. His plan was to establish himself as a representative for various hi-fi compa­nies in northern California; but, in con­trast to the general open-mindedness and liberalism of the Golden State, the local hi-fi business turned out to be re­markably conservative. Low discovered that the retailers in Southern California showed greater interest in new products and companies, however in the end he had to admit he simply lacked the professional talent required to convince seemingly skeptical retailers about the quality of unknown brands. So scarcely a year after his relocation to California, Low again launched an appointment-only business to sell hi-fi equipment from his apart­ment—this time in Santa Monica. Often shocked at the poor quality of cables used for speakers at that time, Low added high-quality, special­ty audio cable to the equipment Encore Audio would sell. Soon, retailers also became customers: With various producers starting to launch premium audio cables on the market in 1976, interest in cable was growing among those in the high-end scene.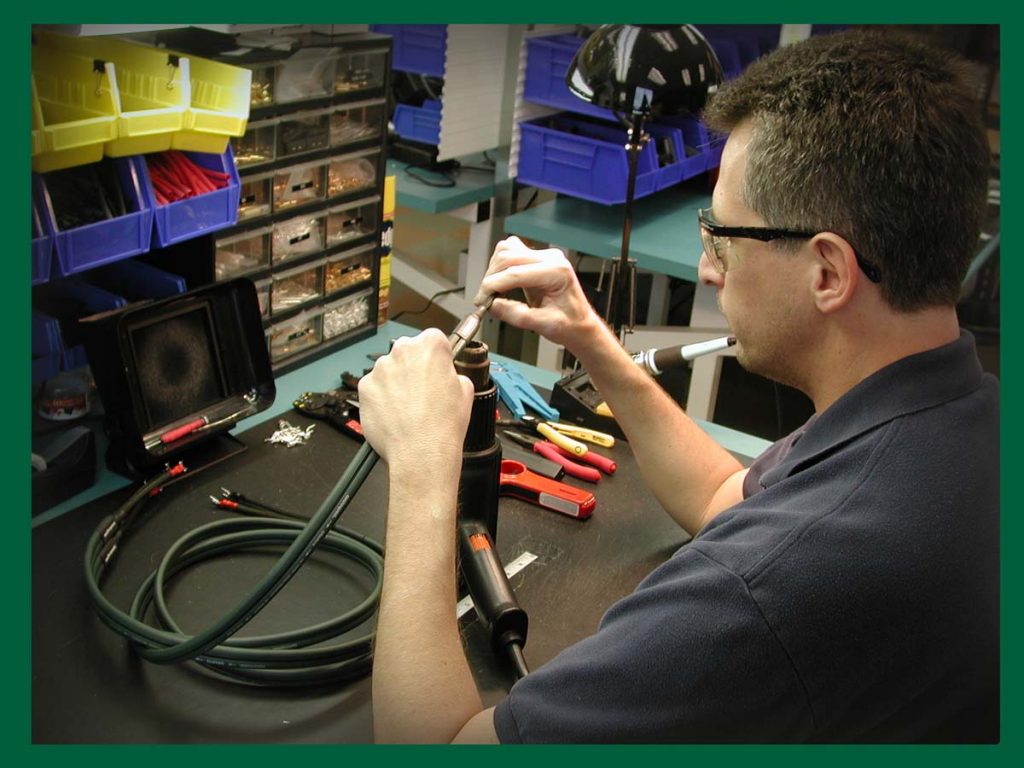 Turning his passion into a profes­sion back in 1972 would lead Low to the more or less unplanned deci­sion to establish the company Au­dioQuest eight years later, but this time with his own products. After all, this would make it much easier for him to convey his uncompro­mising passion to retailers. By the end of 1980, 42 stores in Southern California and one in Texas were selling his cables. The next year saw AudioQuest products being widely distributed in the United States and in several European and Asian countries. Today the company is active in about 70 countries around the world with Europe, including Russia, joining the United States and Canada as AudioQuest's most important markets.
An ideal audio system is character­ized by its ability to play back music exactly as it sounded when it was recorded. According to Low, this means the quality of the playback system's individual components, including cables, can be measured by the amount of interference or distortion they cause. While the hi-fi industry primarily focuses on signal filtering, the actual problem lies in preventing the addition of misinformation, such as previously nonexisting harmonies. Given that the ideal of a perfectly transpar­ent, realistic playback cannot . electronics, always follows an empirical approach, the same as he did in the early stages of his technical research into au­dio. Low's college studies ranged far and wide, laying the groundwork for both his ability and tendency to constantly learn new things and let his curiosity run of these discoveries was made essentially in passing when a subwoofer manufac­turer asked him to produce a heavier cable for his equipment: In doing so, Low identified an improvement in sound from enlarging the cable cross-sectional area by spiraling together four instead of the usual two conductors. Another time, Low was invited to a presentation by a speaker manufacturer.
After making a compelling demonstration of the quality of his cable, Low was inspired to further improve sound quality by shortening the signaling pathway and using a cable that was half as long. This, however, resulted in the unexpected deterioration of the sound. Closer observation revealed that the shorter cable had a softer PVC jacket than the longer one. In short, Low had inadvertently demonstrated the effect of mechanical stability on the audio signal. In 1987, Low wrote a paper titled "Cable Design: Theory versus Empirical Reality." In it, he outlined the basic elements that to this day still set the AudioQuest cable line apart from other cables: the massive conductors to prevent interaction between braids during signal transmission; the use of high-quality metals with few grain boundaries, smooth surfaces and a small amount of oxygen to make the sound as clear and detailed as possi­ble; effective adaptation of the conductor geometry to their function; and use of cable insu­lation to absorb as little energy as possible from the conductor's magnetic field and add it to the signal with a time delay. Further characteristics of the AudioQuest line include aligning the cable running direction with the cable's grain-structure-based direction­ality to generate a softer, more spatial sound as well as directly coating the plugs with silver or gold to prevent sound deterio­ration due to power reduction caused by intermediate layers containing nickel. The company boasts several in-house develop­ments, too: the Dielectric Bias System (DBS), which prevents absorption and emission of energy from the insulation by po­larizing molecules with a strong electromagnetic field, as well as the Noise Dissipation System (NDS), which features alternating layers of metal- and carbon-containing plastics that can absorb high-frequency disturbances before they reach the ground-based layer.
Over the years, the AudioQuest product line has been continuously expanded to include all types of audio, video, and digital cables as well as various accessories and even a D/A converter. One of the most interesting developments is the DragonFly USB DAC and head­phone amp that enables hi-fi-quality playback of all types of audio files from a PC up to a resolution of 24 bit/96 kHz. In 2015, AudioQuest announced the launch of its first headphone, NightHawk. Plans are also in place to introduce power products in the near future. The var­ious components for these products, which are designed by the develop­ment team in California, are manu­factured by specialized factories and suppliers from the United States and Europe as well as from Taiwan and China.
Despite the rapid expansion of sales outlets all over the world, company headquarters remained in Low's apartment in Santa Monica until 1985 when a move was made to San Clemente. Today, AudioQuest is headquartered in Irvine and has more than 100 employees worldwide. To better serve European markets, the company opened its first subsidiary outside of the United States in 2009. Like the Southern Californian headquarters, this location includes warehousing and product support as well as a portion of the company's cable-manufacturing. Another subsidiary was opened in Hong Kong the same year.
Volume up or down? A very quick interview with Bill Low where we wanted him to respond as fast as possible.
Volume up or down? – Whichever best suits the music and context.
Analog or digital? – Either, as long as the sound is analog.
Tube or transistor? – Either, as long as the sound is tube.
Vinyl or download? – Both.
Jogging in the forest or gym? – Forest.
Trends or tradition? – Both or either depending on the circumstances.
Tea or coffee? – Coffee.
Salad or steak? – Turkey sandwich.
Wine or beer? – Water and carrot juice.
Mountains or the sea? – Both.
Book or screen? – A real not-home­theater movie screen.
Jazz club or opera house? – Singer/ songwriter in a club-type venue.
Bach or Beatles? – Both … but better yet, Cowboy Junkies, Passenger, etc.
Wagner or Wacken? – See Jazz club or opera house?
Stand-by or plug out? – Leave it on! And, use tube amps with Octave's Eco circuit.
The stated retail price of the reviewed device is valid as of the time of the review and is subject to change.