McIntosh presents a reference level CD/SACD player and DAC with the new MCD12000.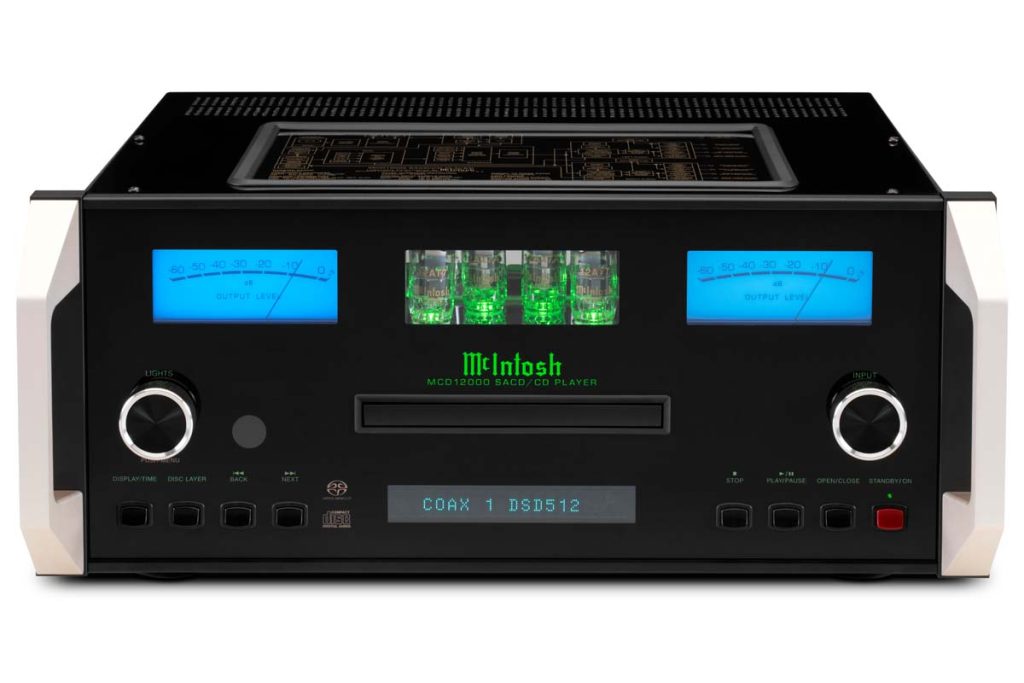 McIntosh proudly introduces the MCD12000 SACD/CD Player. While classified as a CD player, the MCD12000 serves as a reference level digital-to-analog converter (DAC) that includes reference level SACD/CD playback capabilities. Professional grade 8-channel DACs, designed for premium audiophile performance, handle the processing of music signals from the MCD12000's digital inputs or compact discs.
The MCD12000 offers both balanced and unbalanced fixed analog outputs in both solid-state and vacuum tube configurations. This abundance of output options offers flexibility based on music selection, the configuration of your home audio system, and personal sound preferences.
McIntosh MCD12000 Key Features
2 ESS SABRE PRO ES9038PRO 32-bit/8-channel DACs. Left and right channel both have their own dedicated DAC
ESS' patented HyperStream II architecture and Time Domain Jitter Eliminator
Separate digital and analog power supplies to keep power and audio signals free from cross contamination
Specially constructed R-Core power transformer to minimize noise radiation
7 digital inputs: 2 coax, 2 optical, 1 USB Type B for computer-based audio, 1 AES/EBU, and 1 MCT input
Coax and optical inputs support up to 24-bit/192kHz and the USB input supports up to 32-bit/384kHz, as well as DSD512 and DXD384kHz
All outputs are driven by discrete amplifiers or a blend of vacuum tubes and discrete amplifiers
1 12AT7 tube and 1 12AX7A tube for each the left and right audio channel
Solid-state output is via a discrete balanced op-amp
Included digital coax and optical output for added system flexibility
The disc transport has a precision die-cast aluminum tray that provides smooth and quiet disc handling; An advanced digital servo provides fast, quiet, and accurate operation
Roon Tested designation from Roon Labs
Timeless McIntosh looks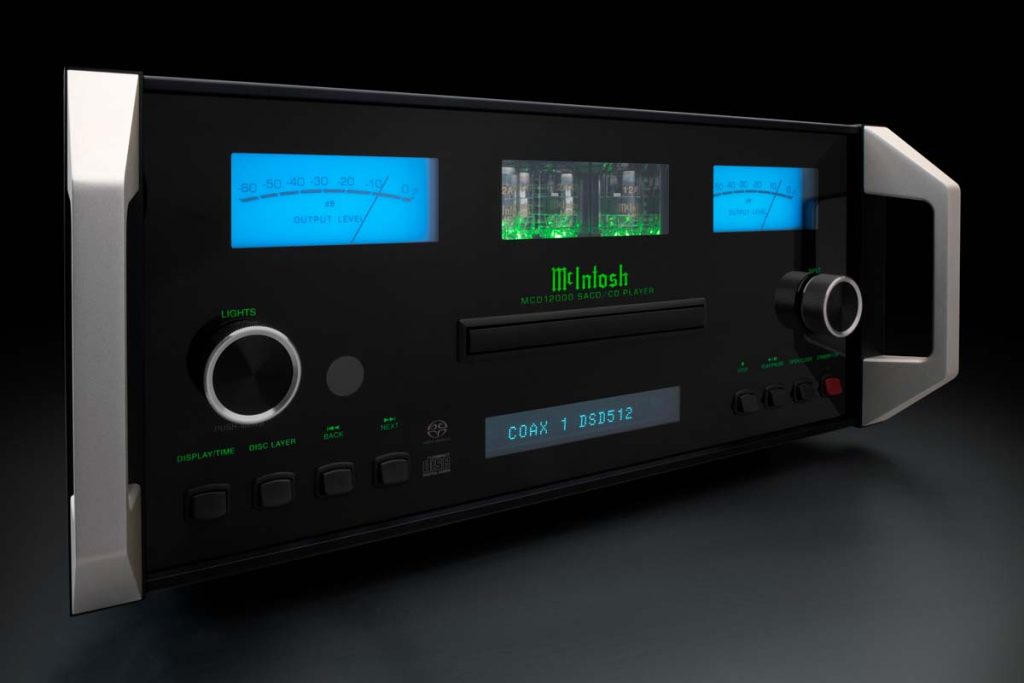 The MCD12000 embodies the classic McIntosh styling, boasting stainless steel with hairline brushed black titanium that matches the company's C12000. The front of the unit features the brand's timeless black glass panel, illuminated logo, control knobs and controls, moving meters, as well as custom machine-brushed aluminum handles. The top includes a glass panel listing performance specs and a block diagram of the audio signal path. A pair of 60dB output meters show the signal level delivered from the analog outputs of each channel. While your preamplifier, integrated amplifier, or other control device controls the volume, the meters on the MCD12000 will respond to the music played through it and move back and forth accordingly.
Pricing and Availability
The MCD12000 can now be ordered at authorized McIntosh dealers. Shipping will presumably begin in May 2022 to the United States and Canada, and to the rest of the world shortly thereafter. Suggested retail price (excluding VAT, shipping and any customs duties related to current standards of individual countries): $12,000 USD.
The stated retail price of the reviewed device is valid as of the time of the review and is subject to change.