For music to be in harmony wit Hegel's concept of the unfolding of truth, it needs to be pure and uncompromising. And this is precisely what the Melco's outstanding N10 two-box streamer provides.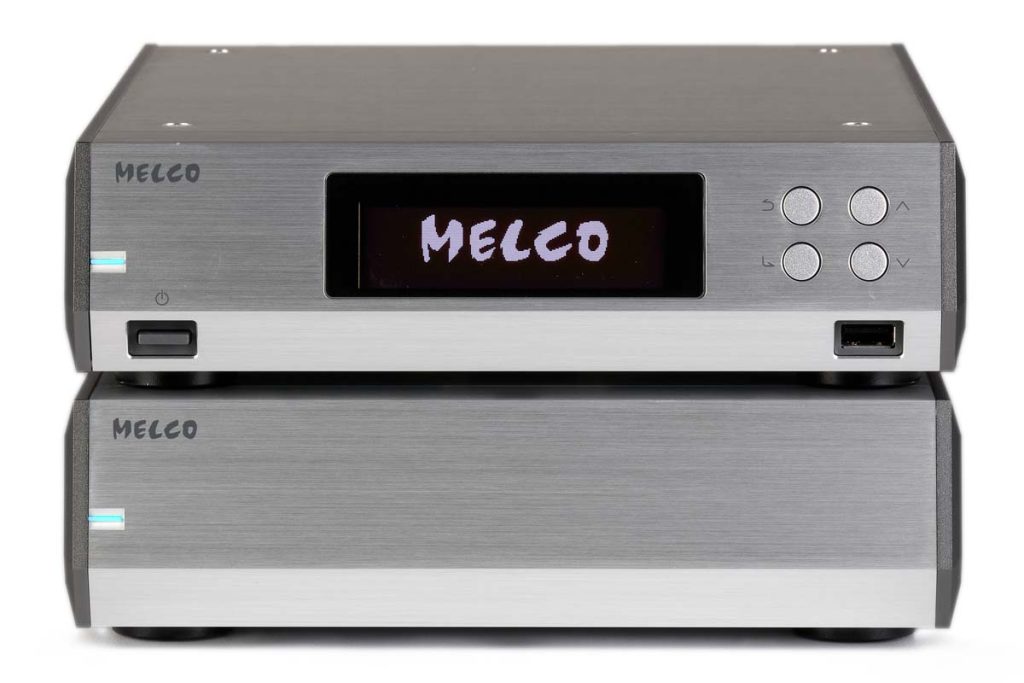 The digital music revolution aroused so many expectations. A simple push of a button would be enough to unleash thousands of music files to assail a listener's ears. But each time we refuse to be satisfied with the mediocre and instead seek the exceptional and remarkable, we are reminded that little of this original promise remains. What we are searching for, of course, is the ultimate listening experience, a purity of music divorced of all disturbing influences. And this is when we come to realize the extent to which the dreams of digital simplicity have evaporated. Confronted by a jungle of sampling rates, converters, players, and storage devices, we're forced to recognize that the devil is still in the detail, and a simple push of a button has transformed into a major construction site. That's why we're delighted by any attempt to clear the debris cluttering up a simple path to musical enjoyment — and this is where Melco's products come in.
From analog to digital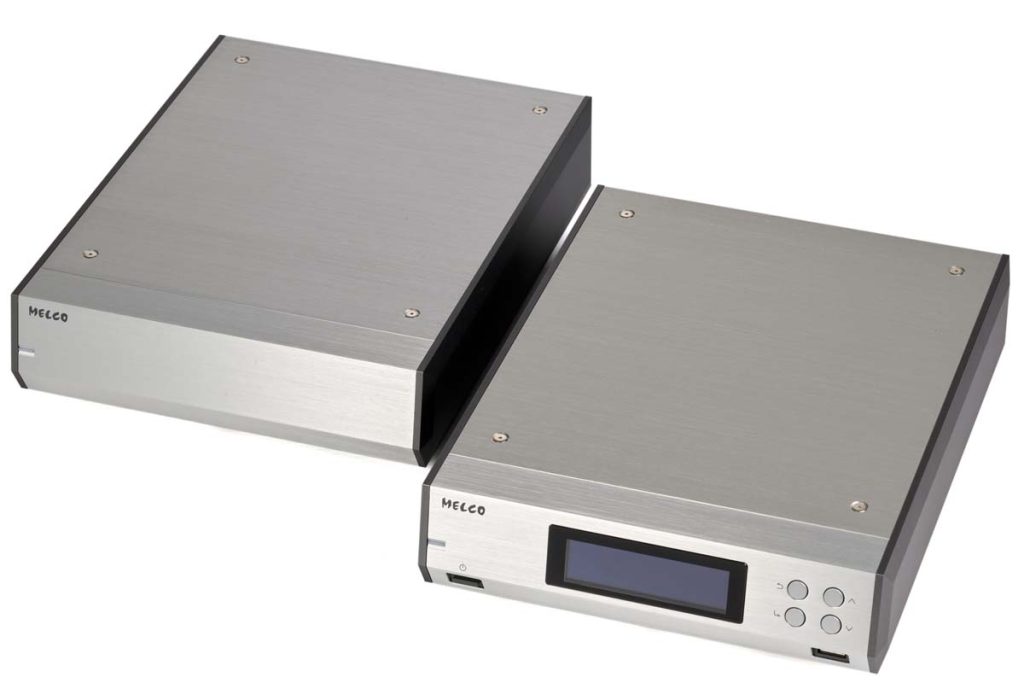 Melco was founded by Makoto Maki in Japan in 1975. An enthusiastic audiophile, Maki established the company so he could implement his own ideas and expectations about good sound. The company's four-part turntable systems are the stuff of legend — the combination of platter, mat, base, and motor unit weighing a hefty 110 kilograms. Building on these beginnings, Melco widened its product portfolio to become a major manufacturer of computer peripherals. Buffalo Inc., a famous name in hard disks, Ethernet data switches, and storage devices such as NAS drives, is now a Melco subsidiary. The route from its nonsuspended turntables to its current streaming devices was therefore clear and logical for the Japanese company. And while traversing this path, it has continued to pass down Maki's firm belief from the original analog days that the music source is the most crucial component in a hi-fi system. The latest N10 product development consists of two units: the separate, imposing linear power supply unit that ensures the head unit receives stable, interference-free power, and the head unit itself, which is responsible for processing input files and which also boasts a large storage capacity of its own. Extremely robust construction makes certain no vibrations influence the units' inner workings. Melco's N10 carries no supplementary device designation because it's not exclusively a streamer or a network player: Depending on the configuration, the N10 can assume different roles within a hi-fi system — as a UPnP server via the streamer or as a DAC player connected over the USB.
Cleaning up communication signals
But what exactly is so special about Melco's approach? Alan Ainslie, a celebrated veteran of the digital music scene, has been working for Melco for the past four years. In our interview with him (see below), he continuously stressed that the Melco devices were not audio devices in the precise sense of the term. No, their primary purposes are to process, arrange, and synchronize data packets before they are sent to the DAC — that is, before the digital signal is converted to analog audio signals. Most conventional IT-based music servers establish a connection between the home network and the music equipment over the router. This also means, however, that interactions occur between the audio files and all other communication signals within the network, which causes inconsistencies in the real-time data flow. To prevent this, one of the N10's two Ethernet ports is connected to the network to receive this chaotic and polluted data traffic.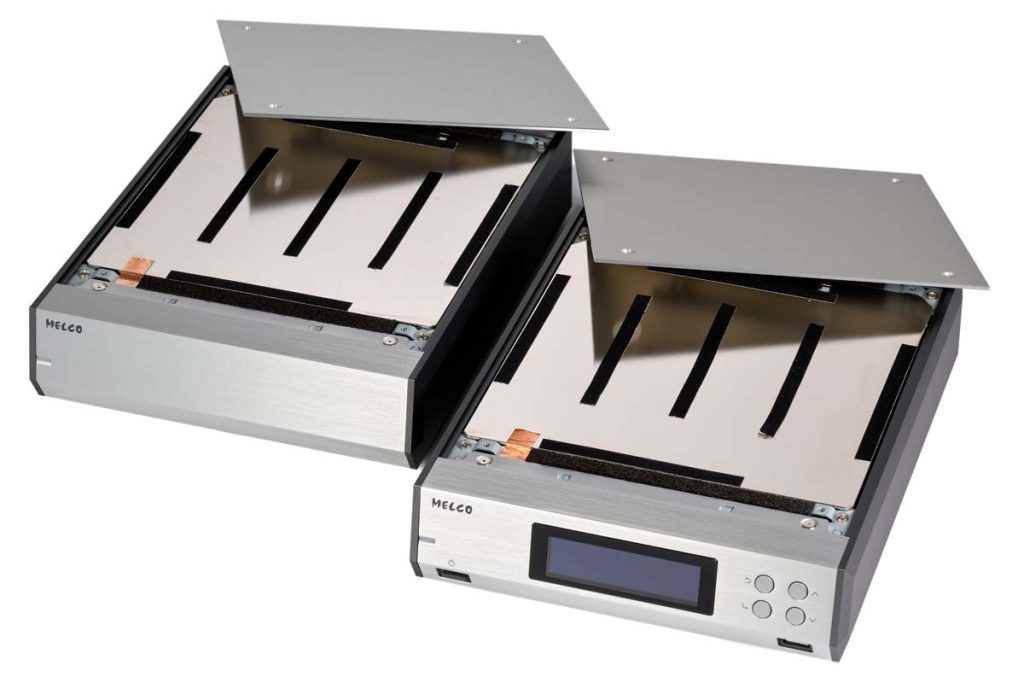 After having been filtered and, more importantly, reclocked, clean traffic is passed on to the actual network player over the second Ethernet port. This not only benefits NAS files, but also in particular streaming packets originating from popular platforms such as Tidal or Qobuz. It's also possible, of course, to do without an additional network player and use the N10 as a player connected directly to a DAC. Another possibility is to take the direct route and import the music onto the N10's internal hard drive. And here's where the benefits of having essentially in-house components come in: Melco has been able to equip the N10 with carefully selected vibration-free Buffalo HDDs.
No computer skills required
The N10 is operated from a tablet computer using a dedicated app while also offering audiophiles with limited computer skills the option to easily control operation of the device using the buttons on the head unit. A hi-res display permits users to navigate confidently through the menus. A highlight is the specially developed Melco Intelligent Music Library, where the latest firmware facilitates particularly user-friendly operation. Classic fans will appreciate the special formatting that streamlines access to information such as opus, composer, and performer. It's superior to conventional library systems with their frequent tagging problems. And connecting to Roon is possible as well. It goes without saying that the N10 is also able to access Tidal, Qobuz, and internet radio.
After a comprehensive introduction to the device from Ainslie and Mika Dauphin from the German distributor Drei H, I started my sound experiment with the N10. As Melco has chosen to omit Wi-Fi support due to the potential interference problems and has opted instead for direct Ethernet and USB connections, I decided to also take a more direct approach by storing about a dozen album files on the N10's internal hard drive. At this point, I decided to use my Schiit Bifrost as a DAC. I also connected the M 903 studio converter from Grace Design to my Mac mini so I can later compare the N10's player capabilities with those of a Mac-DAC combination that uses a Wi-Fi link to my Fritz!Box. Attempting to identify the possible negative influence of communication signals within the network, I listened to my chosen files not only from the internal hard drive, but also from my NAS and streamed from Qobuz.
Limitless sound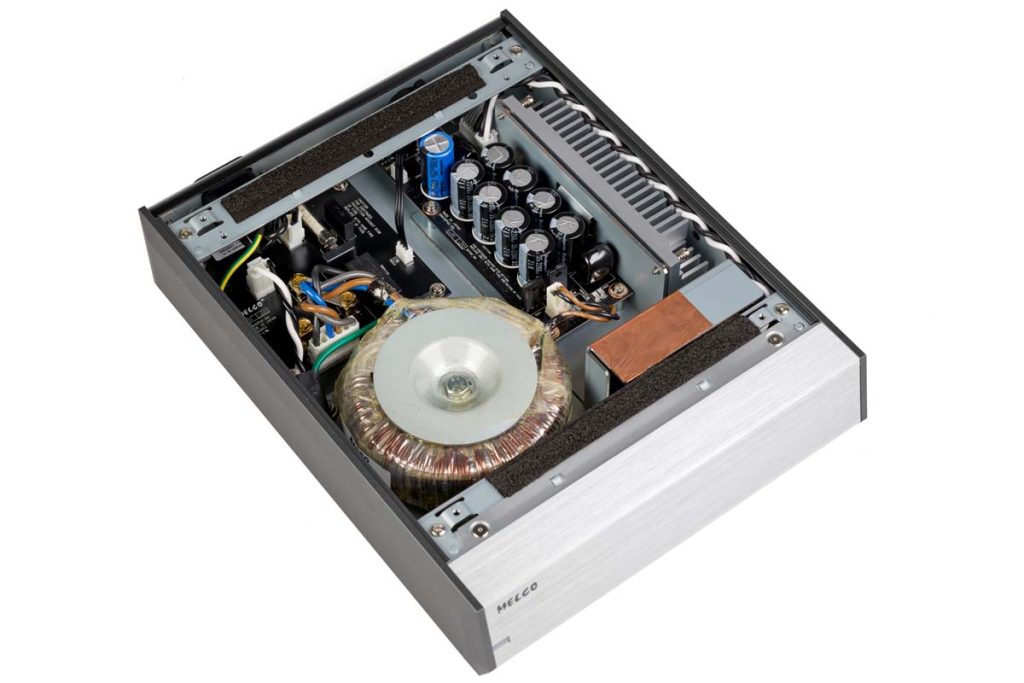 Experience has taught me that sound variations among different models of modern high-quality DACs are considerably more limited than, for example, the differences found among cartridges of a similar quality. The Schiit, for instance, sounds minimally more euphonic than the analytical and neutral device from Grace Design. So with the signal passing through the Melco device, I listened intently and found myself surprised to discover the differences between the two converters were greater than I remembered them to be: The original situation had practically reversed. Up to that point, the Mac mini with Audirvana had to have been hiding its true qualities as a player. When making comparisons of this kind, I like to use "Turkey Trot" from Leonard Bernstein's Divertimento for Orchestra. It's a piece of music I've not only employed hundreds of times to compare devices, but also one with which I have modest experience playing myself — in the woodwind section of the university orchestra. The piece boasts wonderful depth gradation between massive percussion equipment and well-mannered clarinets and oboes with repeated interruptions by strident brass instruments.
Listening to the N10's data converted by the Schiit, the instrument gradation appeared almost like a holographic projection: The room grew three-dimensional, and the depths of sound plumbed by the trombones and tuba felt like low blows to my stomach. When I converted using the Mac-DAC combination, the data packages also delivered a lively orchestral display, but with less of a spatial quality, not as precise in terms of depth gradation, and somewhat more restrained overall. The Schiit device suddenly outplayed the Grace Design unit in terms of precision and spatial reproduction. This also proved true when streaming from Qobuz: I could hear no difference between this stream and the internal hard drive file.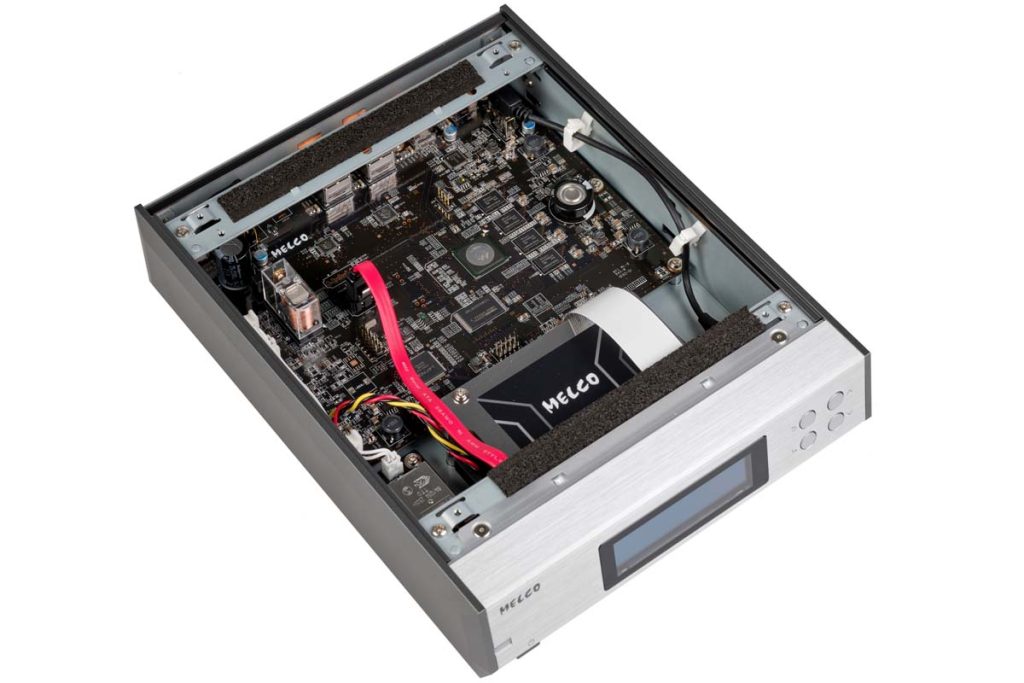 The first conclusion I could draw from this listening session was that we had something of a luxury problem: If we used the N10's radiantly clear data stream, we would also need to carefully choose the DAC we employed. Any small differences among the devices would become immediately apparent. Users should therefore put some time and effort into finding their optimum DAC partner for the N10. By this point in my listening experiment, I got a bit curious about how the Melco would sound with a relatively simple DAC. A few weeks before investigating the N10, the small SDAC from Grace Design, which stems from a collaboration with Massdrop, came into my possession.
Without its own power supply unit and only capable of decoding files up to 24/96, it appeared to be a typical example of those $99 converters that have now become popular and can be easily plugged into a laptop at the office. But even when put to the test in regular operation, this unassuming, pint-sized device has shown it stems from a professional studio environment and is far more than just a simple toy. So when the SDAC was fed with the clean, precisely clocked data from the N10, the little black box became a thing of wonder. It performed as if it'd been waiting all its life for such a wonderfully synchronized data stream, suddenly producing a sound of totally unexpected quality.
I decided to switch to some good-mood music, streaming fusion legend George Duke from Qobuz to a T+A DAC 8. In contrast to the sound I'm familiar with when streaming via the Mac mini, the hi-res files from The Aura Will Prevail appeared a touch lighter and freer. The pristine data from the Melco device underscored the rhythmic skills and nuances of the drummer, stealthily causing the otherwise straight funky beats to falter momentarily. It did this with such a degree of precision that I had to ask myself why I've been forced to endure such timing distortions with this album stream in the past. It must be said that each of the DACs I tested, regardless of whether it cost €100 or €3,000, benefited from having the N10 as the player. Which brings us back to the old adage that the source of any musical reproduction is the factor that defines its overall quality.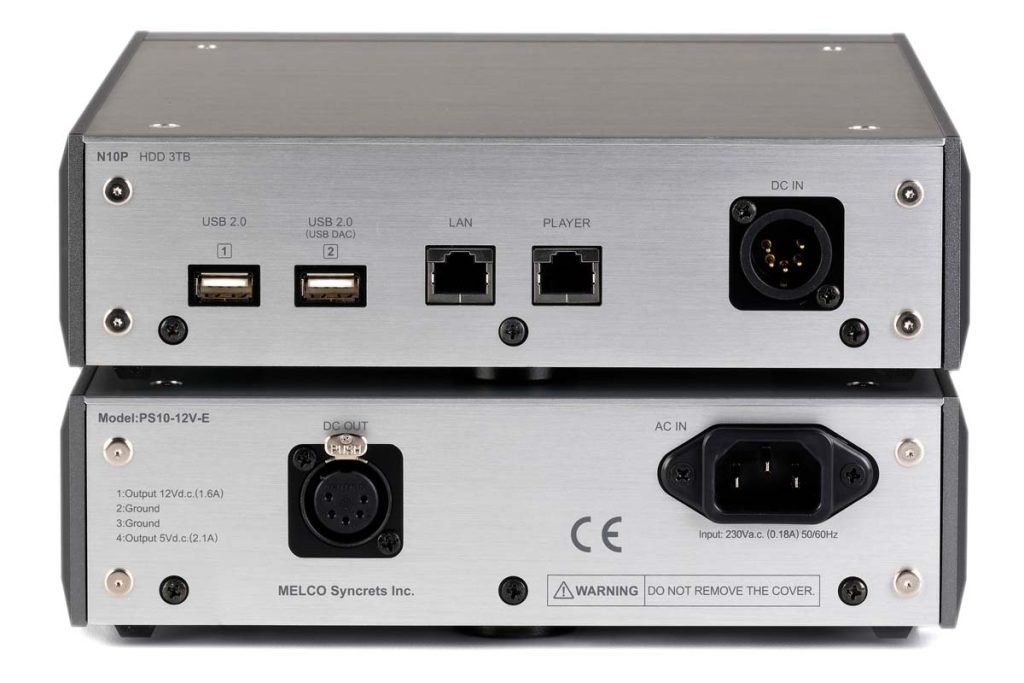 A refusal to compromise pays off
Melco's N10 is definitely an uncompromising device aimed at uncompromising users. It targets high-end enthusiasts who are in search of a purity of sound but have no wish to give up the convenience of a user-friendly, innovative music library. Any audiophile opting for the N10 will experience the essence of music — "art for art's sake" on an auditory plane. So we've actually come around to understanding Hegel's maxim: Music is an unfolding of truth. And all you need to grasp this truth is a Melco N10.
---
Exclusive Interview with Hi-Fi Industry Veteran Alan Ainslie
IT'S THE DATA THAT MATTERS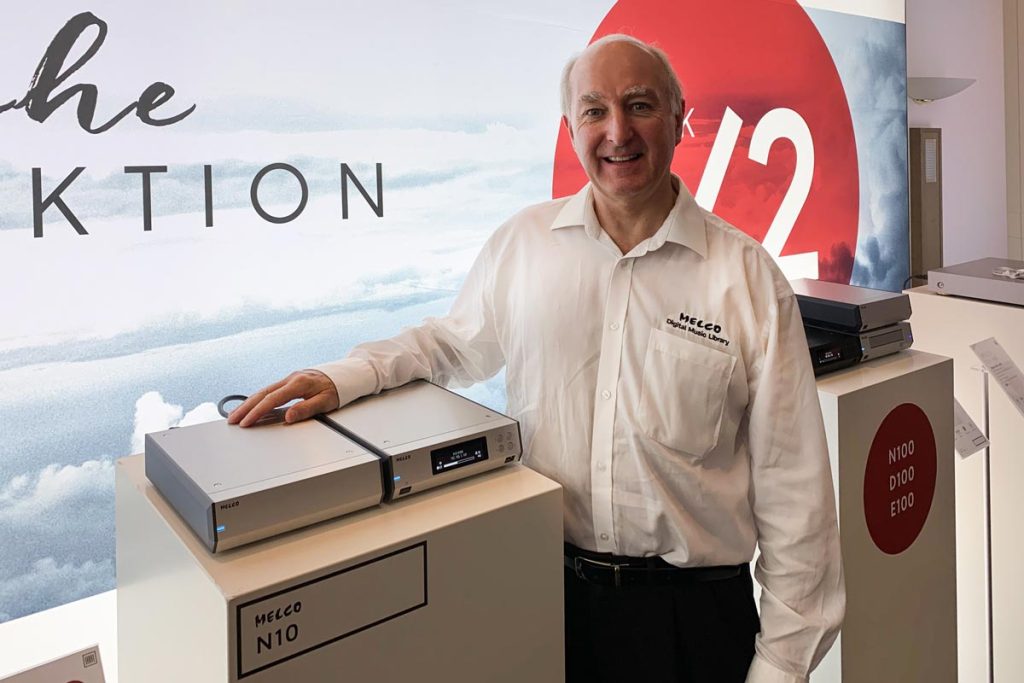 On hi-fi's long march from analog to digital, Alan Ainslie has been continually at the forefront. At Technics in the UK, he was responsible for the massive success of the legendary 1200/10 (and has many wonderful stories to tell about this period). Taking an increasing interest in the nascent digitalization of music reproduction, he became a member of the committee that defined the Red Book standard for CDs. After spending some time developing network solutions for Naim, he moved on to become general manager of the Japanese company Melco about five years ago. Our author Roland Schmenner was able to meet up with Ainslie in Berlin this July. They spoke about what the digital future will bring to the high-end sector.
FIDELITY: You were once involved in defining the Red Book standard. As a veteran of digital hi-fi, can you please explain why you believe Melco isn't really an audio company?
Alan Ainslie: You have to remember that although digital audio existed before the CD, computer devices were always an indispensable element of the process. The advent of the CD changed this to an audio device — that is, the CD player. But the moment we switch from scanning a physical medium to streaming data packages, we're back to requiring IT equipment again. The devices from Melco supply optimized data, and, strictly speaking, have nothing to do with audio. We're data engineers who see it as our mission to solve specific problems having to do with computer-based music reproduction. Even if this sounds somewhat contradictory, Melco is a hi-fi company that actually doesn't do audio. We enable DACs and streamers to operate more efficiently and make their work easier to a certain degree. This is, however, a purely IT-based process, even though it does improve the sound later on in the process.
Does this mean you regard analog and digital audio as separate worlds?
Not at all. At least not for proponents of the "source first" philosophy. In the world of hi-res and digital, source first means that digital engineers are necessary at the outset to ensure the downstream DAC engineers receive the accurate, clocked data they need to produce correct analog signals. Once a digital data stream has been polluted, no DAC in the world can remedy the situation.
It would seem that streaming platforms like Tidal and Qobuz are also going to be the future for the discerning music fan. Which particular sound quality problems do you see here?
For one thing, the situation is fundamentally the same as for network-based music playback. If you use a PC or something similar to listen to music, you're creating a bottleneck that really restricts what you can finally achieve. With a conventional NAS, and all the more so with Tidal or Qobuz, you have no control over the data flow. The data packages from Tidal pass through countless servers on several continents before you get them — servers chosen purely for their cost-effectiveness. Although the data streams are in a chaotic state when they arrive, most network players or PCs are able to restore them to an adequate level, but not a perfect one. A device like the N10, however, rebuilds the data in the original sequence and reclocks it if necessary before passing it on to a network streamer or player or a USB-DAC. This brings a significant improvement in sound quality.
I remember a conversation I had with Qobuz's country manager in Germany when they were just starting out. We mainly discussed how to find particular classical works and the incomplete metadata that causes problems in the assignment of opus to performer. I encounter exactly the same difficulty when I'm looking for a specific recording of Wagner's Rheingold on my NAS.
Do you see any solutions to this in the near future?
When you're looking for a particular CD or LP, you search through a collection on your shelves that you organized according to your own individual classification system. But searching through a digital library is much more problematic than looking for a CD at home. Three main issues are involved: The metadata (equivalent to the information on the spine of the LP or CD), the UPnP server (equivalent to your shelf layout), and the control app you're using for the search. The basic problem now is that the metadata is often incomplete and imprecise, causing the UPnP server to have no concrete idea of how to manage the metadata. In light of the complexity and quantity of information provided with an album of classical music, total confusion ensues for both the control app and the user. Classic can't really be forced into the old CD template of "performer, title, track list." After all, nobody told Mozart that he had to write his music so it would fit perfectly onto a 74-minute CD: We sometimes find two of his piano concertos on one CD. So there can be several works on a single album or a single work, such as an opera, spread over several CDs. Optimized software is the only possible answer to this problem. At Melco, we've been able to combine the efforts of two excellent software providers: SongKong, which is responsible for resorting the metadata, and MinimServer, which make a special UPnP server software that interprets the metadata with a high degree of precision. Users can specify whether they're searching for rock and pop, jazz, or classical music, with the browser completely different in each of these cases. There's also the option of creating user-defined browser trees — for electronic music, for example. We believe this approach has optimized the search function significantly.
Before we finish, could you give us a brief glimpse into the future of music enjoyment for the discerning listener? Can we expect any significant improvements?
What will be important moving forward is collaboration between the hi-fi industry and the record industry AND data engineers. We've already managed to reach an extremely high level, and even a CD in 16/44 format can now deliver excellent sound. But improvements can still be achieved when all three of the above work closely together.
---
Accompanying equipment
SACD player: Denon DCD 2000AE | Turntable: Technics 1210 MK II (modified) | Tonearm: SME 309 | Cartridge: Clearaudio Concept MC | Phono preamplifiers: Audionet PAM, ifi Phono | Streaming: Mac mini with Audirvana Plus | DAC/headphone amplifier/preamplifier: Grace Design M 903 | DAC: Schiit Bifrost, T+A DAC 8, Grace Design SDAC | Headphone amplifier: Schiit Valhalla | Power amplifier: Yamaha P2500S, Luxman M03 | Integrated amplifier: Cyrus Straight Line | Passive loudspeakers: Magnepan 1.6, Dynaudio Confidence 20 | Active loudspeaker: Neumann KH 80 | Headphones: Focal Utopia, HIFIMAN HE-400i | Cables: Van den Hul, Voxox, Sommer, Guerilla Audio | Accessories: Oyaide, Oehlbach
Music server
Melco N10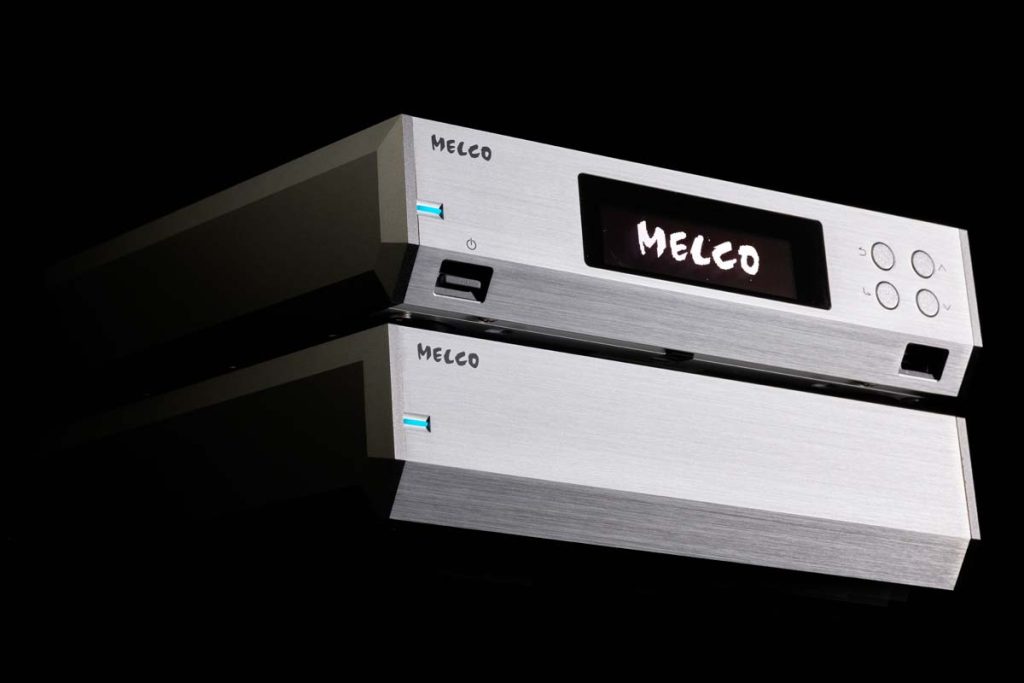 Storage capacity: 3 TB HDD (selected) | Separate Ethernet ports: LAN/player | Casing: metal housing with aluminum front panel | Power supply: separate linear PSU | File formats (server): DSF, DFF, FLAC, WAV, ALAC, AIFF, AAC, MP3, WMA, OGG, LPCM | File formats (player): DSF, DFF, FLAC, WAV, ALAC, AIFF, AAC | Sampling rates (server): 44.1 KHz, 48 KHz, 88,2 KHz, 96 KHz, 176 KHz, 192 KHz, 384 KHz (PCM) 2.8 MHz, 5.6 MHz, 11.2 MHz (DSD) | Sampling rates (player): 44.1 KHz, 48 KHz, 88.2 KHz, 96 KHz, 176 KHz, 192 KHz, 384 KHz (PCM) 2.8 MHz, 5.6 MHz (DSD), 11.3 MHz | Bit rates: 16–32 bit (PCM); 1 bit (DSD) | Media server: Twonky Media Server optimized for Melco | Dimensions (W/H/D): 22/6/27 cm | Warranty period: two years | Price: approx. €7,500
The stated retail price of the reviewed device is valid as of the time of the review and is subject to change.