I spent a lot of time in Philadelphia when I was a graduate student at Rutgers University.
Philadelphia's Vibrant Vinyl Scene was originally published in Copper Magazine Issue 180
FIDELITY cooperation with Copper Magazine.
Read this article also in Copper.
It was an easy trip from New Brunswick, New Jersey to central Philly because the house I shared was located conveniently down the street from the Northeast Corridor rail lines – I saw every train running between Boston and Washington D.C. from my bedroom window. On my days off I hopped the Amtrak train to the 30th Street Station and then boarded a subway to City Hall. With an extra large coffee from Wawa, Pennsylvania's beloved convenience store, I spent hours wandering the streets, eating local specialties, and shopping in the charming city before returning to New Brunswick.
Between 2000 and 2015, most of the concerts I attended were at the landmark family-owned Trocadero Theatre in Philadelphia's Chinatown. My best friend worked in the back office and welcomed an eclectic lineup of bands. I went for the metal acts, but the 1,200-seat venue has hosted Fugazi, Moby, Beastie Boys, Blue Öyster Cult, Chick Corea, Vince Gill, and Bob Dylan. The Troc has been in a state of hibernation since 2019 due to stiff competition by big corporate venues, but hopefully the building once known as the Arch Street Opera House back in 1870, and also functioned as a burlesque and vaudeville house until 1970, will again host bands. Nevertheless, The Troc is a reminder of Philadelphia's undeniable role in American popular music.
In the post-War years of the 1940s, there was a large influx of jazz musicians entering the nascent bebop scene – John Coltrane and Dizzy Gillespie both moved to the birthplace of Stan Getz and Charlie Biddle. Early rock and roll sprang out of the suburbs of Philadelphia, starting with Bill Haley and His Comets with "Rock Around the Clock" (1954), released two months before Elvis Presley's "That's All Right." There were also Fabian, Bobby Rydell, Frankie Avalon, and Danny & the Juniors ("At the Hop" in 1957 followed in 1958 by "Rock and Roll is Here to Stay"), all of whom could be seen on American Bandstand, broadcast from Philadelphia.
The 1960s was the start of Philly soul and proto-disco spearheaded by Kenny Gamble and Leon Huff, a songwriting and production team who formed Philadelphia International Records in 1971. Their artists, the O'Jays, Harold Melvin & the Blue Notes, Teddy Pendergrass, the Jackson 5, and Patti Labelle were regularly featured on Soul Train. Modern acts include Hall & Oates, G. Love and Special Sauce, The Hooters, the Roots, Kurt Vile, Schoolly D, Boyz II Men, and hair band Cinderella. With all this history, it's no wonder Philadelphia has so many repositories for music. During my most recent visit, I checked out some of Philly's many record stores.
Before my trip, an online search revealed nearly two dozen shops in Philadelphia and several close to City Hall and Reading Terminal Market. I walked, but a car can get you to some real gems outside the city center. With enough time, money, and comfortable shoes, a trip to Philly can make for a great haul – just be prepared for store cats, fluorescent lighting, and some cramped spaces. Below is a random list of stores I visited.
Rustic Music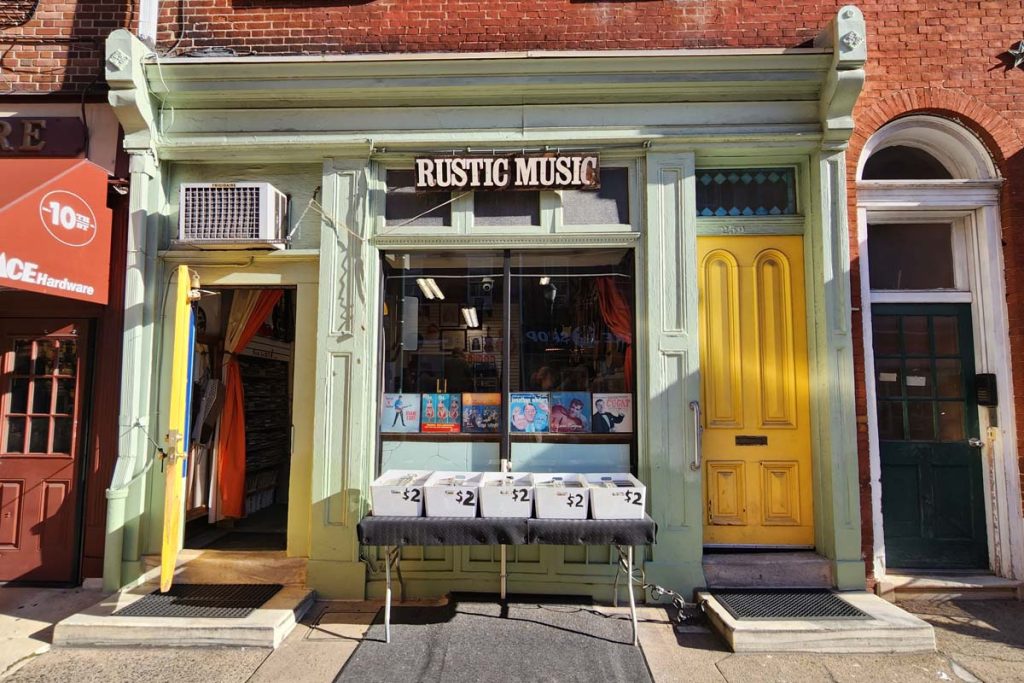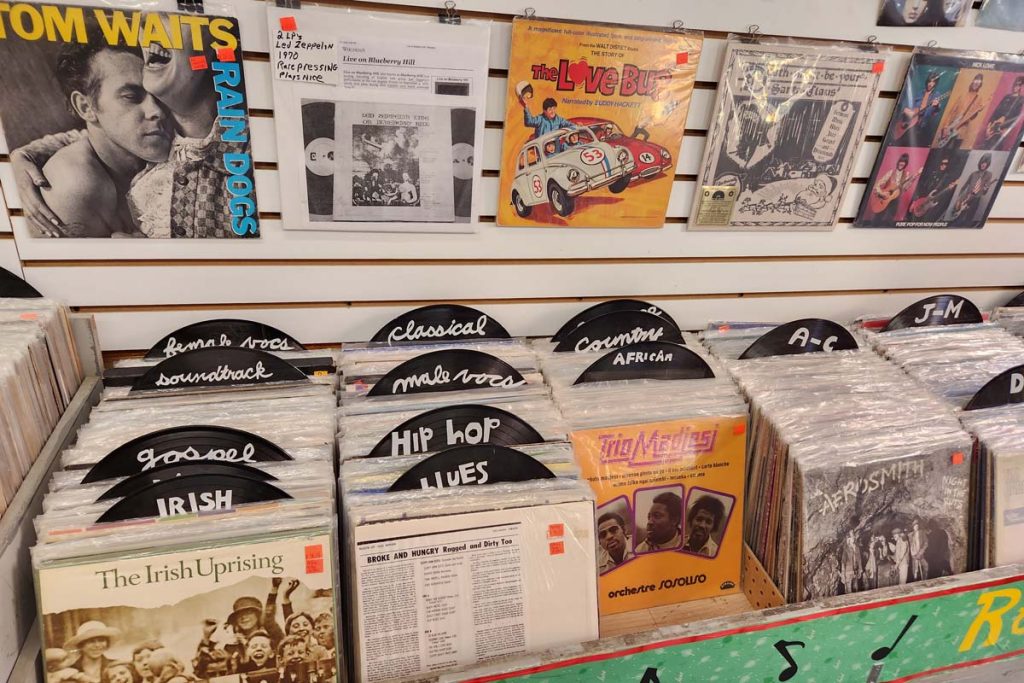 Rustic Music started as a music store and it still has assorted equipment for sale. Rustic features vintage records, a healthy $2 record selection, bins of CDs, and velvet paintings of Elvis. I spoke with Bernie Carville, the man on duty and a collector in his own right, about the state of vinyl retail these days. Above all, he said that wholesale new vinyl is very expensive and people are holding onto their collections rather than minimizing them. The limited shelves were cleaned out after Christmas, but there were still some finds: The Meters' At Rozy's (1981), and Live on Blueberry Hill (1970), a bootleg recording of Led Zeppelin's show at the Los Angeles Forum.
Rustic Music
259 South 10th Street
(215) 732-7805
www.rusticmusic.com
Wooden Shoe Books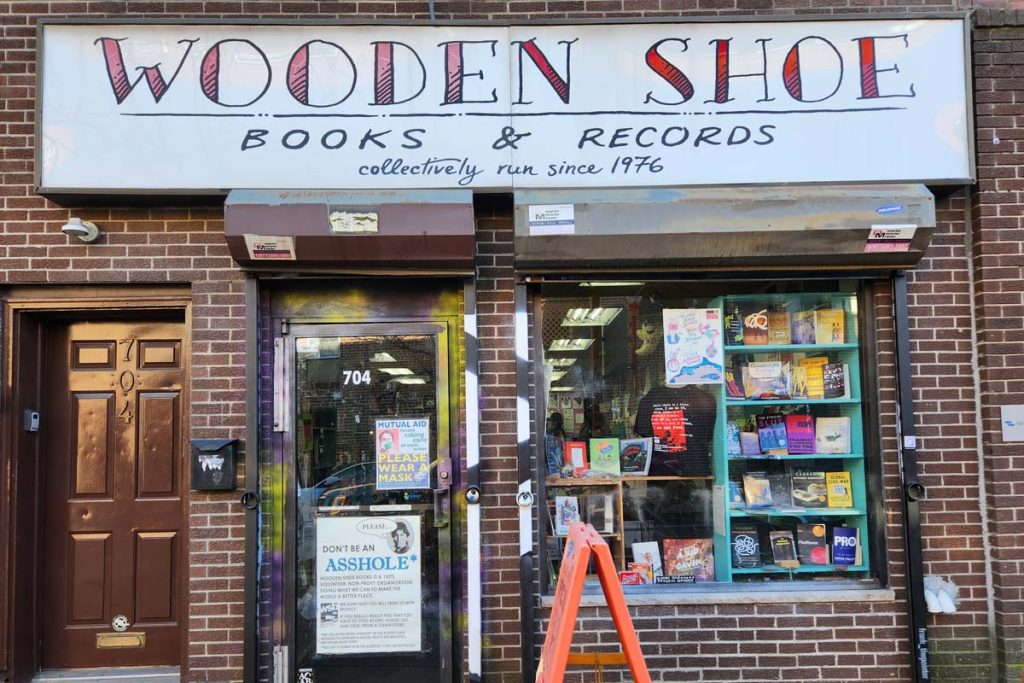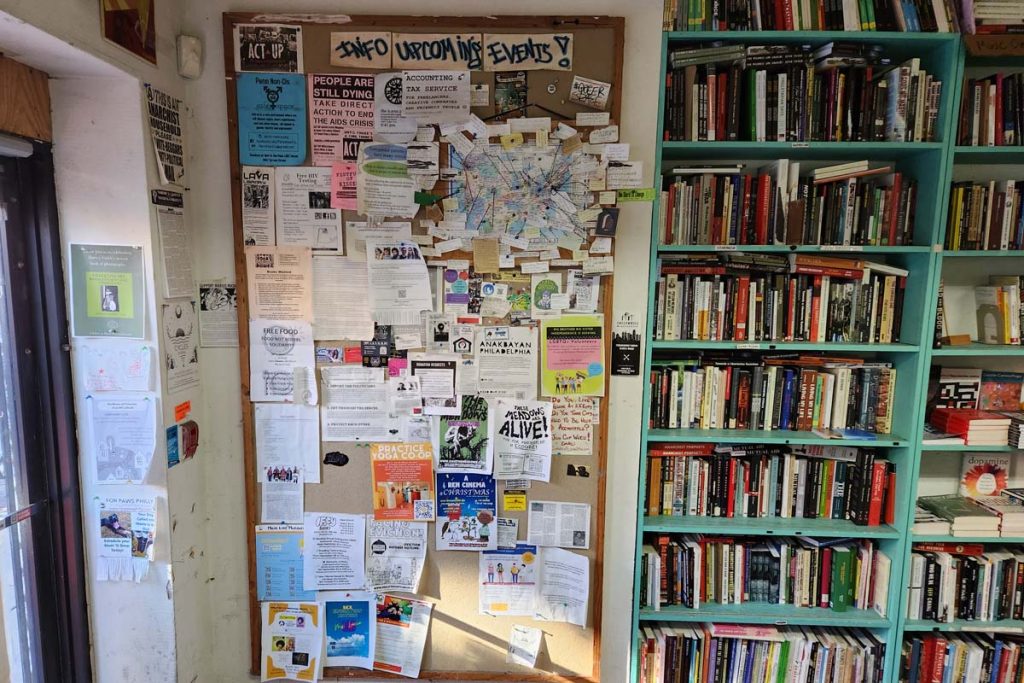 Wooden Shoe Books is where political science majors browse for deep cuts by Noam Chomsky and Howard Zinn among hand-printed anarchist "zines." Although records are not the focus, it's good to know members of the collective handpick cool sounds and keep prices reasonable. J Dilla Ruff Draft (2003) and The Standells, Try It (1967) each cost $19. Adding to the vibe of the store was the volunteer behind the counter who would not disclose his first name or allow me to take his picture.
Wooden Shoe Books
704 South Street
(215) 413-0999
www.woodenshoebooks.org
Repo Records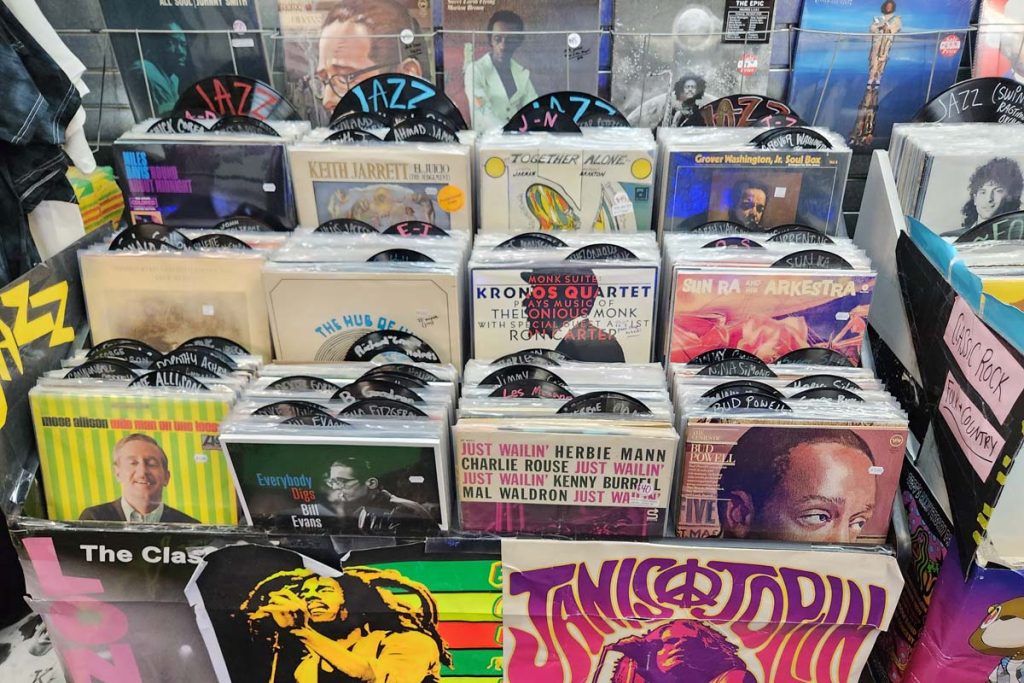 Repo reminds me of old-school shops of my youth with its posters, patches, stickers, and even incense. Dan Matherson has been running Repo in different locations for 35 years, and that might be why the selection is so dense and varied and includes new and used records, cassettes, as well as a local music section. If you don't know what to buy, there are handwritten staff picks at the register. The store was busy with a young crowd represented by large number of female customers. Repo was also the only store with an all-female floor staff, which is refreshing in the vinyl world.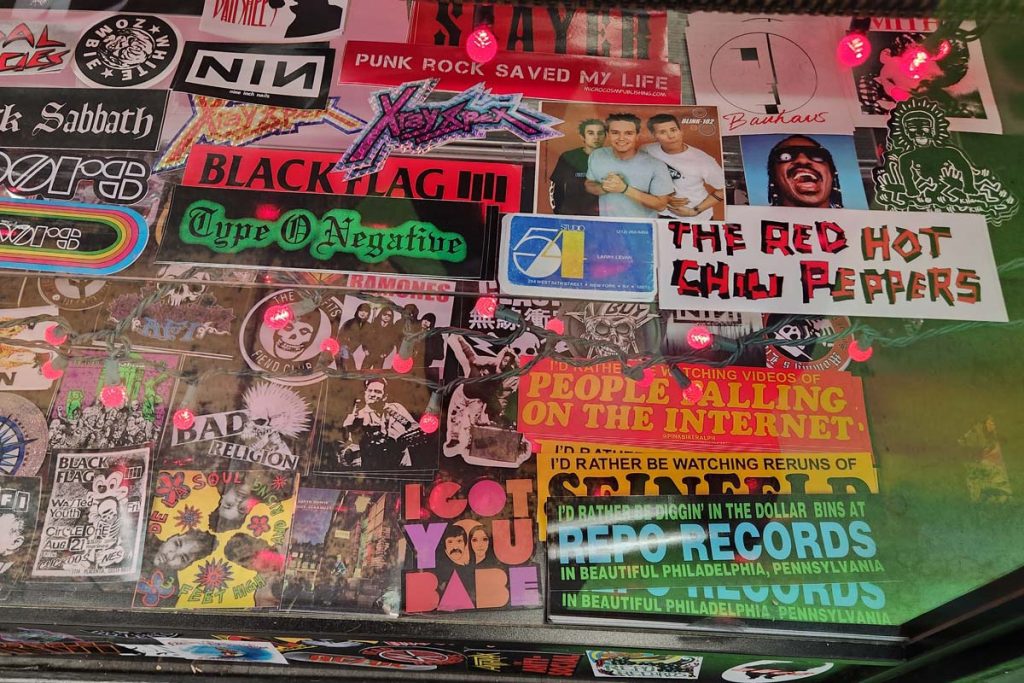 Repo Records
506 South Street
(215) 627-3775
www.reporecords.com
Cratediggaz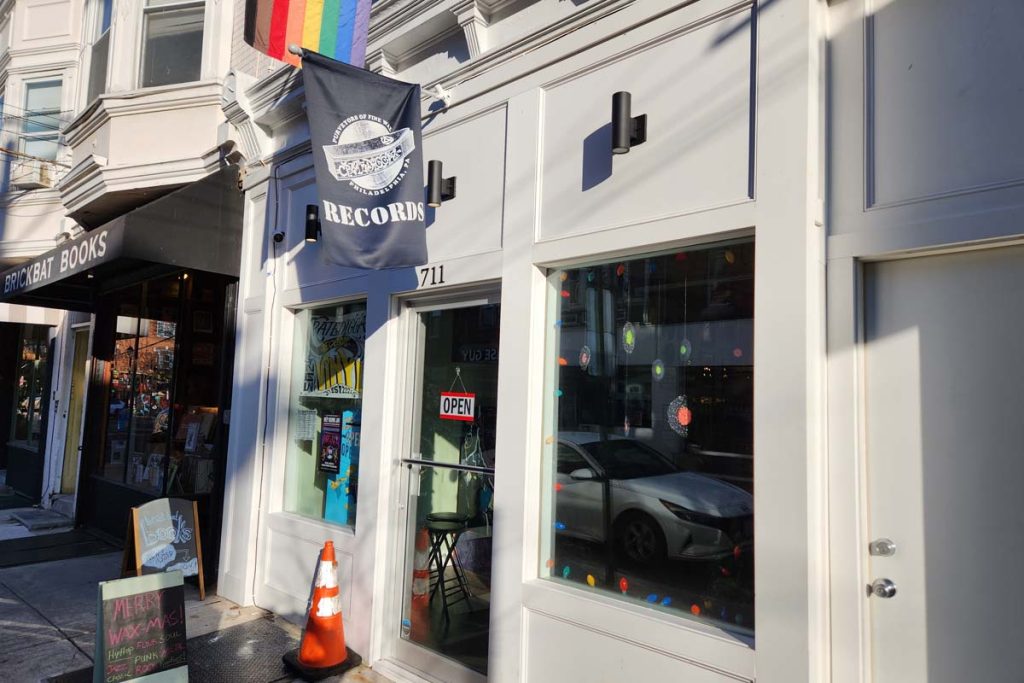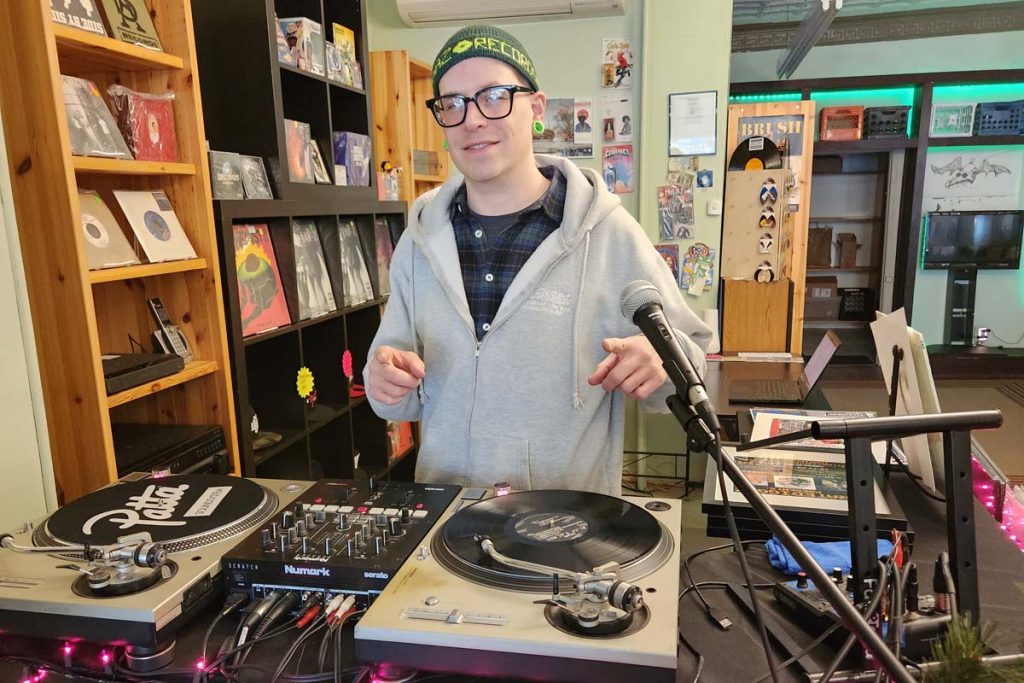 CD Bob opened this store about a year ago in the former garment district storefront. The space is ample, with tin ceilings and a beautiful wooden plank floor. Cratediggaz is the place to come for everything hip-hop, but there's also plenty of blues, jazz, rock, and dope T-shirts. Unlike some other shops, Cratediggaz is sprawling, allowing for comfortable leisurely crate digging. CD Bob reiterated that wholesale records are expensive, leaving a slim profit margin for shop owners. It sounds like inflation and gouging has also hit the vinyl sector.
Cratediggaz
711 South 4th Street
(215) 279-7667
cratediggaz
Philadelphia's Vibrant Vinyl Scene – Honorable Mentions and Recommendations
I could not visit these stores due to distance and time constraints, but they are on the list for my next trip to Philly.
Brewerytown Beats
Maxwell Ochester began by working record swaps where he rubbed elbows with hip-hop legends shopping for samples. Now, he is the owner of Brewerytown Beats and a distributor for Jamie/Guyden Records, a soul record label dating back to 1954. Ochester carries everything but specializes in funk, soul, and hip-hop.
Brewerytown Beats
1517 North Bailey Street, North Philadelphia
(215) 925-9259
www.brewerytownbeats.com
Vinyl Altar
Christopher Mazeika stocks heavy metal from the mainstream to the esoteric and other hard rock. If you're looking for local metal, ask for Heavy Temple, Horrendous, Crypt Sermon, and Atomic Cretin. One rarely finds a black-walled shop dedicated to the dark art of metal, but Vinyl Altar is the type of store that would get me back to Philly real soon. Mazeika sells an exhaustive catalog through Discogs.
Vinyl Altar
732 South 4th Street
(215) 925-9259
vinyl altar
R&B Records
Located about six miles west of City Hall, R&B is more of a warehouse rather than a browsable store. I heard an anecdote about Val Shivley, the sometimes cantankerous proprietor who ejected a famous British rocker's personal shopper, so don't show up and expect to walk out with a stack of wax; send him a wish list or make an appointment and Shively will check his multi-million disc inventory. Looking for a rare doo-wop 45 RPM? He's the man. Also, his website is a treasure-trove of old press clippings, all worthy of reading.
R&B Records
49 Garrett Rd, Upper Darby, Pennsylvania
(610) 352-2320
www.valshively.com
When planning a record shopping trip, it's a good idea to call ahead for hours or ask about specific records or categories. One of the stores on my itinerary had gone out of business, even though their online information was supposed to be current. Furthermore, websites are often homemade and not really commercial interfaces. In many cases, you won't be able to see actual stock. Better yet, go visit them. If Philly is too far away, then support a new shop in your area. Get to know the owners and employees. If there's a Wawa nearby, buy them a cup of coffee. Happy digging!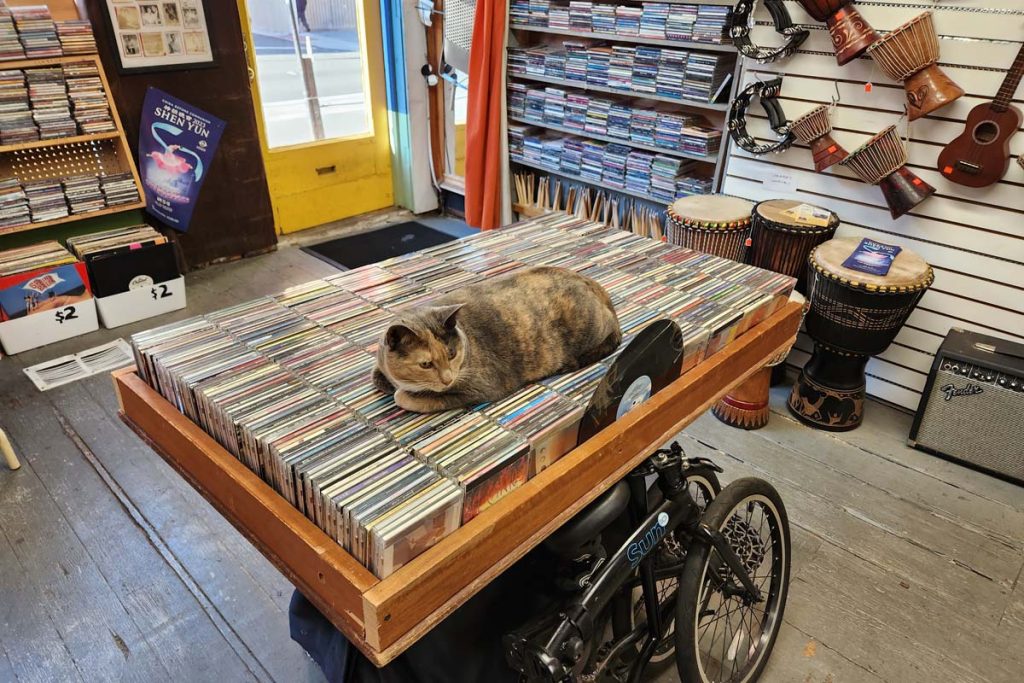 Special thanks to Copper Magazine
The stated retail price of the reviewed device is valid as of the time of the review and is subject to change.