It's Back Again!
When Rega reworks it's third-generation model, it's time to sit up and take notice. Ultimately, each of its predecessors has set high benchmarks.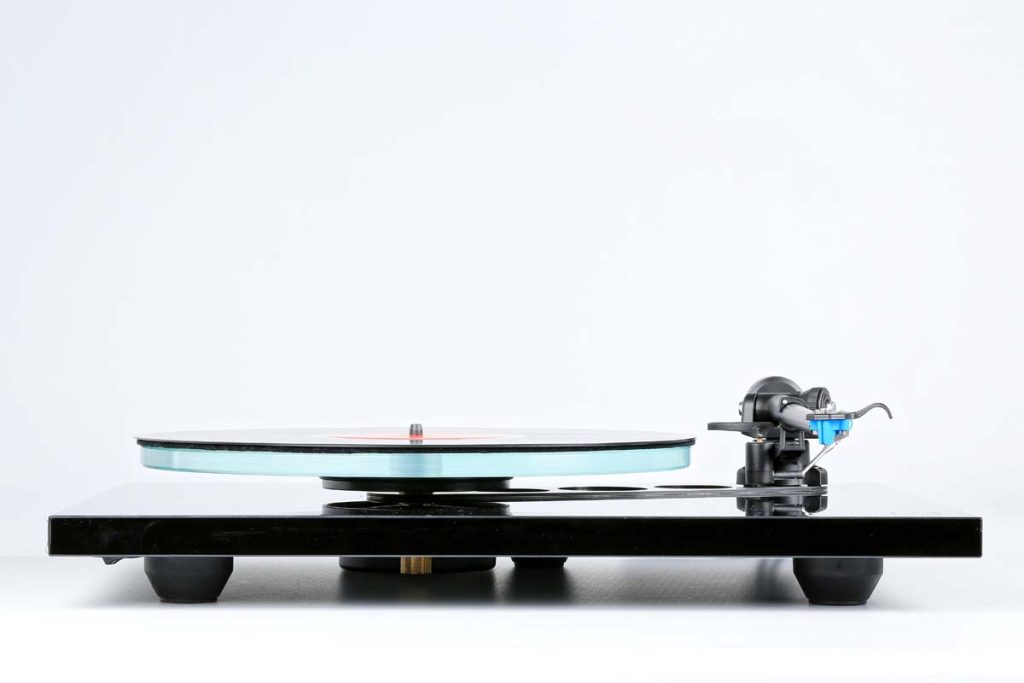 It's not all that easy to report on the new incarnation of the Rega Planar 3 without running the risk of boring your readers by repeating yourself. After all, its family tree stretches back to the early 1970s and the Rega Planar (not to be confused with Rega's first CD player from the 1990s), which featured a tonearm made in Japan called the R200 but didn't have a glass platter. Over the decades, the basic design concept has been continuously refined. And with each refinement, reviews of the turntable's latest incarnation have abounded. As a result, it is now one of high fidelity's few true legends and every serious hi-fi enthusiast has at least heard the name.
Innovative evolution
Despite all that, I still find the Rega Planar 3 (2016) really exciting. For one thing, I owned one myself many moons ago. I also find it quite interesting to speculate about the secret of its success. The super cool look of its, in most cases, all-black drive and distinctive glass platter has surely played a part in this. More important, though, is the fact the design ideas going into the turntable are not just ingeniously simple. They are, above all, simply ingenious. Many competitors have — to put it politely — helped themselves to some of the ideas, but they haven't always executed them successfully. A Rega Planar has always been more than a board with a motor, platter, and tonearm. And because the whole is greater than the sum of its parts (something not all competitors have quite grasped), the old Planar produced unusually impressive sound for its price category. Rega has never rested on its laurels, however. Let's face it; the original Planar 3 was never "the world's best turntable." Even its status as the king of the budget category was occasionally called into question by the competition. Over the years, the folks at Rega have critically and carefully examined nearly every one of its components, replacing each one with something even better. The result of this long, laborious, and evolutionary process is that the Planar 3 I've known and used over the years shares hardly any of the same components as the current heir to the throne.

Options galore
The chassis of the current Planar 3 (2016) comprises an acrylic laminated wooden plinth that comes in either high-gloss black or white and is laminated with acrylic. It not only looks rather stylish, it also actually ensures extra stability and less resonance. The somewhat strange-looking silver-colored brace with circular recesses that connects the tonearm base to the platter bearing achieves the same goal. As its predecessors, the Planar 3 sits on (newly developed) rubber feet that astoundingly well decouple it from the surface underneath. All the same, experience has shown that the Rega seriously benefits from the optionally available wall bracket.
Drive is provided by a 24-volt motor that can be powered with either a simple wall adapter, which is delivered as standard, or the TT PSU-R external power supply, which is available as an optional extra. The latter not only ensures improved power supply, but also enables you to switch between 33 rpm and 45 rpm at the touch of a button. If you operate the Planar without the TT PSU-R, you will need to remove the platter and place the rubber belt on the corresponding drive groove of the metal pulley. You connect the TT PSU-R using a four­pin jack located under the frame on the motor housing.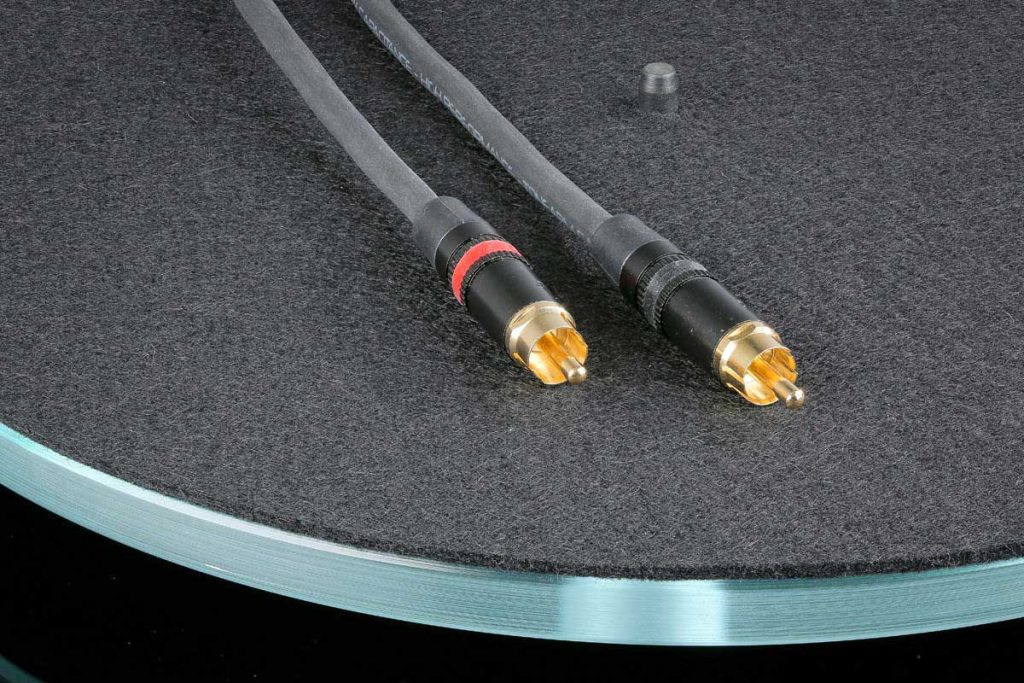 As before, the rubber belt works on a plastic subplatter that, by all accounts, should be considerably more rigid than previous versions. The 12 elevations on which the 12-millimeter-thick, highly polished glass platter sits are particularly eye-catching. The felt mat, which aims to protect the platter from vibrations below, has been retained. You'll also be pleased to know that the dust cover is now transparent, allowing you to ogle the beautiful turntable during playback. Like an optical-fiber cable, it captures the light from its surroundings and directs it along its edges. It's almost as if the turntable emits a turquoise light from within.
The benchmark for others
Much of the original Planar 3's ongoing success did, of course, come down to the tonearm, the RB300. When it first came out, not only did it receive various industry awards, it was considered so good that you would have no hesitation to trust it over a much more expensive cartridge. That's precisely why it was (and still is!)
used, even as the "entry-level arm" on pricey "super drive devices."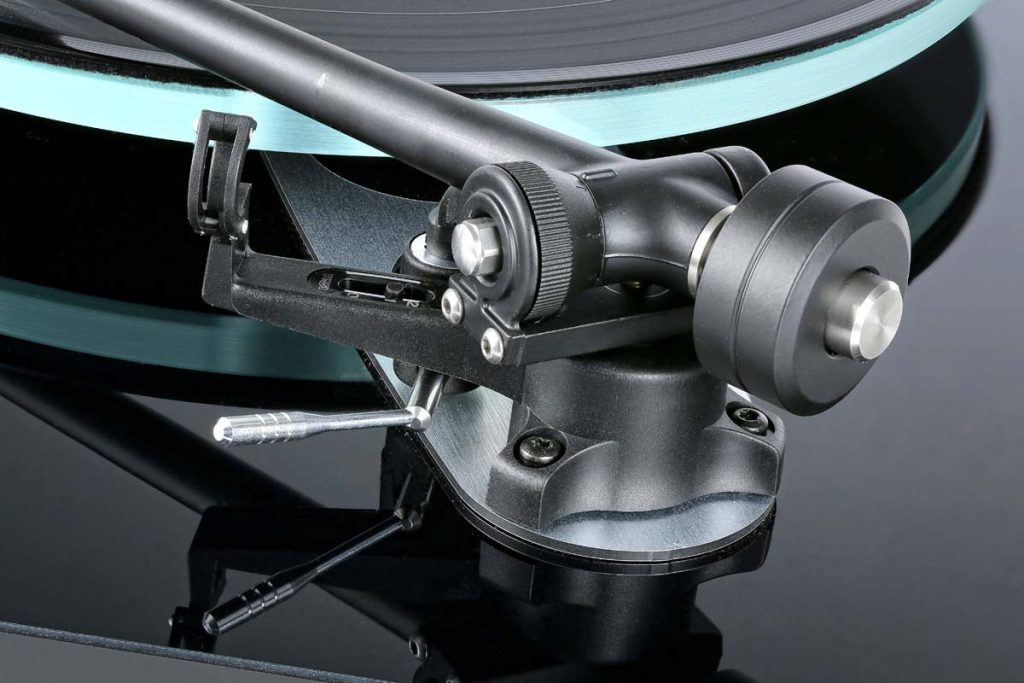 And Rega's distinctive evolutionary process has also extended to the tonearm. From the RB300 emerged the RB301, then the RB303 (still available separately for €680) and finally the current RB330, which, according to the sales team, cannot be purchased as a stand-alone item. When you first lay eyes on it, you'll find the new tonearm looks like its predecessors. According to Rega, some crucial changes have, however, been made (including to the bearing housing, the bearings, and the actual tonearm tube). In fact, its workmanship does seem better: the bearings appear to be smoother but, of course, backlash free, and the tonearm once again has a scaled antiskating unit.
The height adjustment is still a little cumbersome as you need to use optionally available washers. Adjusting the height involves freeing the tonearm from its three-point mounting system and positioning the spacers between the tonearm socket and the base. Even the cabling has been optimized. The wonderfully long cable is impressively flexible and equipped with top-notch Neutrik connectors. A typical example of a medium-mass tonearm, it is compatible with around 90% of all cartridges. If, however, the system of choice weighs more than 10 grams, you will need to resort to using the heavier tungsten counterweight that is also available as an optional extra.
An underrated little gem
The Rega Planar 3 (2016) was delivered as a package that included the in-house moving magnet system Elys 2. The original Elys had a violet system casing using Rega's own three-point mounting system and, to be perfectly frank, was never able to achieve the cult status that the drives and tonearms did. I could never really understand why the cartridge only ever enjoyed moderate success. I always rather liked the Elys and its cartridge siblings. I think the superior, canary-yellow Rega Exact is actually a real insiders' tip I suspect the now light­blue Elys 2 has inherited some of its genes because, if my memory serves me right, it sounds significantly more lively and rich than its predecessor. I've not been able to determine exactly what has changed; in general, Rega hasn't exactly been forthcoming with all the technical details. The Elys 2 has a non-interchangeable nude elliptical stylus. With approximately seven millivolts (at five centimeters per second), it has a large output voltage even for moving magnet and, in case you're wondering, is perfectly compatible with medium-mass (10—15 grams effective mass) tonearms, which don't actually have to be Rega's own. At 70 micrometers, even the sample value that I measured is totally fine for a tracking force of 17.5 mN. During my experiments with the Musical Fidelity MX-VYNL phono stage (FIDELITY No. 27, issue 4/2016) 50 picofarads turned out to be the ideal input capacity. However, it also made a good impression on my Bryston BP-25MC with its 200 picofarads. If you purchase the Elys 2 on its own it will set you back €250. But if you purchase it together with the Rega Planar 3 as a package, the price drops to just €150.
A musical godsend
It's not just the reasonable package price that should convince potential purchasers of the Rega Planar 3 (2016) to also plunk down money for the Elys and make it part of the original equipment. The combination works so harmoniously that I never really got over my shock. Surely a record player that costs less than €1,000 shouldn't sound so good?!
Okay, the Elys 2 does take a bit of time to settle in. At the beginning, it sounds a bit grainy in the treble range and somewhat awkward in the bass range. But after no more than 20 vinyls, you can really hear the difference as the sound changes and becomes perfectly balanced, adding a touch of undeniable warmth. And, especially in terms of my earlier criticisms of my old Rega Planar 3, they practically no longer apply. That one didn't enjoy such a full range, was spatially differentiated, and, above all, was not as lively as its more than 25-year-younger successor. These characteristics enable the Elys 2 to achieve credible playback, even with such symphonic big-hitters as Respighi's "Pini di Roma" (Chicago Symphony Orchestra, Reiner, Living Stereo, LSC-2436). Certainly not without adding a personal — but nevertheless pleasant — touch to the music. A slight accentuation of the mid-range during playback combined with a somewhat rhythmic emphasis is, of course, in no way detrimental to the enjoyment of the music. On the contrary, there are enough neutral workhorses on the market that seem to get everything right on paper but somehow take the fun out of listening to music. And that's exactly what doesn't happen with the current Rega Planar 3. Unfortunately, I've run out of room to report on other music I sampled. The Planar 3, for example, extolled the virtues of music by Yello. And the new LP from Chie Ayado. And…
The Rega Planar 3 (2016) is, as before, not just the standard-setting king of the budget category. With its absolutely impressive sound quality, it is making the lives of even much more expensive competitors difficult. Very difficult!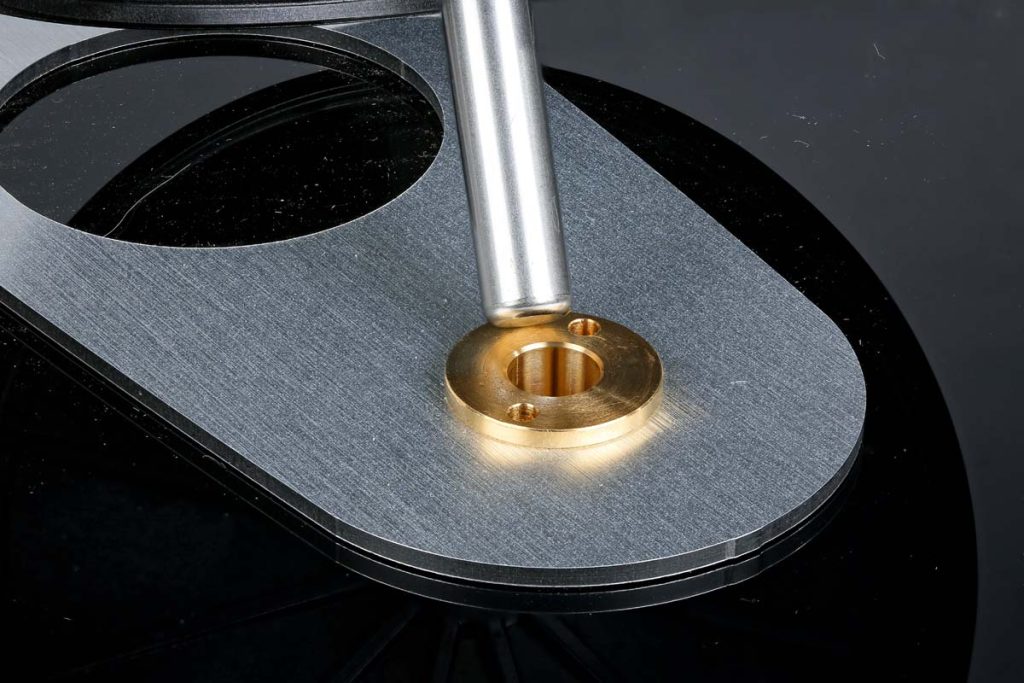 Accompanying Equipment
Turntables: SME Model 10, SME Model 15, Technics SL­1210 Mk2 | Tonearms: SME M2-9R, SME Model 309 SPD, SME Series V, Technics EPA-120 | Cartridges: Audio Technica AT­20SLa, EMT JSD 6, Goldring G-2200, Ortofon Quintet Black | CD players: Bryston BCD-1, NAD 5420 | Network player: Muvid IR 815 | Preamplifier: Bryston BP-25MC | Power amplifier: Bryston 3B SST | Headphones: Sony MDR-1 RNC | Loudspeakers: Spendor SP100R2
Turntable
Rega Planar 3 (2016)
Functional principle: Belt drive | Speeds: 33 rpm and 45 rpm | Special features: includes Rega RB330 tone­arm, glass platter and dust cover | Optional extras: separate TT PSU-R (€380) power supply, wall bracket (€200), and various spacers for adjusting the height of the tonearm (price upon request) | Dimensions (W/H/D): 45/12/36 cm | Weight: 6 kg | Warranty period: 10 years (for bearings and tonearm), three years for electronics | Price: €800 | Package price with Elys 2: €950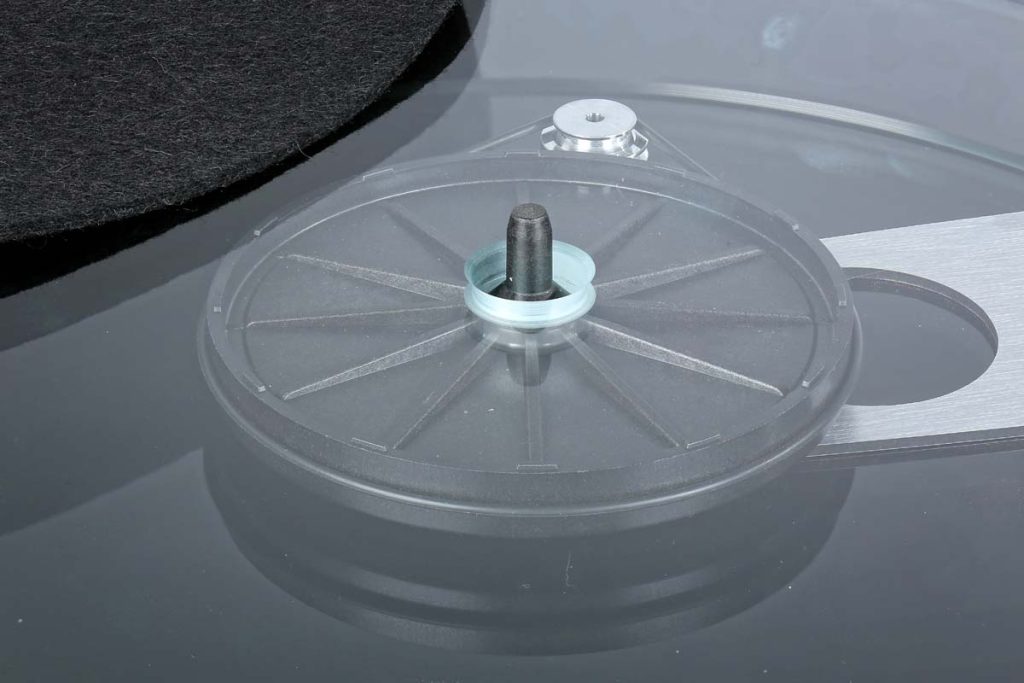 MM Cartridge
Rega Elys 2
Functional principle: Moving magnet (MM) | Special features: Rega three-point mounting system, non-interchangeable stylus | Stylus cut: elliptical | Cantilever: Aluminum | Weight: 6g | Recommended tracking force: 17.5 mN | Output voltage: 6.8—7.2 mV | Price: €250
TAD Audio Vertriebs GmbH
Rosenheimer Str. 33
83220 Aschau
Germany
Phone +49 8052 9573273
The stated retail price of the reviewed device is valid as of the time of the review and is subject to change.