Family Tree
To give normal loudspeakers a scare, I keep a drum kit in my office. But there's no spooking the Live Act Audio 408.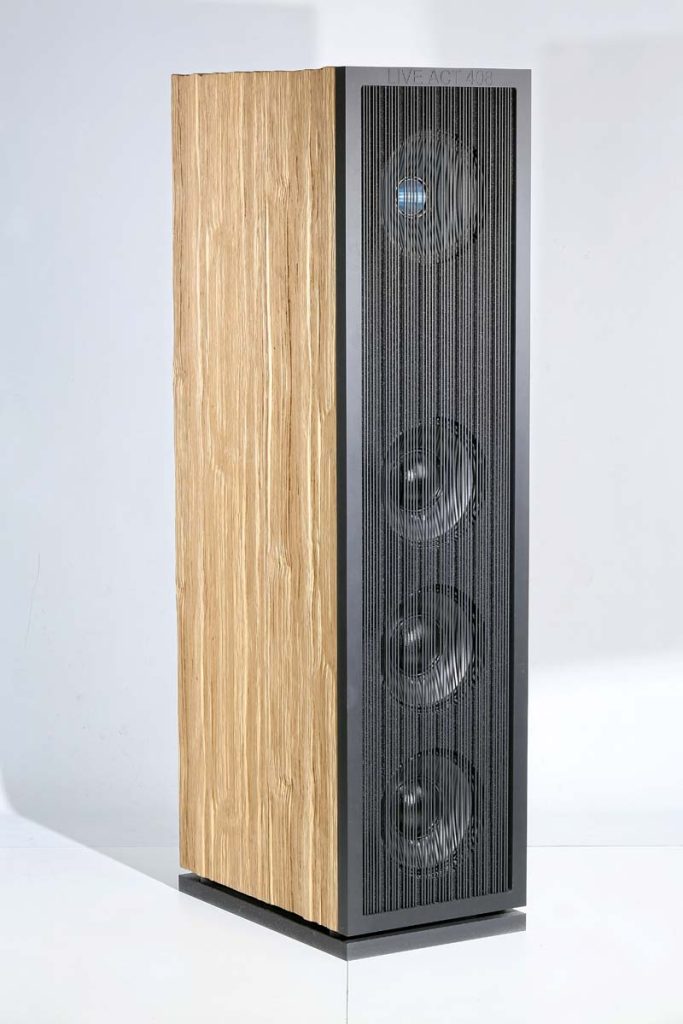 Anyone prepared to shell out a rather considerable amount of money for a pair of loudspeakers — let's say approx­imately € 50,000 — is going to expect the full works. But no matter what kind of price bracket you can afford, there's no such thing as the perfect loudspeaker. Not even if you just won the lottery. There are only more or less successful trade­offs and attempts at achieving a theoretical "perfect sound" — which almost always amounts to romanticizing a very personal view of music (and how to listen to it). Thankfully, this doesn't apply only to us hi-fi fans but also hi-fi developers.
If you want to experience truly perfect sound, snag yourself a great spot at an amazing gig at a great concert venue, book a table at your favorite jazz club, go to a matinée performance, never pass up an opportunity to listen to a real piano, or any other acoustic instrument for that matter, or play the drums in your office. Every single live experience will help you in your quest to discover your own personal perfect sound. And, at the very least, have enough faith in yourself to make up your own mind. Good hi-fi developers certainly do. And of course musicians do as well.
Behind the Scenes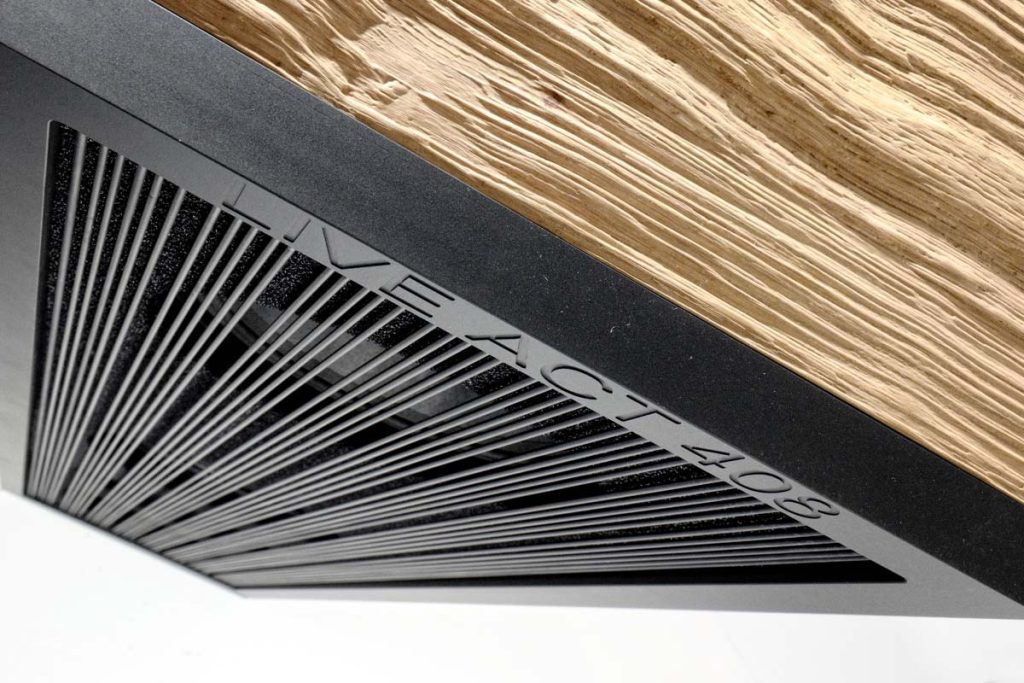 As an audiophile, I've always been able to pick out each developer's perfect sound from each of the loudspeakers I've used and tested, even ones costing whopping six-figure sums. Even the latest metrology and digital tools are unable to make a difference. But I quite like that. It gives music a certain diversity and makes it personal.
What I also like is that Live Act Audio got off to a terrific start with its large models, LAS 312 and LAS 512, "Dynamic, no-holds-barred, live fidelity" is one way to describe the perfect sound that Live Act Audio wants to achieve. The company's name says it all really. Let's get Live Act Audio up on stage (read: living room) again for another performance then. This time it's the turn of the smaller 408 from the extensive Live Act Series (LAS) under the spotlight. Lo and behold! Like its big sisters, the 408 also makes a lasting impression before the party even gets started.
I feel like I'm in the forest!
As the saying goes, first impressions count. And in this case, it's doubly true. Delivered in a made-to-measure flight case, the by no means gigantic 408 still weighs in at almost 100 kilos once unpacked! We'll explain why once we've recovered from having to remove it from the case and set it up. But before that, let's take a minute to marvel at the sensational surface quality, which, to the best of my knowledge, can only be found in Live Act Audio's portfolio. We got our hands on the LAS 312 "Limited Nature Edition" in FIDELITY No. 21 (issue 5/2015), and the LAS 408 seems to be made of the same stuff. This split-wood appearance actually makes it look like a highly skilled Canadian lumberjack had just taken his ax and chopped straight through a thick block from the heart of a huge tree trunk. A loudspeaker made from a whole block of wood? Well, that's exactly what the Limited Nature Edition looks like. But, for anyone not keen on introducing such an impressive piece of nature into their living room (or simply cannot stomach the hefty additional price tag), the manufacturer also has some beautiful thick veneer finishes.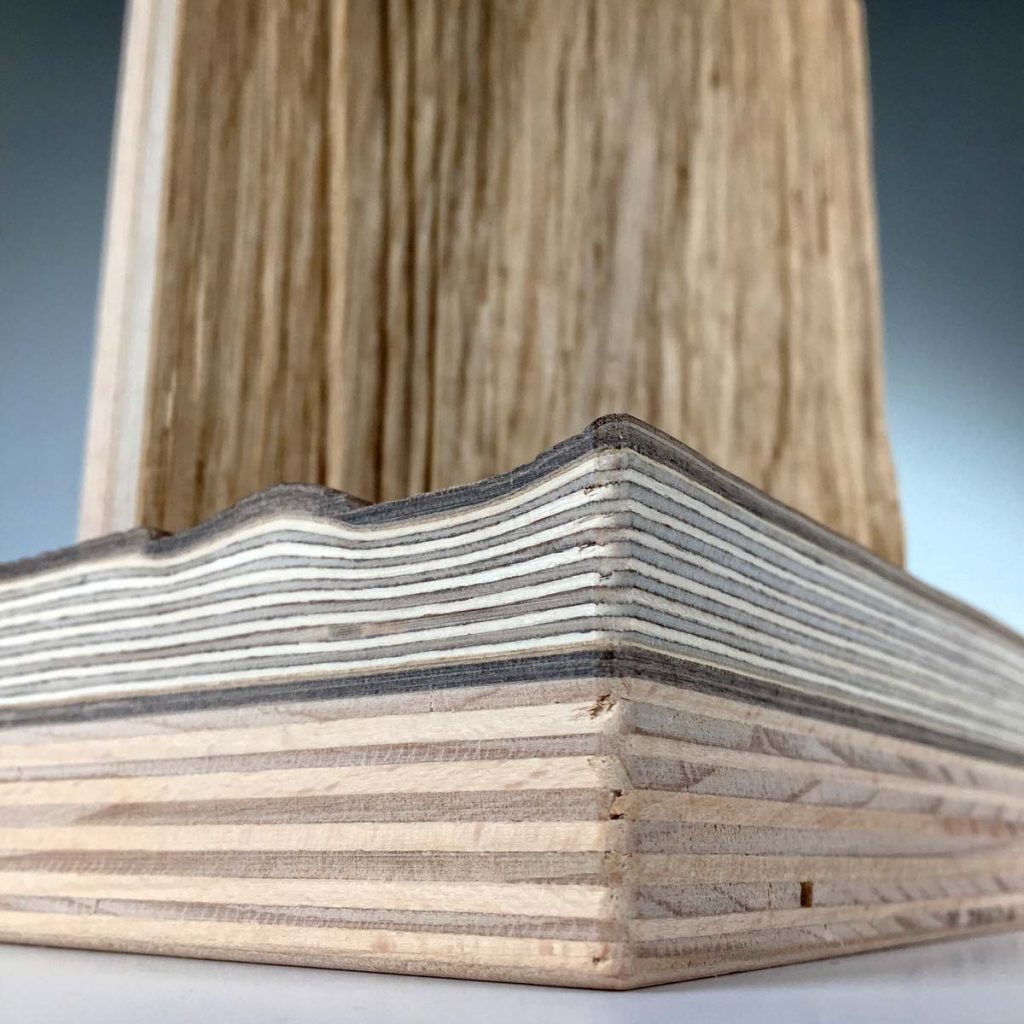 Of course, the 408's housing is not chopped out of one piece of material. No. Even under the thick veneer finish, the multilayered, more than 40-millimeter thick and cross-bonded multiplex housing is much better than solid wood: lower resonance, more torsional rigidity and more high-end. It's a dream-come-true for designers and design lovers. It is, however, a nightmare for manufacturers in terms of costs as this sandwich construction is expensive, and I mean really expensive. The visible surface of the Limited Nature Edition is produced using a material-intensive pressing process. After all, in terms of the choice of materials, processing and assembly, Live Act Audio essentially goes to such great lengths to achieve the geometrically linear housing that both gifted wood-instrument makers and seasoned master cabinetmakers would applaud the craftsmanship on display. Unfortunately, I am allowed to reveal just as little about certain housing details as about the exact construction of the crossovers inside the 408. I'll just say this: In this industry, I have only ever witnessed such a profound appreciation for wood as a material combined with such an uncompromising and unwavering understanding of quality right down to the tiniest of details at Diapason.
Three bass chassis plus one coaxial chassis
As its name suggests, the 408 comes equipped with four eight-inch chassis from the world of international professional technology: three woofers and one coaxial chassis for midrange and treble. The coaxial high range horn is turned out of solid (!) metal and operated by a highly resilient 50-millimeter beryllium membrane. All four cone drivers potter around in their own chambers with symmetrically arranged "invisible" reflex ports on the baffle. Three chunky yet beautifully equipped crossovers take care of the correct signal distribution. The baffle is finished with a 25-millimeter-thick aluminum frame milled from a single block with "rubber drapes." The chamber cover and the recessed single-wiring terminal on the back are also anchored inside the sturdy, reinforced housing. The heavy body of the 408 rests, with four defined uncoupled feet, on a solid aluminum plate, and those who think this construction still has to be placed on a set of spikes only have themselves to blame or has a friend who lays floors for a living.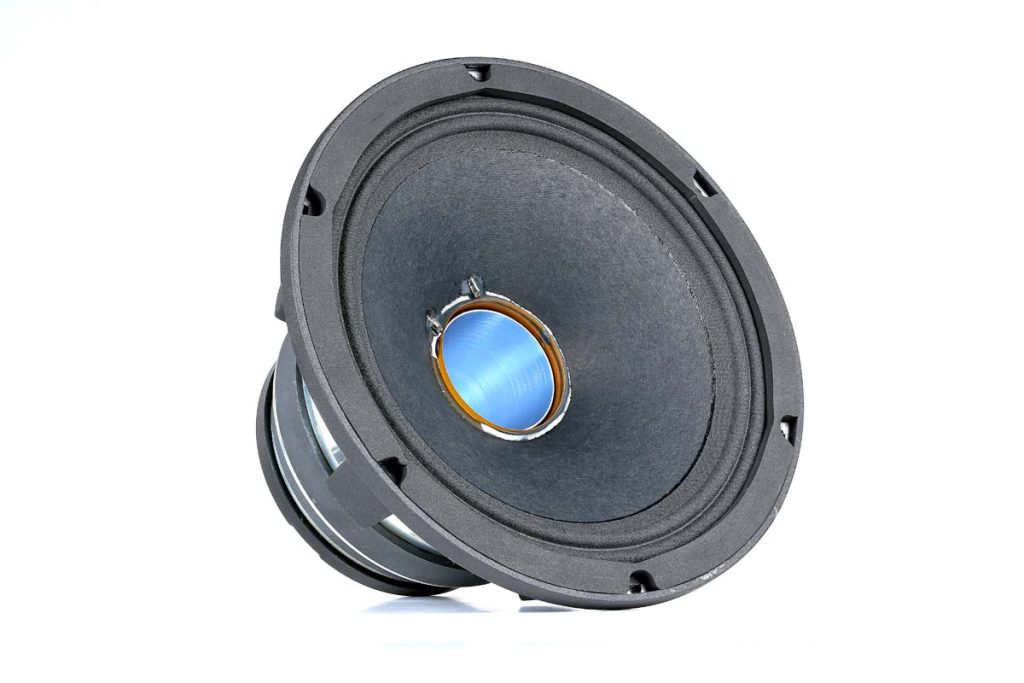 Back to the driver equipment. This is where the expert recognizes a (desirable) proximity to ambitious professional sound engineering, while also the typical battle of attrition among classic high-end devices. It thoroughly improves performance at home and might even also convince a skeptical partner to finally invest in a truly amazing piece of "audio furniture." In any case, Live Act Audio's 408 manages to combine pro­fessional and high-end audio, something that is only very seldom achieved but very welcome. The delivery in the flight case is just the start.
Both a tool and a friend
The flight case has wheels, unlike the loudspeaker. This makes positioning it in exactly the right spot a bit like a workout at the gym, but definitely more fun than pumping iron. The funnest part, though, comes when, after all that toing and froing, going backward and forward, you finally find the perfect spot (the virtual room works out and suddenly everything "fits") and the 408 increasingly blends in acoustically. The best spot may be near a wall, but it doesn't have to be, and the distance between the two loudspeakers may be large, but, again, it doesn't have to be. It's all a matter of taste. As I said, have enough faith in yourself to make up your own mind.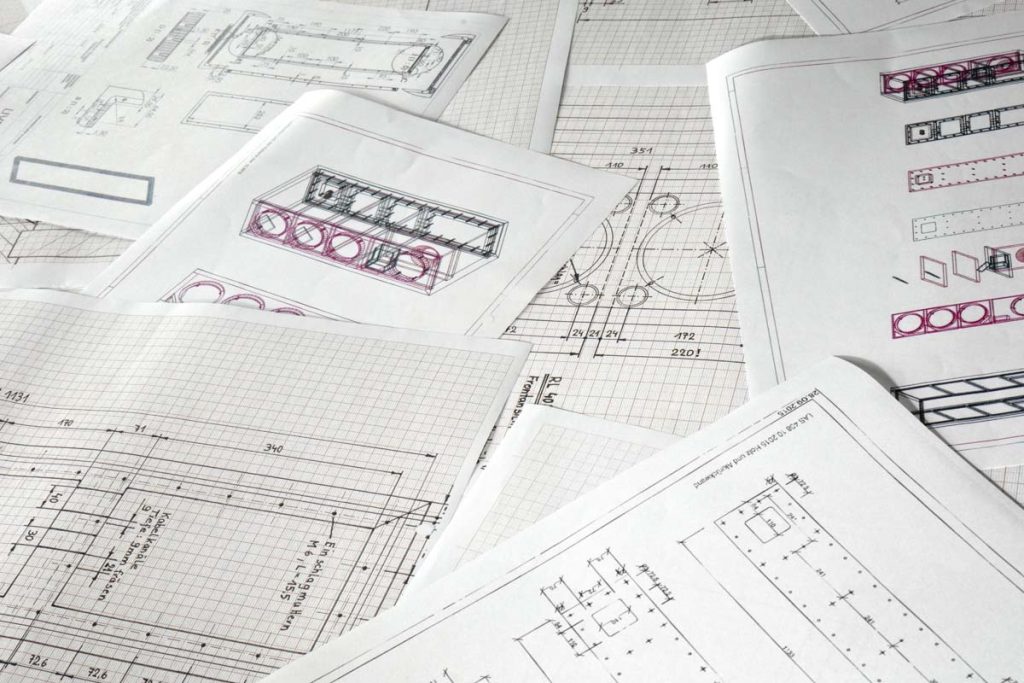 During my attempts to subjectively establish the truth, the room in which the 408 has been set up plays less of a role than usual. The sound emission is not designed to offer maximum dispersion, and the sweet spot on the sofa is actually more a spot than a diffuse large area. Two 408s would have absolutely no problem filling a huge room to the rafters with music, even the corners right at the very back, yet the full — or should I say audiophile 3D pleasure of their combined talents — can be enjoyed by only two, maximum four listeners, inside the sweet spot. If you're in it, however, you'll find it also provides a superb overview of the stage performance, neatly arranged and scaled in terms of depth and breadth. That is, however, providing there are capable electronics available for the 408, for which it seems the sky's the limit.
The 408 places certain demands on its sound sources. In view of its "modern" impedance of under 4 ohms, stable amplifiers are recommended, which can, but don't necessarily have to, deliver decent power. After all, the 408 manages a technical balancing act — providing impressive efficiency of a realistic 94 decibels while at the same time being able to continuously endure a few hundred watts. This provides an enormous amount of room to maneuver for compatible amplifiers — and the maximum sound pressure level achievable with them.
In any case, what's more important than the pure, unadulterated performance of the driving amplifier is the fact that each sound source, each element before it in the chain, needs to sound "right" and "good" and all of them need to form as harmonious a single unit as possible as an ensemble. Admittedly, these are audiophile truisms, and the LAS 408 is, like her big sisters, a top-class piece of equipment and a sound tester all in one. She quickly and unmistakably tells you whether one component or the entire chain is doing its job correctly or not.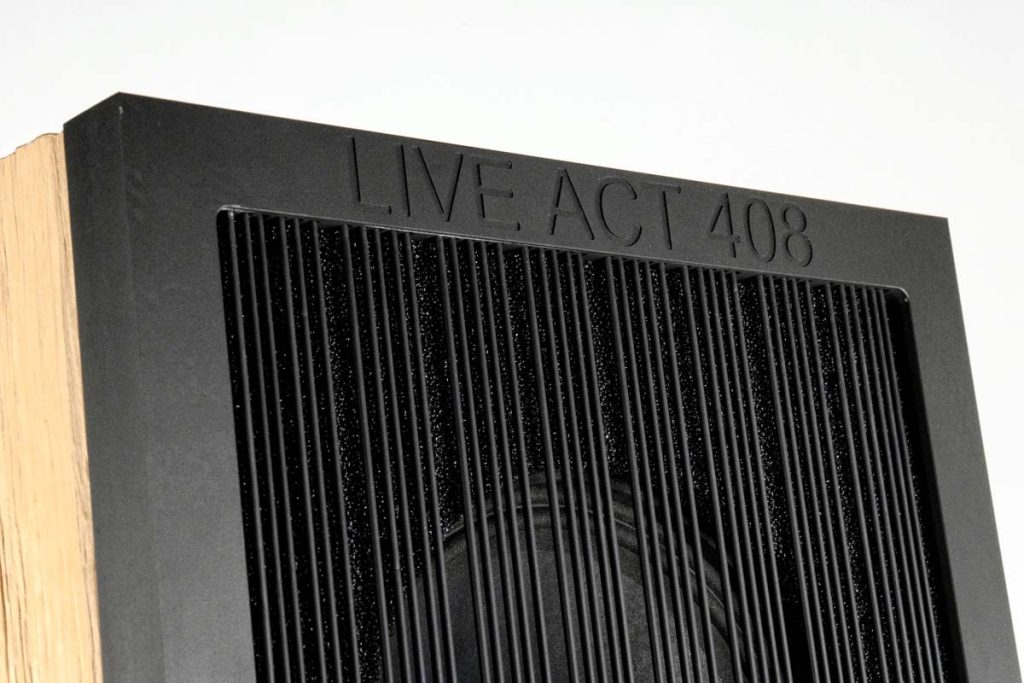 During my initial test runs, I simply hooked up the 408 to every amplifier that didn't run for cover quickly enough. I used tried and tested combos as the sources: For analog, the EnVogue Astra with 12″ Arm Anna and EMT JSD S75; and for digital, CDT 3 and DAC 3 from Audio Note. The T+A PDP 3000 HV reads the SACDs. The turntable is double decoupled on Ligno-Lab TT100 and Subbase Analogique. I put the large Audio Note Black Pallas Digital cable between the digital drive and converter, all digital components are on Subbase Composant S, and the large IsoTek Evo3 Mosaic Genesis also regenerates the power. And why am I telling you all this? Well, because the 408 almost playfully reproduces even the tiniest of modifications. I was essentially already aware of that because of her big sister, the 312, yet the 408 is perhaps even a tad more blunt and direct.
First surprise
Astonishingly, the first Einstein combo (The Preamp plus The Silver Bullet) already manages to keep me shackled to the sweet spot for the first time. Ironically, the OTL monos — not really at all keen on low load impedances — have the 408 nicely under control. The preamp commendably restricts itself to its role as a noble facilitator that simply passes on the signals in a light, airy and crystal-clear manner. The ensuing sound generated by the 408 is ultrafocused, fabulously contoured and controlled, with precisely formed pinpoint midrange and the almost tangible stature of a singer. Any tendency to sound a bit intrusive, which the uninitiated gladly put down to every horn, disappears when you change the loudspeaker cable and use an ever-so-slightly smaller toe-in for the 408.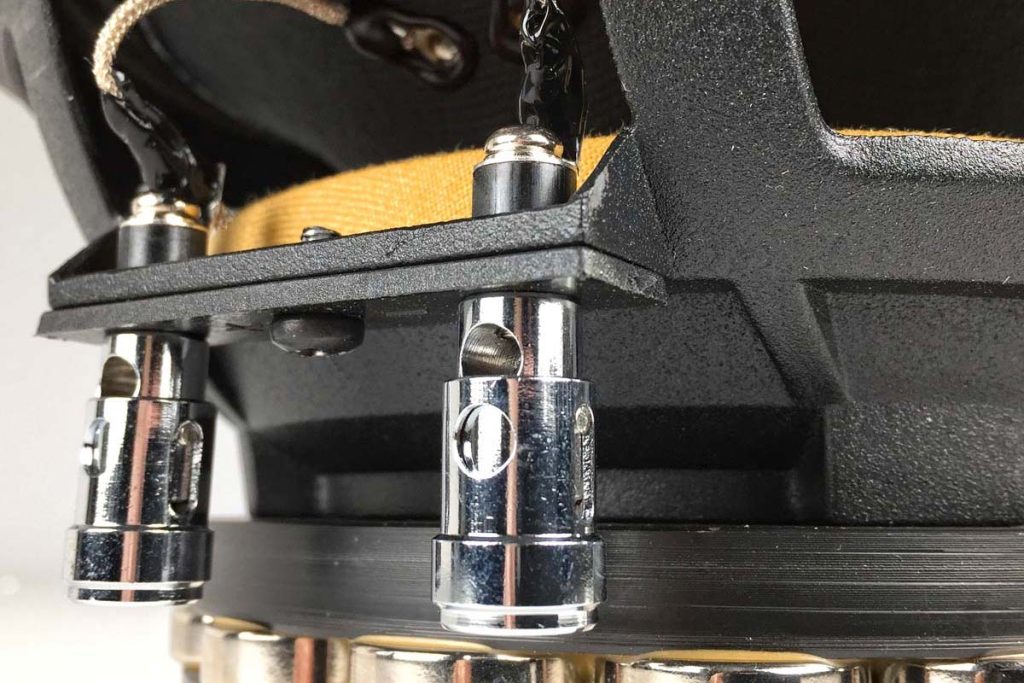 And speaking of horns, I urgently need to drop a bit of Mnozil Brass again. The crazy and equally brilliant brass septet is on form in Dasselbe in Grün. It's a real unexpected pleasure to experience seven super happy brass players live on stage in your living room, from the spoken news-like introduction to the fast Polka capers and the Shostakovich pieces. Even at a moderate level, the sounds from the tuba, trumpet and trombone are tremendously assertive. And the LAS 408 transports all the goings-on so enthusiastically and captivatingly that even this author with his reserved Hamburg upbringing simply "has" to keep turning up the volume until Mnozil Brass are finally performing live in my living room at original full volume. The marquee liquor license has yet to be acquired, but neighbors who previously were quite reticent toward me are suddenly now greeting me with the local Bavarian twang. If they knew that Mnozil Brass come from Austria… and that the band recommends their musical "counseling" in particular for "really dangerous situations (weddings, beer tent brawls and funerals)"…
After so much brass instrument fun, I need at least a smoke on the shisha and a couple of tight-fitting furs to redeem myself as a musical globetrotter. So I go in search of the grandmaster of funk, Maceo Parker.
On The Bremen Concert, which was recorded live in 1990, it's not just the extremely dry and funky sax of James Brown's former musical director that causes a sensation. Parker's formation Roots Revisited — which featured the likes of Fred Wesley (trombone), Pee Wee Ellis (tenor sax) and Rodney Jones (guitar) — is on point. The bass notes are exuberantly served up with plenty of groove by Larry Golding and the pedals of his Hammond B3 organ, and drummer Bill Stewart kicks things off with a bang right at the beginning of the live recording. Yeah, that's funky drumming, man — I love it! In Shake Everything You Got, he is seriously in the groove, including during his solo part. It's impossible not to nod your head, tap your feet and move your legs in rhythm! However, and we're turning here from pure music enthusiasm back to hi-fi matters, the recording is anything but dynamic. The heavily condensed audio mixing borders on annoying, but on the other hand the band is super happy and the music is simply amazing. And the Live Act Audio presents everything, and I mean everything, reliably and transparently And that's how it should be.
With that in mind, I start the last round of "critical listening" for today. Shall I put the mains filter on its own base? Shall I try the other cinch cable? Shall I test the power plug to see it has the "right" phase? Okay then. When I then connect the superb AudioQuest loudspeaker cables "just like that" to some cable filters that pretty much just happened to be there, the entire sound seriously opens up even more. Just like that. More 3D, no losses. It sounds better. No question. It can stay like that. It's more fun. Well, that's how the 408 rolls.
The fact that LAA's "small" giant enables you to assess any changes so quickly and easily also has to do with the unbelievably stable, low-resonance housing that keeps its cool even in the face of killer levels but still reacts positively to a setup on a Subbase Audio base. No, I definitely don't need any spikes here!
Nothing's impossible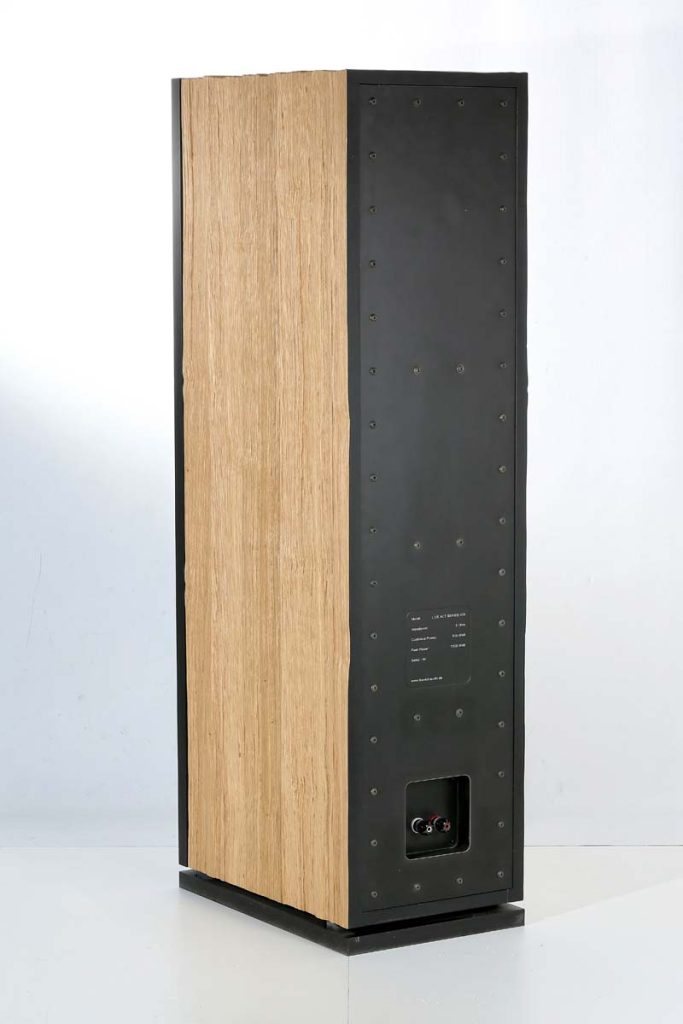 While chatting on the phone with Dieter Molitor, one of the two brains behind Live Act Audio, I discover that the LAA boss is also achieving very similar sounds with the OTL monos from EternalArts. Only when it comes to brutal low bass and ultra-low bass attacks, which are often, for example, mixed into the newfangled EDM or electronic productions for a pleasurable shaking effect, does the 408 exit the dancefloor to make way for her more voluptuous big sisters with their big membranes. It goes against her principles, and it's not in her specifications either. She manages to keep up with her (even more expensive) sisters across all important musical genres. When things are not so straightforward, and complex rhythmic structures prevail, for example, the super nimble 408 rises to the occasion, gives nothing less than 100% witty playfulness, puts you under a spell and reduces some of the big hitters to mere toys. In the words of Aretha Franklin:
"R-E-S-P-E-C-T"!
Live Act Audio also has dreadnought-class subwoofers, which, of course, also harmonize beautifully with the 408 for anyone who likes to test the structural engineering of their home with subsonic music, enjoys seaquake simulations or has a penchant for electro-acoustic self-indulgence. Everyone else will be more than happy with the punchy, extremely keen and nimble performance of the "little" sister. Her extreme stability, lightning-fast dynamic development and impressive power are a real pleasure, and her serious audiophile qualities are a reason to celebrate and to crank the volume up. The 408 won't let anyone or anything stand in her way. Only untalented sound sources can ruin the fun, but the same goes for any excellent speaker. The 408, however, very clearly demonstrates what is musically here and now with a dynamic edge, captivating sounds and real gusto.
Yeah, things really can be that simple if you just have a little faith: This is professional equipment and no toy. Stick to your guns instead of going along with what everyone else thinks: 408 instead of off the shelf — And I've found a special place in my heart for this speaker. An added note: As the day of reckoning approaches, I quickly maneuver the Live Act Audio LAS 408 into my office, park it right in front of the drum set and connect up a powerful amp that more or less just happens to be there and is ready to go. And as night sets on Ismaning, I put on the B-52's and some early ZZ Top — and crank up the volume. The drum kit is in a real dither and looks like a right wally. Wonderful — mission accomplished! I'm off to do a photo shoot with the LAS 408.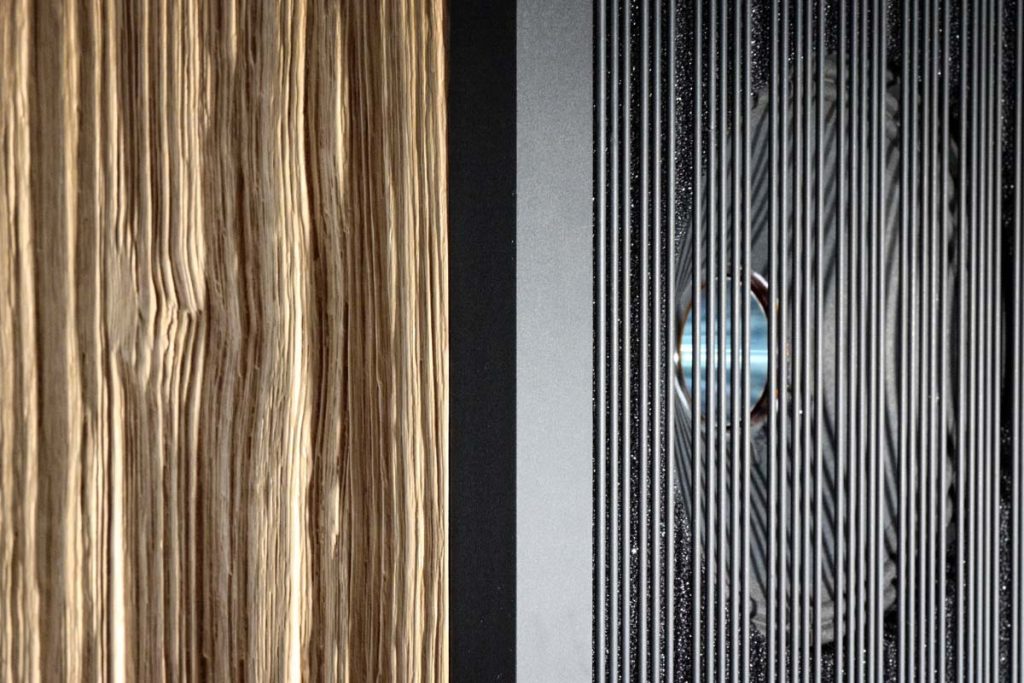 Accompanying Equipment
Turntables: Audio Note TT-2, Clearaudio Innovation, EnVogue Astra | Tonearms: Audio Note Arm 2, Clearaudio TT-II and Universal, Nottingham Analogue AnnaArm 12″ | Pickups: Audio Note IQ3, Clearaudio DaVinci, EMT JSD S75 | MC cartridge: Audio Note S2 | Phono stages: Clearaudio Absolute Phono, Synthesis Roma 79DC Roma | Digital players: Audio Note CDT-3/DAC 3, T+A PDP 3000 HV, Lindemann Musicbook 15 | Preamplifiers: Einstein The Pre­amp, Lindemann Musicbook 15, Shindo Monbrison | Power amplifiers: Amplifon SET 140 (monos), Bryston B14SST, Einstein The Silver Bullet (monos), Musical Fidelity M8 500S | Integrated amplifiers: Devialet 200, Luxman 590 AXII, Pass INT-60, Sugden IA-4, T+A PA 2500 R | Cables: Audio Note, AudioQuest, HMS, MFE, Refine Audio, Vovox | Power supplies: IsoTek Evo3 Mosaic Genesis | Accessories, Mounting Surfaces, Furniture: Subbase Audio, Acoustic Systems, Harmonix, LignoLab TT100 and "Die Bank" ("The Bench")
Loudspeaker
Live Act Audio LAS 408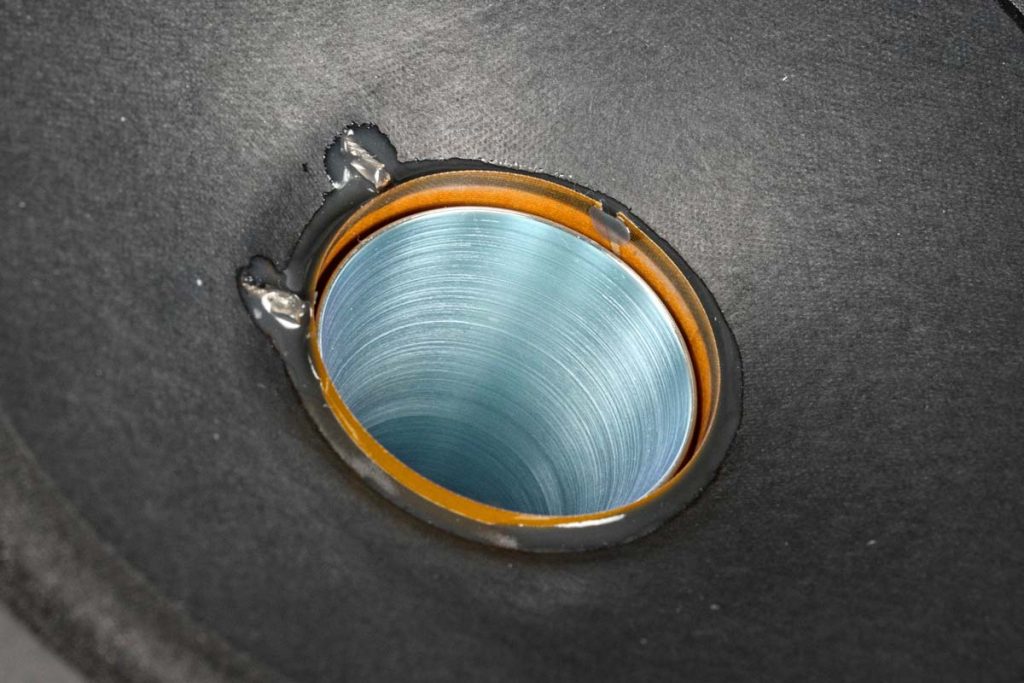 Functional principle: Three-way floor-standing loudspeaker, bass reflex | Sensitivity (2.83 V/1 m): 94 dB | Nominal imped­ance: 3Ω | Equipment: Three 20-cm woofers, coaxial 20-cm mid-range/treble chassis | Special features: ultra-stable 42­mm sandwich housing made from special multiplex wood, solid aluminum base with decoupling | Finishes: Body-thick veneer according to customer's specifications or optional Limited Nature Edition with split-wood appearance for an extra fee (€5,000); solid aluminum baffle frame | Dimensions (W/H/D): 30/121/48 cm | Weight: 96 kg | Warranty period: Five years | Price per pair: from €45,000
Live Act Audio GmbH
Burgsiedlung 1
87527 Sonthofen
Germany
Phone +49 8321 6078900
The stated retail price of the reviewed device is valid as of the time of the review and is subject to change.