The Rack for Perfectionists
Why two vertical sandwiches have a relaxing, calming effect. Why bracing in the right places makes sense. And why a special-purpose item of furniture does not necessarily have to look completely out of place.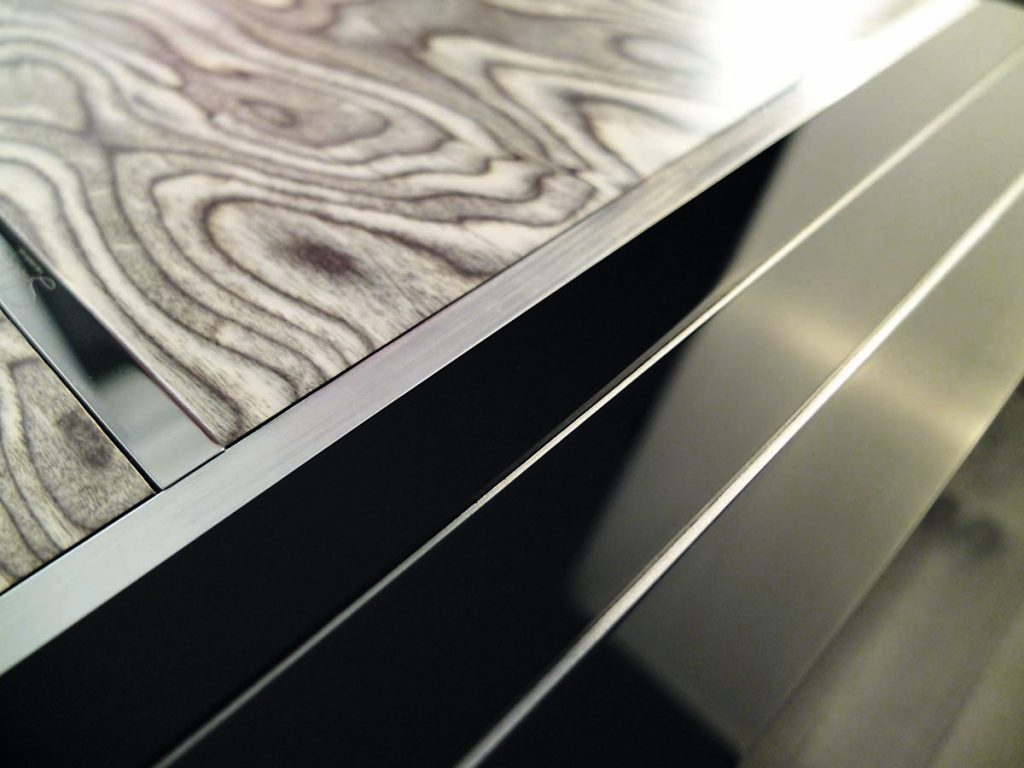 Yes, it is an item of furniture. But not one of those standard hi-fi racks that you only put equipment on so it's not in the way. No, the Subbase Audio Shambala TSS is a statement of perfection, each one made individually to specification. And at the price you'd expect. This "item of furniture" is designed to bring, in terms of sound, the best out of existing high-end components by absorbing resonance that is detrimental to sound quality — caused by the equipment itself or by external factors – and reducing that resonance to a imperceptible level. A difficult and delicate task, certainly, but one that assumes greater importance for overall sound delivery, given increasing component quality. Some people will perhaps only fully recognize and appreciate the Shambala's positive influence when it is no longer part of the system. Subbase Audio packs its "protection zone" (which is what Shambala is said to mean in Tibetan) with audiophile features right down to the smallest detail. The choice of materials and the quality of workmanship are simply impeccable, and a weight of around 75 kg makes a clear statement. You can also spot its ultimate aspiration right away. Setting up the bare Shambala in the FIDELITY listening room was enough to cause a stir. The elegantly contrasting material mix of black acrylic, highly polished metal and, in this case, attractive vivid veneer draws longing glances but is also somewhat misleading. Motto: too attractive to be any good. Nonsense!
Subbase Audio Shambala TSS – Commitment to Perfection
The Shambala is, in the traditional sense, well-proportioned and quite visually appealing from any perspective. It does not seem overpowering in any way, rather it lets any device located on it take the limelight. As originally intended, the Shambala does not act as an opponent but a fully fledged teammate of the audio system. Thomas Schlipper is personally committed to delivering perfect workmanship. In contrast to so many windbags in the community, this skilled industrial mechanic puts his money where his mouth is, one hundred percent. His commitment to perfection and his craftsman's ethos, which you can sense in every conversation you have with him and in every product he creates, has something calming about it.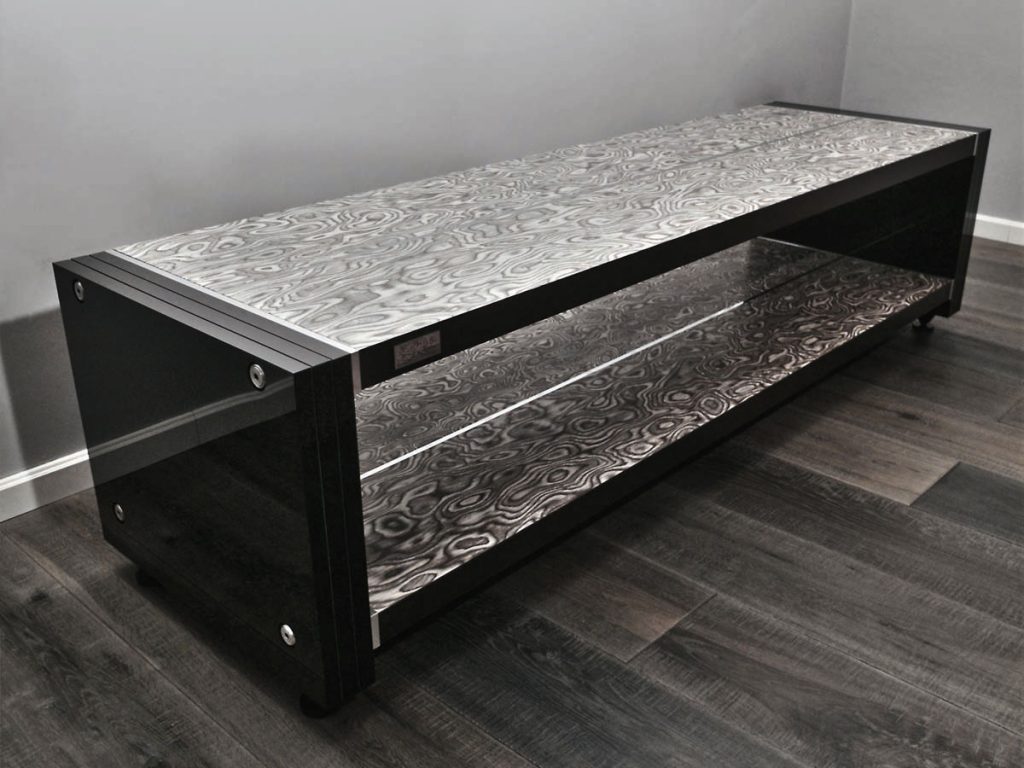 The Shambala TSS is based on two resonance-enhanced support panels or shelves, which, despite a maximum usable width of around 150 centimeters – and no vertical intermediate struts!—do not "sag," even if they have to support consider­able weight. To this end, two extremely solid sandwich-design sidewalls (acrylic meets aluminum) exert a vice-like grip on both supporting panels using solid metal connecting brackets. The support panels themselves are made of veneered multiplex boards, but of course feature that proven, typically Subbase inner matrix. The boss himself provided the brace to deliver a uniform maximum of low resonance; the knock test indicates a setup that really does work.
The materials and the dimensions alone guarantee superb stability and low resonance for the "musical protection zone." To counteract even the tiniest interference that could create a horizontal impact, the rear of the Shambala features additional C-shaped stabilizers made of solid steel that give the rack an almost amazing degree of torsional rigidity. Fine engravings on one of the stabilizers and on the mirror-polished metal lipping on the support panels emphasize this star quality for any living room.
Admittedly, there are more subtle finishes than the "grey-grain," "save the rain forest" veneer that our test sample featured. But that only plays a subordinate role in terms of the overall impression. Anyhow, real perfectionists tend to simultaneously order the thoroughly recommended Composant S bases for their equipment collections (FIDELITY Magzine 2/2013). Their ability to substantially reduce the impact of electromagnetic interspersal adds another dimension to the Shambala's mechanical protective function. I've checked it out and can thoroughly recommend it.
Having the Shambala at my disposal has made me not want to be without it. If you'll pardon the "flying" metaphor, the rack and its "wings" (support panels) do indeed manage to take their VIP passengers — each audio component – and the listeners to new while at the same time calmer sound heights. I should just emphasize at this juncture that there is absolutely no need to comment any further.
Shambala does not have its own signature, and it does not produce its own sound. Instead, it "just" gets the best out of its "passengers": It expands the space, structures the bass and definitely provides greater clarity in every discipline. As mentioned previously — perfect.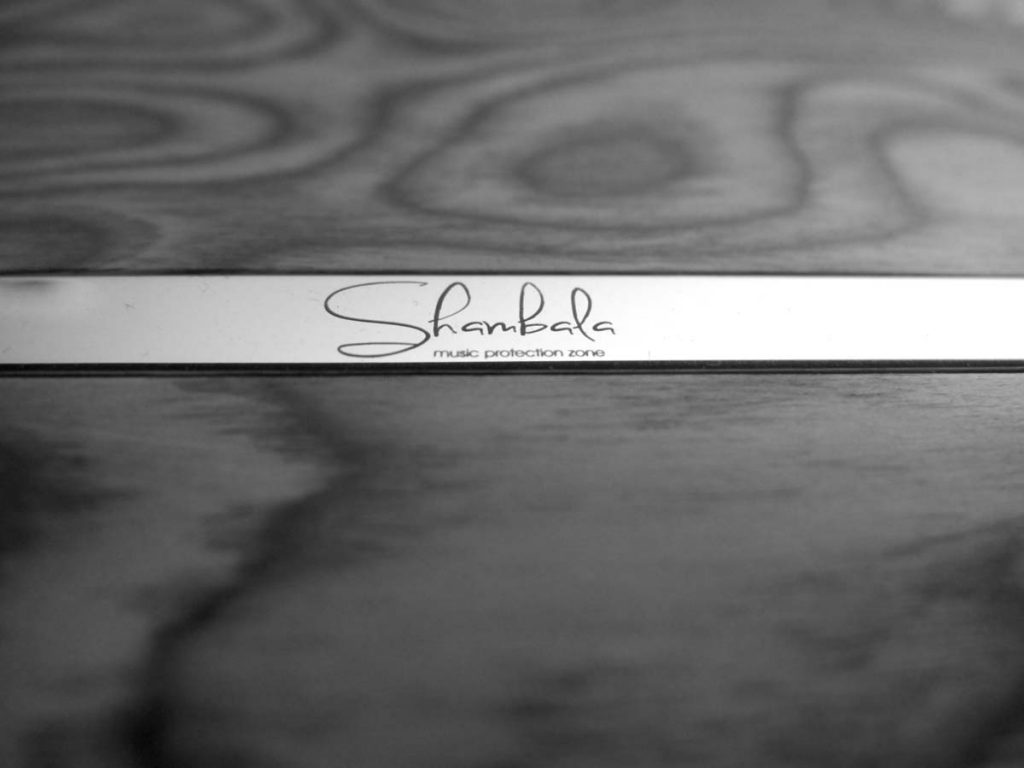 Subbase Audio Shambala TSS | Hi­fi Rack | Warranty period: 3 years | Price: on request
Subbase Audio Manufaktur, Thomas Schlipper
Gut Velbrüggen 7
D­41469 Neuss
Phone + 49 178 3410431
The stated retail price of the reviewed device is valid as of the time of the review and is subject to change.