Technical Audio Devices Laboratories has announced the TAD CR1TX stand-mount speaker system as the newest addition to its top-of-the-line Reference Series of hi-end audio components.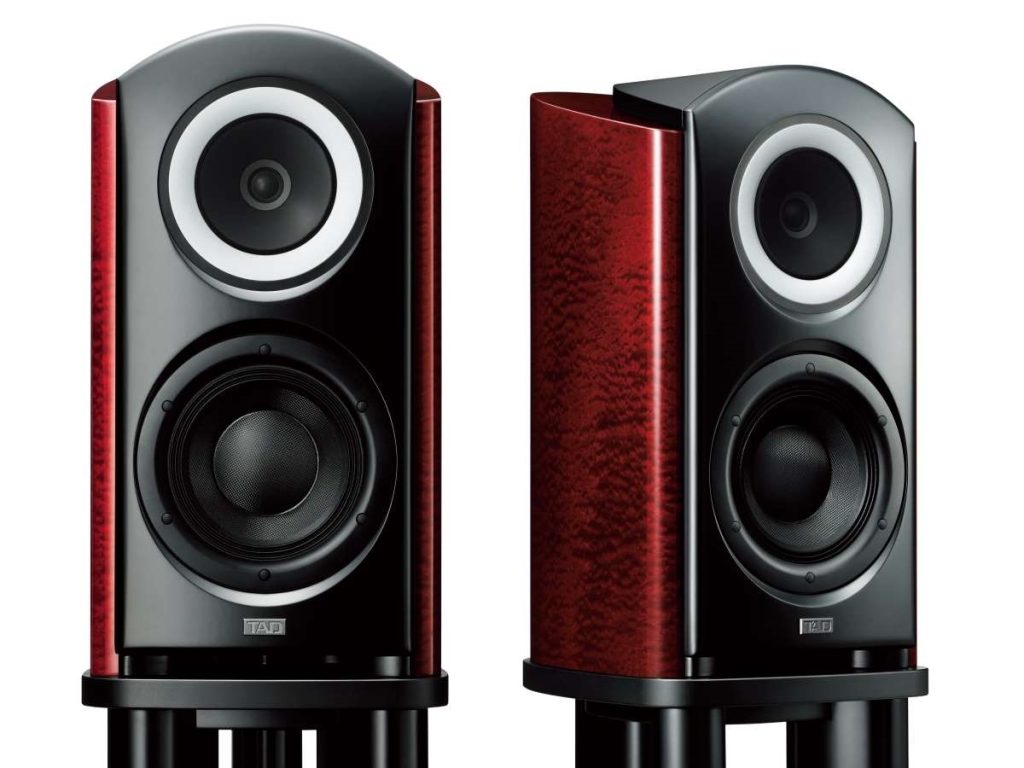 The TAD CR1TX embodies the same design philosophy and technological innovations that feature in our flagship TAD R1TX floor-standing speaker system, released in July 2019. As we did for the TAD R1TX, we have collaborated with Tendo Mokko*, a distinguished maker of handcrafted luxury furniture. The result is a sturdy, vibration-damping enclosure for the TAD CR1TX to achieve a higher level of sound excellence. Our proprietary coaxial Coherent Source Transducer (CST) Driver plays a critical role in delivering single-point-source sound from this compact speaker. With the addition of the TAD CR1TX to the lineup, consumers now have a choice between a floor-standing speaker model and a stand-mounting speaker model from the renowned Reference Series.
*For more information about Tendo Mokko, please visit its website at www.tendo-mokko.co.jp.
TAD CR1TX – Main Features
CST Driver Delivers Ideal Single-Point-Source Sound
The CR1TX boasts the coaxial CST Driver, which controls the phase and directivity across a wide frequency range. The midrange cone controls the directional characteristics of the concentrically mounted tweeter. Additionally, it unifies the acoustic centers of the tweeter and the midrange so as to integrate the phase and directivity of their output in the crossover region. The result is ultra-wide-range reproduction from 250 Hz to 100 kHz as well as a directivity pattern that neatly dampens uniformly across all bands without disruption. All of this culminates in extremely clear and stable imaging and incredibly rich, natural-sounding reproduction of music.
Beryllium Diaphragm for Midrange Cone and Tweeter Dome
The CR1TX uses a beryllium diaphragm for its midrange cone and tweeter dome. Our proprietary vapor deposition technique provides the material with superior strength and uniformity as well as high-frequency resonance-damping characteristics. The midrange unit features an exceptionally large 16 cm-diameter cone that reproduces crystal-clear sound across a wide frequency range. In addition, we applied our own computer-analyzed optimization technique in designing the form of the tweeter's diaphragm. Called Harmonized Synthetic Diaphragm Optimum Method (HSDOM), it enables the precise control of divided vibrations as well as ultra-wide-range reproduction of up to 100 kHz.
Woofer Featuring a TLCC Diaphragm
The woofer has a strong and stiff TLCC (Tri-Laminate Composite Cone) diaphragm made of a core of foamed acrylamide. This is a light and rigid polymer often used on airframes, sandwiched front and rear by aramid fibers. The result is fast-response, rich bass free of tonal coloration. The triple-laminated diaphragm uses individually molded foamed acrylamide and aramid fibers. It takes advantage of the anisotropic characteristics of woven fabric to provide the additional benefit of reducing unwanted resonance in axisymmetric modes. Furthermore, the woofer underwent fine acoustic tuning to make the most of a natural-sounding timbre that CST Driver produces.
Woofer Driven by OFGMS Magnetic Circuit
To ensure accurate reproduction of complex audio waveforms, the magnetic circuit of the woofer features our proprietary OFGMS (Optimized Field Geometry Magnet Structure) circuit with a short voice coil, designed to linearize the magnetic flux density along a long gap of 20 mm. This circuit stabilizes the woofer's movement over its entire amplitude range and ensures high drive linearity. An even greater linearity is achieved by the suspension system that employs TAD's signature corrugated surround.
Aerodynamically Optimized Port System
The flare-shaped bass-reflex port is aerodynamically optimized by using the fluid design technology originally developed for TAD horns. This port effectively reduces air noise to a minimum and helps the bass driver unit perform smoothly. The bass is therefore always clean and crisp — even at the limit of its excursion range.
Sturdy, Vibration-Damping SILENT Enclosure
The SILENT (Structurally Inert Laminated Enclosure Technology) enclosure of the CR1TX is constructed of laminated parts of different materials. It takes advantage of both frame and monocoque structures. This allows us to achieve greater static and dynamic strength and better vibration-damping performance. Its rigid internal frame is made of 21mm-thick birch plywood and clad with 30 mm-thick vacuum-pressed veneer side panels. These are in turn glued to laminated MDF panels bent using high-frequency hot pressing. The same hot-pressing technique is also applied to give an elegant curve to the baffle and top of the cabinet. The combination of the flowing teardrop shape of the cabinet and its curved top makes the entire enclosure sturdier, reduces sound diffraction, and minimizes unwanted resonance and internal standing waves.
Collaboration with Tendo Mokko in Crafting the EnclosureWe designed and crafted the enclosure for the CR1TX in close collaboration with Tendo Mokko, a luxury furniture maker established in Tendo, Yamagata Prefecture, in 1940. Tendo Mokko has brought to this project its wealth of experience and artisanship in woodworking to help make the already strong SILENT enclosure even sturdier. The CR1TX's enclosure comes in two colors— Emerald Black and Beryl Red, both of which derive from beryl, a rare mineral that can be processed into beryllium. Emerald Black is associated with a very dark green gemstone; Beryl Red is associated with a red gemstone of beryl. Both finishes offer beautiful texture unique to natural wood and deep gloss with color tones that exude elegance expected of the Reference Series of speakers.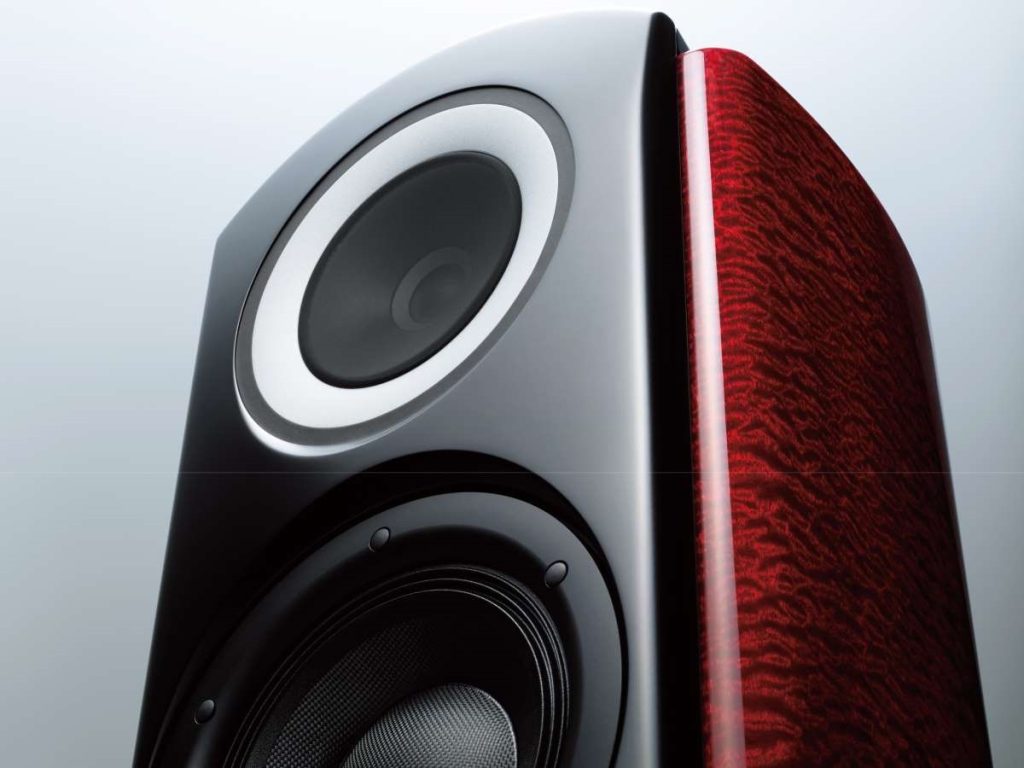 Availability and price
The TAD CR1TX with stands is available now for $89,000.
The stated retail price of the reviewed device is valid as of the time of the review and is subject to change.