Professional musician Stefan Gawlick travels the world and knows almost every major concert hall around the globe. In this series, he reports on the acoustics and other characteristics of famous venues both in the auditorium and on stage. Up now: The Teatro Olimpico in Vicenza.
Strictly speaking, this hall shouldn't really feature in our series as hardly any recordings have been made here to immortalize it. Almost none of you will get to enjoy the very unique acoustics of this hall on your home systems, and yet I want to share my insights into this building which, in many ways, is rather unfathomable. Perhaps next time you're in Tuscany or Venice you'll have a chance to stop off in Vicenza and rediscover what it means to be truly amazed…
In the mid-16th century, the Accademia Olimpica in Vicenza, an elite club that nurtured theater and the performing arts, decided it was high time to treat themselves to their own theater. A suitable plot of land in the center of the city was available, and, since rather conveniently one of the members of the academy went by the name of Andrea Palladio, the Accademia didn't have to waste much time looking for an architect. When the final decision to build was made in 1580, Palladio immediately got to work. He didn't, however, get to fully complete the plans as he died in fall of that very same year. His son and his colleague Scamozzi completed the hall's construction and, on March 3, 1585, the Teatro Olimpico was finally inaugurated with a production of Sophocles' Oedipus Rex.
As you approach the theater from the city center, you'd be forgiven for going straight past it: Very typical for Italian cities, the building's facade is a slightly crumbling brick wall sporting just a few window openings. Behind a wrought-iron gate lies a garden lined with statues, but even that is nothing out of the ordinary in these parts. Once you've entered the building through a preposterously small and crooked wooden door, you're hit with the first astonishing sight: A wide, high-ceilinged marble hall featuring many renditions of the academy's coat of arms. If you then ignore the large portals that simply lead into the next adjoining room and instead turn right to go through a few small, unimposing little doors, you will reach the actual theater.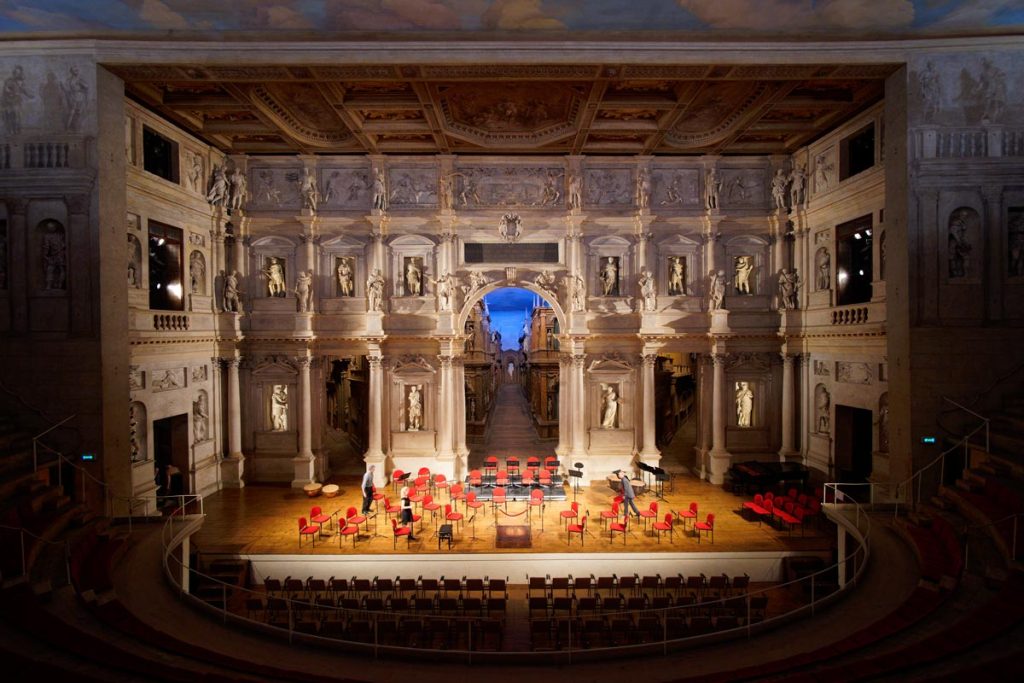 I've honestly never met anyone who hasn't been lost for words for at least five minutes after setting foot in this hall for the first time. After the shabby facade and puny doors, this theater looks that much more magnificent and splendid. The ancient Roman-theater-style scaenae frons back screen stretches across the stage with its remarkable trompe l'oeil street views, appearing to expand the stage both in terms of width and depth. In front, the semicircular seating area for the audience, does not, just as in ancient times, offer any comfortable seating. You simply sit on the steps. A curved ceiling painted to look like a slightly overcast sky gazes down at the whole ensemble. With the exception of ancient open-air stages, nothing quite like this hall has ever been seen before or after. It is truly an indescribably precious solitaire gem. From an acoustical perspective, the Teatro Olimpico is very unique. As the 800 spectator seats are arranged in a semicircle, no one is really very far away from the action; and no matter where you sit, you almost always feel like you're only a few steps away from the stage.
For the musicians, this also holds a special quality as every repertoire feels like chamber music here. The hall's particular ambiance, the proximity to the many audience members, and the immediate sound, which has the same quality almost everywhere in the hall, all contribute to a convergence of circumstances that elevate concerts above everyday musical performances. The Teatro Olimpico is, of course, no better than most other famous halls — it's too small, too impractical, climatically a disaster, and the lighting… well, the less said about the lighting the better. And yet I wouldn't miss a concert here for the world and I can't emphasize enough how strongly I feel about you needing to take a little detour to Vicenza as soon as you possibly can.
Music tips | Recordings with characteristic concert-hall sound: There are no noteworthy recorded productions from this hall available at this point, which makes coming for a visit all the more worthwhile.