Forever Young – celebrating a classic album's 50th anniversary
Today's scandals of the "royals" are nothing compared to Henry the Eighth in the 16th century. This English king was married no less than six times. Because no son was born to him, he had two of his wives mercilessly executed, and he divorced two others. To make these divorces possible, he also founded his own church – the Anglican. In 1971, the young keyboard player Rick Wakeman bought a book about King Henry VIII in an airport store before a long flight. As he began to read it, Wakeman surprisingly felt musically inspired: "I focused on one of the wives, and already music was pouring into my head. Sometimes I'd just be on a plane or on stage or at home in front of the piano."
This flow of inspiration was very welcome, because Wakeman had just signed a contract for five (!) solo records. Having helped out David Bowie a couple of times, he was considered a coming rock star. However, he turned down the offer to join Bowie on a permanent basis – instead, he decided to join the rock band Yes, which was currently without a keyboardist. The fact that Wakeman was signed as a soloist to another label was to become a problem, however. His contract forbade him to contribute his own pieces to Yes. One of the pieces he had written for the band therefore became the starting signal for his solo album and was now called "Catherine Of Aragon".
Wakeman's keyboard arsenal on the debut album ranges from piano, harpsichord and church organ to electric piano, Hammond organ, Mellotron and the then latest Moog and ARP synthesizers. In terms of models and playing techniques, The Six Wives Of Henry VIII was a pioneering act in keyboard rock. But when Wakeman's record company realized that he had made a purely instrumental album, expectations there plummeted. They decided on a cautious initial print run of 12,500 copies. Then chance helped. Shortly before the release, Wakeman presented excerpts from the album on BBC 2. Millions of viewers wanted to see an Andy Warhol film on BBC 1 that evening, but the film was cancelled. Many therefore switched to BBC 2, where they encountered Wakeman's virtuosity, his many devices and his "royal" subject matter. "It seemed like the whole country had discovered my music." The album sold two million copies in the first two years alone.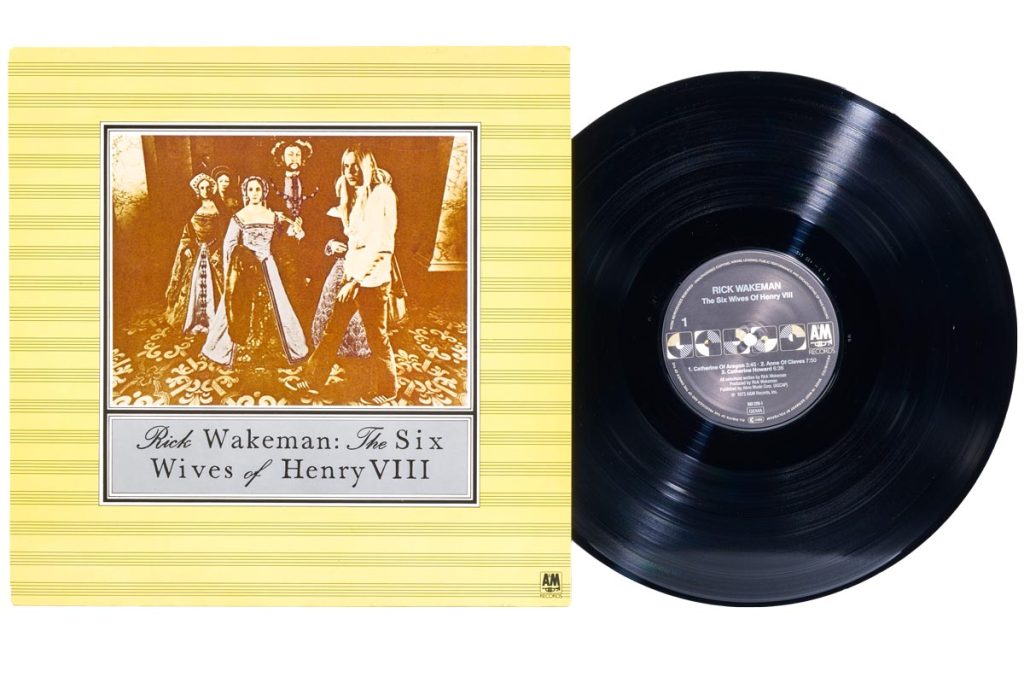 Facts
Recorded: February – October 1972
Released: January 1973
Label: A&M
Producer: Rick Wakeman
Tracklisting
1. Catherine Of Aragon 3:44
2. Anne Of Cleves 7:53
3. Catherine Howard 6:35
4. Jane Seymour 4:46
5. Anne Boleyn 6:32
6. Catherine Parr 7:06
Artists
Rick Wakeman – Keyboards galore
Mike Egan – Guitar
Les Hurdle – Bass
Dave Winter – Bass
Alan White – Drums
Bill Bruford – Drums
Frank Riccotti – Percussion
Ray Cooper – Percussion
Liza Strike – Vocals
and ten more
Commentary and Trivia
The photo on the record cover is not a montage. It was taken at Madame Tussaud's Wax Museum in London.
The music was recorded in several stages – sandwiched between sessions and tours with the band Yes. Wakeman brought into the studio whatever musicians were available at the time, including colleagues from Yes ("Catherine Of Aragon") and ex-colleagues from the Strawbs ("Catherine Howard").
With his star reputation (recording with David Bowie, Elton John, Cat Stevens) and solo contract with another record company, Wakeman had a special status with Yes. He always kept a bit to himself – Yes guitarist Steve Howe called him "the old pub man."
Rick Wakeman was known to wear a cape cape during stage performances. Supposedly, he used it to hide his "spidery" arm movements on the keyboards.
Each of the six pieces offers an alternating bath of musical moods – and keyboard colors: rocking Hammond organ next to romantic or virtuoso piano – bizarre synthesizer parts next to harpsichord boogie and hints of Bach on the pipe organ.
A seventh piece, intended to portray Henry VIII, had to be omitted for lack of space. However, Wakeman mounted quotes from it into the other pieces.
Eight months after the album's release, Rick Wakeman was voted best keyboardist by the readers of Melody Maker.
Wakeman's role model was American keyboardist Michael Quatro, an older brother of Suzi Quatro.
The King Henry subject haunted Wakeman into his nightly dreams. After witnessing Anne Boleyn's execution in a dream, he added a 19th-century hymn ("The day thou gavest, Lord, is ended") to the piece "Anne Boleyn."
On concert tours with Yes, Wakeman often played a solo medley from the Six Wives. The focus was on the first piece ("Catherine Of Aragon").
The music from the album was performed in its entirety for the first time in 2009 – with choir and orchestra.
Rick Wakeman – The Six Wives Of Henry VIII on discogs
The stated retail price of the reviewed device is valid as of the time of the review and is subject to change.