Professional musician Stefan Gawlick travels the world and knows almost every major concert hall around the globe. In this series, he reports on the acoustics and other characteristics of famous venues both in the auditorium and on stage.
This is a rarity. We report on a hall that has had its day. The Tonhalle MAAG Zurich is no longer needed, a further use apart from a boring existence as an event location is still in the stars. Nonetheless, this modular hall deserves all the honors with which a concert hall can adorn itself.
When the Tonhalle Zurich underwent extensive renovation from 2017 to 2021, the renowned Tonhalle Orchestra urgently needed an alternative venue. For years, different options and concepts were discussed. In the end, an existing hall in a former industrial area has been lined with a wooden box, seating and wiring were slapped in, and wham, bam, we've got ourselves an alternate hall with 1224 seats. By the way, the Tonhalle Orchestra has posted a time-lapse video of the construction on Youtube that is absolutely worth seeing.
What was planned as a simple stopgap measure turned out to be a real stroke of luck, because this small, hastily constructed hall, which was not supposed to be able to do much, sounded and sounds exceedingly good and easily outshines many established venues for classical music across the globe. For the audience, everything sounds "close" without becoming overbearing; a phenomenal synthesis of closeness and distance is created, which allows you to experience every note up close, yet never makes loud passages uncomfortable. The thoroughly stupendous transparency of the musical textures, however, is not accompanied by the hard, sterile character that is all too often bought in. Since the entire hall is made of wood, it sounds as only this material can: clear and yet warm and organic.
As a musician, unfortunately, you approach this wonderful stage via long, narrow and winding corridors as well as some steep stairs. That's when you realize that the basic structure of this building was not designed for this use. Once you have successfully made your way there (which entails finding the way in the first place), you board the wonderful stage, where you can hear both yourself and most of your colleagues effortlessly. As a timpanist, you sit in the last row near the back wall, so you are allowed to relax a bit and don't have to support every loud cue with full force. Here you can nudge the notes rather loosely, then let the hall do its work and feed in a bit as necessary. It's a very pleasant way to be able to play even more complex music in a very relaxed way, with an eye on the musical structures, without having to worry too much about the physical work.
The fact that the neighborhood in which the Tonhalle MAAG (Music & Arts AG) Zurich is located is teeming with bars and restaurants, and that the local public transport system is right outside the door, only rounds off the picture of a wonderful concert hall. It is a pity that I will probably not have any more concerts there. Of course, I will enjoy playing in the "real" Tonhalle again, but I will really miss this interim hall.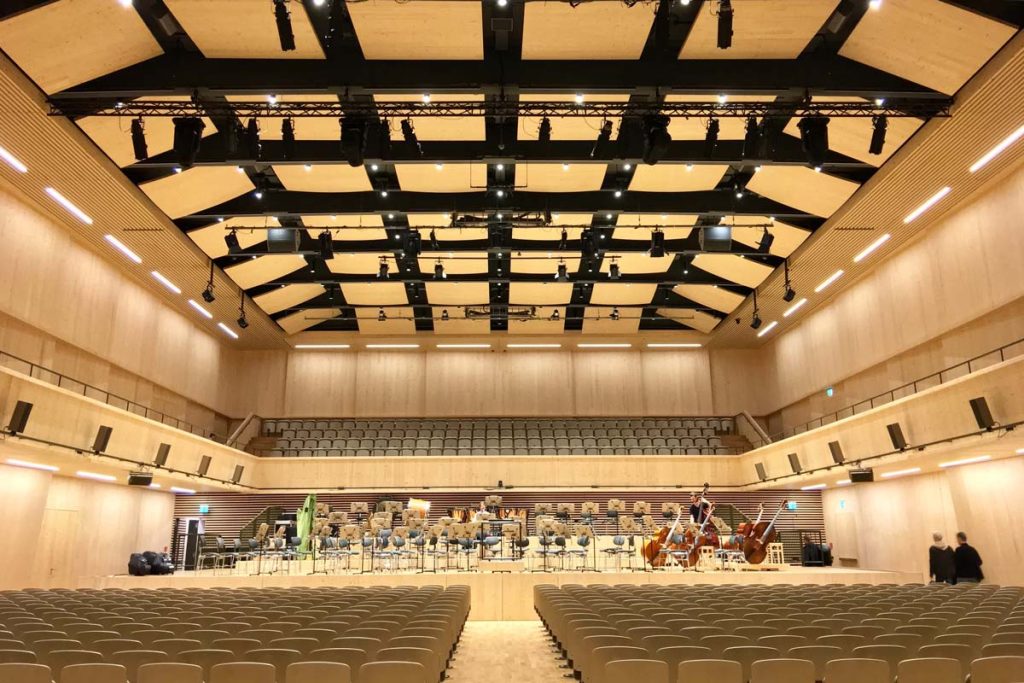 Music tips – recordings with typical room sound
You can find some recordings of individual concerts by the Tonhalle Orchestra Zurich, which were recorded in this hall during the interim period.
The stated retail price of the reviewed device is valid as of the time of the review and is subject to change.