Western Electric 2.0? Welcome to the computer age, because that's what the term "2.0" has stood for since the 2000s. We won't delve into the details of us now being in the Industry 4.0 (or 5.1 …) era – that's not our focus here. Instead, we're talking about the resurrection of a legend…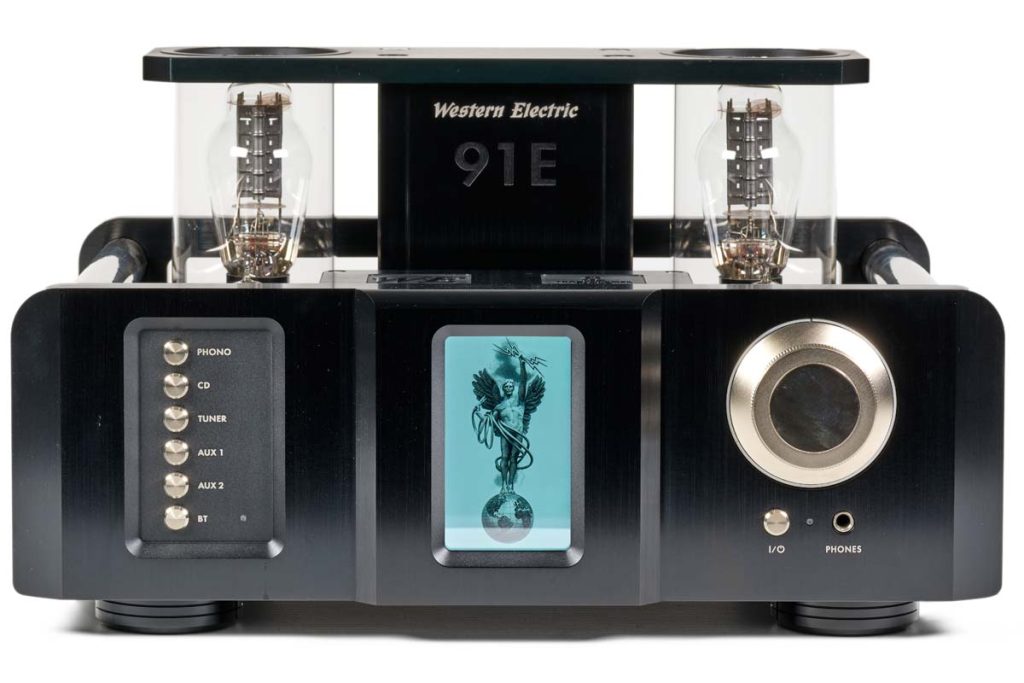 … blame it on the telephone! In 1869, Messrs. Enos M. Barton, Elisha Gray, and Anson Stager founded a company in Chicago to manufacture various electrical products. The name: Western Electric Manufacturing Company. At the same time, a certain Alexander Graham Bell patented the telephone, and as fate would have it, a legal battle erupted between the two parties. It concluded in 1879 with a defeat and the withdrawal of Western Electric M.C. from this business sector, which was eventually taken over by Bell in 1881 – a crucial step toward the standardization of the telephone. The present-day Western Electric company has experienced a tumultuous history over the last century and a half, which we won't detail here. Instead, let's focus on the key points. In addition to advancing telephony, the manufacturer also maintained a division for the distribution of electrical devices, and it was here that the Bell Telephone Laboratories began developing their own products in 1925. We find ourselves in the golden age of silent films, which transitioned to sound in the 1930s. These presentations required speakers, which in turn had to be powered by amplifiers.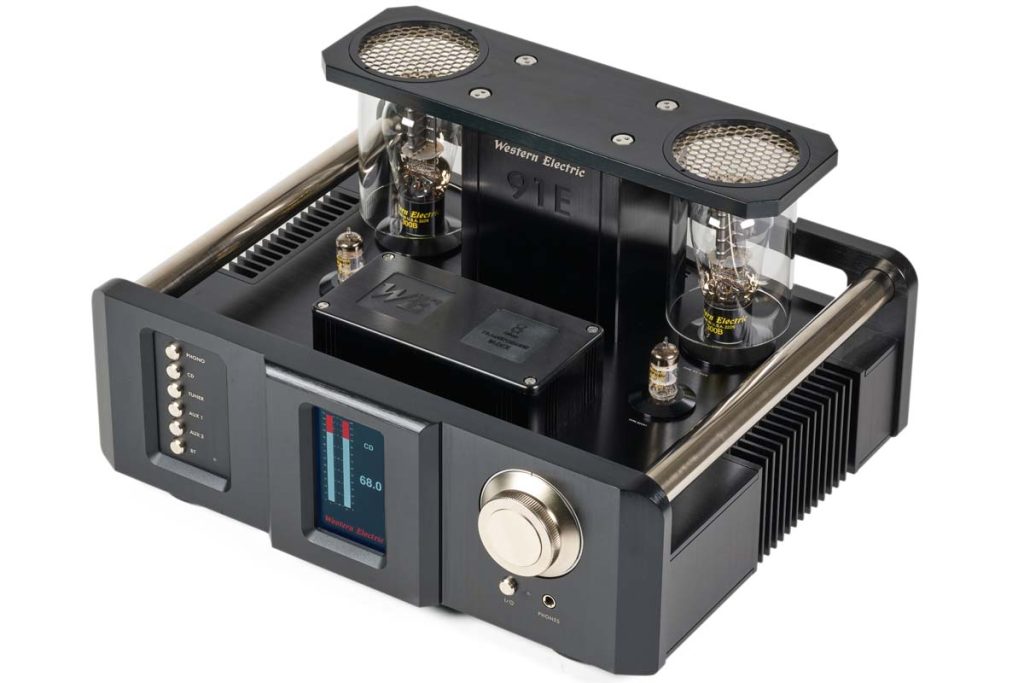 In 1936, the ancestor of our test subject made its debut. It was labeled "91A," with the "A" representing the tube type – this 300A soon evolved into the 300B in 1938. The most notable difference between the current 91E and its ancestor is in power. The manufacturer specifies "up to 20 watts" at 10 percent distortion (no typo) for this amplifier. Of course, this kind of power isn't squeezed out of the beautifully crafted WE-300B tubes using the classic circuitry. More than seven to nine watts were not achievable with this tube type without significant distortion. The mentioned power conceals a super-modern technology, the "Steered Current Source" circuit (SCS for short), based on the principle of "Parallel Feed Constant Current Source." This circuit was developed by Günter Mania (AVM and Westend Audio – the namesake "Westend" is a district in Munich near the Theresienwiese) in collaboration with developer Charles Whitener of Western Electric. Both received the patent (with WE naturally taking the lead on the American side). In essence, it's a design in which half of the alternating current is directed to the tube's anode, resulting in only half of the power loss occurring within the tube.
When unpacking, you'll immediately notice the relatively light weight of around 22 kilograms for a tube amplifier, even though it's one of the larger types of its kind in terms of appearance. The reason for this becomes clear quickly – there's no typical "iron aggregation" in the form of massive output transformers to be found here.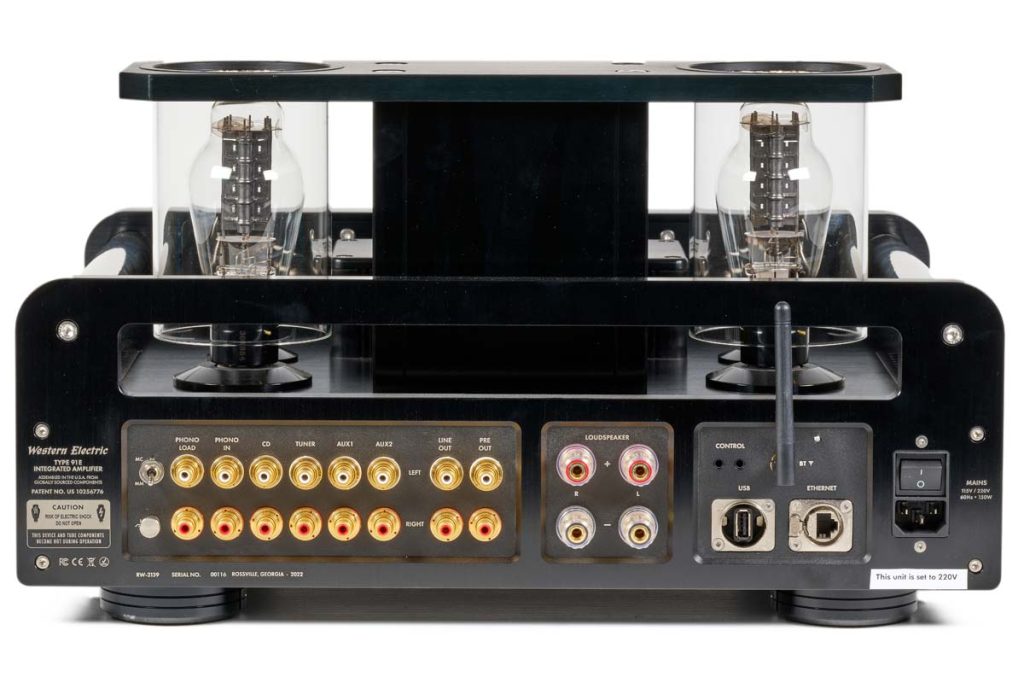 The WE 91E proclaims its modernity with the display in the middle of its front panel. A prominent LED field indicates operational states. Right after turning it on, the old company logo ("Spirit of Communication") from Western Electric in 1914 appears in the center of the (fortunately, switchable) display, followed by a 30-second warm-up period and bias adjustment for the output tubes, which also takes place within the same time frame. The amplifier repeats this procedure every time it comes out of standby mode. It automatically enters standby mode if no signal is received at any of the six RCA/Cinch input ports for 20 minutes. The volume control is self-explanatory, as are the buttons on the left side. The optical appearance is unusual, but tastes vary, as they say. If the abbreviation "BT" initially confuses you, you'll understand its meaning on the back – Bluetooth. All functions can conveniently be controlled with the included metal remote.
Let's stay on the back panel because Western Electric has really thought of everything here. Via Bluetooth (4.2), protocols and formats like BC, MP3, AAC, FastStream, and aptX are used, with sampling rates up to 96 kilohertz. Even if you're not a fan of "music from the air," the antenna should be screwed on to prevent interference – it also serves as a terminator. A fixed internet connection (LAN) and USB are also part of the present, but they won't bother the owner much – they are only used for software updates.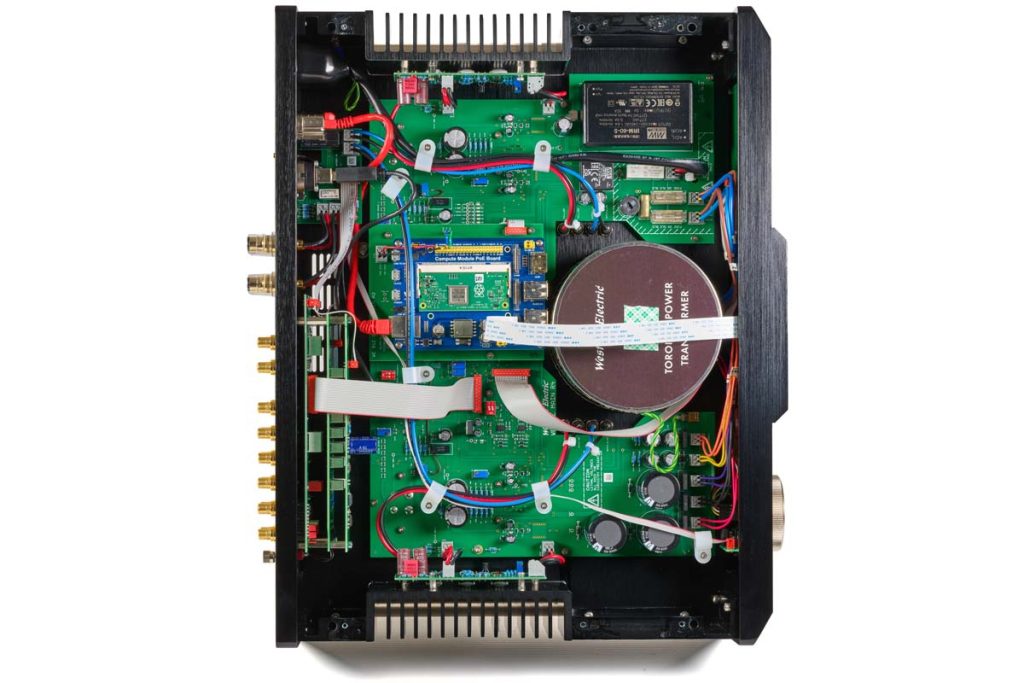 In addition to a pre-out, there's a line-out (for recording devices), and with the pre-out, you can connect an active subwoofer (my preferred solution…). I must mention the phono jacks. A small toggle switch selects the MM/MC operating mode. The necessary capacitive and ohmic values can be achieved with optional fixed-value RCA connectors (called "1202A Phono Terminal Plugs") at 100, 220, and 330 picofarads and 100, 330, and 1000 ohms. A good idea, as you only need to buy the setup that your existing cartridge requires (with MC, you are immediately in a wide range of compatible cartridges with the versatile 100-ohm setting). When choosing your accompanying speakers, you must pay attention to the impedance. While conventional circuits based on iron-core output transformers typically have taps for four and eight ohms (less commonly 16 ohms), the impedance of the speakers must be taken into account when purchasing the 91E. It comes standard with an eight-ohm version, but it can be easily changed to four or 16 ohms with a compatible transformer block (for an additional fee). The eight-ohm version should work well with most efficient speakers. The respective configuration is clearly visible on top. Under the rectangular box labeled with the ohm rating, you'll find two small transformers. A special screwdriver for loosening the four screws is included. To be honest, the music enthusiast shouldn't do this themselves – that's what your trusted dealer is for. The two 300B tubes are inserted after removing the four screws on the top of the cover using the included red special tool. Note: There are two thick and two thinner contacts, so make sure you don't mix them up; furthermore, the tubes are labeled with the respective channel using an attached label in each tube box. The long screws pass through the entire (empty) tower. It serves solely as a solid frame for the glass bodies on both sides, preventing contact with the tubes during operation.
The 91E demands highly efficient speakers. Western Electric introduced its own speaker design at HIGH END 2022, based on a wideband Air-Motion driver with a sensitivity of over 100 decibels. So, the manufacturer has already provided the right hint, and immediately, a Klipschorn comes to mind as a suitable partner… The preamp section is equipped with two ECC81 tubes. The beautifully crafted 300B tubes undergo a multi-day testing process at the factory and are matched in pairs afterward. The manufacturer recommends using their own 300B tubes, as the circuit is optimized for them. Both the tubes and the amplifier are manufactured at the company's facility in Rossville, Georgia, about 180 kilometers southeast of Nashville, Tennessee. There are three different color options – black, champagne, and, for an additional fee, nickel. Unfortunately, there are still skeptics when it comes to power cables. It's a shame because the 91E immediately benefits from a good power cable. In the test, a cable from an American manufacturer in the price range of around 1,400 euros (2 meters) was a perfect match.
So, hopefully, I haven't forgotten anything… Regardless, I want to finally listen to this amplifier. I have plenty of effective speakers, so I start right away with a female voice: Lara Fabian – live with "Caruso," sung in Italian, of course. The Belgian-Canadian singer is one of the great vocal stars in France and Belgium, and anyone who has ever heard her sing this piece knows why. It delves deep into the ear canal and generates waves of goosebumps. After its multi-day break-in period, the 91E showcases its sonic capabilities.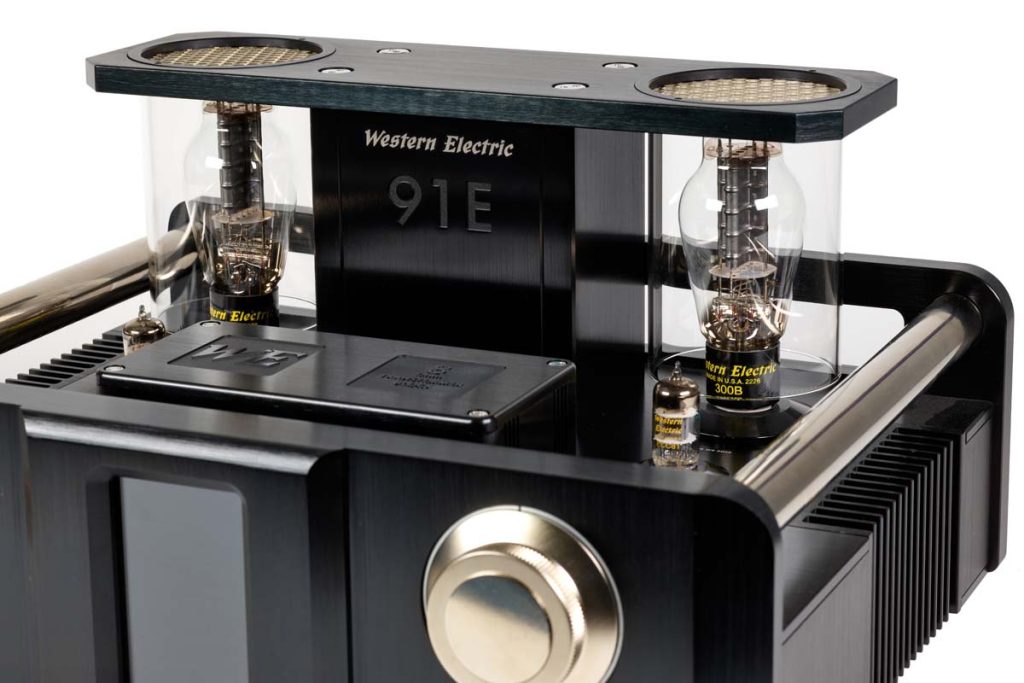 The sounds are presented wide and effortlessly, almost floating. Hooked by the female vocals, I switch to Youn Sun Nah. She has recorded an incredibly authentic album with Lento. The strings of the acoustic guitar glisten with unbridled joy in the room – so the next musician is almost inevitable.
Hans Theessink's Bridges plays in its entirety. The notes are cleanly separated from each other and presented with astonishing breadth. The number of truly well-recorded music productions is decreasing. Brambus Records in Mühlhorn, Switzerland, is aware of this fact and is bravely countering it. A CD by Nicole Herzog is dedicated to Billie Holiday, the great lady of modern jazz vocals, and Nicole Herzog's unique interpretations of her music (with the Stewy von Wattenwyl Group) are characterized by fresh arrangements in different line-ups. From a duo to a quintet, the singer impresses with her first-class voice, which can range from delicate to powerful and touches with her dedication. A CD production that lingers in my ear.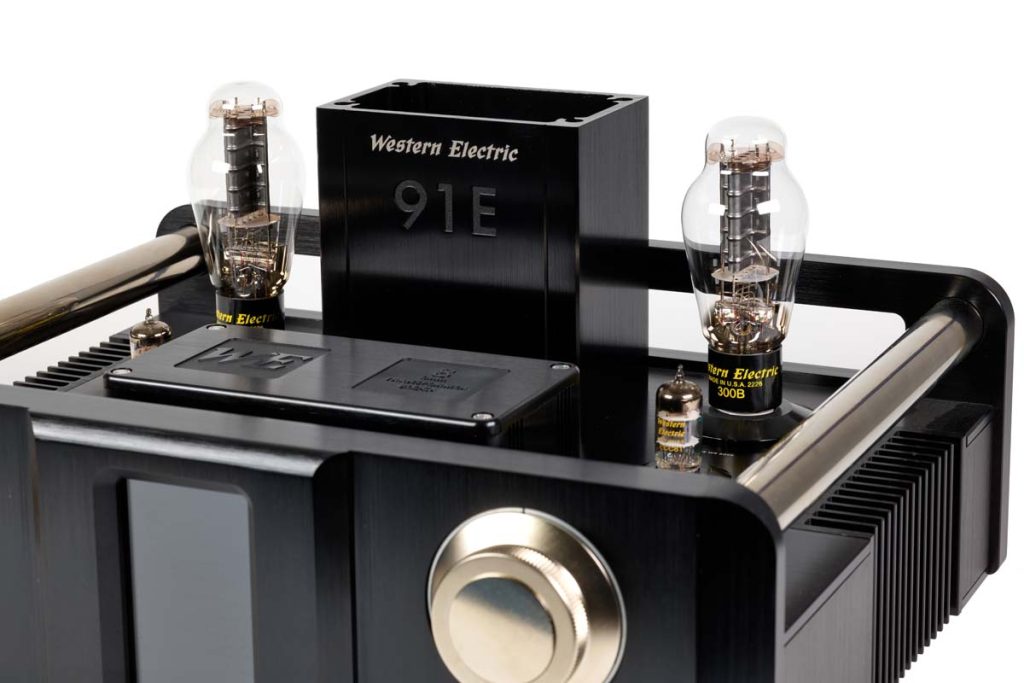 The next musician in my listening program is Andreas Dombert. He originally started with classical piano and then studied jazz guitar. From 2002 to 2004, he was a member of the Bundesjazzorchester (Federal Jazz Orchestra) under the direction of Peter Herbolzheimer, and over the years, he has toured worldwide with countless concerts. He toured with Larry Coryell, Philip Catherine, Ulf Wakenius, Airto Moreira, and others. After his debut album, he followed up with a trio: "I had avoided trio recordings for a long time because it means revealing your innermost self," says the guitarist. But it was time, and so he went to the Munich studio of Manfred Mildenberger with New York drummer Jochen Rückert and Munich bassist Henning Sieverts to record this extremely emotional CD, "35." It's the mixture of jazz and minimalism that captivates the listener. Uncompromising with a range of wonderfully free improvisational themes, both tonally and technically flawless – an absolute recommendation for genre fans.
Stockfisch Records has released Closer To The Music Vol. 6 after several years. As always, it's a sampler of musicians from their own ranks, this time featuring the newcomer, Irishman Ian Smith. The hallmark of all Stockfisch productions is their ruthlessly high recording quality, so it's no surprise that we listen to these 18 tracks in their entirety. Claudia Koreck's Die Perlentaucherin ("The Pearl Diver") caught my attention while browsing through my collection of records; this album fits perfectly with the previous ones, all of which are characterized by excellent recording quality, which is exactly what the WE 91E seems to want to reproduce. My preferred listening volume with it is at a level of around 75 decibels of sound pressure – combined with highly efficient speakers, this is more than sufficient.
As a reference point, it should be noted that 80 decibels is the typical sound level in a road tunnel…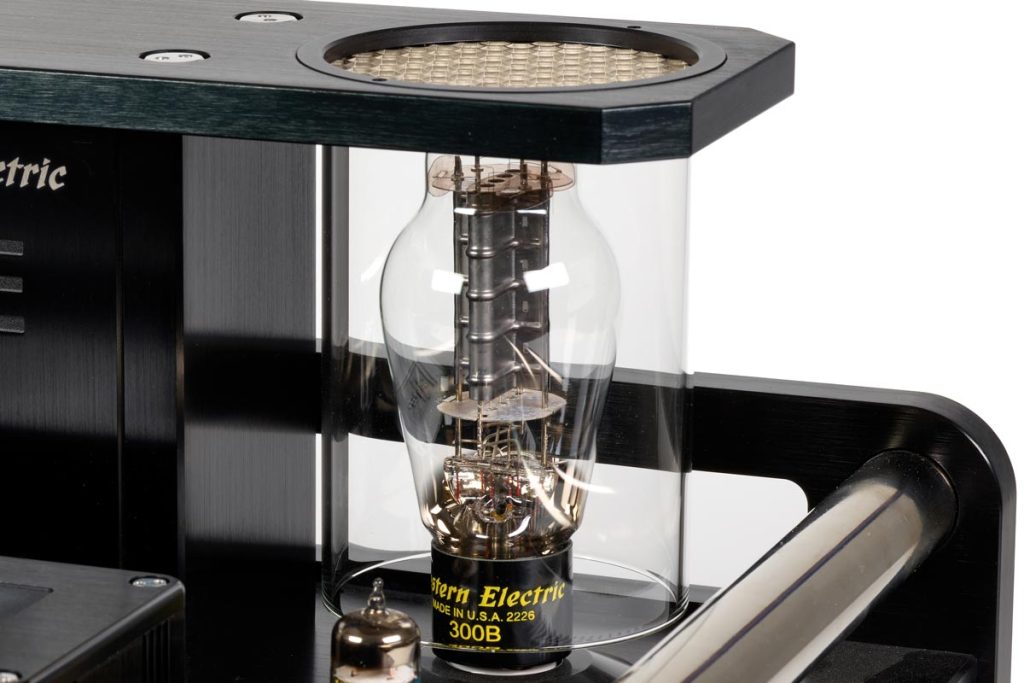 Accompanying Equipment
Tube Preamplifier: Octave HP 300 SE | Tube Stereo Power Amplifier: MFE TA 845 | CD Player/Transport: Restek EPOS | DAC: Wadia 27i | Turntable: Clearaudio Innovation | Tonearm: Clearaudio Universal with Smart Power 24V Power Supply | Cartridge: Dynavector Te Kaitora Rua | Phono Stage: Rike Natalija II | Speakers: Blumenhofer Acoustics Genuin FS1 Mk 3 | Interconnects: HMS, AudioQuest RCA/Cinch | Speaker Cables: HMS, AudioQuest | Power Cables: AudioQuest, Fisch, Nordost, MFE | Room: acoustically treated, 40 sqm, reverb time 0.4 ms
Tube Amplifier Western Electric 91E
Concept: Tube amplifier with SCS circuit and Bluetooth | Inputs: 4 x Line-In, 1 x Phono (MM/MC), 1 x "Phono-Load" | Outputs: 1 x Line-Out, 1 x Pre-Out | Phono Impedance: 47 kΩ/100 pF (MM), 1000 kΩ (MC, adjustable via "Phono-Load" plugs) | Phono Sensitivity (10 W/4 Ω): 0.75 mV (MM), 70 μV (MC) | Tube complement: 2 x Western Electric 300B (matched), 2 x ECC81 | Signal-to-Noise Ratio: 83 dB (MM @ 10 W/4 Ω, 5 mV), 73 dB (MC @ 10 W/4 Ω, 0.5 mV), 101 dB (Line-In @ 10 W/4 Ω, 0.5 V) | Frequency Response (CD-In, -3 dB): 15 Hz to 32 kHz | Frequency Response (Phono, ±0.5 dB): 30 Hz to 20 kHz | Power (3%/10% THD): 14 W/20 W (4 Ω), 14 W/20 W (8 Ω) | Power Consumption (Operation/Standby): 160 W/0.3 W | Other: Bluetooth 4.2 (max. 16 bit/96 kHz), USB/LAN for BT software updates | Colors: Nickel, Champagne, Black | Weight: 22 kg | Dimensions (W/H/D): 48/28/38 cm | Warranty: 2 years | Price: around 20,000 €, Phono plugs around 100 €/pair
Audio Reference
Alsterkrugchaussee 435
22335 Hamburg
Phone +49 40 53320359
The stated retail price of the reviewed device is valid as of the time of the review and is subject to change.