No other loudspeakers in the world epitomize "high-end audio" quite so unequivocally as the suberb yet pricey devices from Wilson Audio Specialties – while simultaneously enriching the term with musical exuberance.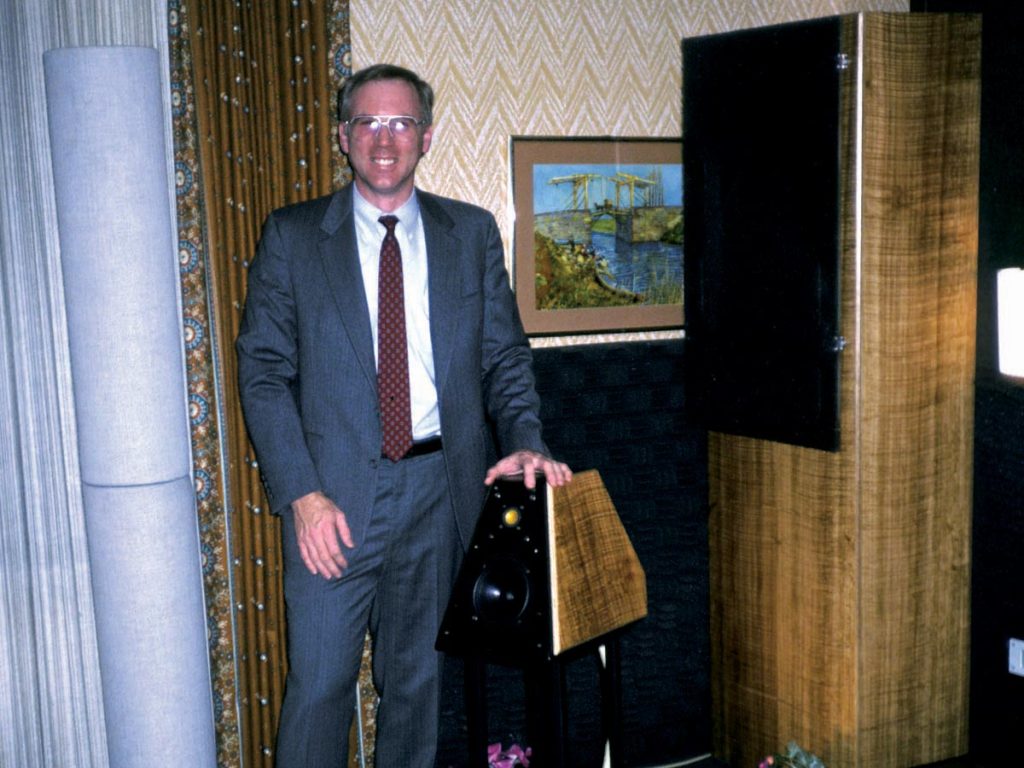 Since its inception in 1974, the Wilson Audio Specialties brand has been inextricably linked with the name David A. Wilson. According to the company's founding father, however, his passion for music and sound quality goes back a lot further — to the Christmas Eve of 1957, in the Californian town of Glendale. Aged twelve at the time, what young Dave really wanted to do was "go to sleep as quickly as possible so that Christmas Day would come around sooner" and he'd be able to play with the chemistry set he was so hoping for. But one of the neighbors had other ideas. He had set up a large loudspeaker in front of his house and was playing Christmas carols to spread some festive cheer. Unable to sleep, Dave decided to look out of his bedroom window to see who all the singers were, and why they seemed to be performing non-stop. What he saw astonished him — instead of a large choir, the only thing in sight was his neighbor's Klipschorn speaker. This was a formative experience for the young boy, one that would eventually lead to the establishment of Wilson Audio Specialties some seventeen years later.
Although David Wilson's professional career in the 1970s was spent in the medical and pharmaceuticals sectors in the Bay Area, he had long since been bitten by the music bug. But hi-fi was more than a pure hobby even then, and he was already turning a small profit from his activities. In the early 1970s, he created a product christened the "SM.AR.T" by adding an SME tonearm and a customized sub-chassis to an Acoustic Research turntable. This creation, however, quickly disappeared from the market. By this time, David Wilson had already started to write articles for The Absolute Sound. Using a modified Revox A77 tape machine and minimal microphone setups, he had also published his own recordings under the "Wilson Audiophile Recordings" label. The range was broad — small and large line-ups, performed by choirs and orchestras, recorded in concert halls or cathedrals — but always featuring acoustic, unplugged music. The label released its first record, an organ concert featuring James Welch, in 1977.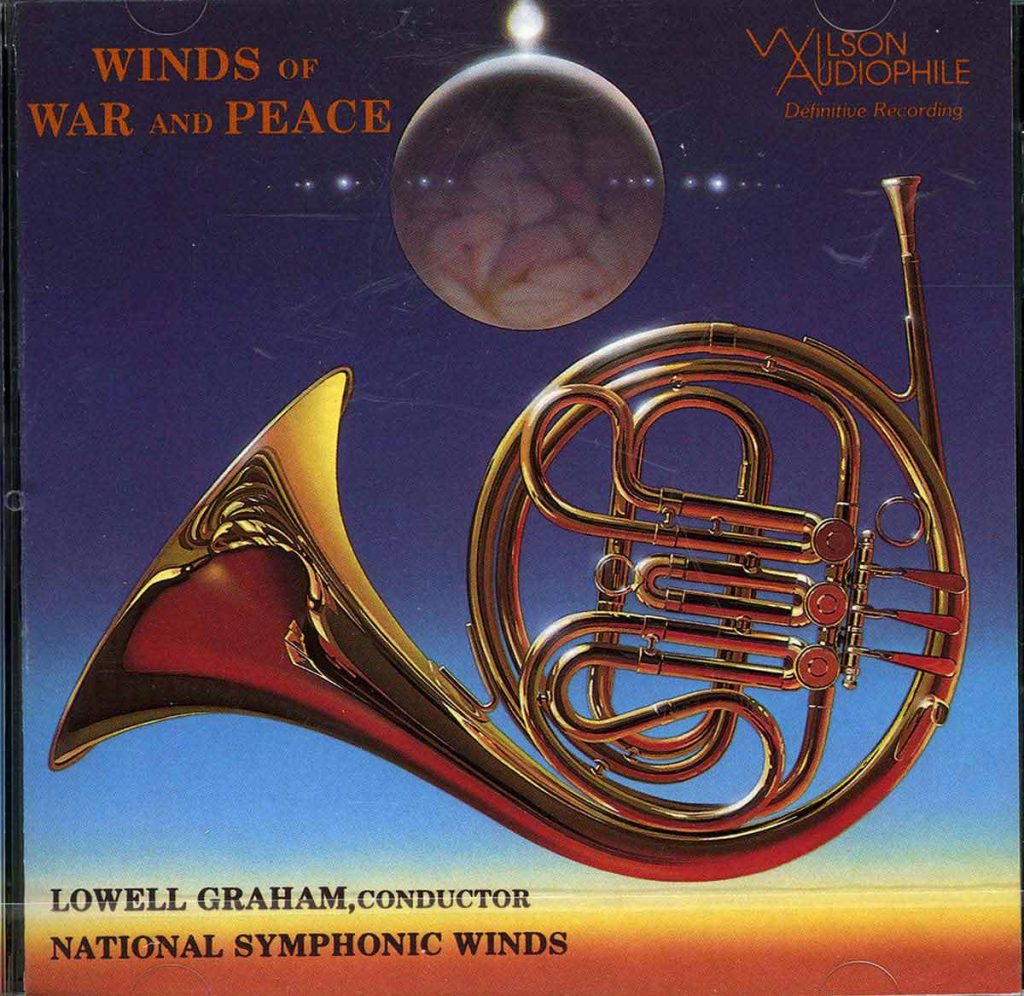 But, because the sound on his home stereo system wasn't comparable to that he had experienced during the recording, David Wilson began to experiment with the construction of loudspeakers. By combining a Dahlquist DQ-10 with an array of JansZen electrostatics and a Braun mini-monitor, Wilson achieved such promising results that he decided to experiment further in this direction. He discovered, almost by accident, that the distances between the individual speakers have a significant impact on the sound produced. This is a phenomenon that the sound engineer Ed M. Long had noticed a short time beforehand. Called "time alignment", it was the realization that a good overall sound can be achieved when the individual signals all arrive at the listener's ear at pre­cisely the same moment.
Wilson determined that good time alignment is a factor in discernibly enhancing sound quality in general, and particularly in improving the localization of individual sound events.
Encouraged by this discovery, David Wilson now began to refine the ton­al and dynamic range of his speaker system as well — always benchmark­ing against the original sound experience. The result of his efforts was the "Wilson Audio Modular Monitor (or WAMM), the first-ever Wilson Au­dio brand loudspeaker, and the first speaker at all to feature mechanically adjustable time correction. The WAMM was unveiled for the first time at the Winter Consumer Electronics Show (WCES) 1982 in Las Vegas, causing an immediate sensation. The WAMM system was made up of six individual components: two over six-feet high subwoofer towers (with the tremendous bass chassis from Magnat), two similarly tall full-range array towers (equipped with the already legendary KEF B139 woofers, Braun mini-monitors and electrostatic arrays from JansZen), a modified professional-class equalizer for controlling the full-range array towers and an active crossover for the subwoofers.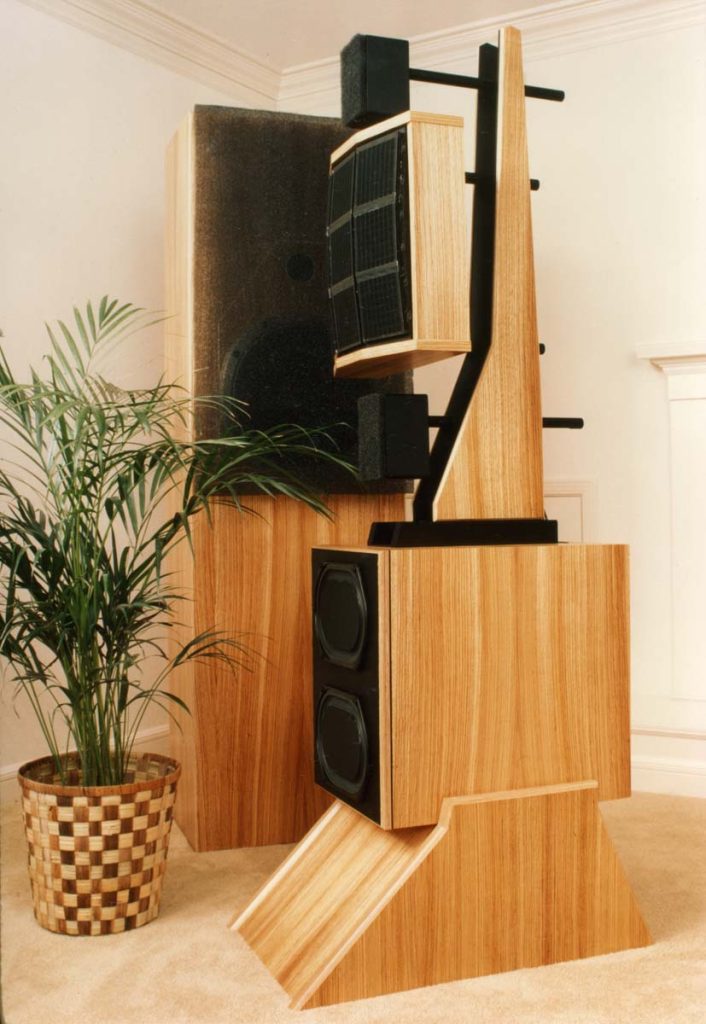 As you might expect, the WAMM project was masterminded by David Wilson. However, the person who played the most important role in driving it forward was his wife Sheryl Lee Wilson, whom he had met while studying at Brigham Young University in Provo, Utah. It was Sheryl Lee who finally convinced Dave to pursue his interest in audio as a full-time job. What clinched it was a question: "Dave, do you really want to wake up at the age of 50 and wonder how things could have gone if you'd taken the plunge?"
This was precisely the question David Wilson didn't want to have to ask himself, and he went on to create the WAMM, a speaker that broke com­pletely new ground. At the time of its launch, the WAMM was way ahead of the competition. It was richer, closer to the original sound experience and generated a higher level of sound pressure. It's regarded as the first speaker to reproduce something approaching the original dynamism of live music. This is much more than just pure volume, it's the capability of reproducing sophisticated precision dynamics even at high sound levels. Already iconic on its unveiling in 1982, the WAMM speaker was to re­main part of the Wilson Audio portfolio for over two decades. Its contin­uous refinement and upgrading was reflected in both the series number (Series 1 to 7) and the steadily increasing price. Costing $35,000 dollars when it first appeared, the price had already risen to $42,000 dollars by the second year of manufacture. Eight years and 25 installed WAMM systems later, the asking price was $88,000 dollars, climbing to around $240,000 dollars by the time production was discontinued in 2004.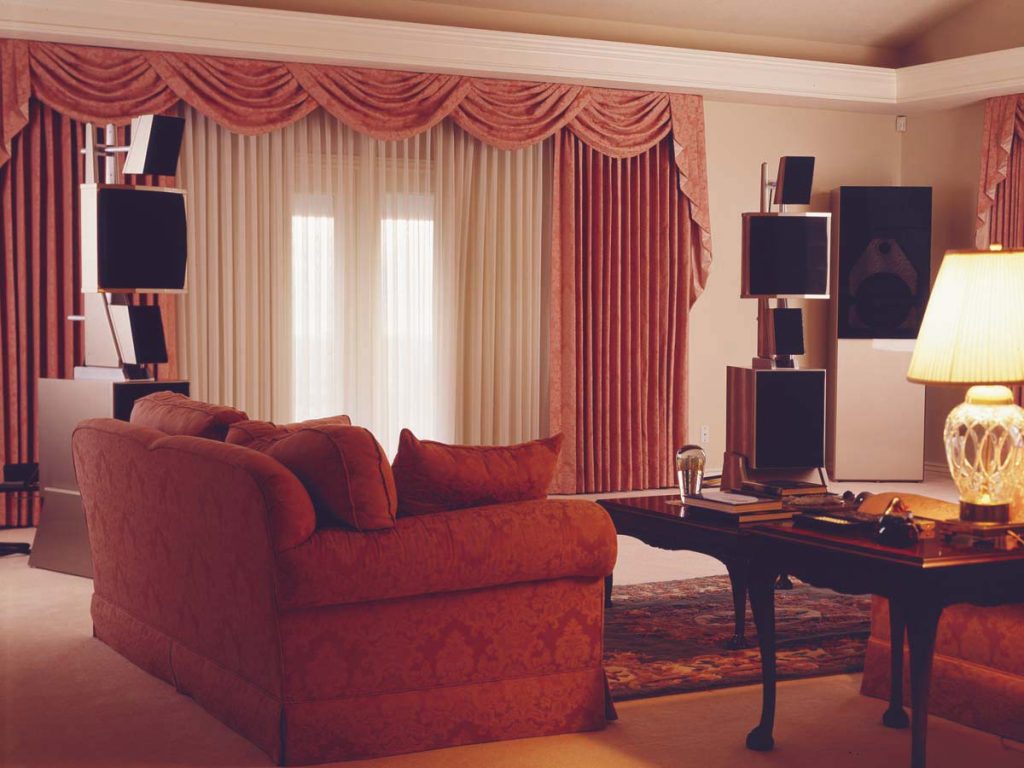 The only features common to all series are the modular design, the adjustable mechanical time alignment and the KEF B139 as bass driver. All other components have been continuously improved, down to the tiniest detail. The developers soon realized that the material used for the cabinet had an enormous impact on the speaker's performance. This quickly led to major quality enhancements, accompanied by price increases to cover the rising costs for materials, tools and working hours. By 2004, a total of 53 WAMM systems had been sold worldwide.
David Wilson always regarded the WAMM as the perfect instrument for assessing the quality of recordings — an opinion that was shared by unbiased hi-fi testers. All agreed that there was no other loudspeaker better able to reproduce the live concert experience. Despite all this, the WAMM project almost ended in disaster for the Wilsons and their fledg­ling company. Once the initial hype was over, and the new orders started to come in at a much slower pace, David and Sheryl Lee Wilson were forced to sell their house in order to continue operating. In this period, they focused their creative activities once again on Wilson Audiophile Recordings.
The breakthrough for Wilson Audio as a speaker manufacturer came in 1985 with its second product, the WATT (Wilson Audio Tiny Tot). Its development was due to David Wilson's need for a small monitor he could easily take with him to recording locations, but one that was still capable of delivering the desired sound quality. Satisfying both require­ments, the portable WATT (just like the WAMM), was initially designed purely to help with recording work. Unlike the chief developer himself, dealers of his acquaintance immediately realized that the "tiny tot" was capable of delivering a great performance as part of a hi-fi system as well. Once again, it was Sheryl Lee Wilson who overcame Dave's reluctance and persuaded him to market the WATT as a product. And this proved to be a great decision. Despite being by far the most expensive speaker of its size, the WATT became a bestseller in audiophile circles. Later on, the WATT was given a bass sidekick called Puppy, and this WATT/Puppy duo enjoyed sales success worldwide, establishing Wilson Audio's primary reputation as a speaker manufacturer.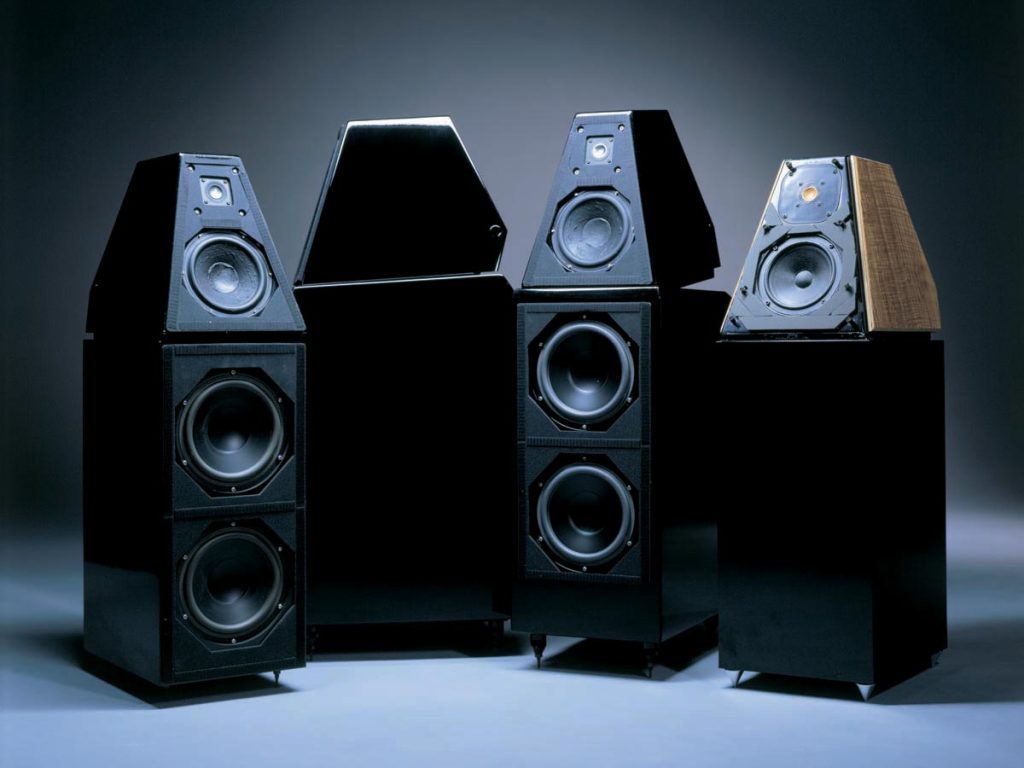 The original WATT benefited from experience gained during development of the earlier WAMM, particularly with regard to the driver delay times. This resulted in the tweeter being mounted separately behind the bass driver on a backward-angled baffle. In later versions, several spacing positions were selectable depending on the individual listening environ­ment. Alongside all the driver variants, cabinet materials and innovative technologies, all Wilson Audio speakers have continued to illustrate the groundbreaking principle that time-coherent propagation is fundamen­tally important to optimum reproduction. This is part of Wilson Audio's DNA.
Although the first 20 years of the company's history were shaped by only three speakers — the WAMM, the WATT and the Puppy — in the two de­cades that followed, David Wilson and his growing team of handpicked experts developed no fewer than 16 new mechanically time-aligned products, of which the larger models were additionally adjustable.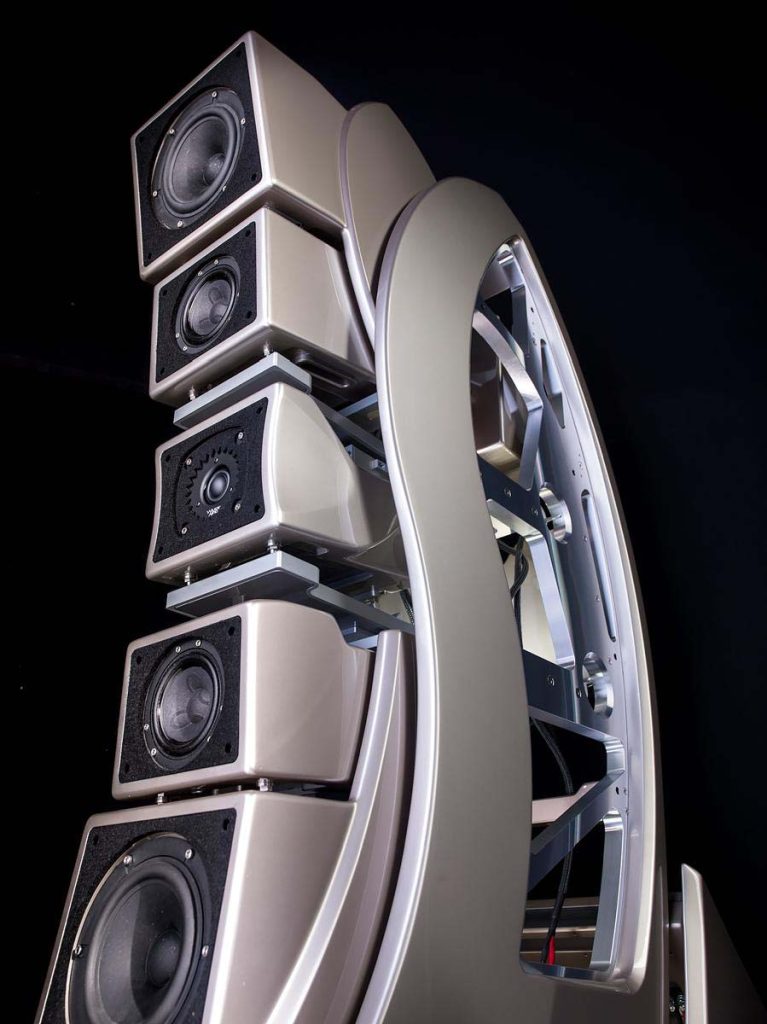 Some ten years after production of the WAMM Series 7 had been discontinued, David Wilson and his son Daryl, a permanent company fixture since 2002, began to look at ways of putting the company's 40 years of know-how into a further product that brooked no compromis­es. The lessons learned in the fields of materials, driver technology and mechanical time alignment were ultimately brought together in a speaker that — just like the original WAMM — set a completely new benchmark in music reproduction. With the WAMM Master Chronosonic, officially launched in 2017, David and Daryl Wilson were able to create a further paragon of technical sophistication and sound quality.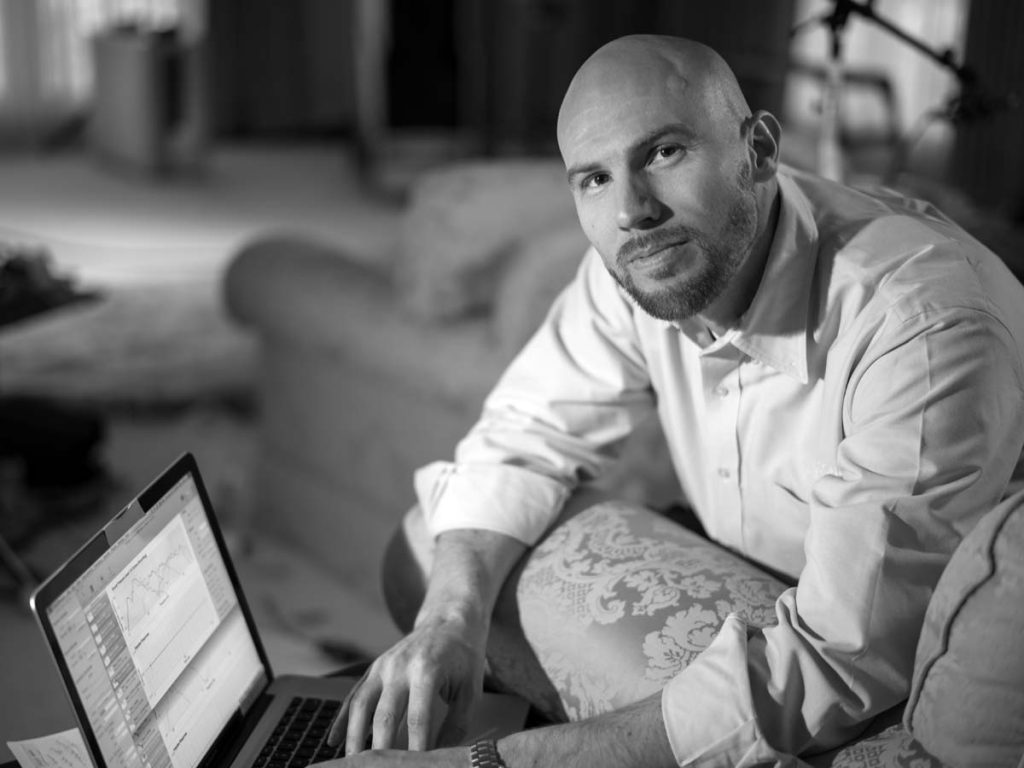 It's a modular system. But, unlike the original WAMM, this six-way loudspeaker requires no separate subwoofer and equalizer. (Anyone still looking for more power in subsonic regions can opt for Wilson Audio's flagship subwoofer, known as "Thor's Hammer".) The seven drivers on the front side of the Master Chronosonic are distributed across a total of six modules. The five tweeters and mid-ranges on the front side are equipped with an extremely flexible mechanical time alignment mech­anism, making it possible to adjust the speaker system's timing for any listening position. A further tweeter and mid-range are mounted on the rear side. Weighing as much as a concert piano, the speaker is over half a meter wide, more than two meters high and almost a meter deep. The WAMM Master Chronosonic is a Limited Edition product. Only 70 pairs will be produced altogether, each going for a price approaching seven figures.
The qualities that have turned Wilson Audio into arguably the most famous (but unquestionably the most iconic) speaker brand of the past 40 years are all demonstrated in the spectacular WAMM Master Chro­nosonic—but definitely not in this new flagship alone. The company's experience and expertise is reflected in every product it manufactures, with truly excellent workmanship right down to the tiniest details. Thanks to its internally developed X, S, and W materials, even the smaller models are astonishingly heavy, resulting in practically zero cabinet vibrations. All the drivers have been specially produced for Wilson Audio and arranged into perfectly aligned sets, always in combination with the sophisticated and molded crossovers.
Since moving its base to spacious, new premises in 2006, Wilson Audio has around 2,300 square meters at its disposal in Provo, Utah. All 50 members of staff in development, production and distribution work under one roof. With labs, development departments, workshops and assembly stations, measuring and listening rooms, an in-house paint shop, and even a huge, professionally equipped photographic studio, Wilson Audio boasts an extremely high depth of vertical production. Wilson Audio's full range of service also includes training dealers to provide expert advice to customers. And anyone who has the opportu­nity to attend one of the events held by Peter McGrath (Wilson Audio's brand ambassador), should definitely jump at this chance to hear a range of "live" demo tracks.
The Wilson family is imbued with a deep-seated passion for music, and the decisive role this has played in the development and fine-tuning of the company's speakers shouldn't be underestimated. For decades now, David Wilson has spent two weeks every year in Vienna, attending every single one of the Musikverein's daily rehearsals as well as their evening performances. He is particularly fond of the works of Gustav Mahler, and Mahler's music has already been responsible, at least indirectly, for the development of a new midrange driver at Wilson Audio. The current tweeter can also trace its origins back to Mahler's compositions. This is because the Wilsons, senior and junior alike, are constantly striving to identify the essence of a live concert experience — and pinpoint what tends to be lost when recording the same event. So they continue their almost obsessive search for the elusive magic of a live concert in order to capture it in their own speakers. And whenever a new midrange or tweeter brings them a little closer to their ultimate goal, it becomes the natural driver of choice. It is possibly this positive obsession that makes the speakers from Wilson Audio so very special.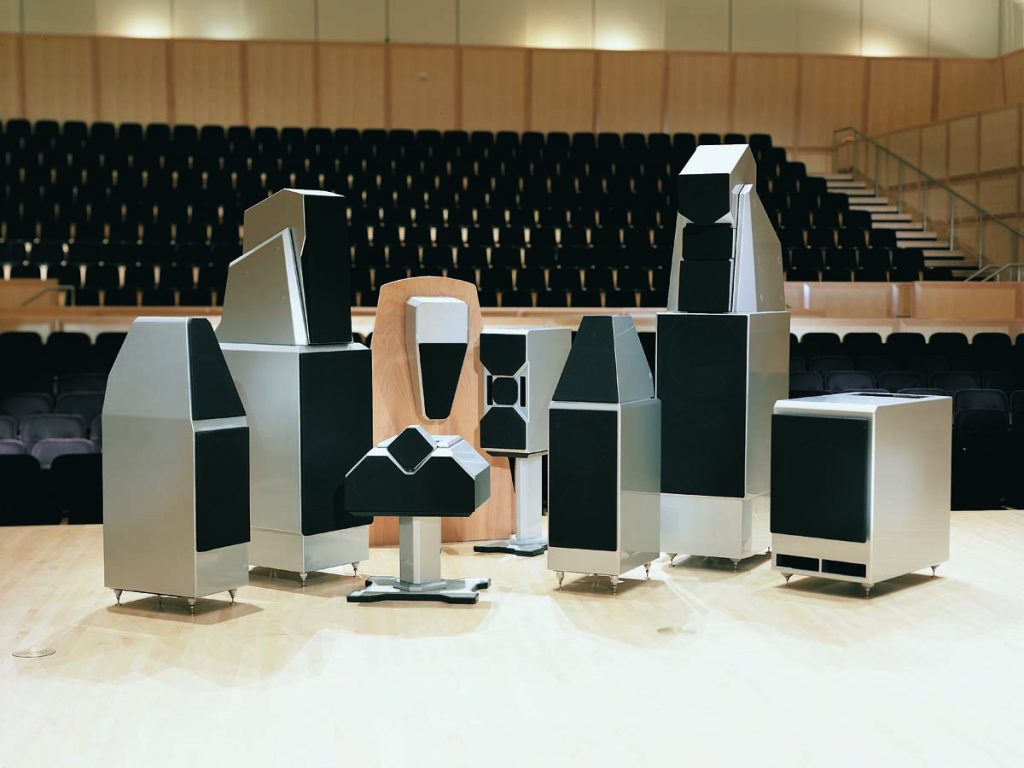 At the end of 2016, David A. Wilson (born in 1945) stepped down from his leading management role and turned over the reins to his son, Daryl Conrad Wilson (born in 1978). As new President and CEO, Daryl is now responsible for day-to-day company management, along with COO Korbin Vaughn. The wheel has now turned full circle, with both the be­ginning and end of Dave Wilson's active career in high-end audio being closely linked with the name WAMM — the original WAMM establishing his reputation and the WAMM Master Chronosonic representing his final crowning achievement. Although the legendary company founder has passed on control of business operations to his son, he continued to be involved in the company as Executive Board Chair and a mem­ber of the design team. In 2018, David A. Wilson passed away. His wife, Sheryl Lee Wilson, formerly Wilson Audio's Vice President, and Dave's valued business partner from the very beginning, will continue to serve the company as Executive Board Vice Chair. The Wilsons have achieved something that many family-owned companies can only dream of — an absolutely seamless hand-over to the next generation.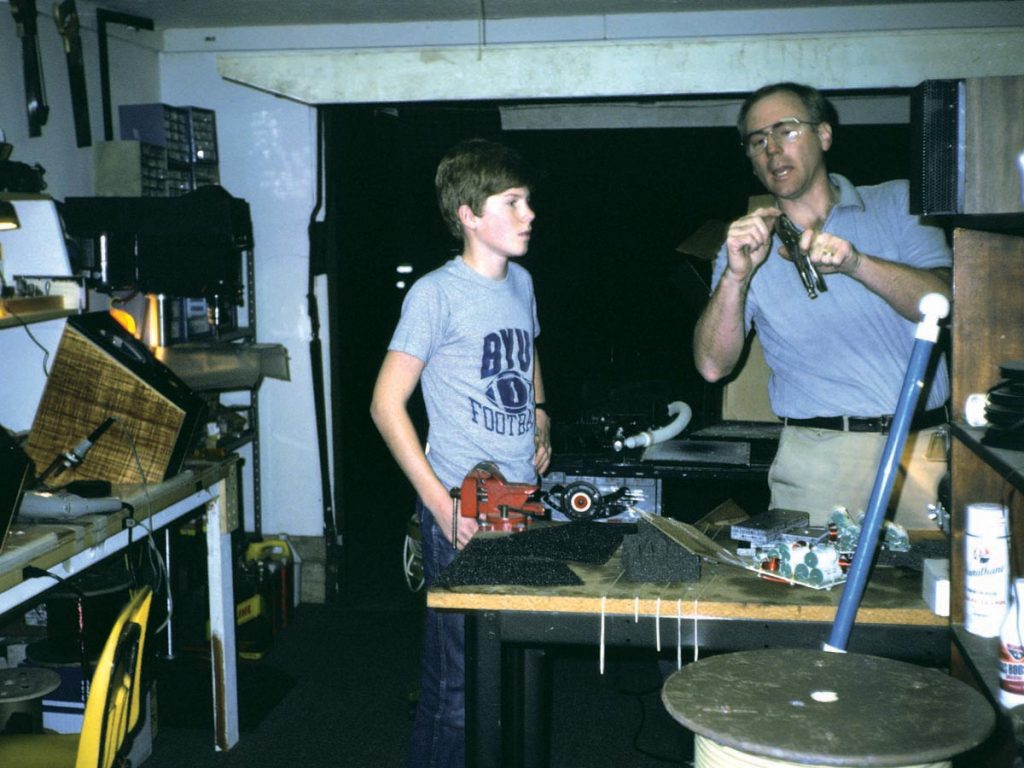 Inspired by the company's motto of "Authentic Excellence" — and togeth­er with the 50-strong team at Wilson Audio Specialties — Sheryl Lee and Daryl Wilson are determined to continue building the best speakers in the world for unamplified music, delivering a reproduction quality that is almost impossible to distinguish from the original perfor­mance.
Wilson Audio Specialties
2233 Mountain Vista Lane
Provo, Utah 84606
U.S.A.
Phone: +1 801 3772233
The stated retail price of the reviewed device is valid as of the time of the review and is subject to change.