WOLF VON LANGA's latest loudspeaker, intriguingly named Serendipity, boasts numerous unorthodox technical refinements.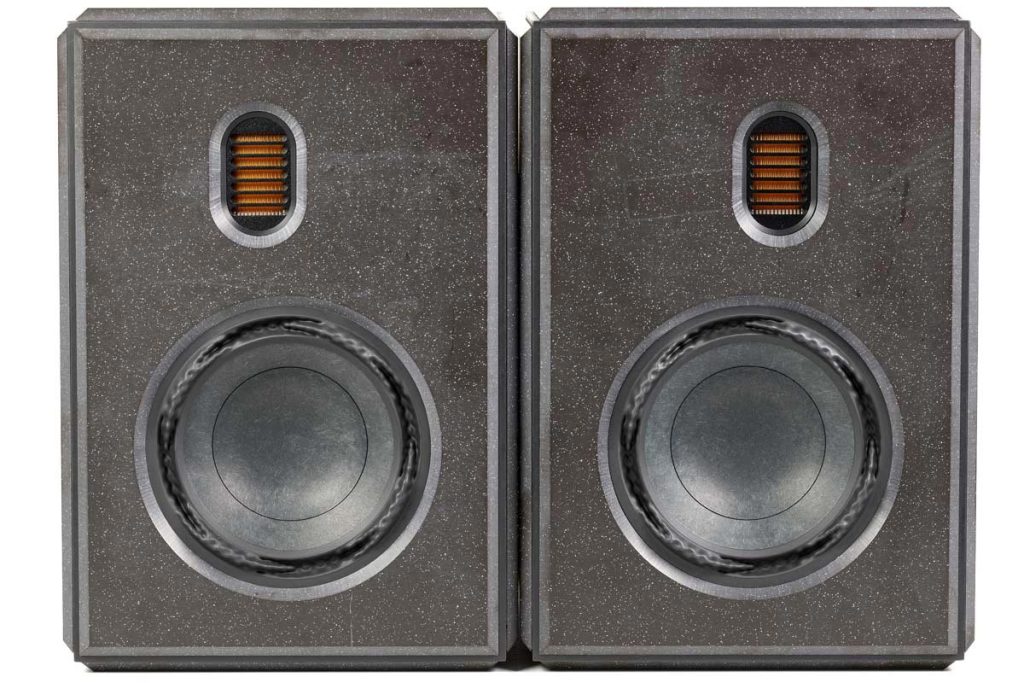 As soon as you remove the WOLF VON LANGA Serendipity from its transport packaging you know it's an unconventional loudspeaker. The chasses are distributed across three sides of the box, the unit is unusually heavy for its size, and the material of the housing feels unusual. All of which makes it instantly clear that Wolf von Langa's new brainchild is hardly an off-the-shelf product. The front is no larger than an album cover, and these speakers definitely belong on decent stands. But the superbly engineered and well-reinforced housing – made of partially carbonized fiber composite and acrylic-bonded solid surface material – means that choosing a stand shouldn't be difficult. Each Serendipity speaker weighs 11 kilograms, so the stands need to be robust. However, when considering aspects like coupling, my tests indicate that the boxes are astoundingly impervious. This relaxed attitude also extends to the speaker placement in the listening room. The Serendipity will be prized in recording studios, because rather than being measured by its sensitivity, a speaker must be able to deliver outstanding results in an uncomplicated manner and daily.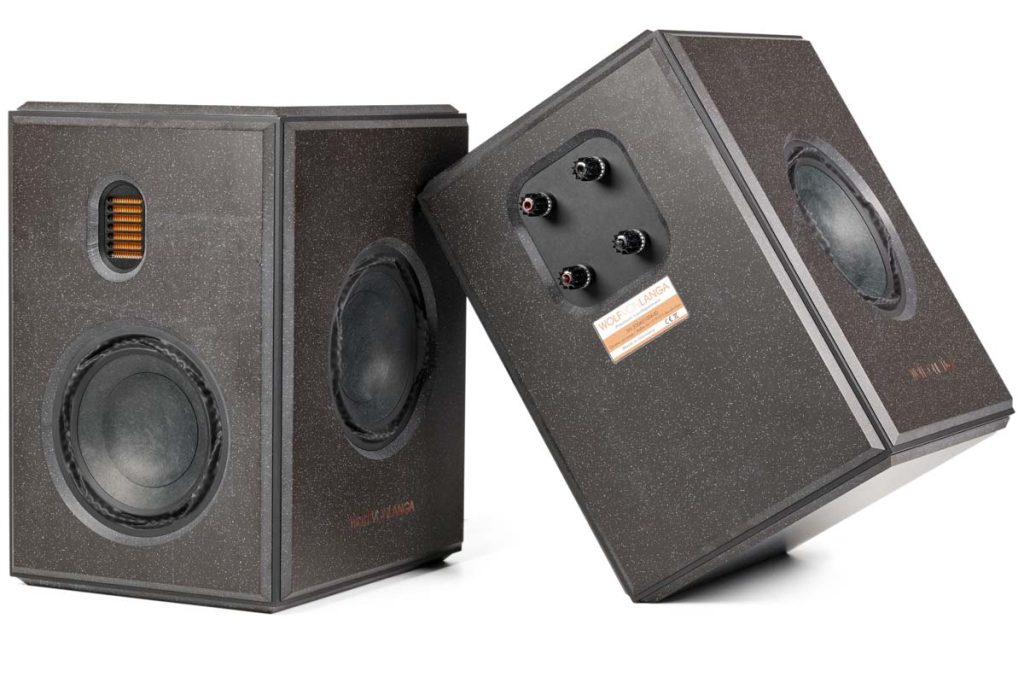 Voices are not simply voices
And outstanding results became clear even with the first, relatively clumsy, listening tests. Reference Recordings' fantastic version of Leonard Bernstein's Divertimento sounds far larger and more powerful than one would expect from the size of the WOLF VON LANGA Serendipity – in every respect. The strings project far into the room, the woodwinds truly hit the mark, trombones and percussion strike with genuine and precise low bass that still rings out superbly. Even more remarkable was how I hadn't yet optimized the speaker position. Once I had made some clearly positive measurements and adjustments, something astonishing happened: There are a couple of hackneyed phrases for which hi-fi reviewers should always be compelled to make a small donation to their favorite charity. One of these phrases is that they have never heard a particular piece being played this way before. It's not uncommon for this statement to be interpreted as meaning the reproduction was close to unbeatable. However, it actually expresses astonishment at a new acoustic and aesthetic experience. Accordingly, I readily and enthusiastically admit that I have never heard voices in the way I perceived them with the Serendipity. And I'm not even talking about celebrated high female voices with their beguiling melodiousness, or those sonorous baritone timbres. No – I'm simply referring to the clarity of voice, particularly regarding Sprechgesang, whether this is the recitative manner in operas, avant-garde melodramas, rap or simply the spoken word genre.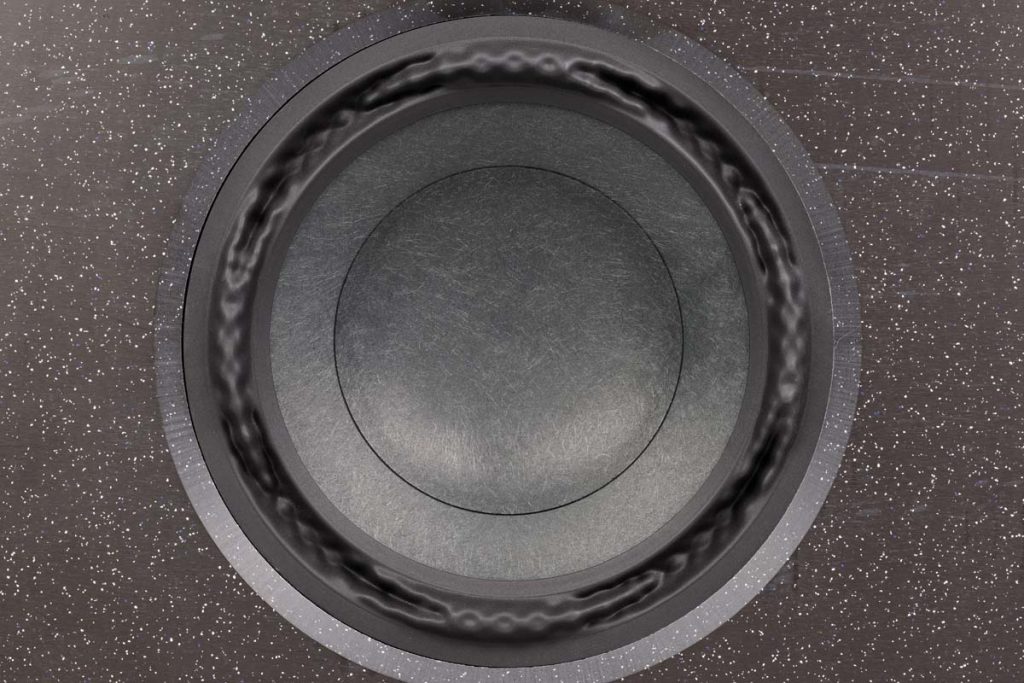 Let's listen to the masterful Songs For Drella by Lou Reed and John Cale, recorded in 1990. When Reed's voice rises above the low-frequency wave of synthesizer sound in "Open House", every syllable can be heard clearly and precisely. It even seems to glide into the foreground to set itself apart from the other instruments. But this takes place in unobtrusively, without impinging on the speaker's linearity or neutrality. The voice is simply "there", sharing something with us in its own quality. Moving on, we find the excellent new recording of Serenade Horn, Tenor and Strings by Benjamin Britten, featuring Andrew Staples and the Swedish Radio Symphony Orchestra, conducted by Daniel Harding. Here, I can effortlessly assign the fine emotional nuances of the singing voice to the textual components. In some wondrous way, I am truly hearing favorite recordings of mine – ones I have listened to many times before – in a new and different way. But why is that so?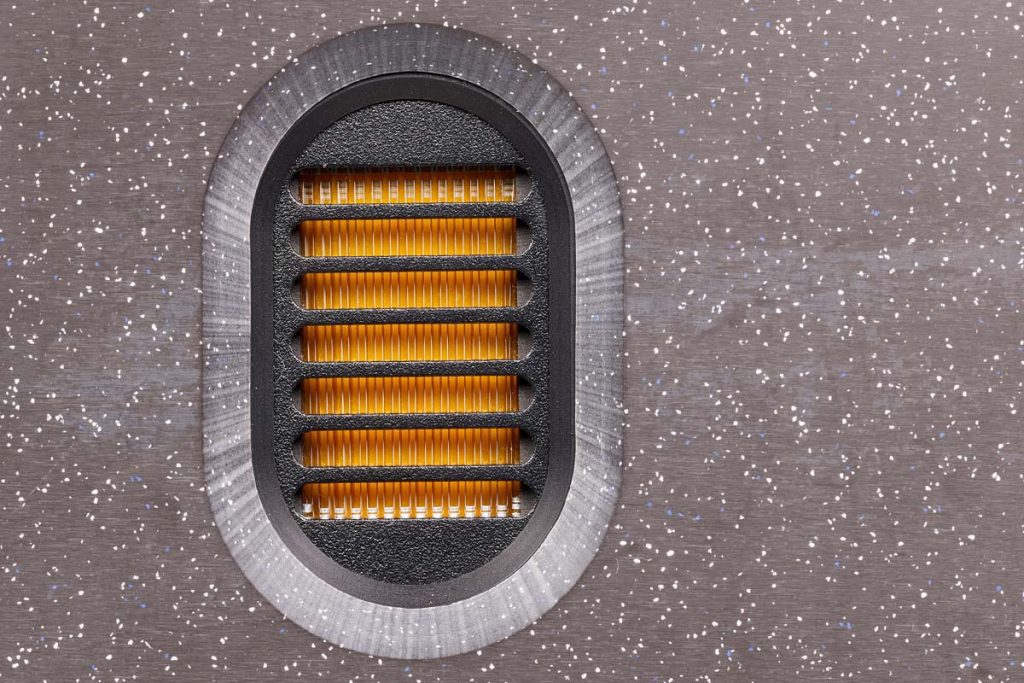 Free of all constraints
When talking to Wolf von Langa about this subjective impression from the listener, and trying to identify objective technical criteria for the speaker's performance, they emphasize avoiding tiny distortions in the overall system that can somehow negatively impact the reproduction quality. von Langa resolutely applies this approach across all elements of the speaker, and so the cumulative effect is absolute clarity, particularly for vocals. Quite apart from this transparency, the voices and solo instruments sound so stunning and vibrant because of the clever coupling of the woofer to both passive diaphragms. This lightens the load in the bass range so that the midrange can fully develop its vital vibrancy. For those craving more detail, this carefully thought-out system is structured as follows: the low-frequency foundation is reproduced by two opposing diaphragms that mechanically relieve the active system in the lower frequency range and provide an absolutely clear and clean midrange. The opposite positioning of the woofer units, with a high movement range, also leads to a balancing of unwanted cabinet vibrations. Simultaneously, the released energy is dimensioned so that that the inwardly directed passive diaphragms can't interact, even at high volumes.
It's all about that bass
As for the bass range, we're moving into blockbuster territory, in sharp contrast with the modest dimensions of the box itself. However, leaving its size aside, the unit's weight indicates that this speaker is hardly a flyweight! Despite the speaker having a cutoff of 48 hertz, the low frequency range has such superb presence that a listening room of 30 square meters or so will never have a low bass problem ever again. Whether it's the boisterous drum solo opening the finale of Mahler's 7th symphony (strictly interpreted by Georg Solti), that seems to push me back in my chair, or LTJ Bukem's powerful electronic beats that hop around the room – the WOLF VON LANGA Serendipity deals so effortlessly with the lowest frequencies that one co-worker seriously asked me where I'd hidden the subwoofer.
An alternative construction approach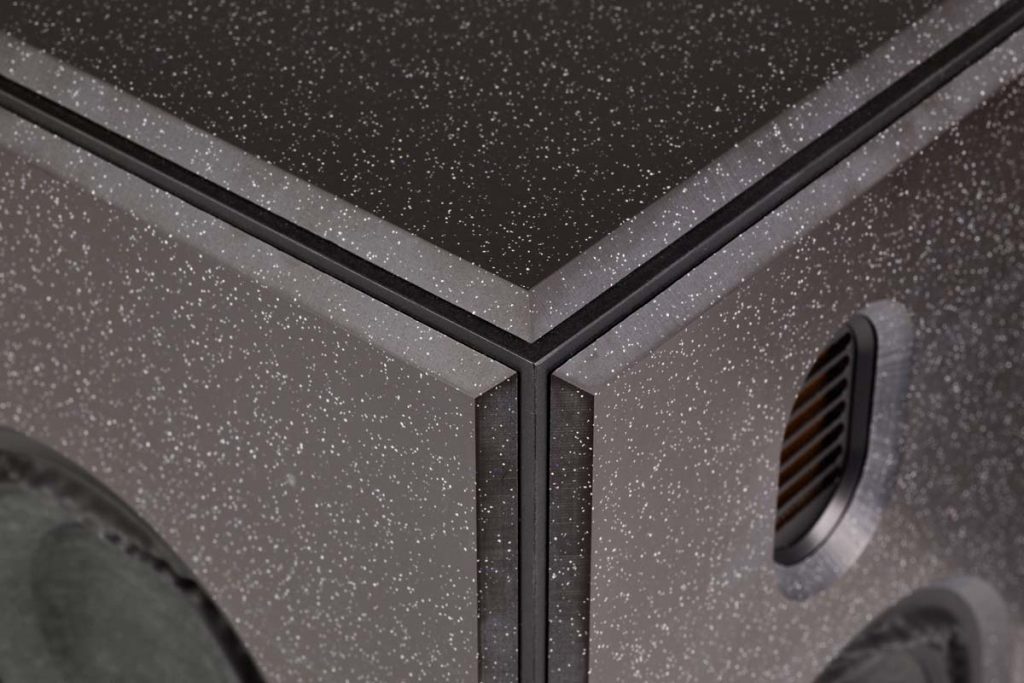 Several times in our discussions with Wolf von Langa, he stressed that the musical quality of a speaker is deeply connected to the drive. With conventional magnet systems and voice coils, his measurements show that the force acting on the entire moving group of a loudspeaker varies greatly with different excursions. Ultimately, in conventional loudspeakers, the diaphragm is then driven by forces of varying strength, leading to imprecision in music reproduction. Von Langa regards the departure from this construction principle as his speakers' unique selling point. For the Serendipity, he calls it a magnetic "12 cylinder". The following details about the production process will give you some idea of the intricate development work that has gone into von Langa's latest creation: using nanometer-precise white light interferometers for absolute measurement of displacement, distance and timing, the force factor modulation is reduced to absolute minimum. After ideal shaping of the ferromagnetic components of the magnet system for the overhanging voice coil, electrically damping rings and another magnet also used at the appropriate location. To make sure that the electromechanical counterpart also matches the qualities of the magnet system, the voice coil is wound in an interleaved manner on a damping-free carrier and positioned so that only the slightest non-linear distortion occurs during dynamic excitation. The result of this "drive-based" philosophy is a truly focused, rhythmic and precise sound, regardless of genre.
An eye for detail
The longer you talk with Wolf von Langa, the more likely you will be infected with his enthusiasm for individual details. You quickly learn that this developer isn't satisfied with a mere 99% solution, and never leaves anything to chance. Judging by his latest masterpiece, it's clear that his non-conformity regarding speaker construction pays off. And whether this is "old" or "new" construction technology is irrelevant: much more important is the rigorous attention to detail and the ability to focus even on apparent trivialities. For example, all crossovers and speaker connections are equipped with a filigree signal conductor made of pure copper. The mass optimization of the signal conductors minimizes mass storage effects and eddy currents. These details – and there are indeed many more –give the Serendipity its particularly engrossing sound character. There are undoubtedly very good "off-the-shelf speakers" out there. However, exceptional speakers demand exceptional solutions, as well as an unconventional thinker like Wolf von Langa, who dares to set out on new and rarely trodden paths.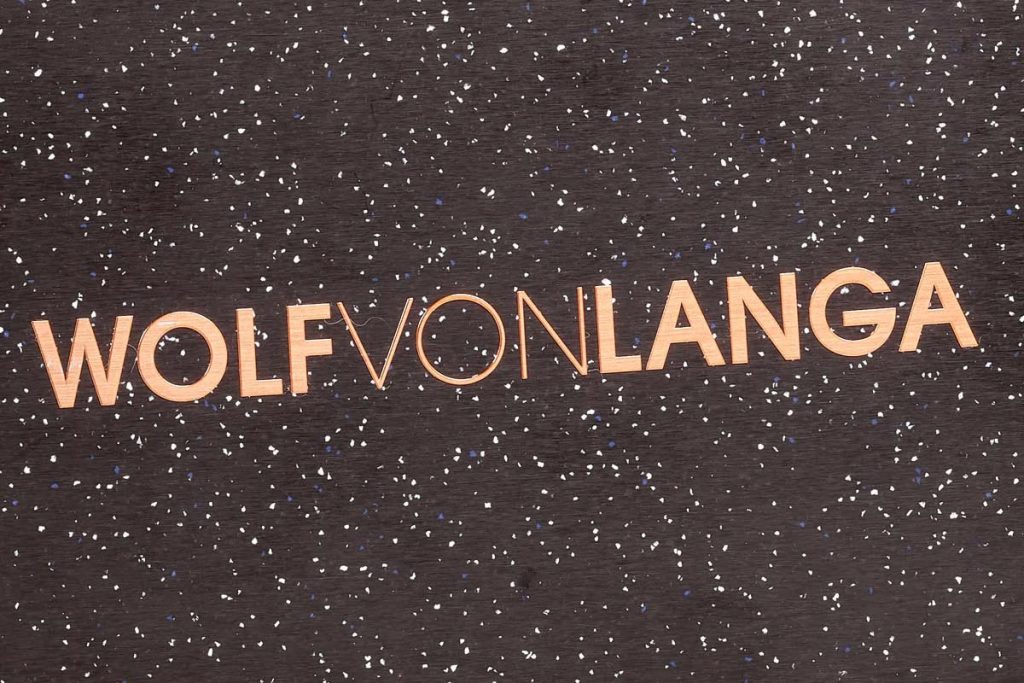 Accompanying equipment
Integrated amplifiers: Cyrus Straight Line, Thöress F2A11 | Power amplifiers: Luxman M-03, Yamaha P2500S | Passive loudspeakers: Magnepan 1.5, KEF LS 50, Triangle Zerius | Active loudspeaker: KRK VXT 8 | Headphones: Focal Utopia, Beyerdynamic T5p | Cables: Van den Hul, Vovox, Sommer | Accessories: Oyaïde, Oehlbach, Creaktiv
Loudspeaker
WOLF VON LANGA Serendipity
Concept: passive two-way compact loudspeaker with vibration-inhibiting passive cones | Frequency response (±2.5 dB): 48 Hz to 22 kHz | Power consumption max.: 150 W | Nominal impedance: 4 Ω | Sensitivity: 88 dB at 2.83 V/1 m | Dimensions (W/H/D): 24/35/30 cm | Weight: 11 kg | Finishes: Black/Davos White, Black/Vulcan Black, Black/Avana Gray, Black/Star Black, Red/Vulcan Black | Warranty period: 2 years (5 years after registration) | Price: approximately € 8960
Christine von Langa
Rödlas 54
91077 Neunkirchen am Brand, Germany
Phone +49 9192 9969-26
The stated retail price of the reviewed device is valid as of the time of the review and is subject to change.