A Visit to Einstein Audio
Only a very elite group of brands has managed to establish their own signature design language. v is one of them. For more than a quarter of a century, this small manufacturing company in Bochum has been run by a team of individualists and real connoisseurs who work together like a well-oiled machine. There's no Albert though — here he's called Rolf.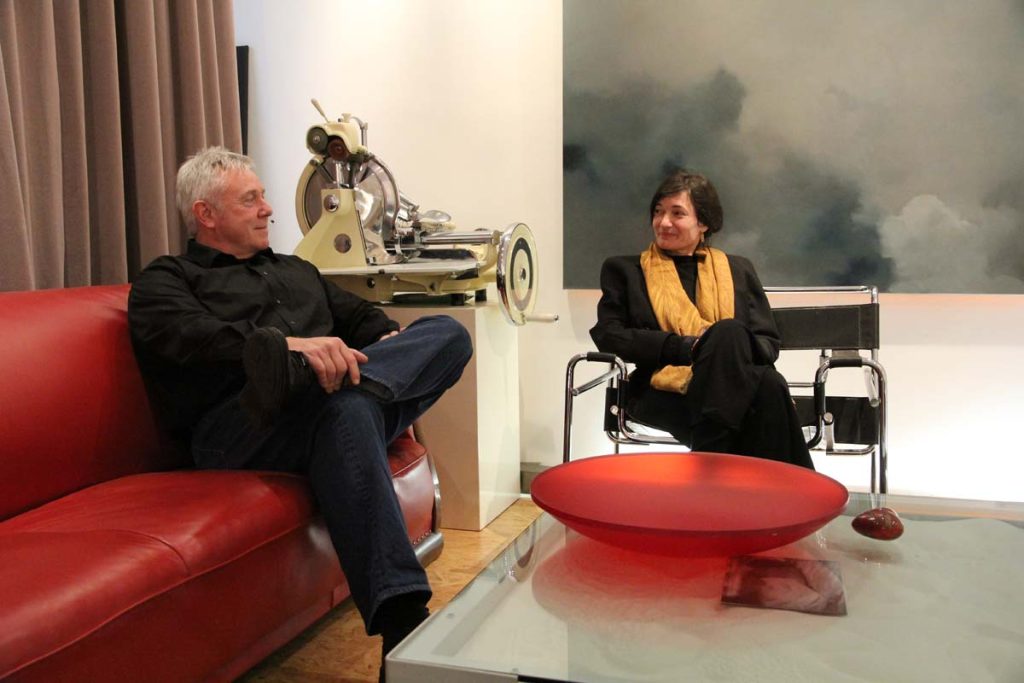 Before I press the doorbell, I quickly rerun the company name through my head one more time. Einstein Audio. Please excuse the cheap cross-reference, but the name is simply genius. Less genius, and slightly confusing actually, is the fact you have to access the company using the little door at the back. Quite a solid little door I have to add though. Einstein's premises are in a well-maintained brick building that was once part of the old Bochum coal mine. An especially broad range of media types and artists now find themselves working under the same roof here, for example the Bochum Symphony Orchestra, the theater Schauspielhaus Bochum, the Prinz Regent Theater, architects, media firms, vinyl labels, the Akademie Deutsche POP — and last, but not least, Einstein Audio. The actual main entrance leads to a decent-sized lobby where a poster quotes the German national football team record holder Lothar Matthäus as saying, in his rather skewed English, "I'm a German record player." This refreshing mix of solid and sophisticated culture, of proletariat history and modern-day media provides the perfect fit for Einstein Audio.
And with that comment, now back to the entrance and the doorbell. From the parking lot, it seems totally obvious and logical that you would simply enter Einstein Audio through the "main side entrance." You'd expect a friendly hello, a quick invitation to come in and then find yourself standing right in the thick of it all. Things around here do, however, run fundamentally much more sedately and disciplined than that. A frenzied environment is not conducive to a manufacturing company. Care and attention are what matters, not a mad dash to the finish line.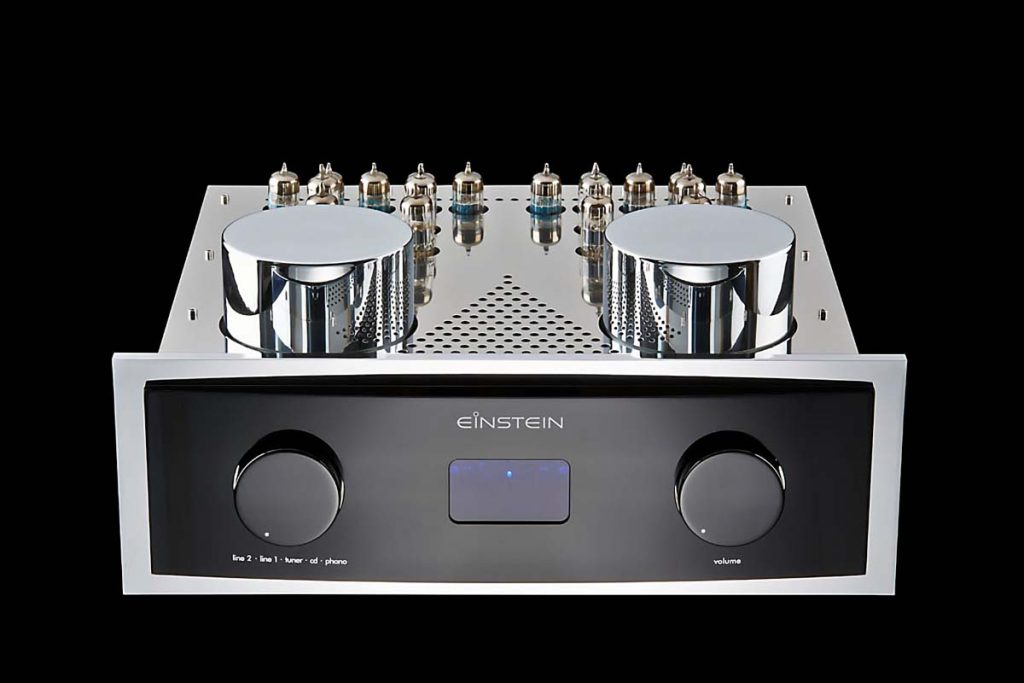 The entrance area is home to the desk belonging to Annette Heiss. She is both the "finance fairy" in charge of accounting and Einstein cofounder, codirector, and designer; that is, the person crucially responsible for the company's public image. Shape, color, and material studies are draped right by her desk, and colorful paintings, product posters, and awards hang on the walls — as well as a real gold record: Talk Is Cheap by Keith Richards. The solo album by the Stones guitarist was released in 1988, the year Einstein Audio was founded.
Wooden boxes filled with reconditioned gems have assembled in front of her desk for their return trip home, joining a batch of rigorously selected tube sets ("only 15% are good enough for our purposes"). A passageway toward the "back" (i.e., heading to the "main entrance") leads directly to the parts and dispatch warehouse. The striking Einstein wooden boxes dominate the scenery here.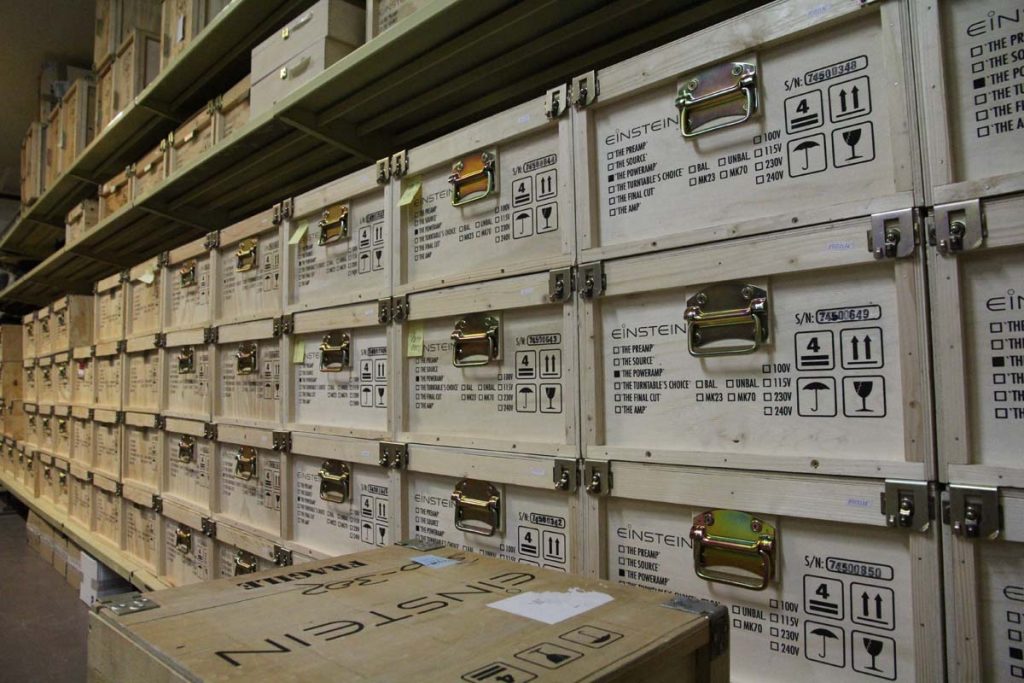 On the left, you can get a glimpse into the bright, generously sized office of Einstein's CEO. Volker Bohlmeier is on the phone, and my eyes wander from his XL desk and across the walls adorned with some very fine electric guitars. I spot a Fender guitar amplifier sitting on a MESA Boogie box in the corner next to the fax machine. If you asked me, I wouldn't say this was an office. It's more of a feel-good space, a kind of audiophile's tranquil oasis. If, that is, you like electric guitars, like me.
To the right is the production department. You just have to turn two corners and you find yourself in front of the first assembly table, with others distributed throughout three consecutive rooms. Every Einstein component is assembled and tested here. Measuring devices and soldering stations stretch into the far distance. I find a historical tube testing device on one desk.
Speaking of history, It was in 1990, after around three years of development work, when the name Einstein first appeared on a hi-fi product: "The Amp" was unveiled at the IFA in Berlin and suddenly an integrated amplifier, which also visually departed from the uniform, standard look on the scene, joined the mix of premiere-league hi-fi products.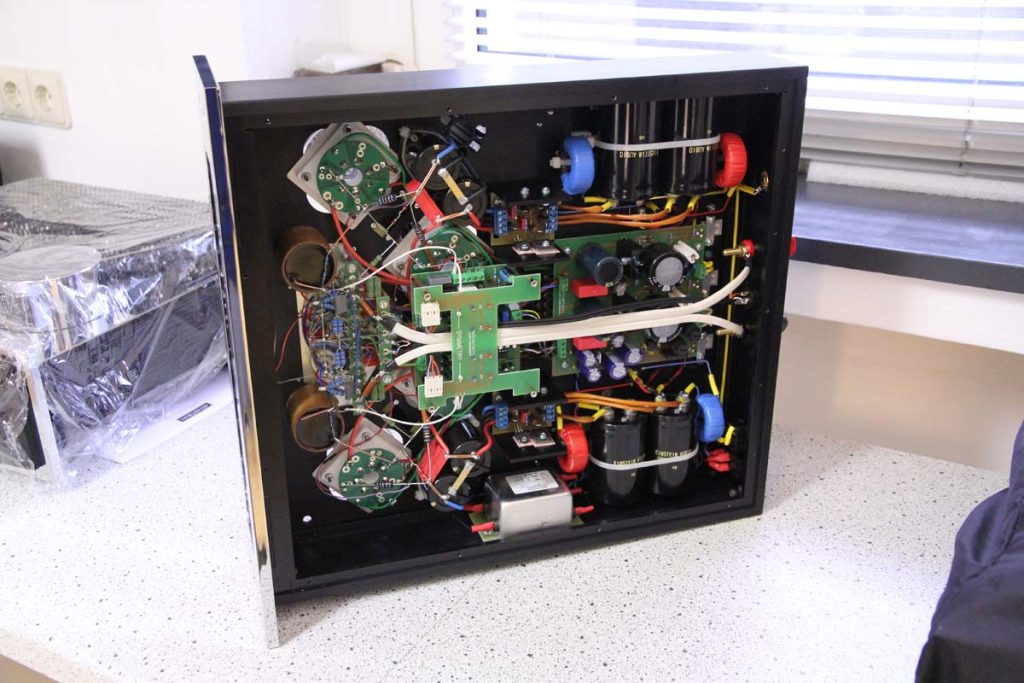 The innovative amp was the first visible attempt by the company, which had officially been founded two years earlier, to get people to sit up and take notice. In the years that followed, the amplifier's design wasn't intended to come across as playful, amusing, original, or contemporary as others tried to do in the late 80s. Rather, it strove to be pioneering in its elegance yet weighty as well as the most highly recognizable of all new developments. Even this first release from Einstein featured the striking front panel in the form of a section cut from a circular arc. It is, like all of the company's products, still instantly recognizable today from far, far away as an Einstein product, not least because of the brand's two-tone design.
Its form draws primarily from a sketch produced by the industrial designer Martin Topel. Heiss, the cofounder and finance fairy mentioned above, has always been responsible for the practical implementation and consistency of the company's designs. The qualified interior designer ensures the perfect balance between self-confidence and understated luxury. The feel of the products and their "materiality" are of particular importance to her: "Only a few materials age graciously." In view of longevity, which the company has always striven to achieve and has proven it can over the years, this statement does, of course, make total sense. In the world of hi-fi, Einstein Audio has been synonymous with "modern classics" for a quarter of a century.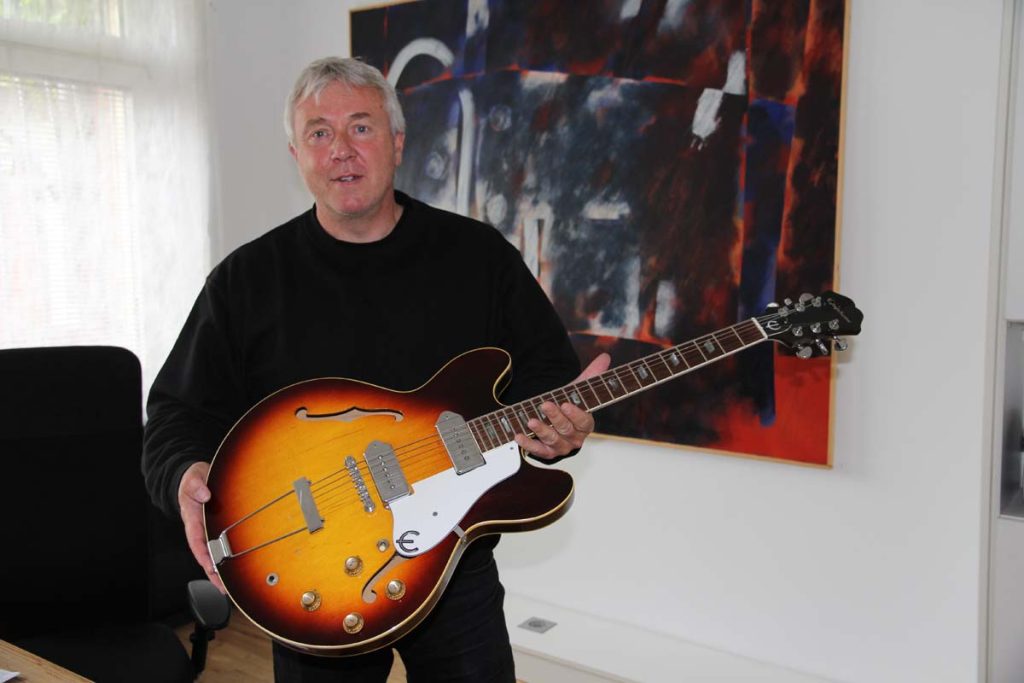 Incidentally, the company name is also traces its origins to Heiss. While she was sleeping one night, the idea of playing on the similarity in names between the head developer and a certain famous gentleman from contemporary history once captured sticking his tongue out (and I'm not referring to Mick Jagger here) just came to her as a concept for the company name. This takes us neatly away from the visual appearance and on to the inner values of the devices and the circuitry of the head developer, Rolf Weiler. He does actually look quite similar to Albert Einstein, however he dabbles "more with the saxophone than with the violin," as you find out if you ever get the chance to ask him, which is easier said than done. You see, Weiler loves nothing more than peace and quiet and steers clear of the public. For that reason, he works at night. However, in a quarter century, I have already had the pleasure twice of meeting this creative inventor, who, in addition to his work at the Max Planck Institute, has been under contract as a kind of mastermind right from the beginning when EINSTEIN Audio Components was founded. Weiler enjoys a legendary reputation even among electronics experts; after all he did introduce one or two completely new and truly innovative circuits to the circuitry scene, a landscape full of conventional amplifier circuits that remained generally stagnant for decades with only a few slight alterations.
Yes, Weiler doesn't give a damn about what everyone else is doing, according to Volker Bohlmeier, the third person in the trio of company founders. He has always been fond of this approach though, it seems. Everyone at Einstein sees him- or herself as a timeless servant of music, an innovator, and a guardian of the best music playback machines possible. The products developed in house shouldn't neglect any desired emotions — the ideal sound everyone at Einstein aims to achieve is the celebrated live experience; nothing more, nothing less. And the folks there still have some thoughts about this.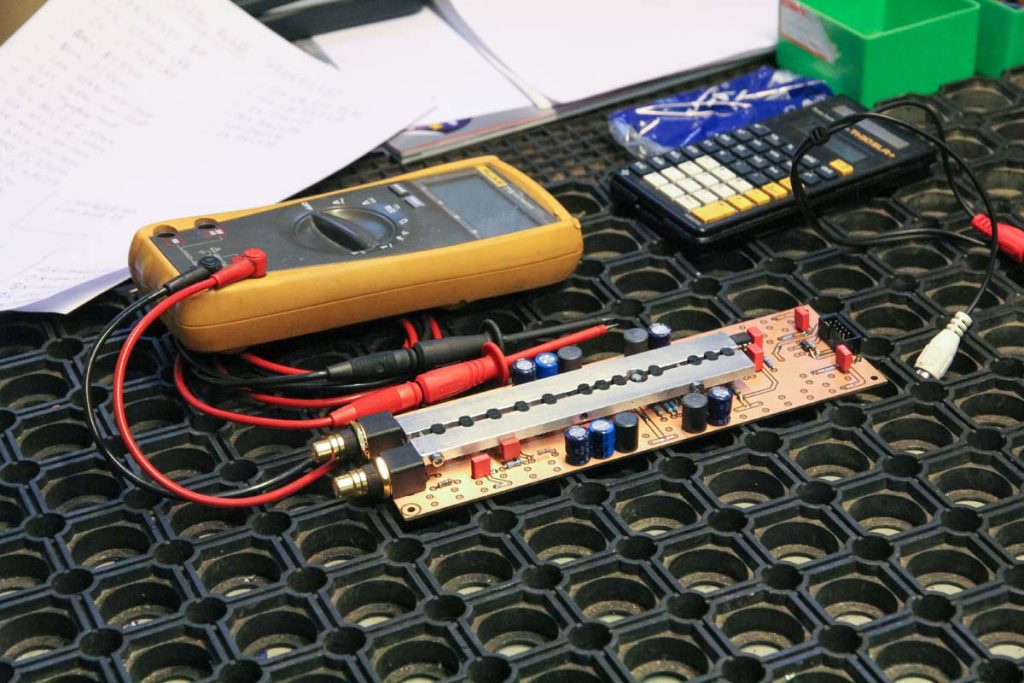 That was also the case back in the mid 80s when the three friends — Weiler, Bohlmeier, and Heiss — decided (incidentally as a result of a coffee machine that was practically impossible to operate!) to develop hi-fi components that everyone would be immediately able to intuitively operate. What's more, the idea was for the sound quality to be phenomenal, with every component a finely tuned piece of manufacturing designed to achieve perfection, and no individual deviations from the strict reference specifications allowed.
To achieve that, every single Einstein employee works incredibly hard. Take Uwe Gespers, for example. He was born in 1957 and, after completing his electrical engineering degree, didn't go to work "for the likes of Siemens," but was hired immediately by this high-end manufacturer that had been recently founded at the time. And Gespers has never once regretted his decision: Since joining Einstein, he has overseen all the development stages of Einstein products, meticulously keeping a record of every component — and even does this manually. The expert in mining history has (despite of or because of this?) an exceptional reputation and working hours I'm quite jealous of: Gespers usually turns up around mid-morning and then stays until the evening.
Rolf Wittling, on the other hand, a friendly and adept radio and television engineer sporting a light-gray pigtail and full beard, calmly goes about his day-to­day activities but works "normal" hours. This gives the hobby guitar player more time in the evenings to devote to his six-string and his band. Southern rock can be heard playing quietly at his workstation, which he says inspires him. "I can't get anything done without music," says the self-confessed Allman Brothers fan.
Every technical engineer should be able to master everything required to painstakingly manufacture a product and is therefore properly trained. This may include, for example, student trainees who relax in their spare time to electronica, house and lounge music. This is very different from Bohlmeier, who likes to play the guitar himself and is a huge blues fan, as is suddenly apparent when the boss's cell phone rings and Jimi Hendrix's riff from "Hey Joe" starts to play. Less than a minute later, Klaus Wieczorek appears to personally discuss the manufacturing details of a new component. The highly gifted mechanic, who also happens to be a veteran of the company, runs his workshop not too far from here, which is not unusual as most Einstein Audio suppliers have their premises nearby. And no, he definitely doesn't want to be photographed. He is at least as camera shy as Rolf Weiler — or Ivan Tupa. The Czech, who is actually retired, oversees assembly at Einstein and is known for his extreme meticulousness.
To my surprise, I manage to get Einstein's decisive "digital expert" in front of the camera a little later without any problems. IT expert Sebastian Schlitte discovered jazz, hi-fi, and ultimately Einstein Audio all thanks to his father. He is now officially in charge of the company's latest digital developments.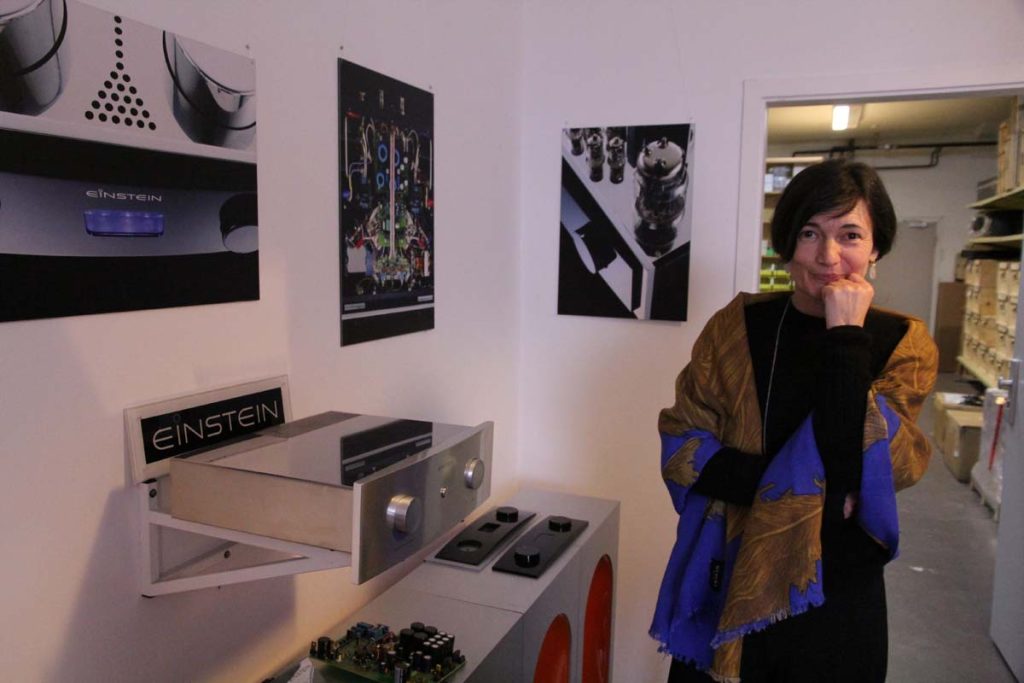 And Weiler is presumably happy he can continue to primarily concentrate on analog amplifier technology. The company's showroom is just a couple of minutes' drive from the manufacturing site. This is where all Einstein components have to prove themselves in audiophile practice and with other precious objects in various setups. And this is also where you can experience all the other products sold by Einstein Audio in Germany, such as the genius (sic!) turntables from TechDAS and the solid loudspeakers from Audiomachina. These now sit side by side with in-house developed "siblings": EINSTEIN has now launched its own turntable complete with tonearm and cartridge as well as innovative loudspeakers, making it a true full-range supplier.
Here in the company's show and demo refuge, however, there are other delicious delights for the senses. In the back room of the shop, a high-end slicing machine is proudly displayed between guitar cases, while in the front showroom the shelf behind the counter is nicely stocked with fine wines. There is no doubt that the last quarter of a century has seen EINSTEIN Audio as a company shaped by a perfectly balanced, well-crafted mixture of taste, precision, and a good helping of genius. Perhaps Albert's famous formula (E = mc2) should be reformulated. How about EINSTEIN = master of ceremonies squared?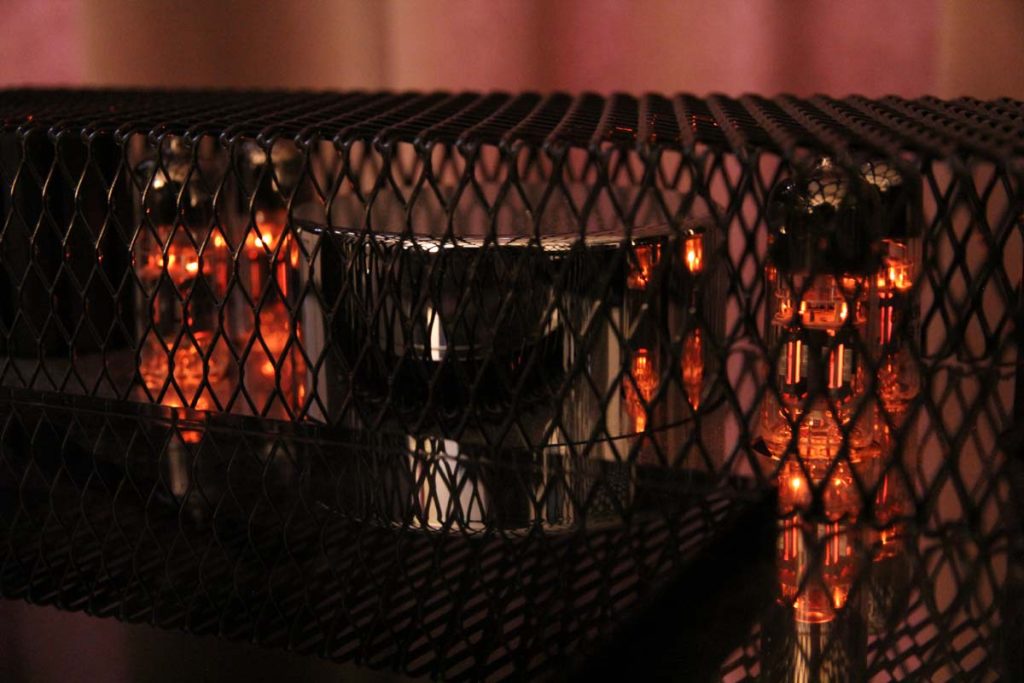 The stated retail price of the reviewed device is valid as of the time of the review and is subject to change.