The SR35 is the 4th player to be released in the Astell&Kern A&norma line of Digital Audio Players.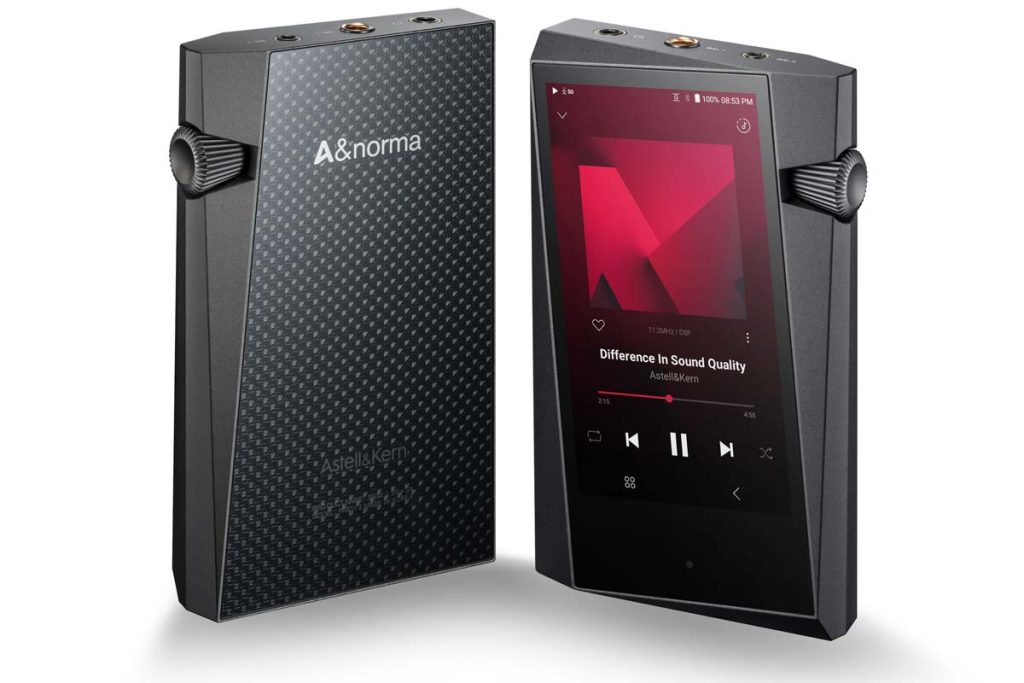 Astell&Kern debuts the A&norma SR35 high-resolution audio player, the fourth player in the standard A&norma line. The A&norma portable audio players aim to be an industry standard to play back high-resolution audio for the masses. This "Mass Premium" product line futures a stunning, high-end, luxurious design. Additionally, it reproduces sound as intended by the artist and engineer who originally recorded it, at an affordable price.
New features introduced to the A&norma player line in the SR35 include:
Quad-DAC with Quad/Dual Switching Mode
The SR35 is an upgrade of the widely popular SR25 MK II player released in 2021. Like the popular SR25 MK II, the SR35 incorporates Cirrus Logic's 43198 MasterClass DACs, but adds four of them. A Dual/Quad DAC Switching mode enables users to adjust and improve power management efficiency. It achieves this by allowing switching between using two DACs or all four DACs during playback. This provides longer continuous playtime time on a single charge. In dual-DAC mode, the SR35 supports up to 20 hours of continuous playback on a single charge.
2-Step Gain Mode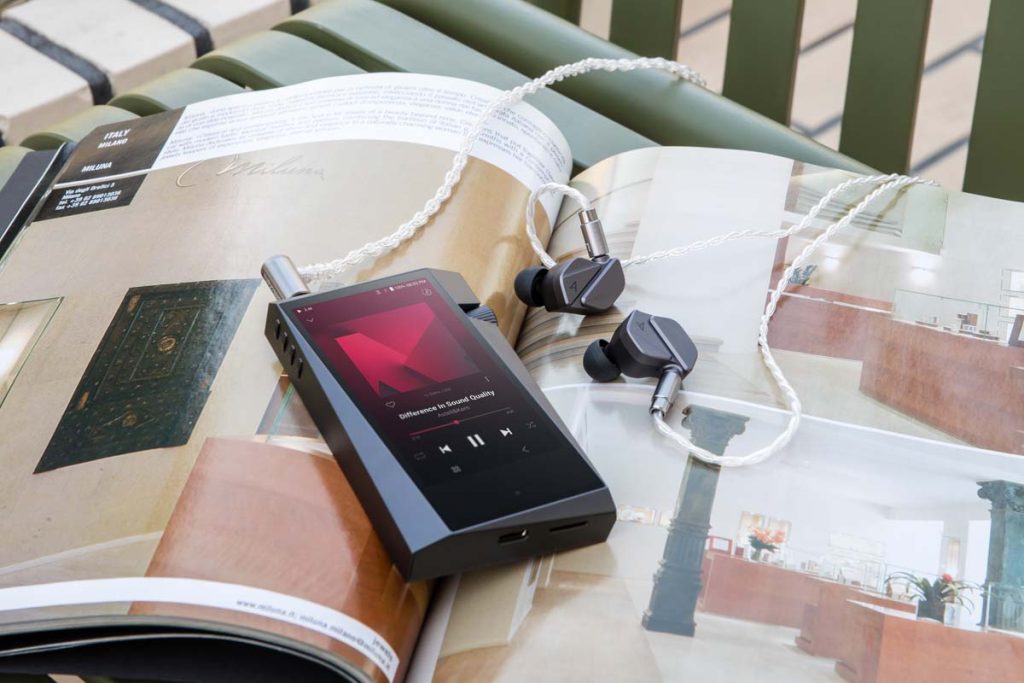 A 2-step Gain Level mode allows listeners to create the perfect match for a wide range of headphones and IEMs, maintaining optimal sound output. The two-step gain setting with "Normal Gain" and "High Gain" modes can generate a high current output to create a powerful sound and excellent driver control. With up to 6 Vrms from the balanced connections, driving high-impedance headphones has never been easier.
Astell&Kern 4th Generation Graphic User Interface
First introduced on the flagship A&ultima SP3000, the SR35 features Astell&Kern's newly developed 4th generation UX/UI. Its design focuses on the process and experience of listening to music.
The new theme focusses on the experience of rediscovering songs that you have forgotten. You can quickly browse through music categories with simple gestures. A convenient search feature along with album art has also been added. This way, you can enjoy a digital display of CD album covers of your music collection. The goal is to give you not only the pleasure of listening to music, but also to create fun when operating the device.
The new Crimson Theme, a core feature of the 4th generation UI, offer graphics that are simple and unintrusive. The focus lies on usability and intuitiveness. Three key concepts, Edge, Simple, and Dark Mode, improve usability and increase clarity with a style unique to AK. The black and red theme colors are chosen to reduce eye fatigue, maximize battery usage and reduce heat generation.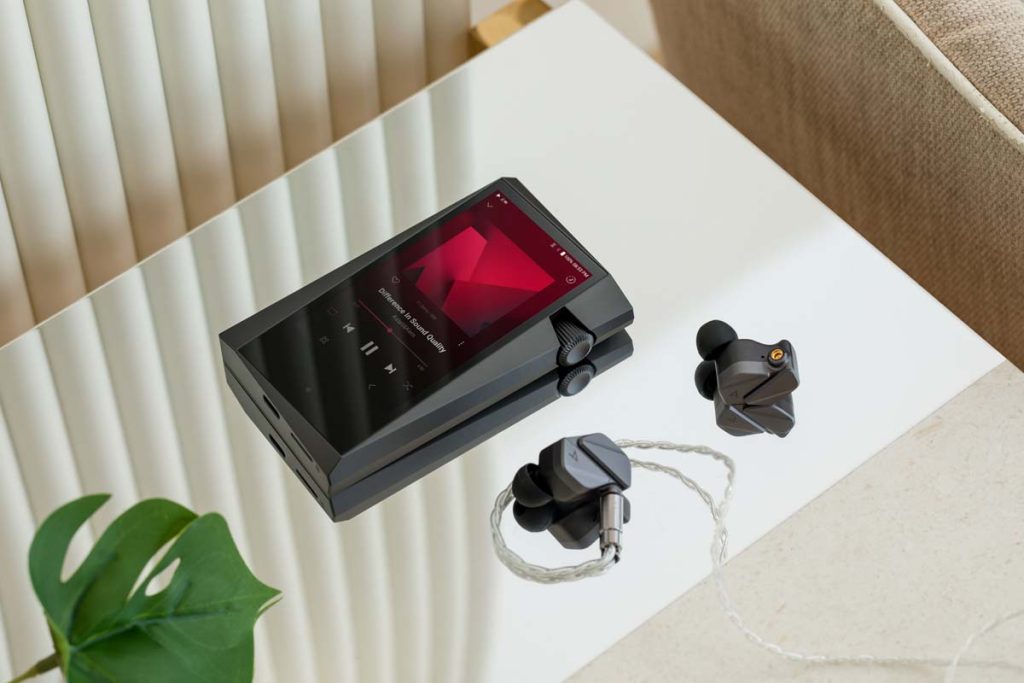 New Generation AMP Technology
A new design of audio circuit incorporates Astell&Kern's unique technologies along with the Quad DAC. Additionally, the patented TERATON ALPHA technology enables outstanding advancement in the dynamics, sense of space, resolution, and level of separation. The new generation AMP technology applied to the SR35 is Astell&Kern's unique amplifier design that effectively improves noise reduction at high power output. With this new technology, the SR35 contains the same amplifier design as the latest A&ultima and A&futura products, completely transforming into an amplifier design worthy of premium audio, from OPAMP selection to component placement and circuit design. With this new design incorporated in the entry-level SR35, the player boasts a dramatically improved and industry leading SNR of 130dB.
Dual Band Wi-Fi
A first for the A&norma line, the SR35 offers Dual Band Wi-Fi (2.4/5 GHz), providing enhanced wireless network performance to enjoy Hi-Fi music through various streaming and Roon Ready services.
Roon Ready
Hi-Fi fans wish to play the best Hi-Fi sound without compromise on various devices through network systems. Roon Ready, available on some premium audio products, now comes with the A&norma series for the first time, offering you a SR35-controlled network audio system to deliver the best sound quality. With the addition of the SR35, Astell&Kern now has 15 Roon certified products available.
Features carried over from the SR25/SR25 MK II
ReplayGain, which allows the player to automatically adjust the volume between tracks and maintain a consistent playback level.
BT Sink two-way Bluetooth, allows the SR35 to connect to an external device via Bluetooth, and function as a Bluetooth DAC. Music from an external device, such as a smartphone can now be played back in high-quality, taking full advantage of the hi-res audio decoding in the SR35.
With AK File Drop, transferring your music files from a computer or NAS is even easier and more convenient. Using AK File Drop, you can freely transfer files wirelessly through a PC, smartphone, or FTP program located on the same network. Music file management is now possible with a cableless, wireless solution.
Users can wirelessly stream 24-bit hi-res audio to compatible speakers, headphones or IEMs with support for LDAC and aptX HD Bluetooth codecs.
Native playback of DSD256 and 32-bit/384KHz PCM high-resolution audio
More Astell&Kern A&norma SR35 Features
Quad-DAC (Quad/Dual Switching Mode)
New Generation AMP Technology
2-Step Gain Mode
New UI/UX – Crimson Theme
Dual Wi-Fi (2.4 & 5 GHz)
20-hour continuous playtime
Supports two-way Bluetooth and LDAC, aptX™ HD
Roon Ready (First in A&norma series)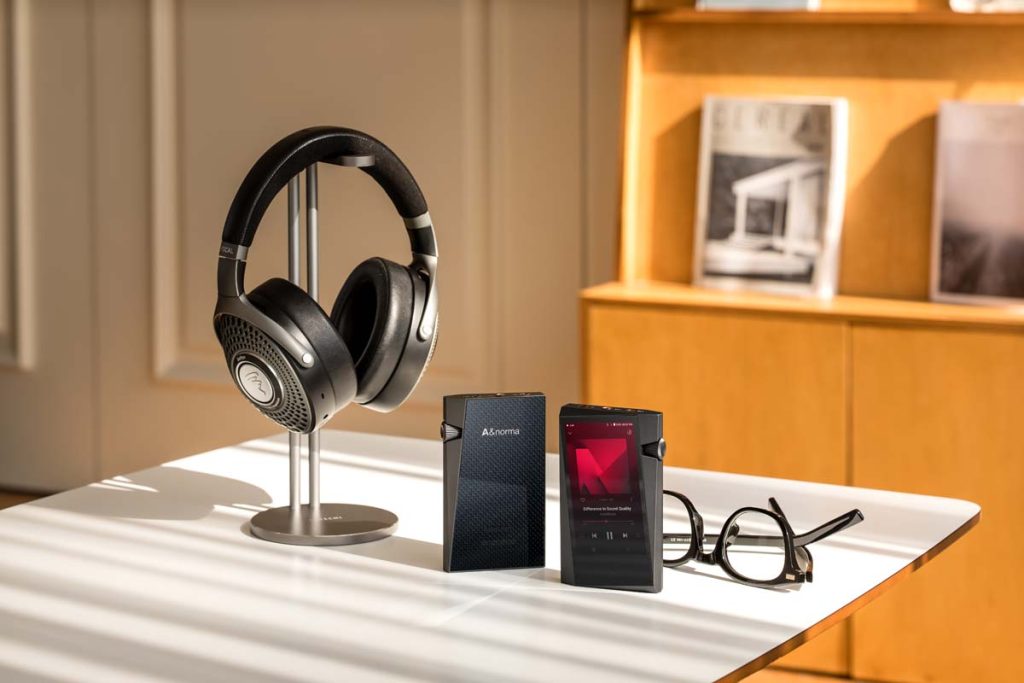 Other features include a 3.6-inch 720×1280 HD touchscreen, 64GB of internal memory with support for microSD cards up to 1TB, DLNA networking, USB digital audio output, and the ability to use the SR35 as a USB DAC for your Mac or Windows-based PC.
The SR35 supports MQA, and with a full decoder built in, can unfold all the way to the original resolution of the file. MQA playback is supported both via downloaded MQA audio files and through the Tidal app, allowing users to stream high resolution audio via Tidal Masters.
Music streaming services including Qobuz, Tidal, Apple Music, Amazon Music, Spotify, and more are also available on the player. Offline content for supported apps can be stored in either internal or external player memory so you can listen to your favorite music streaming service tracks on the go.
Availability and Price
The Astell&Kern A&norma SR35 will be available in May 2022 for a suggested retail price of 799 $.
The stated retail price of the reviewed device is valid as of the time of the review and is subject to change.