The cable specialists at AudioQuest are making a name for themselves as experts in power conditioning.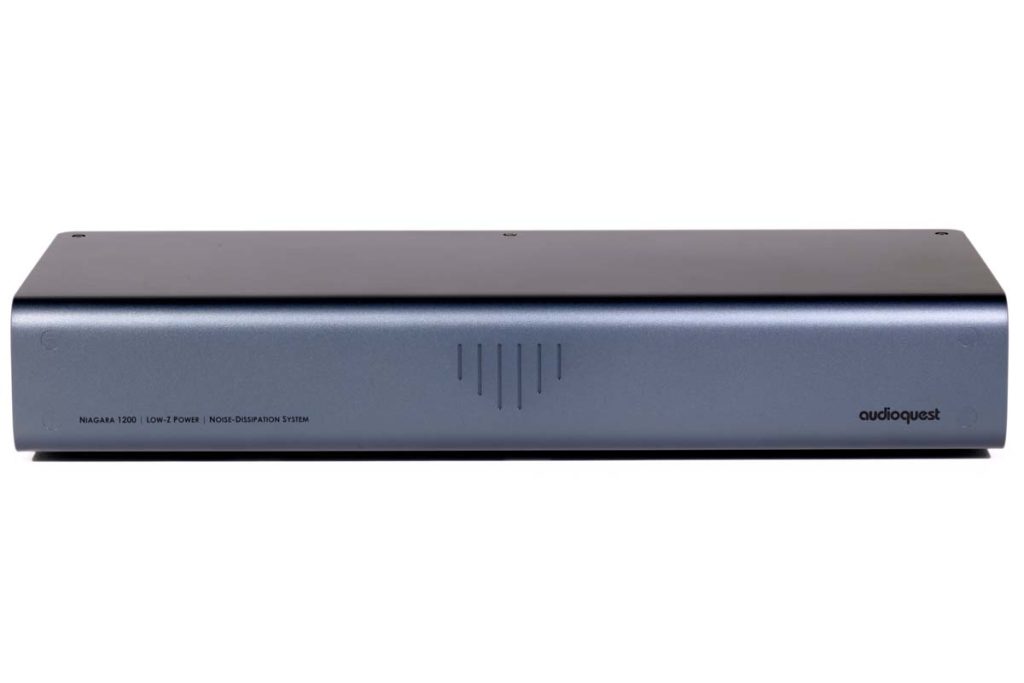 I live in the city, and my apartment contains an almost countless num­ber of switched-mode power supplies. With the notable exception of one floor lamp still sporting conventional light bulbs, I'm surround­ed by electronically controlled LEDs and fluorescent tubes. I really should consider using a power conditioner here. And just like that, I'm holding one in my hands that seems to be precisely what I need: the AudioQuest Niagara 1200, the compact Low-Z Power Noise-Dissi­pation System from AudioQuest. The smallest of the four models in the Niagara range, it goes for just under €1,000 and offers a mature filtering solution for up to seven components. That's enough even for more com­plex systems that entail separate amplifiers and several source devices. In my case, I've attached a turntable, phono equalizer, streamer/DAC, CD player, preamp, and power amp.
What I mean by a "mature" solution is that the Niagara 1200 features integrated surge suppression. The inlets and outlets boast an excellent grip on plugs (using silver-plated beryllium copper) and come with socket safety covers. Constructed essentially from a single sheet of metal, the aluminum housing makes an especially robust impression while retaining a stylish appearance.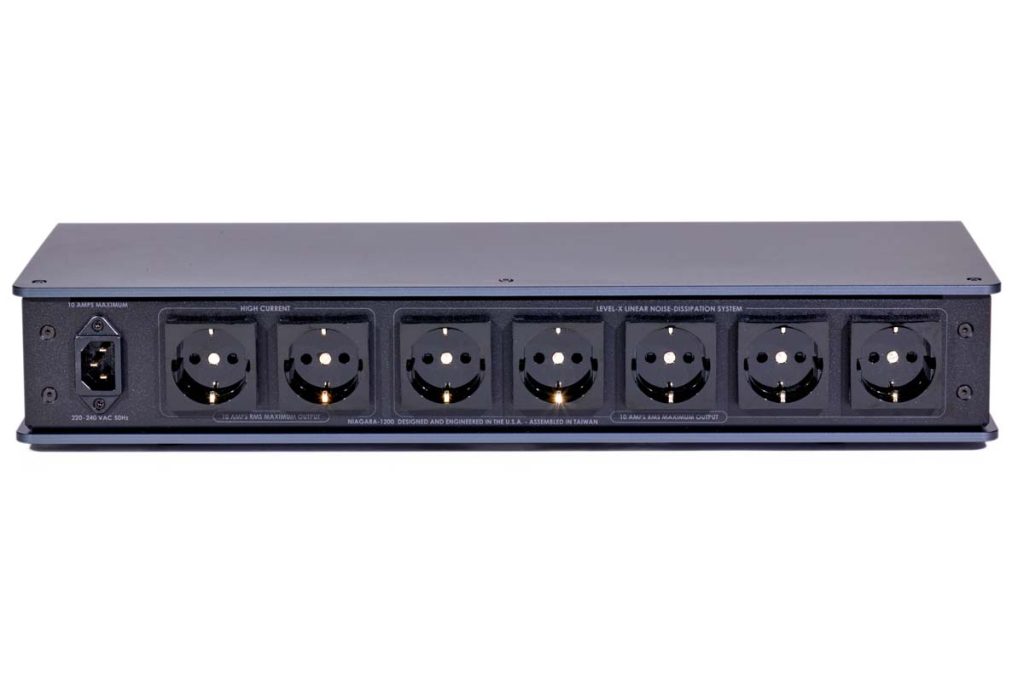 The seven outlets are arranged into two groups: Labeled "High Current," the first two (counting right from the socket for the power cord) are intended for devices with high power demands, such as power amplifi­ers, integrated amplifiers, and active speakers. The filter topology of the remaining five outlets differs slightly and is intended primarily for equip­ment with low or more consistent power requirements, such as pream­plifiers and source devices. This arrangement seeks to avoid any dynamic loss problems that using a power filter might cause. This is an aspect of great importance to its developer, Garth Powell, who had previously worked for one of the most renowned power conditioning specialists on the pro audio scene before joining AudioQuest. It's also the reason why his Level-X Linear Noise-Dissipation System, responsible for broadband filtering from 20 kilohertz through to 1 gigahertz, is only used for the five source device outlets mentioned above. Powell's Ground Noise-Dissipa­tion System is, however, employed for all outlets. This patented method for reducing ground-related noise aims to prevent modulation of the useful signal caused by high-frequency interference.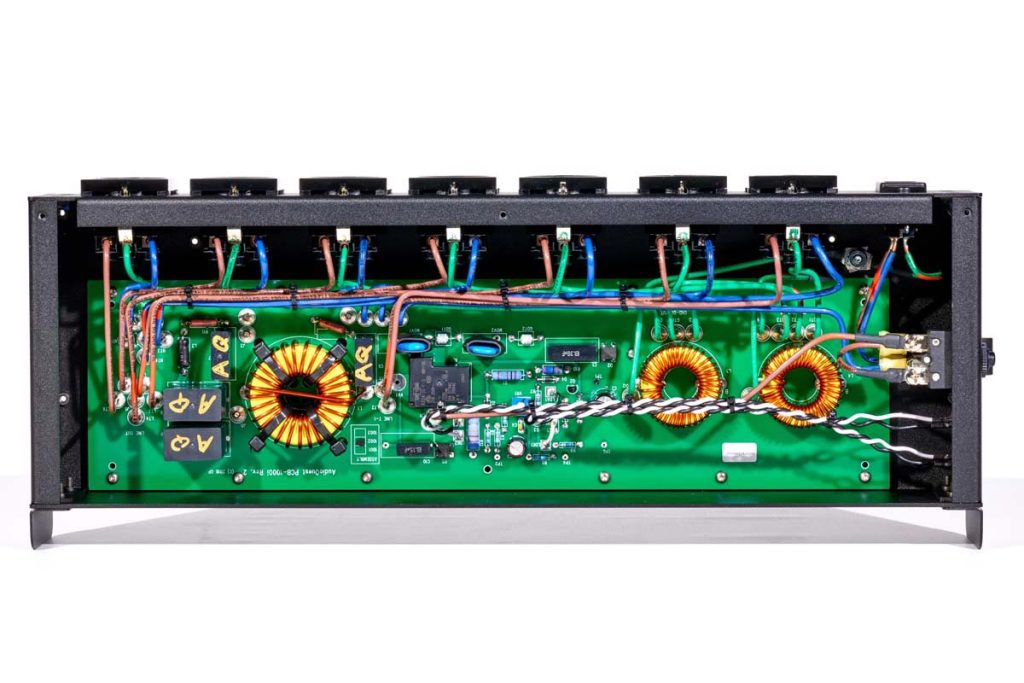 The Niagara 1200 has given my CD player, an Electrocompaniet EMC 1 UP — practically a classic source device — a new lease on life.
The sound profile has improved significantly in terms of both openness and three-dimensionality. To test the device, I turned to the Tin Hat Trio's Helium CD and selected "A Life In East Poultney," a piece that has the group playing violin, accordion, and banjo to produce eccentric, folksy, and minimalist melodies. The AudioQuest power conditioner projected the instruments onto a large sound stage and vividly presents them against a black background. I was really impressed with the clarity of the violinist's double-stops: Without filtering, I heard an almost mud­dy mixture of sounds. When I attached the CD player to my unfiltered power strip, the banjo had a definite tinny quality. The AudioQuest, on the other hand, endowed it with body and timbre. I noticed a remarkable enhancement in richness across the board. The power conditioner gave brass instruments, whose notes always display a more or less distinctive airflow component, greater sound depth and more overtones.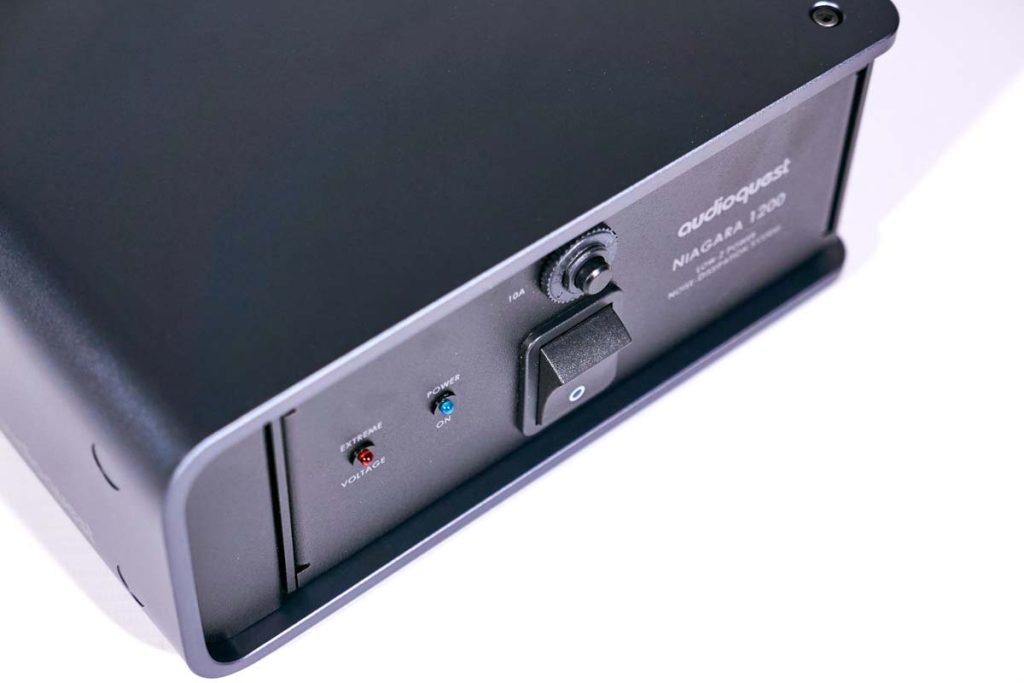 But what did my other digital components gain from the power filter? Using the Roon app, I next instructed my Innuos Zenith Mk III to play the wonderful Graces That Refrain album by the Norwegian quintet Music for a While. Here I used the Aqua La Voce S3 as DAC to convert the Tidal stream (16 bit/44.1 kilohertz FLAC). As soon as I plugged in the streamer and DAC into the AudioQuest filter, I noticed an immediate surge in musical tension. Acoustical instruments continued to reverberate throughout the room until their absolutely final fading moments. Low bass, with which the album (produced in the famous Rainbow Studio in Oslo by the legendary ECM sound engineer Jan Erik Kongshaug) was amply endowed while also sounding clearer and firmer than when the devices were attached by way of my usual power strip. Without the power filter, Tora Augestad's voice appeared tired and pallid. Adding the AudioQuest filled it with vigor.
I got the same result when I attached analog devices such as the dps turntable, Bauer phono preamp, and Silvercore tube preamp to the Niagara 1200. It brought increased spatiality, an emphatically more open and finer sound, cleaner timbres, and greater clarity. Several videos fea­ture Powell demonstrating the effect the power filter has by holding his hand in front of his mouth while speaking and then abruptly removing it. I regarded this as a somewhat theatrical exaggeration — but that was before I started to systematically examine what this smallest of the Niag­ara models can do. Powell is absolutely right: His filter does remove an obstruction to the music.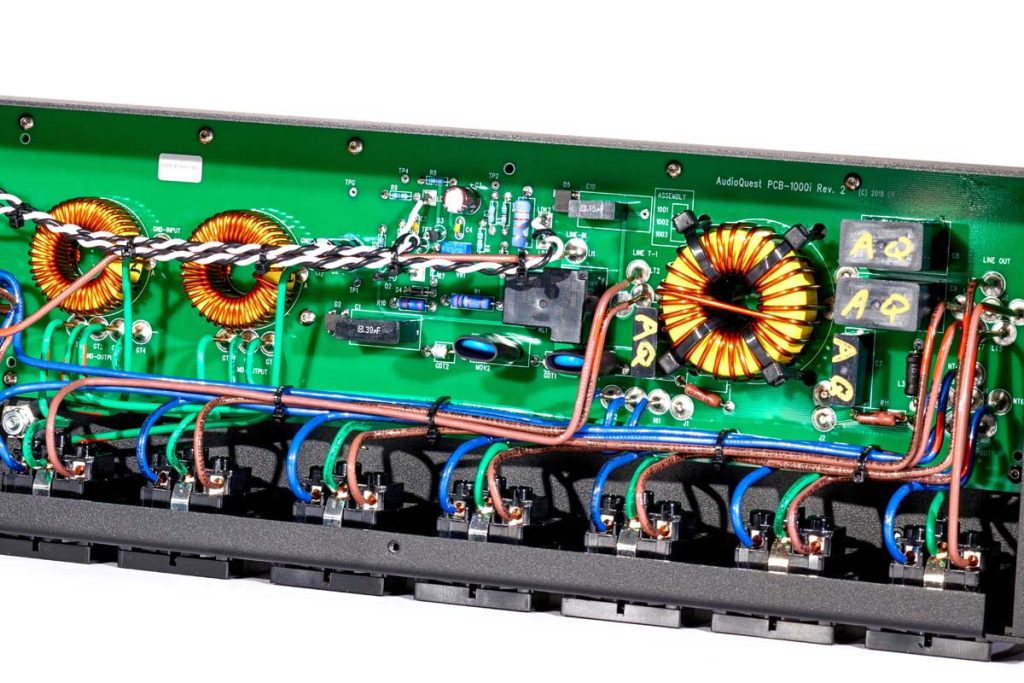 But how does the AudioQuest device cope with raw dynamism? The power conditioner amply demonstrated it can deal with the finest sub­tleties, so I deemed it time to connect up the Rowland power amp. The amplifier's Class A rating meant it would consume a lot of power even at lower settings, so I attached my entire system to the Niagara 1200. With the power amp, though, I just had to switch around between my power strip and the power filter. With the amp connected to the AudioQuest rather than the power strip, the dynamic power of Friedrich Gulda's concert piano on the MSP production As You Like It was a touch more cultivated yet boasted a greater structure in sequences and chords. When the double bass kicked in, the Niagara 1200 could distinguish it much more clearly from the piano's bass tones. On the Toy album by Yello, the crashing electronic performance appeared less excessive, but gained in structure and lucidity.
The AudioQuest Niagara 1200's ability to open up and release sound while leaving no acoustic fingerprint of its own makes it an exception­ally effective tool for ascending to the next level of musical enjoyment. Owners of power amps with an even greater hunger for energy should go for larger power conditioner models, such as the Niagara 3000 or even 5000. Everyone else, however, will be quite happy with the unassuming little 1200.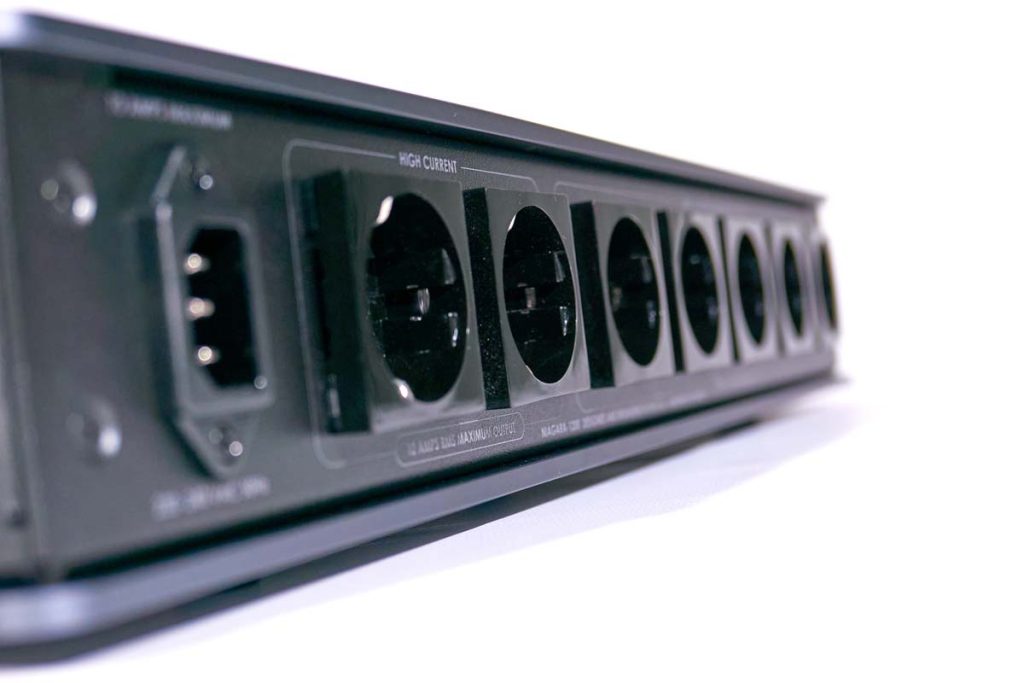 Accompanying equipment
Turntable: Bauer Audio dps 3 | Tonearm: Bauer Audio Tonearm | Cartridge: Lyra Kleos | Phono preamplifier: Bauer Audio Phono | CD player: Electrocom­paniet EMC 1 UP | Music server: Innuos Zenith Mk III | DAC: Aqua La Voce S3 | Preamplifier: Silvercore linestage two | Power amplifier: Jeff Rowland Model 2 | Loudspeakers: Ayon Seagull/c | Cables: Fadel Art, Sun Audio, TMR, HMS, Phono­sophie, ViaBlue | Accessories: DIY rack
Power Conditioner
AudioQuest Niagara 1200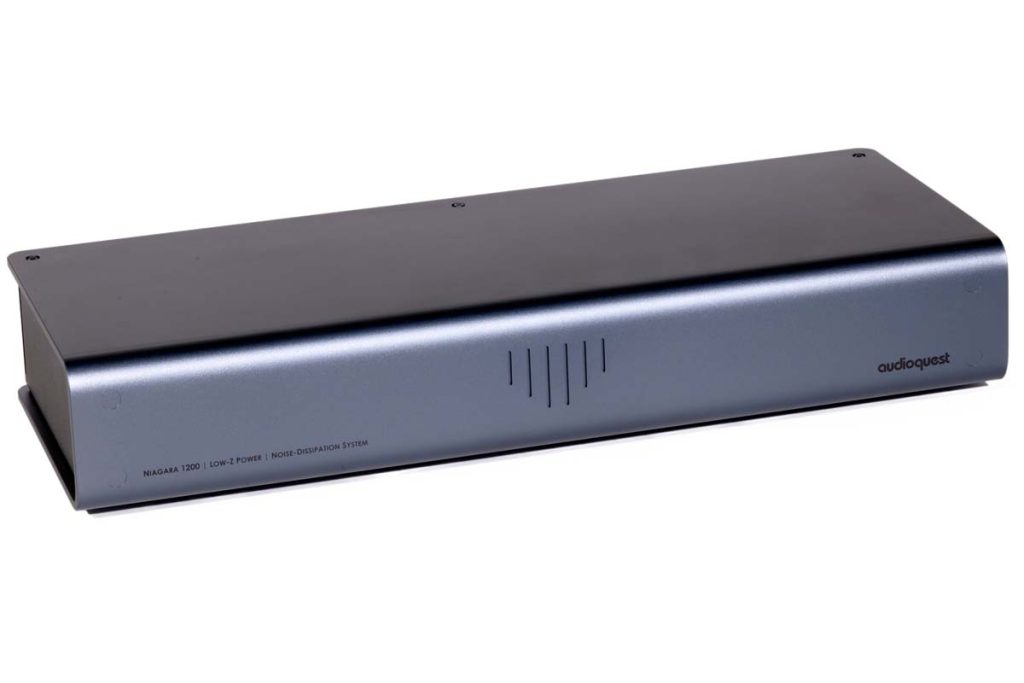 Concept: active power filter with surge protection | Outlets: seven sockets total (2 x integrated/power amps, filtering — Ground Noise Dissipation; 5 x source devices and preamps, filtering — Level-X Linear Noise-Dissipation and Ground Noise-Dissipation) | Maximum load: 15 amps | Casing: anthracite aluminum | Di­mensions (W/H/D): 50/9/19 cm | Weight: 7 kg | Warranty: five years | Price: about €1,000
AudioQuest
Hoge Bergen 10
4704 RH Roosendaal
Netherlands
Phone +31 165 54 1404
info@audioquest.com
The stated retail price of the reviewed device is valid as of the time of the review and is subject to change.