Professional musician Stefan Gawlick travels the world and knows almost every major concert hall around the globe. In this series, he reports on the acoustics and other characteristics of famous venues both in the auditorium and on stage. Up now: Berlin Philharmonie.
The time has finally come to write about this hall. You see, I wanted to put it off for a while and savor it as one of the highlights of this musician's year. I didn't want to blow through all of the exceptional halls in the first set of articles for this series. But now I've got to get down to it.
I have a very deep connection to this hall. Because about 60 percent of my parents' LPs were from the Berlin Philharmonic — at that time exclusively on the Deutsche Grammophon label — I was regularly listening in on the Great Concerto Hall of the Berlin Philharmonie from an early age without even knowing it.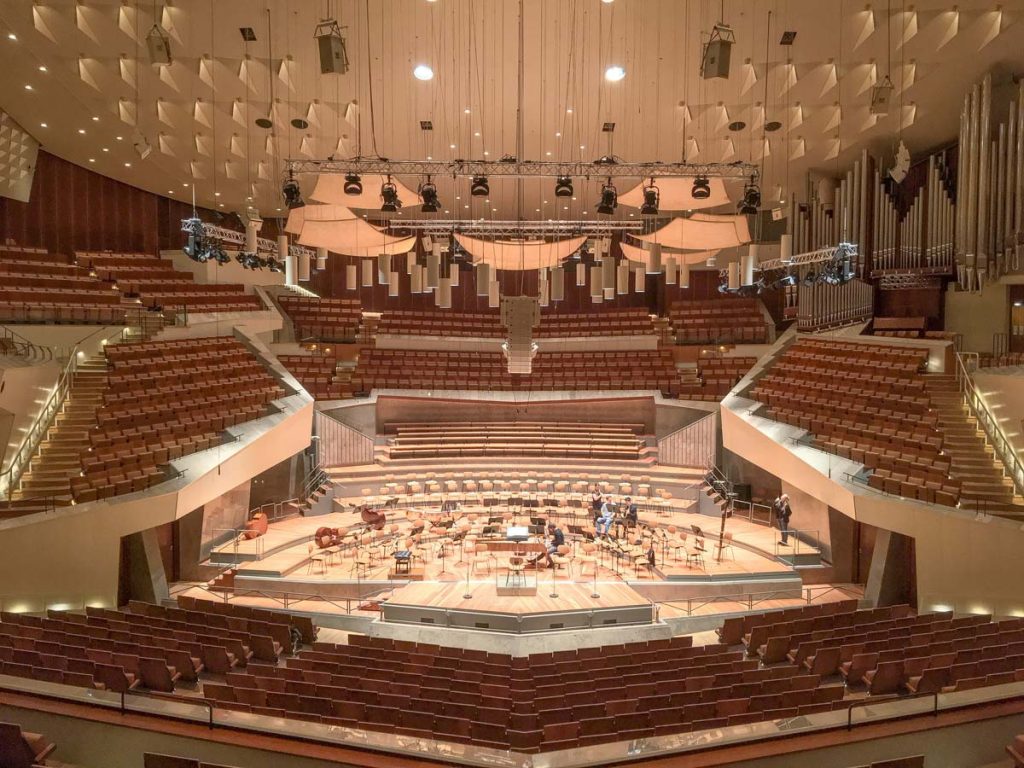 Eventually, I ended up going to university in Berlin and eaves­dropped on an average of two concerts a week during my first two years there. At those concerts, I really absorbed the sound of the hall built between 1960 and 1963, turning it into my personal yardstick, my acoustic compass needle that I would later use to gauge every other concert hall I visited.
A concert in the Berlin Philharmonie is one thing, and the hall would be extraordinary enough on the basis of its sound alone. But what's fascinating is how everything in this nearly 70-year-old hall is also perfect behind the stage as well.
The Philharmonie is easy to reach, but if work has made your head spin, the zoo is just a stone's throw away. The hall offers plenty of parking, and it doesn't matter what type of vehicle you use to transport your instrument: From compact car to massive truck and trailer, the drop-off zone has enough space for everything. Musicians can unload directly into the elevator, which takes them right to the backstage area; no tight curves or steps stand in their way. Also behind the stage are the dressing rooms, which, by the way, even have windows. It's just a few steps from there to the podium. For every musician carrying an instrument worth as much as a nice single-family home, it's incomprehensible that even new concert halls such as the Elb Philharmonic and Konzerthaus Dortmund make it difficult to reach the stage by forcing musicians to navigate multiple stairways.
The hall's restaurant is located right behind the stage and offers musicians and members of the audience a chance to mingle after concerts. Thankfully, life is a little more laid back in Berlin, and producers and consumers can come into contact with one another — an essential aspect of building ties and promoting valuable interaction. Pardon me for getting off track again, but in Hamburg, members of the audience who want to visit backstage have to register far in advance. At one of my last concerts there, this made it impossible for an extremely wealthy, generous patron to meet with the artist. Pretty foolish.
The hall is and will remain second to none in my opinion. The stage is large and adjustable in multiple ways, the lighting is cool, bright, and free of shadows. The width and practical gradation of the seating provides for optimal viewing, and the stage acoustics are simply magnificent. From your seat, you can gather each and every bit of necessary information: To begin with, you hear yourself completely free of distortion. It may sound obvious, but it's actually not so easy to find anymore. Because a decent share of the hall reverberation travels back to the stage, your own volume is easy to gauge. You also hear all the other instrument groups in the orchestra, which enables everyone to play as a cohesive unit.
The hall realizes a fantastic balance between precision and charm: Small inaccuracies may be audible, but cloaked in a lovely reverb to soften their edge, they become much less bothersome. While you do have the slight sense of an arena atmosphere with the audience seated around the orchestra, it just enhances the excitement of sitting on this stage. That's especially true if you're a drummer in the last row and the audience in the best-selling choir seats just a meter behind you can read the music along with you. This hall has set benchmarks since the 60s and has never had any serious competition to this day.
www.berliner-philharmoniker.de
Music tips — Recordings with characteristic concert-hall sound
Dmitri Shostakovitch: Symphony No. 8, Berlin Philharmonic, Semyon Bychkov, Philips | Maurice Ravel: L'Enfant et les Sortilèges Berlin Philharmonic, Simon Rattle, Warner | Anton Bruckner: Symphony No. 9, Berlin Philharmonic, Herbert von Karajan, DGG
The stated retail price of the reviewed device is valid as of the time of the review and is subject to change.