Dynaudio proves with the Focus 50 that in 2022 it only takes a single pair of speakers to make a highender happy in all respects.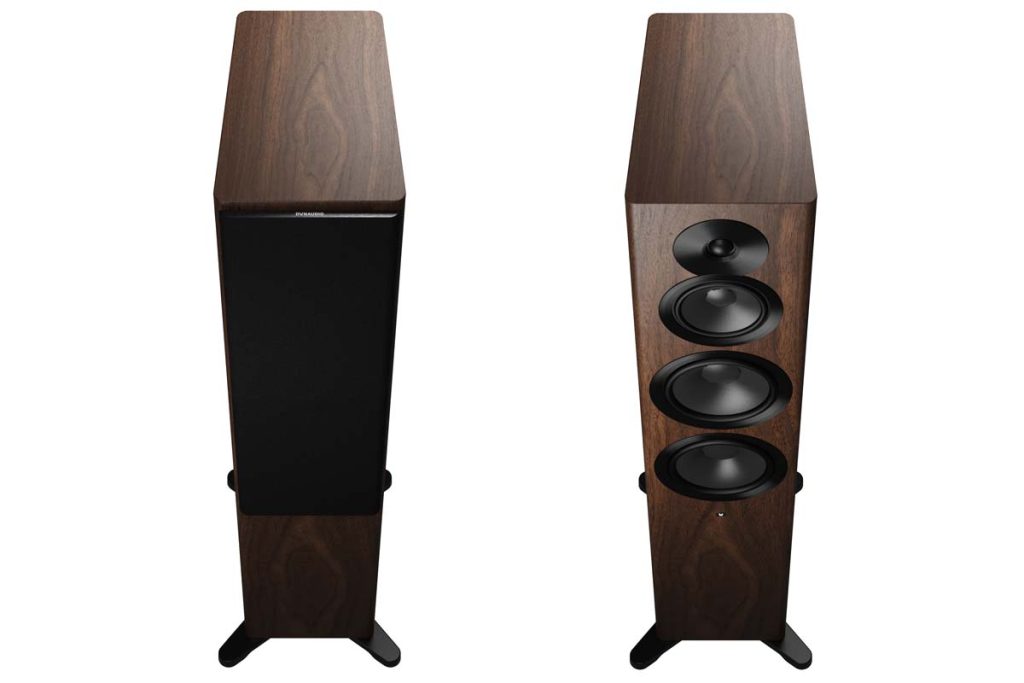 If I reveal myself as the author of an audio magazine during party small talk, I'm usually asked the same two questions: The first is whether it's possible to listen to music in the living room with the same ease as in the kitchen or garden with a Bluetooth boombox. The other question is whether digital music listening is simpler and less complex than with the conglomerate of streamer, DAC and amplifier. Both questions are justified in my eyes and are answered insufficiently by many manufacturers in terms of customer friendliness. They prefer to work on audiophile details and forget that many music lovers want to listen to Igor Levit, Björk or even Helene Fischer in an uncomplicated and yet high-quality way. One could think that sophisticated approaches and wireless plug'n'play are mutually exclusive. The demonstration of the Dynaudio Focus 50 at the HIGH END in Munich triggered me all the more, since there were only two floorstanding speakers on the demonstration area that didn't even need speaker cables and left a more than decent listening impression on me during the demonstration.
Somewhat disrespectfully, the Dynaudio Focus 50 could also be called a compact system: Loudspeakers, integrated amplifier as well as digital music playback, and if required, an analog source and various AV media can also be connected. It's as if Dad's music chest from the 1970s has now been moved to the speakers and the record player and cassette drive have been replaced by digital files. If you consider this, the purchase price of around 10,000 euros is quickly put into perspective. If you add up the individual items for a decent integrated amplifier, a streamer with DAC, a pair of floor-standing speakers and the corresponding cables, you quickly end up in similar territory.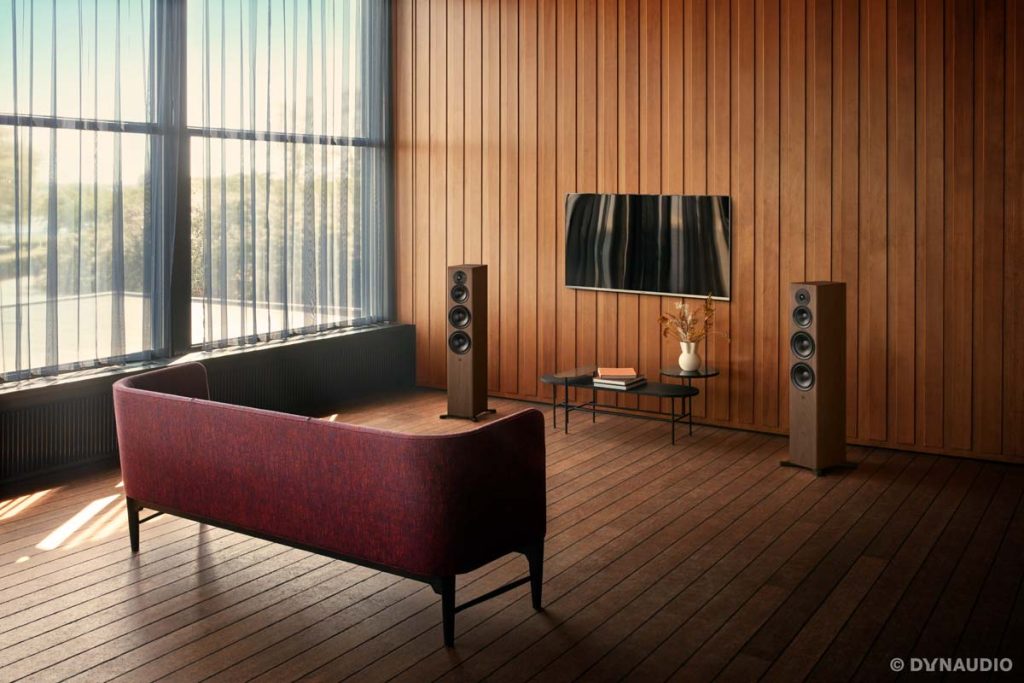 If you take a look at the inner workings of the Focus 50, you will find proven selected technology. Here, the wheel is not reinvented, but already well-liked fused into a new concept. Let's first take a look at the speaker's technical plus side before we turn to the electronics used.
The Focus 50 uses driver material that is predominantly also used in the Contour and Confidence series. For example, the Cerotar fabric tweeter with the in-house Hexis inner dome, which is supposed to optimize the airflow and minimize unwanted resonances. The tweeter then hands off the frequency response to a dedicated midrange driver, which is actually unique to this model within the Focus range. It is a 15 centimeter diameter unit with a powerful neodymium magnet, a fiberglass voice coil former and – typical for Dynaudio – an aluminum voice coil. In the bass range, two Esotec+ woofers with a diameter of 18 centimeters are at work. So all in all, a classic three-way system that does its job without experimentation, but with specially matched materials.
Dynaudio also relies on tried-and-tested amplifier electronics, which are manufactured by Pascal in Copenhagen. A collaboration that has also paid off with Dynaudio's active Pro series. Three Class D amplifiers are used in each Focus 50: a 110 watt unit for the tweeter, a 280 watt amplifier for the midrange and a 280 watt amplifier for the two parallel basses.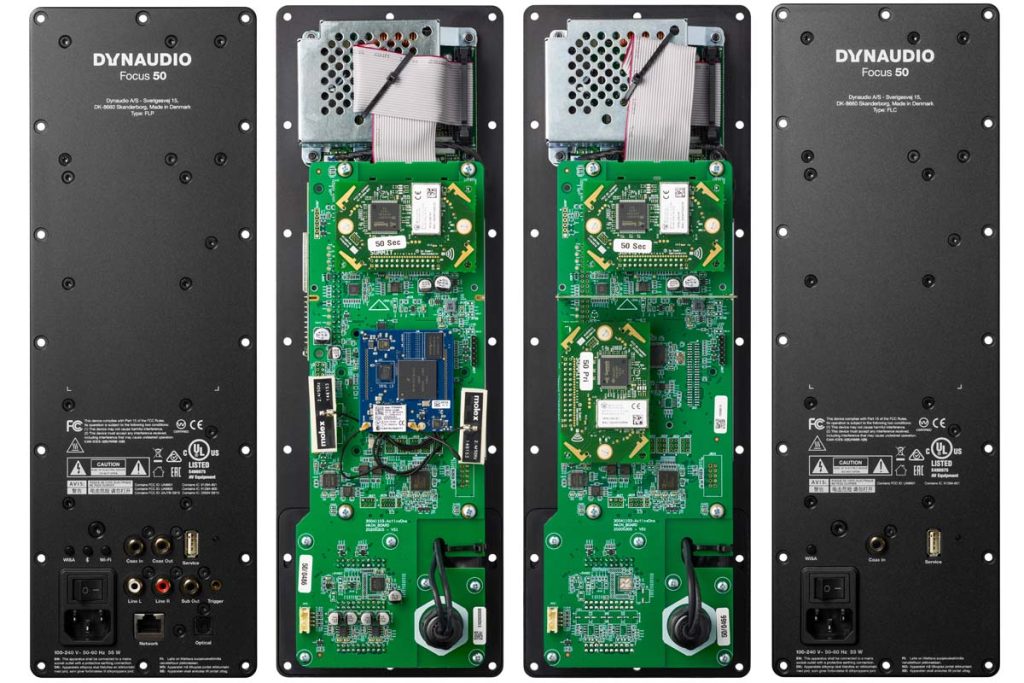 Let's first check out the Dynaudio Focus 50 with an analog feed. I quickly connected my phono pre to the RCA input of the amplifier module and Chick Corea's Three Quartets filled my living room. Although my listening room is about 30 square meters and the speakers are placed more than one meter away from the wall, powerful basses (plucked by Eddie Gómez) roll across the floor and Michael Brecker's tenor saxophone builds up in live quality right in front of my chair. For once, this is a reproduction of real flesh and blood, there is nothing aseptic in the reproduction that high quality playback systems can sometimes exude in their mannered perfection. However, this also means that if you have a listening room of less than 25 square meters and want to place the speakers close to the wall, it's better to go for one of the two smaller models in the Focus range. Both with analog and digital music, the Focus 50's suitability for long listening is striking. Neither overdriven highs become a torture during a listening session à la "Best of the 80s", nor do the brutal attacks of Liegeti's Bagatelles for Wind Quintet stab unpleasantly sharp into the auditory canal. All in all, the Dynaudio "compact system" has a certain mildness in the high frequency range.
However, one can be all the more pleased about the rich, almost majestic basses. Cellos and double basses march inexorably forward in the first movement of Mahler's Sixth Symphony in Denon's audiophile reference recording with Eliahu Inbal, so that one almost sinks into the chair with awe. All this takes place on a decidedly wide but not infinitely deep stage. The advantage of this stage geometry is that recordings bloated with artificial reverb, such as most chamber music recordings from ECM in recent years, do not find themselves in an infinite sound nirvana. By the way, the Focus 50s don't mind if you play with them a bit in terms of distance and angulation. We are all familiar with one or the other mimosa that refuses to engage the sound image when not positioned exactly and stubbornly insists on an adjustment with graph paper. The quite wide sweet spot is extremely pleasant, which also allows uninhibited lounging around in the armchair and communicative listening sessions for two or three on the sofa.
In the last five years, I've had quite a few streaming systems in my home. And even for me, as a person who is very much into digital technology, it wasn't always easy to get the system up and running right away. Sometimes the integration into the home network didn't work, sometimes the app reacted erratically or not at all, or the complete system crashed more often than Windows 98. Maybe it's because the technology has matured in the meantime, but maybe Dynaudio has simply done their homework, because I've never set up a digital playback system faster and more reliably. In short: Connect the power cord, let the speakers contact each other, integrate them into the existing network via the app, call up Tidal and listen to the music. The installation took less than ten minutes, and only two power cords indicate that the music does not sound like magic.
Of course, the app allows even more sophisticated digital use of the speakers, ranging from Roon integration and web radio to sophisticated sound management and Dirac room correction. Jan Kretschmer from the German sales department pointed out that all conversion processes within the system, such as in room correction or even A/D conversion of analog signals, are performed losslessly and with identical bit depth. Even if the general sampling rate is "only" 24/196 and you don't play the faster-further-higher game of many DACs, I never had the impression of a limitation in terms of resolution when streaming. Even the fact that only files up to 24/96 are exchanged between the speakers in cable-free operation doesn't diminish the audiophile pleasure for me; and if you want to be on the safe side, just connect the speakers with the included digital connection. As a household with an affinity for cats, I also liked the fact that the Focus 50 immediately registers whether you are using the fabric cover of the drivers, and then independently corrects the slight drop in treble and dynamics. Sometimes it's these apparent trivialities that make a highender's heart beat faster. If I didn't have to keep a certain fleet of devices on hand as an author of an audio magazine in order to do justice to different test situations, then the minimalism of the Dynaudio Focus 50 would definitely be a must-have for me.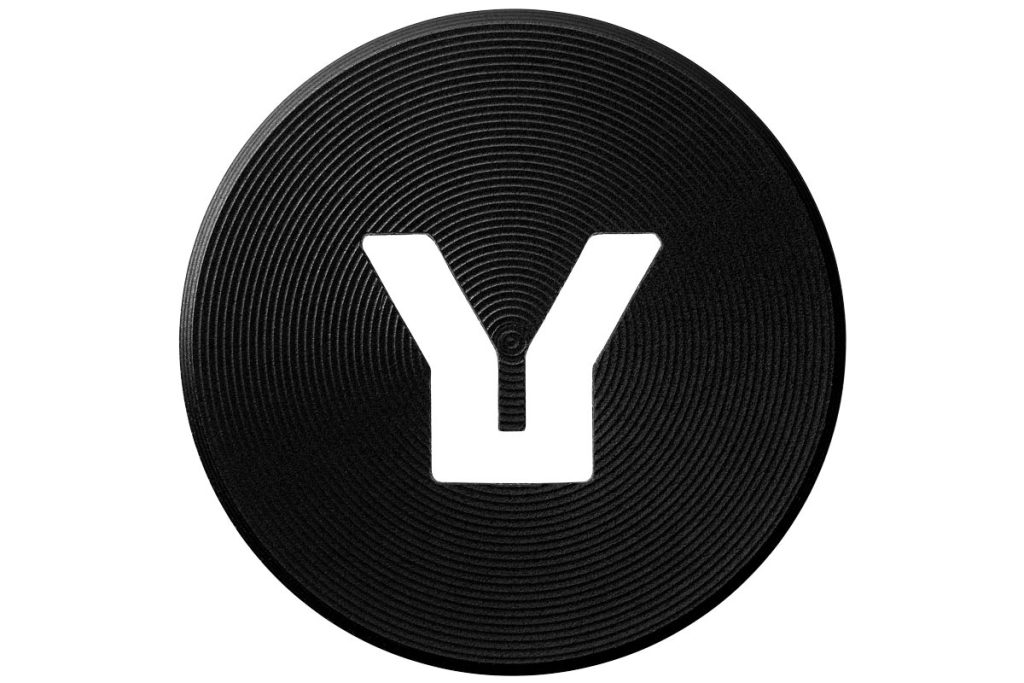 Accompanying Equipment
Integrated amplifier: Cyrus Straight Line, Thöress F2A11 | Power amplifier: Luxman M-03, Yamaha P2500S | Speakers (passive): Magnepan 1.5, KEF LS 50, Triangle Zerius | Active speakers: KRK VXT 8 | Headphones: Focal Utopia, Beyerdynamic T5p | Cables: Van den Hul, Vovox, Sommer | Accessories: Oyaïde, Oehlbach, Creaktiv
Active Loudspeaker System
Dynaudio Focus 50
Principle: active 3-way floorstanding speaker with streaming, A/D converter and wireless interconnect, room correction as well as DSP adjustment for front covers | Inputs: 2 × analog (RCA), 2 × digital (coaxial/optical) | Outputs: 1 × RCA (for connection between speakers), subwoofer out | Network: Wi-Fi, Ethernet, Bluetooth | Streaming: Chromecast, AirPlay 2, Wisa, Roon, Tidal Connect, Spotify Connect, QPlay, UPnP | Frequency response (±3 dB @ 85 dB): 20 Hz to 22 kHz | Drivers: 2 × 18 cm MSP woofer, 16 cm MSP midrange, 28 mm fabric dome tweeter | Amplifier power: bass 280 W, midrange 280 W, tweeter 110 W | Finishes: Black High Gloss, White High Gloss, Blonde Wood, Walnut Wood | Weight: 34 kg | Dimensions (W/H/D): 22/119/40 cm (incl. feet) | Warranty period: 3 years | Price per pair: around 10 000 €
Dynaudio Germany GmbH
Ohepark 2
21224 Rosengarten
Telefon +49 4108 41800
mail@dynaudio.de
The stated retail price of the reviewed device is valid as of the time of the review and is subject to change.