She studied in Paris with Marcel Dupré and counted Olivier Messiaen among her own students. She gave organ concerts in the United States, lived there for about a decade, became a member of ASCAP, and later taught harmony in Toulouse.
As a composer, Fernande Decruck (1896-1954) combines polytonality with impressionism, exoticism with neo-romanticism in her own unique way – her imaginative orchestral treatment is most comparable to Ravel. This album brings together no fewer than three wonderful soloist works with orchestra: the Alto Saxophone Sonata in C-sharp from 1943 (usually heard only with piano accompaniment), the Poème Heroique from 1946 (a double concerto for C trumpet and F horn), and the Harp Concerto from 1944.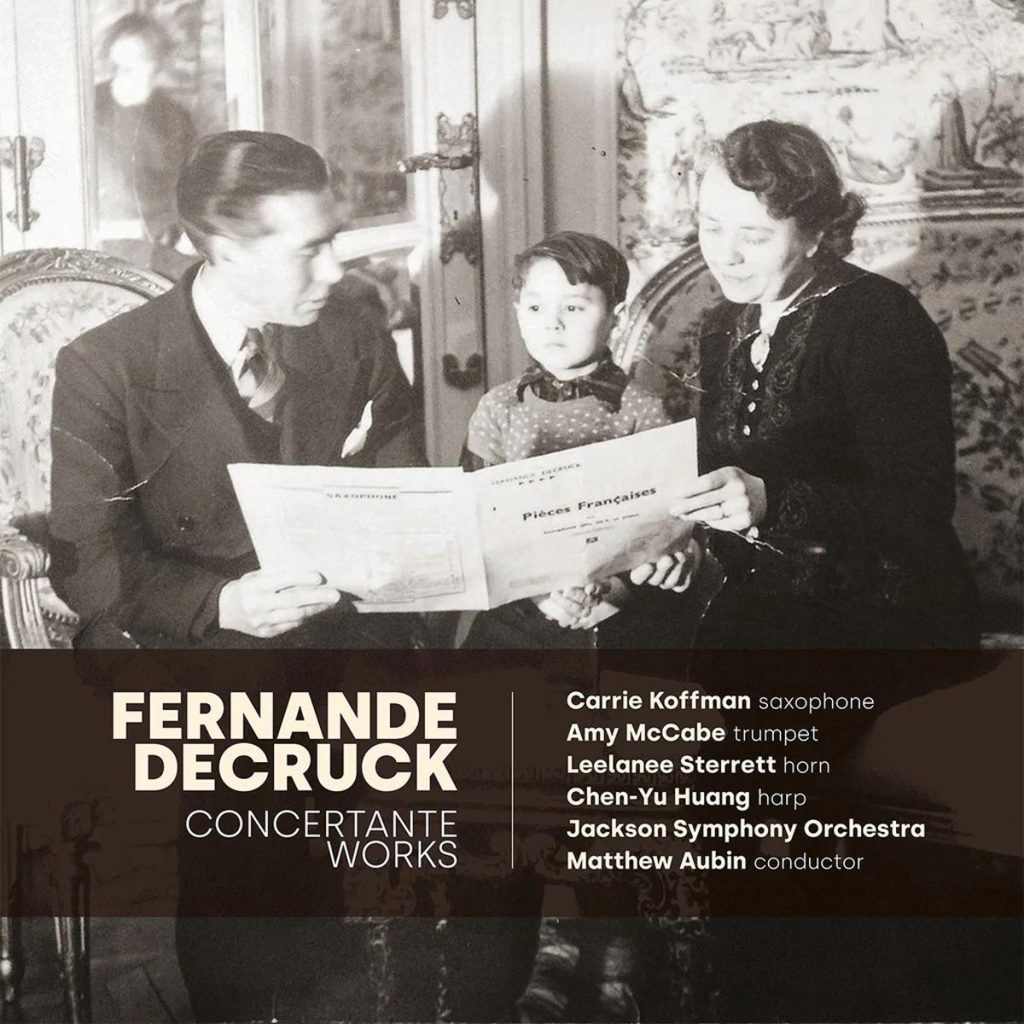 All three works are premiere recordings, and the Poème Heroique has probably never even been performed before. The work begins (rightly) with the Sonata in C-sharp for saxophone and orchestra, which is highly regarded in the classical saxophone world. French sax maestro Marcel Mule also once had the virtuosic third movement on his program. (Decruck's husband Maurice was himself an orchestral saxophonist.) However, the composer's elegant musical language is not only suited to this instrument. The orchestra from Jackson, Michigan, shines by paradoxically exercising restraint. Instead of piling up garish sound effects, it merges Decruck's pointed colorations into a gentle soundscape.
Fernande Decruck – Concertante Works
Carrie Koffman, Amy McCabe, Leelanee Sterrett, Chen-Yu Huang, Jackson Symphony Orchestra, Matthew Aubin
Label: Claves
Format: CD
Publisher's Notes On This Album
Sonata in C-sharp for alto saxophone (or viola) and orchestra (1943)
Carrie Koffman – saxophone
The Sonata in C-sharp for alto saxophone (or viola) is Decruck's best-known work. Decruck created two versions of her world-famous sonata, one with saxophone or viola and piano, the other with full orchestral accompaniment. The latter version is rarely heard.
Heroic Poem for solo trumpet in C, solo horn in F and orchestra (1946)
Amy McCabe – trumpet & Leelanee Sterrett – horn
Written in 1946, Poème Héroïque is a double concerto for solo trumpet, solo horn and orchestra. The work often features the two solo instruments in imitation and is a fantastic example of Decruck's mature style.
Concerto for harp and orchestra (1944)
Chen-Yu Huang – Harp
The Concerto pour harpe et orchestre was dedicated to and premiered by French harpist and pedagogue Pierre Jamet in 1946.
The stated retail price of the reviewed device is valid as of the time of the review and is subject to change.