Ferrum introduces the Ferrum Power Splitter. It allows users to feed two devices from the Hypsos power supply unit, for which it has been specifically designed.
To make Hypsos even more efficient in operating, Ferrum designed the Ferrum Power Splitter (FPS). One instantly recognises the FPS to be part of the Ferrum family of products because of its Corten steel front with the embedded Fe logo. Inside this little piece of excellence reside the electronics which immaculately pass the carefully calculated and measured values across the connected devices. From now on you can power two devices of your choice with just one Hypsos. The two devices fed by the FPS need to have similar input settings (voltage and polarity), which the user can choose from the internal list residing in Hypsos' memory banks. Also, the combined maximum power consumption should not exceed 80W and the current should not exceed 6A.
Together with the Ferrum Power Splitter a Ferrum Power Link of 0.5 meter is included in the box. Other power cords in different lengths (including the FPL) are available at an extra charge.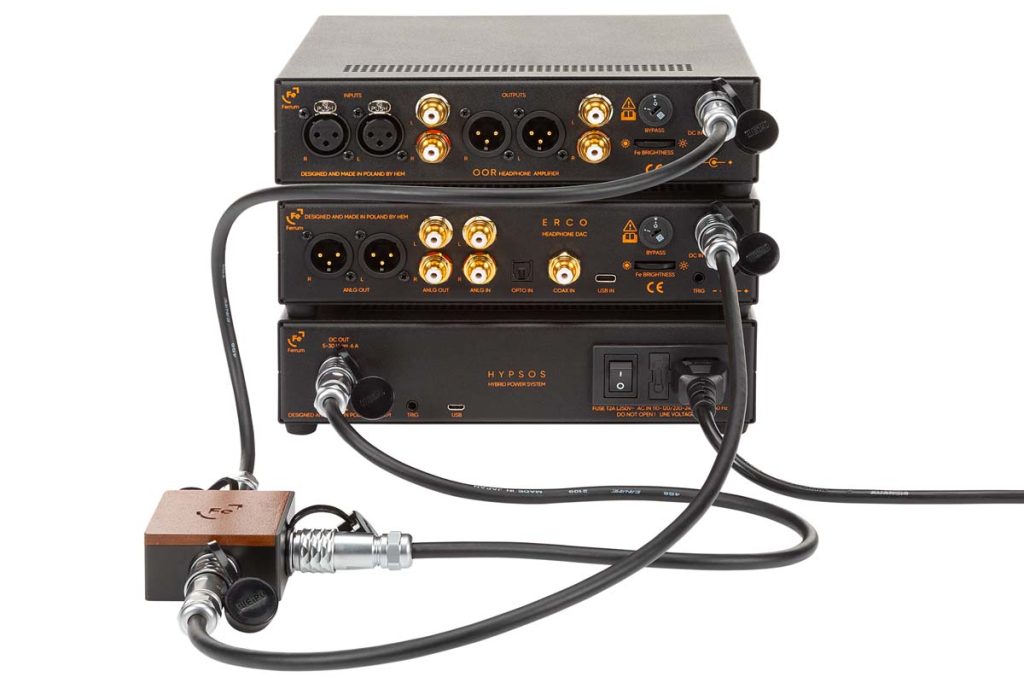 Specifications Ferrum Power Splitter (FPS):
Specifically made for Hypsos: you may now power two devices with one Hypsos
Input: 1x for proprietary 4-pin Ferrum Power Link (FPL)
Outputs: 2x for FPL or other Ferrum DC powering cords
Dimensions (W x D x H): 50 x 52 x 30 mm / 75 x 65 x 27,5 (1.97 x 2.05 x 1.18 inch / 2.95 x 2.56 x 1.08) mm with connectors
Weight: 180 gr / 0,4 LBS
Price: 249 EUR/USD
About Ferrum
Looking at the competencies of HEM and the rich local history of quality craftsmanship in the Warsaw region of Poland inspired the idea of creating a new brand of quality hifi products. The Ferrum brand was created in early 2020 and set out to combine sustainability, durability, and quality into compact yet attractive packages, focused on one thing only: delivering the best possible audio experience at an affordable price level. When Ferrum created Hypsos, it redefined power supply designs. When Ferrum created headphone amp Oor, it raised the bar for intimate, analog listening through your favourite headphones. With headphone DAC/AMP Erco, Ferrum put one and one together to forever change the way you will enjoy digital and analog audio. Exciting future products will follow suit in unique, exiting, and new ways.
The stated retail price of the reviewed device is valid as of the time of the review and is subject to change.