Good things endure, even in a world undergoing massive change. Finite Elemente feels like it's been around for as long as high-end audio itself. And the company stands as a byword for distinctly audible sound enhancements achieved through its racks, bases and component feet.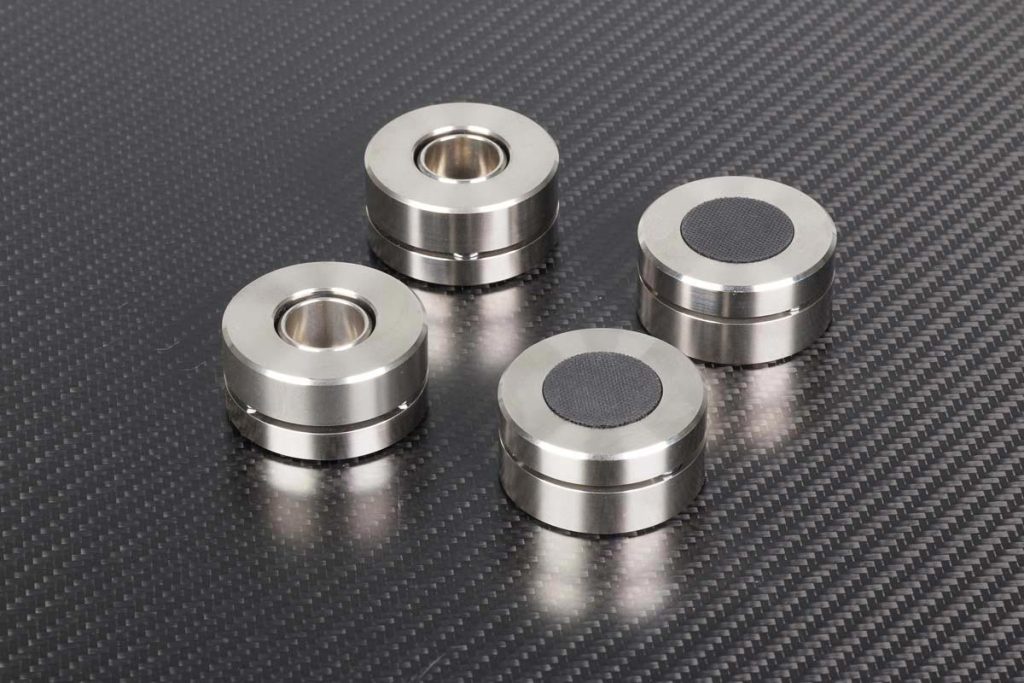 Say you're already using Finite Elemente's astonishingly effective equipment racks to augment audio devices — be they sources, preamps or power amps — via highly effectual resonance transfer. Then might we suggest going one step further by rethinking your speaker set-up. Head developer Luis Fernandes is known to favor direct coupling for maximum efficiency when deflecting resonances harmful to the sound. So, assuming that you don't have speaker cabinets weighing several tons or constructed from materials that even a tornado wouldn't shift, the component feet Finite Elemente Cerabase Slimline will absolutely benefit the sound.
These high-tech feet "made in Paderborn" were most recently drawn to our attention by the Berlin-based speaker engineer Michael Plessmann, who uses them for his SoundSpace Systems range. The Aidoni, his flagship product, weighs approximately 350 kg. Even with such a hefty loudspeaker, Finite Elemente feet provide such a significant improvement that Plessmann now fits them to his products as standard. Simple though the principle may sound, the impact is astonishing.
The three ultra-hard ceramic balls in each foot (ideally tightly screwed on), in conjunction with direct coupling to the appliance, achieve almost complete resonance transfer.
The Cerabase slimline feet provided for our test are intended primarily as replacements for components with original feet that are of a lower quality than the appliance itself. There are, of course, further models intended for many other purposes. The Cerabase slimline is is composed of two round, precision-engineered, stainless steel elements. Three synthetically manufactured ceramic balls in between the two elements generate the direct coupling men­tioned above. The feet are only 21.5 mm high and 45 mm in diameter. A set of three feet can support 375 kg, with a set of four capable of an impressive 500 kg. A set of four feet will cost you € 480.
For testing purposes, I used my already ex­tremely stable Mark Levinson components and my trusty top-loading Sony CDP-X 5000 — a particularly lightweight device despite its high-end character. I didn't expect to tease much more out of this equipment — but I was wrong. Once the original hard rubber feet were replaced with Cerabase slimline feet, the sound instantly became sharper, more stable and better balanced. Yet it had nothing to do with wishful thinking. Even when it comes to components lacking any moving parts, such as the M1, Musical Fidelity's D/A converter, the Cerabase slimline feet work their magic. It's to do with how they eliminate impact and struc­ture-borne noise – i.e., the component no lon­ger detrimentally affects itself. This is all further enhanced when adding one of Finite Elemente's top-notch hi-fi racks. Contour definition in particular was clearly more audible in our tests on the Pagode Edition MK II. But the Cerabase slimline feet are obviously not made explicitly for use with the Pagode system.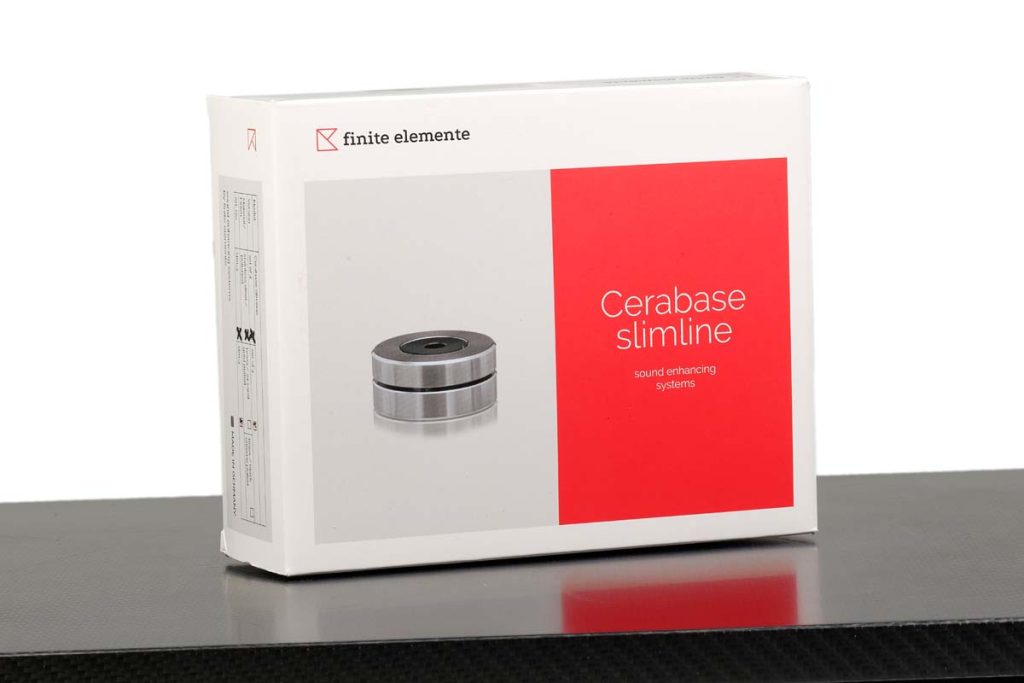 In the final event, my curiosity got the best of me. Finite Elemente states that the optimum component weight for Cerabase slimline sits between 20 and 150 kg. This means I can also test my Infinity Kappa 7 II Series 2 speakers. So I removed the original (and already highly ef­fective) spikes, and placed the unit on the Cer­abase feet — not an easy job given the sizeable dimensions of these speakers. Due to the age and origin of these speakers (US-made, with imperial thread sizes), I was unable to screw the slimline feet onto the speakers. However, even without this, the rewards were palpable. Large ensembles like the San Francisco Symphony Orchestra, seasoned veterans of the works of Gustav Mahler, had significantly clearer con­tours and, above all, a controlled exuberance. Chamber music developed a distinct three-di­mensionality that the Kappa speakers had only ever hinted at beforehand.
But what exactly do the Cerabase slimline feet do better than the original spikes on my Kappa models (or the original feet on many other components)? For one example, they mitigate the upper bass range hump — something I had previously assumed was a permanent idiosyn­crasy of the Infinity unit. I'd even thought it could be a "feature" intended by its developer, Arnie Nudell, revealing a taste com­parable to the designers responsible for creating those gleaming, chrome-clad road cruisers and huge tail fins of the late 1950s. The slimline feet confine this outdated sonic quirkiness to the garbage heap of high-end history. And they do so elegantly, with minimal fuss, and without robbing the Kappas of their vivid colors or warm, deep character. Clearly detox therapy of the most pleasurable kind.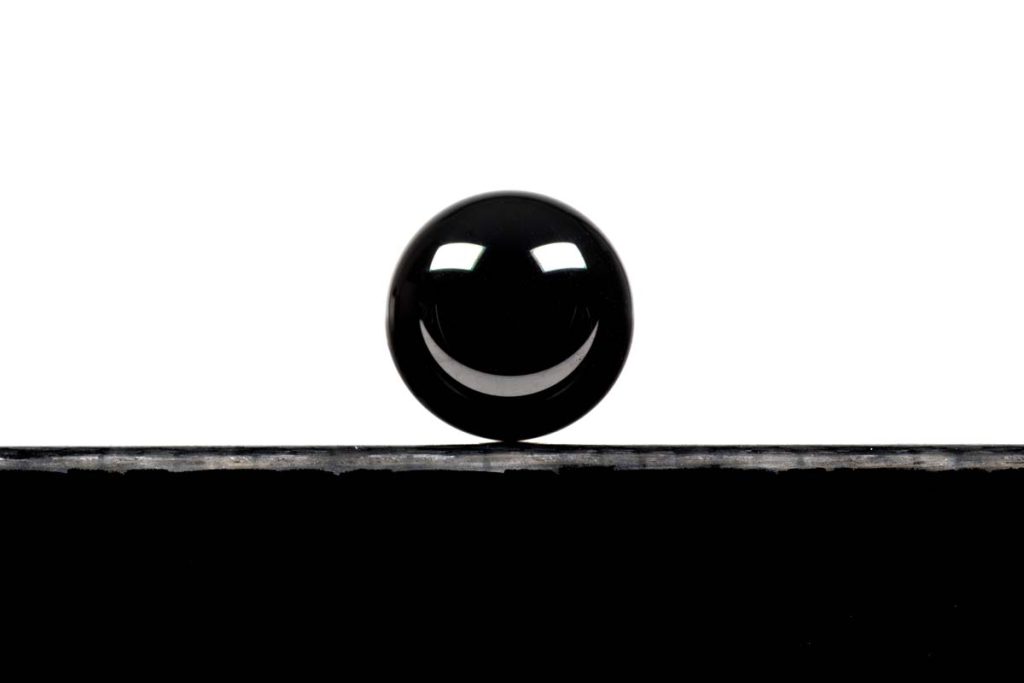 Accompanying equipment
CD players: Mark Levinson No. 390S, Sony CDP-X5000 | SACD play­er: Sony SCD 333 ES | Turntable: artkustik Seismograph II Legend | Cartridges: Clearaudio Da Vinci and Jubilee MC, Denon DL-103R | Integrated amplifiers: Mark Levinson No. 5805, Aavik I-580 | Preamplifiers: Cambridge Audio Edge NQ, Mark Levinson No. 38S | Power amplifier: Mark Levinson No. 27 | Converter: Musical Fidelity M1 DAC | Phono amplifier: Musical Fidelity M-VNYL | Loudspeakers: Infinity Kappa 7 II Series 2, SoundSpace Systems Aidoni, Pirol | Cables: AudioQuest and Silnote Audio, among others
Component feet
Finite Elemente Cerabase slimline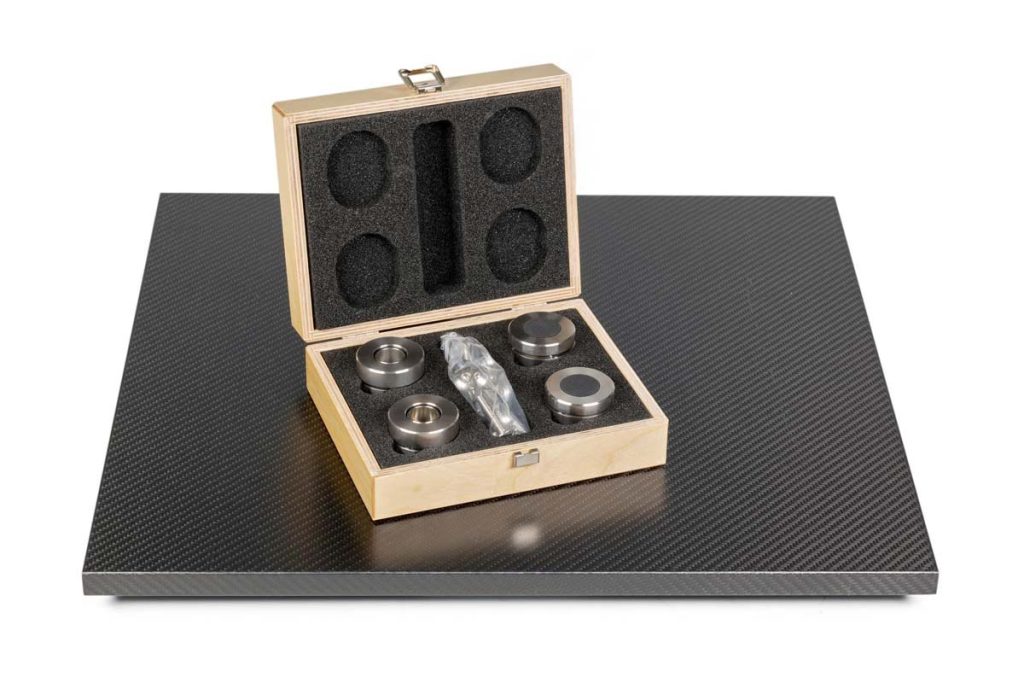 Material: precision-engineered stainless steel, 3 high­tech ceramic balls | Load capacity: 500 kg (set of 4), 375 kg (set of 3) | Versions: set of 3, set of 4 | Special features: not height-adjustable, screw-on (M6 and M8 screws included), supplied in high-quality wooden box | Dimensions: Ø 45 mm, usable height 21.5 mm | Warranty period: 2 years | Price: approx. € 480 (set of 4)
Finite Elemente
Am Heimekesberg 11
33106 Paderborn
Germany
Phone +49 5254 64557
info@finite-elemente.eu
The stated retail price of the reviewed device is valid as of the time of the review and is subject to change.