So small, so smart and so blue already – tracing history. And why this color is not a misquote.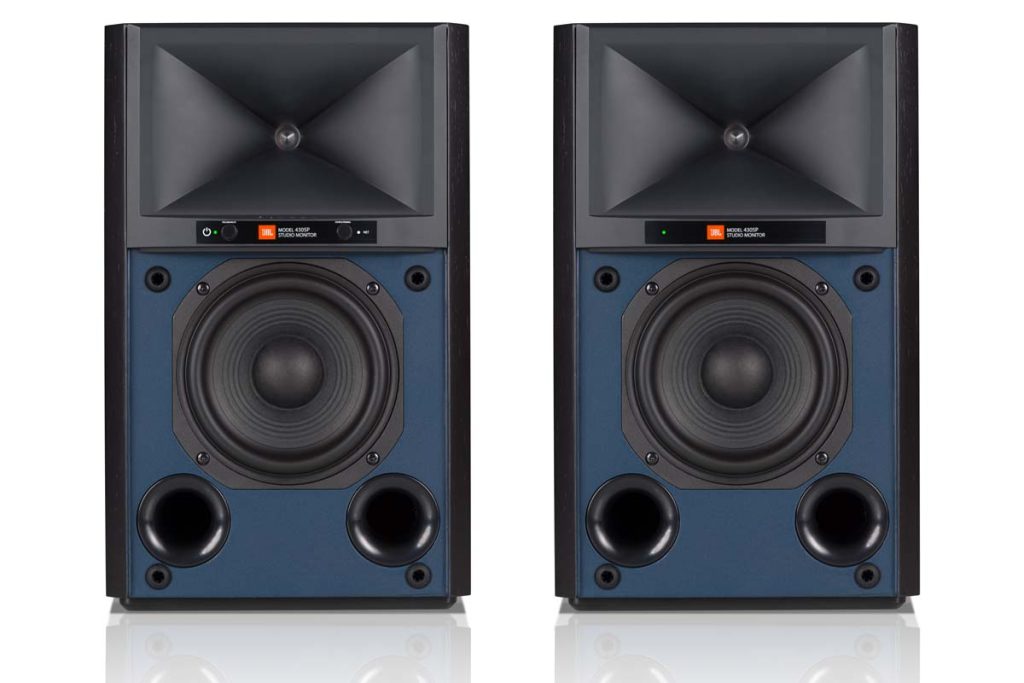 JBL's classic, gigantic monitors are nothing less than icons in the studio and hi-fi world with their fluted paper cones, waveguides and – of course – blue baffles. The manufacturer has achieved something that other manufacturers are licking their fingers for. My curiosity was accordingly great when I was offered a small new home studio monitor to review. While the categorization of the compact active is a conglomerate of terms that seems to bite itself in the tail, my knowledge of the professional background of the manufacturer makes me hope for good things. So here they stand, the shockingly small JBL 4305P, and give me challenging looks from their small tweeter horns.
They represent a new species that didn't even exist a short time ago and which is so hard to fit into the traditional hi-fi pigeonholes: A small loudspeaker with at least a partially professional claim and corresponding optical borrowings, at the same time suitable for the living room, as an active monitor defying the high-fidelity play instinct and which – thanks to an internal D/A converter and network compatibility – can really be fed from any conceivable source. At a price that can still be considered reasonably friendly, one wonders if all this can work out.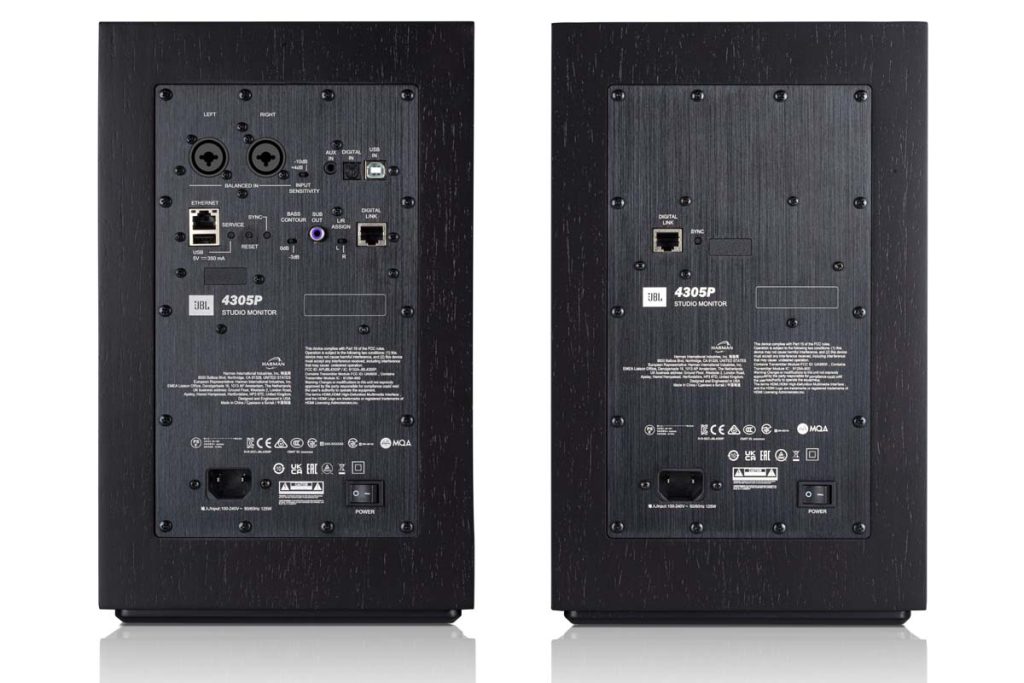 On closer inspection, the small JBL 4305P actually deliver what their blue front promises. A one inch compression driver lurks behind the classically shaped horn mouth, the inevitably somewhat smaller woofer is of course made of paper, and obviously, the embossed stiffening rings cannot be missing either. So far, so good. Inside the box, there is a high packing density of all the latest technology that the Harman Group has to offer, and right at the beginning of the inspection it causes great joy: Often, such active speakers are actually passive constructions, in which an internal mono amplifier drives a passive crossover. It looks active from the outside, but it's not. Here, however, two specially configured Class D amplifiers take care of the two drivers and are fed by a DSP as a crossover. The crossover frequency of a good 1700 Hertz makes us curious how well the small JBL is able to handle voices.
On the rear, the two monitors are clearly different, there is a main speaker and a slave, which is connected via a CAT cable. Wireless is also possible, but then the data rates drop, and so we decided to stay with the cables. After all, the JBL 4305P should be able to present itself in the best possible way.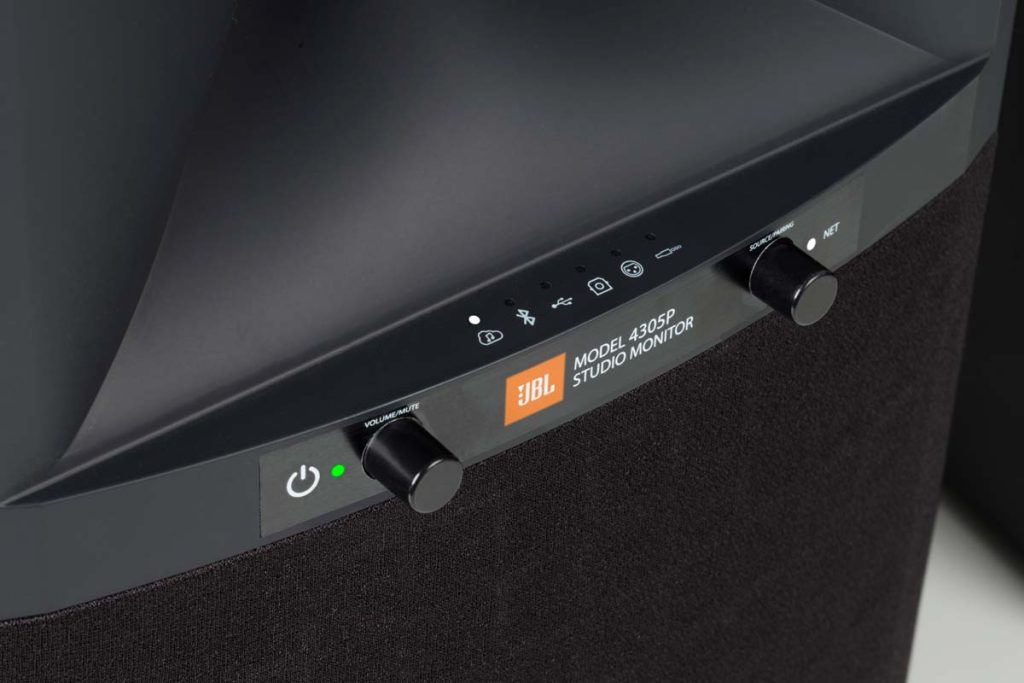 Turning to the main speaker, we learn what they mean at JBL when they tell you that this speaker can be "integrated into a great many environments". Simply everything is possible. Quite conventionally, we can feed the JBL 4305P analog signals, XLR and 3.5 mm jack are present. If you want to get really nasty, you can even hook up your cell phone via mini-jack, but we didn't try that out. There are limits to what we do. It continues with a digital (optical) Toslink input, which can be used to connect a CD drive, for example. Besides that, there is also a USB socket that gives computers access. Of course, there is also Ethernet access, but WLAN and Bluetooth are also possible. However, we are not at the end yet, because the small JBLs can also feed subwoofers via a corresponding output. You can also lower the bass via a small switch in case the speaker is placed on a shelf, and last but not least, you can decide whether the master speaker should be placed on the left or right. By the way, in the box you'll really find everything you need to put these speakers into operation. All necessary cables and a remote control are on board.
First listening tests were done conventionally via XLR cables, my Crane Song preamp was the heart of the system, signals came from the Mark Levinson No. 390S and a Transrotor Apollon.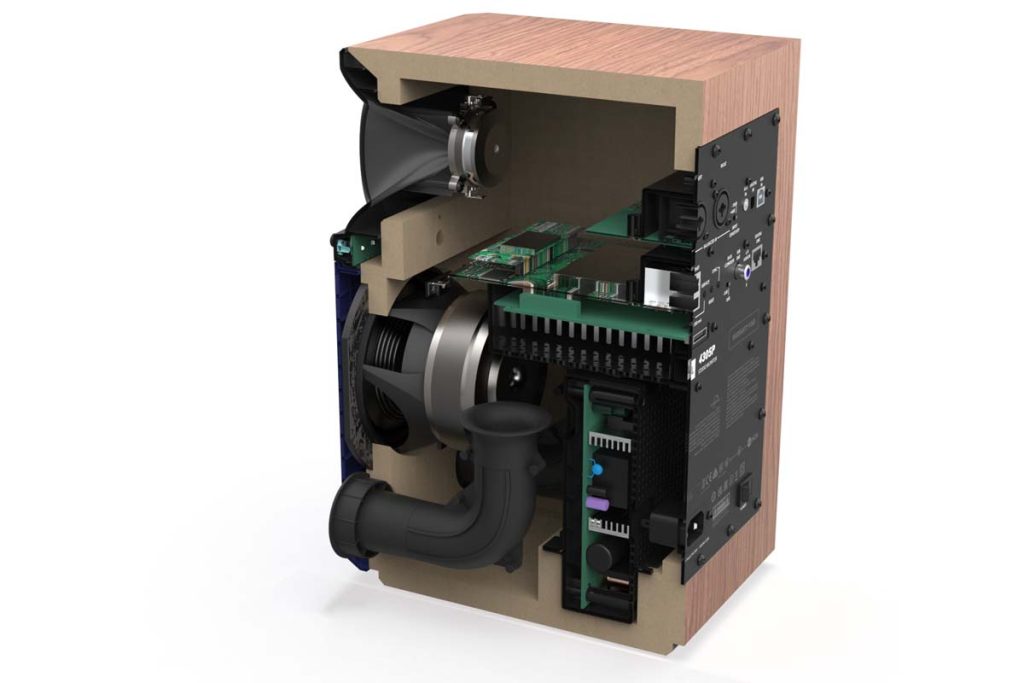 Now it's time to answer the question posed above, whether this could all go well. After a few seconds the answer is very easy: Yes – without ifs and buts! Elisabeth Schwarzkopf starts with the Four Last Songs by Richard Strauss (Angel LP 36347). Already at the beginning of "Spring" everything is there, Schwarzkopf starts quietly in a low, rather unpleasant register "in dämmrigen Grüften" and within a few bars swings up to crystal clear heights, treetops and birdsong. To present these immense register changes cleanly and at the same time to place the singer clearly in front of the darkly timbrated orchestra (Berlin Radio Symphony Orchestra under George Szell) is a feat at which even larger and more expensive colleagues buckle. The small JBLs delight here with a wide space, a fairly good division of sound events and, above all, a meticulous tracing of the color changes in Schwarzkopf's voice. In the treble, sharp tones – which could easily detract from the enjoyment of this particular recording – are fortunately avoided. So first of all, a debut made to measure. Just like that, from a standing start and after only minimal attention in the set-up, not many succeed.
Now I try a bit harder and after a few attempts I place the two speakers a good meter away from the rear wall and not quite angled towards the listener. I think 30 degrees should do. Still supplied by the aforementioned system via Vovox cables, the sun really comes up now. The compact orchestra in Rossini's Journey to Reims (Claudio Abbado, Berlin Philharmonic, Sony CD) is now reproduced almost to the millimeter between the speakers, one can precisely assign every small interjection of the woodwinds, every short swirl of the timpani. At the same time, and now it's a load off my mind, the overall picture doesn't break in favor of this attention to detail. Yes, the monitor is explicitly intended for private habitats as well, so it also treats each signal to a certain level of commitment that brings all the individual brushstrokes together into a coherent picture.
Now a test from the other world. The Masterbox is connected to the router via CAT cable, and Google Home is installed on the cell phone to guide the speakerlets into the purely digital world via Chromecast. The installation is quickly done without instructions via the two buttons on the front of the main speaker and a few steps in the app, and after a few moments I can already enjoy music via Tidal or Qobuz (the unconditional recommendation in terms of sound, a small voucher for it is included). I can hardly believe how fast and easy it was.
Now the path leads from Dead Can Dance to Schubert's Trout to Prince's last, posthumously released album. Again, the same picture. The JBLs proceed with attention to detail, but most importantly, rich colors and a seemingly casual approach to the music. You can hear a lot of detail, but you don't have to focus on it, which I think is an extremely successful setup. Obviously, the crossover is optimally configured, since the two amplifiers (125 watts for the bass and completely noise-free 25 watts for the tweeter) are optimally matched to the drivers. So nothing to complain about? Okay, it would have been nice to have the very classic version in walnut here. Because then the grill in noble blue would have made me happy.
Even though the JBL 4305P first played in a larger room and were already convincing there, they feel audibly more comfortable in smaller rooms. If you want to limit yourself to streaming, two good stands, two power cords and two CAT cables are enough for a complete, highly competent system. And as carefree as the JBLs perform right out of the box – treat them to a little attention. Any extra effort will be richly rewarded sonically.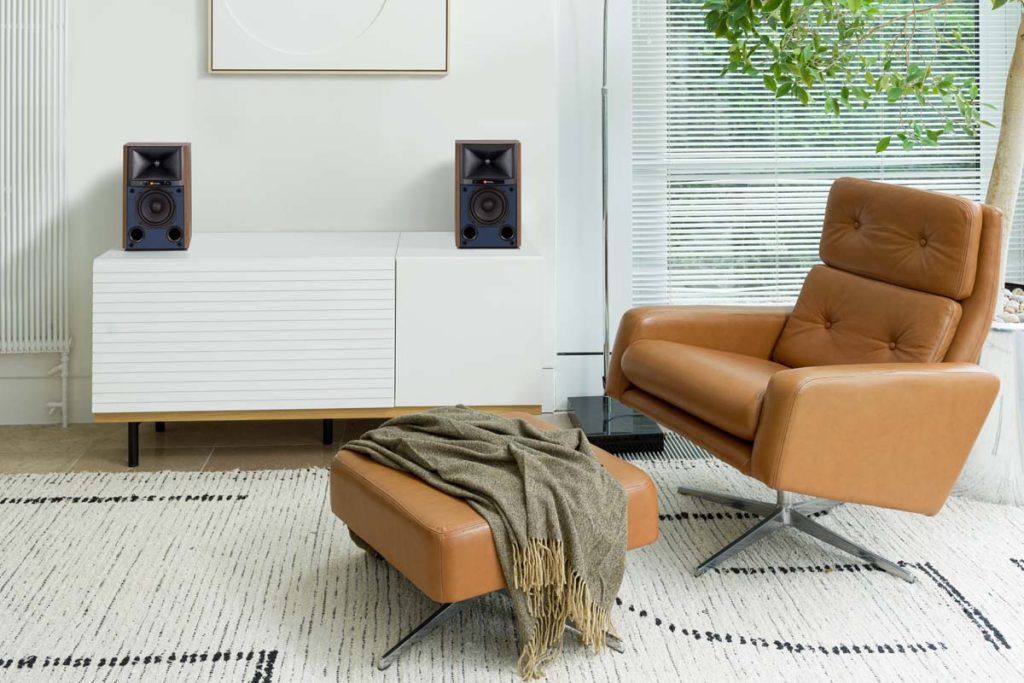 Accompanying Equipment
Turntable: Transrotor Apollon TMD with SME 5, SME 3012 etc. | CD player: Mark Levinson No. 390S | DAC: Merging Technologies | Preamplifier: Crane Song Avocet | Power amplifier: digital power amplifier based on ICE Power, Accuphase P-4200 | Integrated amplifier: Lavardin IT | Loudspeakers: Spendor Classic 3/5, Wilson Audio Sasha DAW
JBL 4305P active loudspeaker
Concept: 2-way bass reflex active monitor with DAC and streaming function | Inputs digital: Ethernet, 1 x USB B (asynchronous), 1 x Toslink (optical) | Inputs analog: ¼-inch jack/XLR combo, 3.5 mm stereo jack | Connections wireless: WLAN, Bluetooth | Outputs: 1 x subwoofer, "DigiLink" | Driver complement: 130-mm woofer, tweeter with 25-mm pressure chamber driver | Finishes: Black, Walnut | Dimensions (W/H/D): 21/24/22 cm | Weight: 7/6 kg (master/slave) | Warranty period: 5 years | Price: around 2200 €
Harman Germany GmbH
Parkring 3
85748 Garching near Munich
Phone +49 30 22957806
The stated retail price of the reviewed device is valid as of the time of the review and is subject to change.