By separating the audio section and the control and power sections, McIntosh aims to achieve the purest sound reproduction possible with the new C12000 preamplifier.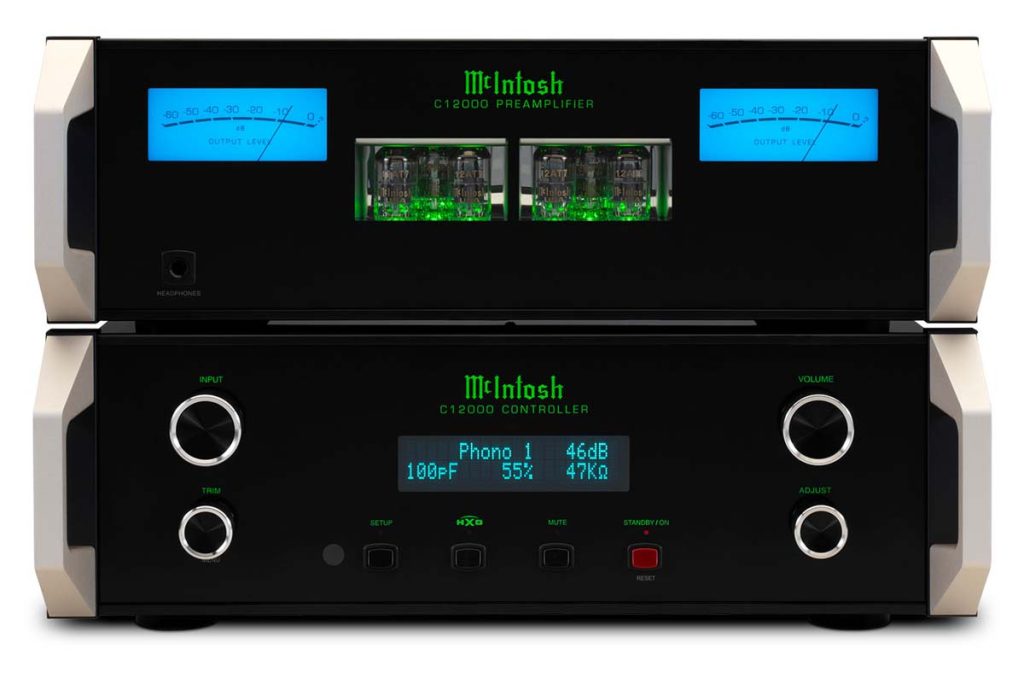 The C12000 consists of the C12000 Controller Module and the C12000 Preamplifier Module which work together seamlessly when connected. All power control, data ports, and external control connections are located within the C12000 Controller. Here, dual isolated power supplies drive the left/right channels, while a dual microprocessor gives robustness to the control system.
The C12000 Preamplifier Module houses the audio connections and circuitry. Inside, the left and right channels are electrically and mechanically isolated, thus allowing true dual mono operation. The result is the ultimate stereo separation and sonic purity. The controller and preamplifier units connect via high performance umbilical cables. Their specific design prevents outside noise from leaking into the audio signal.
C12000 features
12 analog inputs including six balanced and four unbalanced as well as two phono inputs
Offers both vacuum tube and solid-state output for maximum flexibility of listening options
Programmable phono inputs with adjustable capacitance and resistance loading for greater compatibility with a variety of turntables
Phono stage utilizes four 12AX7A vacuum tubes, with two tubes per channel in a fully balanced configuration that incorporates RIAA equalization
Increased user adjustment options reflecting a new level of user customization in McIntosh preamp design
Includes high output, high drive headphone jack with user selectable Headphone Crossfeed Director (HXD)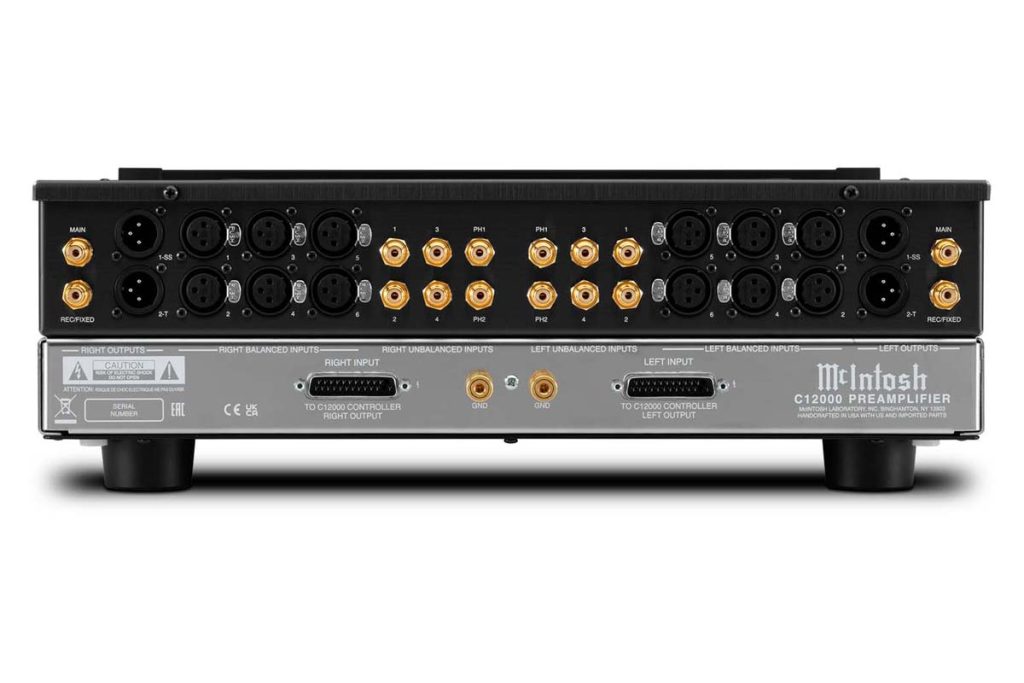 The C12000 offers connection options for a variety of amplifiers, speakers, room correction devices, CD players, turntables, tuners, and other source components to complete a home audio system. It allows for seamless integration within existing multi-channel home theater system via the Home Theater Pass Through feature. The C12000 employs fully balanced circuitry to match the level of performance achieved in any of McIntosh's Quad Balanced amplifiers.
The C12000 is a visual statement in addition to its audio prowess. It comes complete with McIntosh's classic features including black glass front panels, iconic blue meters, and custom machined-brushed aluminum handles. Both units feature a chassis made of stainless steel, polished to a mirror finish, plus hairline brushed black titanium stainless steel, offering an enhanced degree of richness and refinement.
Pricing and Availability
Orders for the C12000 can now be placed with Authorized McIntosh Dealers with shipping expected to begin in December 2021 to the United States and Canada, and to the rest of the world shortly thereafter. Suggested retail price (VAT, shipping and any customs duties related to current standards of individual countries are excluded): $8,000 per module, totaling $16,000 for the complete preamplifier.
The stated retail price of the reviewed device is valid as of the time of the review and is subject to change.