Professional musician Stefan Gawlick travels the world and knows almost every major concert hall around the globe. In this series, he reports on the acoustics and other characteristics of famous venues both in the auditorium and on stage.
You can't talk about Tokyo and its concert halls without mentioning the famous and truly superb Suntory Hall. It is without question one of the world's best concert halls and, though it's exceptionally famous, it's been on the scene for a surpris­ingly short amount of time — just 36 years. Yet in that time, it's managed to turn Japan's capital city into one of the world's major concert hubs. Any self-respecting orchestra must be able to say it's been in the Suntory Hall at least once. The fascinating Bunka Kaikan, with its picture-perfect setting, is, unfortunately, all too often overlooked.
And then of course there's the Opera City Concert Hall, which many colleagues swear is their favorite hall of all time. It's located in a central hot spot just 20 minutes' walk from the hustle and bustle of Shinjuku Station. Anyone who jumps straight on the orchestra bus back to their hotel after a performance doesn't know what they're missing as there's a whole host of wonderful bars and restaurants to enjoy. Golden Gai, a fascinating little area lined solely with bars, is located behind the station and provides people with probably the most stylish setting on earth in which to raise a glass and celebrate what is sure to have been a wonderful concert experience.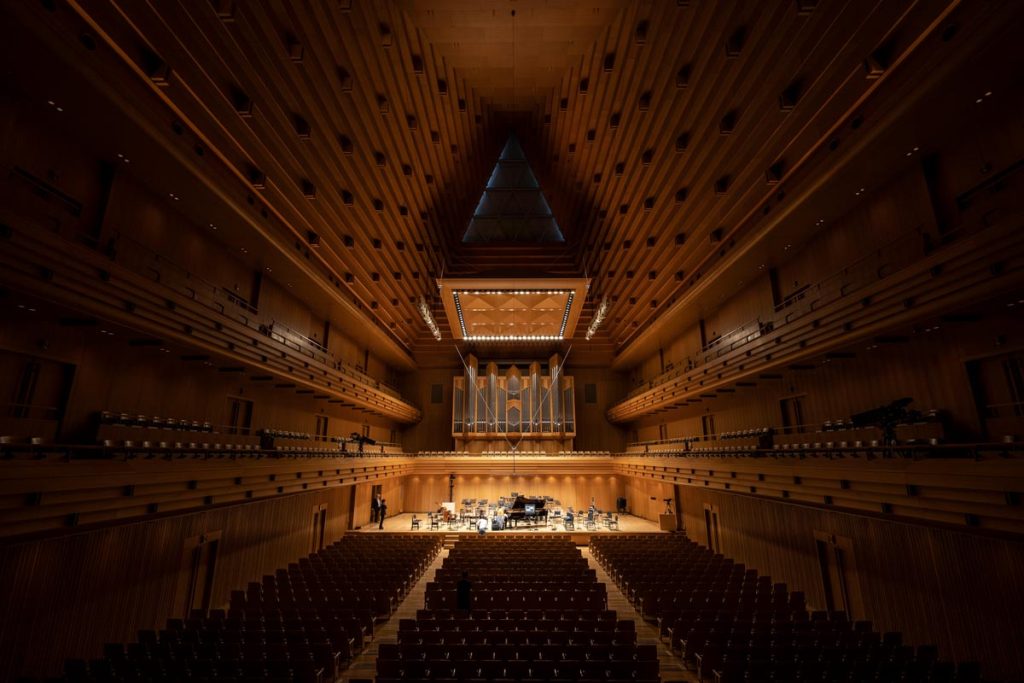 Opened in 1997, the concert hall is part of a complex that houses art galleries, a shopping mall that actually consists purely of restaurants (sic!), and Tokyo's sev­enth-tallest building, the Opera City Tower, which features a panoramic terrace open until 11 p.m. for anyone keen on soaking up some stunning post-concert views. As is the case with many Asian concert halls, the ar­rival by bus is somewhat "clinical": The bus enters the building underground and from there you take an elevator up to the concert hall. As a result, you don't necessarily have to have any contact with the city if that's how you like to do things.
Narrow corridors and windowless dressing rooms are tucked behind the stage — the less said about them the better.
The concert hall can seat an audience of just under 1,650 people and its church-like architecture will mesmerize you as soon as you step inside. I've never seen a ceiling like it in any other concert hall — if you have, please enlighten me. The "church" associa­tion is probably not all that coincidental and doesn't end there as the hall was actually inaugurated (or, shall we say, "christened") with a performance of Johann Sebastian Bach's St. Matthew Passion.
The sound produced in this hall is nothing short of spellbinding. It's not too soft, yet not too analytical; it produces amazing blends and achieves incredible nuance of sound, all without seeming to have any flaws at all. However, what's truly amazing is the reverberation. In almost every single concert hall I've ever been in, I've found the reverberation ends up having at least some effect on the sound. Some concert halls end up sounding a little metallic and some a lit­tle muffled, but in the Opera City Concert Hall the sound simply gets quieter. That's all. Two seconds of pure magic unfold as the sound simply fades away while staying fully true to itself. It can be quite addictive once you've experienced it as it strips away any artificial layers from this highly sophis­ticated art form, humanizing the sound and touching you poignantly. It's one of very few concert halls that are truly worth traveling to see.
Music tip — recording with characteristic concert-hall sound  | Norio Fukushi: "Dancing Flower Leaves in a Forest," CMCD-28128
The stated retail price of the reviewed device is valid as of the time of the review and is subject to change.