OMA's Enormous Sound Theater
Is the US really the Land of unending opportunities? Is everything there really bigger and better? No way. Our report on hi-fi retailers in New York* reaches the rather level-headed conclusion that, in a direct comparison, German specialist retailers usually have the edge – but Oswalds Mill Audio, or "OMA", is simply unbeatable!
*simply click the "English"-Button in the German article to get the text in english.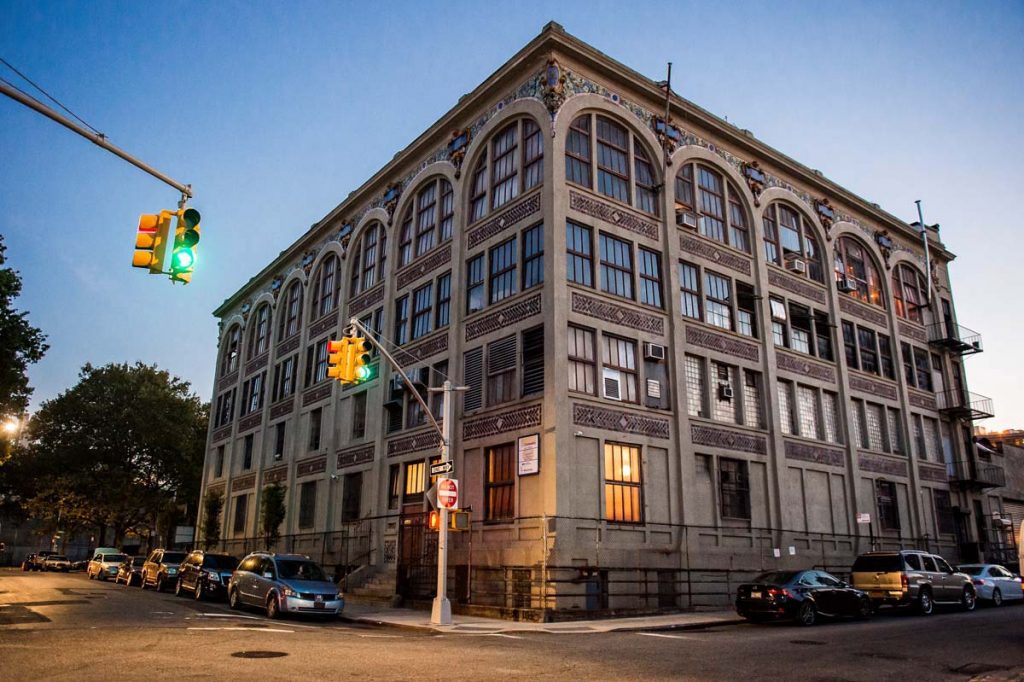 To discover something truly unique in New York, you just have to get yourself from one neighborhood over to another: in this case, from Manhattan over the East River to Brooklyn and eventually to 110 Bridge Street. Once there, you'll find an attractive brick industrial building dating back to 1908. And inside you'll discover Oswalds Mill Audio (OMA), which is where we met up with the company's founder, Jonathan Weiss. For a good 10 years now, OMA has been developing, manufacturing and selling unique loudspeakers, turntables, tonearms and tube amplifiers. Weiss is a textbook example of how to start a completely different career. He studied international relations and political philosophy at Princeton University as well as public international law at the London School of Economics.
But that didn't stop him from becoming a filmmaker to begin with. At the time, Weiss was living in a large loft space in Brooklyn, which also doubled as his film studio and would later become the home for OMA. OMA's roots, however, reach back to somewhere else entirely: Pennsylvania. The sound engineer on one of Weiss' films had bought an old farm there and Jonathan helped him renovate it. At some point, the sound engineer took him to the Oswald family's flour mill, known as Oswald's Mill, which had stood empty and derelict for almost 100 years. Always one to trust his gut, Weiss bought the mill without much further consideration. In hindsight, he now admits he had no idea what he had gotten himself into. Even two decades later, the renovation work is still not completely done, and it probably never will be.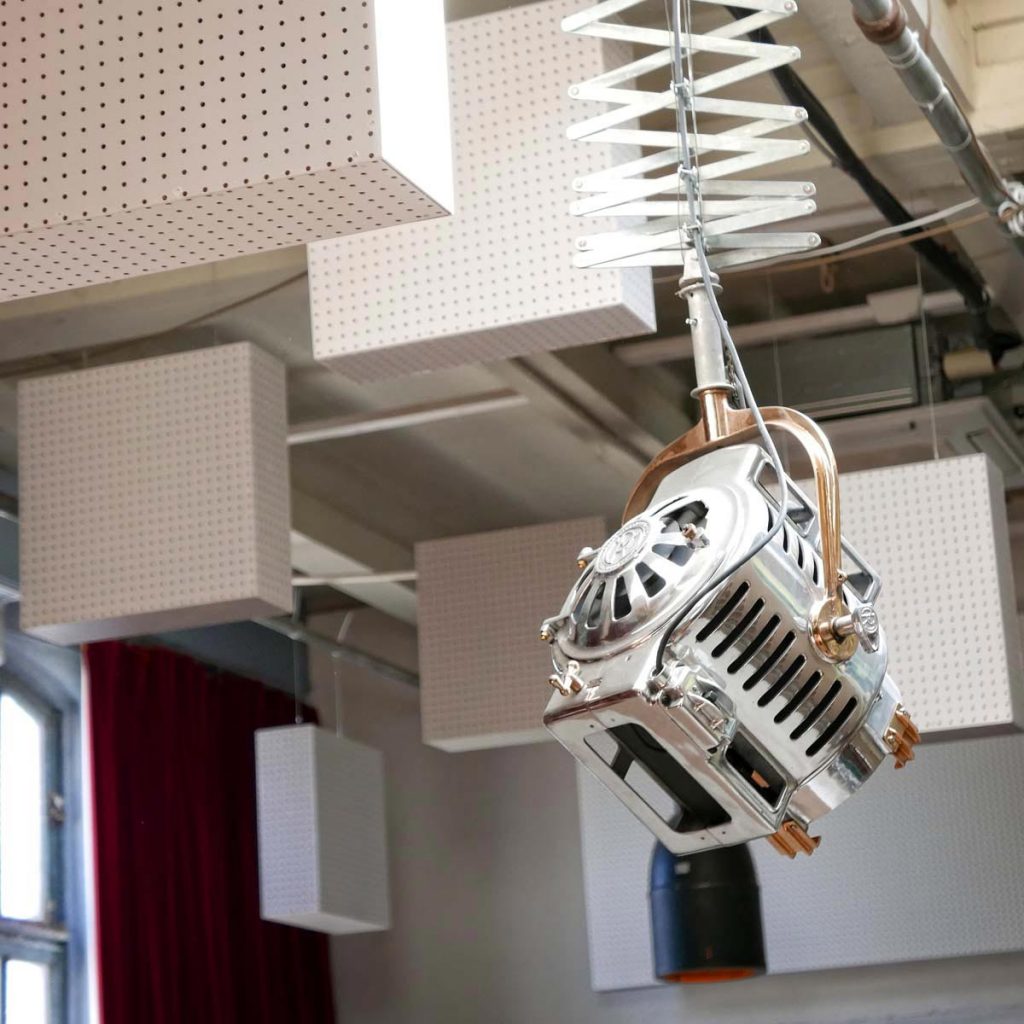 Retro revival
That said, just four years after Weiss bought it the mill was habitable thanks to modern amenities, and Weiss would often sit there with his sound engineer and reminisce about days gone by. Twenty years before that, the sound engineer was a bit of a hot DJ, playing top venues such as Steve Rubell's and Ian Schrager's legendary Studio 54 in New York. Weiss, on the other hand, was working at the Bruin Theater in Westwood, California. The art deco movie palace, which opened in 1937, hosted world premieres of such films as Francis Ford Coppola's Apocalypse Now and Paul Schrader's American Gigolo. Although both workplaces were very different, they had one thing in common: huge, perfect sound equipment with large horn systems and high-quality tube amplifiers. Studio 54 had large Altec Lansing and JBL horns with McIntosh tube amplifiers and friction-wheel turntables, whereas the Bruin Theater featured Altec Lansing's biggest loudspeakers at more than two meters tall; called the Voice of the Theater (VOTT) A2, they were also tube driven. "Back then, a perfect day would be begin," says Weiss, "with me cleaning the theater while Blondie's latest hit was booming out so loud that you thought they were playing live thanks to the A2s." Who could complain about that?!
Sound tastings
After the four-year renovation, the now habitable mill boasted just under 1,000 square meters of space spread over four floors with 60-centime­ter-thick stone walls and no neighbors in sight. Weiss had then begun to develop a real taste for vintage hi-fi systems, including tubes and horn loudspeakers, not least because of his numerous inspiring experiences with the VOTT A2. Weiss then turned his attention to finding movie theaters that were set to be demolished or reno­vated in the hopes of getting his hands on some old original sound systems. And soon enough he found a few. In next to no time, his mill rever­berated with sound from the best vintage audio equipment, ranging from Altec, JBL, Western Electric and RCA to Klangfilm, EMT, Vitavox and many others. Soon afterward, Weiss began hosting events with friends that he called "sound tastings." Sometimes they lasted an entire week and saw top soldering masters from the DIY scene mingling with audio experts. Everyone brought something with them: tonearms, loudspeakers, preamplifiers, power amplifiers, mercury-arc rectifiers or just simply some wine. RCA's "Radiotron Designer's Handbook" served as their bible. Similar events also take place around Europe, by the way. For example, there's the European Triode Festival (ETF) and the Frickelfest. The idea behind OMA, and then OMA itself, emerged from the melting pot created as part of the sound tastings.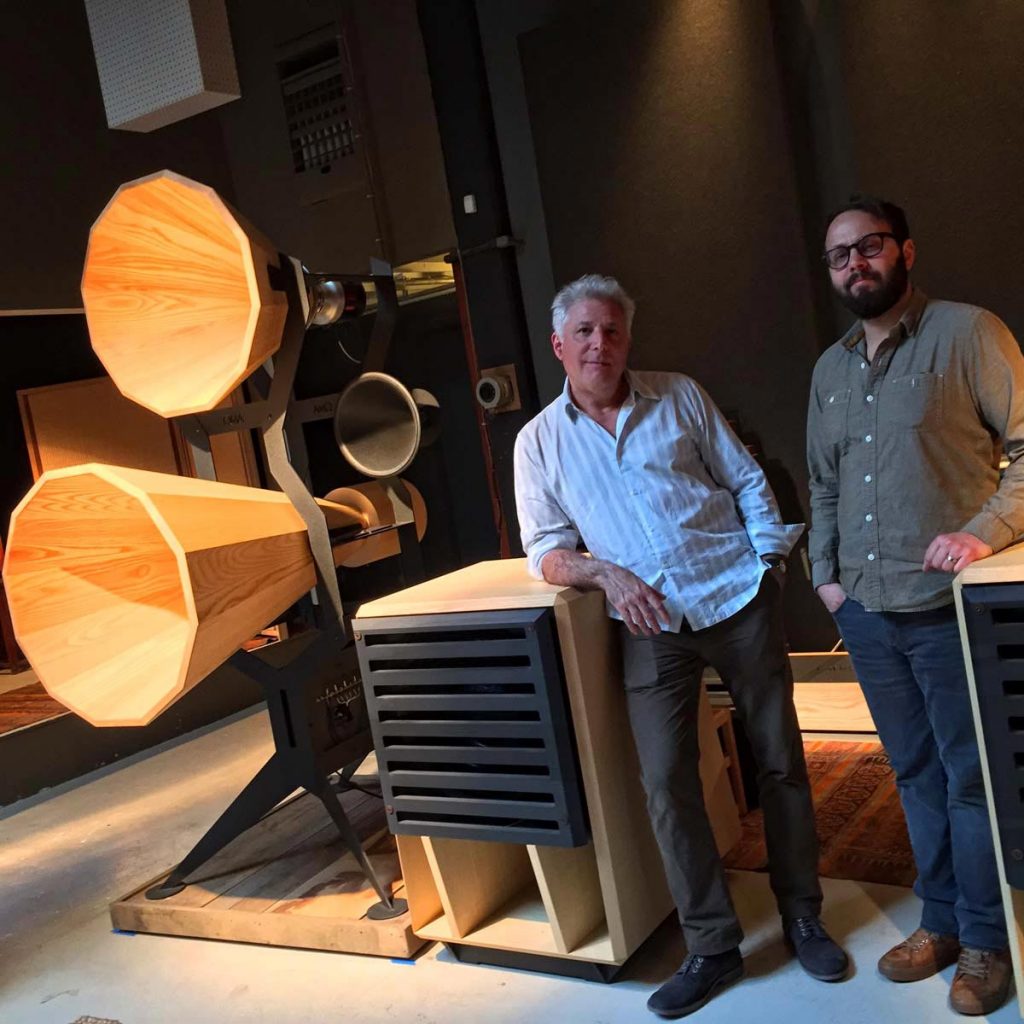 Choice of materials
Today, OMA is a one-stop shop for analog play­back devices. The portfolio includes five different horn loudspeakers of various sizes and five tube amplifiers (preamplifiers, power amplifiers and phono amplifiers) as well as two turntables — a direct-drive unit based on the legendary Technics SP10 and a friction-wheel design with a Lenco motor and platter but with OMA's own bearing and new friction-wheel assembly. Both turntables are secured and attached to a smooth slate plinth. This is as much a signature material of the OMA range as is the "torrefied wood" of the tonearms. As part of a process omitting oxygen, "torrefied" (in a sense "roasted") wood is dried at a high temperature (approximately 300 degrees) to yield extreme final hardness and long-term stability. Slate is also the preferred material for OMA's own headshells, whereas the company's mats are made of graphite. The cartridges are highly regarded models from Miyajima. The rest of the product range not only includes record crates and cables but also an array of equipment racks featuring a combination of slate and hardwood.
Welcome to 110 Bridge Street
The showroom on the fourth floor is not just objectively large, but subjectively stunning. Jonathan has a real knack for creating a remarkable ambience in this gigantic room. You immediately feel at ease and inexplicably like you've "come home." Floor-to-ceiling windows running across the whole of one side let light flood in. Old heavy red movie-screen curtains can be pulled across the entire length of the room. An array of boxes made of sound-absorbing materials and attached to ropes are mounted to the ceiling. Together with the curtains and the subtle, Asian-style shabby-chic-charm setup, they give the room a nice acoustic signature without any reverberation effects, flutter echoes or shrillness. In no way does the room have too much damping, and it "sounds" alive. It provided the perfect setting for what was to follow…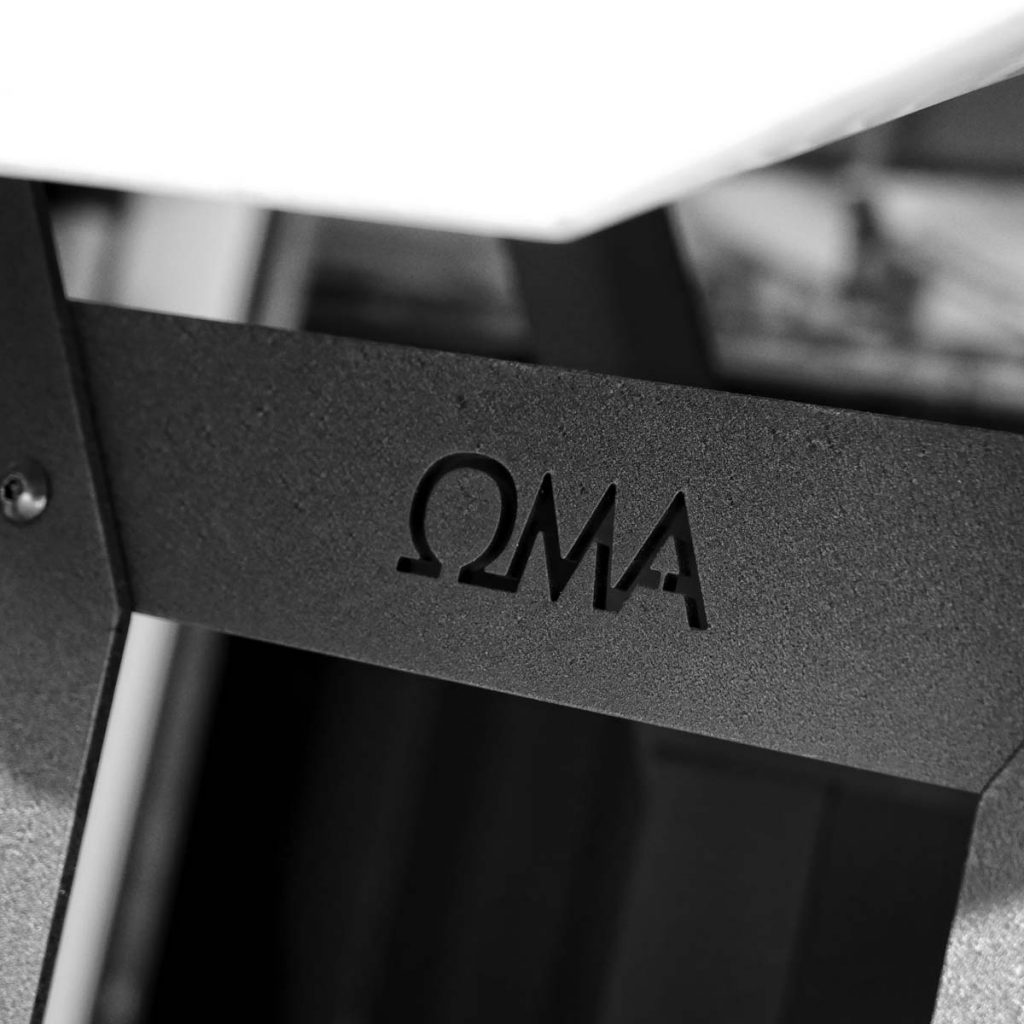 Sound and conversion
Weiss has blocked out the entire day for us when we visit him, so we can take our time listening our way through his magnificent gems of equipment. Despite the many products he has, we will focus on his loudspeakers here, otherwise the maga­zine will burst at its seams. The brains behind all OMA loudspeakers is actually a man named Bill Woods, an exceptionally talented and experienced acoustics designer. So as to achieve at least some degree of com­parability between the loudspeakers, we used the same music for our audio tests, which included the reissued mono version of "Drive My Car" by the Beatles and Masterpieces by Duke Ellington and his orchestra (on Columbia Masterworks) plus some Prince and Michael Jackson, and, of course, some Kraftwerk!
The Mini
First up is the "Mini," a small two-way loudspeaker that combines a bass reflex cube with a pro­portionally large high-range horn in addition to a compression driver. The metal high-range horn, like almost everything at OMA, was developed in-house and is made exclusively for OMA at a small, family-run foundry in Pennsylvania that specializes in steel, aluminum and bronze casting. Like all Oswalds Mill Audio loudspeakers, the Mini also has a conical horn. Compared with other horns, such as Tractrix (spherical-wave) or exponential horns, this is a disadvantage despite its size, carrying with it a higher low cutoff frequency. Its constant-directivity sound dispersion and lower waviness in the frequency response do, however, present an advantage. And these two important acoustical parameters proved to be crucial factors in OMA's decision to opt for conical horns. The highly efficient Mini is an eight-ohm loudspeaker and has an astoundingly full range, so in no way at all does it sound "mini." The smallest OMA loudspeaker, it has all the genetics of the larger models, comes across as light and airy and very matter of fact and, in particular for its size, has serious presence. Okay, don't expect the Mini's bass to (literally) rock your world — it wasn't made for that. "High efficiency" was more at the top of the list of required technical specifications than "maximum low frequency extension". Subjectively speaking, though, it doesn't feel like anything is missing: The bass is credible. If, however, you want something more powerful, you'll love the compatible Mini Sub.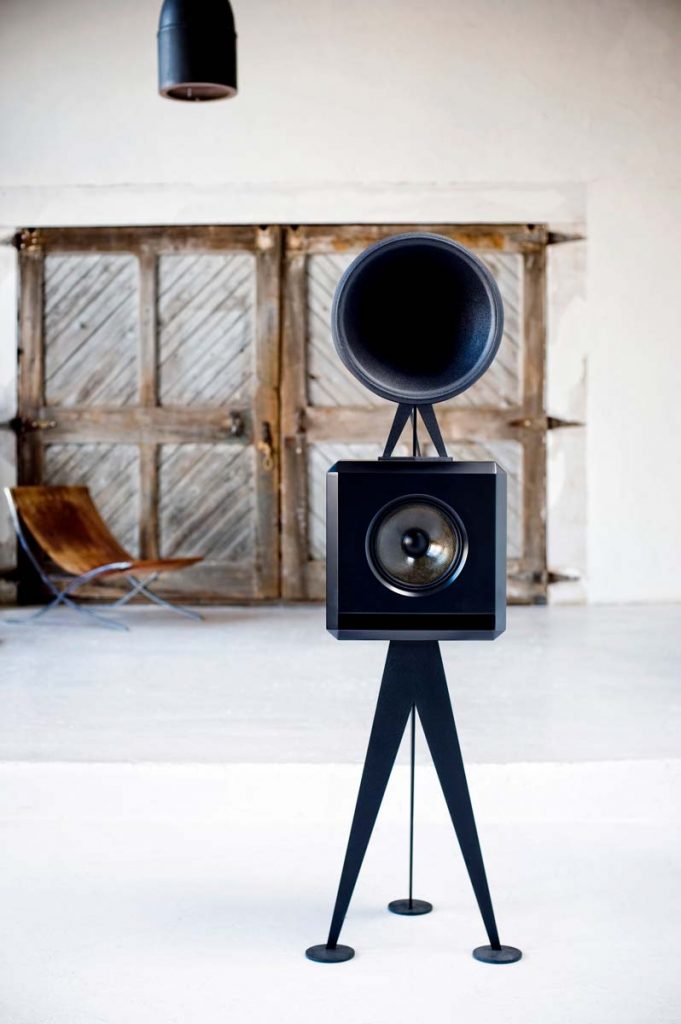 The Monarch
Next up, the Monarch model, also a two-way design but at the other end of the scale: two 15-inch woofers and one massive aluminum horn produce efficiency of over 100 decibels (1W/1m). A very simple crossover network partly comprising NOS (new old stock) components make the Monarch a great partner for the amplifier connected in front. In our case, it's an 807 push-pull triode that helps the Monarch reach its full potential without tinging the sound at all. The wooden panels mounted on both sides are unique feature of the Monarch and must be the reason for the name as the loudspeaker looks like a huge Monarch butterfly. The side panels significantly increase the size of the baffles, making it easier to connect both 15-inch woofers to take advantage of the surrounding air and leading to less-demanding room placement. The sound of the Monarch is full and balanced with a surprisingly large stage and a pronounced but also quite large sweet spot. Even five meters (and more) away, you find that you're still mostly in the loudspeaker's direct sound field, which means that you still get the directness and nuance of sound that you do with world-class headphones. Voices sound incredibly rich and differentiated, and even obscene demands in terms of broad dynamics and powerful base are met with little wattage.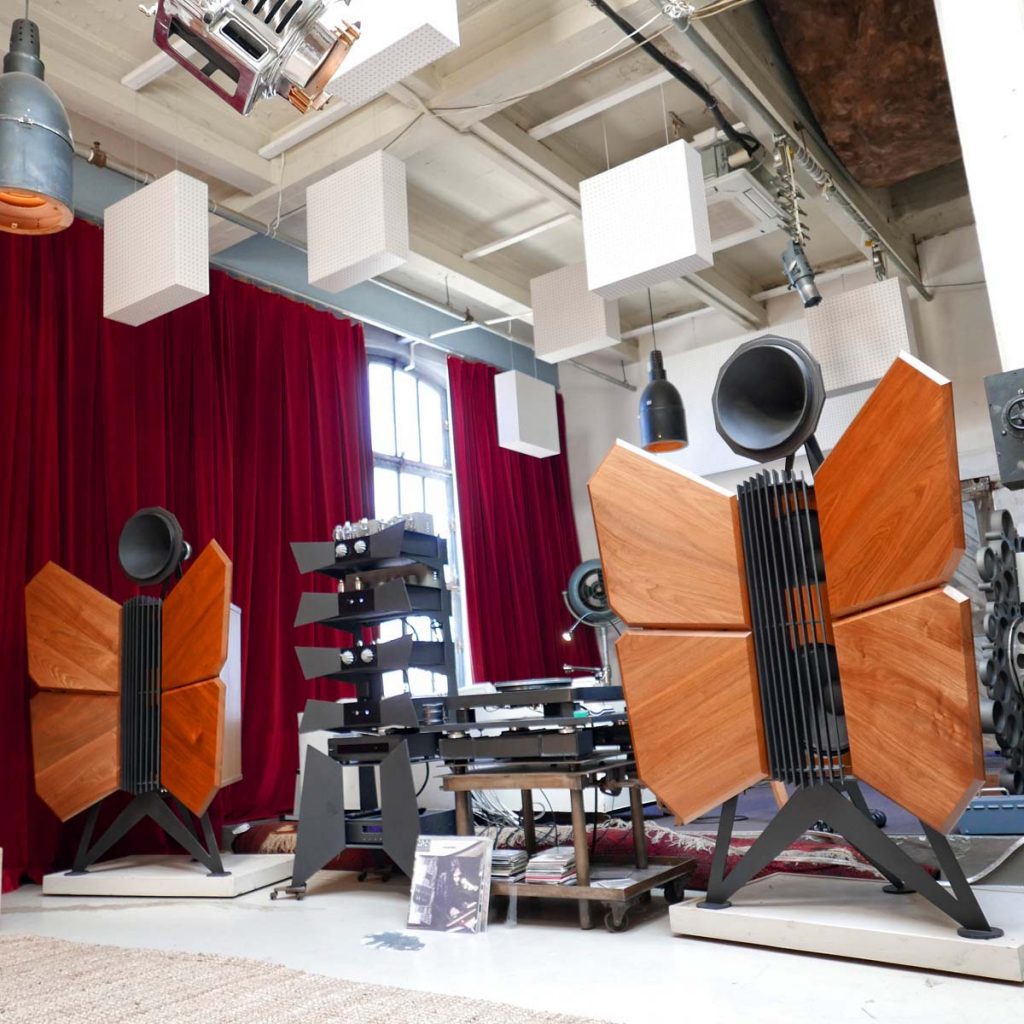 The Ironic
The Ironic stands waiting for us in a completely different part of the enormous room. This has to be OMA's most unusual loudspeaker. It's an open two-way baffle, and it's is full of surprises. For instance, it can use a huge range of drivers: a cutting-edge large ribbon from the specialist RAAL, with a perfectly cut wave guide, works here with a separately excited bass chassis (field coil) from the 1930s. Yes, you read correctly: from the 1930s. In its first life, this almost 90-year-old chassis was destined to be used inside a jukebox. But luckily the chassis used in the Ironic have survived for decades as unused replacement parts. Weiss has managed to get his hands on more than two dozen of these very trivial-looking loudspeaker chassis (metal cages!), painstakingly restored them and kitted them out with inimitable features.
The real highlight of this design is, however, the baffle itself. It's made using an iron casting process, but the iron used is not just any old iron but a hypo-eutectic gray-iron alloy, which has a particularly high graphite content. It is employed, for instance, by photolithography machines in computer chip production, where there can be no movement due to resonance or vibration. This is precisely why such an exotic material was chosen: hypo-eutectic gray iron is extremely low-resonance. The casting process itself is equally exotic as the front of the baffle is draws its design from baffle diffusers in the broadcasting and recording-studio world. To be able to cast these kinds of shapes at all, a mold must be printed in 3-D for each individual loudspeaker. It is then completely destroyed in the casting process. This makes it very expensive to create a finished loudspeaker. In terms of its sound, the Ironic is a stunning all-rounder. It sounds exceptionally consistent and cohesive, reminding you more of a full-range speaker than a two-way design. While the only genre it doesn't really feel completely at home in is bombastic rock music, the sound of smaller bands will have you falling head over heels. Exquisite guitar playing, especially anything acoustic, sounded top notch and left us open-mouthed. The Ironic has a seriously sturdy contoured physical presence and on the whole has been nicely put together — a real sonic sculpture with a surprising number of qualities.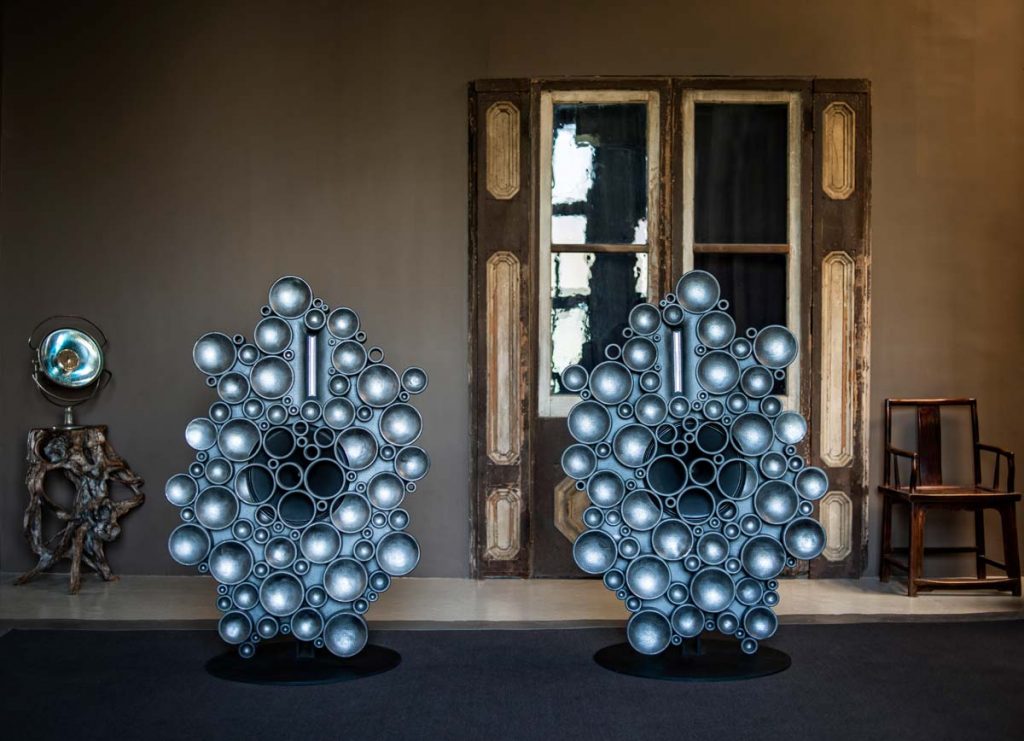 The AC1
Next up is the AC1, OMA's first-ever loudspeaker. The abbreviation AC stands for Anton Corbijn, the Dutch photographer and movie director, who became world famous for his photos, movies and album covers for countless musicians. His most famous clients include Tom Waits, the Rolling Stones, U2, Bon Jovi, Frank Sinatra, Bryan Adams and Luciano Pavarotti as well as Joy Division and Herbert Grönemeyer. One day, Corbijn said to his good friend Weiss: "Build me a loudspeaker like no other — one that will hold me spellbound!" Just one year later, Weiss traveled from the US to the Netherlands to show Corbijn his first piece of work in person. He had built an imposing three-way floor-standing loudspeaker with a 15-inch bass, a huge midrange horn (consisting of a cast-metal flange and a conical horn made of hardwood driven by a vintage RCA compression driver from an old movie theater sound system) and a horn-loaded ribbon tweeter. Like all OMA loudspeakers, the AC1 wows you with the very high efficiency of 100 decibels (1W/1m) and docile impedance, which is no problem even for low-power amplifiers such as single-ended triode amplifiers. For a first piece of work the AC1 is not just an exceptionally mature and "full"-sounding loudspeaker that showcases the qualities of developer Bill Wood. When directly compared with the Monarch, the AC1 performs just that little bit better in the mid-range, which is surely has to do with the RCA driver and the ribbon tweeter.
The Imperia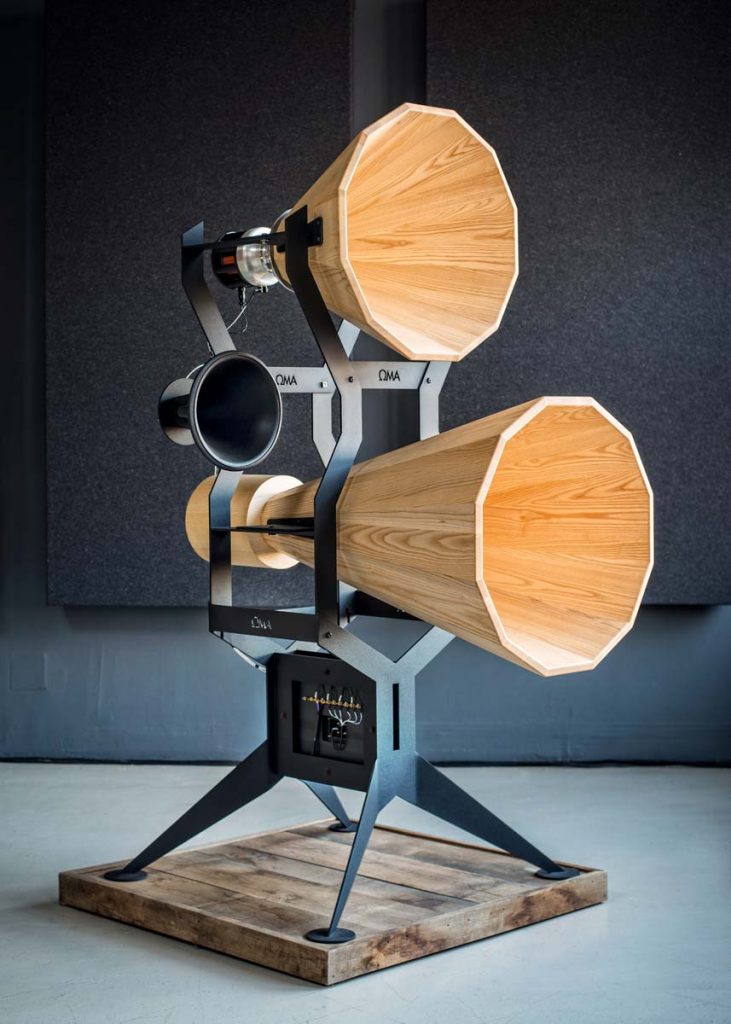 Rounding out the day is our chance to hear the Imperia, which towers above us. It looks like a loudspeaker from another world. It looks like a NASA propulsion unit for the Apollo missions. It's a loudspeaker that demands every visitor's respect, if but only because of its sheer size. Inside this gargantuan four-way system, the frequency range from 20 to 100 hertz is handled by two 21-inch subwoofers in a rear-loaded horn design. From 100 hertz, two powerful "rocket launchers" left and right, which each house three powerful conical horns, take over. From 100 to 300 hertz, a conical chassis with rear-closed housing is used; from 300 hertz on, it's the unique, separately excited mid-range horn that uses the Cogent DS 1428 — a compression driver that draws heavily on an RCA model. The high-range horn, on the other hand, is an aluminum casting made specifically for the Imperia. And now, ladies and gentlemen, let the show begin! The needle begins its descent and we hear the first beat of the bass drum, immediately followed by the snare rimshot — and suddenly everything makes sense! Michael Jackson's Billy Jean doesn't sound anything like what we've heard before with hi-fi or high-end audio. This is in a league of its own. Suddenly, music loses its straitjacket and is set free from all the components putting the brakes on and holding it back. Indulging in a tiny bit of philosophical thinking, it's as if THE MUSIC IS ALIVE! OMA's Imperia is liberating and shows you exactly what can be achieved. It projects a stage that couldn't be more credible and fills the room with an exact acoustic reflection of the record's grooves. It's a real accolade if you don't need any kind of lead time to "really listen in" to a loudspeaker. If you immediately forget to question if it could perhaps get even better, you've found what you're looking for. When it comes to passive loudspeakers, the Imperia really establishes the benchmark by which all others will be measured. We listen to the Fab Four in the Abbey Road Studios so we can imagine being there ourselves for the recording. We experience the endless nuances of the piano assault when Duke Ellington loses himself in the moment and we immediately understand the appeal of a big band. Interestingly, we notice one other phenomenon: Purely electronic music, which many people describe as "soulless," acquires its soul again and spins tales going far beyond sine waves and steely precision. And with 104 decibels (1W/1m), anything is possible with the Imperia in SET (single-ended triode) mode. Admittedly, you will need a large room and an even larger amount of cash if you want an Imperia. But the result is absolutely unique and a real milestone in music playback.
Hello and goodbye!
Our visit to Oswalds Mill Audio has reopened our eyes and reminded us just how varied, exciting and diverse our hobby can be. A visit to OMA is absolutely worth it if you're looking for something truly exceptional and happen to be going to New York or have the time to make a special trip. Here you might finally find what you've always been looking for. And since all their loudspeakers have a similar sonic signature, it doesn't necessarily have to be an Imperia… This report about Jonathan Weiss and Oswalds Mill Audio could have easily been much, much longer but the magazine would have burst at the seams. For more information, we recommend two books that feature lots of wonderful images: OMA — a new aesthetic in sound and OMA — Inspiration. Both books are available online from www.blurb.com/books/6056809-oma and www. blurb.com/b/6956054-i-n-s-p-i-r-a-t-i-o-n and are really worth reading.
Oswalds Mill Audio | 110 Bridge Street | Brooklyn, NY 11201 | United States | Phone +1 917 7433780
The stated retail price of the reviewed device is valid as of the time of the review and is subject to change.