Phasemation knows how to use synergy to make the black gold shine.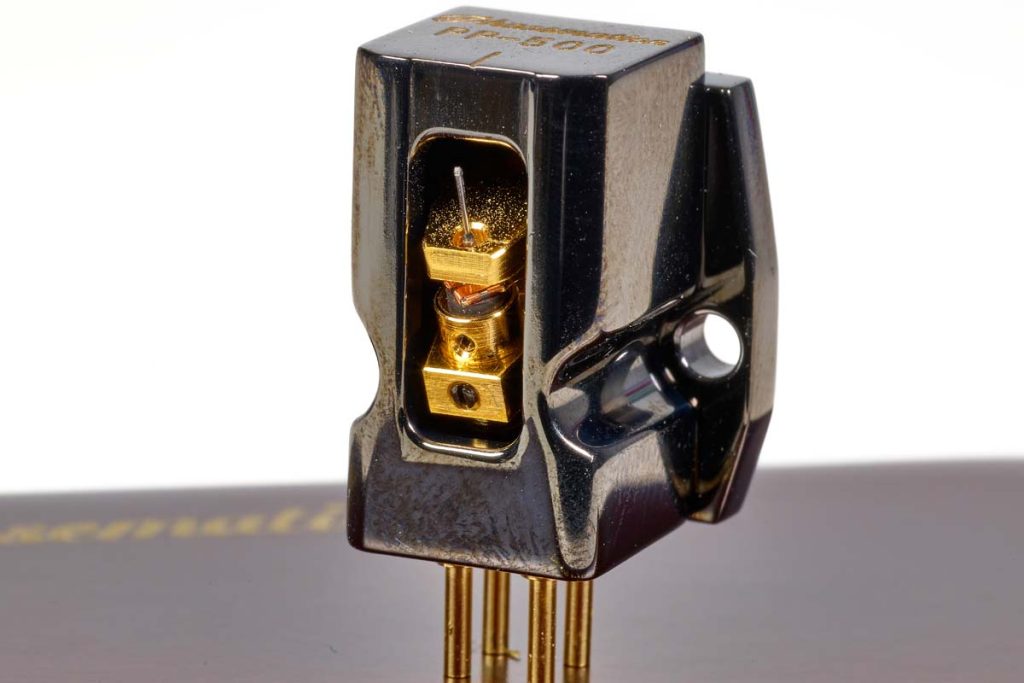 One could almost get the impression that the engineers at Phasemation in Yokohama, Japan, are bubbling over with ideas and new developments, considering the wealth of components that the Axiss sales department has presented over the past two years. However, the impression is deceptive, as Phasemation is more focused on continuous and sustainable product development. Jörg Labza of Axiss Europe explains the phenomenon with the fact that only now quite a few components received their certification for the German market, whereby a certain product backlog developed. The vinyl friend may still remember the review of the "small" MC system PP-200, which the esteemed colleague Uwe Heckers examined in FIDELITY No. 55 together with the transformer T-550, not without enthusiasm. So now it is to be the larger Phasemation PP-500 that gets into the fingers of a curious FIDELITY editor, this time in combination with the new EA-320 phono stage.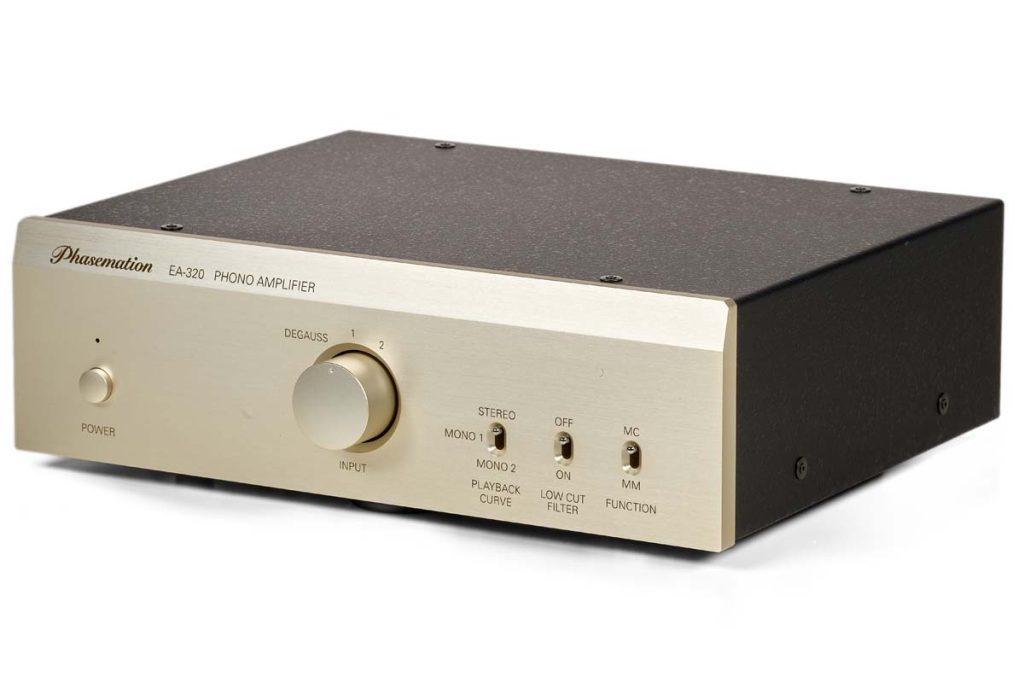 Variety of equalization curves
While the PP-500 has been part of the product portfolio for quite some time, the EA-320 phono stage is a completely new development. The quite noble-looking device in midi format consists of a copper-coated stainless steel housing with a 10 millimeter thick aluminum front panel, whereby special emphasis was placed on safe shielding. The preamp was designed as a discrete, symmetrical non-feedback circuit with two inputs, switchable from MM to MC; thus perfectly equipped for all vinylists who call two tonearms their own. A special feature is that one has also thought of the numerous fans of older recordings, for which, in addition to the classic RIAA curve, equalizations according to Decca and Columbia are also possible. Fixed, on the other hand, are the given gain levels of 64 decibels for MC and 38 decibels for MM, and also the termination impedances of 470 ohms for MC and the classic 47 kilohms for MM. Here there may be preamplifiers that give more options to the playing instinct, but in practice the values have always proved workable, especially when PP-500 and EA-320 have played in combination.
Of course, Phasemation's phono stages are not necessarily intended to be used in conjunction with an in-house cartridge alone, hence the solo attempt first: In conjunction with my Sumiko Blackbird, a sonorous euphony emerges that, in its slightly distinguished way, immediately appeals to the audiophile connoisseur in me and less to the DJ. The slightly analytical nervousness that is inherent in the Blackbird with some LPs disappears in a pleasant way. Any form of shirt-sleeve is alien to the EA-320, though my Ortofon Concorde Century on the Technics 1210 did lose the funky element a bit on Herbie Hancock's Man-Child. But well, we are talking about different target groups in terms of music reproduction – and the colorfulness in the slow numbers of the album must first be presented as brilliantly as with the EA-320. Chapeau.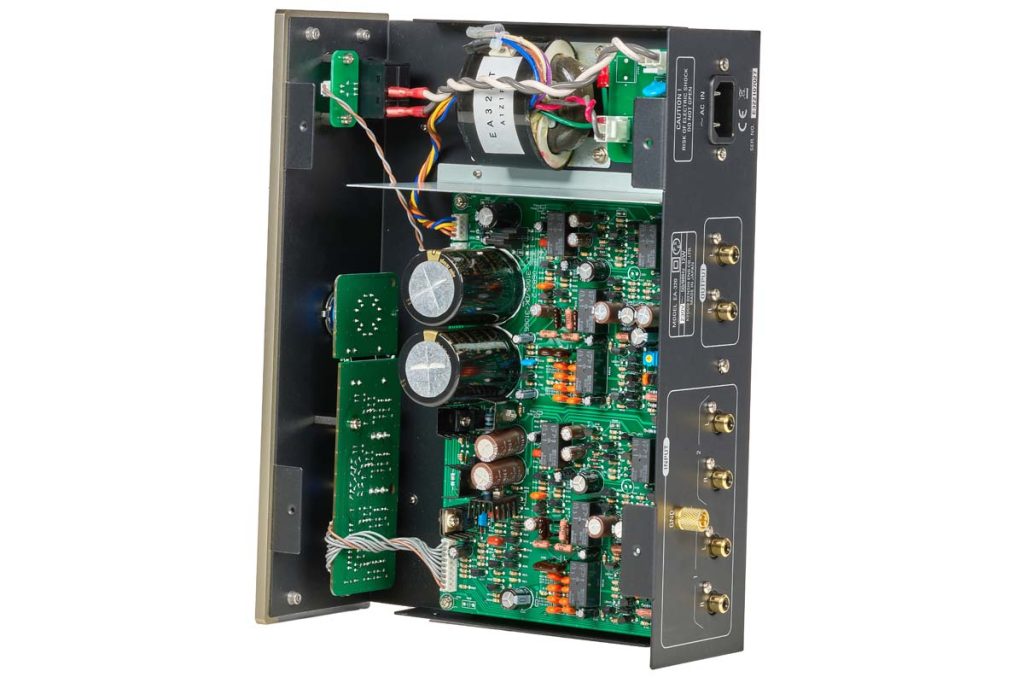 Sophisticated design, simple installation
So now it's time to turn our attention to the PP-500 MC system. Unusual for a pickup is the duralumin body used with its specific DLC (Diamond Like Carbon) surface alloy, which gives the pickup a specific feel. Phasemation is proud of the samarium-cobalt magnet, which they see as the main responsible for the extremely high flux density of the system. With a needle compliance of 8.0 x 10-6 cm/dyn, the MC system feels most comfortable on medium-heavy and especially heavy tonearms. My Koshin Lustre 801 with its effective mass of 25.5 grams including the original headshell can be considered a prime representative of heavy tonearms, and many a cartridge has led to downright swaying here, which always limits the choice of systems for me a bit. All the more excited I was after the arrival of the PP-500 on the upcoming mechanical behavior. I initially found the PP-500's no-frills, angular body to be extremely pleasant during installation, which went along the lines of "square, practical, good" due to the system's clear geometry and the position markings on the Koshin headshell. Since the system only requires a bearing force of 1.7 to 2 grams, despite its love of rather heavier tonearms, the additional weight of the Koshin was then needed. In the end, however, I have rarely seen my tonearm run smoother. Arm and system pull through the grooves like an unshakable ocean liner. Here, too, the sonorous and full-bodied basic character, which was already ear-catching with the Phasemation phono stage, is noticeable during the first listening sessions with my in-house phono stage from Innovative Audio, whereby the powerful basic tone and the focused bass make the PP-500 quite a rocker. Art Brut hurl the title track of their classic Bang Bang Rock & Roll through my listening room full of pressure and also a bit dirty. Despite all the noblesse, the system can also present itself in a completely opposite way if necessary.
More than just a synergy effect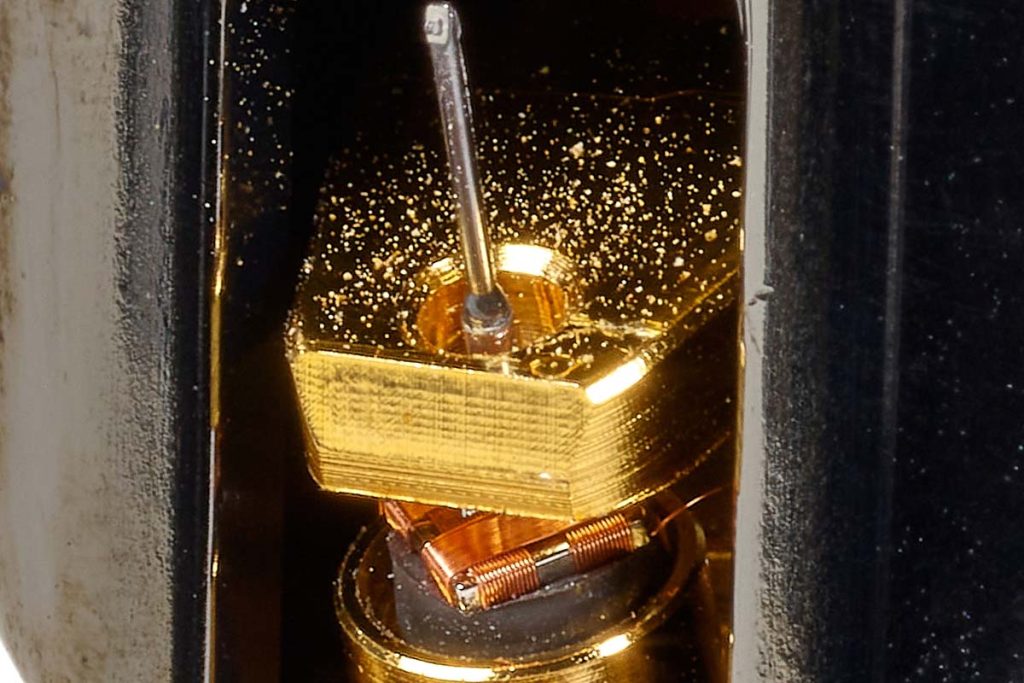 But if you bring together what belongs together according to the company's philosophy, then actually more happens than the addition of the existing properties. One gets the auditory impression that another component has suddenly found its way into the rack. Certainly, the basic character of a slightly euphonic and very full-bodied sound remains, and the slightly distinctive sound of the reproduction, which especially characterizes the phono stage, is clearly audible. But suddenly new timbres emerge in the musical play, conjuring up an almost magical atmosphere. Spatiality also changes minimally, exhibiting more selectivity, but without taking the musical flow out of the playing. It seems as if John Abercrombie, Dave Holland and Jack DeJohnette changed the recording location for the recording of their album Gateway and possibly strung different strings and used different sticks. Apparently, when PP-500 and EA-320 are married together, frequencies are triggered in the overtone spectrum that add that hard-to-describe "magic sound" to the overall sound.
If one wanted to emphasize a unique selling point of the Phasemation combination, it would be its ability to create a hypnotizingly suspenseful atmosphere that can draw the listener deep inside the music. Let me illustrate this with the vinyl edition of Nick Cave's solo concert Idiot Prayer. The pressing quality of the vinyl on my copy is far from satisfactory: the discs are not cleanly centered, ticks and occasionally scratchy noise cannot be removed even after an extensive wash. It is one of the albums for which I prefer to reach for the HiRes file. Now, however, I find myself listening fascinated to the vinyl, whose production problems have not disappeared objectively, of course, but subjectively are hardly noticeable anymore. Nor is it the case that the PP-500 deals more mercifully with noise than my rather analytical Sumiko Blackbird. I simply fade out the shortcomings as I am suddenly completely captivated by the intense atmosphere of the music. It is a grandiose play with psychoacoustics that is accomplished here. The developers at Phasemation know exactly how to conjure up a frequency spectrum that specifically directs the concentration to the density and emotionality of the music.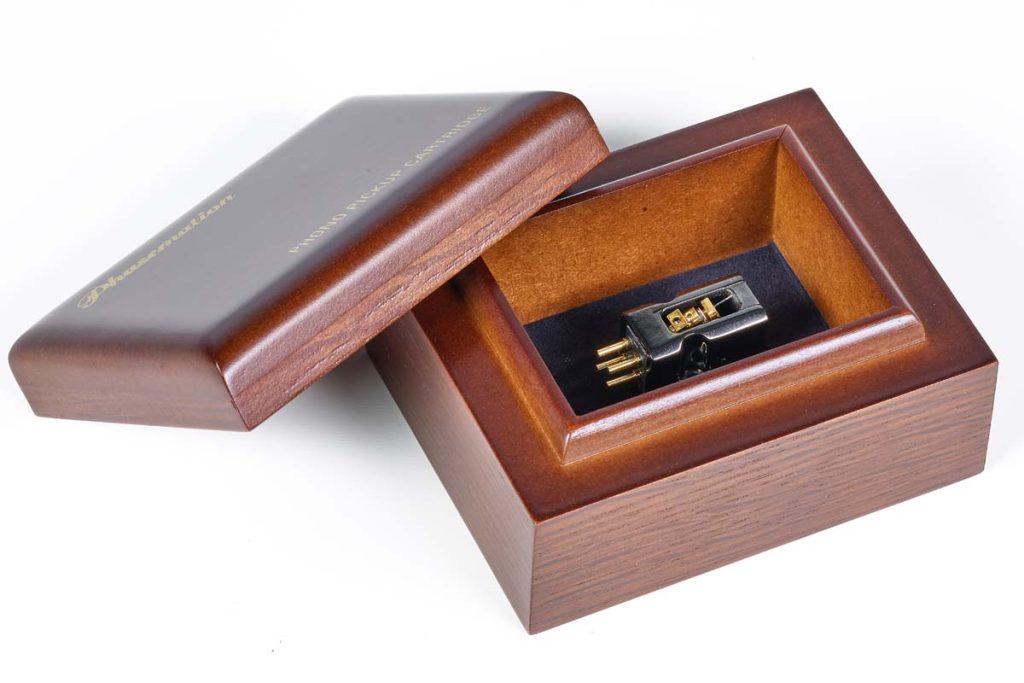 Drive for the senses
With all my enthusiasm for the colorfulness and the atmospheric of the presentation, it should not be underestimated that the rhythmic timing is also convincing. If I said above that there are one or the other disc whose music could be encountered in a more shirt-sleeved way, these discs now clearly gain in profile through a finely layered and differentiated structuring of the rhythm instruments. Especially fast and intricate uses of hi-hat and cymbals benefit from this. The full-bodied sounding CMP production Next Adventure by the Theo Jörgensmann Quartet is sound-wise an almost classic vinyl disc: extremely spatial, dynamically boundless and perfect in terms of production. And after more than 35 years, Jörgensmann's melange of free jazz, fusion and hardbop still sounds timelessly fresh. When in the track "Manege" a clarinet ritardando dissolves into a cymbal roll that seamlessly transitions into a complex rhythmic figure of hi-hat and snare, it's done here with inimitable drive and focused to the point. Perhaps the secret of Phasemation's analog sound specificity lies in precisely this combination: rich timbres paired with a rather relaxed atmosphere satisfy the analog feel-good need, while rhythmic precision and dynamic drive provide sufficient moments of excitement. In this way, the pickup and phono stage generate an inner tension of the musical events that is hard to escape, regardless of the musical genre.
And if you think that Phasemation's specific sound signature could be something for you, you should also take a look at the transducers of the house. The distributor had given me the entry-level model T-350 for the play instinct, which now does not provide a completely different sound, but knows how to turn one or the other adjusting screw positively when listening closely. So start calmly with a duo, which can then be expanded to a trio as needed.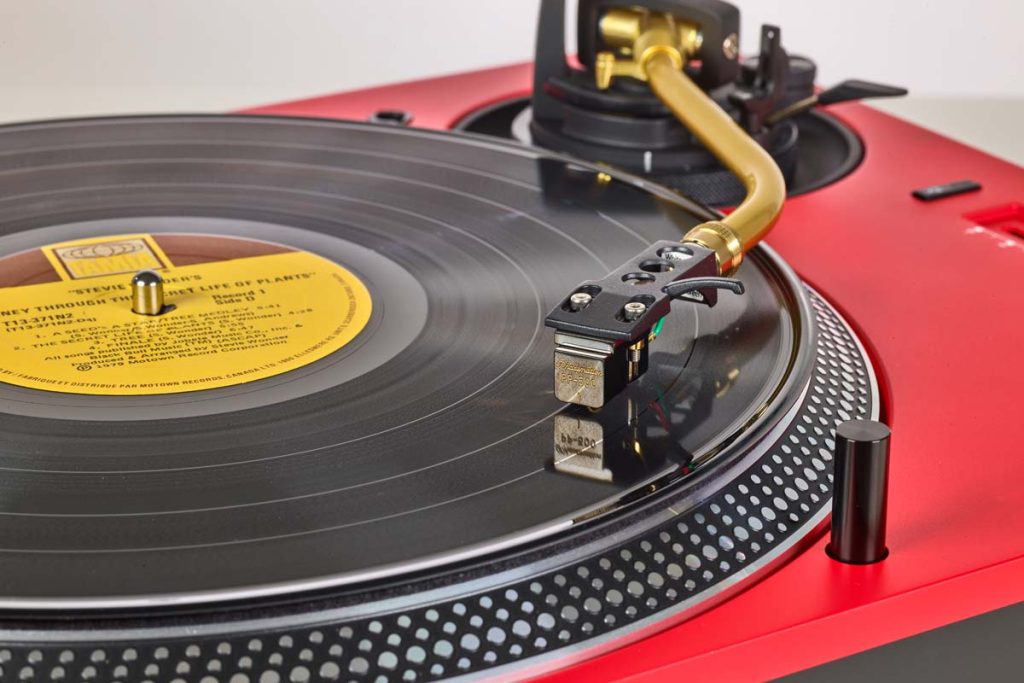 Accompanying Equipment
Integrated amplifier: Naim SuperNait | CD-Player: Naim CD5i | Streamer: Naim CD5XS | Turntables: Thorens TD 126 Mk III, Technics 1210 Mk2 | Tonearm: Koshin GST 801 | Cartridges: Sumiko Blackbird, Ortofon Concord Century | Phono preamplifiers: Innovative Audio Ultimate 2b, Thel Phono M | Loudspeakers: Gamut Phi 7 | Cables, Accessories: Wireworld, Sommer, Creaktiv
MC Cartridge
Phasemation PP-500
Working principle: Moving Coil (MC) | Output voltage: 0,3 mV at 1 kHz 5 cm/s | Magnet: Samarium-Cobalt | Magnetic circuit material: Permendur | Coils: 6N OFC (copper) | Stylus carrier: pure boron | Enclosure: Duralumin, specially surface hardened (like diamond) | Bandwidth: 10 Hz – 30 000 Hz | DC resistance: 4 Ω | Channel balance: < 1 dB at 1 kHz | Channel separation: ˃ 30 dB at 1 kHz | Stylus: line contact diamond; 0,03 x 0,003 mm | Compliance: 8,0 x 10–6 cm/dyn (100 Hz) | Tracking force: 1,7 – 2,0 g | Terminating resistance: 100 – 1000 Ω | Weight: 11,3 g | Warranty period: 2 years | Price: around 2600 €
Phono Preamp
Phasemation EA-320
Concept: Phono preamp MM/MC with three EQ curves | Inputs: 2 x (switchable MM/MC) via RCA | Output: 1 x RCA | EQ curves: RIAA, Decca, Columbia, stereo/mono selectable | Output impedance (MC/MM): 470 Ω/47 kΩ or less | Input sensitivity (MC/MM): 0,13 mV/2,5 mV | Gain (MC/MM): 64 dB/38 dB | Signal to noise ratio (MC/MM): −140 dBV/−120 dBV | Nominal output voltage: 200 mV (1 kHz) | Power draw: ca. 13 W | Dimensions (W/H/D): 286/93/252 mm | Weight: 3,9 kg | Warranty period: 2 years | Price: around 3200 €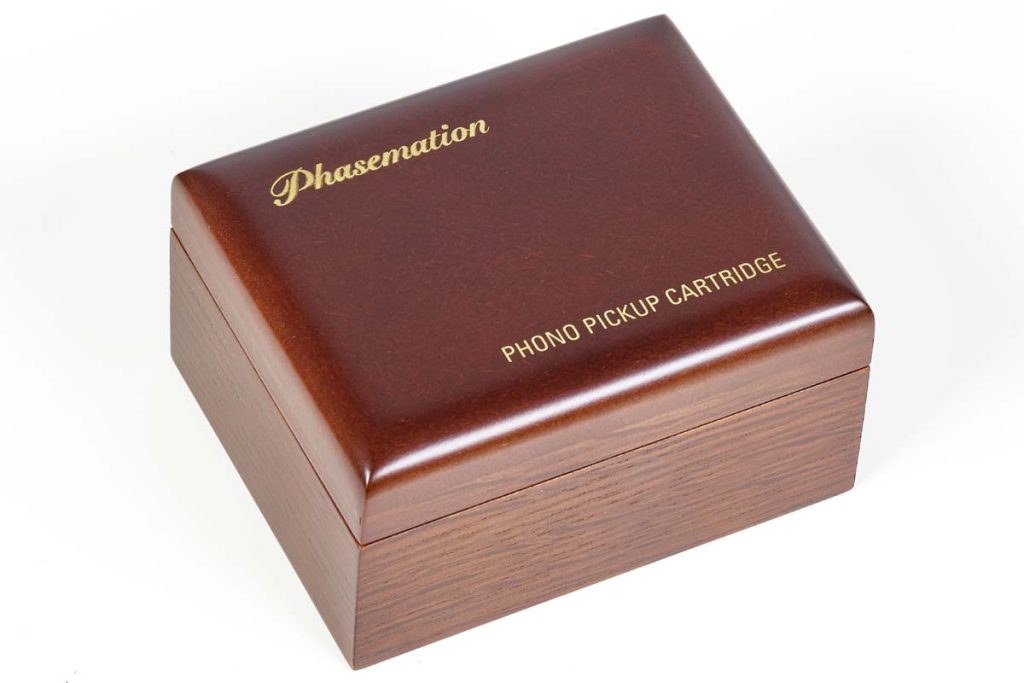 AXISS Europe GmbH
Haneckstraße 32
65719 Hofheim/Taunus
Phone +49 6192 2966434
info@axiss-europe.de
The stated retail price of the reviewed device is valid as of the time of the review and is subject to change.