Who Loves ya, Baby?
You can twist it and turn it however you like, The Piega Master Line Source 2 appears ready-made for the runway – but just wait until it steps out onto the big stage!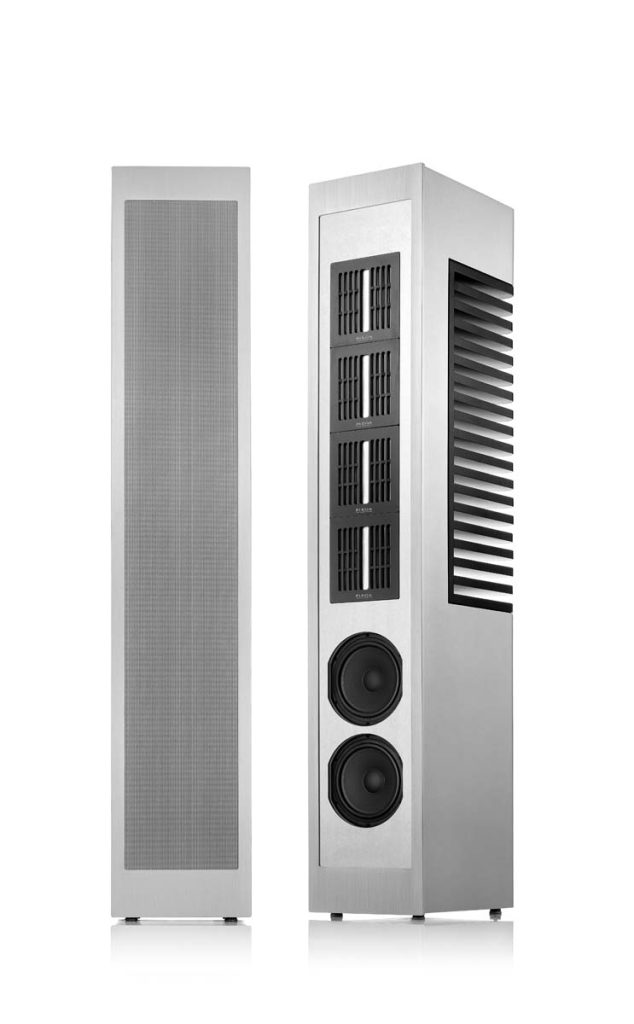 This time I'd better just come right out and say it: Not only is the Piega Master Line Source 2 (MLS 2) objectively tall and slender, it is, in my opinion, also exceedingly well bred, a real designer piece. To me, the Piega is so polished and refined I can hardly stop gazing at its lovely form in daylight — an alluring, distinctive look is flaunted from every angle. There's a lavishness of charms, especially when the Piega sheds its grill pinafore to reveal a treasure trove of delightful drivers. But please, dear sirs: Don't touch! That can get very, very expensive. Hard to believe, but true: The MLS 2 is actually a "little sister," part of Piega's four-piece speaker system Master Line Source, introduced by the Swiss specialists at the end of 2013. Those interested were invited to not only drop a solid six-figure euro sum for the system, but also provide an appropriate place for them in their private concert hall. Because the ultimate Piega system, with its four towers rising to the height of a full-grown adult, needs ample breathing room to unveil the expansiveness of its sound.
With the new Master Line Source 2, Piega is enhancing the Master Line with a considerably smaller, more affordable model — and causing at least as much stir. The MLS 2 unites quintessential aspects of the company's concept in "just" two towers while delivering a good deal of technological wizardry as well. In creating the big little version, head designer Kurt Scheuch developed a new base unit, an incredibly low distortion yet efficient line source driver. It goes without saying that the highly sophisticated model, like finely crafted musical instrument, is produced in-house by hand. Multiple base units of this combined mid- and high-frequency driver can be stacked one on top of the other with no drawbacks. The central high-range ribbon and surrounding midrange ribbons are acoustically beneficial because they magnify the advantages of the cylindrical sound waves. Acoustic room effects from ceiling and floor reflections are minimized thanks to the stacking, which more clearly defines and homogenizes the direct sound emission from the speaker. Piega installs four line source drivers in every MLS 2 tower. They transmit all frequencies above about 450 hertz, with the central high-range ribbon taking over at approximately 3,000 hertz. Piega places the upper frequency limit at a cool 50 kilohertz. With its dipole construction, the MLS 2 also emits sound to the back, but it can still be positioned close to the wall without any major loss in sound quality. A clever diffuser design makes this possible: Vertical ribs behind the four line source drivers guide the initial view to the elegant rear and from there, back to the inside. More critical here is, however, the solid, elaborately designed acoustic lens that defines the portion of sound emitted toward the back from the driver quartet and distributes it evenly in the room. In every MLS 2, bass sounds are produced by two active and two passive bass drivers from Norwegian specialist SEAS. Klaus Futtrup, previously at ScanSpeak and now working at SEAS, has carried out Scheuch's vision in a customized, 22-centimeter chassis that ensures fundamental bass and vibrant key notes. Two corresponding passive radiators are installed on the back and replace otherwise customary reflex solutions. The potent bass quartet produces frequencies down to 30 hertz in a 64-liter chamber.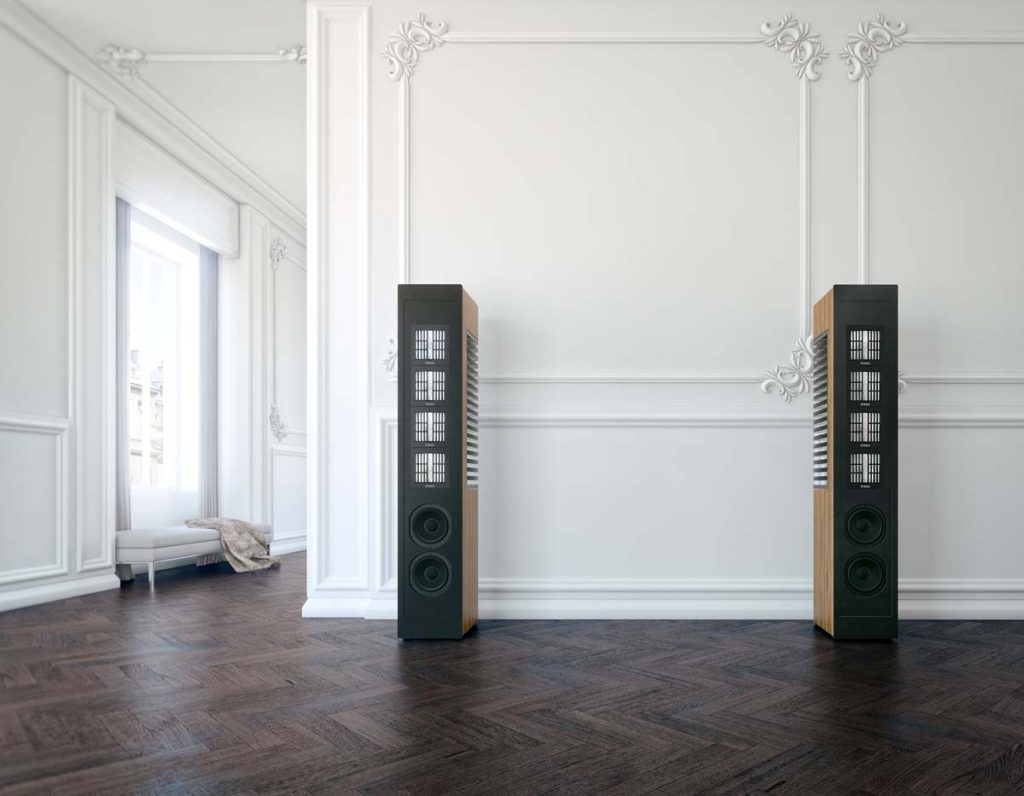 Although a pair of these speakers goes for considerably less than half that of its big sister, it appears at first glance that the Piega MLS 2 could actually outrank its sibling. This is particularly true with "our" posh version where the contrast between the sand­ed-varnish white cabinet and extensive elements in matt black and silver is simply exquisite.
By the way, anyone ordering a Master Line Source 2 will also be welcoming a visitor. In Germany, the visit will be from Guido Lay from the German sales team of In-Akustik. His job is to ensure that every MLS 2 plays at peak performance. In the FIDELITY listening room, Lay emphasizes that proper posi­tioning is basically very easy despite the dipole system. And, yes, the speakers sound surprisingly good even when placed very close to a wall. At the same time, a more open spot farther in the room does hold certain advantages when it comes to "spaciousness" and tonal development. Besides, it will become evident later when approaching the acoustic ideal that shifting the MLS 2 just a centimeter or two will be rewarded with a distinctly better or poorer performance. For me, an avowed fan of omnidirectional, surface and dipole emitters, this is not surprising news. It's nice, however, to hear someone else state this so clearly.
I pledge to take my time in the coming weeks to find the "right" centimeter and angles for good listening. In addition, Lay continues, the MLS 2 is not as selective as the two-piece big sister when it comes to choice of amplifier. Of course, it can't hurt to get out the best equipment. What counts here is not just sound quality, but, in particular, the pure, available performance of the amplifier. Which is also nice when presented as a duo… After a couple of exceedingly interesting hours and an initially satisfactory installation, Lay heads back home. Because I'm incredibly hooked on sound, I try that same evening to gradu­ally position the MLS 2 in its precisely correct spot. In one very specific position — which, incidentally, was quite far into the room — the precise yet generous sound snapped into place as if by magic. A fine adjustment of the listening position by a few centimeters taking into consideration the sofa (also in terms of height to find the best seated position to enjoy the vertical sweet spot of the line drivers) and voilà: My delight in this optimal 3-D listening position is practically boundless. And when I connect the duo of highly potent Musical Fidelity M8 500s, any questions about supply fall by the wayside, even at highly rambunctious levels. Quite apart from the consistent and totally commanding sound, even in highly complex musical situations.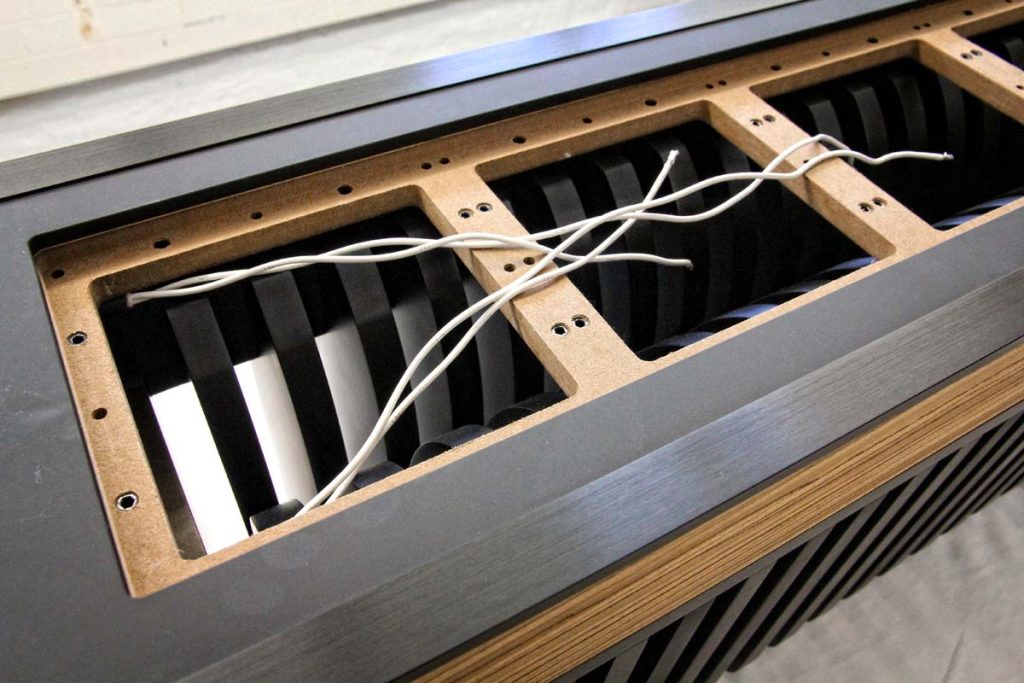 By chance I happen to hear the doorbell ring. Oops — have I been too loud and disturbed someone in the office next door? At this hour? No, it's Hans von Draminski. Another confessed night owl like me, he just happens to be in the neighborhood and knows my typical hang-out hours. He's out for a drive with a few new SACDs in his trunk and "wanted to stop by anyway to see if everything was alright," a statement I can safely assume includes a healthy dose of curiosity. My colleague could also take the opportunity to pick up his dear Marantz amplifiers (see FIDELITY No. 27, Hi-Fi Legends: "Scheinzwerge"), which were still in our possession after the visit to our photo studio. In the listening room, HvD is completely bowled over by the Piega, first by its looks, then even more so by its sound. Usually, that's not so easy. But HvD is already so captivated by the MLS 2 at his very first listen that, out of the blue, he asks if he could write "a few lines" about it, perhaps even in combination with his cute little Marantz… Who am I to refuse a colleague's fondest desire?
What I didn't yet know at this point, but could have suspected: HvD will "happen" to stop by several times in coming weeks, each time bringing with him different discs from his collection and appearing in a noticeably good mood. And, incidentally, he won't take his Marantz treasures home until weeks later, after his last visit with the MLS 2. In the meantime, I try out a wide range of amps (throwing out a few of them) and willingly invest quite a few nighttime hours to enjoy the splendidly room-filling yet highly precise sound of a truly magnificent "little sister."
And with that, I let my colleague take over the virtual stage that the Piega Master Line Source 2 so masterfully projects into the listening room.
Cai Brockmann
---
Clicking on a sold-out item on the website of an all-too-familiar online warehouse, you'll be offered the rather less consoling suggestion to not be too disappointed and perhaps try the chocolate instead. In my opinion, the best kind comes from Switzerland — which is where high-end equipment is made, too; and as a connoisseur of chocolate, I would call these "premium pralines". The kind that melts on your tongue or, that is, in your ear canal, and produces a pleasant aftertaste that leaves you wanting more. The Piega MLS 2 is one of those sound converters that is not only addictive, but also makes it quite difficult to go back to anything more run-of-the-mill: Once you know how the praline tastes, it's hard to be happy with the standard chocolate bar from the supermarket again. And that's made all the more difficult when you know after a few trial weeks that the only negative side effect of the great Piega is a certain dwindling down of your bank account funds. But those who have it will enjoy Piega's distinct health benefits, if only because it supplies a continuous supply of endorphins — you know, those happy hormones we all like.
These fantastic columns of sound have the potential to reliably chase away the stress and frustration of long work days after producing just a few bars of music. I can only speculate about the deeper reasons: As a metalinguistic instrument of understanding, music lives from connotations that need no words; it moves us by circumventing the realm of consciousness. Especially when it's played live. And that is the real secret of these dipoles that seem so reserved on the outside: They recreate the atmosphere of a great concert in your living room. But what's so astounding is that Piega's MLS 2 can even do that with studio recordings — it can conjure the proverbial spark even when the recording was carefully mapped out and nothing was left to chance. You can hear it in the Zurich Hammond B3 player Tommy Schneider and his sidekicks Adrian Stern on electric guitar and Hans Peter Bartsch on drums when you play the excellent blues and jazz album Move It won't take long for you to catch yourself tapping along with pieces expressing so much passion and an even greater pleasure in making music. A true jazz club feeling will take hold within your own four walls and continue to reverberate long after you've listened to the last piece on the CD. I know a lot of sound converters that are deepening the divide between generations — speakers that a fifty-something-year-old like me enjoys is boring for a 20- or 30-year-old; in the worst case, they'll turn on their heels and leave — it's not just the music they can't stand, it's how it's reproduced. But they also relish these superior acoustic pralines because the Piegas very pleasantly retain every interference, every personal expression of an opinion and simply pass along to the listener what is stored on a CD or hard drive — at practically any desired volume.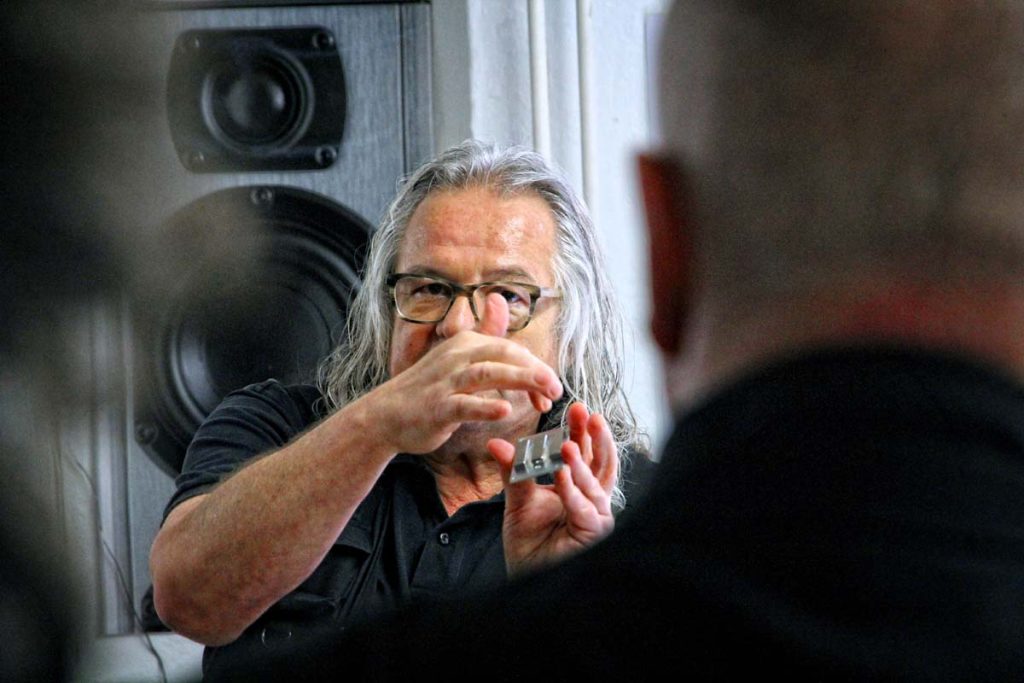 So what is it that spawns this immense turn-on? An analogy with today's high-resolution digital cameras is helpful here: Even if a large number of pixels on screen and in print are discarded out of necessity, the detailed picture recorded with a 50-megapixel sensor will be more vivid and authentic than what a 12-megapixel sensor can produce. Especially using the right lighting. This is what the Piegas do very well, acoustically speaking. Not only do they deliver abundant details that let you discover new fine elements even after listening to some (good) recordings for the 10th time, they illuminate the full expanse of a room into the corners and create images attuned to the subject. A very fine brush is used to paint chamber music in delicate pastel tones. While the listener is still reveling in subtlety, the 20-year-old from a bit earlier comes by and whimpers that she wants to listen to the new Dubstep CD she bought in London. No problem. The Piegas shift gears from the beautifully ethereal sounds to grab hold of the new CD's big, fat grooves, transforming the living room into a dimly lit underground club packed with sweating bodies pulsating to a physically palpable rhythm… Wait. I'm just imagining that. I'm (once again) still sitting in the FIDELITY listening room whose walls have just been virtually torn down by the Piegas. In one of my favorite science fiction series, people didn't fly above the earth's surface in shuttles, they were beamed. With the Piega Master Line Source 2, you don't have to be especially imaginative for that to at least work with your inner ear.
CDs and LPs become tickets for short trips to acoustically thrilling churches like St. Stephen's Cathedral in Vienna, premiere concert halls like the Concertgebouw in Amsterdam or raw locations like those empty water tanks where many years ago an odd jazz combo met to play music with prolonged echoes from the rusty steel cylinder. The Piega Master Line Source 2 not only replicates instrumental caprioles true to the original and true to size, it also reproduces the space's special features as meticulously as any 3-D printer: no corners and instead a diameter of around 15 meters and an ambiance that induces claustrophobia. No, I don't claim you can hear the rough texture of the weathered water tank's walls—but you get the sense they're not too far away. Not that other sound converters couldn't perform such feats — but usually they relentlessly reach their limits with a certain type of sound event in general and with music in particular. The Piega seems to whisper instead: "Give me more, give me something else, I want to try everything." Perhaps an operetta aria. Or Paul Dukas' Zauberlehrling. Or an old Ray Charles show live from the Olympia in Paris. Or something completely different. It just needs to be a halfway decent recording. The Piegas will handle it. And make something great out of it. Something that won't even make you gain weight…
Hans von Draminski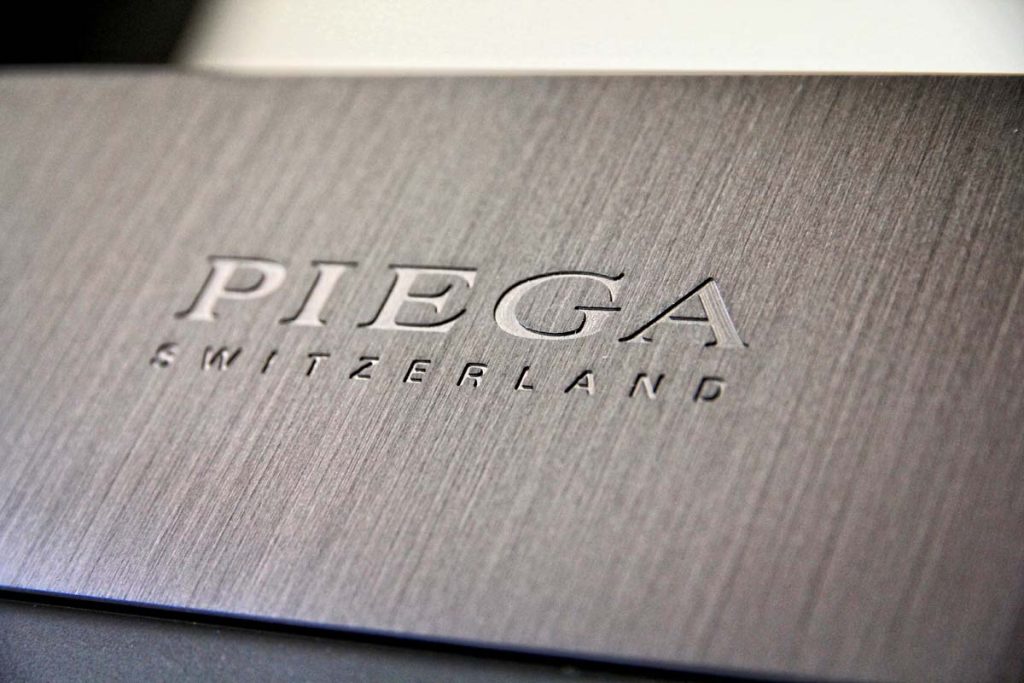 Accompanying Equipment
Digital sources: Audio Note CDT 3/DAC 3 Signature, T+A PDP 3000 HV | Turntable: Clearaudio Innovation with TT-II/DaVinci, EnVogue Astra/Nottingham Analogue Anna 12"/EMT JSD 75S | Phono equalizers: Clearaudio Absolute Phono, Synthesis Roma 79DC | Preamplifiers: Bryston BHA-1, Einstein The Preamp, Marantz SC-22, Nagra Jazz | Power amplifier: Marantz MA-22 (monos), Musical Fidelity S8 500s (2x), Nagra Classic Amp | Preamplifier: Audia Flight 3s, Devialet LE200, T+A 2500R | Cable: Audio Note, AudioQuest, HMS, Vovox | Power supply: IsoTek EVO3 Mosaic Genesis, T+A Power Bar 2+3 | Accessories: LignoLab Die Bank and TT100, Quadraspire X-Reference, Solid­steel HS, various products from Steinmusic and Subbase Audio
Three-way dipole loudspeaker
Piega Master Line Source 2
Drivers: Four Piega Line Source Drivers, two SEAS woofers with alumi­num membranes, two passive radiators | Impedance: 4 Ω | Efficiency (manufacturer specification): 92 dB/W/m | Special features: solid aluminum baffle, diffuser for optimized sound distribution on the back ("acoustic lens"), bi-wiring terminals, baffle grid magnetically affixed | Designs (front/body): aluminum with silver, high-gloss white with white, high-gloss black, zebrano wood with black; custom finishes upon request | Dimensions (w/h/d): 176/32/43 cm | Weight: 93 kg | Warranty period: Six years | Price per pair: €65,000
Piega SA
Bahnhofstr. 29
8810 Horgen
Schweiz
Phone +41 44 725 90 42
The stated retail price of the reviewed device is valid as of the time of the review and is subject to change.