Shaking Things Up!
Rage Against the Machine's debut album is ranked number 85 on Rolling Stone's list of the best debut albums of all time. In musical terms, the explosive mix of genres can be simultaneously categorized into four different styles: heavy metal, hip hop, rap, and funk. Of course, none of them really apply the way they would for a benchmark-setting crossover album though. Curiously, a Rage Against the Machine single managed to enter the UK charts again 17 years after it was first released. In 2009, a couple of students who were sick of seeing the same old singing "talent" competition drivel year after year set up an online campaign to launch RATM's single "Killing In The Name" back to the number one spot on the UK Top 40. They succeeded — and, what's more, they managed to get it there on Christmas Eve! Conversations held sitting around the Christmas tree must surely have focused on social activism that year. Oh, and wicked sound. Happy holidays for audiophiles with thick skin and reliable equipment.
But of course not only "Killing In The Name" but the whole album has an extremely dense, heavy, unleashed sound, which, at an adequate volume, makes feeble audio systems feel weak at the knees. Since it was released in 1992, I have always used the album, in the truest sense, as a real acid test for hi-fi components and listeners. I will happily admit that I very rarely listen to the entire album in one go. If you don't follow the band's sociopolitical activism lyrically, Zack de la Rocha's furious rapping and aggressive attitude are only bearable in small chunks.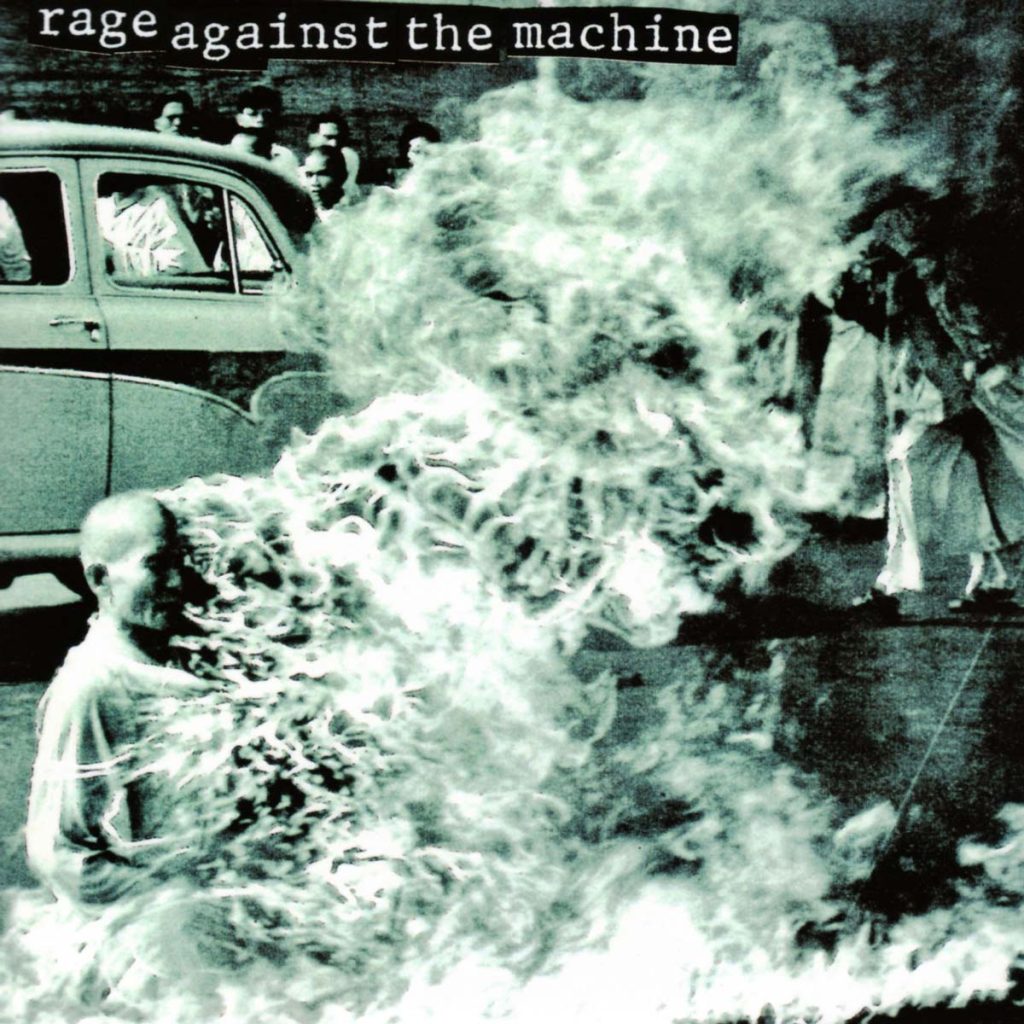 The Californian band's three instrumentalists are much more interesting though. Drummer Brad Wilk (who also plays with Audioslave and on Black Sabbath's album "13") displays a steadfast, perfectly timed foundation of funky heavy beats, often reminiscent of Led Zeppelin's legendary John Bonham as well as of Chad Smith (Red Hot Chili Peppers) in terms of his directness. Wilk's congenial musical partner in crime is Tim Commerford, whose electric bass guitar typically invades the living room with full force. And anyone keen to hear how a Music Man StingRay pushed to its limits and an authoritative bass drum complement each other during a high-octane recording need only listen to "Take The Power Back." Of course, Tom Morello, whose aggressive, masterful and at times heavenly guitar style has significantly influenced contemporary rock 'n' roll over the last 25 years, also really shines here with authentic sleight of hand.
Since 1992, RATM's debut album has occupied a top spot among rare, great-sounding rock albums in the category of "audiophile music for non-audiophiles." The normal LP or CD already conveys so much power that it's no wonder that a planned remastering from Audio Fidelity would initially be viewed with skepticism. However, mastering engineers Steve Hoffman and Steven Marsh not only discovered more dynamics on the analog original master tapes but also significant details and finesse that simply got lost in the original brutal mix. The remaster now shows that music and aspiration also continue to convey a healthy hardness, while the sound is, in the best sense, more rounded and less agitated, no longer so glaringly over-seasoned but rather "naturally sharp and spicy." Thanks to limited compression, the disc actually now has more dynamics and headroom and is, as a result, "softer" when considered in direct comparison with the 1992 release. It can and should be correspondingly adjusted. Eschewing unnecessary edginess and using considerably better mastering equipment both increase the impression of "space" and create significantly more shape, which predominantly benefits the bass line. Zack de la Rocha's voice still stands out as furious, but less "cheap," and the better-balanced guitar flies into even higher realms… all of that comes across well on the remastered version from Audio Fidelity (as SACD/CD hybrid through Sieveking Sound) per Red Book standard (audio CD); as expected, the SACD layer sounds even more like a studio master tape. In short, this hybrid disc, which is universally playable, is highly recommended for anyone who loves punchy and powerful hardness as well as audiophile monster sound. It adds a new "hardness benchmark" to my toolbox of musical poisons. To be honest, I could really care less how the remaster sounds on (inevitably expensive) vinyl. The 180-gram original-version issue no longer graces my turntable anyway since the remastered silver disc came out.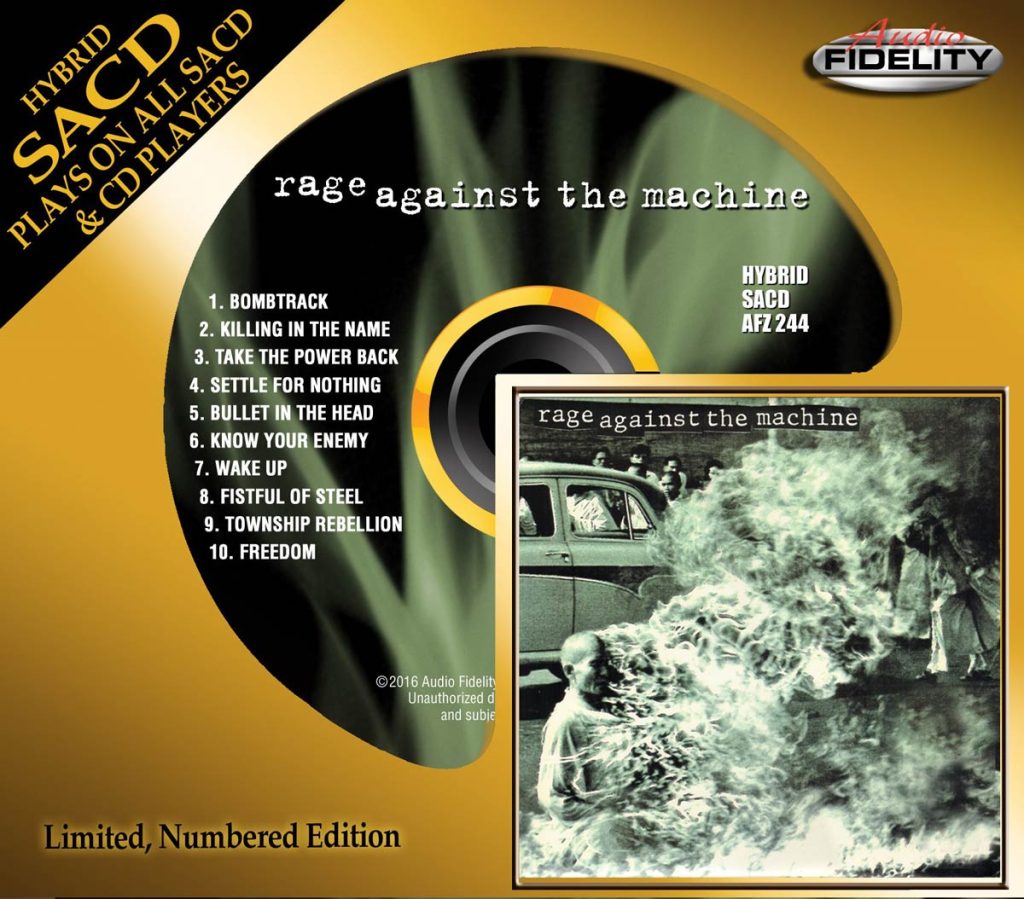 Rage Against the Machine Rage Against the Machine (remastered)
Label: Audio Fidelity (AFZ 244) Format: Hybrid SACD/CD
The stated retail price of the reviewed device is valid as of the time of the review and is subject to change.